If your days are filled with tedious tasks like searching for potential clients, posting on social media, follow-ups, and inputting data from one platform to another, then this Phantombuster review is for you.
Today, I'm going to show you how to use Phantombuster step by step so you'll know exactly how to use this powerful AI marketing automation tool to generate leads and automate your social media channels.
So if you want to work along with me, create your Phantombuster free account, and let's get started.
What is Phantombuster?

Phantombuster is an AI lead generation and social media automation tool. With Phantombuster you can select any action you can do on the web and let the Phantoms do the work for you by automating your customized tasks.
Whether you want to generate new leads, enrich your CRM or automate interactions on social networks –  Phantombuster can help you do the tedious tasks so you can allocate your time where it's needed.
With Phantombuster, you can export thousands of profiles from a tailored search, extract valuable data from each profile,  and send connection requests in minutes.  
How to Use Phantombuster?
Now I'll take you through what exactly a Phantom is and show you how to choose one.
So, what is a Phantom? A Phantom is a useful and powerful little creature that performs a simple automated action on your behalf, somewhere on the web to save you time and effort.
And how does it do this?
You give the Phantom an input such as a user's profile, it automates an action on your behalf, such as sending that user a message, then it gives you output in the form of results files containing the data it has found or a summary of what it's done.

It's as easy as that.
1 Phantom equals 1 action. So of course, using several together, the sky is the limit.
And they have Phantoms for you to use with many different social networks and other platforms that I'll show you later in this Phantombuster review.
So how do you find the right one? Well, by going to the Phantom store on the website, you'll have access to all of our 100+ Phantoms.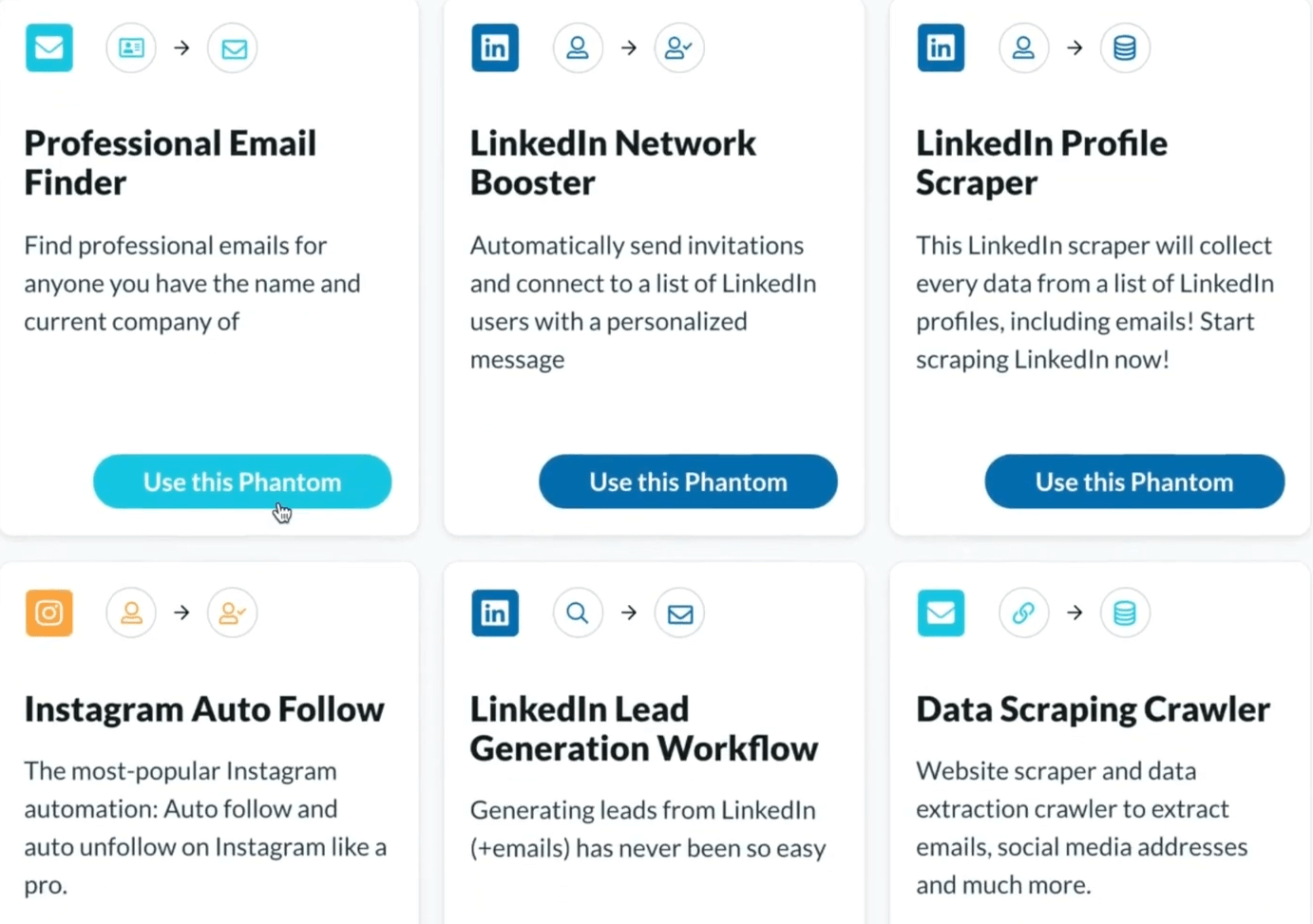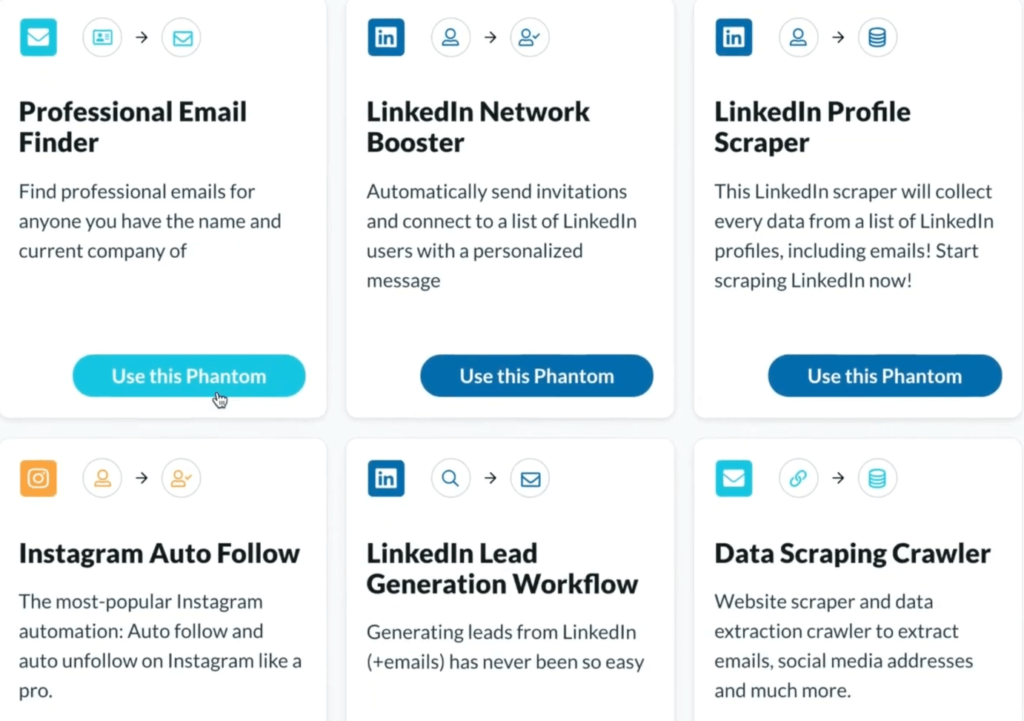 To make things a little bit easier for you, you'll find filters on the left-hand side to help you look for particular types of actions, extractions, or website categories.
There is also a search bar at the top where you can look for keywords related to what it is you need to automate.
Once you find the Phantom you want, just click use this Phantom. And all the Phantoms you use are stored on your dashboard.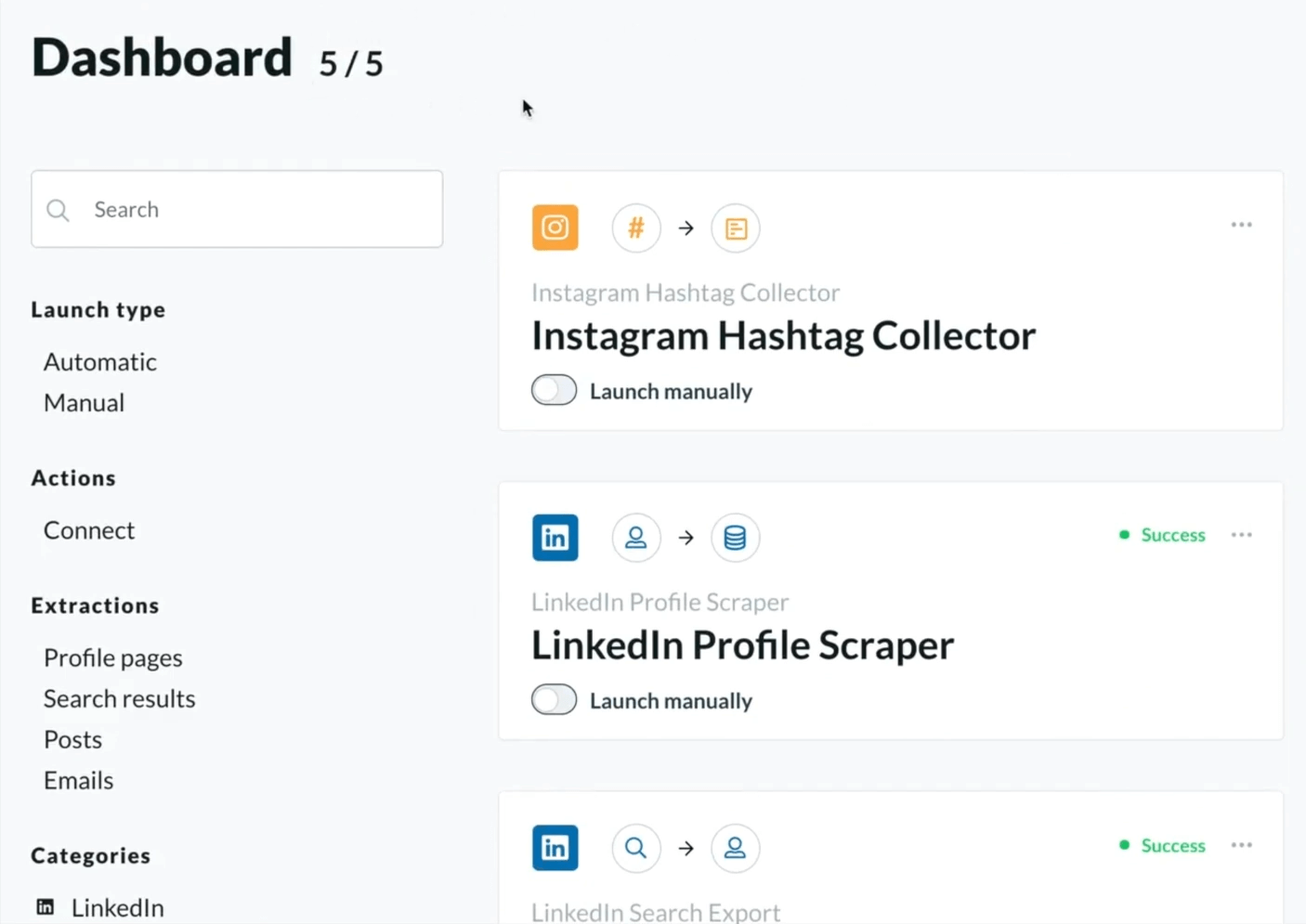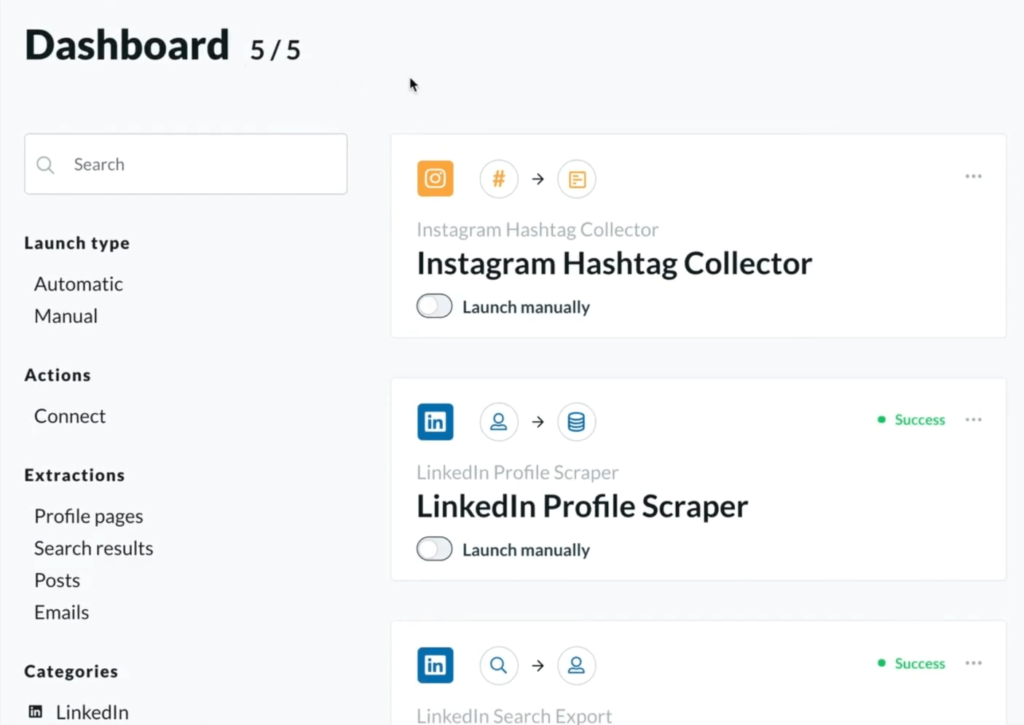 From here, you can see all your Phantoms and you can have as many as your plans are.
Your dashboard is the place where you'll be able to access everything related to each of your Phantoms simply by clicking on them.
This will take you to what they call the Phantoms console page.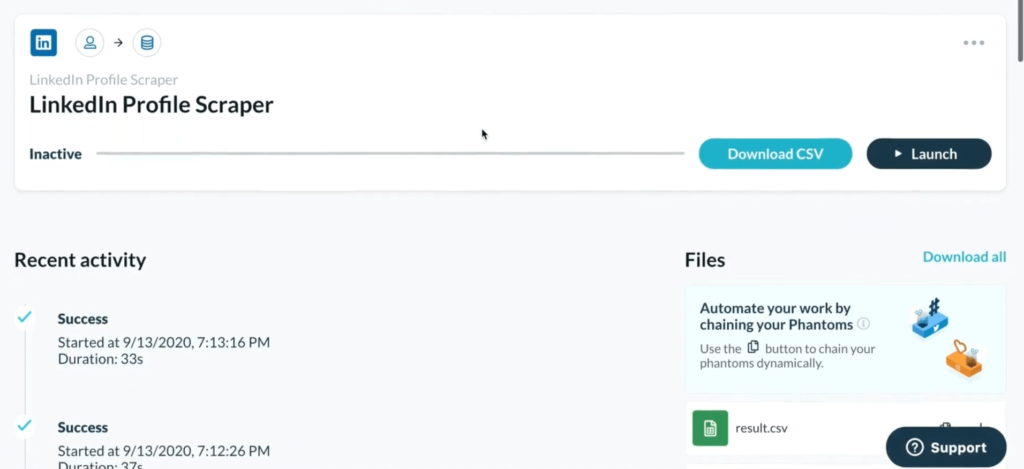 From here, you'll be able to edit your Phantom setup.
Once you're ready, you can launch the Phantom to have it process the actions you want it to, and you'll be able to access your results files once it's completed its job. And that's it.
Phantombuster Linkedin Lead Generation
Now, I'm going to take you through how to set up your first Phantom.
And to do this, I'm going to use LinkedIn search export as an example. So, the first thing I need to do is find that in the store.
Once you find what you want to do, you need, then click on use this Phantom. And this will take you straight to the Phantom's setup.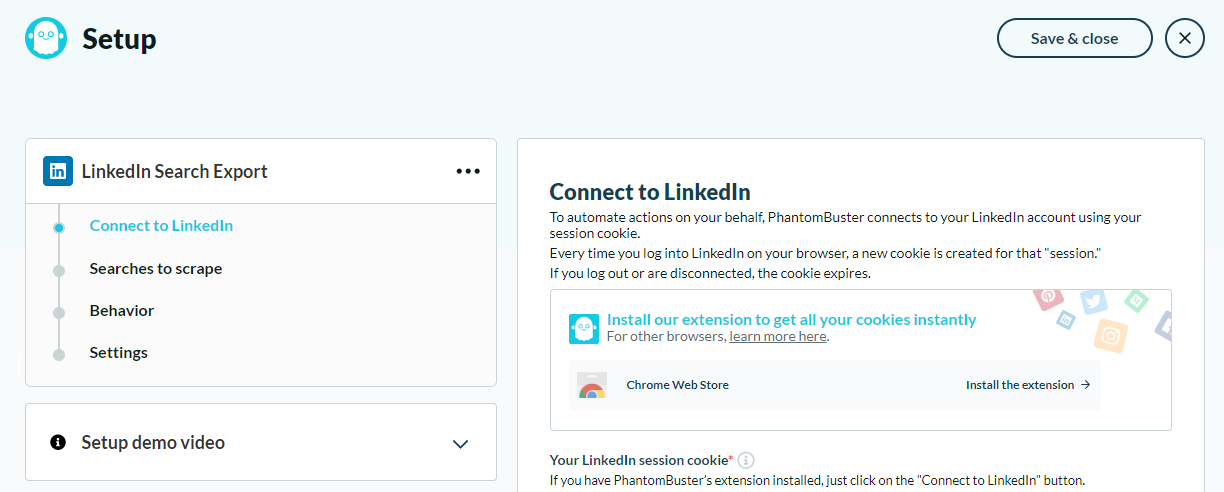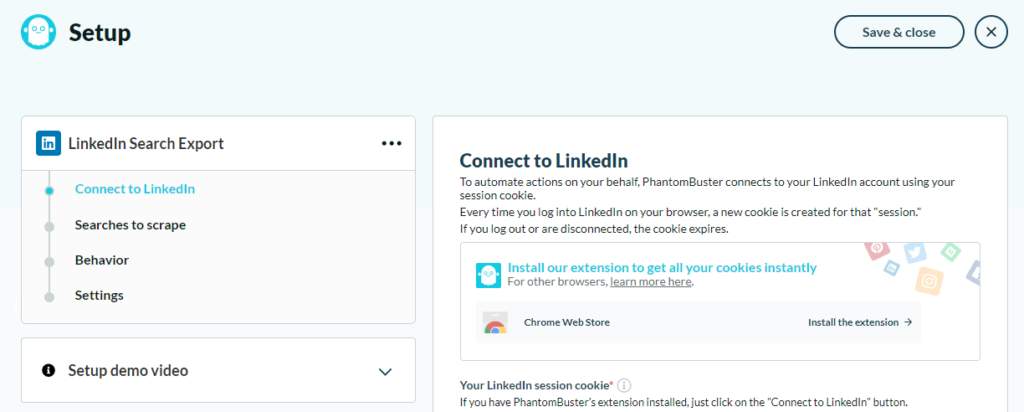 And the first thing the Phantom will ask you for is your session cookie in order to connect to LinkedIn on your behalf. This is just a way to identify you.
And it's very easy to obtain using the Phantombuster browser extension which you can find for Chrome or for Firefox.
Just click the install extension button, and then it's a two-click installation, and you'll see it appear on your browser.
Now, as long as you're logged into LinkedIn on your browser when you click this button, your session cookie will automatically populate the box.
The next step is where the Phantom needs some input from you. So, for LinkedIn search export, we need to tell the Phantom which searches to make on LinkedIn.
And you can do this in a few different ways. Either by typing in a simple search term, or what you can do is make your search on LinkedIn, and copy the URL in the search bar, paste it directly into your Phantom setup, and finally if you need to give the Phantom multiple different inputs, you can use a Google sheet for that.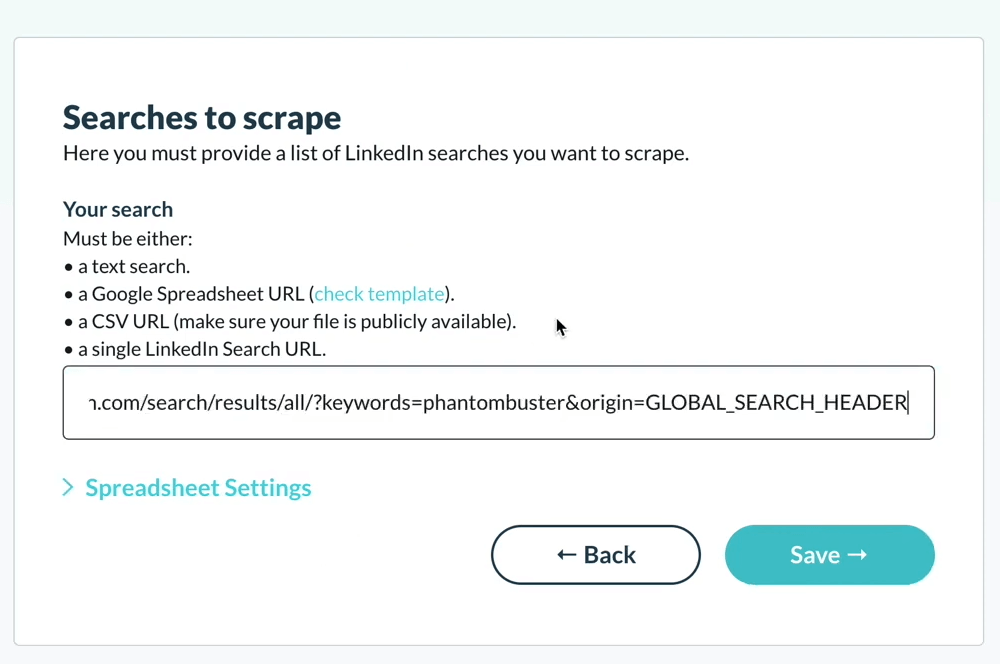 So hit save and move on to the next step.
And this is the behavior step and this step is a little bit more complex and it's very specific to each Phantom.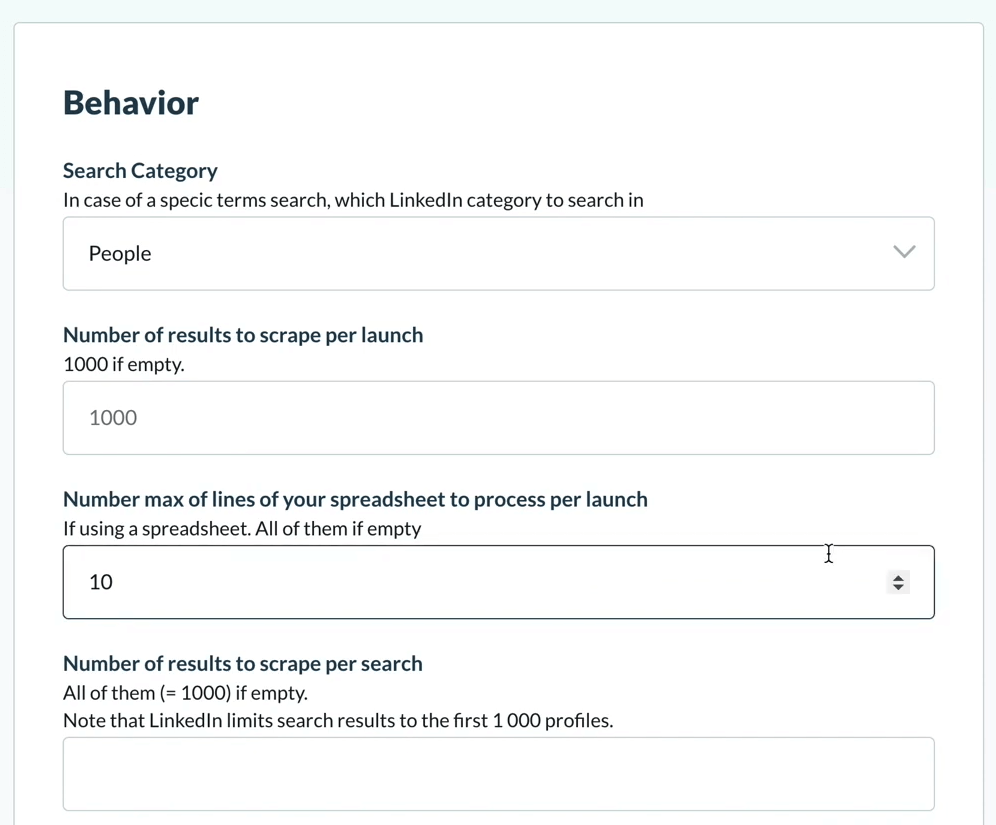 And one important field on this step to you, which is the number of results to scrape per launch.
And for this, I'm going to just enter 10. This is the number of results that the Phantombuster will extract each time it launches.
Each of the other fields should be pretty self-explanatory and you'll even find some advanced settings and result in file settings at the bottom of this step as well.
In the final step, you'll find both a notifications option, where you can choose to have notifications about what your Phantom is doing during its launches.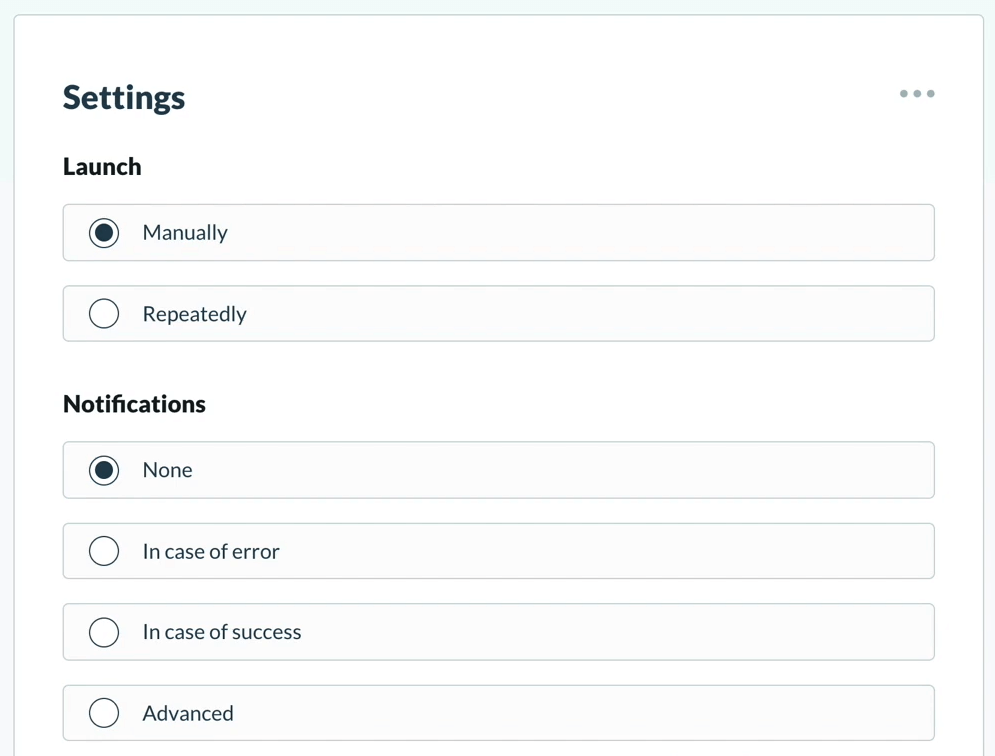 And here you'll also find where you can set up either manual or automatic launches for your Phantom.
So, by clicking the repeated option, you'll see a bunch of automatic launch options.
But for now, again, we're going to stick to the manual option and now that it's all set up, we're going to launch the Phantom.
Now the Phantom runs from the cloud, which means that if you want to shut down your browser or your computer, that's fine. The Phantom will still run especially if you've set up automatic launches, it will do so as they are timed.
And once it's finished its launch, you'll see some more information appear on the Phantom's console page, including all of its launches.
You can click on the view log to see more information about each launch. And you'll also find the Phantom's results files.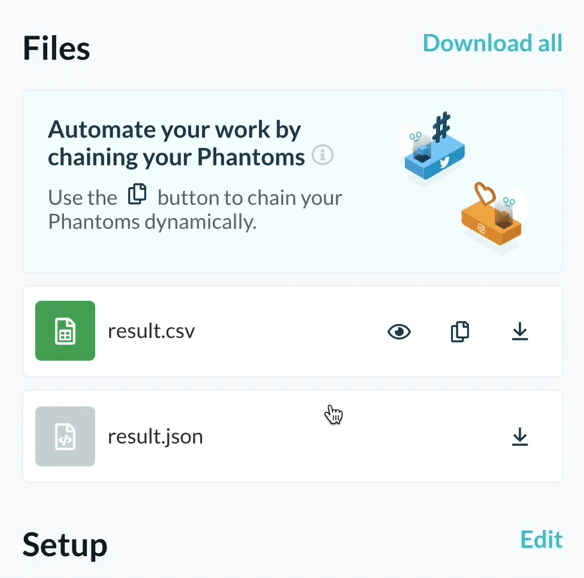 Now, one handy little thing is that you can preview this results file to see what results you've got.
You can also download the file directly, and once it's downloaded, simply click to open it, and you'll see all the data that the Phantom has extracted for you.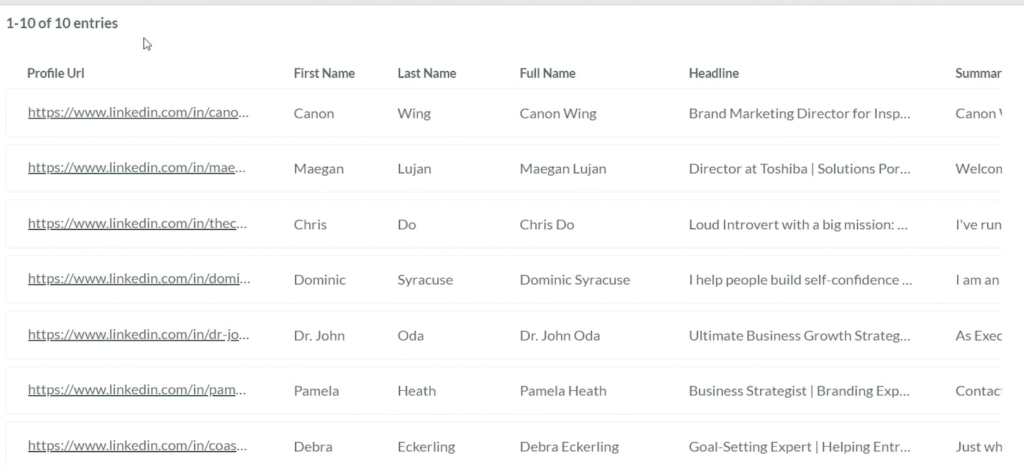 And as you can see, we've gone out and scraped the first 10 profiles from our search URL. You can see the email addresses that we scraped from these first 10 contacts.
So that's all you need to do to be able to scrape email addresses and full profile information from a LinkedIn search URL. So now you can go up to download CSV and choose where you want to save this.
So that's how we take a LinkedIn search URL and extract all of the information from those profiles into a spreadsheet so that you can export that into your CRM or any kind of marketing lead generation program you want to run.
Now, each time you launch your Phantom, it will update this same results file so that all of your data will be found in one place.
If you go to the dashboard in your account, you'll be able to see all of the Phantoms that you have set up on your account to keep track of them and operate them from here.
Phantombuster Scraping Linkedin Companies Info
Phantombuster allows us to scrape all of the available data from LinkedIn companies' pages.
And the process is almost the same as with the Linkedin search export that we went through before.
But here you want to drop in your either single LinkedIn company URL or a Google spreadsheet or publicly available CSV file with a list of LinkedIn company URLs that you want to scrape.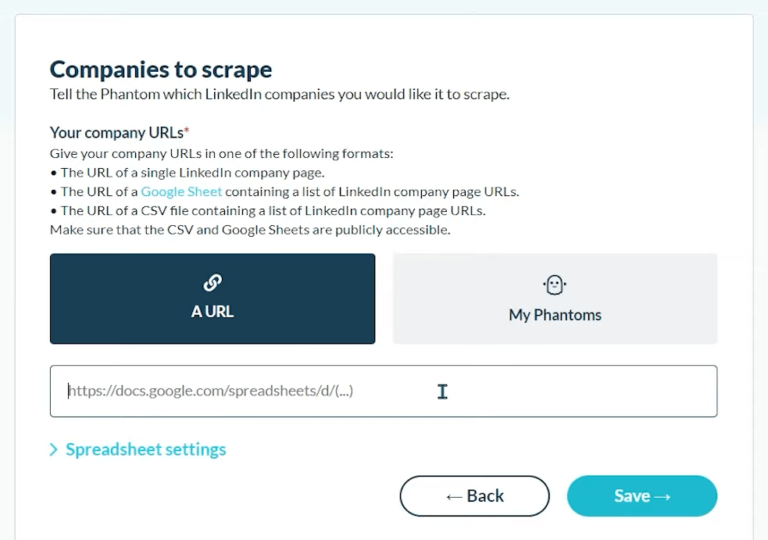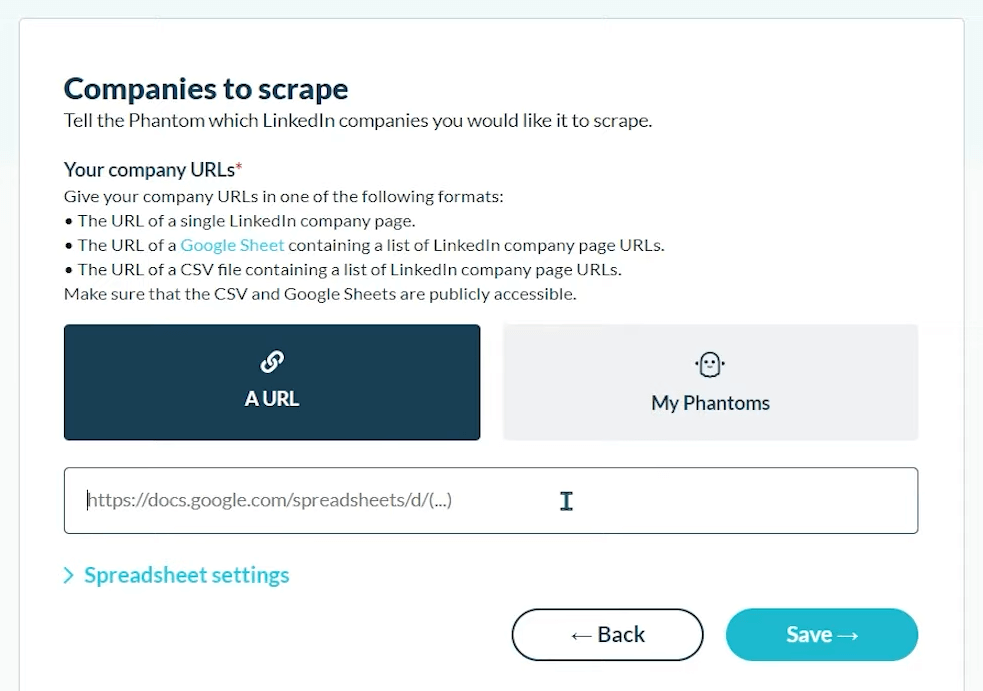 Here's where you have a couple of different options for the behavior. You want to be aware of the rate limits on LinkedIn, so I recommend you process a maximum of 80 companies per day, or 150 companies if you have a Linkedin sales navigator account.
You can also choose to put in the number of companies you want to scrape per launch, and then also the delay between loading each company page in seconds kind of like in the other popular data extraction tool – Hexomatic.
The default will be 2 seconds.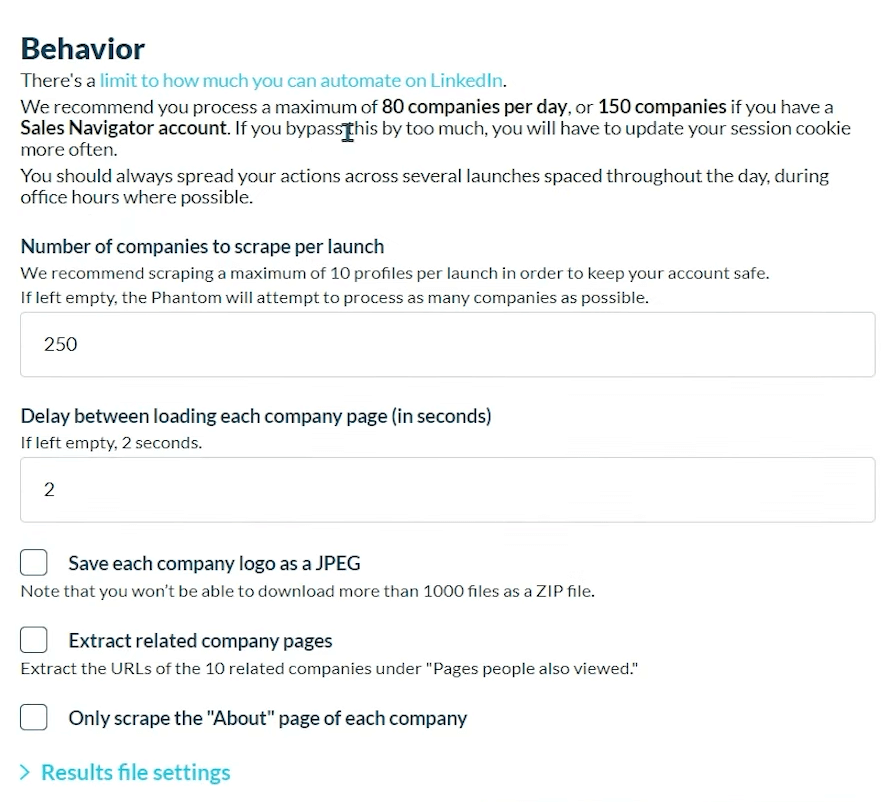 And what's cool, you can also choose to save each company logo as a JPEG, you can extract related company pages and you can only scrape the about section of each company.
The only thing I would change here is the number of companies to scrape per launch and change that to 10. So that makes sure that you're not doing too much too quickly on LinkedIn.
And then now my LinkedIn companies' info Phantom is ready to launch.
So now my LinkedIn companies' info Phantom has successfully run its course.
And I've scraped one LinkedIn company page, and it's included the logo, banner, description, tagline, how many followers they have, and the website.
So, there we have the Phantombuster LinkedIn companies' info.
Phantombuster Instagram Follower Collector
Now, we're going to look at the Instagram Follower Collector Phantom which will extract the followers of an Instagram account.
All you need to do now is click connect to Instagram you can drop in the Instagram profile URL of the profile that you want to scrape all of their followers, or you can choose a Google spreadsheet or a publicly available CSV file with the list of profiles that you want to scrape.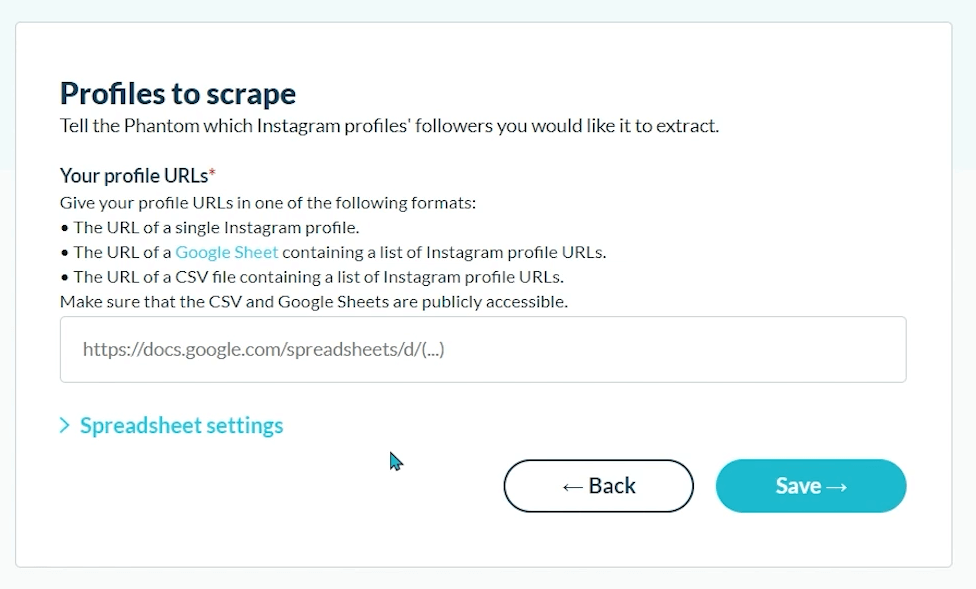 Now here's where you have a few more options on how this Phantom behaves.
You can choose watcher mode, which will reprocess the same profiles for new followers. You can also split the result file into multiple files if you're extracting a large number of followers like people with over 400,000 followers.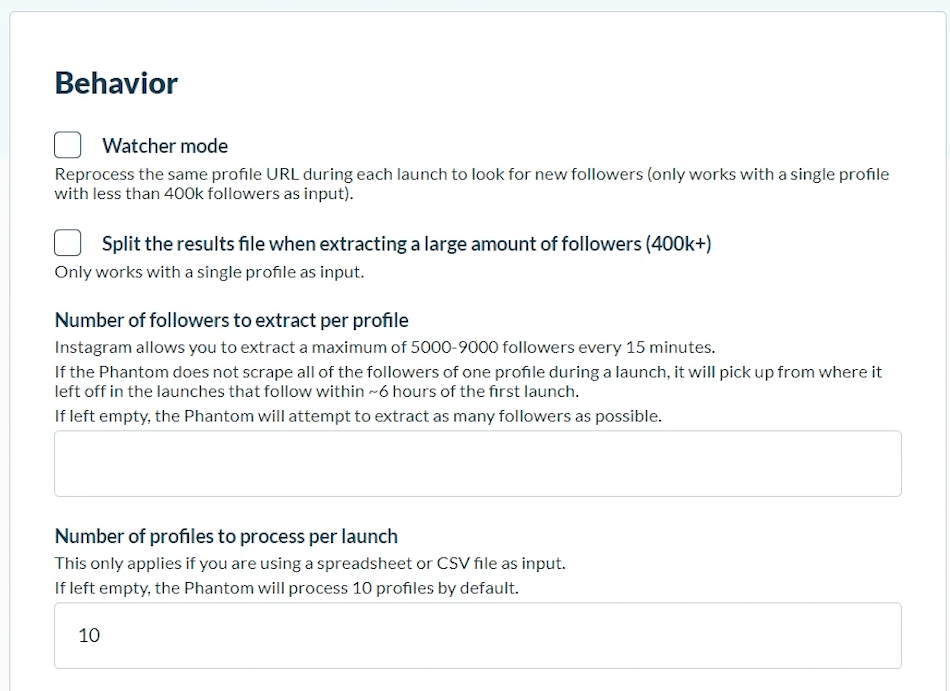 And then this option only works with a single profile as an input. You can also choose the number of followers to extract per profile, or you can also choose the number of profiles to process per launch.
Now you can choose to run this repeatedly throughout the day.
So now my Instagram Follower Collector Phantom is ready to launch.
All I need to do now is click on launch. And now my Instagram Follower Collector Phantom has finished running and I have all of the data that I've just scraped from that Instagram profile.
Phantombuster Pricing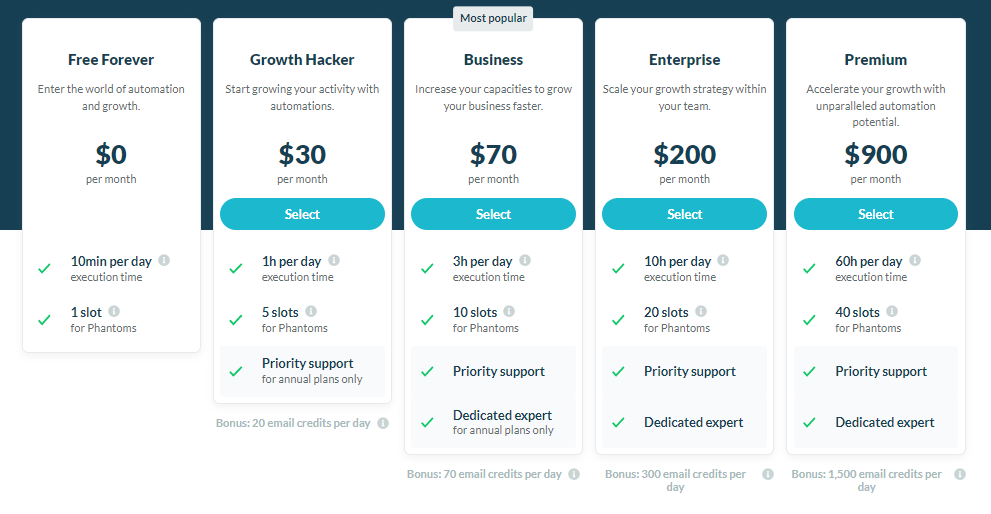 Phantombuster features 5 pricing plans:
Free forever – $0/month
Growth hacker – $30/month
Business – $70/month
Enterprise – $200/month
Premium – $900/month
The Phantombuster free plan enables you to perform 10min per day of automation as well as having 1 flow.
Phantombuster Review Final Words
So that's my Phantombuster review. As you can see it's a very powerful tool and you can do a lot of cool growth hacking stuff with it.
I use Phantombuster personally for lead generation and combine it with SmarWriter.ai which is my favorite AI email cold outreach tool.
If you're in B2B or even a solopreneur trying to automate something on the internet, you can't go wrong with this tool.