Today, we're going to take a look at a Vidnami alternative called Pictory, which allows us to create short social videos from long-form content, extract short video highlights from webinars, descript, subtitles, and also turn long-form text into summary videos using stock media assets in minutes with a smart AI solution.
Pictory AI has been one of my top choices for Vidnami replacements and it's definitely one of the best AI video creators available online.
In this review, we will take a closer look at the features and capabilities of Pictory, and see how it compares to other video creation platforms on the market.
So, let's get started.
💡 Note
In this Pictory review, I'm going to walk you through this software, and at the end of this tutorial, you'll know exactly how to create amazing videos, even if you have no experience with video editing. And if you want to work along with me, you can start your Pictory free trial (no credit card is required)
What is Pictory AI?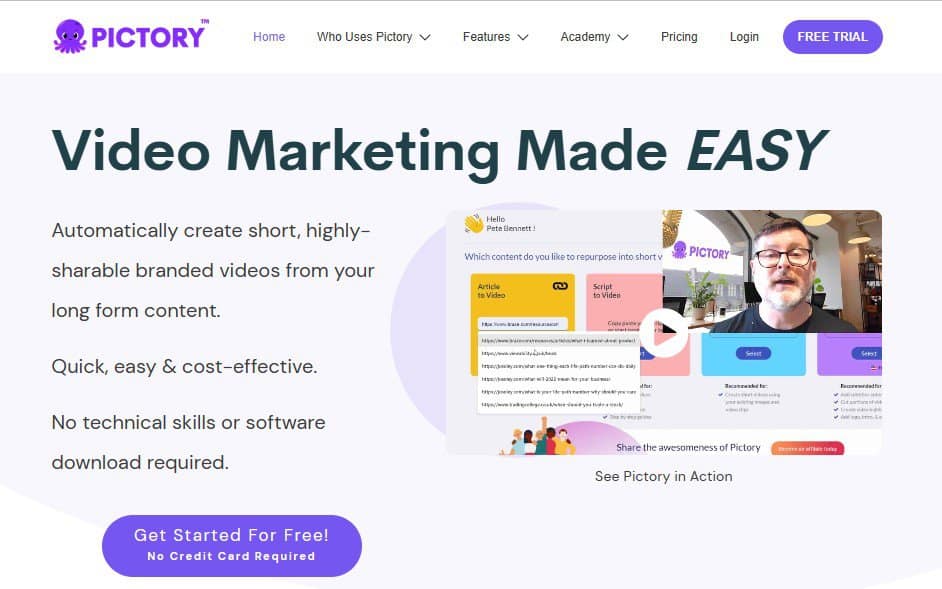 Pictory is an AI-based video creation platform that allows users to create professional-quality videos from text complete with stock footage, music, and voiceovers.
Whether you are looking to create videos for marketing, advertising, social media, or any other use, Pictory has the tools and features you need to get the job done.
With a range of templates and styles to choose from, the ability to customize and edit video content, and tools for adding text, images, and music to your videos, Pictory makes it easy to create high-quality videos that will engage your audience and achieve your goals.
First of all, I want to mention that I like the fact that when you log in, they have helpful guides with videos that show you in detail how to do everything that you need to do which was super helpful.
And here is the types of content that we can repurpose into short videos.

We have things like:
Article to video
Script to video
Visual to video
Edit videos with voice using text
So now, I'm going to show you how to use the article to video tool, which is my favorite and the easiest to use.
Pictory AI Article To Video
With Pictory you can easily turn text into video with just a few clicks of a button.
So let's say that I wanted to produce a social media video.
We just need to copy the URL and paste it into the tool.
And it's going to extract key messages inside of the article.
So we get here on the left side, the source article.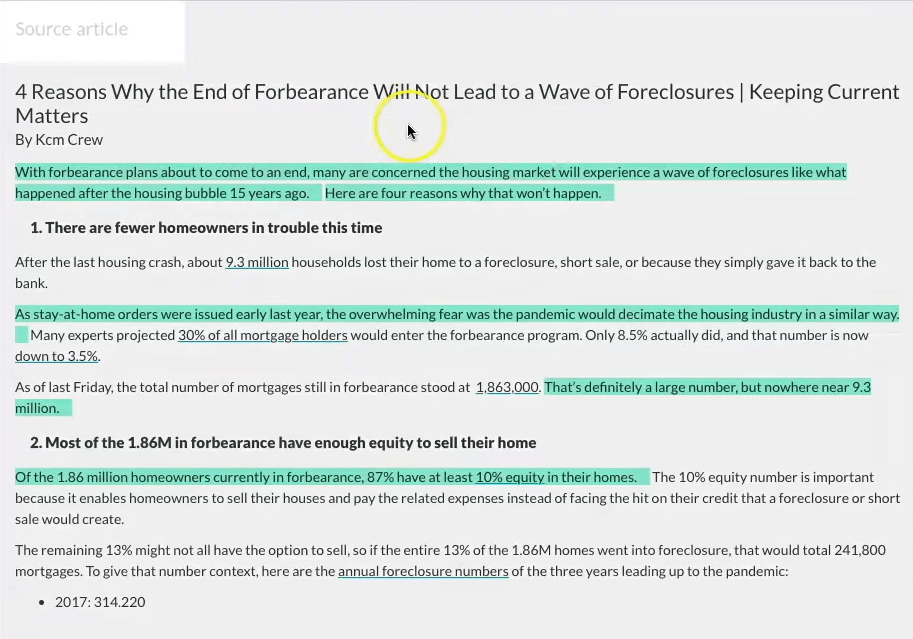 And as you can see, the AI selects relevant content highlighted in green.
If we want to select something, we just click it and it will highlight it, and it's going to put it into our AI-powered key messages script.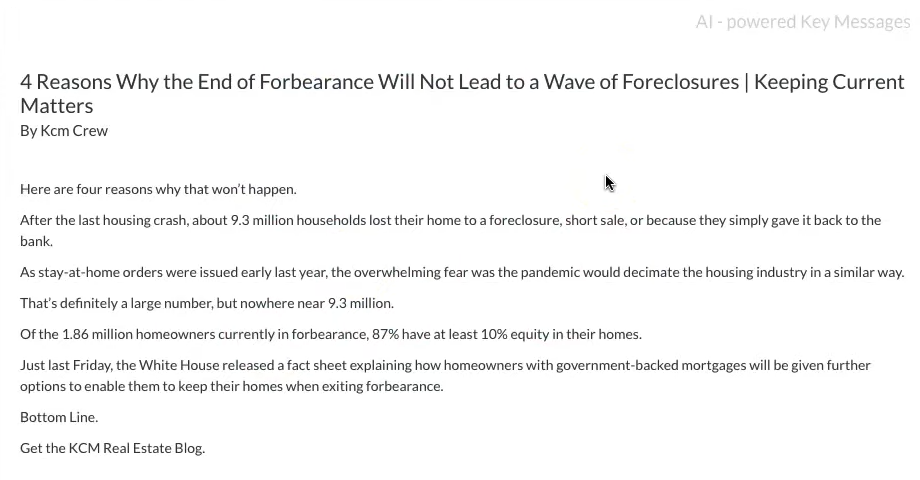 It will also show the estimated video duration which is important to keep the video duration in mind because each social media platform has its own video duration length.
So I've gone through it, I have kind of summarize this article, it was a short article, to begin with.
Next, and we're going to select the type of video that we want to create based on the aspect ratio.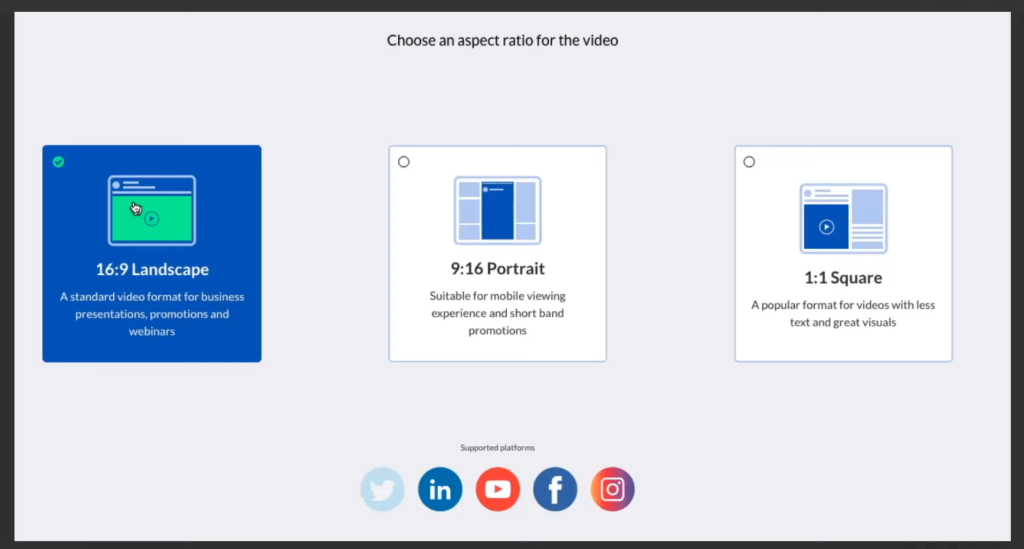 Since I want to create a YouTube video, I'm going to go with a 16:9 ratio.
Pictory Video Editor
And let's take a look at the Pictory editor.
Inside the video creator, on the left-hand side we have all the different elements:
Story
Visuals
Audio
Styles
Format
If we go to visuals, we'll be able to see all of the stock media clips that they've brought in, as well as search for our own images or videos.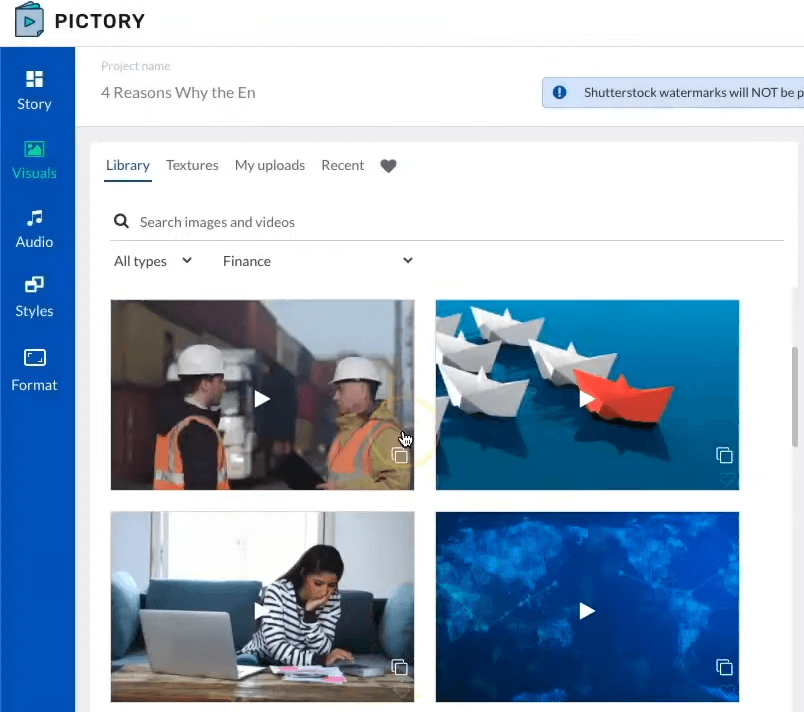 Then we can do audio. They have a bunch of audio tracks that we can select, where we can, of course, preview those, we can do voiceovers and text-to-speech voiceovers.
They have lots of different English voice-over versions:
US English
UK English
Australian English
Indian English
And you can also record your own voiceover, you can record your own background music or upload your own background music, you can heart or favorite your favorites.
So, for example, if you like using Matthew's voice all the time, you can simply "heart" him, and you can do the same for your background music.
For the styles, there are different transitions and different ways that the text appears, and that is kind of what the styling themes allow you to see.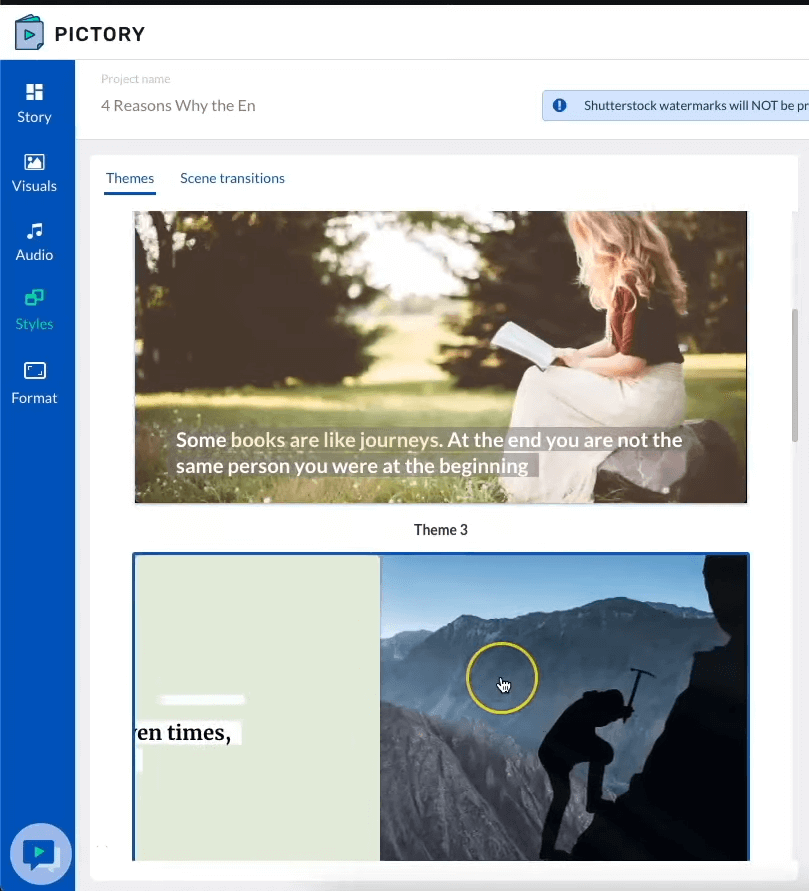 There are eight themes currently available.
The formatting is, again the different aspect ratios that we selected earlier.
And of course, we want to export in 1080p because the higher definition, the better.
Let's go over the actual creation of the video process.
How To Create a Video with Pictory AI
So this is a slide-based video creator.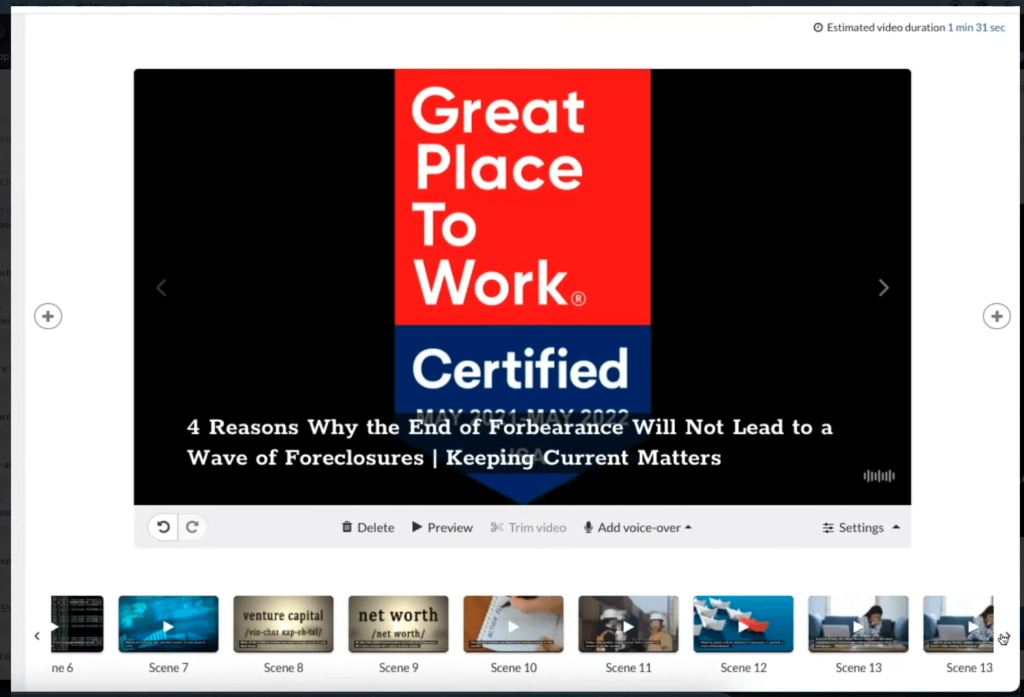 And here we'll see that we have 15 slides in our current video.
If I want to change the background, you can simply come into "Visuals" and I'm going to just look up a photo or an image that I want.
And we can easily highlight a text if we need to highlight any important text in our video.

So I have now gone through and I've added the scenes and I've changed a little bit of the text and our video is ready to generate.
Now I'm going to come down to audio and I'm going to select voiceover.
For me. Matthew's voice is pretty good.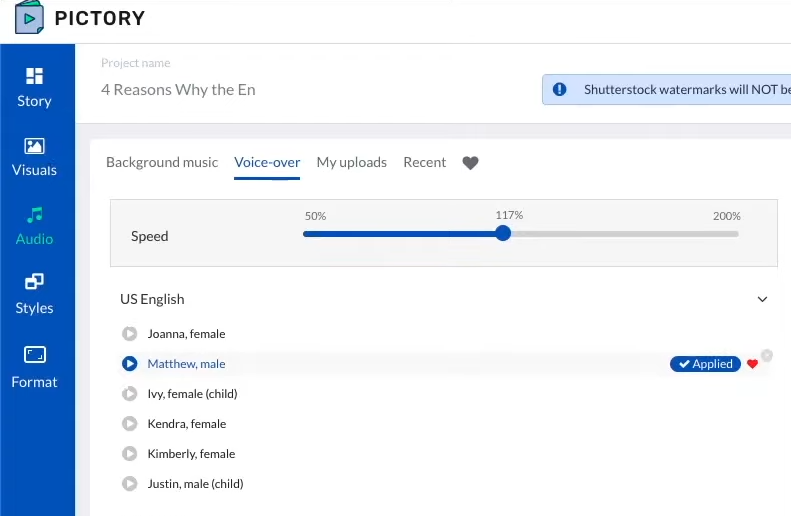 And we don't get too many controls for the text to speech, but the voices that they selected, even though limited, they're doable, so they pass in my opinion, the test, as far as what you need.
Most people watch these videos on silent anyway.
So let's go ahead and generate this video.
And here we have a few options.
We can simply generate a video, spreadsheet of social video posts, or social video posts for Hootsuite.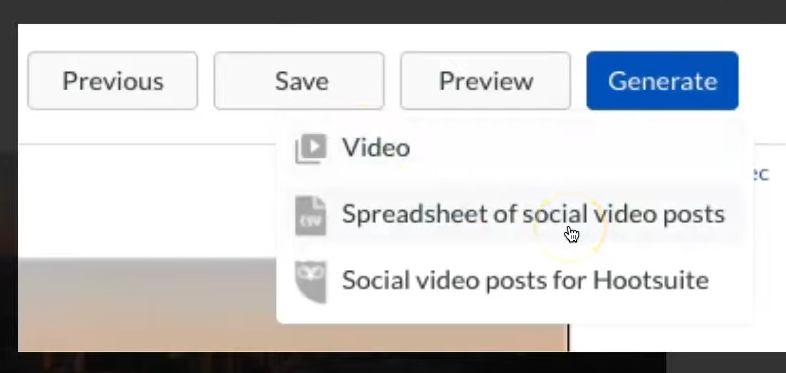 A spreadsheet of social video posts is very important if you're creating a bunch of these videos.
But for the purpose of this Pictory review, I'm just going to generate the video.
And once our video has been generated, I can download the video and then upload it anywhere.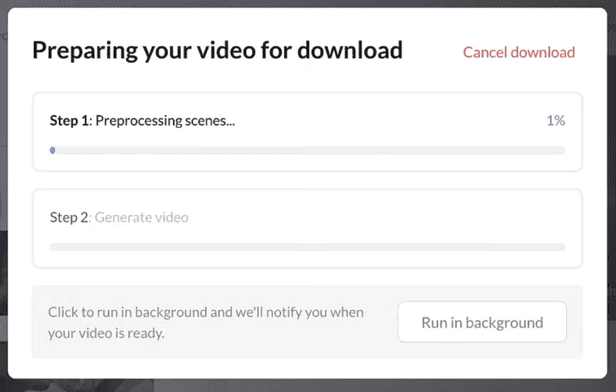 Pictory has recently moved to its own dedicated servers allowing them to make the rendering process for the users three times faster. Now we're able to generate a video with a hundred and twenty-eight scenes in about two minutes.
I can also copy a shareable link. And there you go. That's how easy is to use to AI video editor.
As you see, very easy. Similar to other text-to-video generators like FlexClip but FlexClip has many limitations compared to Pictory, as I explain in this FlexClip review.
But once you get familiar with the platform, you can generate your video in less than 10 minutes.
Pictory Script To Video
The next Pictory tool is a script to video. They recently launch a new AI-powered media search inside the script editor. So now when you upload a script to Pictory, its AI will find hyper-accurate footage to match with your text.
All you have to do is copy and paste your script inside the script editor.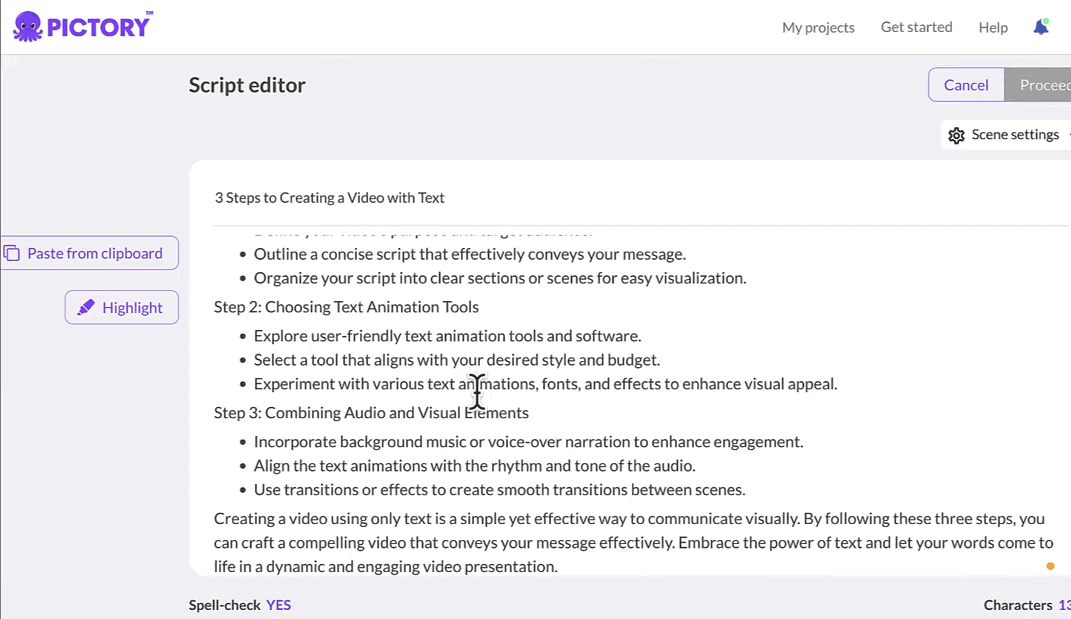 Then click "Proceed" and select the captions template that you want to use for your video, along with the aspect ratio that you want to use for your final output of the video.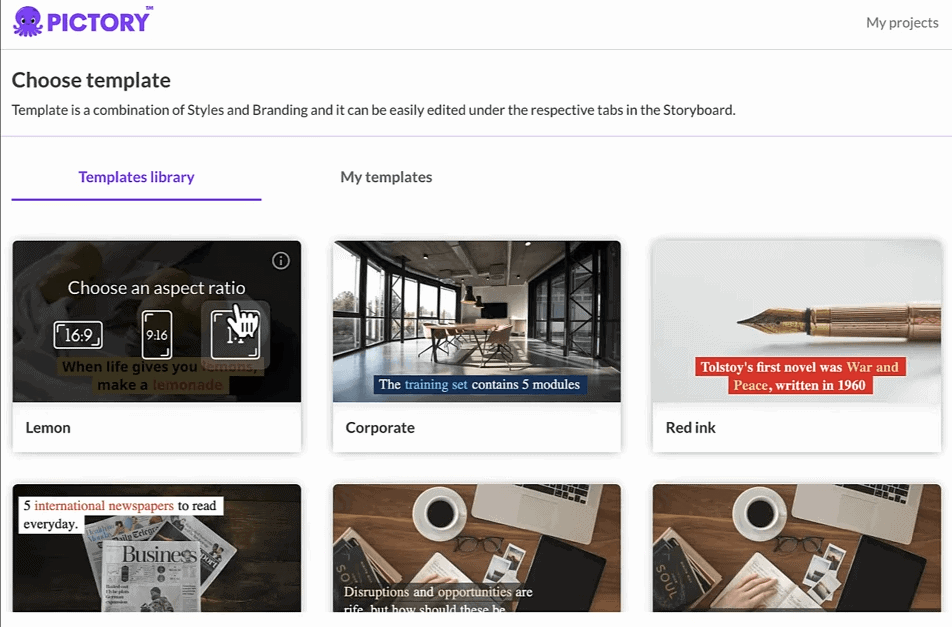 And that's it. Now you can review the footage the AI matched with your script.
Pictory Visuals To Video
Now visuals to video is kind of cool. We just need to upload some visuals and AI will generate a video for us.
And here's our video editor.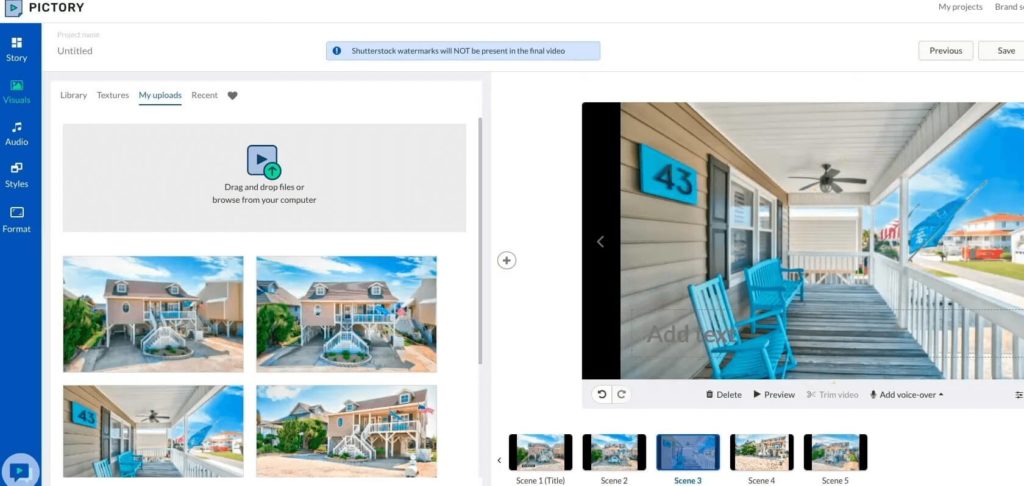 So that is a very nice feature if you already have your visuals.
Pictory Edit Videos with Voice Using Text
And the last Pictory feature is the "Edit videos with voice using text"
So I will give you a quick run-through of how to use the features.
Typically you will want to either drag and drop a file or browse to your computer and put the video into this box.
And AI will basically be creating a transcription of your video, and once it's processed, you'll see the transcription appear on the left side and the corresponding video and the preview on the right side.
It's also worth mentioning that they recently upgraded the transcription feature. Before, it used to take a few minutes to get your transcript back. Now, with the updates they've made to the back end, you're able to get your transcript within seconds. All you have to do is upload a video you want transcribed, then click Proceed, and that's it.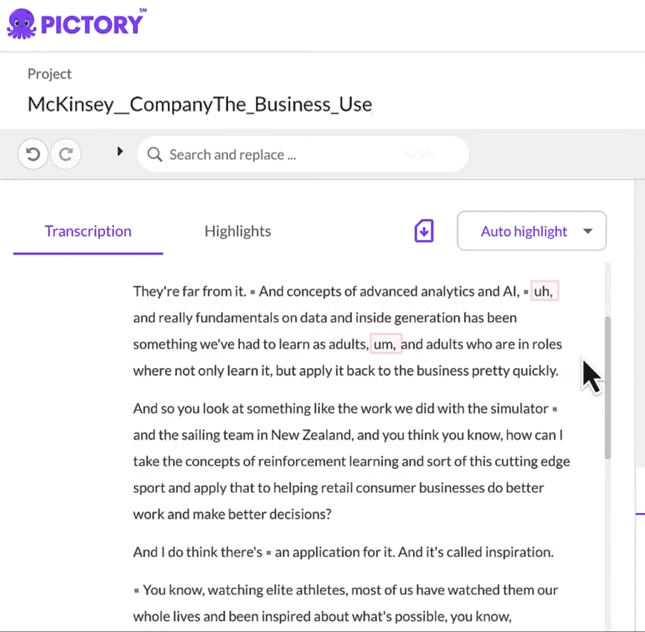 Now you're able to edit your video using the transcript within a few seconds. 
I have the option to remove the filler words like "um" and stuff like that which is great.
Additionally, if I wanted to edit a certain word, all I would have to do is double click on it and I could go ahead and edit it and it'll have updated both in the transcription and in the video as well.
You can go ahead and delete words from your transcription if you would like but do be aware of the fact that it will delete from the video and from the audio of the video as well.
Once you're feeling good about your transcription you can go ahead and either generate the video right away or go ahead and customize it further.
And then it will bring you to the storyboard page.
So from the storyboard page, there are a couple of other things you can do.
This has now been broken up into individual scenes, each with its own subtitles.
And then from here, you can edit the visuals in the video if you'd like to add something other than the video itself.
You can edit the audio in the video if you want to add some background music or if you want to add your own voiceover.
And once you're happy with how your video is looking, you can either save preview it, or you can generate it as a full video, you can generate it as a spreadsheet of social video posts where you can actually generate a social video post directly via Hootsuite which you can then post onto your social media accounts.
Pictory AI Brand Settings
Before we get out of here, I want to show you the brand settings feature because this allows you to upload your logo and enter your brand name as other video makers also offer such as Wave Video.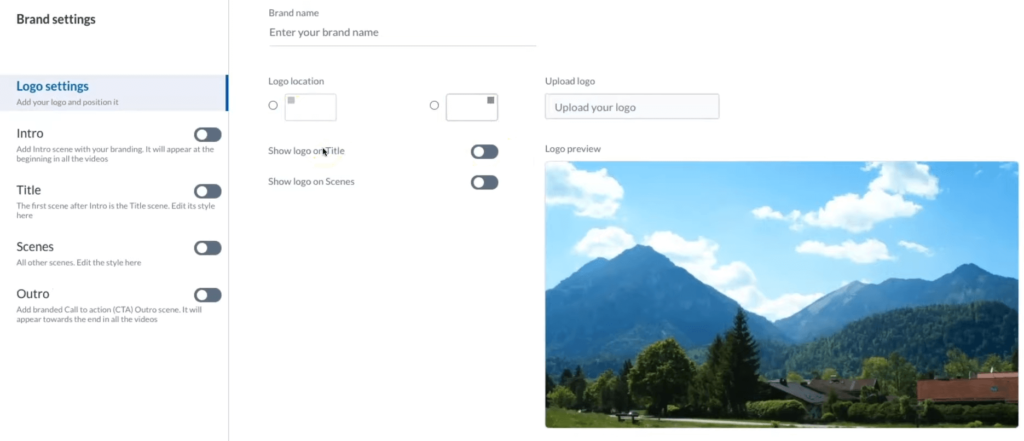 You can select your logo location on each video, and you can customize certain elements of your videos so that you can essentially save time and still brand that content for your social media.
You can add your own custom video clip if you've got any video clips. You could even make one with Pictory if you want.
You can also customize your titles if you want to control the different text colors, you can do that here.
You can select different fonts if you want a different font for your brand. And you'll see the samples as well as the font sizing.

These are just nice elements to customize and change the feel of your videos so that they're not as generic and their own brand and on-point.
And then, for your outro, you can do a logo and text or you can do custom outro clips similar to that custom intro clip.
So these are the brand settings.
Pictory New Tools, Features & Improvements
Based on feedback from customers like you, Pictory continues to get better. Recently the platform went live with several small but significant improvements to the software:
Visual search AI improvements – You can save time in your video creation efforts with more meaningful automated visual search results. This algorithm will only continue to get better over time.
Full GIF support in visuals. Enhance your videos by uploading GIFs for individual scenes.
Subtitle and text files are now available in text-to-video scenarios – Whether you start with a blog or from a script, you will now be able to download the SRT, VTT, or TXT file associated with those videos. This will help you improve the SEO of your videos by uploading these SRT files to YouTube. 
Transcribed text file format improvement – When starting with a video, the text file is now available in a much more friendly format for Word and other editors.
Unnecessary pauses were removed from AI voices – The text-to-speech voice-over provided by Pictory had unnecessary pauses between sentences which have now been eliminated.
Better Royalty-Free Media Search: Recently they've implemented an upgrade to their media search. This means video and image suggestions will now match your script far more accurately.
Turbo-Charged Previews: Previews now appear in just seconds saving you a ton of time. 
3x Faster Transcriptions: No more hanging around waiting for transcriptions when editing videos. They've sped things up three-fold – Nice.
Faster Video Generation: Pictory founders added a bunch of powerful new servers, so your videos now render much faster.
The only big feature that Pictory was missing was the voiceover feature.
Recently Picture AI came out with an announcement, and they finally cracked the code, and now you can upload a voice-over into the software.
And this is what Pictory users have been waiting for since they came out with the software a couple of months ago.
Because one of the biggest complaints from users was that we were not able to upload full voiceovers to the software and auto-sync it much as Vidnami did.
And if you look at the Pictory roadmap, you'll see they also have a bunch of other cool features coming up like Dall.E AI-generated images, an ability to edit full sentences in the transcription, and so much more.
Pictory AI Pricing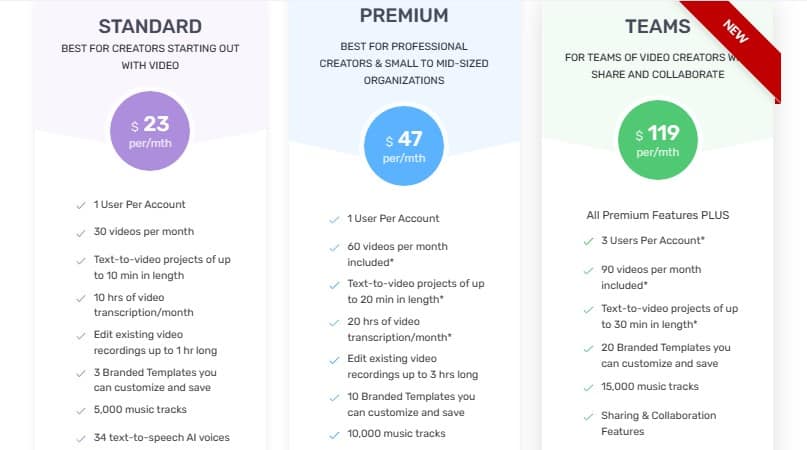 Pictory has 3 pricing tiers ranging from free to enterprise:
Standard – $23/month paying monthly
Premium – $47/month paying montly
Teams – $119/month paying monthly
Pictory offers a free trial for all the paid plans.
The maximum length of a video is 60 minutes under the free and standard tiers and 90 minutes under premium and unlimited under the enterprise tier.
The plans you're going to toggle between are going to be the standard and or the premium plan.
The prices are going to vary depending on whether you pay on a monthly basis or a yearly basis.
And keep in mind, in order to get comparable features to what you are used to in Vidnami, you are going to choose the premium plan.
Pictory Lifetime AppSumo Lifetime Deal
Pictory AI is no longer available on the AppSumo marketplace so the only way to purchase this software is via Pictory's official website where you can start a free trial.
Pictory Review: Pros & Cons
Here are some pros and cons of using Pictory based on the search results:
Pictory Pros:
Free trial available

Easy-to-use video editor

Can create engaging videos with voiceovers, captions, and more in just a few minutes

Can be used from any device since it is cloud-based

Captioned videos can boost SEO

Large catalog of royalty-free stock footage and audio track library


Pictory Cons:
Some AI voices do not sound natural

Rendering time could be improved

AI capabilities could be enhanced to more accurately reflect the written content


Pictory AI Alternatives
Here are the best Pictory AI alternatives:
DeepBrain AI is an innovative platform that uses AI technology that is focused on people to make videos with more than 100 customizable avatars of different races and jobs.
DeepBrain AI stands out because it can make AI human avatars that talk and move like real people. This makes for a more natural and authentic presentation that keeps people interested. Deepbrain AI's video technology makes AI people that look almost exactly like real people.
Voice, accent, facial expression, and body movements are all recorded as data in a studio designed for AI. Then, deep learning technology is used to process the data to make high-quality AI human video content.
InVideo is an AI video creation and editing platform that lets you produce professional-quality videos from scratch or using pre-made templates. Similarly to Pictory, it offers a wide range of features including text-to-video, video trimming, and even bigger library of images, videos, and music.
Synthesia is also an AI avatar video generator that lets you create professional-looking videos without the need for cameras or a production crew. Like DeepBrain, it uses AI to generate realistic digital humans and can automatically sync the generated video with a provided script, making video creation faster and more cost-effective.
Designs AI is a creative platform that uses artificial intelligence to assist in the design process. Besides AI videos, it offers tools for creating graphics and web designs. Its AI capabilities help streamline the design process, making it easier for users to create high-quality visual content.
FlexClip is an easy-to-use online video maker that provides tools for creating videos for social media, personal events, or business purposes. They also have a bunch of features, including a large stock media library, dynamic text animations, and an intuitive storyboard-style editor.
Pictory Review Wrapping Up
That's pretty much going to wrap up this Pictory AI review. Pictory looks to be the best and most accurate Vidnami alternative.
Now, is it the best way to make videos without being on camera? I think it absolutely is.
It's the best text-to-video maker that has a long future ahead so I would highly encourage you to start the free trial, try it out for yourself and see if it works.