In this Recreate AI review, I'm going to share with you what I like about this new AI text to video maker, what I don't like, and how it compares to other AI video generators available in the market.
Let's find out.
Recreate AI Video Generator Tutorial
The process of generating a video with Recreate AI is pretty straightforward however there are some annoying things that we'll cover later in this review.
To get started, first, you want to click on the AI text-to-video part.
It gives you a selection of templates to go with.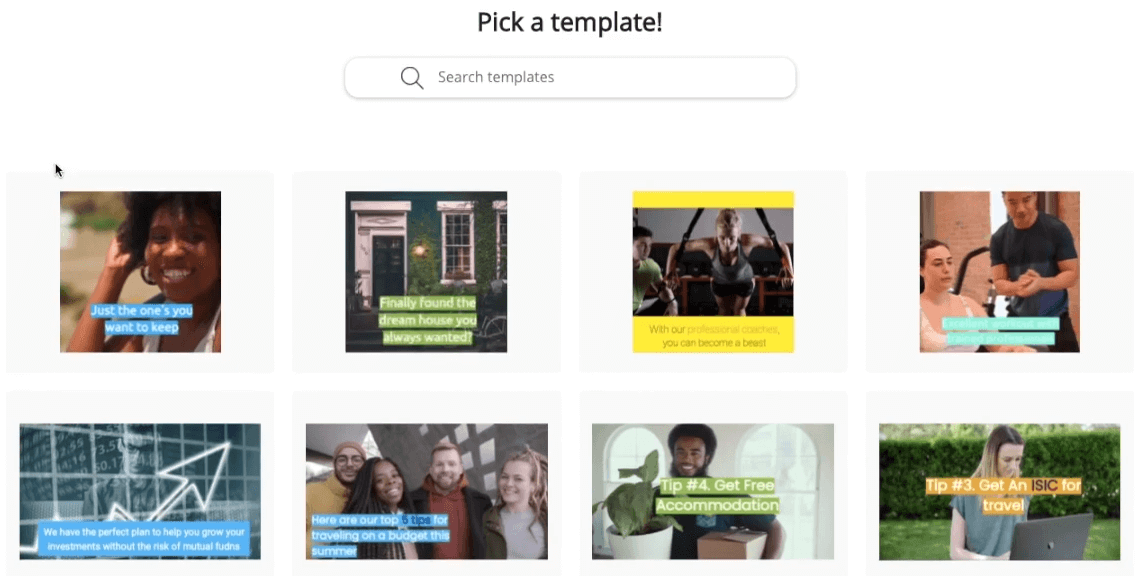 The templates are very similar to other AI video makers like Lumen5, or my favorite content creation platform – OFFEO.
They have 3 different dimensions to choose from:
You can always come back and change them later.
Once you choose the template that you want to work with, you can simply paste the URL of your article or type heading and the description.
The heading is optional.
And you're not limited in the kinds of videos that you can create which is cool.
Then, all you do is click on extract.
If you paste a longer text; you can always come here and you can edit it.
All of these things that are highlighted in blue are called keywords.
And the AI will try to identify what are the important keywords for all of your sentences and these are the ones that the AI will find relevant images and stock footage for.
And if you don't like something, this is a good place to edit both the text and also change your keywords. So, let's say, "dogs have cute puppies." And here, in this line, let's say instead of dogs, I would like to have puppies. All I'll do is highlight this and select that.
Once you've finished the editing of your text, all you do is click on proceed.
Just wait for about a minute or two and it will bring you to the Recreate AI video editor.
And all of your lines have already been placed here.
You can play each scene and see it for yourself by clicking on the play icon.
You can increase or decrease the length of the video by changing the number.
There are a lot more functions to it. For example, if you don't like the image the video of the puppies, you can always click on the media tab, and it's already pre-searched images for you depending on what you're looking at.
So, it gives you a bunch of puppy images and videos for this particular example.
And you can choose between clips and images.
If I don't like this video and I want something else, all I do is grab hold and drag and drop it to the video editor.
It's just going to ask me if I want to replace the layer or add a new layer.
You can click on the text and you'll have a bunch of options to change:
Font
Font size
Text color
Background color
Alignment
You can delete, add more text, and add animations.
So, have a bunch of scenes and my video is pretty much ready.
You have all of this stitch together to have a video ready.
There are a lot more things you can do with Recreate AI for example you can change the kind of transition you want between the scenes and all.
But let me get into the second part which is the audio.
Here you'll find about 300 plus royalty-free audio music to select from.
You can play them, listen to them, and the one that you like, you just select.
And this will be automatically applied to your whole video.
You can also upload your own stock footage and then just drag and drop it onto the scenes and create a video with that.
Now I'm going to show you how you can automatically add text-to-speech and voices to your video.
Recreate AI Text To Speech
If you want to add your voice behind this, all you have to do is click on the microphone icon and it'll ask for your permission.
Then all you have to do is click on the record button, and you can record your voiceover.
Now, let me show you how you can add text to speech to these.
Once you click on the text-to-speech button, you will see that the line that you have on the scene is auto-populated here.
You can listen to all the voices by clicking on the play icon.
And then select the voice that you like.
To be honest the voices are very robotic.
But let's say, I like Robert, I select it and all I do is click on create.
You can change the volume, the pitch, the speed if you like.
Now, here's the deal.
You see for sure that this video or this scene is about five seconds long.
But when you create a text-to-speech, you can click on apply; you'll automatically find that the duration has changed, and the audio is automatically applied to the whole scene.
So, you have a video with an AI voiceover added to it with a single click which is cool.
And this is your voice that is ready for your complete video.
But you don't have to do it on Recreate. You can find any of your favorite text-to-speech software to create your voices, or you can record your voice completely outside on your own app, and then just import it.
So now I have all my scenes ready.
Now, all I'm going to do is let AI sync the voice for me.
All I can do right now is just give it for download, and your video will be ready in under 5 minutes.
Recreate AI Pricing
Recreate AI has 3 different pricing plans:
Free – $0/month
Individual – $20/month ($10 if paying yearly)
Business – $60 ($40 if paying yearly)
With the Recreate AI free plan you can create videos no longer than 3 minutes.
Recreate AI Review Wrapping Up
There you go. That's my Recreate AI review.
What I like about this software is very easy to use. You'll be able to generate a video from the text even with no technical skills.
However, they don't offer so many customization options that you get in tools like InVideo that I personally use.
I hope it will help you to decide whether it's the right AI video generator for you or not.