Today, we're going to look at Renderforest, an all-in-one branding platform that allows you to create videos, logos, graphics, mockups, and even websites. You can also customize or edit the templates on this platform.
We'll dive deep into all the tools and features that they have to offer and you'll find out whether Renderforest would be the right software for you or not, in terms of creating graphic designs for your brand as well as video production.
I'm going to share my thoughts because I have actually upgraded to the agency plan and this is going to help hopefully replace after-effects and do some really nice things from inside the browser.
Renderforest Video Maker
Moving on to our video creation. They say, save the best for last; well, that's because they have 2D and 3D, even whiteboard animations at the same time.
The video templates, also available in different presets.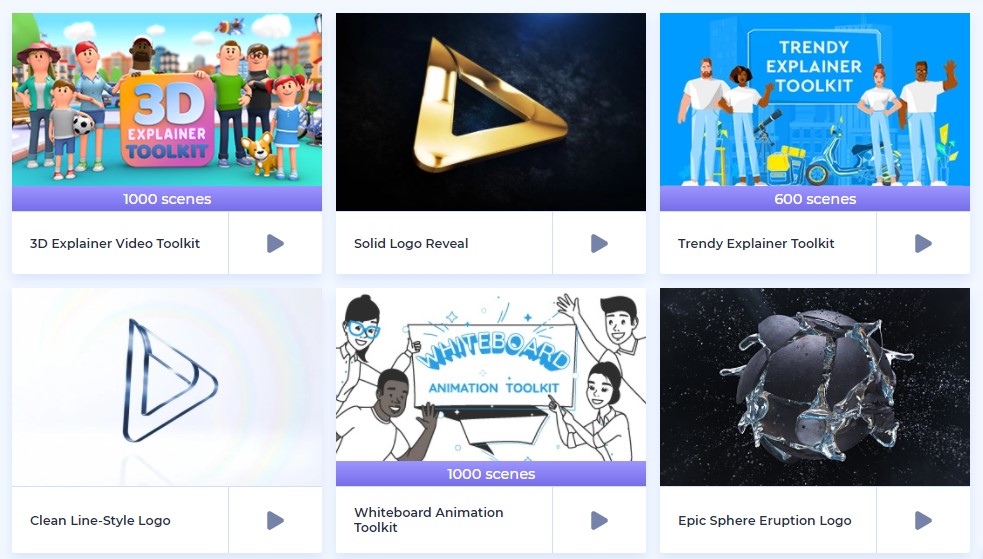 So again, they have 2D and 3D toolkit animation plus logo reveals.
Generally, my first impression is that it has a similar vibe to Offeo, but their 3D toolkit is what makes it different.
I really like the 2D catchy effect of the animations.
But to show you the process, let's grab this 3D toolkit template and start creating.
Here, we have options to add a scene, load a preset thus, if you're happy with the readymade templates and you'll only need minimal customization. And the other is to type your own script.
So, I'm going to try with a load a preset option first.
So, we've got several story options here:
Online store promotion
Social media promo video
Business leadership course presentation
Animated app introduction
News website promotion
And dozens of more.
Now, we're here inside the editing board. Everything seems to be ready.
We just need to customize minimal things like the font; we can choose from their list if we want, or upload our own.
And then since the storyboard is ready, you can just put in your name, maybe change some scenes.
You can also change the overall look or theme of the template by going to the style.
They also have ready-to-use music.
And that's pretty much it. Once finalized, we can start with the rendering. I suggest that you click "free preview" first, especially if you're not sure about the final output.
Renderforest Logo Maker
One of the many features of Renderforest is that it allows you to create a logo through artificial intelligence. So if you're into logo creation, this might actually help you speed up your editing process.
But first, let us see the quality of the logo it's going to give us.
So first, we just need to enter a brand name.
And then with the AI's help, all we need to do is to fill in some details.
Next, we are asked to describe how we want our logo to look like.
We want to keep it concise and clear for the AI to understand our preferences.
So, we get several style options; we can choose whether we want our logo to be lined, solid, flat, watercolor.
Each style has samples which are pretty good because it helps us visualize our logo output.
But let me try to generate using artificial intelligence instead of picking my own preference.
These are the results we get.
Not bad actually.
And there are some more options, plus Renderforest includes auto branding mockups so it kind of helps you preview your brand look as well.
Now we are free to customize the readymade logo based on our color preferences, the font style. We can even add additional elements or icons if necessary.
But for this design, I think I don't want to add any more so I'll just download everything.
The loading process will take quite some time, although, from my timer, it was roughly less than 5 minutes.
The mockups, everything's done and ready.
I just added a few details and I get all the branding necessities. I must say Renderforest is definitely a hack.
If you are a freelancer or basically a small agency that would like to offer such services, this platform can be really, really helpful to get your work done fast and easily. I will keep the rest of my thoughts at the end of this Renderforest review because we still need to check on social media creation.
Renderforest Graphics
So, to design some social media graphics we go to "design graphics" and they have different sizes available and these are the templates we can find.
So, each set of templates, as you can see here, they have indicated the number of scenes or the designs and for how many sizes there are.
Here, the editor is basically the same as what we've seen with the logo.
I like that there are tons of fonts that we can choose from as well as the assets If we want to add some more to the designs and we can also add our own images.
And if you want to add some other more designs, all of the templates are here on your right.
And that's basically it.
You can get a whole set of social media designs for your regular postings.
Renderforest makes someone's workload really fast and easy by providing all in one set or all in one package.
However, with the current editor, I don't think it will work well for clients who need a complicated design, or of course, if you yourself need much customization, then definitely you will also require a much more advanced editor.
But another good side about Renderforest is that you get an EPS file format, which means you can also edit to the material on Photoshop or illustrator, like that's everywhere to keep the same design, but need the advanced tools of these editors.
Renderforest Ease of Use
So now for our final thoughts, in terms of its ease of use, we've both seen how simple the interface is, even the editor isn't crowded.
Renderforest also offers you a tutorial for first-time users but even without the step-by-step guide, you wouldn't get lost.
I really don't much have to say because if I'm only a beginner and I want to be a freelance social media content or video creator, Renderforest would make things so much easy for me.
But I do want to make one point here, I am actually impressed with how fast the loading time is, especially with the templates and even up to rendering your materials.
Considering it's a web-based platform, I would expect some buffering in between my overall editing process, but I never really experienced that with Renderforest so it's a 5 star for me.
Renderforest Pricing
For the pricing, they do have very flexible payment terms.
Free – $0/month
Lite – $14.99/month
Amateur – $24.99/month
Pro – $49.99/month
Agency – Custom pricing
You can subscribe for a monthly payment or yearly plan, but if you think you're going to use the platform on a long-term basis, I definitely recommend the annual plan because it's going to cost you so much less compared to subscribing on a monthly subscription.
Renderforest also allows you to pay only per product. Like if you're only going to need the video maker, you just need to pay $9.99 or $19.9.
The only difference is the quality and type of the license. The same goes for their other services.
But to be honest, the other plans are much more practical than getting one per product, because for example, I wouldn't mind paying $9.99 a month and I'll be able to get more than 6 videos compared to getting only one video.
In any case, Renderforest gives a lot of options here.
Renderforest Pros & Cons
And finally, in terms of its effectiveness, starting from the logo creation.
Logo Creation
I actually like their templates and there's a wide range of up options.
But there isn't much to be expected with the editors so I would say there's very little customization that you can do here. However, if you're subscribed to the Pro plan, you also get the raw and editable file for your logo.
As I mentioned earlier, you can edit via Photoshop or illustrator to make it even more unique. In that case, you wouldn't be limited with the editor's tools anymore.
Social Media Graphics
For social media, you can get a set or a bundle if you choose one template. And it's so much easy to see the rest of the designs on your editing board, but for someone who manages different social media accounts under different niches, I most probably go for a platform that can give me more designs.
Renderforest designs are best for brands with a friendly vibe. Say, for example, I definitely use this platform and my social media postings, but for those in a much formal area like financial accounting, law, this platform may not be the right one to use.
Video Creation
On video creation, based on our video output, I like the elements, the characters, the transition, and even the music. Among the other platforms that have them ready-to-use storyboards and templates, I think this is by far the easiest and fastest one that I've tried.
One thing that I could comment on though is that the kind of videos you can create with Renderforest is the simple slide show type, something that's just linear; after one scene, there would be transitions to go to the next scene.
There aren't much complicated animations, except the logo reveal. I do love the execution of the samples we've seen earlier.
Overall, I recommend Renderforest videos to those who may just need a simple explainer animation video, specifically educators, because it's very easy to use and you can create multiple scenes without going through much trouble thinking about what designs to put in because the AI can also do that for you.
Renderforest Alternatives
Here are some of the Renderforest alternatives:
Renderforest vs Viddyoze
The are many similarities between Renderforest and Viddyoze.
In my Viddyoze review, I mentioned that there are some things that Viddyoze does better like these cool live-action templates that make your videos really professional.
And that type of stuff is high-end on the Viddyoze platform. You need a video editor to use Viddyoze to its fullest capacity whereas in Renderforest you could get away with actually making these style videos without any other video editor or at least not any complex one/.
You really don't need anything else you could actually create it all within Renderforest. Viddyoze is a great platform to enhance your current video production needs.
You're going to have to ultimately weigh the two pros and cons of these platforms to make the determination yourself which software you feel to be better. I personally actually prefer Renderforce video animations and most of the things within Renderforest.
It's a better value I think it handles most people's needs better.
But Viddyoze still does those animations and it allows you to do them in a few quick clicks you don't need to deal with after-effects.
Renderforest is just as easy but with Viddyoze you're getting more options and more availability.
I use both platforms but if I had to vote one or the other, Renderforest gets the final verdict for me for most people.
FAQ
What is Renderforest?
Renderforest is an all-in-one branding platform, allowing you to create high-quality videos, logos, mockups, and websites.
Is Renderforest free?
Renderforest has a generous free plan where you can experience all the features included in the platform.
Renderforest Review Wrapping Up
So, with all that said, I'll go for a 4.5-star rating. But if you're only going to talk about branding, probably a 5 star, because I was super impressed.
Again, I'm saying this, with all the materials we can get, it's just by creating a logo. So, if you're an agency, I highly recommend checking Renderforest for this part.
You can sign up for a free account and they have a very generous free plan because you can create all of their stuff for free.
So, you can explore and determine if it's good for you, and if you need a paid plan, and if you only need a few of these, you can actually buy them.
So, that's my Renderforest review.
Let me know your thoughts as well on the comment section.