Today, I'll show you a way to make money by re-uploading YouTube videos without ever showing your face and without recording videos.
Re-uploading YouTube videos in 2022 with the goal of making money is actually quite simple if you know how to do it the right way.
The only issue is that every single guru out there still teaches old and out-of-date approaches. They say that you can just copy and paste videos and still make money on YouTube.
This doesn't work anymore, especially in 2022.
You can't simply take someone's video, re-upload it, and expect to make money on YouTube unless you add considerable value to the video.
YouTube doesn't monetize these kinds of videos since they offer no value to the videos they re-upload.
They merely download and re-upload videos with no additional effort or added value. YouTube does not approve of this, but I'll show you exactly what YouTube likes and how you can monetize your videos using my strategy.
This strategy genuinely works and is not a waste of your time.
So, let's get started.
Further Reading:
▶ How to start a faceless YouTube channel
1. Choose a Profitable Niche
The first thing we need to do is choose a profitable niche. You would like to create content around your channel.
Now, the reason we need to choose a profitable niche with high CPM is that the niche you'll be in determines your revenue.
What you must understand is that if you choose a niche that doesn't pay well, you'll have a difficult time making money from ads.
For example, if you focus on posting videos that don't have high-income viewers, the money you'll receive from Google AdSense will be substantially lower.
This is because if your viewers aren't actually purchasing things, advertisers will pay less money, which means you'll make less money on YouTube in 2022.
So, for example, when choosing your niche, you most likely want to choose a subject with a high CPM, which means that when you start monetizing the channel and re-uploading videos from YouTube and other websites, you'll get paid a good amount each month.
So, what is an example of a high-paying niche in which we can begin re-uploading videos and start earning money from YouTube in 2022?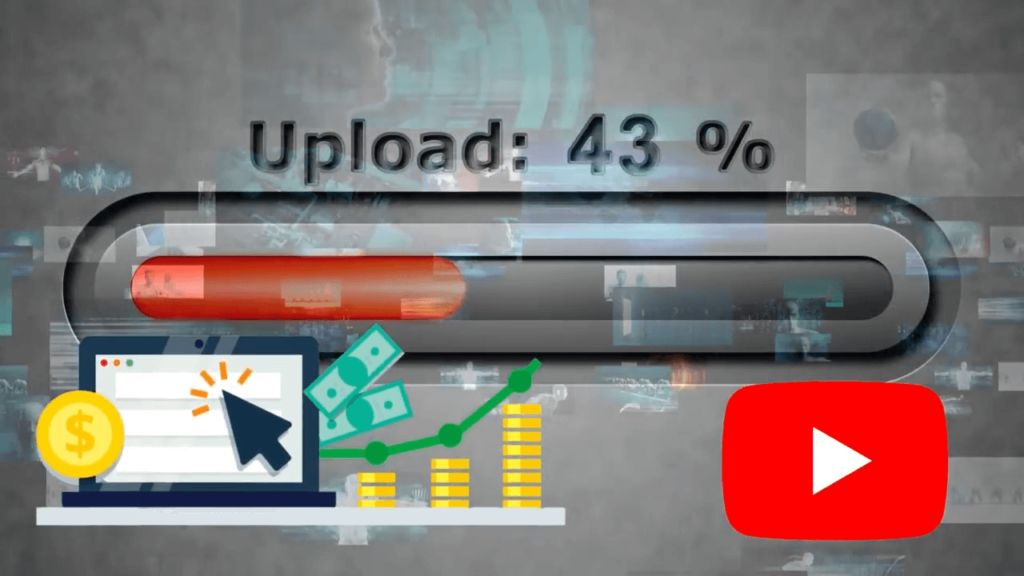 I do have a post about the best YouTube niches in 2022 that are most profitable. But now, I'm going to use the health niche as an example.
The luxury niche will be one of the highest-earning niches on YouTube because videos on luxury oftentimes contain expensive products like sports cars, houses, and fancy watches.
The luxury niche is one of the highest-paid niches on YouTube, and the folks that view the videos are usually wealthy or able to afford those items.
And because wealthy people are watching those videos, they're more inclined to purchase the offered thing. It's also being advertised to people who are more likely to purchase items that will help them become wealthy.
Overall, this is a very high CPM niche in which you should consider re-uploading videos on YouTube.
So where do we start with re-uploading videos? What's the new strategy?
Let's take a look at this particular sample channel, 9 figure life is the name of this sample channel. This channel has been re-uploading videos for about two years.
2. Find Content To Re-Upload
Let's talk about looking for stuff to re-upload. Now, if you want to identify content to be uploaded, we need to look at 3 major sources. Our primary content sources are YouTube, Storyblocks, and Pixels.
To begin, we'll look at YouTube. When it comes to using YouTube clips, you can use as many as you like as long as you use them and give credit to the source, and as long as you use the YouTube video with fair use.
Most people have the notion that you can't use YouTube clips from other channels. This is simply incorrect.
There are numerous YouTube channels that use clips from other channels. All you need to do is make sure that the footage you're using isn't from a channel that commonly receives copyright violations.
People in the luxury niche commonly use footage from a variety of sources, and we haven't seen any channels get canceled or have their copyright violated.
So, when it comes to YouTube, I'm going to take some videos from the many luxury companies that I'm familiar with. Bentley was one of the first luxury brands that I was aware of.
Now, Bentley is a premium car brand that is commonly driven by rich, wealthy, and celebrity individuals making it the ultimate status symbol.
Now, where am I going to get Bentley automobile clips to use in my video? It's actually quite easy. I'm going to look for the official Bentley channel on YouTube.
The reason I'm using the official Rolls-Royce channel is that it will include the best clips of actual Rolls-Royce cars. Because this is the official company's channel, it is extremely likely to have high-quality videos of the cars and considerably higher-quality videos than the typical content.
So, we can download some of the videos and use them in our luxury lifestyle video.
And you want to make sure that your audience is always entertained while viewing your video. You must include a variety of topics in your videos if you want to keep them entertained.
So the next videos we can get will be from the Lamborghini YouTube account.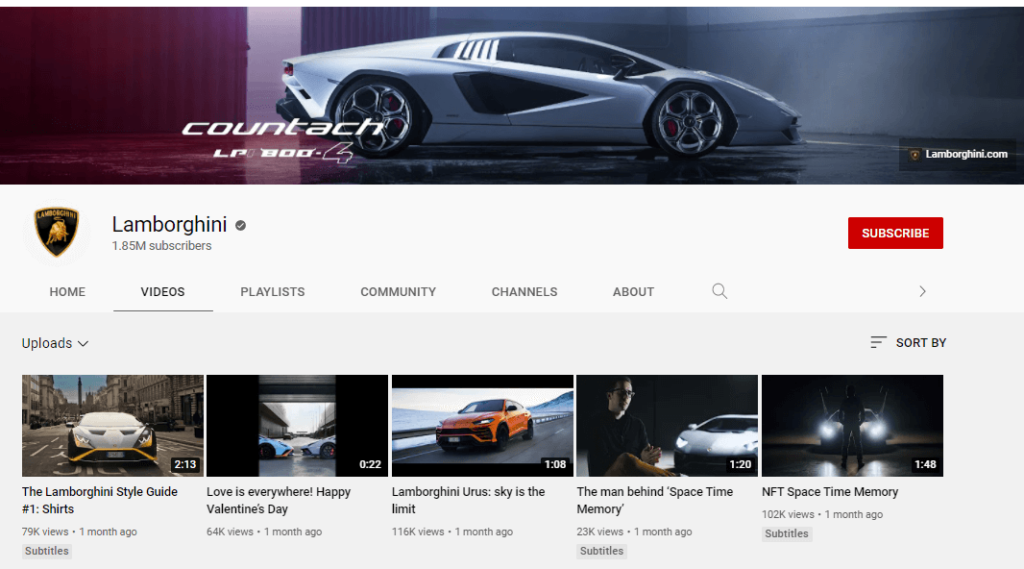 And make sure the video you download is of good quality. And for example, if you see text on the screen in various portions of the video, you should remove certain segments from the video.
This is due to the fact that having text on the screen in a millionaire lifestyle video will appear quite strange.
Ideally, you want to collect a variety of footage from various channels that all have the same cinematic aesthetic.
When you combine them together, it appears really professional, but are more inclined to subscribe and your video will go viral.
The next website that has great stock footage is Storyblocks. What we need to do now is pick up a video clip or a couple of video clips that are relatively luxurious.
And the quickest way to do this is to type in something related to your niche.
For this example, I'll type "yacht".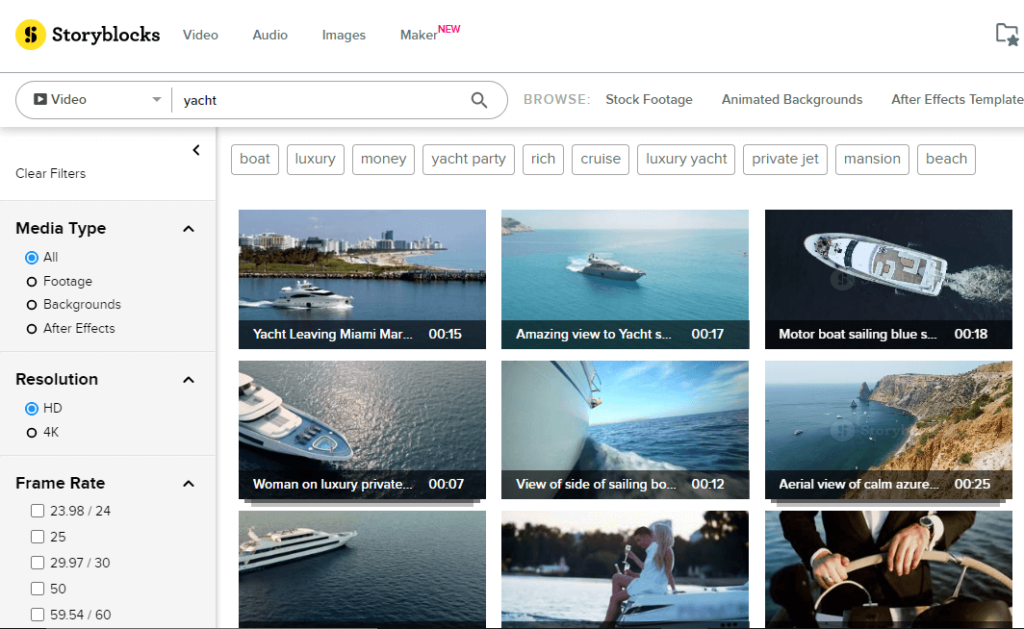 And there are dozens of high-quality videos I can re-upload on YouTube.
3. Make a Video
And now we have all these clips downloaded what we need to do is go to make a video.
So for this, we'll use InVideo.com which is a free video creator that is very easy to use.
Once, you create your free account, the first thing we need to do is to choose a video format and we have 3 options; wide, square, and vertical.

We want to choose wide (16:9) because this is the YouTube video format.
Then we need to choose a video template. So for this example, I can type in "luxury" and I'll get lots of different templates specifically for my niche.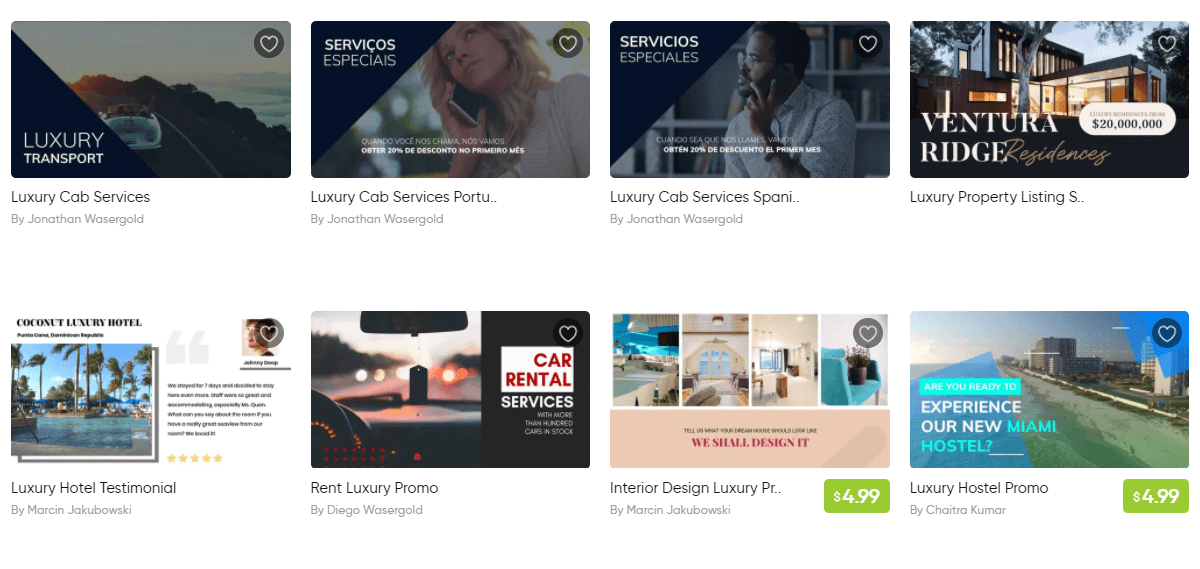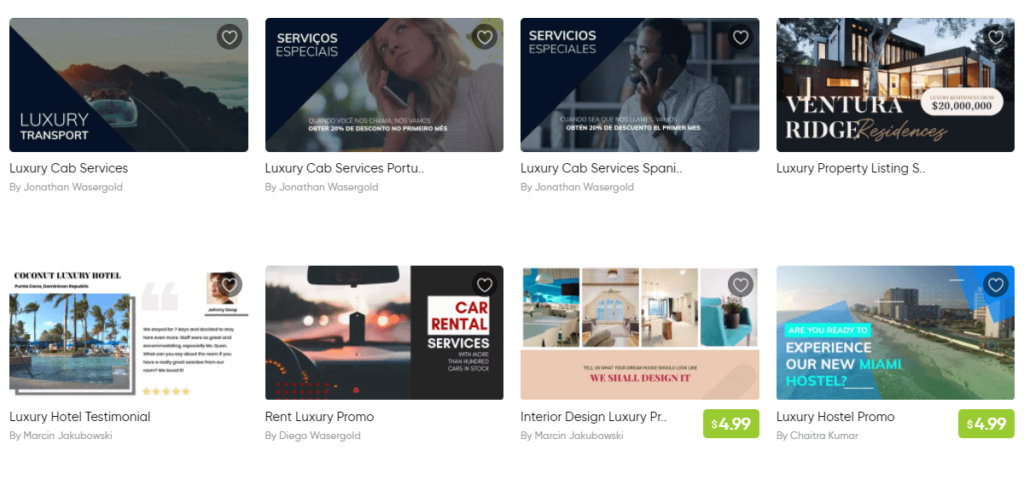 InVideo has +5,000 pre-made professional video templates so there is a high chance that you'll find something in your niche.
Then, all we need to do now is upload your downloaded clips, and tweak them a little bit to make this video unique.
We can add text to the screen. We'll enter "billionaire lifestyle", change the font to something interesting.
Next, we can simply add more clips to the timeline.
If we were to create the entire video, we would just need to add more clips. We may do this by clicking the video tab on the left-hand side.
And all we'd have to do is type in the word "luxury" into the search bar and there is already a plethora of videos available to us.
If you want to, we can just add these clips, which will be considerably faster than downloading many videos.
The audio is the next step for us to take. Unlike other platforms in which you must visit an external website to get music, the music is already inside InVideo.
All you have to do is click the music tab on the left-hand side and we can select from a variety of various music tracks available to us.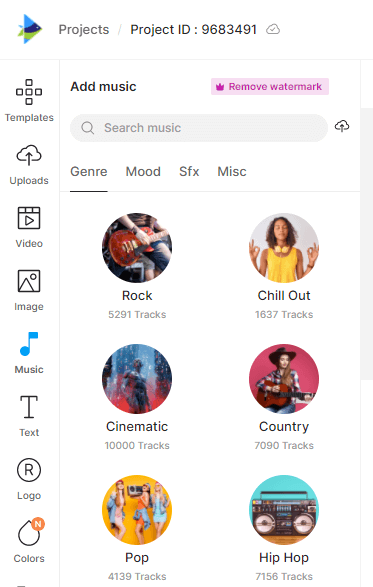 Cinematic I guess would be a great option for this specific video.
If you want to significantly increase getting your YouTube channel monetized, you need to add voiceover.
If a YouTube channel only uploads compilation videos, the chances of it getting monetized are quite low. However, if you create videos with narration, even if the content in the video is not yours, chances of your channel being monetized increase significantly and your YouTube channel will almost surely be monetized.
Fortunately, with InVideo you can do so as well. You can easily upload your voiceover or use automated text to speech.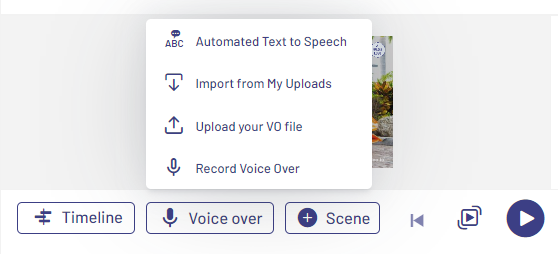 When it comes to using text to speech on YouTube, it's perfectly acceptable.
There are also channels that are currently monetized.
After that, you can preview the video, make sure it's what you want, and then export the video.
So, this is how quick and simple it is to create a YouTube video with InVideo.
It's quite simple to gather all of these clips into one spot and then create the video, making monetizable content.
From there, it's time to re-upload the video to YouTube.
4. Re-Upload The Video
Now that you've created your video, the next step is to begin re-uploading these videos to your YouTube which is very straightforward.
Simply go to YouTube Studio, click on "Create", then "Upload Videos"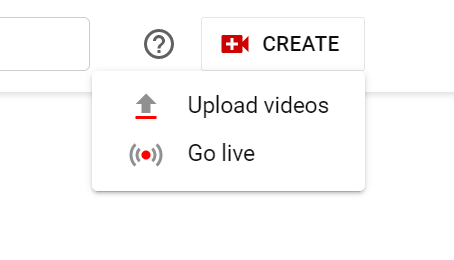 Once your video is uploaded, it's time to rank it higher on YouTube.
5. Optimize The Video
Next, you want to make sure you SEO optimize it by adding the main keyword to the first part of the title and 2-3 times in the description and have the main keyword be the first keyword in your tags.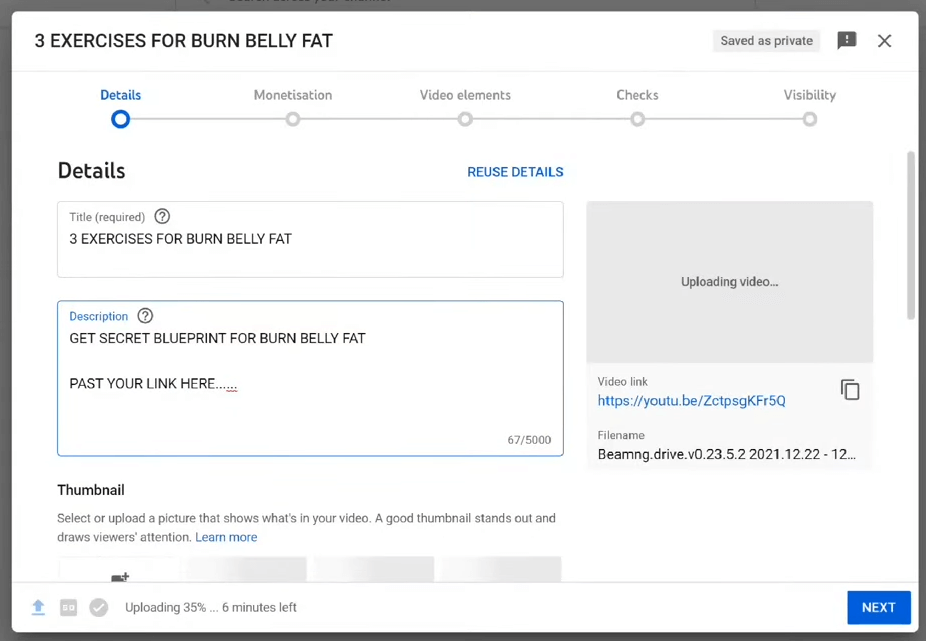 If you want to rank your videos on YouTube, you want to continue to make videos on a consistent basis. I would recommend 3 times a week, a minimum, or you're just getting started, I would say one a day.
You see some of these larger channels, they do post once a day. That would be ideal, but the main thing is to be consistent in your uploads and to pick a number that you'll do every week and stick with it.
Then you'll see which videos are performing well and do more videos like that.
6. Monetize The Video
When you get 1000 subscribers and 4,000 watch hours, you can apply for the Google AdSense program and you get paid when advertisers place ads on your videos like these channels that I'll show you in a moment.
But if don't meet the requirements yes, don't fret because there are many other Youtube monetization methods.
So, how can you make money on YouTube without ads?
Well, before you're monetized, you can do that through affiliate marketing. You can do a search for affiliate programs on Google, in your niche, and there are a lot of them out there.
Or you can simply sign up for free for the affiliate networks like Clickbank, ShareASale, or Digistore24.
And if you have videos about luxury, you can promote jewelry, watches, or other luxury affiliate programs.
Then you can place links in the description of your video.
So that's really good, and it can definitely add up, in addition to the ad revenue, when you get to 1000 subscribers and 4,000 watch hours.
Further Reading:
▶ Affiliate marketing on YouTube
Example of The Channel That Re-Upload YouTube Videos
This channel, 9 figure life concentrates on re-uploading luxury content to YouTube in a compilation manner and monetizing it with Google AdSense.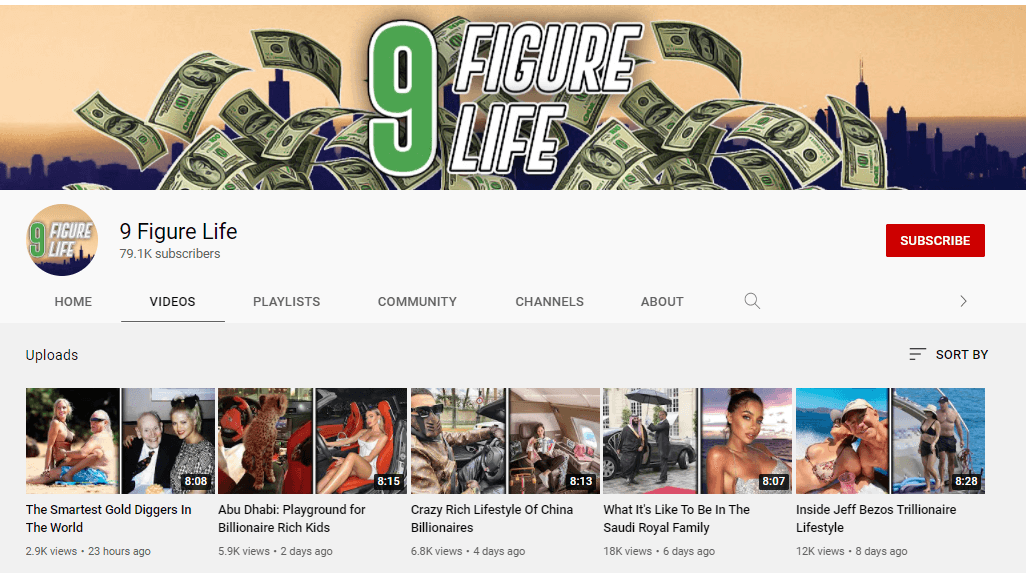 This is a great niche to be in because there are always new premium products on the market.
And there's always something new and trendy in the luxury niche on which you can re-upload YouTube videos.
As a result, there will never be a lack of ways to make money on YouTube.
This channel is mostly concerned with luxury videos and billionaire lifestyles.
What's cool about these types of lifestyle videos is that they don't require any voiceover. All they need is decent content and a good soundtrack.
This is due to the fact that the value proposition in these videos is solely the content that you are viewing. It's not necessary to have a competent voiceover in order to upload these videos.
This means that when it comes to these kinds of videos, we can upload a large number of them quickly. The voiceover will account for the vast majority of video creation for a YouTube cash cow. However, these videos do not require a voiceover.
Re-Uploading YouTube Videos Wrapping Up
So, I hope you go out there and use this method and make money on YouTube by re-uploading videos.
And if you're thinking well, I don't like the luxury niche; you're not alone. There are literally hundreds of other niches in which you can do this, and the process is quite the same.
And if you like this guide, I think you really like our guide on YouTube automation which will show you how to put your channel on autopilot.