Building a website is only part of the whole process. You also need to track the SEO, the page ranking, keep an eye on downtime, see what needs to be fixed when it breaks, and a whole lot more. This could be a full-time job in itself, but thankfully there are tools out there that make this potentially time-consuming undertaking considerably easier.
Today, I'll be taking a look at Screpy, an AI based SEO tool that helps you with monitoring, analysis, and tracking your SEO efforts.
In this Screpy review, I'm going to show you the options that this tool has to offer and in the end, let you make up your mind as to whether this is something that would be of use to you or not.
Let's get started.
Screpy Overview & Getting Started
The first thing you need to do once you log in to your Screpy account is to create a new project.
And adding a project is really easy. You'll simply click the ad project button, drop in the name that you want to associate with it, and the URL, hit save, then it will go through and start to analyze the site and then start to come back with recommendations that look like this.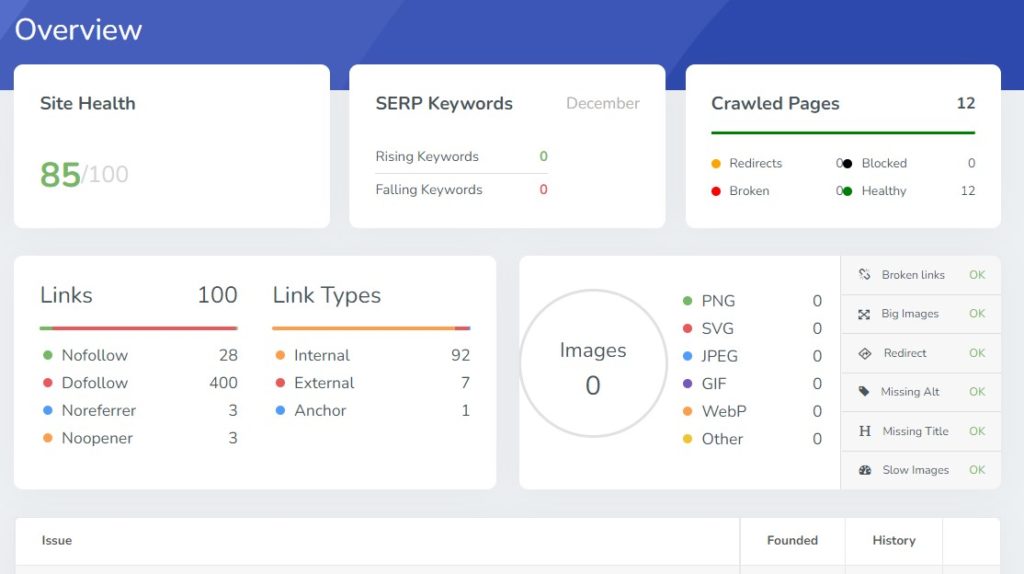 So, this is your project overview. It'll tell you the last analysis time, the next analysis time, it'll give you the statistics for three key metrics, your page speed, your SEO, and any issues.
Ultimately you want to get your issues to a zero.
And the same goes for SEO. Page speed is something you want to get as high as possible.
As you can see for my example, with another optimized site with probably several errors and things because this is still kind of in development.
You can see, I'm getting a pretty decent score to start off with.
So, this is a good example of what you're going to get if you're using this to monitor, track, take a look at what areas you need to sort problems out, those kinds of things.
And obviously, this is something that's ongoing, so this is going to be analyzed on a regular basis.
So, you're going to see the information fluctuate, and as you make changes and then you reanalyze the site; you'll start to see the changes that you made reflected inside your overall health score and any of the things that it says you need to do.
So, you can have up to 10 projects, we said, with this AppSumo lifetime deal under one particular account.
But if you wanted more, you could buy multiple copies and have it registered in a sort of different login credentials.
We can also switch between desktop and mobile. So, you'll see that the information will change based on what type of device you're currently looking at.
Screpy Keyword Rankings
In the keyword ranking section, you can track all of the keywords that you added when creating a project.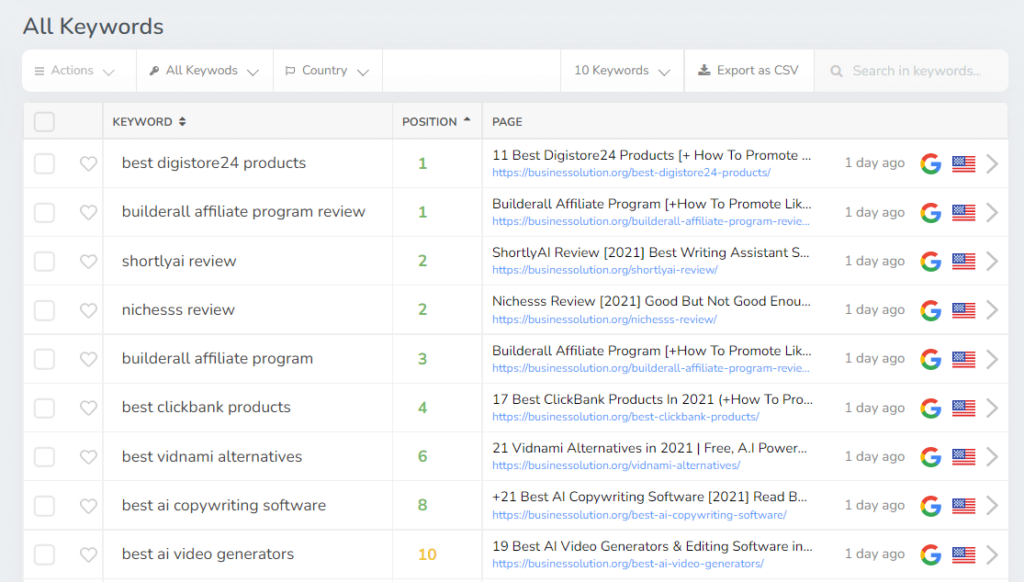 And to add keywords in, it's really easy. You simply click add a keyword then you can select what location do you want to track, and you can start adding keywords that you want to track.
Once you're happy, it will start to track your keywords.
You'll see how many are at the top 10, top 50,100, anything that's going up, anything that's going down.
So, you can see if something's going up, you can take a look as to why that's happening.
In terms of keyword tracking, it does a much better job than other tools like DiiB I've been playing with recently.
I can also break these down if I want to, and I can find out more information.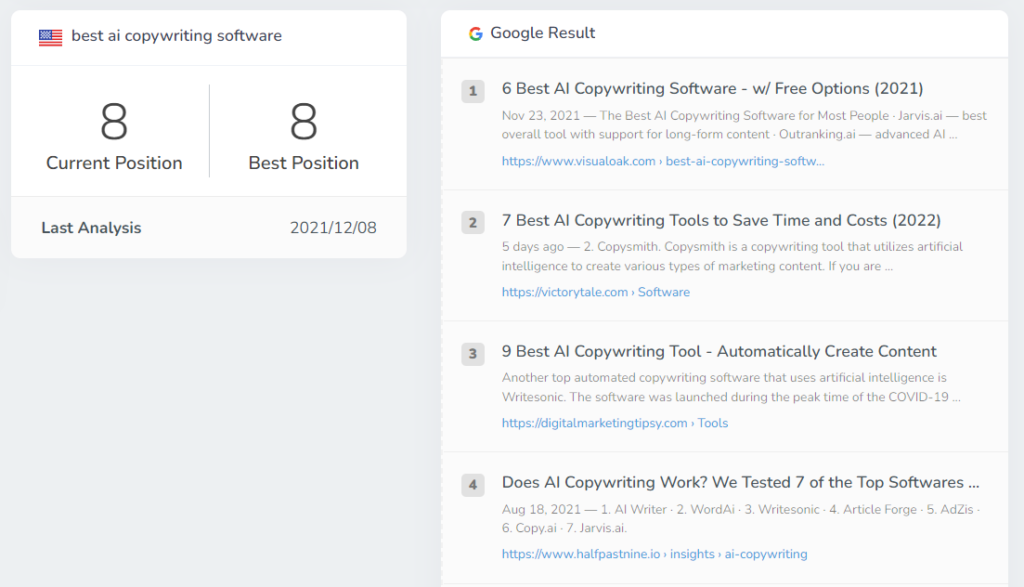 So, I can take a look at the results for a particular keyword, as opposed to being for a global result. We can see what's ranking in the top.
Quite good for your SEO analysis so, you should find actionable data inside here to really get stuck in and fine tune and tweak to make sure that you can start to optimize your pages and posts.
And if you see that certain keywords are dropping, you can take a look at if you could optimize things a little better and squeeze just a little bit more performance out of there.
Again, we're notified when the last analysis and when the next analysis is going to be taken.
But you can refresh this manually. So, if you think, well, 7 days is a little long; I've made some changes.
💡 Pro Tip
If you don't want to wait 7 days until the next SEO analysis, you can refresh this manually. You can simply scroll back up to the top, you can hit the "analyze now" option, choose the site you want to analyze and It's going to take a different amount of time, depending upon the size of the site, those kinds of things. And this is not limited. You can do unlimited reanalysis sort of checks whenever you want to.
Screpy Uptime Monitoring
Then we've got some uptime monitoring. So, you can see, this is saying an average response time, 0.82 seconds.

I'm getting a status code of 200. In other words, there are no problems.
The period is it's being checked every 5 minutes for any downtime.
And then the average uptime you can see in this example is 100%. So, there's been no downtime since I've been monitoring this particular site.
It will also show you request time, any status code errors, like 4 errors, and so on, and how long ago this was.
So, this is just kind of going to ping the server on a semi-regular basis and kind of come back with, if there's any downtime and also how long it took for that request.
Screpy Issues
Next, we've got the issues we can look into. So, you can see these are prioritized using red for really high priority, orange for normal priority, and blue for low priority.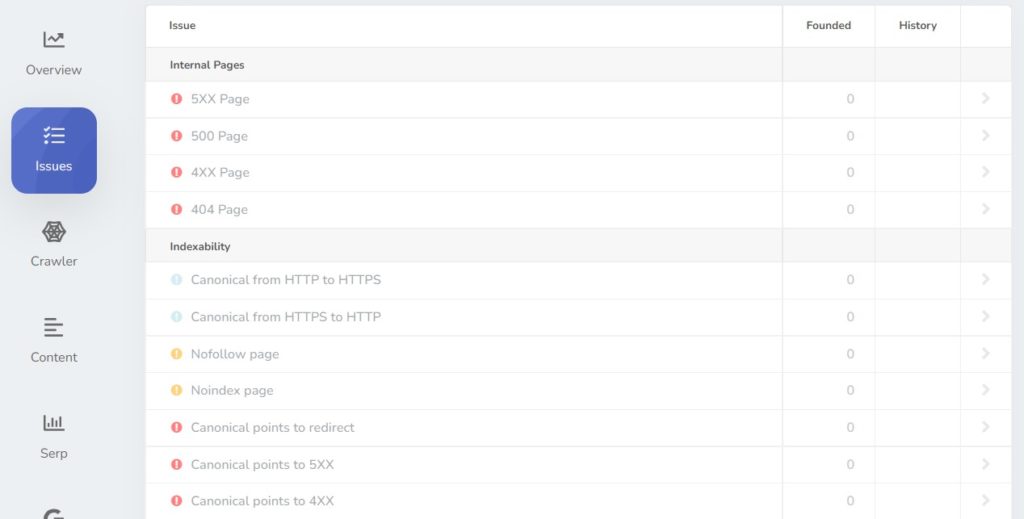 And you can see, what issues you should start prioritizing so, we can easily come in now and start addressing those issues.
Some of those are going to be easier, some of those are going to be a little bit more complex.
So, things like removing unused CSS rules is not necessarily the easiest thing to do when you're working with WordPress, but it is achievable.
The same kind of thing goes for unused JavaScript. So, you can easily come in now and start configuring everything, making everything perfectly fine.
So, these are your tasks. And like I said, you can work your way through all of these until you've got as many, if not all of those, I end out and you have a fantastic, well-operating, sleek and performant website.
Screpy Page Speed
The next super important technical SEO tool is page speed. This is basically going to ping sort of Google to find out what your page speed scores are and come back with an analysis on that.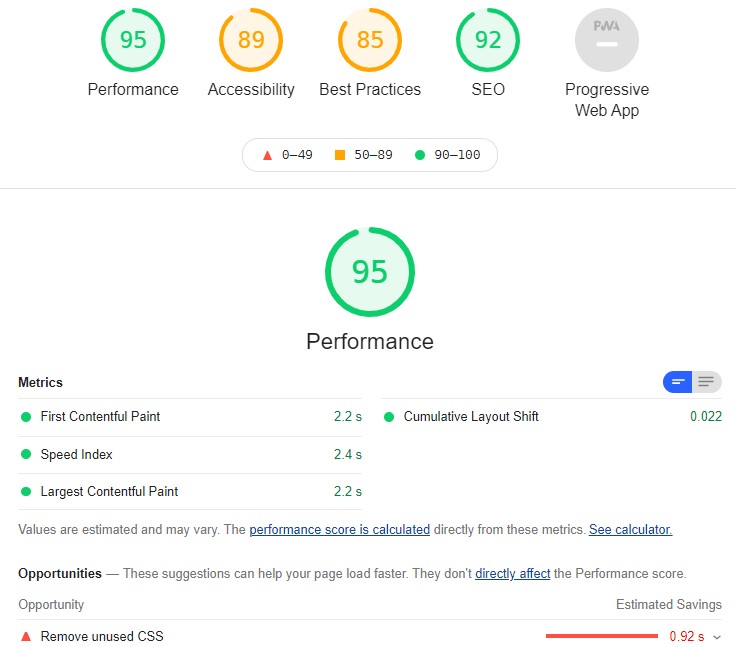 So, you can see the page speed, your load time, your page size, and your FCP which is your first content paint, in other words; when people can start to see information on your page itself as it loads.
Pretty much the same sort of state that you can see inside the overview section.
But then you're going to have a little bit more information about this, and it's going to be broken down onto the pages.
So, if you have a page that is particularly graphics-heavy, that's probably going to score a little lower than the page is a little bit leaner.
But this allows you to at least see how those pages, the content, the structure, the information, how that's going to affect the scores, the speed scores, and so on.
It will also show you all of the Core Web Vitals metrics which is super helpful And again, you can drill down and find out more information.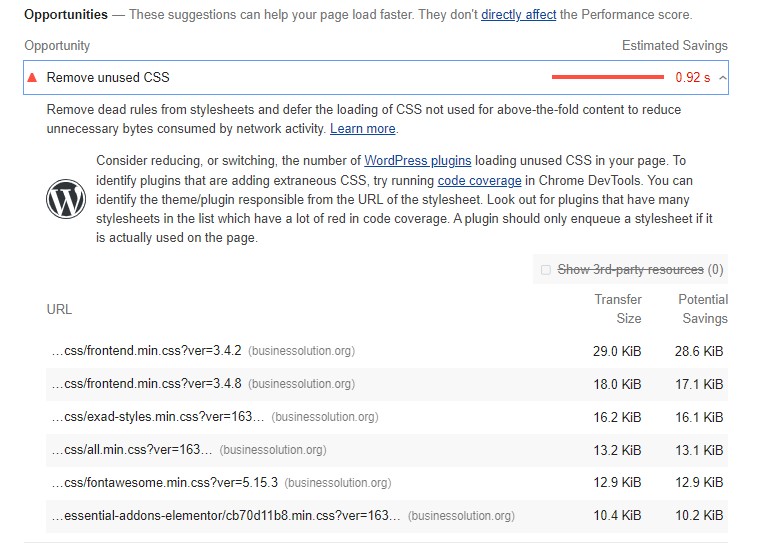 And again, you can switch between your mobile and your desktop.
This will also fluctuate based upon the time of day, the amount of use on any particular survey you're using with your hosting company, and so on.
This is basically pulling in the data from Google's page speed tool so, you've got one localized location where you don't need to worry about jumping back out to that particular page to check your speed.
You can just focus on everything inside here and reanalyze as you go through it.
And doing it inside Screpy means that you don't have to worry about copying URLs between your website and then actual page speed scores and so on.
Screpy Content
The Content section will show you all of the technical issues on particular pages and blog posts, including keywords, long and short titles, missing descriptions, short descriptions, and so on.

We can really dig down and find out everything about our page.
For example, if I click on the low content ratio, it will show me all of the pages where this particular issue occurs.
Whether you find it useful, it's up to you on how deep you want to go into your technical SEO analysis and so on.
Screpy Crawler
The crawler will show you all of the potential crawling issues of your site so things like:
Diagnostics
Syntax issues
Broken pages
Canonical
Html info
Slow pages
SSL
Meta Robots
For example, on my site, I have 4 syntax issues and 7 warnings.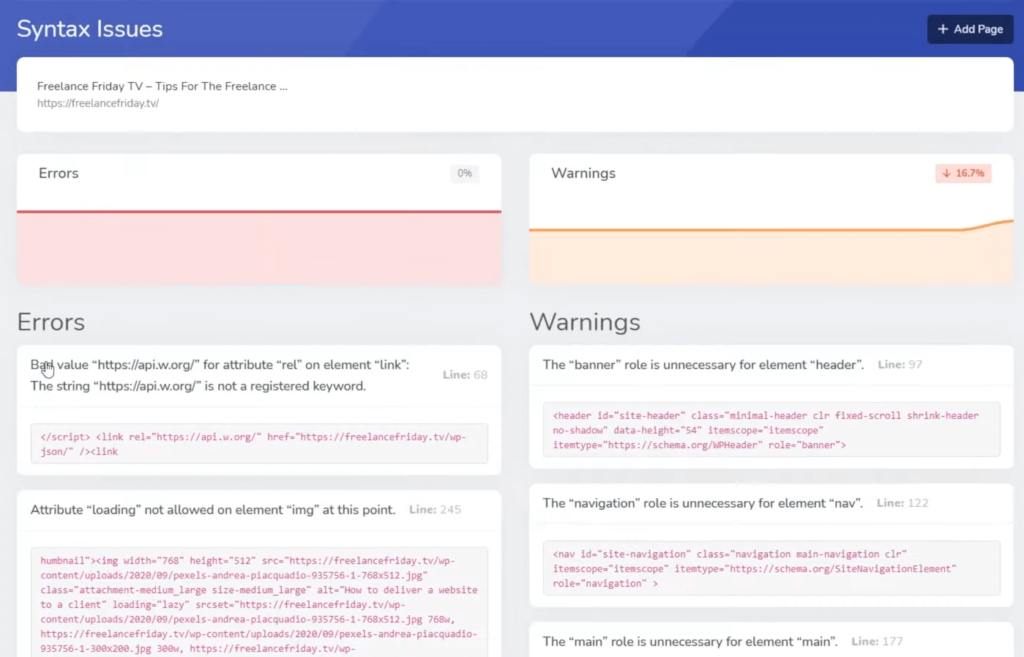 And if we click on one of those, we'll see exactly what those errors are so we can find out what we might need to do.
But obviously, that would need a little bit of investigating.
Screpy Settings & Managing Projects
And then finally we have settings. And this is just basically where we can change the project name, assign it to a team if you want to use team members, or we could delete this project and start all over again with a new one.
So, if we're using this for client sites, for example, and that client no longer wants to use this, they move on or they just don't want this service, they don't want to pay for it, whatever, you can delete that account and you can open up that slot so you can use it again out of your lot in 10 websites.
Screpy Cons
So, one thing I feel screpy is missing right now is the option for automated site reports. If you are using this for clients, the ability to have a report emailed out to cover some of the key metrics will be incredibly useful.
So, for example, showing an SEO overview or report on uptime could help keep you or your client informed as the site fluctuates online. Now, hopefully, this is something that is part of their roadmap and something that will be included in future releases.
And if something like this is a deal breaker for you, then maybe you need to look elsewhere. But with that being said, for $49 for 10 sites and a lifetime deal, it does seem like a bit of a bargain for the amount of data and information that's included. Could you get the majority of this data elsewhere?
Absolutely. But you have to ask yourself if you want to do that, or if a centralized location is worth more to you, in which case a tool like Screpy may be the perfect solution.
Screpy AppSumo Lifetime Deal
Now let's take a look at the deal itself over on AppSumo, what you're getting for your money and how much is going to cost you.
So for a limited time, the Screpy lifetime deal costs $49 of a one-time payment.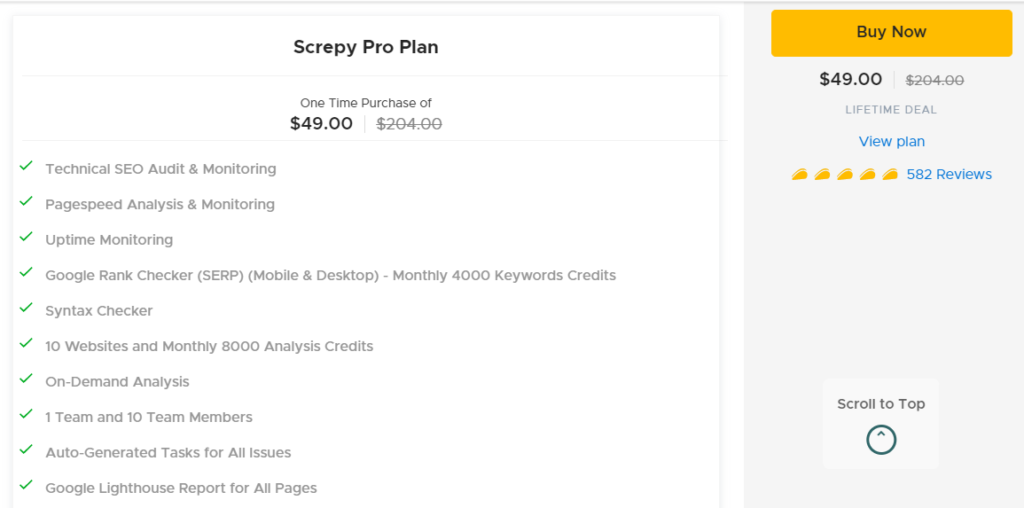 And this gives you lifetime access to this particular sort of set of options.
So, you've got:
Audit for your SEO
Page speed analysis and monitoring
Uptime monitoring
Google rank checker
10 team members
Link analysis
And more
Most of these things on the AppSumo deal, like the analysis credits and so on, do refresh every single month. So, they're not a one-time lifetime. Once you've used them, they're gone. You have them refreshing every single month.
And it's worth mentioning that this is not a stackable deal. This is basically you pay once for it, and you have access to the options that are part of the particular plan.
This gives you 10 websites and if you wanted more, you couldn't stack them on top of each other, you'd have to have separate accounts for each one.
But you could purchase multiple different copies of this and then just register it under different login details, just so you have access to more sites.
You have 10 websites, syntax checker, analysis credits, on-demand analysis, 10 team members if you wanted to have a different team member that had access to an individual website or those kinds of things. So, you have lots of things, speed tests, meta tag analyzer, SSL checker, domain checker, loads of options.
And like I say, Screpy is all under one code and this is $49 for a lifetime.
Screpy Pricing
And if we take a look at the actual pricing, if weren't buying this through the AppSumo deal; you'll see this is a monthly or annual charge.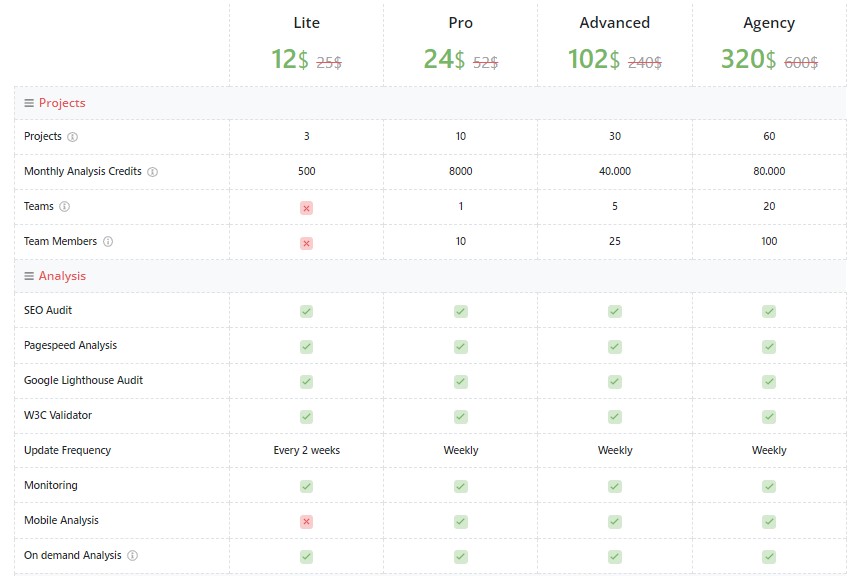 So, if you went monthly for the Lite, which gives you only three projects, we are sort of be planned underneath the Pro plan, which would be $24 per month currently, or annually, $17 a month if you paid for it for the 12 months. And this gives you pretty much exactly the same as what you can see that we've talked about inside the AppSumo deal.
There might be some slight discrepancies on some of the things you have with it, but we do have to bear in mind we are only paying once for this, and then we get lifetime access to that plan.
Screapy Review: Is It Worth It?
So that's my overview of Screpy. For me, it's a great technical SEO tool. Whether you'd find it useful, is up to you. You might already have tools that cover some of this or all of this, in which case this might not be of any use at all.
But for the investment of $49 and for what you get to track those 10 sites with a lot of actionable data, if you don't have options in place right now, this could be something that could be useful for you.
Or you may have those options in place, but you'd like to have a unified location specifically for monitoring notifications, historical data, all the kinds of things as I've shown you, then maybe this is something to take a look at. And with a sort of entry for your $49 for 10 websites for a lifetime, I think it's kind of worth a punt.
And if I don't find any use for it, I don't like it or just it doesn't work the way I want it to, I've got 60 days to get my cashback on it.
So, there's no real risk by purchasing this for you, anyway.