Today, I'm going to introduce to you a very affordable and flexible all-in-one SEO suite called SE Ranking. And in this SE Ranking review, you'll see a complete walkthrough of this SEO tool to help you decide if it's the right software for you.
After hearing all of the positive reviews from other marketers about SE Ranking, I decided to give it a shot and now I want to share with you my personal experience with this tool, the pros and cons,co as well as compare it with some of the AI SEO tools out there.
So let's get started.
💡 Note
In this SE ranking review and full demo, I will be covering the main features of SE Ranking which include mobile and desktop ranking, SEO audit, keyword research, monitoring page changes, and SEO plan. I'll also show you how to set up your first project. So if you want to work along with me, you can start your SE Ranking 14 day free trial (no credit card required)
What is SE Ranking?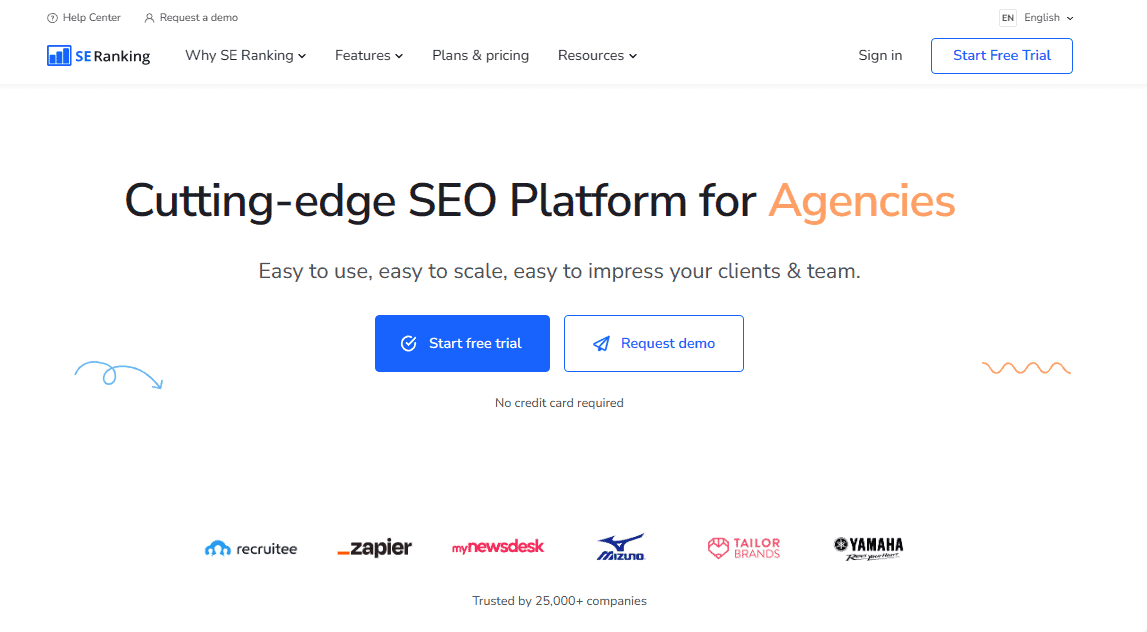 SE Ranking is a cloud-based all-in-one SEO tool platform that manages and effectively runs SEO campaigns and performs various actions including:
Comprehensive site audit
Rank tracking
Competitor analysis
Keyword research
Backlink monitoring
And more
In addition to the standard SEO tools, SE ranking provides a few more services like the lead generator and white label, useful for business owners and agencies.
In addition, the tool provides an accurate and updated ranking that can be monitored and optimized at regular intervals.
Let's get started.
SE Ranking Tutorial – Creating Your First Project
The first you need to do after signing up is to create a project. So let me show you how to do that.
You can create a project initially, by entering the website URL with the project name and search range.
So now, click on "create your first project", and then after that, you have to put in this information.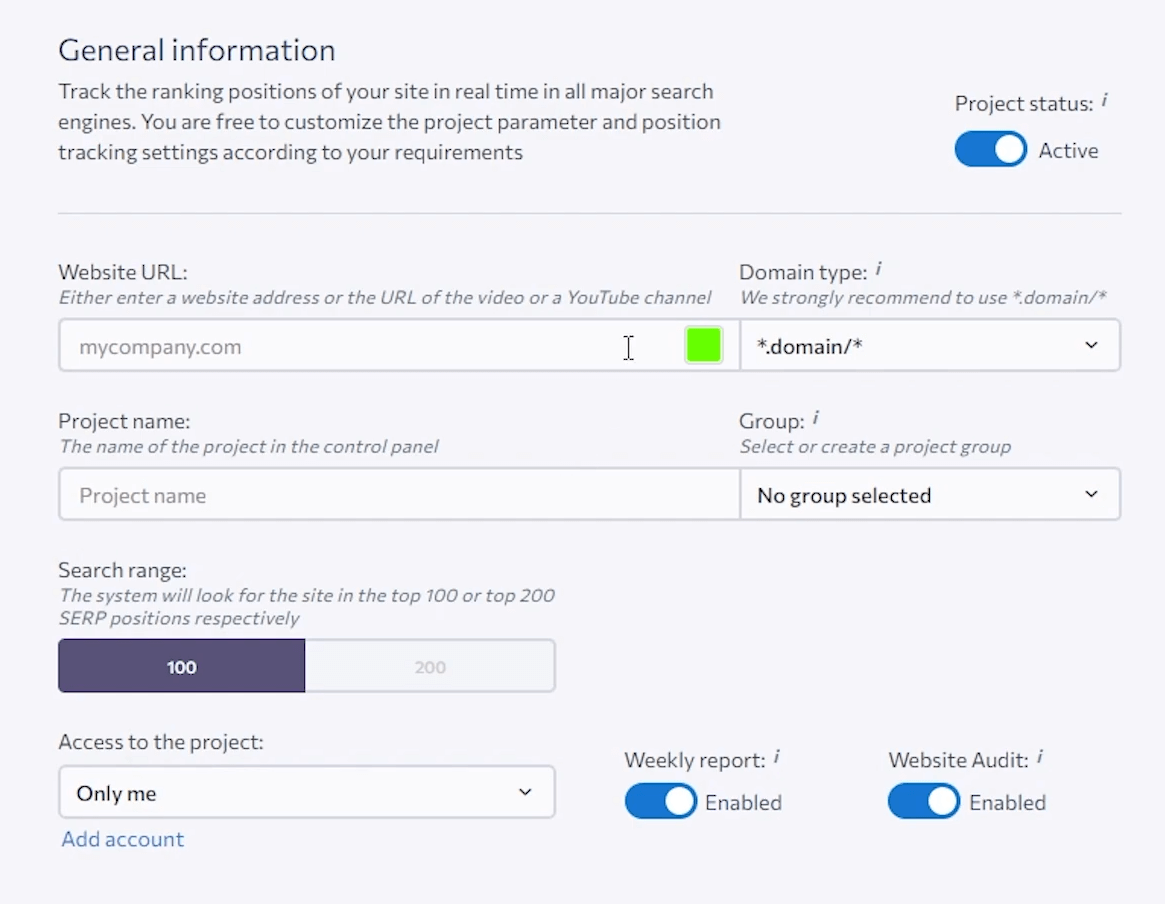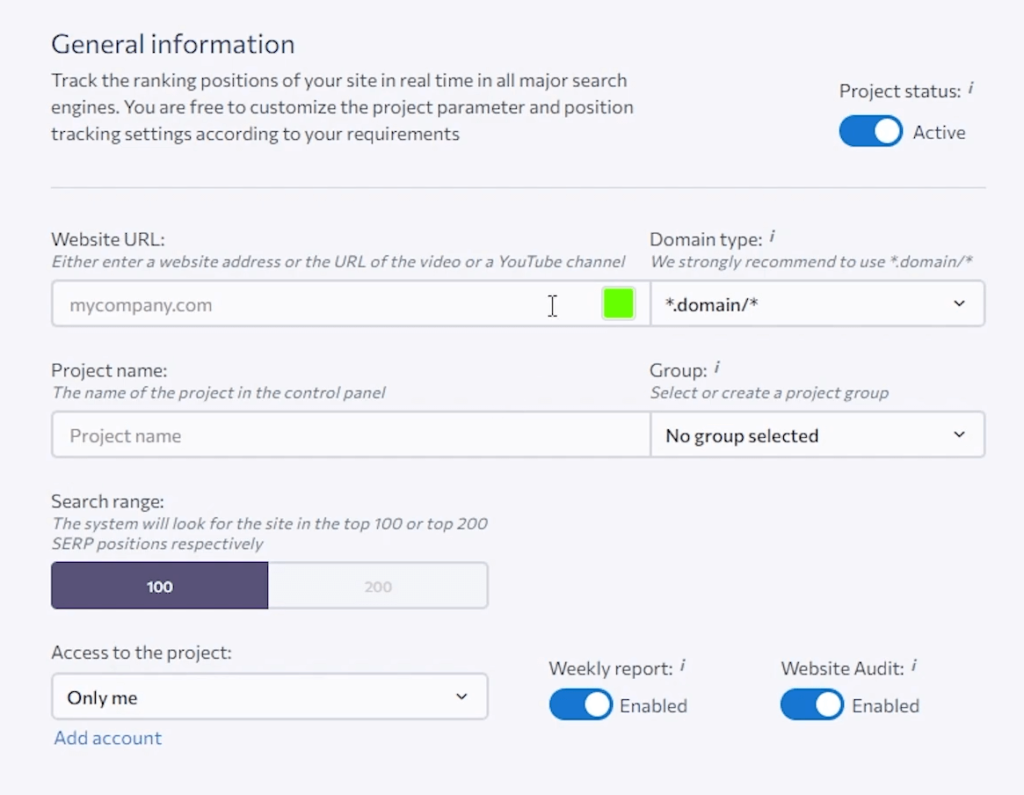 They're gonna ask you for your website URL, your project name, domain type, and also your search range.
Next, you can basically add keywords manually so you can track website ranking positions for all the keywords that you're interested in.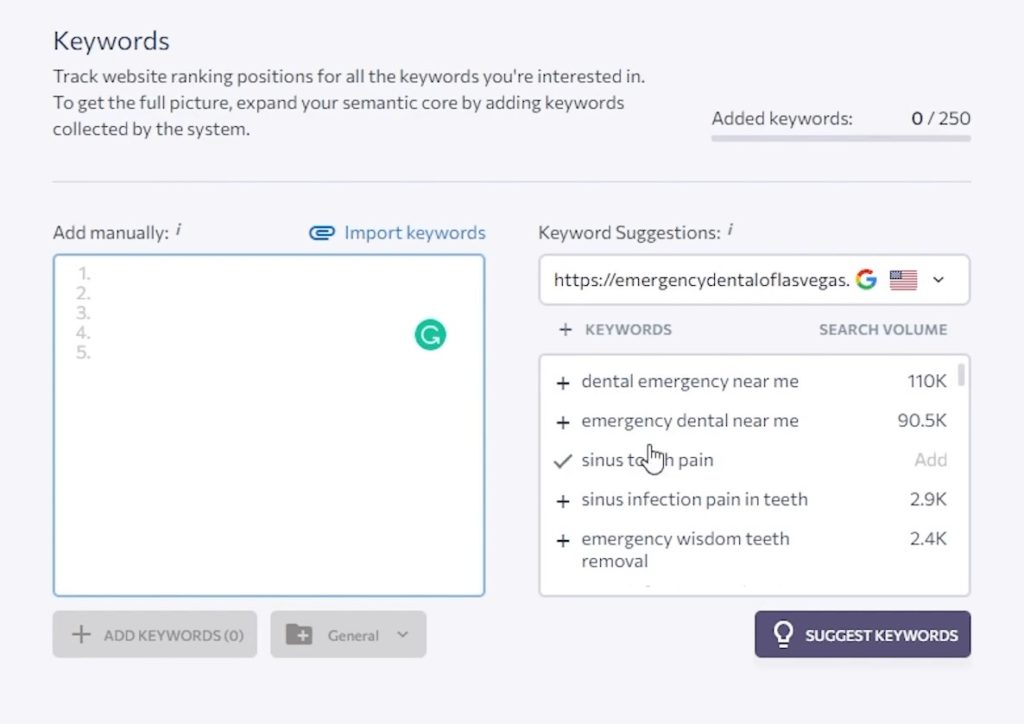 Then you can add your competitors. And this is pretty interesting that it suggests your competitors.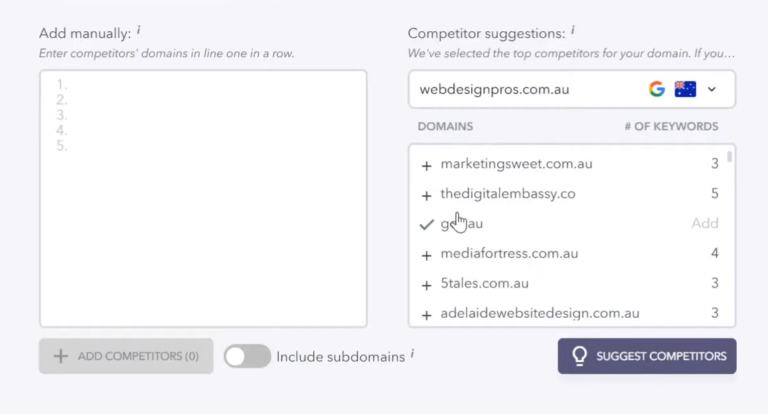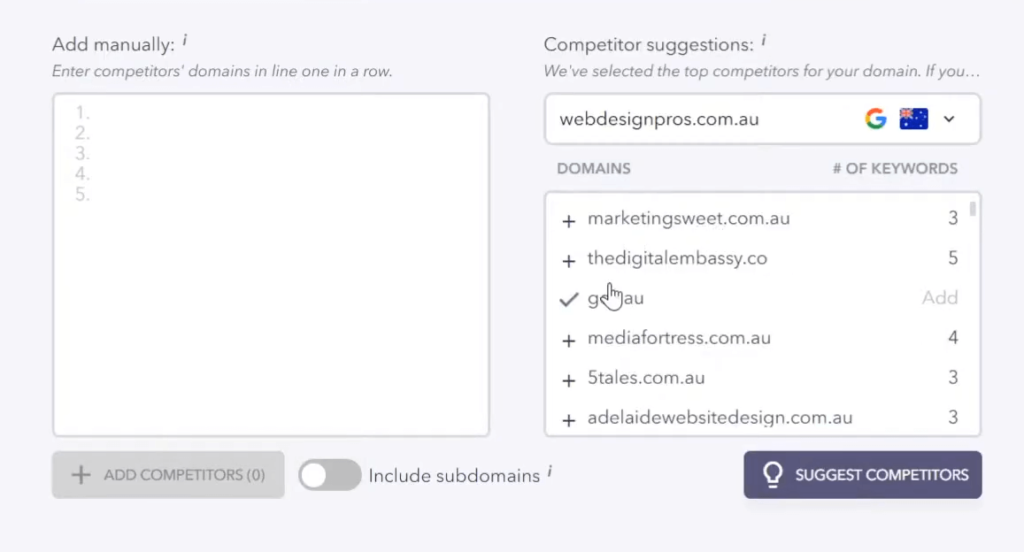 So, these are pretty much my competitors.
So, you can see that it has made your life very easier. It can detect competitors for you; you don't have to enter them manually, like for example in CrawlQ.
And we'll talk more about the SE Ranking competitor analysis tool in depth later on.
After that, you can basically connect Google Analytics and also connect Google Search Console as well if you wanted to.
So, after connecting with the GSC and GA, here is how your dashboard will like.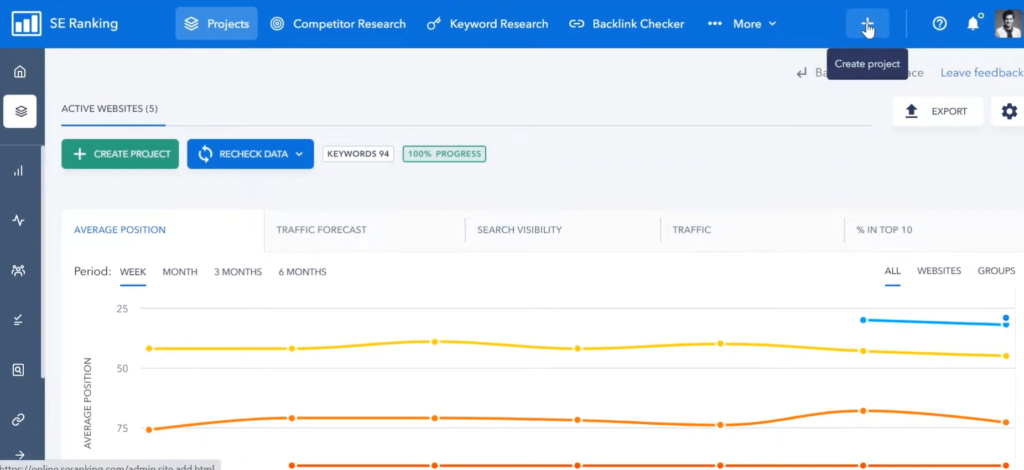 The dashboard is self-explanatory with all the SEO features available where you can track and monitor your rank in real-time.
Here you can find summary data on all of your projects and quickly check up on all of their changes.
You can easily customize the dashboard however you want by moving sections around and personalizing the interface.
The charts by default display the average rank and position of your projects but you can also switch to see the traffic forecast, search visibility, and the percentage of your keywords that are ranking among the top 10 search results.
This allows you to display the maximum number of metrics on a single screen and get a quick understanding of your website's performance and SEO dynamics.
Every chart is really informative and understandable enabling you to quickly analyze the data you need.
SE Ranking Rank Tracking
The rankings module can be accessed either via the main project menu or the navigation bar on the left-hand side.
Here you can see the entire working area of the screen to make it easier for you to read all the data you need and analyze how each metric affects the other.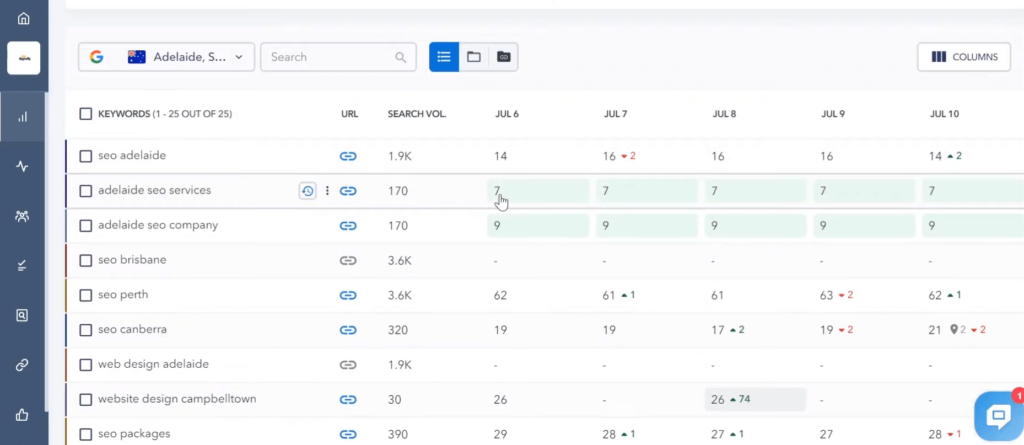 You can track your rankings every single day, and you have a history of your rankings; so, when your ranking was dropped, and you can easily track your website changes.
And as I explained in my Screpy review which is an SEO monitoring tool, SE Ranking takes rank tracking to another level.
Each section loads up very quickly which is especially noticeable for projects that track thousands of keywords.
You can select any date range and ranking position filter and get new ranking data just as fast.
There is also a preview of the main charts so that you can immediately see the big picture of your project and make timely changes.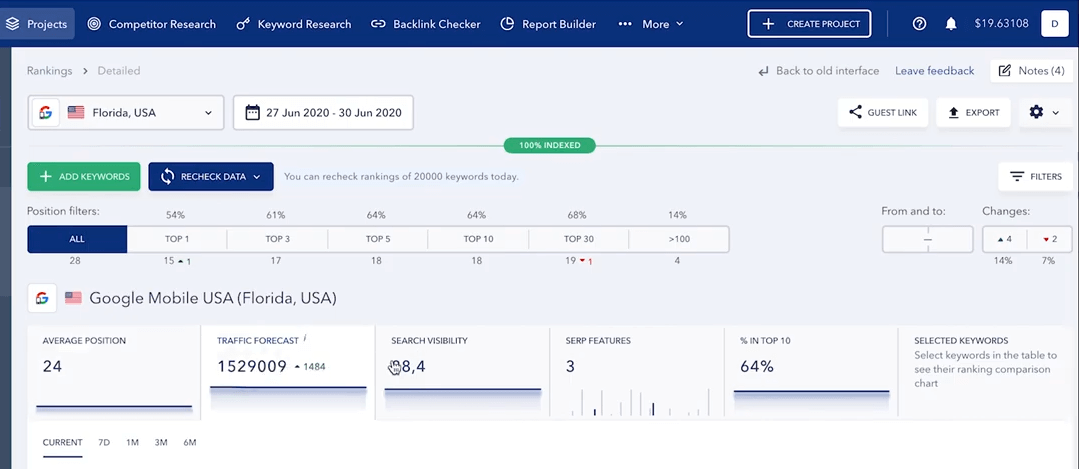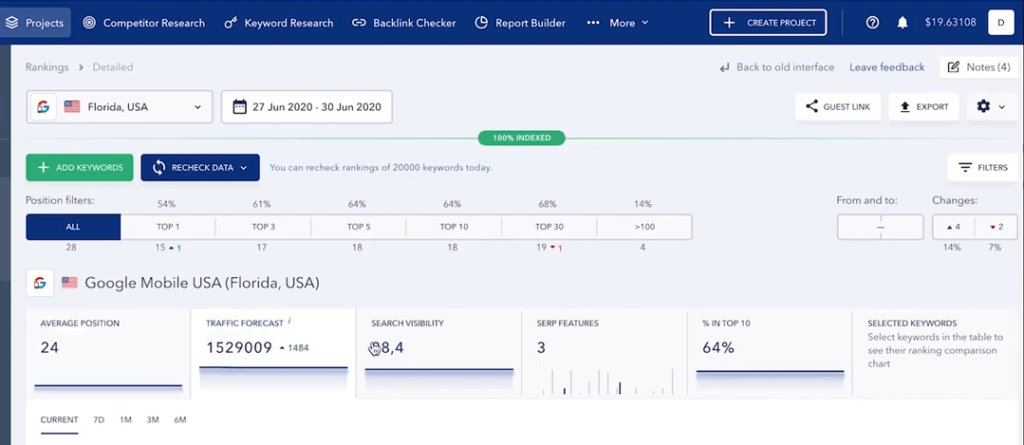 Like with a dashboard, you can also fully customize the interface of the rankings module. With the help of this function, you can choose whether you want to display charts on this page or not, choose the number of keywords to be displayed.
You can decide how you want links dates, the main chart, and the rankings table to be displayed as well as adjust the table settings and the display dates of ranking position checks.
What's cool, you can easily switch the table to another search engine and analyze the same set of keywords in case if you do SEO on search engines like Bing.
Now let's move on to the analytics and traffic section of the platform.
SE Ranking Analytics & Traffic
Here you can connect Google search console and Google Analytics to analyze even more data on one screen without having to constantly switch back and forth between tabs and tools.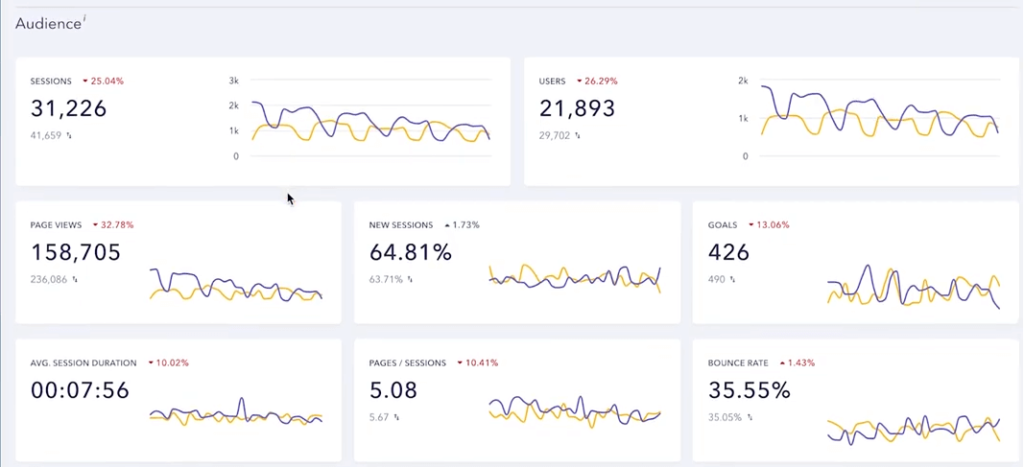 You can quickly analyze project metrics because all the data is displayed on a single screen.
There is also the opportunity to analyze an image and video search view data not only on keywords but also on:
Pages
Countries
User devices
Dates
Search types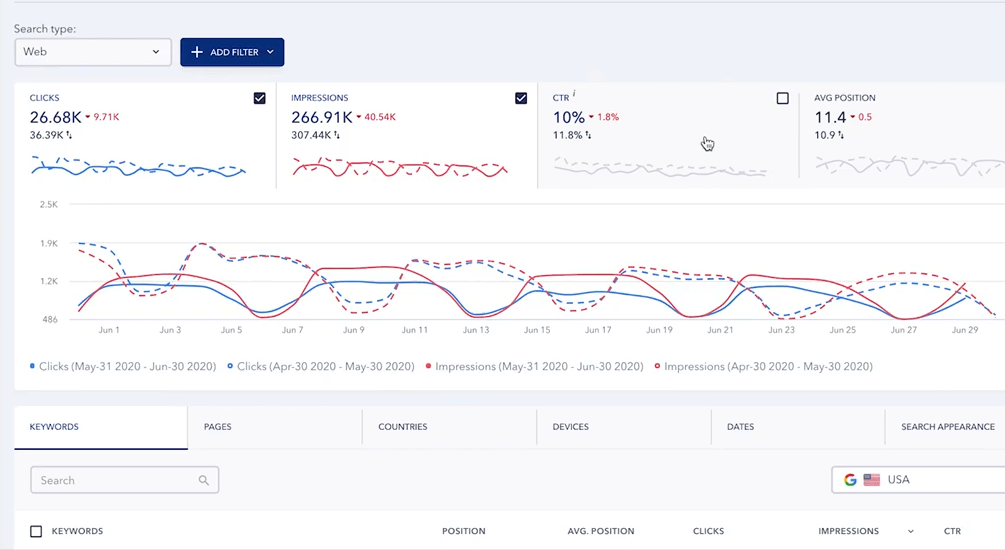 Plus, you can compare any data for any selected period.
SE Ranking Website Audit
So, another amazing feature is SEO audit. An SEO audit will give you a comprehensive overview; what are the errors on your website and how they can be fixed.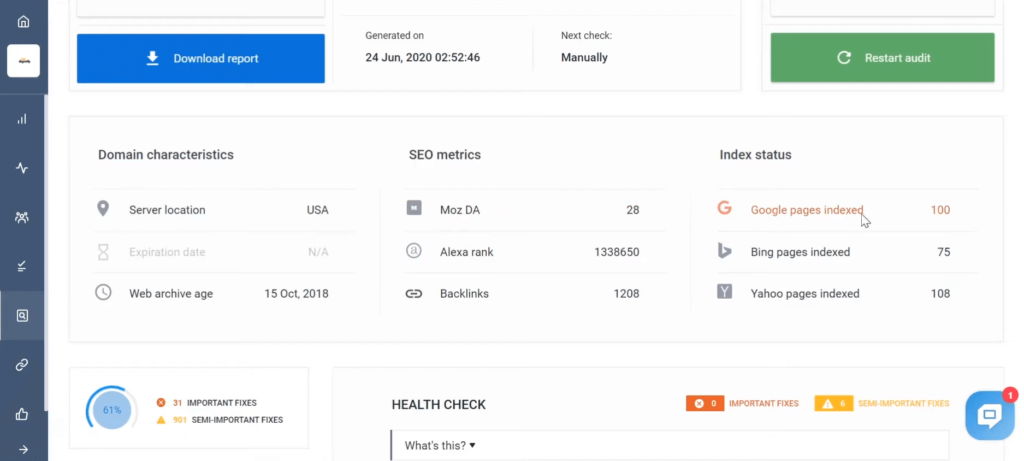 It is also giving you a Moz DA, so that is pretty good.
And it is also telling us how you can fix them, so it is very similar to what we have in SEMrush, and it is very detailed; every single error is mentioned.
Now let's move on to the keyword research tool, the next main feature of this software.
SE Ranking Keyword Research
When doing keyword research, you can see each keyword search volume popularity and understand how easy it will be to target it in your promotional search campaigns.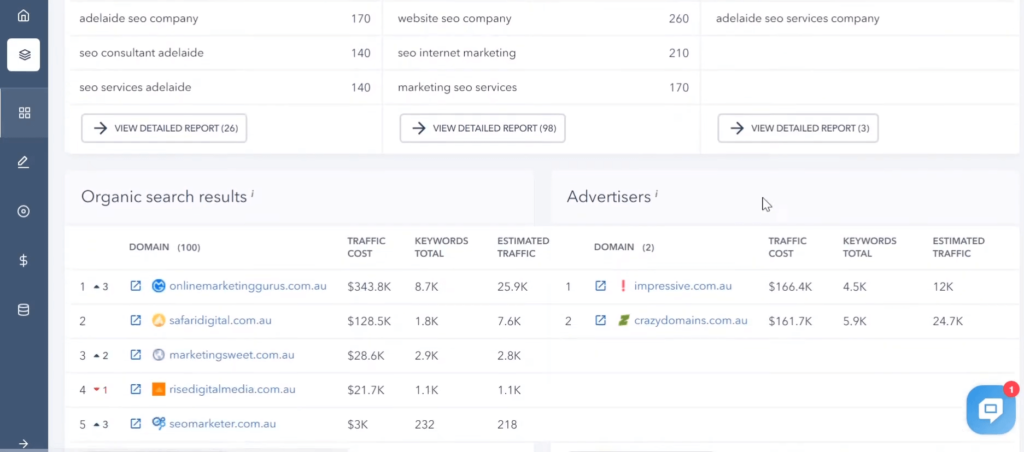 Plus you get keyword ideas for your similar, related, and low search volume keywords and what advertisers are bidding on this keyword.
The keyword difficulty score will help assess how promising the keyword is and how difficult it will be to get a page ranking among the top 10 search results by targeting this specific keyword.
With the help of this metric, you can select keywords that drive traffic and easily get high rankings.
You can also analyze keywords in bulk by adding a maximum of 5 competitors that can be added side by side with your data to obtain visibility based on your keyword score.
I think this is pretty much close to what we have in Ahrefs.
Now let me show you the next main feature, which is page change monitoring.
SE Ranking Page Changes Monitoring
So here you can add your website page and it will keep a track of what changes you have done on your website and how these changes are impacting your ranking.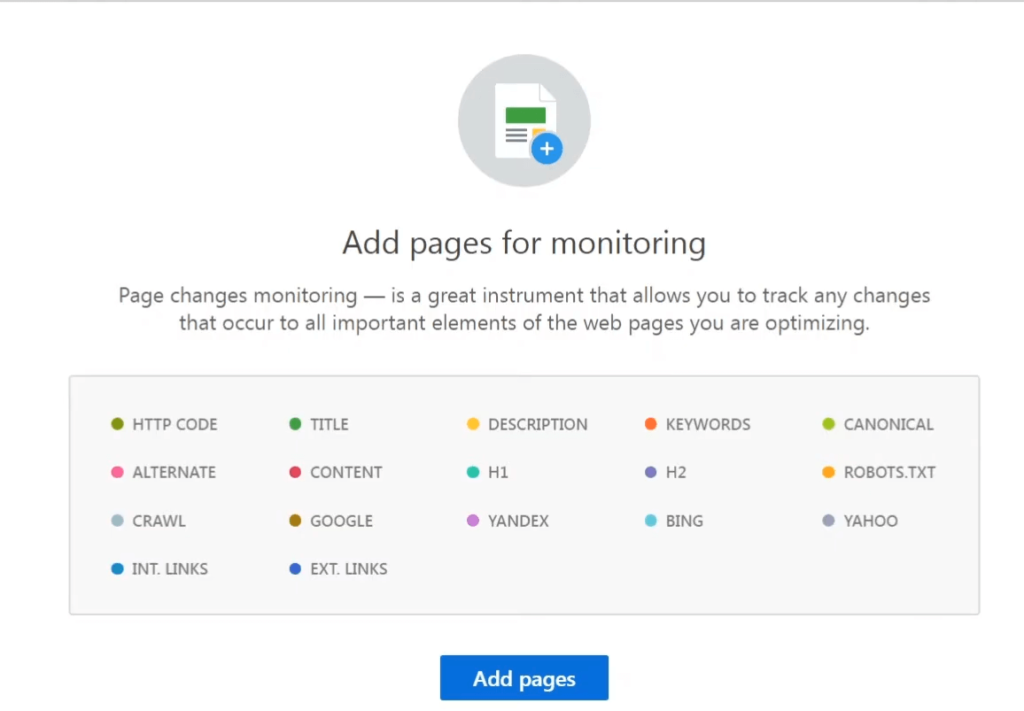 So, you will have a complete history of your website changes.
And in this way, if your website is impacted, you can go back and see what changes impacted that specific ranking or which changes you have done, and which made your website jump from 5 to 1, so this is a pretty interesting tool.
And I haven't seen this tool in other SEO software, so I found it very useful.
SE Ranking Marketing Plan
So, another feature that is really interesting is the marketing plan. It tells you what things you can do to optimize your website.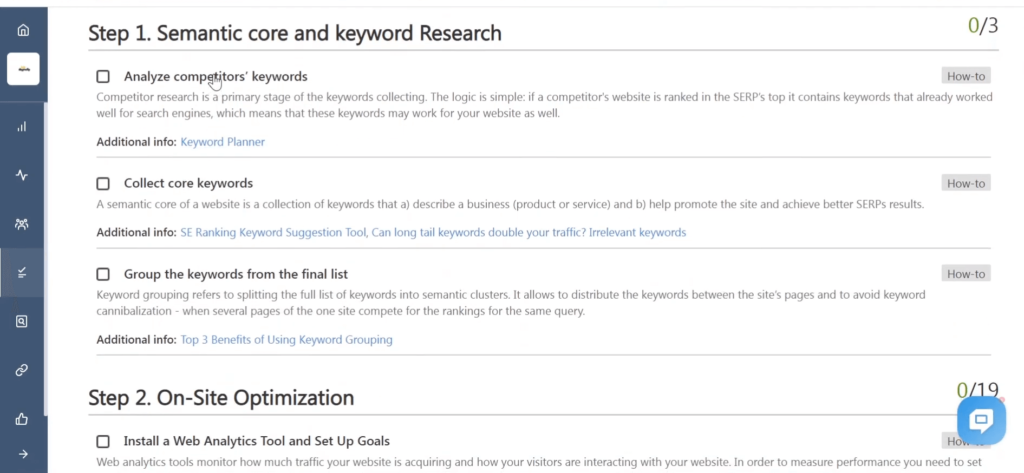 You can click on these suggestions; they will tell you what you can do. It is a very good tool for beginners.
So, this is just a task list; and you can also add your own task so this is a pretty interesting tool as well as for advanced level marketers. And they have made it very easy for you.
SE Ranking Competitor Research
Next up is SEO competitor research. Here you can perform competitive research and uncover your competitor's most powerful SEO and PPC campaigns.
You can enter the address of the competitor's site and analyze their site.
It can also track SERP ranks along with Google ad positions, maps, and also tracks your competitor's progress.
However, this feature is not as in-depth as the SemRush Competitive Research toolkit because it's lacking a few key metrics and I'll talk more about it later.
SE Ranking Backlink Checker
The last SE Ranking tool is the backlink checker, where you get a complete list of domains you want to search. Each backlink gets checked for:
Server location
Social popularity
API
Backlink URL
Alexa rank
External links
And more
You can just enter a website or a UR, click search and you will get a list that includes every found backlink and referring domain.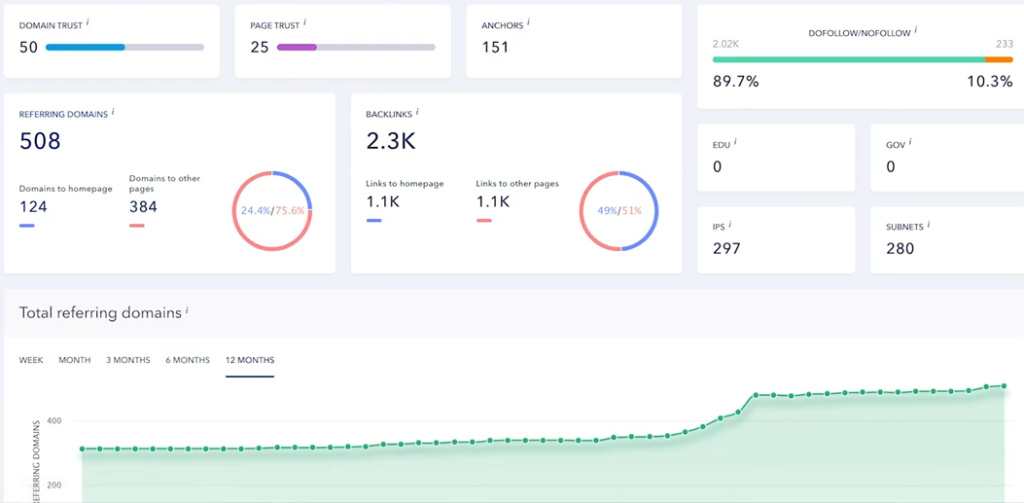 Once all the data loads up, you will get a complete list of backlinks of the analyzed site along with extensive data on each found backlink.
All the necessary data and detailed metrics are accessible in a single click. This means that you can click on any parameter and immediately get even more information that will help you evaluate the backlink profile of the analyzed site.
On the left-hand side, you can access general data on the analyze domain, and if you click on a specific domain in the general report, you will be able to access its overview page get detailed information on referring domains, backlinks anchors, as well as all pages and referring IP Addresses.
The Backlink checker also allows you to disavow any link that may be harmful to your SEO.
Subsequently, you can generate reports using the modular approach that can be downloaded in HTML, PDF, or Excel format and sent to an email address. If you see the tools part, SE ranking gives you the ultimate in one toolbox to support you in your marketing scheme.
I personally also like to combine SE ranking with link building tools like Postaga and then monitor the progress.
SE Ranking vs SemRush
SE ranking and SemRush are great all-in-one SEO tools but when it comes to the tools and features, there are many tools in SemRush that are not available in SE Ranking.
We're talking about local SEO, content creation and distribution, content optimization, market analysis.
But the main difference I've found is in the competitor analysis.
There are many features that SE Ranking is lacking like the performance of digital marketing channels, in-market audience interests and demographics, keyword gap analysis, backlink gap, backlink analytics, and a few more that you can find in the SemRush Competitive Research toolkit.
Both of these research tools are amazing to use and both of them give you a free trial where any credit card is required.
So you can test them both and which tool works best for you.
SE Ranking Pricing
SE ranking offers various pricing plans.
Essential plan – starting at $31/month
Pro plan – starting at $71/month
Business plan – starting at – $151/month
Let's break down each of these plans to help you decide which would be the right one for your needs.
The Essential Plan is the basic plan starting at $31 per month. This is suitable for business personnel who handle their SEO and marketing inhouse and includes 250 keywords, 10 websites, monitors 5,000 backlinks, check backlinks for 20 domains, on-page checker for 150 pages, keyword grouper, marketing plan, custom SEO reporting, social media analytics and management, and sub-accounts. This plan does not include any B2B feature, monitor pages for changes, or API and white labeling features.
Next is the Pro plan, rated at $71 per month. The plan is great for professionals and agencies, and it lets you monitor an unlimited number of websites, monitor 25,000 backlinks, audits 15,000 pages, check backlinks for 100 domains per day, on-page checker for 450 pages along with entire features of the essential plan. This plan also includes B2B and white labeling features but does not include API.
Finally, the Business plan starts at $151 per month, which includes an unlimited number of websites, a website audit for 25,000 pages, monitors 75,000 backlinks, checks backlinks for 300 domains per day, on-page checker for 750 pages. It has all the features of the optimum and plans with an addition of API features.
If you wish to explore the ultimate features of SE ranking, then you can go ahead and start the SE Ranking 14-day free trial.
SE Ranking Pros & Cons
Altogether, SE ranking is very easy to get started even for beginners. The exceptional tool checks how well you are doing on the search engine results page. It can also generate new leads for your business, competitor campaigns, monitor traffic, and visibility, and detect any SEO problems.
The resource library is quite robust, with a wide resource of reference libraries. The resource center includes all the features that are complete, detailed with screenshots.
Though SE ranking comprises plenty of useful tools and performs well for any SEO need, there are a few not so good things, even; the tool seems fragmented, and getting data for new sites can be slow.
The rankings aren't seen instantly and the tool's local database isn't as powerful as it should be.
And as mentioned earlier, the SE Ranking competitor research tool is not as robust as the SemRush Competitive Research toolkit since the are a few missing features that might be important for other marketers.
SE Ranking Review Final Words
So that's my SE Ranking review.
SE Ranking is an all-in-one SEO software suite that has the potential to be an affordable as well as effective SemRush alternative due to its flexible and affordable pricing which could cater to freelancers, individuals, SEO experts, bloggers agencies, etc.
As you can see it assists you in tracking keyword performance, performing website audits, checking backlink quality, and spying on your competitor's strategies.
They do not have as huge a database as the big players in the market like Ahrefs or SemRush but it has 80% of the features of the premium SEO tools and it's way easier on the pocket.
So, in the end, I will give this software a score of 4.5 out of 5. It is very feature-rich SEO software, and it's like a Swiss army knife of SEO software.
So that's my thoughts on this tool. You can certainly shortlist SE ranking if you are looking out for an all-in-one SEO solution. It is affordable and offers a free trial.