There's been technology in the market for some time that can manipulate or generate video frames.
You may have seen some websites or apps that let you take a photo of your own face and add it to scenes in famous Hollywood movies.
There's also been the whole area around deep fakes on the internet, appearing to show world leaders, and celebrities, making statements they never did.
This is the same underlying technique, but here it's being applied in a more positive way, and I think there's a lesson in that, and there's also a wider lesson in what Synthesia AI does in terms of the full creative end-to-end process.
Recently I've tested many AI-powered video generators but having used Synthesia AI to generate one of the intro videos for my clients, I was just blown away by what it was able to achieve.
💡 Note
In this Synthesia.ai review, I'm going to walk you through this tool step by step so, at the end of this tutorial, you'll know exactly how to create videos in minutes using this unique AI video maker. So if you want to work along with me, you can start your Synthesia free trial (no credit card is required)
What is Synthesia AI?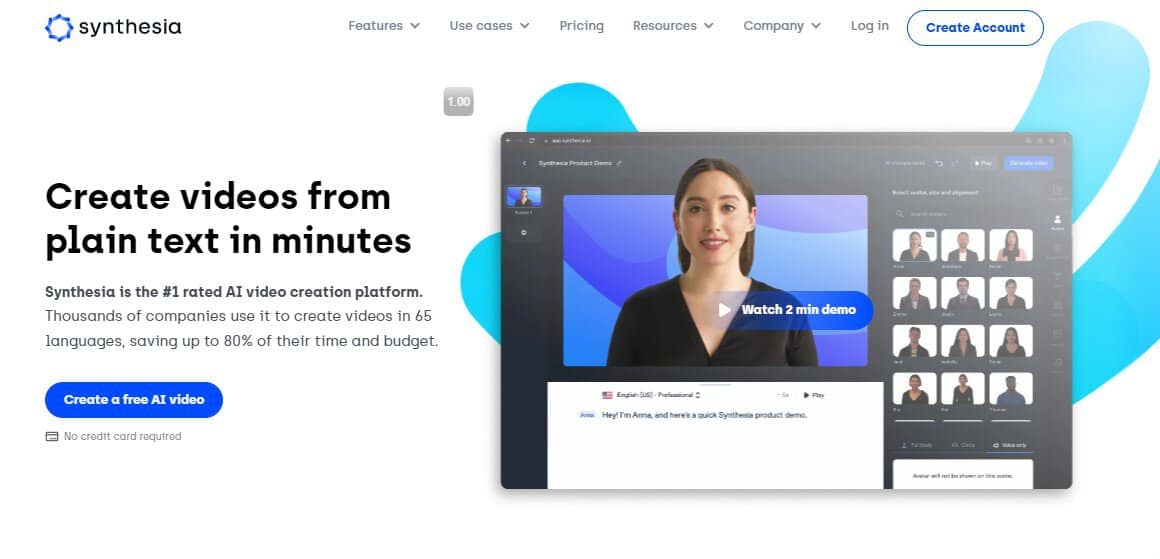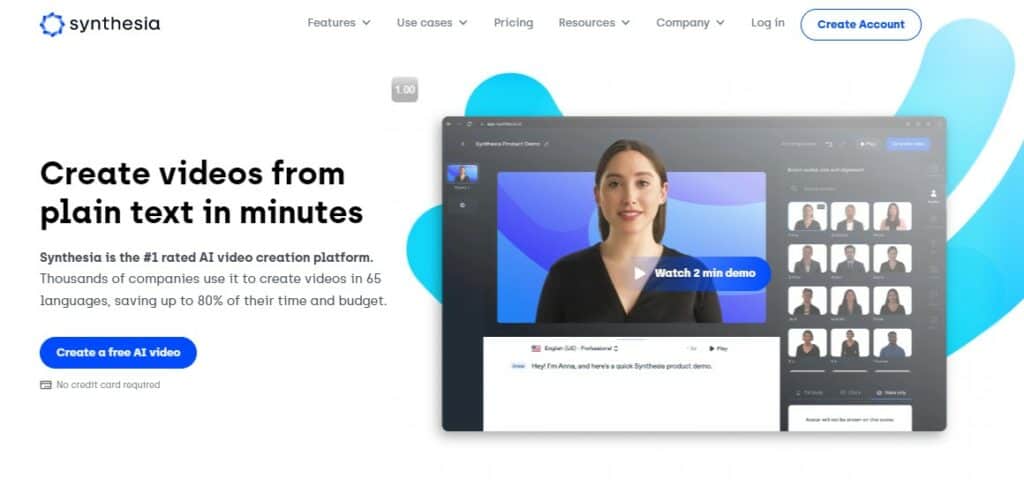 Synthesia is an AI-powered software platform that can generate synthesized speech in 65 languages and accents. The platform uses machine learning algorithms to analyze text input and generate audio output that is similar to human speech.
Synthesia can be used for a variety of applications, including text-to-speech synthesis, automated customer service, and language translation.
Essentially, Synthesia AI is enabling anyone who can write an email or make a PowerPoint slide to create a really high-quality video.
So, let's take a look at some unique Synthesia AI features that not too many video generators have.
Synthesia AI Tools & Features
First of all, Synthesia AI offers some really impressive features.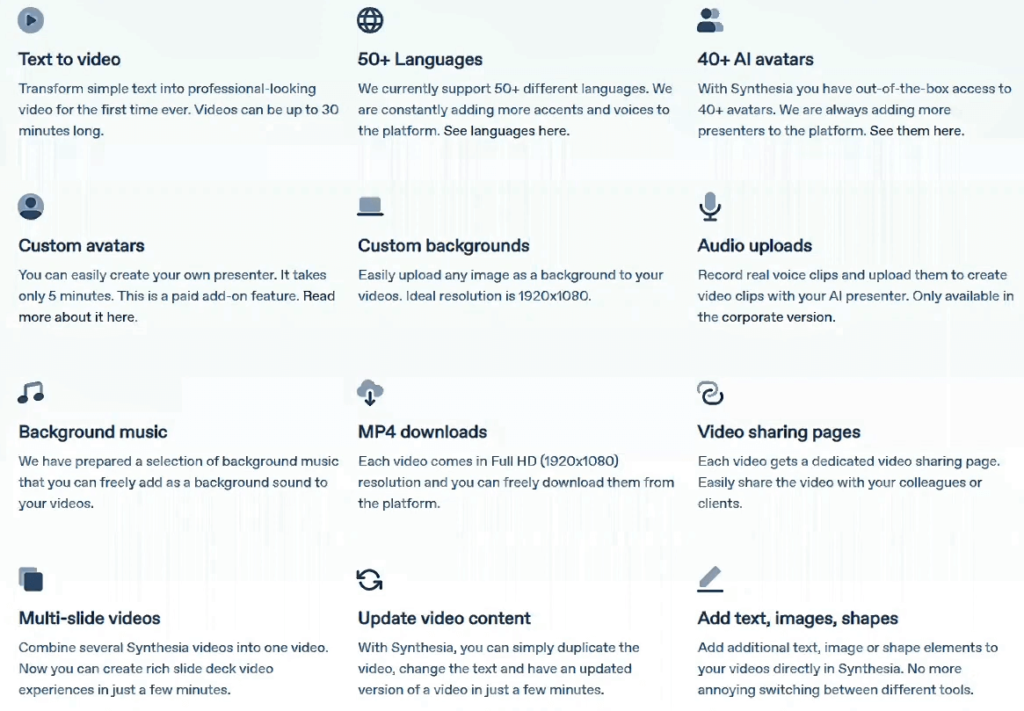 You can choose from 40 AI avatars and have it generate your video in seconds.
In addition, there's support for 50 different languages so you can send that, type that same script and have it translated into other languages which is ideal for generating the same video content in multiple languages without having to rerecord the video.
But it gets better than that.
Things that you'd expect, like being able to add custom backgrounds and images is one thing, but also you can upload your own audio as well.
So, you may want to generate the machine, video of someone talking, but replace it with your own natural voice.
>> See all the things you can do with Synthesia.ai
Synthesia AI Demo & How To Use It
First off, for technology that's so complicated, they do a really good job of explaining how this can help a variety of different people along with some really good tangible examples.
And here is the Synthesia dashboard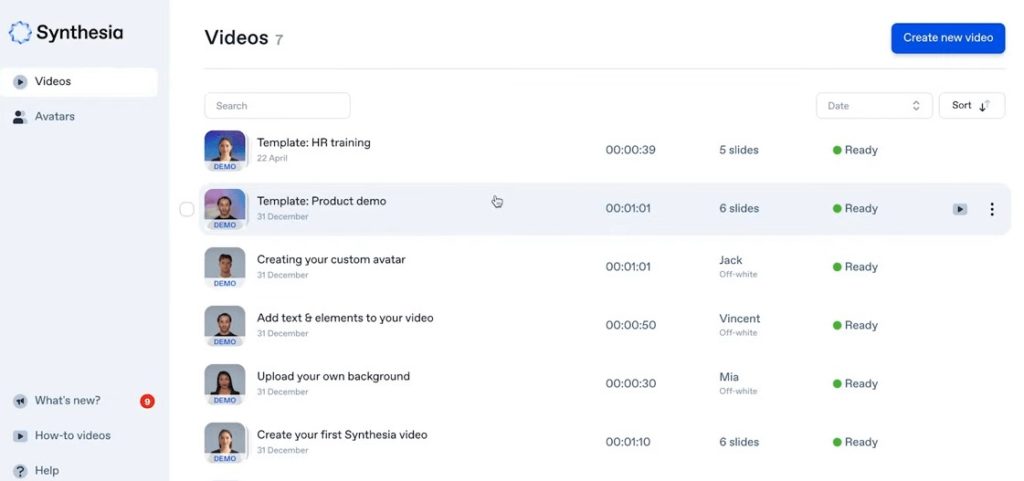 There are literally three steps to the process of creating a video inside Synthesia.
Firstly, you want to select your actor.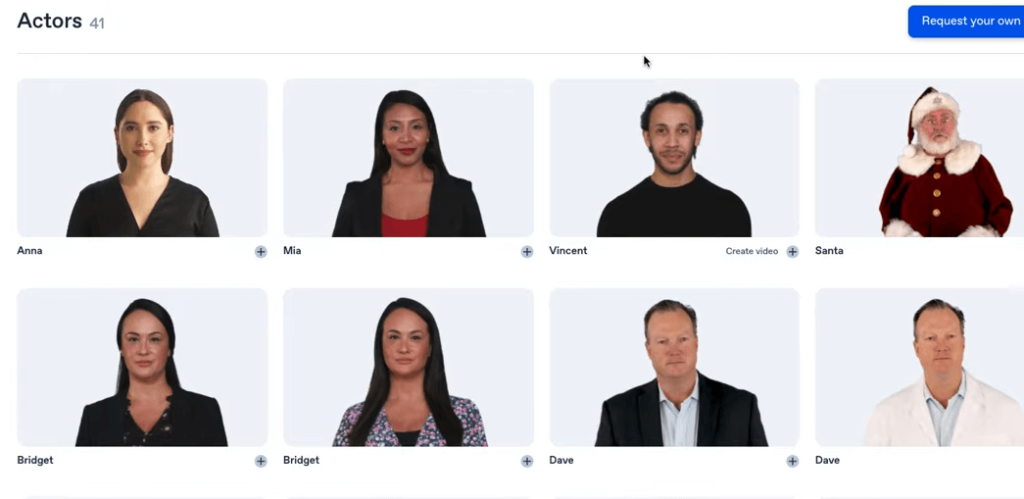 You can choose from +40 actors and even request your own avatar as well.
Then you can customize the look of the avatar itself including:
Background
Text
Shapes
Images
Music
And also the ability to upload videos.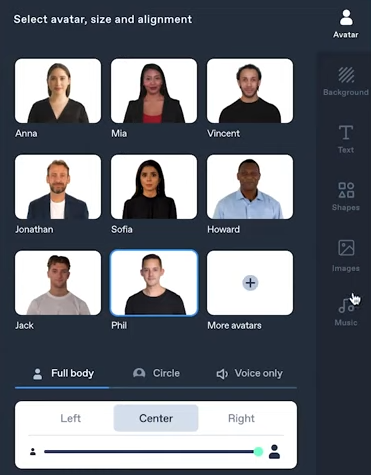 I also love that there are distinct styles of the avatar.
Then, you simply type in a script for your video or upload a video that you currently have.
If you want to make a video in a different language, you just select the target language kind of like in Wisecut but here you have much more options.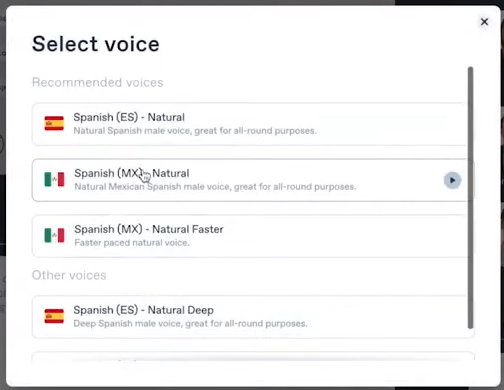 And lastly, the AI will generate the video for you.
The video is generated in just seconds as well, which makes this really fulfilling and exciting to use.
Synthesia AI Custom Avatar
And where things get really interesting is the ability to add custom avatars.
Synthesia AI avatars are virtual assistants that can be used to provide automated customer service and support. These avatars are designed to mimic human speech patterns.
It just takes a few minutes. You can create your own video content, and pictures of yourself and have it generate an avatar, which will be you speaking instead.
Now it's worth talking about this in a little bit more detail.
So, creating the customer avatar, look, this is a paid full feature.
It does cost a thousand dollars to create your own avatar.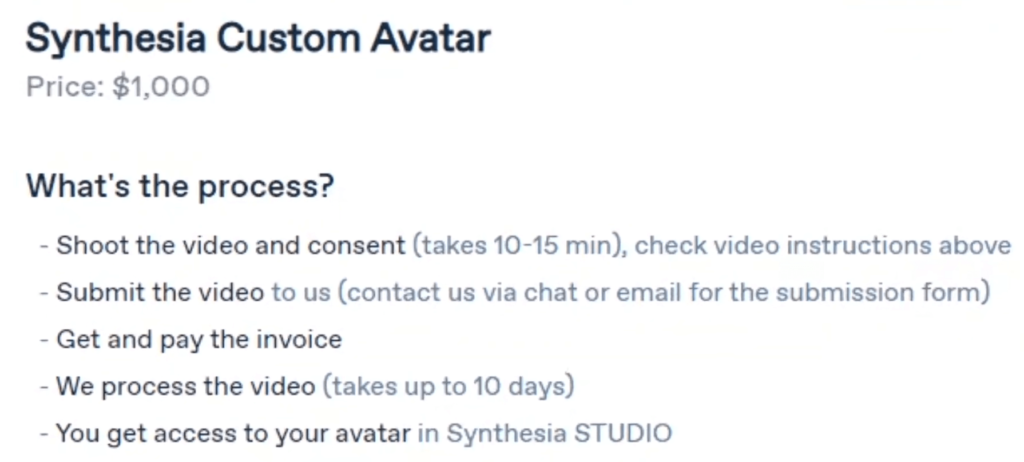 But what that means is now you'll have a virtual representation of your own face and voice, and you'll be able to create video content of you speaking without the need for actually recording it.
The voices are not robotic compared to other tools.
It's important to also mention the start of the process is obtaining the consent of the person being recorded.
This gets into the whole moral area of the deep, fake side of things.
So, to prevent the system from being abused, where you just take footage of any person you want to generate them saying something, there is a requirement for when you create a custom avatar for the explicit consent of that person to be presented and recorded as part of the footage that you actually upload.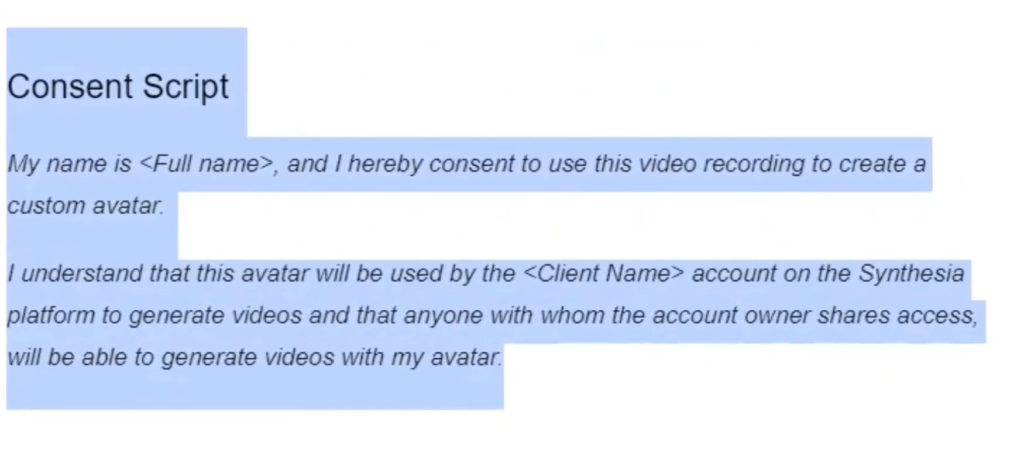 Who is Synthesia AI For?
Synthesia AI is primarily designed for businesses that want to improve customer service by providing automated, 24/7 support to their customers.
The platform can be used to create virtual customer service agents that can handle routine inquiries, provide information, and assist customers with simple tasks. Synthesia can also be used by organizations that want to create video content for training or educational purposes.
The platform can also be used to create video versions of marketing materials, such as sales brochures, product descriptions, and customer testimonials.
How does Synthesia AI work?
In simple words, Synthesia AI uses machine learning algorithms that analyze text input like PowerPoints, docs, or PDFs and turn them into engaging videos including training videos, how-to videos, or product demonstration videos.
The software generates video output that is similar to human speech. The platform is trained on a large dataset of human speech and uses this training data to learn how to generate audio and video that sounds natural and lifelike.
Synthesia AI Pricing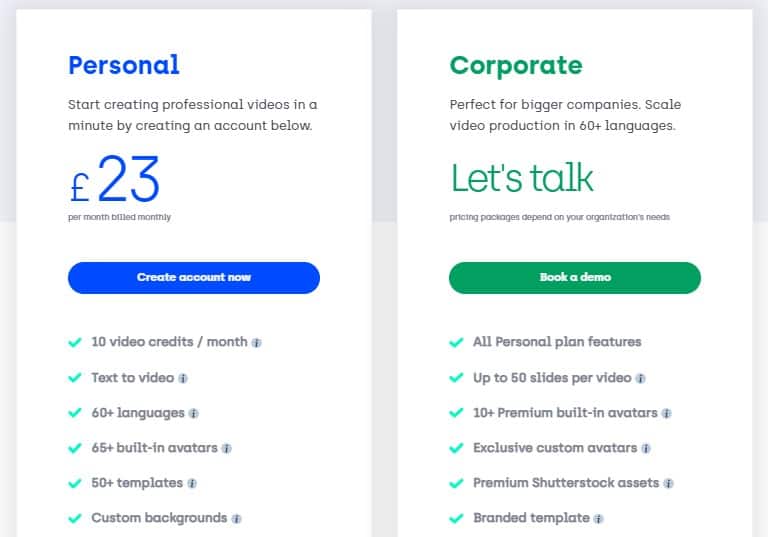 Synthesia provides 2 pricing plans:
Personal – $23/month
Corporate – custom pricing
Synthesia offers a free trial and to start the trial visit synthesia.ai official website and on the main page, just click "Create a free AI video".
This will take you to a page where it will allow you to enter some text into the script.
There is a limit of 200 characters for that first example. Choose a style of video, put your script in there, off you go!
Provide an email address and you'll be sent a link to the video within about two minutes.
Synthesia AI Alternatives
Let's take a look at some of the Synthesia AI alternatives:
InVideo
Pictory.ai
OFFEO
FlexClip
Colossyan
Renderforest
All of these are great AI video generators but in terms of features and functionalities, one of the best Synthesia AI alternatives is InVideo as you can read in this InVideo review.
Another great alternative would be Pictory.ai which also allows you to quickly turn text into video as well as add voiceover. Pictory is the easiest video maker I've used so far.
Synthesia Review AI Final Words
That's my Synthesia AI review.
Given how great the results were when I did a quick test, I have signed up for the personal plan and will be using it in my marketing videos going forward.
Hope you enjoyed this review.
Let me know what you think about this AI video editing software.
Are there some negative aspects that I haven't thought about?
What are your thoughts and will you be using Synthesia in terms of your content?