You are here because you are looking for a good platform that helps you run your entire online business. There are lots of them out there that can assist you. Today, I'm going to go over a comparison between Systeme.io vs Builderall.
This is the most up-to-date comparison where I'll compare the new Builderall 6.0 version with the recently upgraded Systeme.io platform.
📋 Systeme.io vs Builderall TL;DR
In short, both Builderall and Systeme.io are certainly designed in such a way that you can run your online business without hassles and perform the vast majority of marketing campaigns. There are really no high technical requirements to use them.
And there are many similarities between these two all-in-one digital marketing platforms. However, Builderall is much more advanced software, especially after the recent Builderall 6.0 launch.
They simply have more functionalities that Systeme.io doesn't have, like a sales funnel simulator, full SEO on-page optimization, mobile page loading accelerator, and WordPress integration.
Besides that Builderall has over +600 done for you sales funnel and website templates for any industry.
In short, Systeme.io and Builderall comparably do more or less the same thing. I personally choose Builderall for all of the reasons mentioned.
However, Systeme.io has a free plan, so if you're just getting started on your online business journey, this platform might be a better option for you.
I highly encourage you to try them both and see what works better for you.
Try Builderall 6.0 for free
Try Systeme.io for free
| Features/Functionalities | Builderall | Systeme.io |
| --- | --- | --- |
| Page/Website Building | ✔️ Advanced builder for designing pages and websites | ✔️ Set up a website quickly using templates |
| Email Marketing | ✔️ Capture leads and send unlimited campaigns | ✔️ Send unlimited emails and create email campaigns |
| Online Courses | ✔️ Create courses with intuitive presentations | ✔️ Build online courses and manage students |
| Booking App/Meetings | ✔️ Schedule and manage meetings/events | ❌ Not available |
| Chatbot | ✔️ Automate conversations on websites and social media | ❌ Not available |
| Sales Funnel Builder | ✔️ Intuitive tool for building and editing sales funnels | ✔️ Create funnels easily using proven templates |
| Ecommerce | ✔️ Integrated ecommerce system for selling digital and physical products  | ❌ Limited to digital products only |
| Affiliate Program Management | ✔️ Advanced affiliate management system with analytics | ✔️ Create an affiliate program and automate payouts |
| Webinars | ✔️ Sell items and courses live on platforms like Facebook | ✔️ Run evergreen webinars to grow audience and make sales |
| Blogging | ✔️ Advanced blogging platform with SEO tools and hundreds of website templates | ✔️ Create high-converting content to attract more traffic |
| CRM | ✔️ Track and follow visitor actions with marketing CRM | ❌ Not available |
| Video Hosting | ✔️ Store and embed videos with customizable features | ❌ Not available |
| Social Proof Tool | ✔️ Increase registrations and sales conversions | ❌ Not available |
| Quiz Builder | ✔️ Attract visitors and capture information with quizzes | ❌ Not available |
| HelpDesk | ✔️ Advanced support tool for businesses | ❌ Not available |
| Pricing | $37/month – $87/month | $0/month – $99/month |
| Free Trials | Builderall 6.0 14-day free trial | Systeme.io free plan |
These are reliable tools that you can choose to grow your online business to the highest level.
What is Systeme.io?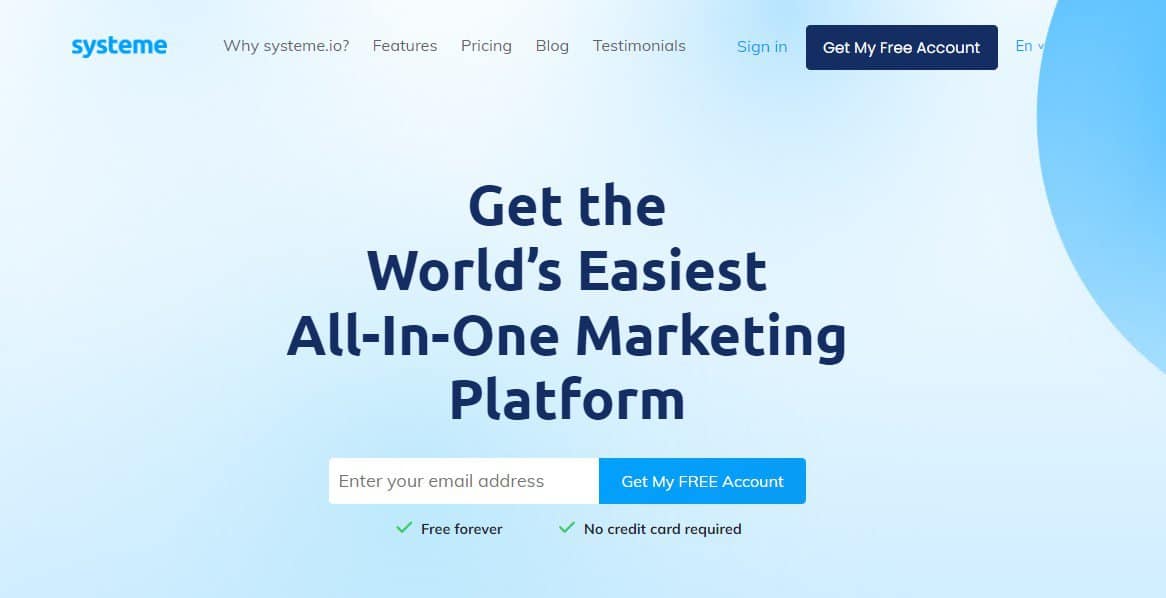 Systeme.io is an all-in-one marketing tool. This platform comes with features that are helpful for businesses. The company started in France, but now it is a global company. It has its presence in all parts of the world.
This platform is even regarded as the successor to ClickFunnels because they have different things in common.
The product comes with a variety of marketing tools as well as an affiliate program.
The platform is good for everybody including beginners, and established business owners. Its drag and drop feature makes it a useful platform for everybody.
What is Builderall?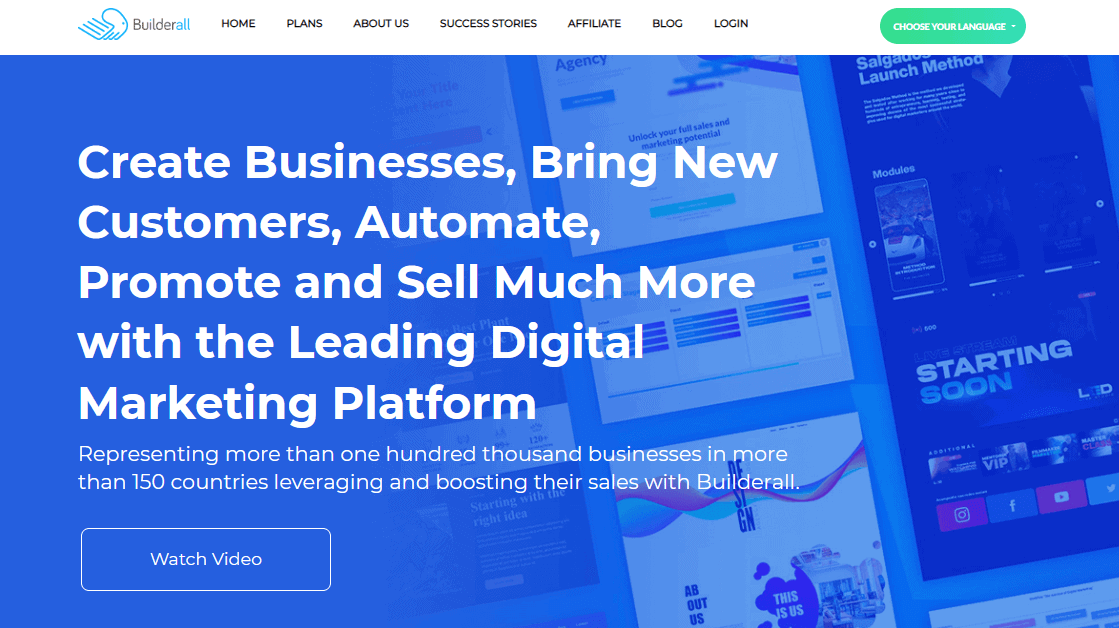 Builderall is an all-in-one business platform that comes with over 40 digital marketing tools for online business. It comes with resources useful for online entrepreneurs, digital marketers as well as small business startups.
Builderall comes with useful features that help promote online sales, advertising, and marketing.
Systeme.io vs Builderall: Sales Funnels
Let's start this Builderall vs Systeme.io comparison in terms of sales funnel builders.
Systeme.io Sales Funnel Builder
When it comes to the sales funnel, Systeme.io offers you useful resources. Moreover, it is easy and simple to use and you do not need to be a technical guru before you can use it.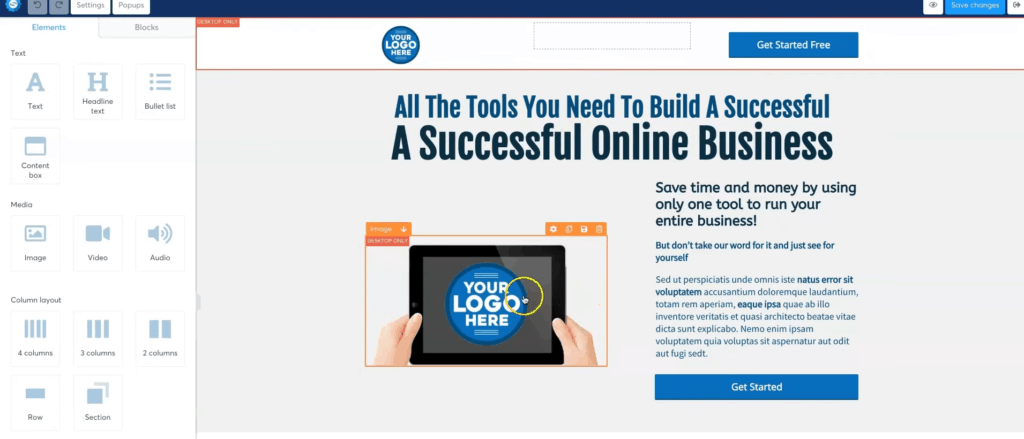 Everything about the design is to help convert online visitors. It also comes with customization features. You can customize your business webpage according to your desire and preferences.
The system has also produced instructions that can assist you to progress with the system.
Builderall Sales Funnel Builder
Builderall has a page builder called Cheetah that allows you to build websites as well as sales funnels.
It's an intuitive drag-and-drop builder that is very easy to use.
With this page builder, you can also visualize your sales funnel with its funnel simulator.
Builderall templates are also customizable and this means that you can customize them to suit your business needs.
In fact, Builderall Funnel Club is one of the largest website and sales funnel template library available on the market where you can find hundreds of such customizable templates.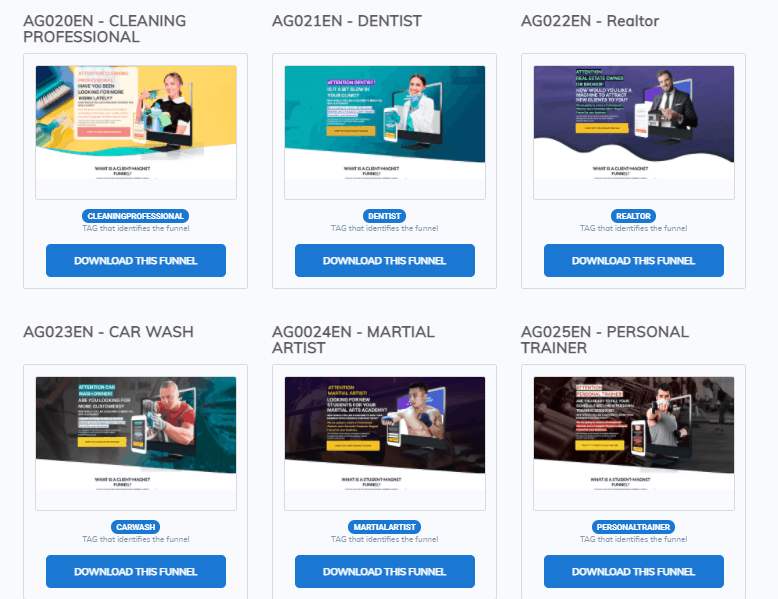 No matter the type of business you do, you would see the kind of template: that can serve your purpose very well.
The most interesting features are the e-learning and eCommerce templates. The eCommerce feature is useful in creating a marketplace right on your funnel website.
So, for all of the reasons above, it is obvious that Builderall has an edge. They both works with the drag & drop method and have good templates but Builderall not just gives you access to templates but done for you sales funnels you can use.
If your aim of looking for this kind of platform is to create enough sales through the sales funnel, then you better do that using Builderall.
Systeme.io vs Builderall Email Marketing
Now, let's compare these platforms in terms of email marketing automation.
Systeme.io Email Marketing
Systeme.io allows you to grow your email list that means you have an autoresponder with all the workflows you can do with it to manage your emails.
The good thing with this email marketing software is that you don't just have one list.
Everything is segmented by tags that means every time you have a squeeze page for on different subject once the person subscribes to the squeeze page you can add tags to it.
Builderall Email Marketing
Furthermore, the email marketing outfit of this platform is another way of promoting your business.
Builderall email marketing tool is very advanced and simple to use and offers very powerful automation options compared to some of the best email marketing platforms like AWeber, ActiveCampaign, or GetResponse.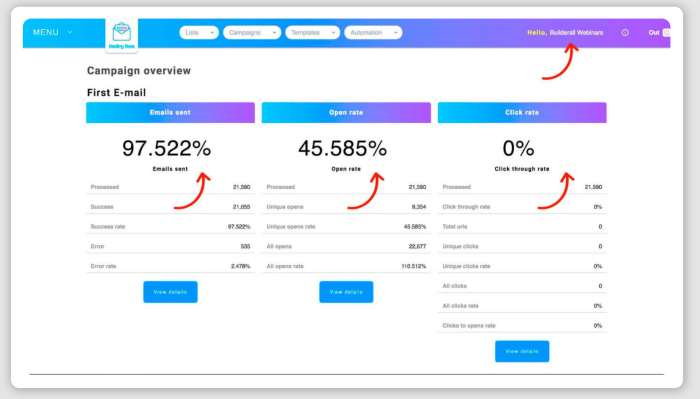 Builderall MailingBoss makes it easy to gain access to different levels of subscribers. It is hassle-free and better than what you get elsewhere.
In terms of email marketing, systeme.io provides a better interface however, Builderall has more advanced email automation features where you can customize and set up an automated email campaign, as well as segment your audience and tag leads.
Systeme.io vs Builderall: E-Learning Platforms
Both of these platforms enable you to create an online course as well as a membership area.
Systeme.io E-Learning
With Systeme.io you can create and sell online courses so that means you have membership sites for hosting your training.
And even with the Systeme.io free plan, you can have a 1 membership site which is great.
In addition, you have also a connection with Stripe or PayPal account for the payment.
Builderall E-Learning
The other interesting tool available here is the Builderall E-Learning platform. When you use this tool, you can grow your business.
Learners have everything integrated into the platform and they get every resource they require to learn. It is simple and easy to integrate your website into the platform.
The eLearning feature is also useful because it makes it possible to create as well as hold different online lessons and courses.
Through that, you can create and maintain relationships with students and these can help take your business.
Systeme.io vs Builderall: Ecommerce
E-commerce tool is another feature offered by these two platforms. Builderall also has an edge here. Apart from the fact they offer a more useful sales funnel for its users, the e-commerce solution is also the best overall.
I think, If you want the best for your online store then you can think of the Builderall platform, it comes with way more e-commerce features like:
Magento integration
WooCommerce integration
Supercheckout
Multiple payment integration
And more.
Systeme.io vs Builderall Easy of Use
One of the things to consider in choosing a platform is the user interface.
Builderall and Systeme.io are both simple and easy to use. All you do is drag and drop.
The process is as simple as anything. You do not need to become an expert before you can do that.
The web design is responsive, and the user interface is also friendly.
I personally think it is easier to use System.io but when it comes to performance, the Builderall platform still offers the best.
The first is that it does not only feature tutorials, it comes with training. Apart from the fact they offer more customization features, the Builderall platform has an edge in terms of design.
Builderall may not be that easy to learn for some people because of the huge variety of tools that they provide.
But once you master this platform, there is nothing that can stop you.
Systeme.io Tools & Features
Now, let's take a look at what Systeme.io has to offer in terms of digital marketing tools.
Reporting
They also have detailed reporting so you know where you are you know the number of customers what is the cost per customer and other useful information.
Affiliate Program
Systeme.io allows you to make your own affiliate program so if you create training for example you can decide to add affiliates for it to help you promote this particular training. So this is also possible Systeme.io
The other feature tailored to promote your business is the availability of a database.
This is where you can store your important contact information. It makes it easy to send emails to your contact without difficulty. You can pick the names you want to send mails from the contact.
Split Testing
If you can afford it and you really want to speed up your marketing you can upgrade to the webinar plan because you can do A/B testing.
And A/B tests are really important when you are doing marketing so you can change few things and you can see to which change your users are responding better.
Builderall Tools & Features
Split Testing
It is possible to know those things that your customers and future customers want. This is possible by split testing the content before you launch them.
Heat Map
Through the heat-mapping process, users of this platform can understand the interests of their customers. You are in business to serve your customers. Builderall Heat Map tool can be helpful.
Payment Integrations
The integration process is another feature worth mentioning. It may not be easy to integrate with your previous website but you can integrate it with other platforms such as Shopify, PayPal, and other trading platforms.
Affiliate Program
They also have the ability to create an affiliate program within the platform, so let's say that you're selling a course and it's doing pretty well.
Similar to other platforms like GrooveFunnels, you can actually create an affiliate program and give it to other people to promote as you can find out more in this side-by-side Builderall vs GrooveFunnels comparison.
And it just grows your audience, so that's a really big benefit.
They also enable you to promote the platform by becoming a Builderall affiliate.
Webinar
One of the best tools available here is the webinar tool. You can use this to conduct your business.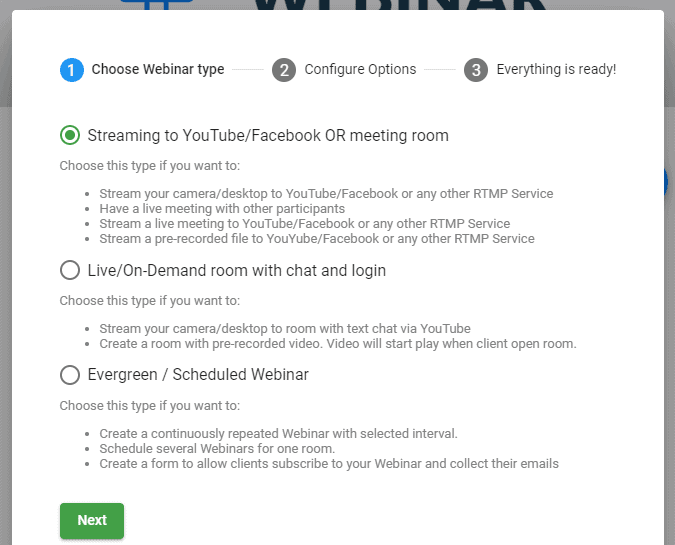 The system is easy and after a click, it would be easy for you to integrate your webinar with your website and funnels.
You can pre-record as well as present live webinars. All these are different ways of promoting your business and services.
Other Builderall Tools
Some of the other Builderall tools included here are:
Builderall SEO report tool
Design studio
Video editor
Video hosting
Builderall CRM
These are useful and easy-to-use tools.
Speed
You will like the fact that with this platform and you like the fact that the speed is great.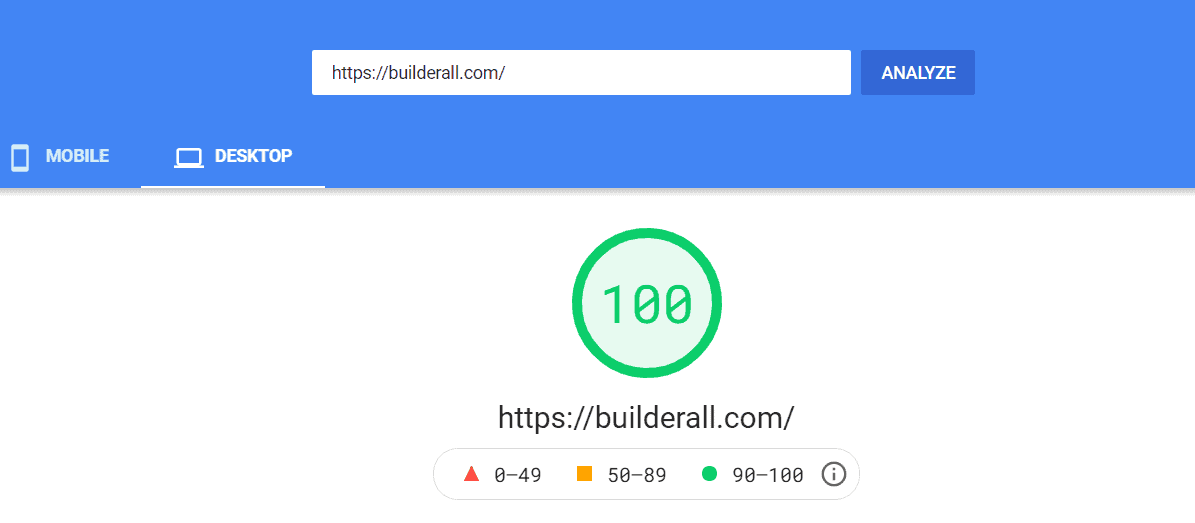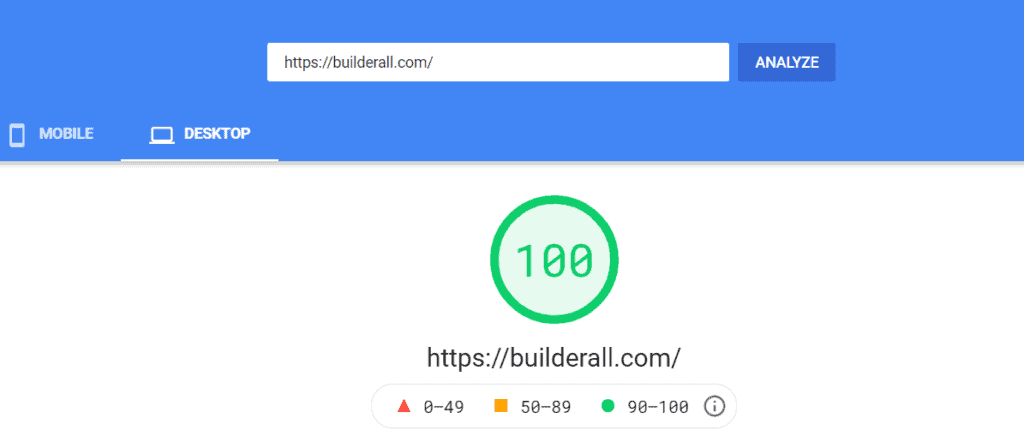 This alone is one of the most outstanding features of Builderall. There is no doubt that page speed is super important for a successful online business.
Systeme.io vs Builderall: Pricing Plans
The pricing system is similar but the prices vary. Both platforms are cheaper than what you get from Clickfunnels.
Systeme.io Pricing
There are 4 different packages available at Systeme.io and these include the following:
Free plan – $0/month
Startup plan – $27/month
Webinar plan – $47/month
Enterprise plan – $97/month
Builderall Pricing
Builderall has a 14 day free trial and after that 4 different pricing options:
Starter plan – $37/month
Marketer plan – $77/month
Premium plan – $87/month
Funnel Club plan – $87/month + $199 one time payment
It is obvious from the price range above that you can save more when you choose Systeme.io.
If you aim to create a sales funnel or landing page, you can think of Systeme.io. The tools make it easy for you to convert visitors to leads.
On the other hand, if you aim to launch a powerful online presence, I highly recommend Builderall. Even the most expensive plan is at the same level or cheaper than ClickFunnels basic plan as you can read more in this ClickFunnels vs Builderall comparison.
Builderall vs Systeme.io: And The Winner Is…
You can see from this System.io vs Builderall review that these are two useful platforms for your online business. There is no doubt that these products come with the most interesting features.
These platforms have lots of things in common. They make available to their customer's varieties of features, and all these are designed to help you have a strong online presence.
Comparing these two platforms, it is easy to spot some differences even though they share a lot of similarities.
Systeme.io is a great all-in-one solution, but for all of the reasons mentioned in this review, it's not as powerful as Builderall in terms of digital marketing tools and automation functionalities.
However, Systeme.io has a completely free plan so if you're just getting started, this platform might be a better option for you.