In this Tube Mastery review, you'll find out everything you need to know about this make money on YouTube course. I'll tell you what's exactly inside Matt Parr's YouTube course, what I like, and what I don't like.
YouTube is easily one of the most profitable ways to make money online. We hear about people with even decent size subscriber counts making even $50,000 a month off YouTube and Google AdSense.
And the new updated version of Tube Mastery 2.0 is exactly about that – how to make money on YouTube. The course covers everything from setting up your account and creating your first video to monetizing your channel to outsourcing.
So let's get into this in-depth Tube Mastery review.
Who is Make Money Matt Par?
First, let's talk about who this person is. Matt Par, AKA Make Money Matt is a YouTube entrepreneur with 310,000 subscribers at the time of writing this Matt Par YouTube course review.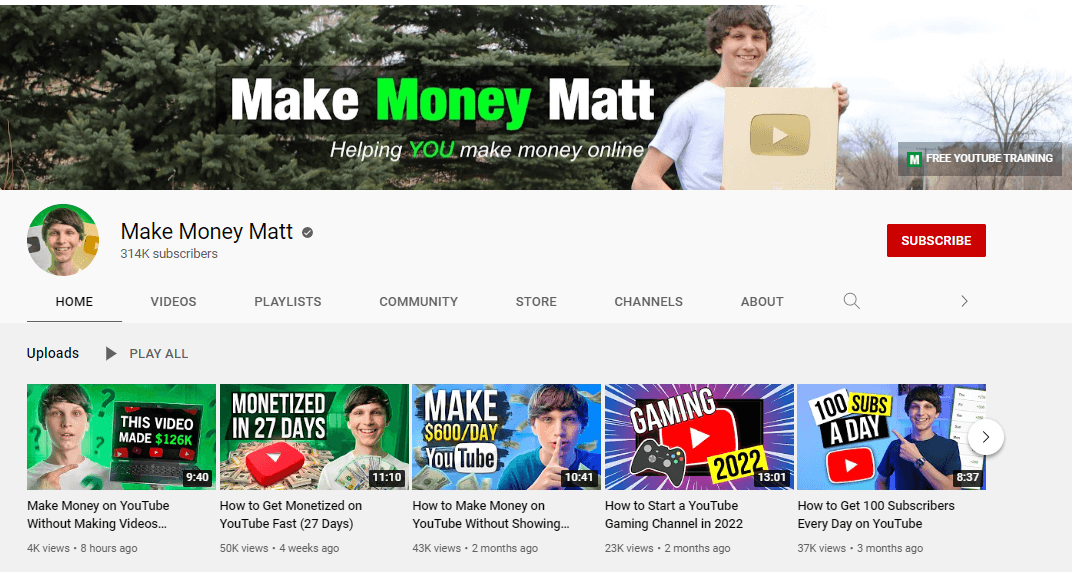 Matt runs upwards of 9 profitable faceless YouTube channels simultaneously, and we'll get into exactly how he goes about doing that.
In addition, he also runs his main personal brand channel which is dedicated to helping others start a YouTube channel along with his online course, which is dedicated to helping you do the same thing.
Now, let's actually jump into the course and take a look at what it has to offer.
What is Matt Par YouTube Course All About?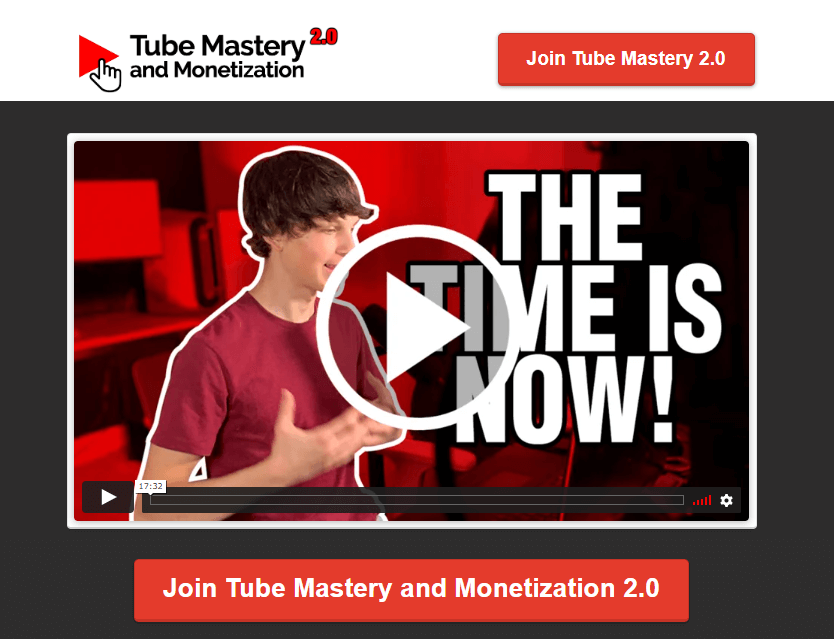 Matt Par's YouTube course is about creating faceless YouTube channels. The type of YouTube channel that Matt is talking about building is different than what you may think when you think of a typical YouTuber.
Matt is talking about building up niche channels that are dedicated to certain types of content. And a lot of these styles of videos, you actually don't even need to be present on camera to build up this type of a channel.
We're talking about channels like scariest videos, financial advice channels, Top 10, top 15, top 5 channels, etc.
You see these types of videos all the time. And though you may not realize it, there are people behind these channels actually putting effort into creating these videos where there isn't particularly a personality on screen.
This is a highly profitable niche of business within the YouTube platform because these videos still gather hundreds of thousands, if not millions and millions of views, and these channels still get millions and millions of subscribers.
The best part is they can be monetized the exact same, if not in some cases better than a YouTube channel with a personal brand identity on it.
Tube Mastery: What's Inside
Here we are on the front page of Tube Mastery and Monetization 2.0 and you can see all of the different categories.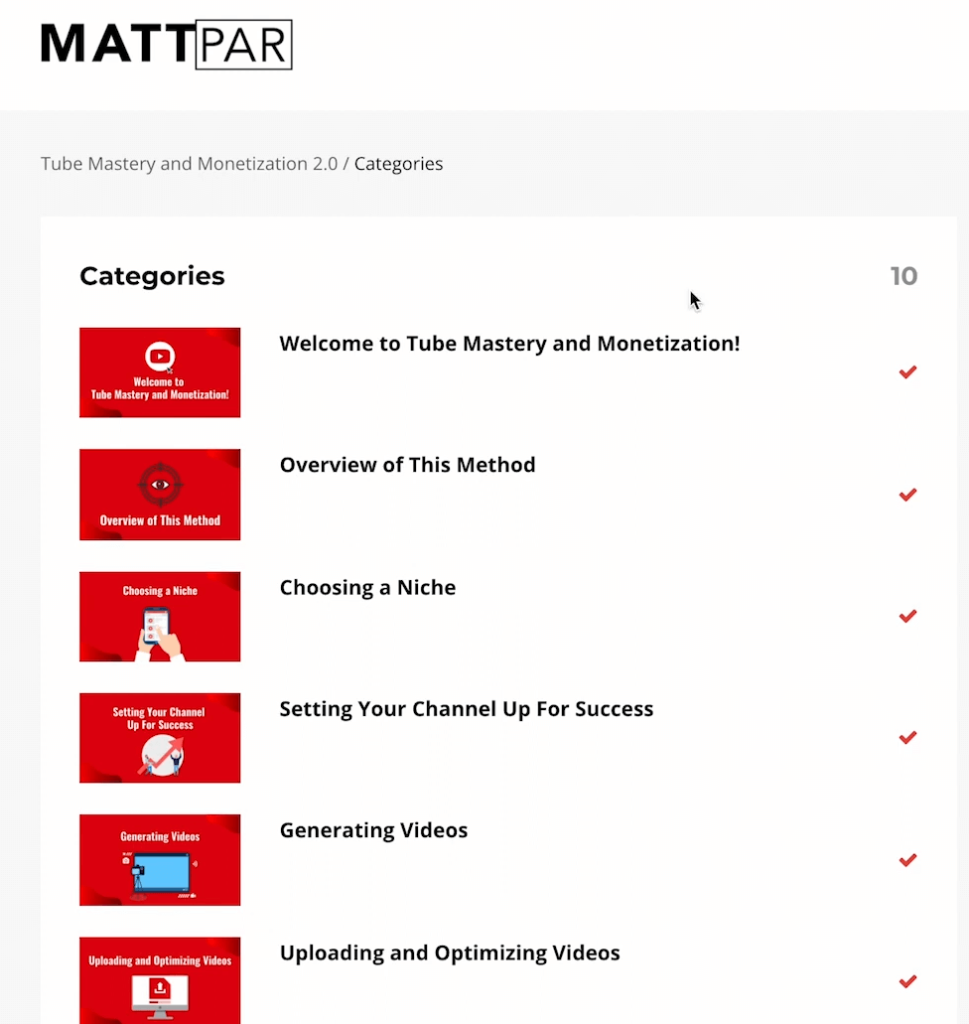 So it starts with the introduction, the overview of the method, choosing a niche, setting your channel up for success, how to generate the videos, uploading and optimizing videos, growth module, monetization modules, scaling and outsourcing, and bonuses that we'll cover later.
If we take a look at how to choose a niche, for example, we can see what he'll talk about.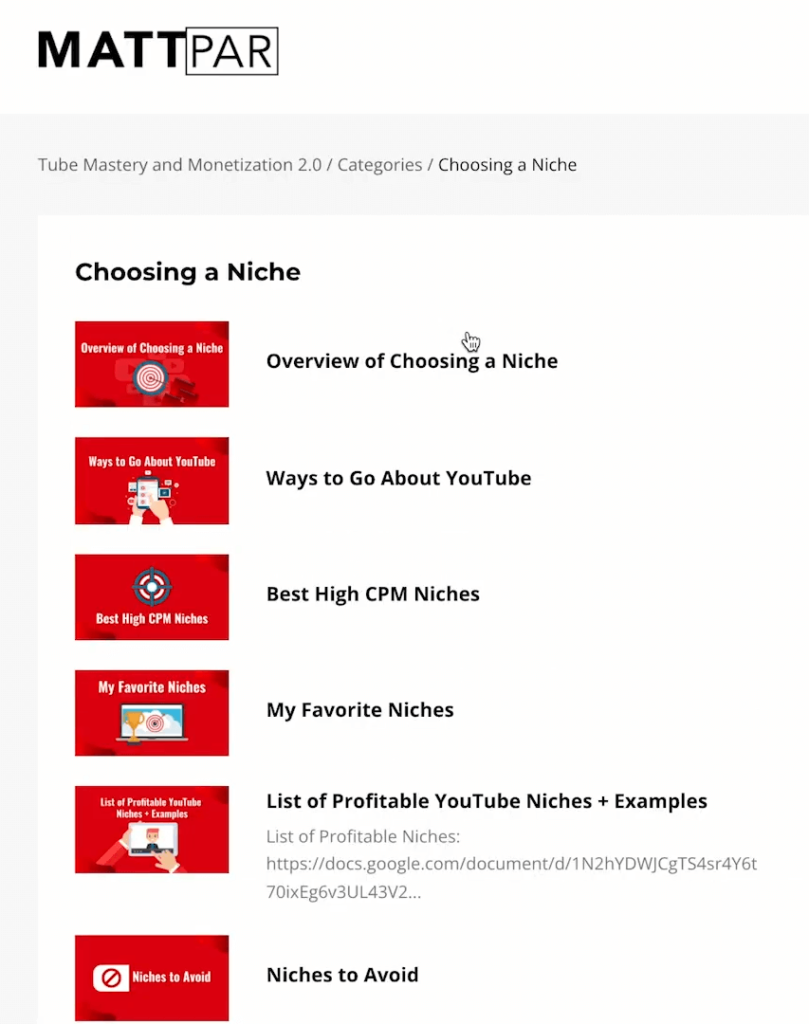 We have the best high CPM niches, the list of profitable YouTube niches, doing market research, and niches to avoid which will help you avoid common Youtubers' mistakes.
Matt really does cover the full gambit of anything that you would need to learn in regards to starting a YouTube channel.
He is very thorough, and actually, I was very, very impressed. I have to be honest, when I first saw this course and I saw Matt, he's a little bit younger looking.
He does have the social proof of having 310,000 followers on YouTube so that is a good start, but I wasn't too sure from his initial videos, how in-depth or how knowledgeable he could be on it.
But after going through this whole course, I have to say that I was actually very, very impressed at the details and the knowledge and the actual laid out steps that he does give you to go about learning how to master a niche YouTube channel.
For example, if we go into one of these videos, you'll see that once you click inside of it, you have all the videos within this module on the right side that you can kind of go in and out of.

Below the videos, you'll have any applicable course resources that you may need.
For example, in this video – the list of profitable niches, he has his Google doc, as well as a list of example channels.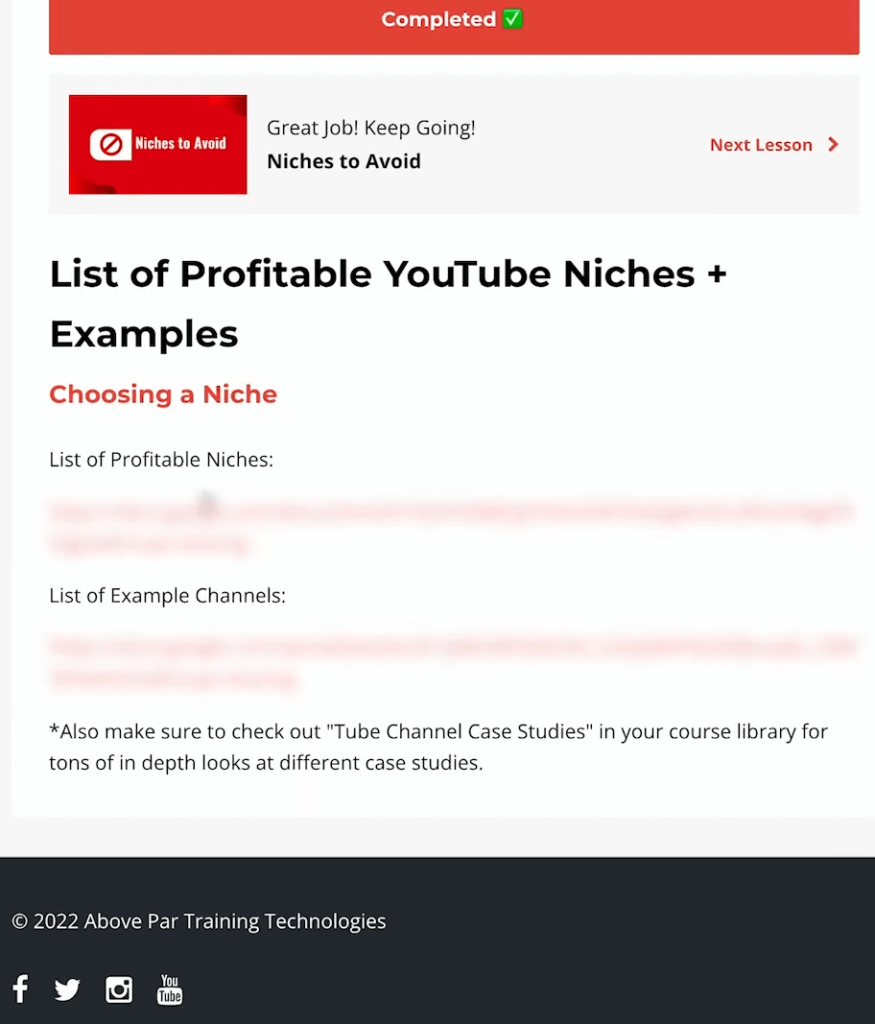 We won't go necessarily into detail about all of these Tube Mastery and Monetization modules. I can just tell you that these are very well laid out, very detailed videos.
Inside each of these modules, there's a good amount of information within these videos.
Each video ranges anywhere from 5 minutes to 20 minutes typically. Very nice videos to watch.
And although I don't believe that they are scripted, Matt does a very good job of laying out the information in a concise manner, in which it's very digestible and easy to understand.
Another thing Matt is very good at doing is giving you the actionable steps. So instead of just word-vomiting everything out and then expecting you to just go from there, he gives you a lot of checklists as well as step-by-step processes that are actually laid out in certain timeframes as well.
So, he's saying within the first week you should have this much done, within the next week you should have this much done, and within the third week, you could try to have this much done.
Overall, helping you to see the full scope of what you can get done in a certain amount of time.
For the last part of looking inside Matt Par course, I want to go over this one last section. This section on scaling and outsourcing might be the most important part of the course that I saw.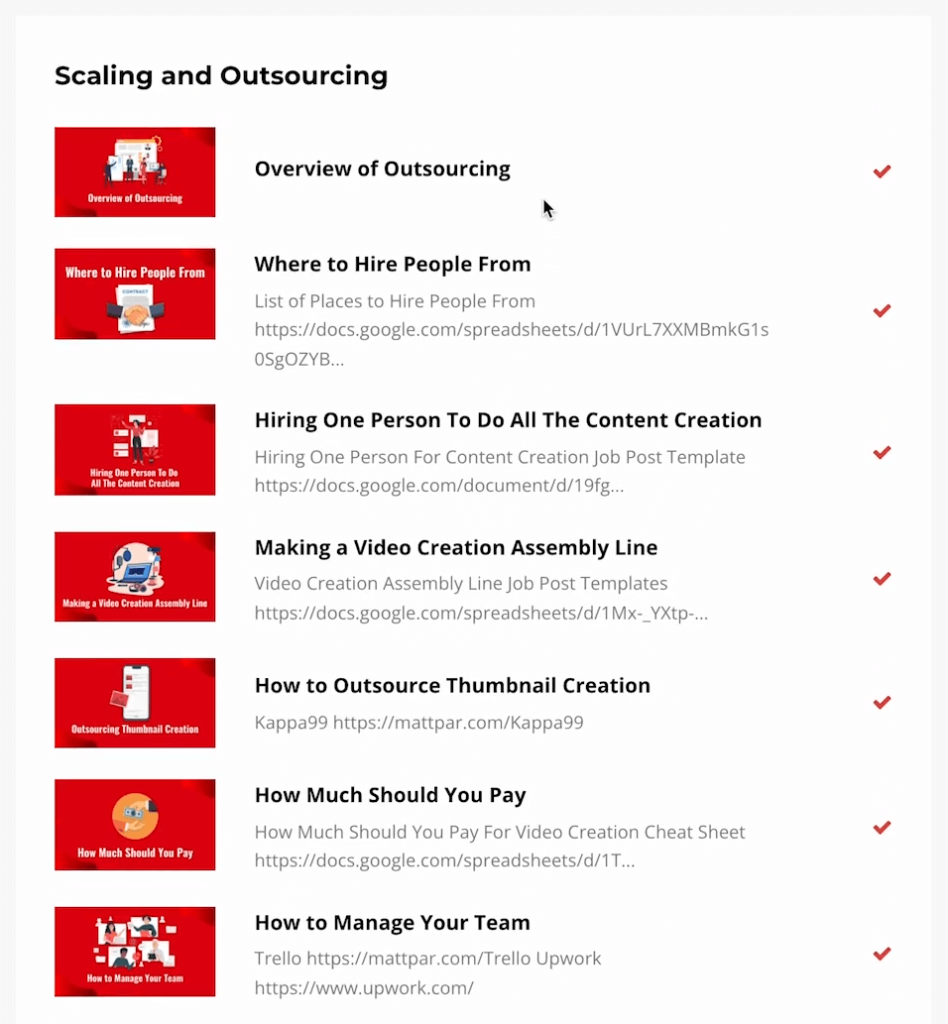 He talks a lot about really the scaling aspect of creating this niche faceless YouTube channel.
As Matt himself runs upwards of 9 YouTube channels, you can imagine that he's not doing all of the video creation, editing, scriptwriting, and all of the uploadings for all of these YouTube channels.
It's just too much to handle for one person, which is why we kind of envision just one channel relating to one separate person.
And not oftentimes you think that one person could be running multiple upwards of 10+ profitable YouTube channels.
The way Matt outlines this process is through outsourcing everything from writing to content creation to even the on-camera work sometimes. And that is done through outsourcing.
Matt gives you all of his sources to where he goes to outsource. He talks about where to hire people from, he talks about hiring one person to do all the content creation, making what he calls an assembly line of content creators.
So you have somebody do the idea generation, pass it off to somebody else who does the scriptwriting, pass it off to somebody else who does the content creation, and pass it off to somebody else who does the uploading and YouTube SEO optimization.
He even goes on to say how to outsource thumbnail creation, how much you should be paying for all of these teams, how to manage the team that you ultimately get together, and then what to consider outsourcing and then multiplying revenue with translation.
So, as you can see, this is a little bit different way to attack the YouTube business model. But it has been shown over time to be very, very successful, to try to run these profitable niche channels.
Who is Tube Mastery Course For?
If you want to focus on a channel that you can build and scale, this is the course for you.
If you're wanting to build a channel that is based around your personal identity or a talent that you have, or you want to be on camera, you want to vlog something, you want to showcase a skill, then this course isn't exactly directed towards you.
It can help you in a lot of aspects as far as building and establishing the framework of a channel, but what Matt is really going into is how to build these niche channels that you aren't necessarily the face of.
Tube Mastery Pros & Cons
Now, let's talk about some of the pros and cons of this course.
Pros
The first pro obviously is that you can create a highly profitable YouTube channel without even showing your face.
A lot of times people are worried that they don't have the personality, they don't have the skillset, they don't have the reachability to build up a YouTube channel because you're looking at these vloggers or these YouTube personalities, and you don't think that you can be that. And you may not need to be that in order to run a profitable YouTube channel.
The second pro is that Matt is very aware of these different types of growth patterns on YouTube, and although he does touch on building a personal brand and kind of creating a hybrid, not on camera, on-camera channel, I would say the bulk of the course is about building these faceless niche channels.
The third pro is that this is a very guided course. This course is very much a hold-your-hand kind of walk-through course, which is actually really nice in a new business concept like this because not only is he giving you step-by-step instructions on how to go from one step to the next, he's giving you links, he's giving you resources, he's giving you examples on how to get that done most effectively and to waste the least amount of time doing it.
Cons
Now let's talk about the cons of this course. The biggest con to this course and the only one that I will mention is that you really have to understand the YouTube business model and what is your goal.
If you're trying to build a YouTube channel based around your personal brand, and want to show your identity, talent, skills, anything that you are trying to personally convey to an audience, even if you're trying to gain some sort of a connection with you and your audience, it isn't going to be done through a niche channel.
These faceless YouTube channels are designed to be run more like a business, and that is what Matt is trying to teach you in this course.
Tube Mastery Price: Is It Worth It?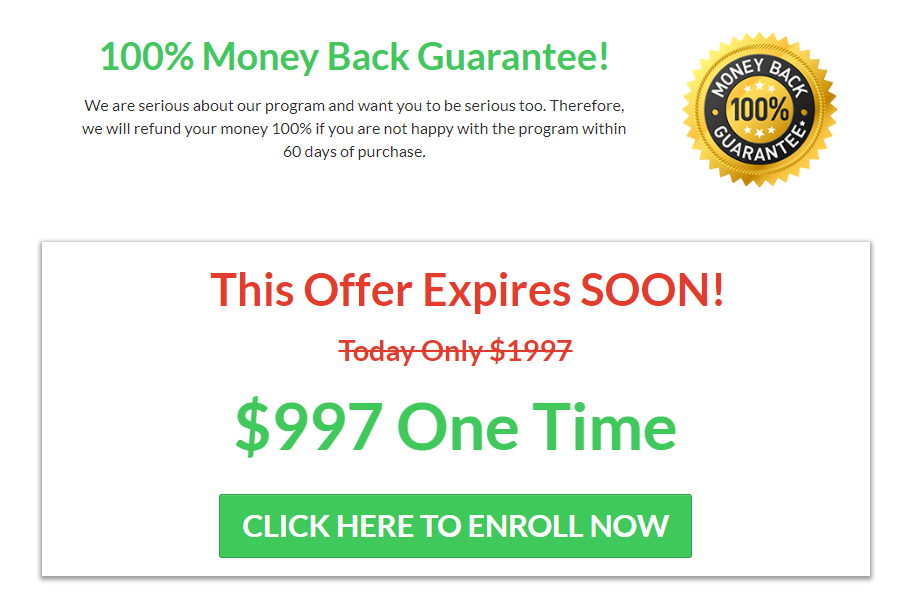 The regular price of the Matt Par course is set at $1997.
However, Matt offers our readers a 50% off discount so you can get Tube Mastery 2.0 for $997 for a limited time.
It's a limited-time offer where if you do want to get in on the course, it's probably better to get in now, as opposed to later when he may potentially up the price.
There are also 20+ bonuses in the Tube Mastery and Monetization included in the course pricing. And Matt has done actually a pretty good job inside the course of consolidating all the bonuses within the course into one page.
Tube Mastery 2.0 Bonuses
Inside the spreadsheet that actually comes from Matt's course, you can see all of the bonuses included in the Tube Mastery 2.0 price.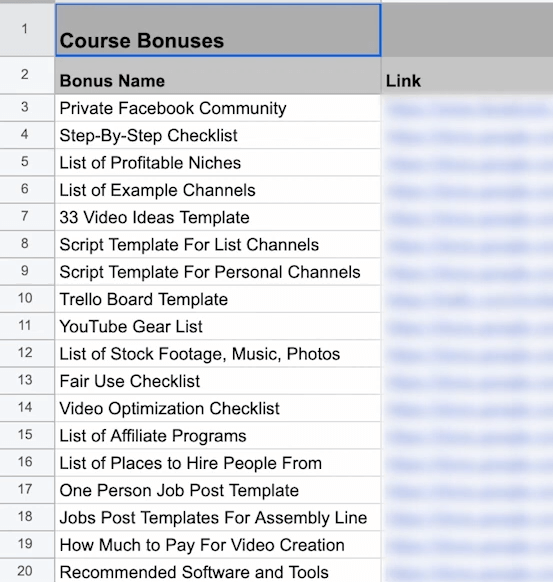 Inside the course, he offers this Google sheet, which gives you the names and the links to all the different bonuses that this course does offer.
Private Facebook Community
So first, we do have a private Facebook community that is similar to any other courses you could join before, this will be the same type of thing.
The link will take you to the page you request access to. You'll give the email that you signed up for the course so it's important to always remember that email.
Remember that email and password, submit the email address that you signed up for the course with; they will grant you admission into the Facebook group.
And in this Facebook group, the community of channel builders is thriving and gives you an opportunity to kind of network as well as get any questions answered that you need.
List of Profitable Niches
Continuing down the list, you'll see his step-by-step checklist, a list of the best Youtube niches that he talks about within the course.
If you have no idea where to start your YouTube channel, to begin with, he gives you just kind of an idea of really where some of the most profitable versus some of the least profitable niches are to start.
Other Bonuses
Then there are also video ideas, and script templates; he gives you his YouTube gear list, list of stock footage, music, and photos, list of affiliate programs, and list of places to hire people from for complete YouTube automation.
And going into how Matt runs these channels and how he kind of suggests that you run these channels, some of these sections are going to be very, very important.
And then he also gives you some of his opinion pieces as far as how much to pay for video creation and then his recommended software and tools that he uses to create the videos including Pictory.ai, Videly, TubeBuddy, and other YouTube tools.
Additional bonuses down here are the FAQ course, the Tube secrets course simplified, case studies, and the VidIQ mastery course, which will be coming soon.
Tube Mastery Reviews & Testimonials
Now, let's take a look at some of the Tube Mastery reviews and what other people have to say about the Matt Par YouTube course.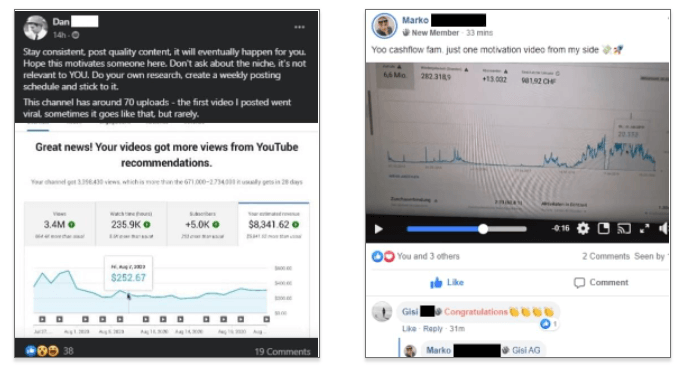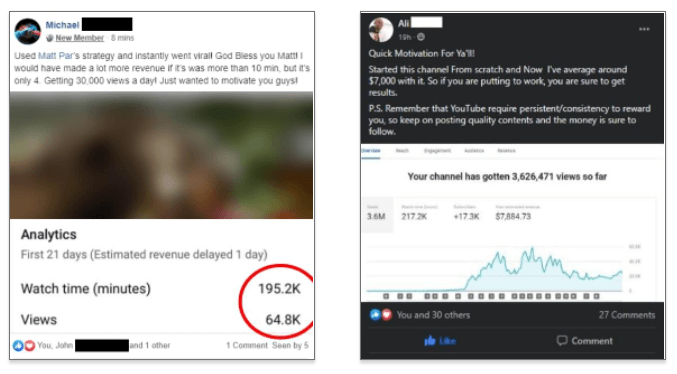 Tube Master Rating
Overall Ranking
For the final rankings of the Tube Mastery 2.0 course, I have to say it's one of the best make money on YouTube courses. I think that Matt does a very good job of presenting information in this course. This course is very well done compared to other make money on YouTube courses.
It's possibly due to the chance that he's a content creator and a YouTube video maker himself, but the videos are actually very engaging, and the videos are easy to watch. And I do feel like Matt is very good about outlining points that he's making in the video and making it very easy to digest and remember after the video is over.
He also makes sure that they are very actionable steps, which is nice.
Credibility of The Instructor
For the credibility of the instructor, I give this a 9/10. It's very easy to see that on his personal channel. He does have 310,000 subscribers.
He doesn't necessarily outline every channel that he may be involved in, but to see that he is making 6 figures a year, running multiple channels and through all the social proof that you can see from him, I do give him the credibility that he does deserve.
Relevance
As far as the content relevant to what we're talking about in building niche YouTube channels, this is about as relevant as it gets, I feel like Matt is still in the business, still performing very well at it, and he understands that the concepts are changing but the formula for how to build these channels has stayed relatively the same for a decent amount of time, and he's very up to date on what that is.
You can also rest assured that Matt is updating this course. He showed it in certain sections of the course, as well as some of the bonuses that he's going to be updating. You will see that soon.
Community and Support
For community and support, I give this a 7/10 only because yes, it does have a Facebook group. Those are very kind of easy to push onto your community.
They're very low maintenance for the content creator so although it is nice, it's not like going above and beyond, I would say, but that community is there, and the support that he does give you as far as all the bonuses and the opportunity to utilize his different software and recommendations is great support for the student.
Value For Money
For the total value for the price of the Tube Mastery 2.0 course, at $497, I would say that this actually is a great value if this is something that you want to get into.
Although it seems like it can be fully outsourced, it does take a lot of upfront work in the beginning and you have to be willing to dedicate yourself to a YouTube channel and the grind of building it up from zero subscribers to hundreds of thousands of subscribers.
It takes time, it takes effort. Even if you're not going to be on camera, even if you're not going to be scripting and shooting and editing all of the videos, it takes a lot of planning, it takes a lot of effort, it takes a lot of strategies, and those are the things that you're going to need to learn in order to be successful in your niche.
So, if you can get in at the $500 price point, I would say that it's very worth it if you're looking to get into this business. Even at the $1,000 price point, I do believe that you could recoup that investment fairly quickly. But if you can get in at the 500, obviously a much better choice.
Tube Master Review Final Words
So this is my honest Tube Mastery review. This course will teach you the basics of video monetization, including how to create videos that will attract subscribers and earn money from advertising.
In my opinion, it's one of the best courses on how to make money on YouTube for all of the reasons mentioned earlier.
By the end of this course, you'll be able to create high-quality content that will help you earn a living from your YouTube channel.
So if you're looking to make money on YouTube, Tube Mastery 2.0 is the course for you.