At the time of writing this review, Viddyoze has gone through a massive new update and has changed their software up completely and especially the user interface.
They've added a lot more new templates into their collection of already growing template collection.
And if you haven't yet got started with Viddyoze and you're thinking about it, here you can get this unique video animation software for the best price possible.
What is Viddyoze?
Viddyoze is a 3D animation and video creation software where most of the heavy lifting is done for you.
Basically, what they have done is they have created all of these professional-looking templates for people to use.
And all you actually have to do in there is to drop in a logo or image, and it's going to come out with a professional-looking video.
This is actually great for people that are either starting a startup company so you're a one-man band in your own online business or maybe you're just trying to create some quick and easy visual animations that you can actually use for marketing efforts, then Viddyoze will automate the process for you.
And this software has blown my mind, how easy it is to create such professional-looking videos.
Especially for things like logo intros, intros to videos, if you're wanting to add your own social media handles that you add on top of Viddyoze as well, all of those types of things, Viddyoze makes this a dream.
So, now I'm going to show you how to use Viddyoze step by step.
Viddyoze Tutorial & How To Use It
So, once you log in, your dashboard will look different if you only get the one-time payment.
First, you're going to see your stats and I've rendered 257 videos so far.
What we'll actually see is that I've got a bunch of videos expiring soon because they only let you keep them for 30 days.
We're also going to have our tutorials and they're going to give you 6 tutorial videos where they're going to show you how to use everything.
You get a 40-minute video talking about the transparent animations explained, and then you get several 10-minute videos talking about aspect ratios, logo, and title animations, live-action animations, as well as how to find the perfect template.
And then, of course, they're going to show you how to use that stock image integration and image editing.
They actually do a decent job with their insights in teaching you things, such as how to make money with these videos' templates.
So, if you are overwhelmed and don't understand how this works or any of that, their tutorial videos will help you with that.
But let's actually go and look at some of the templates.
Viddyoze Templates
Viddyoze offers a pretty wide variety of different video templates.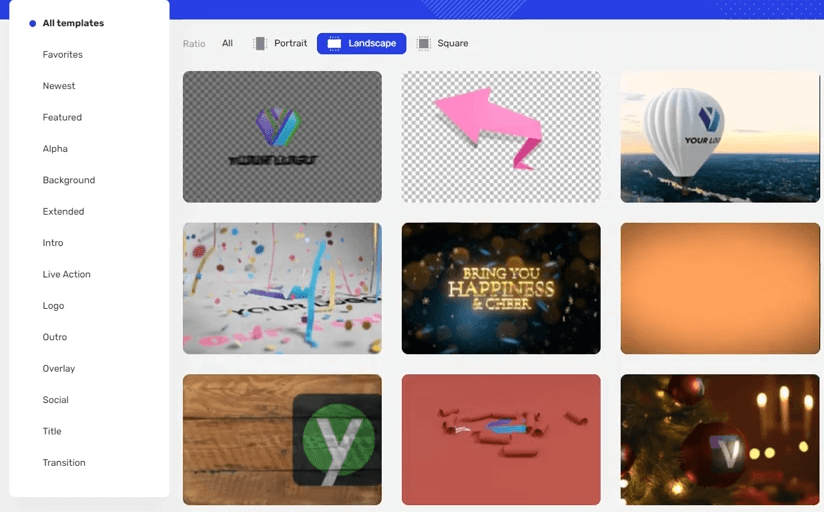 We have different sizes, which is a portrait; perfect for Instagram stories, Facebook stories; landscape, perfect for YouTube or websites.
And then we've also got square, which is perfect also for Instagram and Facebook.
I created one of the templates earlier just to play around with Instagram and I really liked the way that this looks.
To customize some of these templates, all you do is click customize and then you're going to upload your logo and then you're going to render it out.
Then, on the left, we have different types of template categories including:
Background
Intro
Outro
Live action
Logo
Titile
Social
And many more.
All of these different things will filter the different types of templates that you have available so you can quickly and easily navigate through there.
Then, on the right, we also have filters for length.
So, if you want to change the length time, you can do that here.
Viddyoze has over 260 templates for every case scenario so there's plenty to choose from.
And what's important, they're all super high quality compared to other video makers I've reviewed on this blog.
They all look amazing and they all are rendered perfectly.
So, I'm going to show you, now how to actually create one.
First off, you need to choose a template.
And this is a Google search template.
And with this, it's going to type out some animated text, and then it's going to show you a logo in the back office.
So then you can upload your logo.
And there are only 3 steps for this one; upload a logo, some text, and then you can add some audio.
I've actually already uploaded my logo so I'm just going to choose it here.
Now, I'm going to click continue and it's going to type in the search term.
Then we have audio.
And there are a few different ones to choose from.
And what it's going to do is basically show me what the frames are going to look like, and then if you're happy, you can go ahead and click create.
Now, this is going to take a few minutes to render.
It doesn't take too long; about two minutes, usually around 2-3 minutes.
Then, you can just click on download and you'll notice you have two options, either MP4 or animated gift.
It downloads pretty quickly and if you click on it, it's going to open the video.
So overall, very good, very easy to create; just a few minutes, and you can quickly go and do that.
And if you wanted to edit it as well, click on show all videos, and then you can just simply go to edit, and then you can re-edit everything inside of it.
So that's basically Viddyoze.
It's absolutely quick and easy to create professional-looking videos.
Viddyoze Library
At first, I was super excited about their library. They brought in all of the photos that I've used at least recently, which is really cool.
But then I went to use it and this made me a little bit frustrated.
If I want to store images, you have to upgrade the Viddyoze Template Club Plus for an extra $10 a month.
And they're going to give you a lot more than just that personal library because at first, I was pretty mad, but they're actually going to give you access to some courses and a bunch of additional features, including the ability to render multiple clips at the same time.
So that is something that I wasn't happy about but at the same time if they unleash multiple renders for an extra $10 a month, I'm still not going to be happy, but I might actually pay it.
When it comes to uploading a photo, you can integrate with Pexels, Unsplash, and Pixabay, all of this is brand new.
Now, these new render templates, I like the way all of this looks, but they're still using their freeze-frame renders, which isn't perfect.
It would be better if it was a live act, like an actual render.
It'd be cool if that was an actual video, but this is the patented one for lack of a better word, Viddyoze, the way that they render it out. And then you just simply hit create, and you're off to the races.
Viddyoze Pricing
Viddyoze has 2 pricing plans:
Personal – $97 one time payment
Commercial – $127 one time payment
Now there is quite a big difference between personal and commercial.
Honestly, I think the commercial is probably the best deal.
The main things are you get more templates on the commercial, as well as you have unlimited renders per month.
Being on the personal, you can only get 30 renders so it's a bit of a no-brainer.
You also do get 2 bonuses if you decide to take the commercial and you also have commercial rights, just to keep that in mind.
Viddyoze vs Renderforest
Renderforest has more options. There's no doubt about that and in my Renderforest review, I go through each of these features in detail. Each of these tools has its own unique features.
And I have decided also to keep my Viddyoze subscription. I did that mainly because Viddyoze has great live-action templates that are very high-end.
And to be honest I just got so used to using them that I don't want to give it up quite yet.
 Renderforest at least I've yet to find the ability to do this type of stuff.
So these live-action scenes really do take your content to the next level and that is only available on Viddyoze.
I also find Viddyoze to be better for alpha channels so if you want to create overlay style graphics, titles, and transitions all of that type of stuff Viddyoze seems to be better at doing those things.
Renderforest offers a free plan so you can test it out and see if you like it or not.
Viddyoze Review Final Words
Hopefully, this has been a fair, balanced, honest Viddyoze review. As you can see, it's such a powerful tool.
And the best part about it is if you are looking for a marketing option and you don't have a huge budget for an actual video production team, you can quickly and easily grab the software and create your own high-quality-looking content.
I think this is perfect for people that are either just starting a brand-new company, running on a bootstrap budget, or you just kind of be bothered, actually getting a video team, and you just want something quick and easy to get a professional looking brand, then Viddyoze is quite the tool for you.