Today, we're going to be reviewing a product named Videly. And in this Videly review, I'm going to be sharing exactly what Videly is, what it does, what I like about this software, and what I don't like.
A lot of people asking questions about this product so I thought I would actually answer those in this review and give you insights into the current up-to-date 2023 version.
First off, I just wanted to tell you that I only review software that I actually use.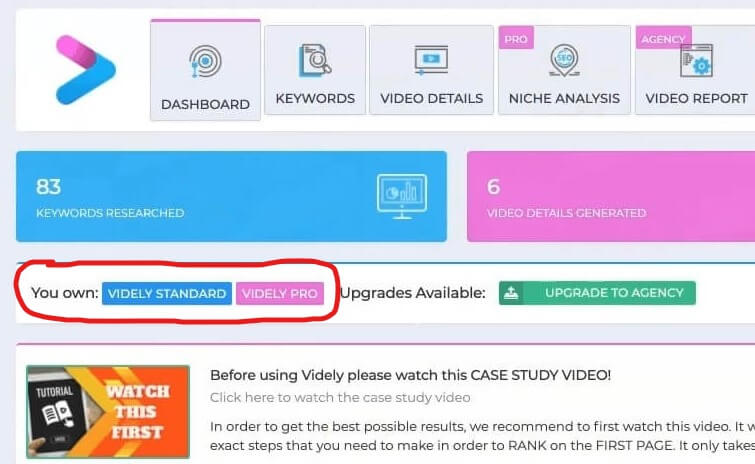 As you can see, I personally own the Videly standard and the Videly Pro memberships. I can also get the agency if I wish.
Now I'm going to show how exactly step by step how to use Videly to rank your videos higher on YouTube and other search engines. So if you want to work along with me, here you can get a 75% discount on this powerful tool.
What is Videly?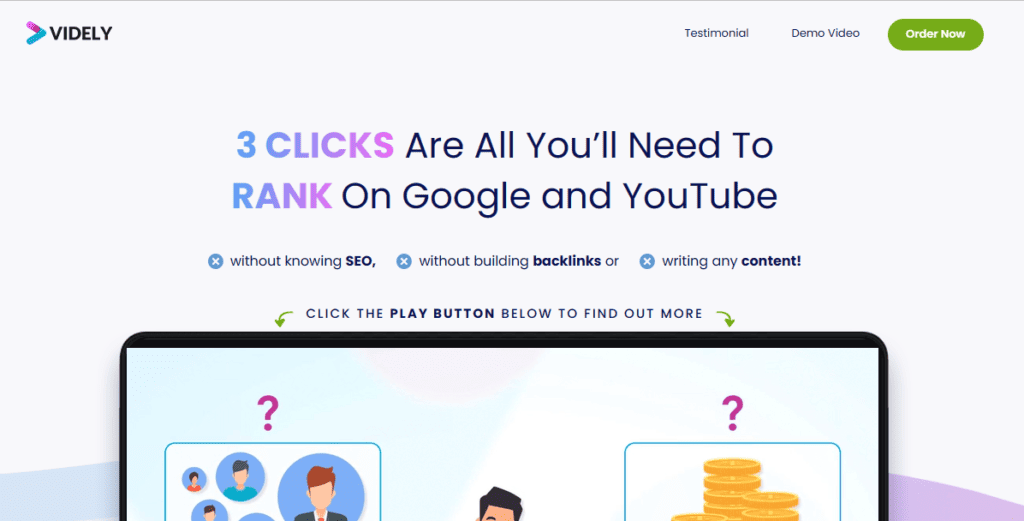 Videly is an all in one YouTube video marketing tool that helps you rank your videos on popular search engines. The main search engines it focuses on are Google and YouTube, but it also works for Bing, Pinterest as well as Amazon.
But the really good thing about this tool which makes it different from other tools is it actually scans the searches on different search engines to give you the lowest competition with the highest amount of search volume.
So, if you want to create a video in a particular niche or about a particular product, you can find what opportunities are available that you can actually create videos on that keyword, rank it on the search engines and actually get results quickly. Instead of trying to fight for rankings with so many other people that are currently on YouTube.
So, it's a very out od the box way to actually get your videos ranked.
Videly Tools & Features
Videly is actually a series of tools as I mentioned earlier. It isn't just a keyword research tool; it also does things like video details, it also does niche analysis, and it also scans your existing videos to help you find out which ones you can actually improve.
It also has a rank-tracking feature, which is actually my favorite tool. I use it every single day because it lets me know how my videos are actually tracking as well as gives me my statistics for those videos.
I use this tool for two "faceless" YouTube channels using different Vidnami alternatives and now I'm going to show you all about Videly and what you can expect.
Videly Full Demo & Tips On How To Use It
So, this is the dashboard once you actually get inside Videly.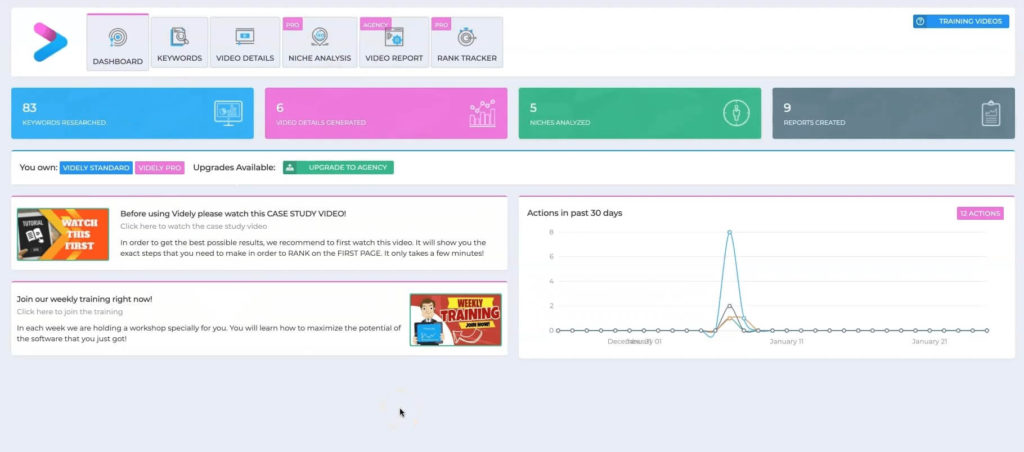 So Videly can be used on any computer and any type of browser. It could be on a Mac or Windows. It doesn't matter, you can use it on everything.
So, what you'll notice when you come inside is we have actually 5 different features that you can use inside the tool.

And it tells you how many actually keywords you have searched in the last sort of 30 days.
And as mentioned earlier I personally own the Videly standard and the Videly Pro memberships. I can also get the agency if I wish.
Now, if we start off with the features, one by one; we'll start off with keywords.
Videly Keywords
The keywords tool is probably the most powerful tool inside of this particular series of tools and the reason being is it finds opportunities where other people have left holes, or there is a hole in the industry where you can create videos and rank and get traffic.
So, for example, if I typed in the word "Builderall", which is actually what I did last time, and I click on search, what it's going to do is it's going to scan the word Builderall and try to find opportunities where I can create content to rank on the internet.

You will see metrics like:
I don't really personally take too much notice of this. It doesn't really matter too much if you use the particular method that I'm about to show you.
Here are also all the different search engines.
So, we've got YouTube, Competitors, Google, Bing, Yahoo, Pinterest, eBay, and Amazon.
So, there are a lot of search engines where you can actually look for opportunities.
And personally, I just like to do the two main search engines, Google and Bing, and then, of course, YouTube on top.
You will also see the interest in Builderall over the last year and there is a peak right now because the lockdown has started happening so people working from home, they're obviously trying to learn about Builderall a little bit more and work from home.
On the right, we actually have the monthly volume.
However, this is just an estimate.
The majority of the time, if these keywords are even here, it means that people are searching it. That's the way I like to look at it.
If it says there are less than 100 searches per month, that's usually not the case. I've done videos for searches less than 100, and I've had thousands of views a month.
So basically, just take these parts into consideration, the recommendation and the platform, the source it's on.
If it's 100% recommended, just use them from the top down. If you can use any of the top 10, I would basically go for the top 10. If it's a 100, I'd always try to go for the 100% recommended one.
The reason being it's got a YouTube algorithm behind it and there's a lot of variables that we don't see.
So that's basically the keyword tool. You can use it for any particular thing. No matter how competitive the keyword you're actually going for. I recommend you type in the keyword and see what opportunities are available to rank for.
Video Details
The video details feature is a little bit of an interesting one. If I click on generate details and type in the main keyword, what it's going to do is give me two titles that are an outline.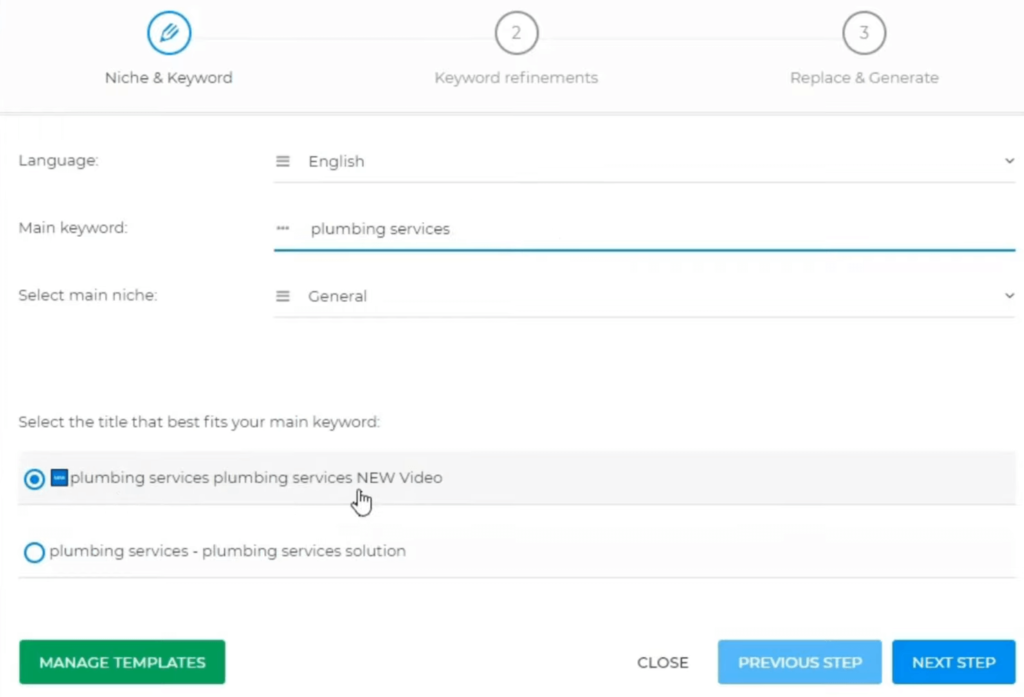 Next, it's going to ask for some secondary keywords, so pretty much supporting keywords.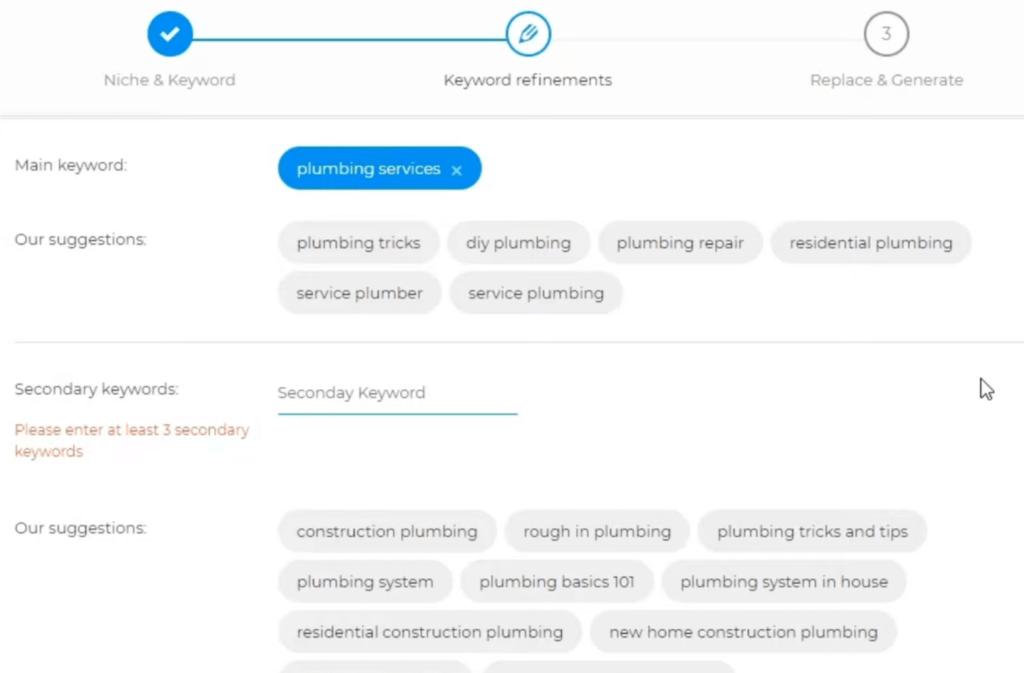 So, I'm going to go next and Inside here, you can put in your website link. If it's an affiliate link if it's for a landing page, all that sort of good stuff and try to add in your current channels as well.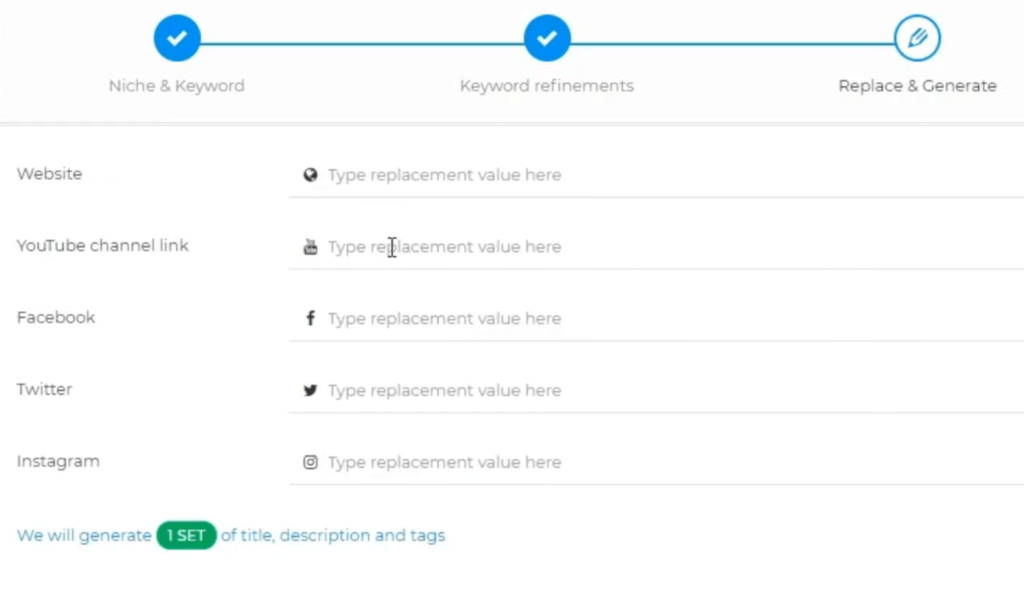 It's really good for sending out social signals to things as well.
And basically, what this is going to do, it works really fast, is it's going to set an outline of what video details should look like for this particular video.
What I like to think of it as it is a robot doing a robot's job so it's showing how Google likes to read information. However, it's not how humans process it, but it does give us a very good guideline.
I'll show you what I mean.
So here, we have a title description and we've also got some tags.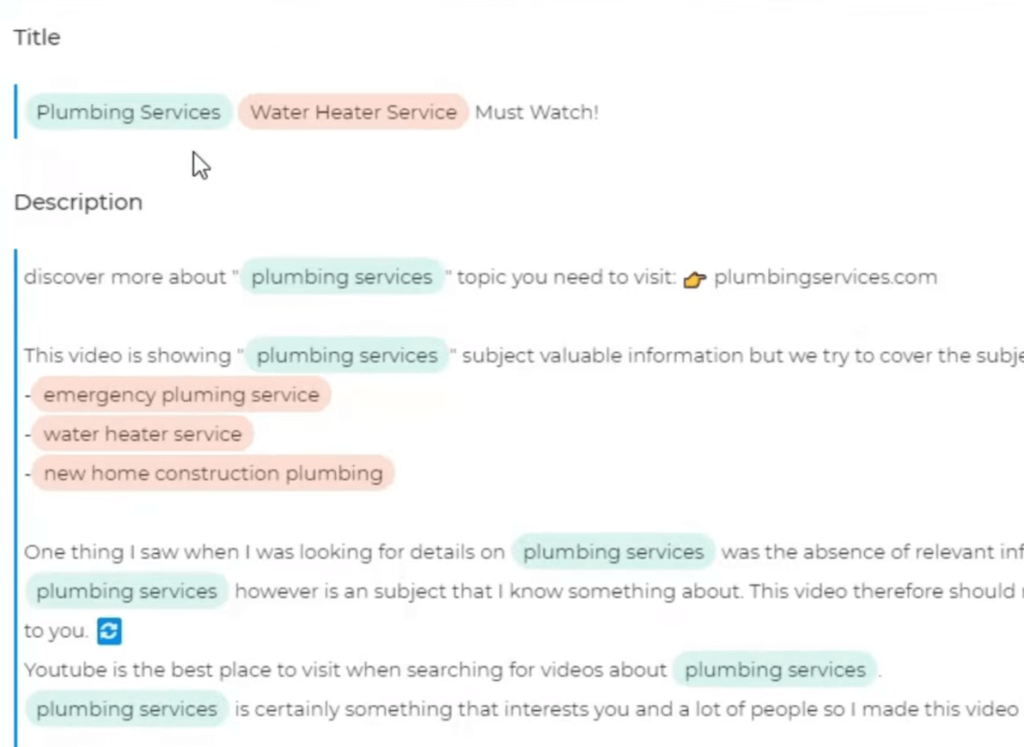 Now, it is not going to be perfect straight off the bat, but it is going to give you a very good outline of how the video details should actually look.
Very, very good stuff.
So what you want to do is every time you have words outside of the highlighted text; so, the green is your primary, the second or the red is your secondary keyword.
Basically, you want to keep the same structure.
You just want to reword a few words just to make it sound more human. This is just software. It is just doing the robot's job of giving you exactly how it wants to be read.
All we need to do is tidy it up a bit. So don't change any of the keywords, don't delete entire sentences, just rewrite them a little bit.
Now at the bottom, we've also got some tags, which is amazing.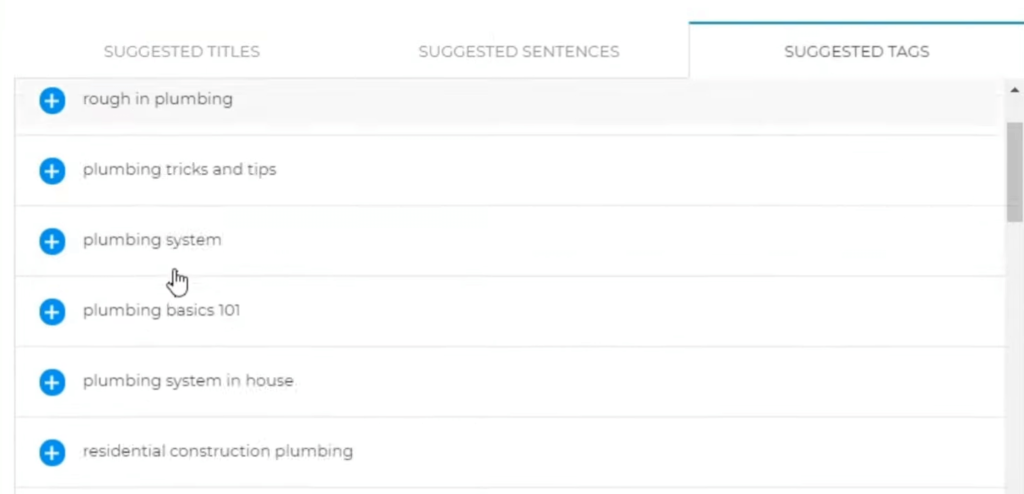 So it really does everything for you.
And once I'm done, what I can do is go to YouTube, upload video, here's my title, copy and paste, here's my description, copy and paste, and then here's my tags, copy and paste.
Now doing it in this particular order using this exact wording is actually going to get you more juice so you can potentially rank on Google super quick, as well as YouTube super quick as well.
If you do this with a very low competition keyword, you can rank instantly, if you do it with a more competitive one it can take a little bit of time.
What I recommend doing, if that's the case is create similar videos around the same topic and link them all together.
So, in the description each time you add one, link it together, we'll put it in a playlist, if that makes sense. This is a goldmine when it comes to ranking videos.
So, the next part we're going to look at is a pro tool and this is the Niche Analysis.
Videly Niche Analysis
Niche Analysis is basically showing you what your sort of niche is up to, what your sort of keyword and category is up to.
Here you want to type in a keyword to see how competitive this keyword is.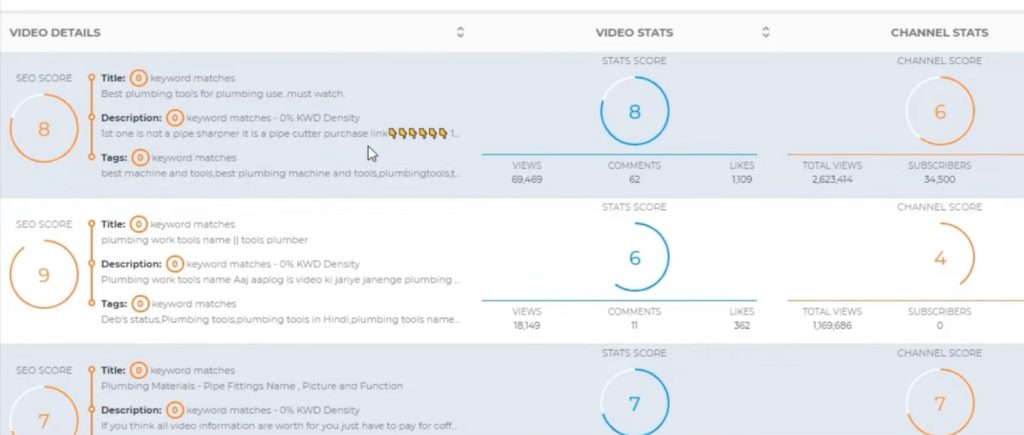 So, it's going to pop up with all of these videos showing me how everyone is doing.
That's based on the amount of views, comments, likes.
And then there is also a channel score and then a social score.
So it basically gives us a snapshot of what's going on on these channels
So that's niche analysis.
So, let's get onto the next section which is actually the video report.
Videly Video Report
And this particular tool is great for people that have already created a YouTube channel, already have YouTube videos.
It's going to give me a list of suggestions I can actually do for my video to make it better.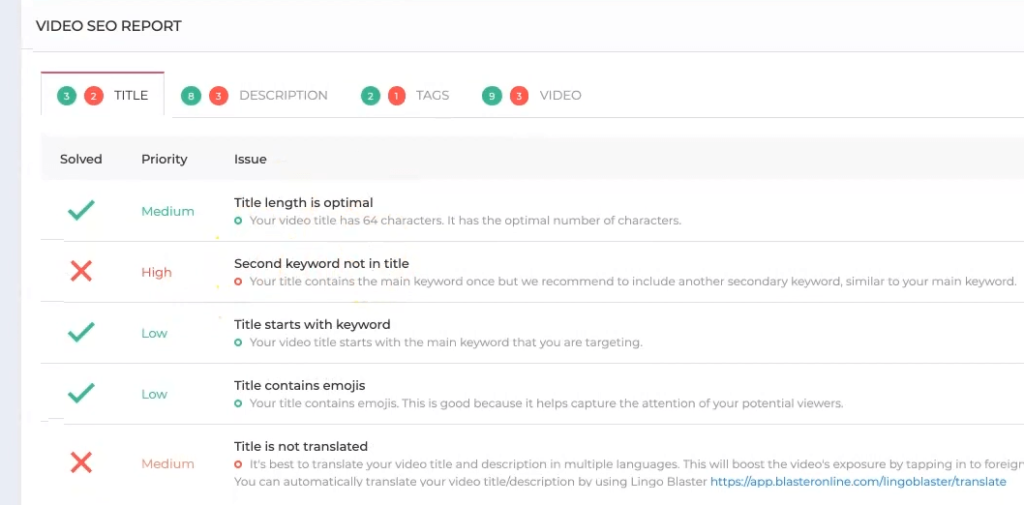 For example, it says my secondary keyword is not in the title, which is very true, it's not there.
The title was not translated so that's a very good point. If I went and translated this video into multiple languages, I could actually get more rankings for overseas languages as well, which is pretty cool.
For the description, it says here, my keyword density is too low. So, I need to add my keyword and the description a few more times.
The Channel link is not found so I need to add my channel link actually in there as well.
And the description is not translated, you can actually translate this very easily as well, which is cool.
If I go to tags, the keyword appears a few times in the tags so obviously, I need to put a break here to view and then add a few extra things inside of it.
But as you can see, it actually goes through multiple different amounts of issues that you could potentially face to show you what it has.
So, if I wasn't ranking number one for this particular video, which I currently am as there's not much competition, once again, looking for those golden nuggets, I could beef this up a little bit and then stay on number one for a long time.
So that is video report. This is perfect for someone that just buys the software and they want to see how their current videos are going. Maybe they need to get them ranking up a little bit higher. This is absolutely perfect to do that.
You just go through each video, fix all the issues and then just watch over the next couple of days as your ranking starts going up.
Videly vs Video Marketing Blaster
One question I got asked is, is Videly and Video Marketing Blaster the same thing? It actually is.
However, Video Marketing Blaster is a software just like Videly. It's the exact same software, but it is Windows only software, so you download it rather than use it on a cloud or in a browser. Videly is the cloud-based version.
So, if you're on Mac don't even look at Video Marketing Blaster, it's not going to work.
With Videly, you can log into it from your phone, you can log into it from any type of desktop as long as you have a browser, which is very good.
Now, I'm going to show you the different pricing inside of Videly.
Videly Pricing & Discount
The regular price of Videly is $188 one time payment.
But if you use this link, it's also going to allow you to get a nice discount down to $27, so make sure you use that.
There is a few upsells, of course, one is being the pro version that we went through in this Videly review and it's another $47.
And then there is also the agency, which is a little bit more expensive, but it allows you to have features like reselling rights and having a done for you website and plug and play templates.
But personally, if you were to buy anything, I'd either choose the base plan or the base and pro, that's what I use and highly recommend.
Videly Review Final Words: Is It Worth It?
Okay, so that's my Videly review. As you can see, it's a really powerful tool. It's got so many features that you can actually use to increase your YouTube rankings.
If you use all of the tools available, then you will be able to increase your rankings. It is that powerful, trust me.
I've got tons of number one rankings, and that's what you should try to aim for.
Next one, does it cause bans? It doesn't cause bans because it doesn't log into your YouTube account, it doesn't do anything to do with YouTube. Basically, it's just searching the search engines and reporting data. You're never connecting your YouTube to the actual software, so it doesn't do any bans.
Hopefully, I've covered everything. If you have any questions, let me know in the comments, but that is the Videly review. I hope you've enjoyed it.