As we all know, with the recent news that Vidnami has been acquired by GoDaddy, and as a result, the platform is going to be shut down.
Vidnami was a very well-recognized platform within the video creation industry.
But not only that, a lot of content creators and business owners have been using Vidnami, even as far back as when it was known as Content Samurai, and have been using it for years to create content and build their businesses.
So this leaves the question as to what other Vidnami alternatives are out there at the moment that people can get started with.
In this guide, I want to provide you with some alternatives to see if they would be a good fit for you to continue with your business venture online.
Let's get started.
📋 Best Vidnami Alternatives TL;DR
✔️ Pictory – Best Vidnami Alternative Overall
✔️ InVideo – Best Free Vidnami Alternative
✔️ Designs.ai – Best All In One Content Creation Platform
✔️ Viddyoze – Best Video Maker with a One-Time Payment
✔️ Wave.Video – Best Video Creator with Video Hosting & Landing Pages
✔️ Promo.com – Best Video Maker For Social Media & Video Advertising
1. Pictory
Pictory AI is hands down the best Vidnami alternative since it allows you to turn text into video with a few clicks of a button.
Also, the tools included in this platform are almost the same as you could find in Vidnami.

Pictory will help you to sync all your workflows and styles over to the platform so that you can work in harmony, as it does implement a lot of the features that Vidnami already had including:
Article to video
Script to video
Visuals to video
Edit video with voice using text
With Pictory, you can add videos using text, you can add in your own text features; pretty much everything Vidnami can do, Pictory can do as well.
So, if you are familiar with using Vidnami for your content creation, this may be the next best alternative for you.
And even if you have a look at the pricing structure is quite reasonable for the most part.
Pictory Pricing
Free Trial – $0/month
Standard – $19/month
Premium – $39/month
Enterprise – custom pricing
With the Pictory free trial, you can create up to 3 videos which is enough to get a look and feel of the platform to see if it is a good alternative to you.
2. InVideo
InVideo is an AI video creation software that is one of the most advanced on this list.
It may be used to make high-performing videos for ads, short-type social media videos as well as longer-type video content.
It's even been called the Canva of video creation.
With InVideo, the user's existing pictures, movies, or music can be converted to a full-fledged video.
While creating content, you can choose from over 5,000 templates provided by InVideo.

The templates are both easy to use and visually appealing.
Most importantly, there is no auto selection of media or voiceover auto-sync with InVideo. The AI in InVideo will automatically recommend audio for a certain video.
It saves a lot of time looking for the audio if that's valuable to you.
The videos made using InVideo have a time limit of 15 minutes. Additionally, the monthly download restriction for videos is capped at 60 videos per month. With the average YouTube video length being 11.7 minutes and the average release schedule being twice a week, these limits shouldn't restrict most content creators.
The only drawback of InVideo is that on their free tier your videos bear the InVideo watermark, which might not be a big deal to some content creators.
InVideo Pricing
Free plan – $0/month
Business plan – $30/month
Unlimited plan – $60/month
InVideo's free tier is the best of any software on this list. It includes over 3 million pics, video clips, and soundbites, as well as 4,500 plus video templates and automated text to speech.
In addition, InVideo offers our readers a 25% off discount code for all of the paid plans and both come with 7-day free trials.
3. Designs AI
Designs.ai video maker employs a wide range of innovative machine learning algorithms aimed at speed, accuracy, and usability.
Designs AI is not just a video maker but an all in one content creation platform that includes:
Logo maker
Design maker
Mockup maker
Speechmaker
All are included in your plan.
It also offers a host of features that are highly similar to Vidnami, including text-to-video technology that is unique, highly accurate content suggestions based on keywords, and scene trimming for your videos that is automated.
Design.ai's collection is continually being updated to ensure that your videos contain the finest clips available. Every asset you utilize is already properly licensed for your needs.
You have access to 10 million Getty pictures and 150 million 123RF images. You'll also be able to use 500,000 audio files, 50 different voices, and 20 different languages for voiceover, as well as breathtaking effects, transitions, animations, and icons.
Most importantly, Designs.ai simplifies video production. In just a few clicks, you may create, modify, save, and share your work. The video editor is totally browser-based.
Design's process seems almost identical to Vidnami's. The software is cloud-based, eliminating the need to install any other software.
It offers step-by-step content creation made simple. You're easily able to view the modifications to your video in real-time.
Designs AI Pricing
Basic plan – $29/month
Pro plan – $69/month
Enterprise plan – customized
Your best bet is to try the basic plan free for 30 days.
4. WeVideo
WeVideo is a powerful, super accessible, user-friendly cloud-based editing and video creation tool.
It's entirely up to you whether you want to use WeVideo on your desktop or from a mobile device.
This makes it a realistic alternative for folks who wish to edit movies in the comfort of their own home, as well as entrepreneurs who need to create material on the fly.
In either case, WeVideo app users may quickly capture, video edit, crop video, view, storyboard, and share their work.
Content creators can use the cloud app to save video footage while working on online video production video maker projects.
WeVideo has a massive library of 1 million stock videos and photos.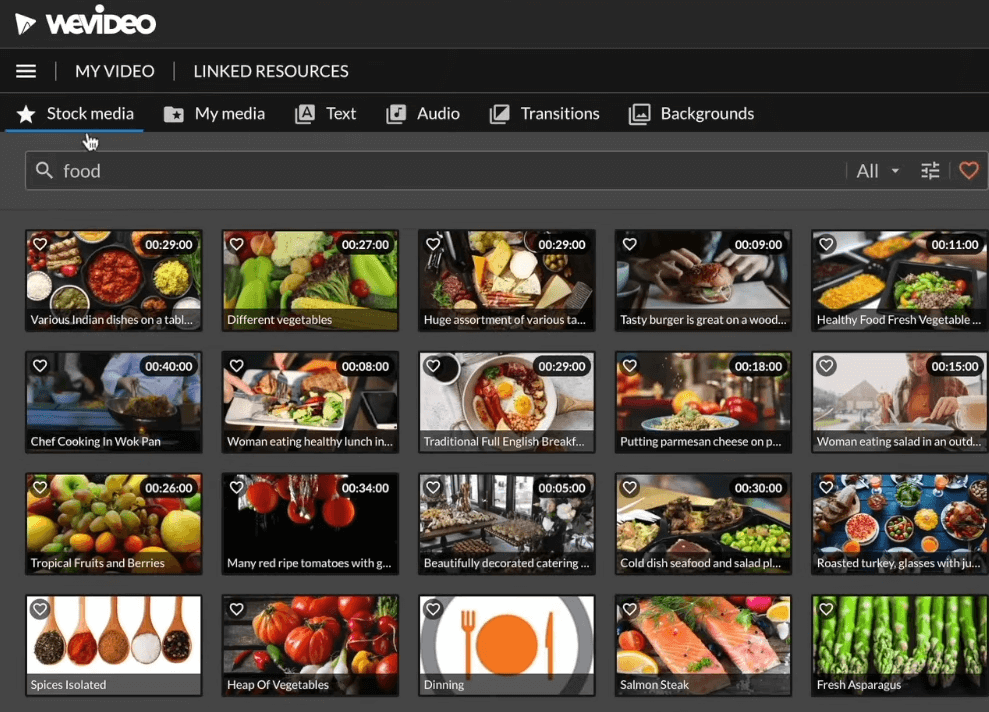 This is available as part of WeVideo's premium, professional and business programs.
The software has several features that will allow the user to create videos with different effects and themes, which is also what makes it so popular among its users. Among these features are:
Customizable text for titles
The option to import files directly from the camera roll
Video effects, such as blurs and fades
The option to change the speed of your clips
The ability to overlay video on top of other clips
Multi-track editing
Video transitions
Chroma key (green screen) feature allows you to replace the background of a video
WeVideo doesn't support AI technology, similar to what Vidnami used. However, it does include a voiceover tool that allows you to record your own voice, WeVideo doesn't include a text to speech feature currently.
It also has slow rendering times and limited audio editing options.
WeVideo Pricing
Power – $9.99/month
Unlimited – $15.99/month
Professional – $39.99/month
Business – $73.99/month
With the annual plans, you can save up to 50%. The major differences between these paid plans are that the professional plan has a max resolution of 4k ultra-HD and unlimited usage of stock footage.
5. Wave Video
Wave.video is a video marketing platform that combines a first-rate online editing toolkit, cloud-based video hosting, and a landing page builder.
It's ideal for creating, repurposing, and sharing videos on websites, blogs, social media, and emails.
It's a game-changer for organizations looking to enhance ROI at every stage of the marketing funnel through the use of videos.
With Wave Video you can create videos based on specific templates from social media templates, YouTube videos, stories for Instagram and you have different promotional style templates for:
Companies
Restaurants
Food
Education
Technology
News
Holiday
And more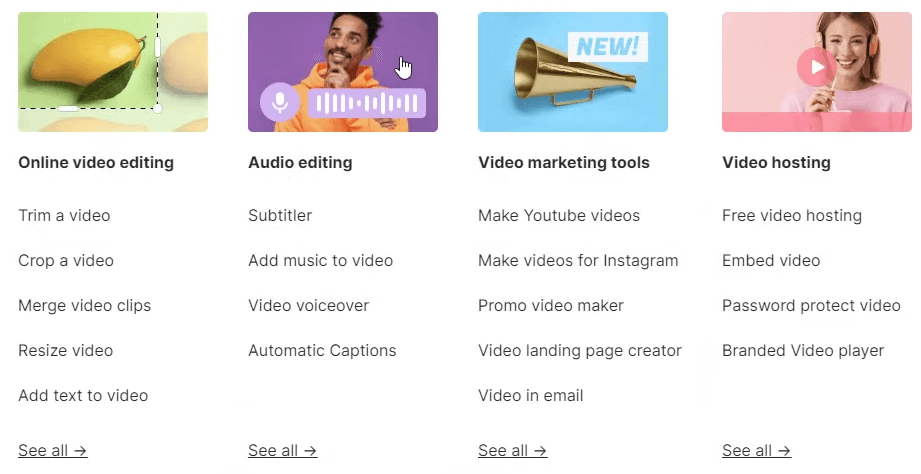 Wave.video allows you to easily merge video clips, crop and trim your video, add animated text, record a video voice-over from your video, add music, apply color filters, and modify the aspect ratio of your video.
Wave is best suited for small business owners, content creators, and bloggers that want to use video to develop their brand.
As part of the integrated online storage, all of your video edits are immediately saved in the cloud. Benefits of Wave.video include the availability of over 200 million stock video clips and photos.
It also allows users to upload their own videos, auto re-sizing for over 30 video formats.
Wave Video Pricing
Free plan – $0/month
Creator plan – $24/month
Business plan – $48/month
With Wave Video you can start for free and even with the pricing structures are super affordable for the most part, Wave Video offers a 40% off discount for our readers.
6. Viddyoze
Viddyoze is a cloud-based suite of templates that you can use to make your videos really professional.
This video maker has been around for a while and they've got about 140,000 clients which is very impressive.
Viddyoze allows you to create graphics for your existing videos so whether it's things like:
Intros
Outros
Call to actions
Logos
Social actions
All different types of graphics and add-ins that you can use for video marketing.
They have one of the largest collections of video templates on this list which is called the Viddyoze template club.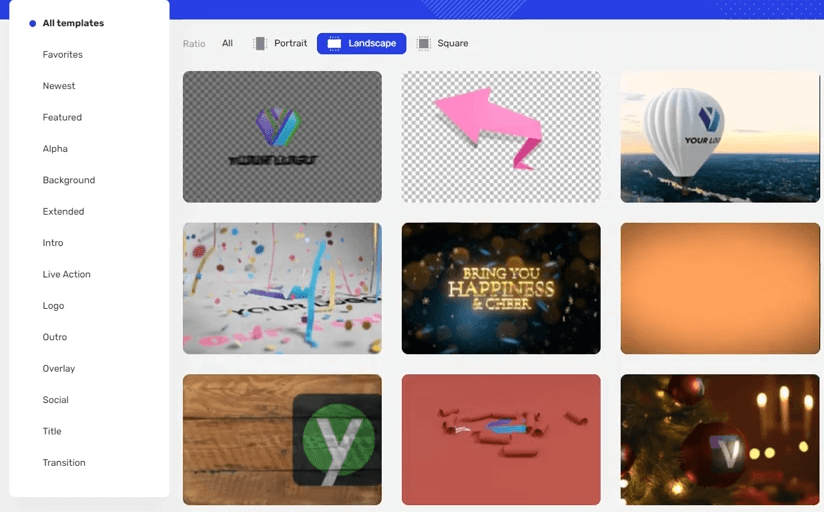 With this tool, all you actually have to do is to drop in a logo or image, and it's going to come out with a professional-looking video.
But what makes Viddyoze stand out from other Vidnami alternatives are great live-action templates that make your videos really professional.
Viddyoze Pricing
Personal – $97 one time payment
Commercial – $127 one time payment
7. Renderforest
Renderforest is an all-in-one online branding platform which means that you can do more than just create videos with this platform.
With this tool, you can create professional logos and mockups of those logos but of the most powerful features of Renderforest is to turn any logo into animation with just a click of a button.
These animations will be your branded logo reveal, YouTube intros, and outros and these videos are very high quality.
Besides YouTube intros, With Renderforest you can create:
Video slideshows
Explainer videos
Drawn and animated videos explaining your script
Sales promotions presentations
Music visualization
And even websites.
Renderforest is very simple to use as the site works by using pre-made templates inside toolkits as they call it and each toolkit is catered towards a specific video style.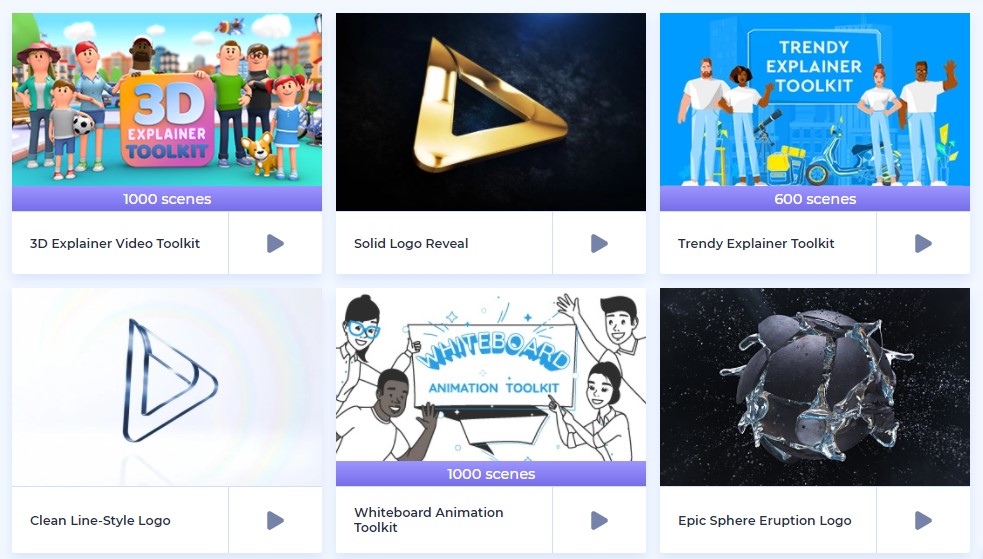 The site is free to use and entirely open so you can test out and create anything on it from the start and you'll only need to pay when you want to download your creations.
Anytime you create a new logo, mockup, or need to spice up your videos with the latest effects, Renderforest might be the right software for you.
Renderforest Pricing
Free – $0/month
Lite – $14.99/month
Amateur – $24.99/month
Pro – $49.99/month
Agency – Custom pricing
8. Promo
Promo is an award-winning video producer that can generate almost any kind of video:
Video advertising
Social media videos
Product videos
Explainer videos
Are all examples of video content.
You can choose from 2,500 available video templates or make your own.
In addition, you have access to 23 million premium HD videos and photographs from Getty, Shutterstock and other media asset partners.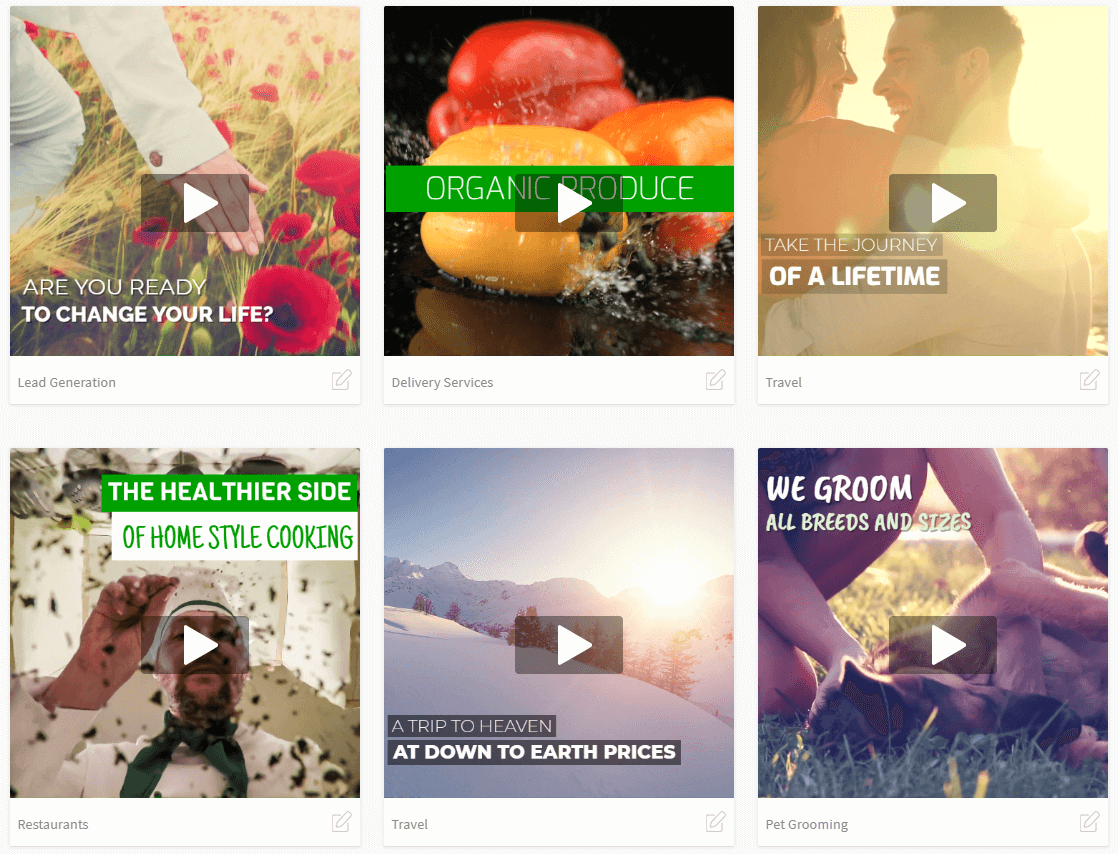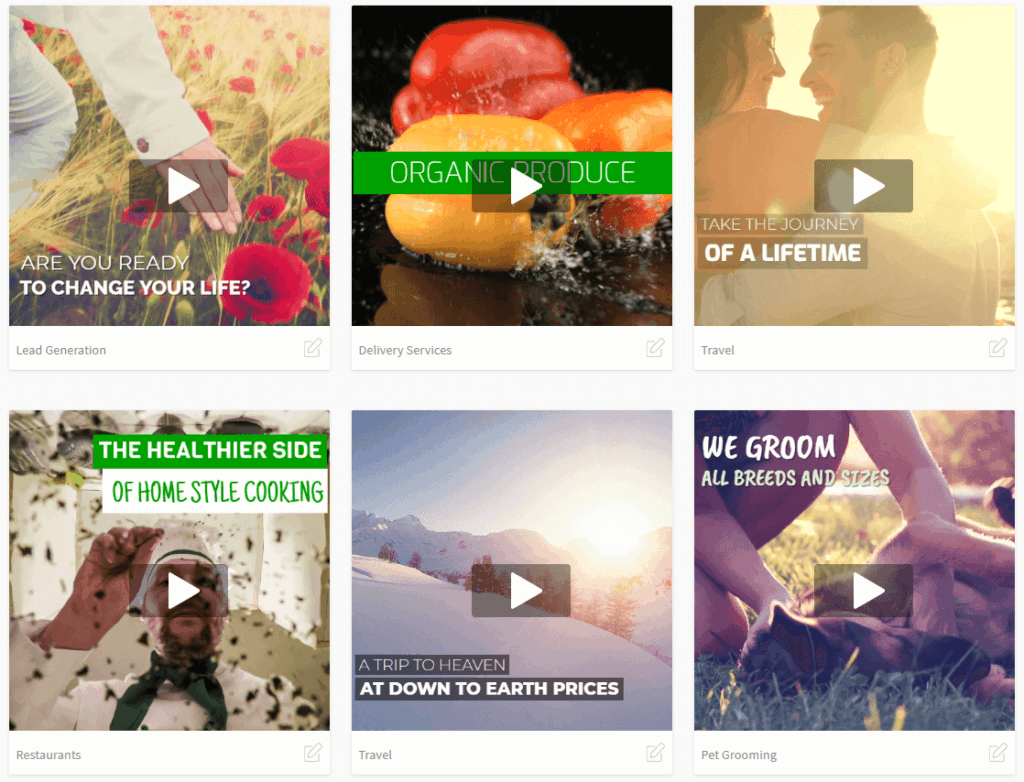 Promo.com aims to assist users with the promotion of their business across social media platforms, by providing the tools and content to create and customize premium video clips, as well as create campaigns to boost engagement, reduce cost per click, increase traffic, build brand awareness and promote a product.
All of the Promo's built-in video clips are completely licensed and framed by expert filmmakers to simplify video creation.
Videos can be utilized for a variety of goals, such as sales promotion, brand recognition, product advertising, increasing engagement, and more.
Some of the benefits of using Promo include access to over 100 million premium video clips and 150,000 standard video clips.
The disadvantage of using Promo seems to be the length of the videos that can be created on the platform.
Promo Pricing
Starter – $29/month
Business – $59/month
Agency – $209/month
9. Wideo
Wideo is another online AI video maker software – a tool that allows you to create animated videos without having to touch a line of code.
With Wideo all you need to do is choose a template or create one from scratch, upload your images and then choose an animation style.
With this, you can make professional-looking:
Animation videos
Promo videos
Presentations
Slideshows
And more
In fact, it looks like the Wideo video maker is aimed more towards businesses, schools, and teachers.
The way in which it works is much more similar to Adobe Spark.
The templates are very numerous and varied so you can create virtually any type of video on the platform – which is really great.
However, some of them were very similar to each other.
You have a nice workspace with all the necessary tools at your disposal, so you can create videos in next to no time. The software can be used by anyone, from newbie to videographer, because it has a nice clean interface and is very intuitive.
Wideo Pricing
Wideo offers 4 pricing plans:
Free – $0/month
Basic – $19/month
Pro – $39/month
Pro+ – $79/month
10. FlexClip
Flexclip is a very reputable and trusted company and they have been serving millions of customers across the globe. They provide you with rich animated elements to make stunning videos.
They also provide millions of stock assets, such as stock videos, stock photos, and stock music that you can use to create highly engaging videos.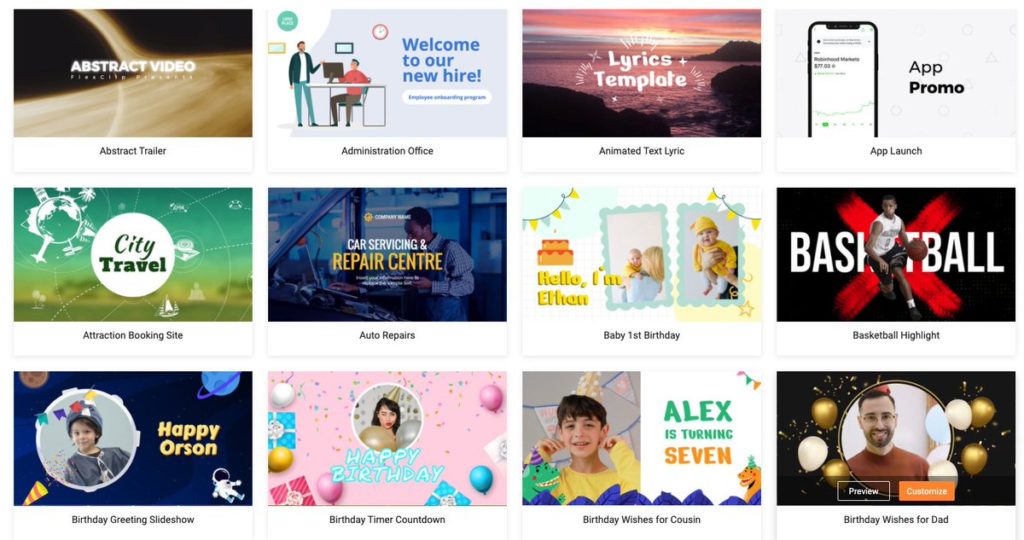 You can also use this tool to easily trim your video, add animated text logo music. And on top of all these, you can also do color grading and voice recording,
Flexclip is very fast and safe because everything is done on their cloud. So you don't have to worry about slowing down your computer while rendering or downloading your videos.
You just need a stable internet connection and you are ready to go with this tool.
FlexClip Pricing
Flexclip has 4 pricing plans:
Free plan – $0/month
Basic plan – $9.99/month
Plus plan – $19.99/month
Business plan – $29/month
11. Animoto
Animoto allows you to easily produce professional-quality films on your PC and mobile device.
You can use a simple drag and drop editor with prebuilt themes, as well as Getty Images, 1 million stock pictures, and video.
Animoto lets you make a video from a storyboard template or from scratch.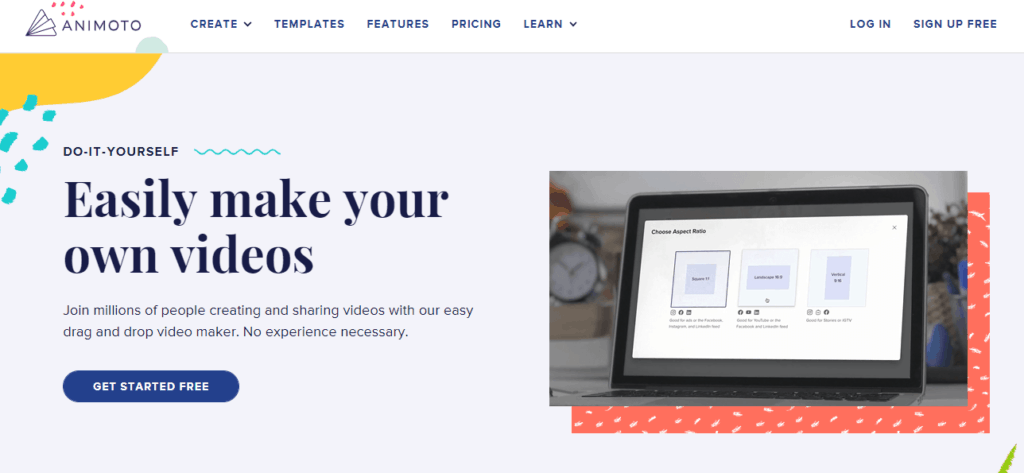 The software is ideal for experienced creatives and established business owners that need to make high-quality videos for their products or services on a regular basis.
Animoto's monthly subscription plans are less expensive than those of other Vidnami rivals, and there are no limits on the number of films you can make and create.
Animoto movies may be made in a variety of sizes to meet the needs of any social media network or platform.
One of the benefits of Animoto is its ease of use.
While nothing can replace hard work patients and attention to detail when creating a documentary or even a short YouTube video, Animoto gets close and requires far less time work, or effort on the part of the user.
It's ideal for beginners and those who simply want to make a fun film. Simply upload your photographs and movies and you're done in a matter of minutes.
Unfortunately, the software comes with some drawbacks. With Animoto, you won't have the option of editing just one area of a video without altering the entire video.
You have no influence over the style of the edits provided by Animoto. Subtle adjustments to a single frame are not possible.
Animoto Pricing
Animoto costs:
Free – $0/month
Professional – $29/month
Professional Plus – $49/month
There is a free plan available if you like to try the software before you buy it.
12. Moovly
Another platform that may also be suitable will be Moovly. And again, this is similar to a lot of other platforms that we will be covering in this guide, where it does have a lot of unique elements.
You have a bit more advanced features in terms of the video editing sections, where you do have your own timelines that you can add in different types of filters and intricate elements to be able to create really engaging videos.
And it has a lot of similar qualities to that of Vidnami. They do have access to a lot of customized templates that are very, very similar.
And they do have access to loads of different and resources and helpful tutorials and guides that can teach you how to use the platform.
You can add in your own customized images, logos, even your own videos, but the platform will have access to a lot of their own customized features so that you can use them to your own effect.
You'll be able to update and implement and import your own scripts, and you can add them into your videos or create them from scratch depending on your own preference.
In addition, you do have the ability to publish to YouTube and Vimeo with a limit of 20 personal uploads. So, you can create a minimum of 20 videos per month within the free account.
Moovly Pricing
And you also do have access to different tiered pricing plans, depending on your own preferences.
Free – $0/month
Pro – $24.92/month
Max – $49.92/month
Enterprise – custom pricing
They do have access to a free account that you can use if you want to get started; just to try it out to see what you think.
13. Lumen5
On the surface, Lumen5 seems to be a very impressive content creation software. Lumen5 claims to be the most user-friendly video creator for social media marketing.
Lumen5's AI power technology helps you produce interesting videos by automatically utilizing appropriate motion videos from its database. Lumen5 includes an AI that chooses media from over 160 million video clips for you.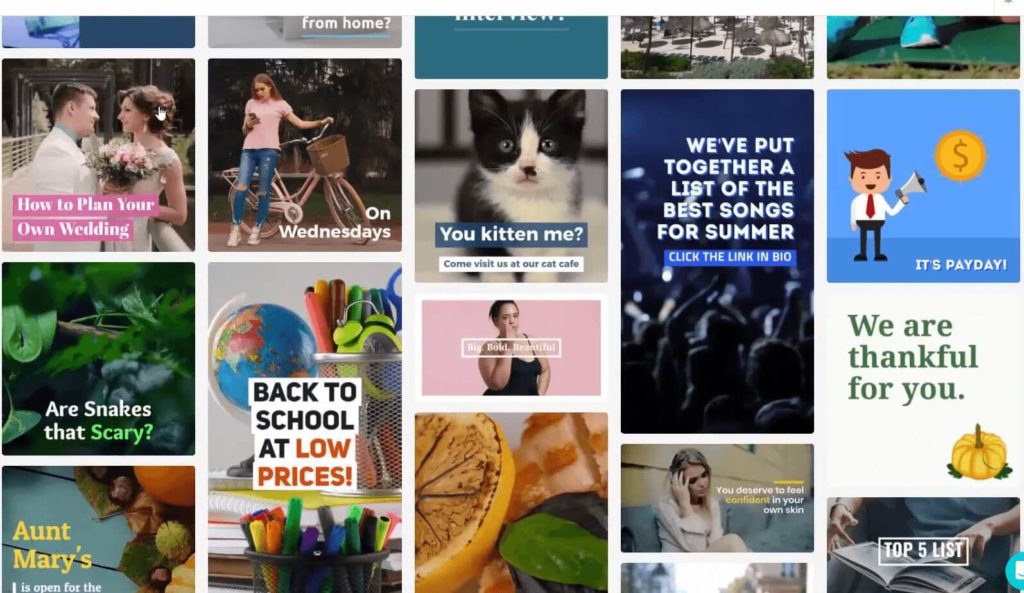 As impressive as Lumen5 sounds on the surface, it gets pretty disappointing once you dig into the details.
There are a number of drawbacks to the software, such as the inability to add a voiceover.
Video customization is also very limited. It also has a video duration limit of 5 minutes, and it's primarily designed for social media videos.
One of the most disappointing aspects is its price plan. Lumen5 is easily the most expensive software on this list.
Lumen5 Pricing
Community – $0/month
Creator – $15/month
Premium – $79/month
Business – $199/month
Enterprise – custom pricing
Lumen5 free tier that allows you to create three videos per month with 720p video resolution and the Lumen5 watermark.
14. Article Video Robot
Honorable mention on this list is Article Video Robot. This software claims to do everything; whiteboard animation, live-action video, and even 3d characters.
It's promising actually like too good to be true.
But the quality of the videos is not the best compared to other tools on this list.
Article Video Robot Pricing
Lite version – $0
Power – $47/month
Business – $97/month
15. Storyblocks
Storyblocks is a royalty-free stock media asset marketplace. They offer flat-rate pricing for unrestricted access to 1.5 million royalty-free videos, audio, and image files that can be downloaded for personal and commercial purposes.
Storyblocks provides HD, 4k footage clips, AE templates, and motion backgrounds to help you bring your video content to life.
The Storyblocks creator is a revolutionary filmmaker that allows you to effortlessly create videos from marketplace material.
Storyblocks is ideal for freelancers, creatives, and business owners who produce high-quality videos for their own materials and client projects.
Storyblocks offers a membership that includes an unlimited amount of downloads, while the subscription is current as well as unlimited usage of content downloaded even after the membership has expired. Licensing is simple and usage is infinite.
Both the standard and enterprise licenses are royalty-free in perpetuity. Can be used globally and cover unrestricted usage for both personal and commercial product.
The drawbacks include the apparent lack of a monthly pricing structure.
If If you're coming over from Vidnami, it doesn't seem to have Vidnami's ability to automatically choose the video that matches your sentence subject.
Storyblocks Pricing
Storyblocks cost $30 per month build yearly $360 per year.
16. Biteable
Biteable is a cloud-based software and website that helps users create videos and animations.
It gives users access to over 4 million clips, pictures, and animations. It also gives users access to Shutterstock's 17.7 million high-quality picks and clips which is also used by Vidnami.
Biteable enables you to make animated videos for video commercials, explainer videos, presentations, and social videos, select from a library of pre-designed templates and sceneries to mix and match with your own content.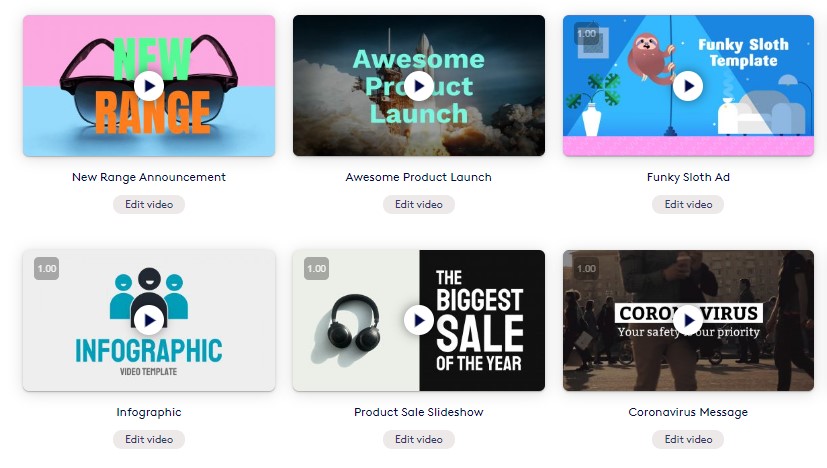 The video animator creator isn't overly advanced or difficult to use.
There are no voiceover options and only a few customization options.
Keep in mind that these types of animated videos are not appropriate for explainer videos, product reviews, or providing useful information to assist consumers to decide whether or not to purchase a product.
When compared to similar products on the market, they believe this is a decent instrument and a good value for the money.
However, users have stated that Biteable 3.0 lacks choices. It's challenging to drag and modify the time of each video slide. Some users found adjusting the sliding speeds to be a concern.
No company is going to give their users their best effort for free, and Biteable is a clear example of that statement.
Biteable Pricing
Free – $0/month
Plus – $29/month
Ultimate – $99/month
Biteable's free tier includes access to over 4 million clips, pictures, and animations. However, you'll have to upgrade to a paid plan if you want to access Shutterstock's 17.7 million high-quality pics and clips, the ability to include your own watermark in your videos or HD resolution.
17. Animaker
Another alternative that you can use and it is quite popular is Animaker.
And even though Animaker may not have a lot of the more advanced features as some of the other platforms as I mentioned, but there is a lot of really cool elements to this platform such as:
Explainer videos
Presentation videos
2D style videos
Intro & outro makers
Photo collages
Promo videos
Music videos
Social media videos
Slide shows
You can create videos based on important scripts and they do have auto voice generation inside as well, where you can use computer-generated voices, even though it's not ideal for creating high-quality videos.
But the feature is there, especially if you're not comfortable with talking on the microphone or hearing your own voice.
Animaker Pricing
Animaker pricing plans go as follow:
Basic – $20/month
Starter – $35/month
Pro – $79/month
Enterprise – custom pricing
The pricing structure is reasonable, even though it is quite limited in terms of the video outputs that you can have per month.
18. Veed
Another very good platform that actually, it's worthwhile looking into is Veed. This tool focuses more primarily on social media stories and shorter videos, the kind of like box-style videos that you get on mobile devices.
You can put in your own content, you can actually add in your own tags, change fonts, change the different color palettes and styles.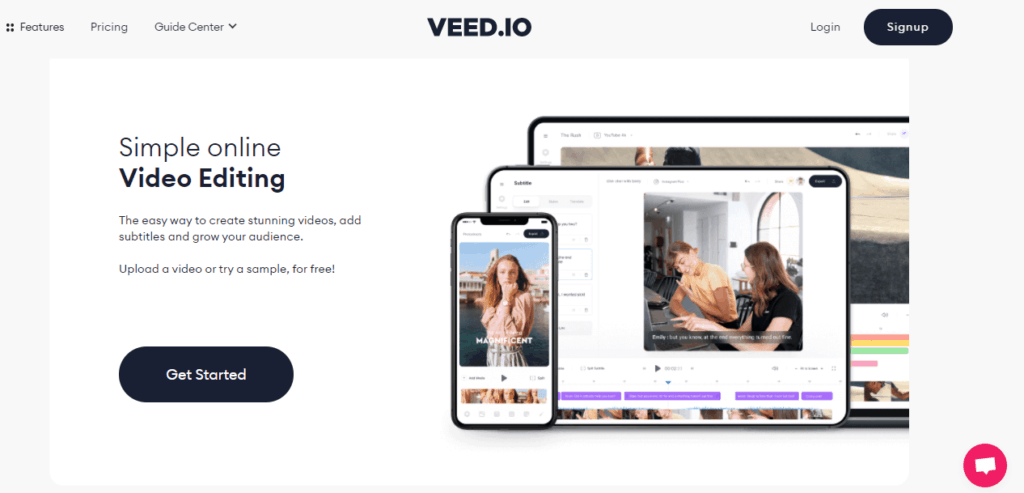 And the thing is as well, it's actually a very user-friendly interface.
The only downside whether is, even on the free account, you only have access to a minimum of 10 minutes' worth of video, and you only have the maximum file size of a video is up to 50MB so you need to make sure to keep your videos as short as possible.
Veed Pricing
Free – $0/month
Basic – $12/month
Pro – $24/month
19. Videobolt
Next up, we have a platform that is slightly a little bit different, but again, it is a really good alternative. And that is Videobolt.
There are other platforms available that'll be similar to this but Videobolt does have the ability to be able to create highly engaging videos since it uses animation and whiteboard-style videos to create the content that you need.
But what's really good about that is that you don't actually have to be on camera. Very similar to using Vidnami.
You can use anything from images to importing your own written scripts and text, and you can use that for the basis of your videos.
Videobolt Pricing
Free – $0/month
Basic – $5.99/month
Plus – $16.99/month
Unlimited – $24.99/month
20. Pixiko
With Pixiko.com you can sign up for free and you can create different styles of videos using text to video, add music to video. loop videos and they have loads of different features involved.
This is a bit more of an entry-level video creator, but there are loads of tools and features that can allow you to create very engaging videos for social media, YouTube, and so forth.
Pixiko Pricing
With Pixiko you can pay:
Per video – $4.89 one time payment
1 month subscription – $14.87
1 year subscription – $148
21. PixTeller
PixTeller is a simplified video and content creation platform that allows you to create very simplistic style videos that would be very similar to what you would've created in Vidnami, although not as vast, and it doesn't have as many features as Vidnami.
But you can create a lot of really engaging social media posts, video content, Instagram posts, add text to video, add in scripts, writing in your own script to be able to create the videos that you need.
So, you can create and generate videos based on:
Cards
Social media
Posters
Animated posts
And even full HD video, up to 1080p.
They will give you access to their own library or categories of different video types that you can use, even upload your own content to be able to embed in your videos and so forth.
Plus, it also does give you the option to be able to create thumbnails and different types of preferences for the likes of Instagram stories, Pinterest images, and many other social media platforms.

So, there is an eclectic mix of options available if you want to get creative.
And with some of the tools and features that are available, you do have access to a photo editor and also an animation editor, which will allow you to create your animated videos.
You can also create frame-by-frame editing, and you can also download your videos in MP4 format, which is perfect for YouTube.
Pixteller Pricing
Pixteller would be a decent alternative to you, especially if you are on a budget, as the pricing isn't overly expensive. They offer 2 plans:
Pro – $9/month
Diamond – $19/month
But if you go for the annual price, you save on a massive discount. So, it is a good alternative to Vidnami, especially if you're on a budget.
Vidnami Alternatives Final Words
So those are the best Vidnami alternatives that you can get online currently at the moment.
They're all really good platforms in their own race. It really just depends on your own preferences and your own budgets. You won't go wrong with these.
You can feel free to have a look at them all and see which ones you think are a good suit for your faceless YouTube channel.
They have their own unique features, they have loyal communities, they have loads of helpful guides, resources, and they're simple enough to use, to allow you to create the content that you need.
So, if you have seen this guide to be useful, and you'd like to see more of these styles of articles where I do provide overviews of other alternative tools and features, while also showing you how to use these tools and features to make money online, then be sure some of the other helpful guides on this blog.