There are many misconceptions about the WarriorPlus affiliate marketing network and in this WarriorPlus review, I'm going to give you a few reasons why this is happening.
You'll also see some of the best ways to make money with WarriorPlus.
And here are some of my earnings from WarriorPlus just to show you what I know I'm talking about and I know how to make money with affiliate marketing.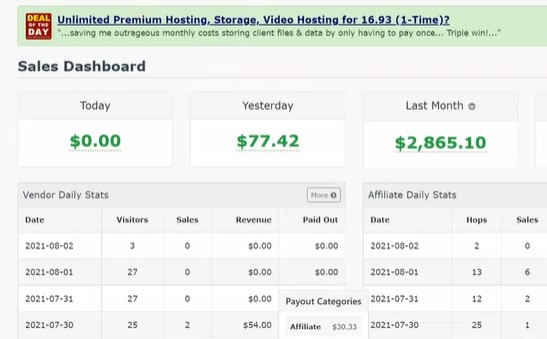 Read below to find out everything you need to know about this popular affiliate marketing network.  
What is WarriorPlus?
WarriorPlus is an affiliate marketing network that connects product owners and affiliate marketers. WarriorPlus provides you with all the necessary tools and features for you to start your campaign.
As a member, you are provided with many options that make it easy for you to promote products from WarriorPlus' diverse range of affiliate programs.
The platform is also for vendors who manufactured goods or services for sales. The products for sale here are mostly digital.
If you are a buyer of digital products or you are a seller of digital products and you want to make money promoting these kinds of products then WarriorPlus might be right for you.
Remember that not all kinds of products are promoted here such as MLM and similar products.
WarriorPlus Marketplace
WarriorPlus marketplace is where the buying and selling of products actually take place. All the products available with the company are displayed here and this is where you can initiate and conclude the transactions.
Hundreds of products are displayed here and you must know how best to search this kind of platform to get at the specific items you want to buy.
If you have products you want to check then you can bookmark them. When you do that, it will be on your watch list. You can come back to it on a later day.
The difficulty in using the marketplace is getting what you want from thousands of related products out there.
To get the best experience using the marketplace, you can search through the menu navigation located at the top of that page.
With this, it is now easier to optimize that search.
You can search for top sellers of the brand you are looking for. The top-selling products within the brand will be made available to you.
You can also search using the alert tool. The system makes it easy for you to create alerts for products or vendors.
When you add the alert, the matching results will be released to you and you would be notified instantly.
The watchlist feature is another way. You can bookmark certain pages or products and you can get to it later.
This way, you will not find it difficult to use the marketplace, and you can get what you want at the marketplace.
💡 Pro Tip
Many products from WarriosPlus Marketplace you can also find on a popular launch jacking platform called MunchEye. Check out my MunchEye review and see the best ways to make money on this platform.
WarriorPlus Payment
The platform makes available different payment options. The system makes available two payment processing systems which include the use PayPal and Stripe.
These processing platforms also charge processing fees. Fees are paid by the seller and vendor of these digital products. You should familiarize yourself with these issues before you begin to use the system.
When it comes to accepting payment, there are two options the system makes available to you. If you are an affiliate marketer, the third payment system which is withdrawal to your bank account will be provided.
If you are an affiliate or you are a JV partner there is a third option available to you. You can withdraw from your balance at a later date. There is also the WarriorPlus Balance wallet. You can store your money here and withdraw at a later date or you can use it to purchase.
The company also makes for bank transfers and they use TransferWise for that purpose. Always study the requirements for withdrawal from your wallet.
How to Make Money With WarriorPlus
There are many ways to promote WarriorPlus affiliate products. Now, I'm going to mention a few of them
Blogging
Firstly, I highly recommend creating an affiliate website where you can place your affiliate links and buyers can buy through the link. Website and blog can work the same way. Using your blog or website, you can promote different kinds of products through an affiliate link and you continue to earn loyalty on sales.
Sales funnel
If you don't want to build a website, the simplest way to promote affiliate products is by making a sales funnel. You can use different methods to track your prospects and get in touch with them. Different methods would be available to you to convert such prospects. Different methods are available to you to generate lots of leads who can become paying customers in the future.
Email Marketing
You can also make more money from the system by contacting those on your email list. If you have mail-building lists, you can contact them through different methods of contact. Check out how to build an email list for affiliate marketing.
Free traffic
There are different ways of generating free traffic to your affiliate link without paying a dime. You can do that through social media, forums, and other free traffic methods.
Paid traffic
Instead of relying on free traffic to your site, you can choose paid ads such as solo ads, PPC ads as well as social media ads. There are many ways of directing paid traffic to your affiliate products. Paid ads are not free and it is also not expensive. You can get many sales through that method.
As you can see to promote WarriorPlus affiliate products you can use different marketing tools, such as forums, blogs, or simply social networks (Facebook, Twitter). Personally, I prefer blogging since it gives more freedom and time results that are easy to measure. For example, if you post a link to an interesting product onto your Facebook profile, how will you know that it makes any sales?
It's impossible unless you are the only one who uses your account. However, when someone visits your blog or website and purchase something because of it – there is no doubt!
Factors, which affect your earnings, are often a good choice for promotion. A lot of people look for such things on search engines and it's easy to place a link when you have something valuable for them. For example, I could post about someone who is looking how to build an online business and I can give some tips written in an article or video. It will add some value to the article or video and after someone buys something in your affiliate link you'll receive a commission for it.
WarriorPlus Pros
There are many benefits that come with being an affiliate for WarriorPlus, including the following:
The member's area in this affiliate network is a place for affiliates and publishers to plan their campaigns, view reports of their current campaigns, and monitor campaigns being run by others within the network. It comes equipped with features such as campaign creation; something that you can use to set up your affiliate links for each product. You can even change the settings on a per-product basis for maximum control.  
The features in this network will definitely make your work as an affiliate much easier, including but not limited to the campaign builder and project templates
The affiliate system in this network is a very flexible system that allows affiliates to process payments immediately; no need to wait for the end of the month. It also comes with features such as automatic campaign creation and dynamic tracking that work well for all members.
The commissions in this network can be paid on a monthly basis, so affiliates will have to wait until the end of the month before they can receive their payments. On the other hand, affiliates from this network are allowed to request for their payments immediately and will be able to receive the payment within 24 hours or less.
WarriorPlus Cons
The refund policies are not very detailed, and the network doesn't provide any information on whether or not a refund will be granted in case your customers request refunds. This is a major disadvantage for affiliates who have had to deal with this type of situation.
You can only earn commissions on the products that come from the merchant's marketplace. This means you cannot earn any commission whatsoever if your customers decide to buy other products or services from the merchant's website, which is a major disadvantage because you will not be able to make as much money compared to what you will be able to make if this were not the case.
WarriorPlus Alternatives
There are other WarriorPlus alternatives out there and they include the following:
WarriorPlus FAQ
Which Payment System Does WarriorPlus Support?
Currently, the system supports three payment systems. For vendors, the system makes available PayPal and Stripes while for affiliates, it makes an additional option which is the withdrawal method.
Does WarriorPlus Support PayPal?
Yes, PayPal is one of the payment options it supports. Before you choose it, you must ensure that it is available in your country.
WarriorPlus Review Conclusion
WarriorPlus is one of the ways of earning money by marketing other people's products. Once you register with the platform you will have your affiliate link which you can promote through different ways to make sales.
If you found this WarriorPlus helpful, make sure to check this list of best recurring affiliate programs