In this Wave Video review, I'm going to explain what makes this platform one of the best AI video makers you can find online.
So now I'll go through all of that and show you how it works.
💡 Note
In this Wave Video review, I'm going to take you through and show you about what this AI video creator is, how it works and how you can create your own video in several different ways, including adding your own script, and it automatically turns it into a video, even adding voiceover to it or uploading your own voice if you would like. So if you want to work along with me, you can start your Wave Video free plan. Using this link you'll also get a 40% discount for all of the Wave Video plans if you decide to upgrade to any of the paid plans.
Wave Video Templates
Wave Video has a lot of its own templates that you can use to create your videos.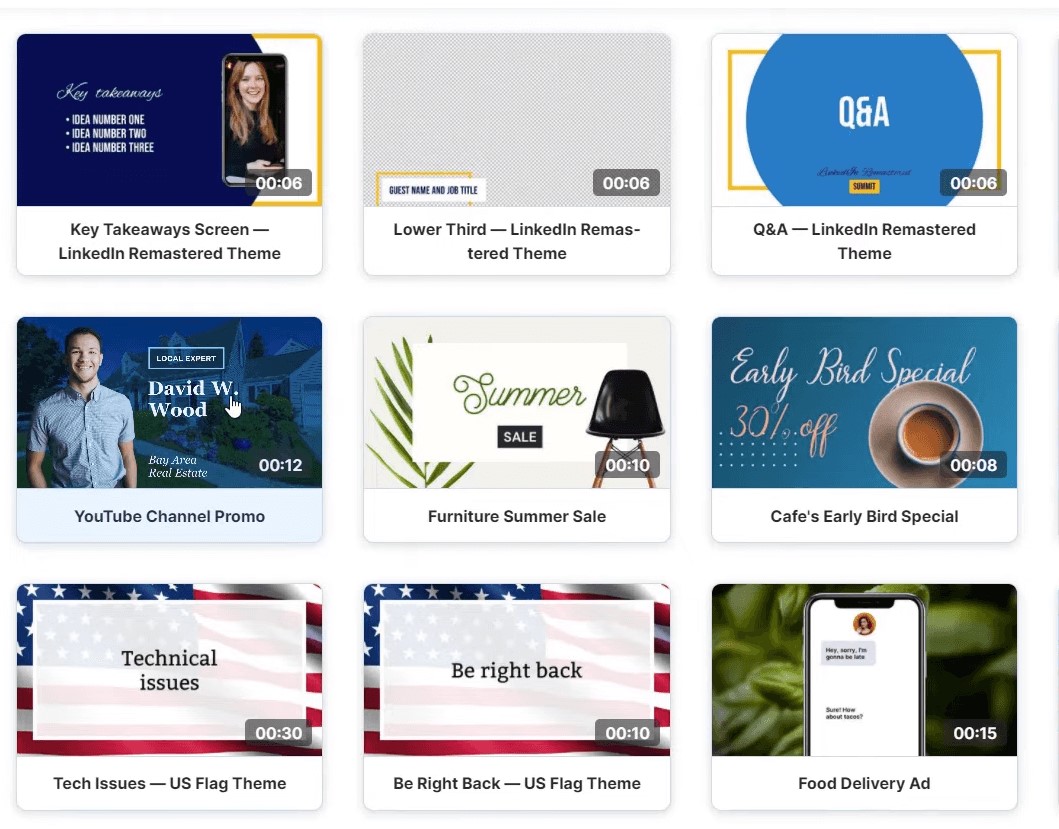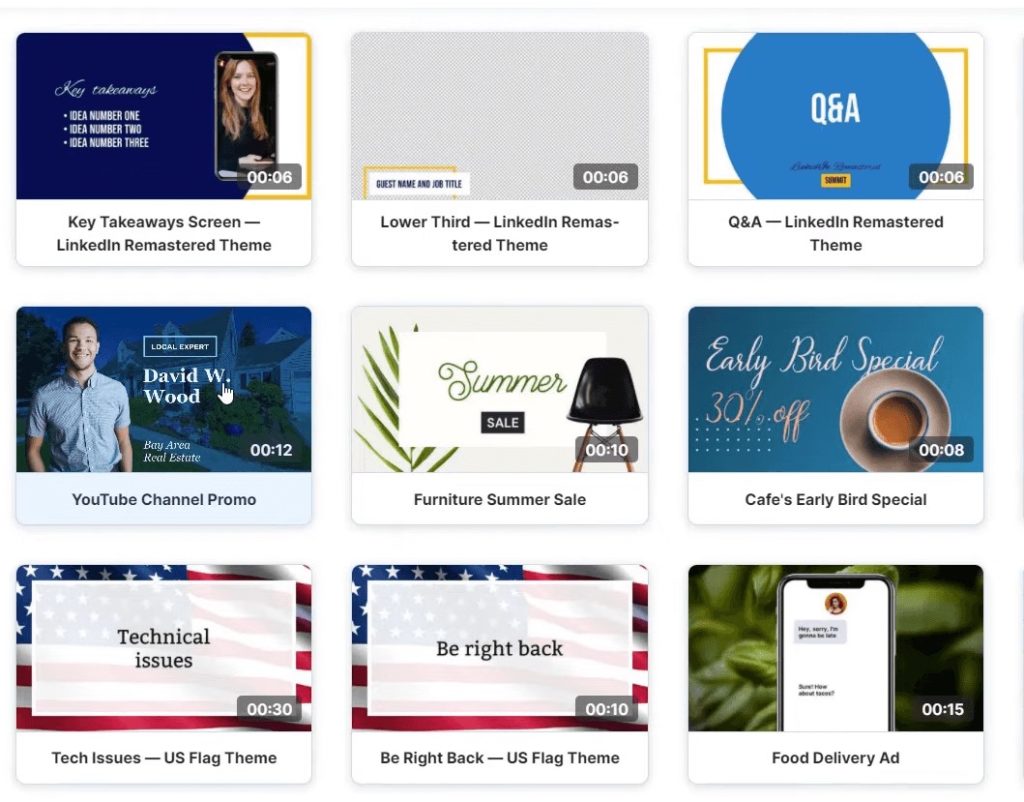 They have thousands and thousands of different video templates you can use already made up in any niche.
And you can edit them to make them just the way you want it.
So maybe there's just a little ad or something you want to create for yourself, maybe even for your clients, you could do that.
Maybe a channel promotion for a real estate agent, you can just change out this name, and you have a video ad you can use.
So that's really cool.
In addition, it's integrated with Storyblocks, which has millions of different types of images and videos.
And what's interesting is that the same thing that was integrated with Vidnami, and what they use to pull all of their videos and images from so you'll see a lot of those same ones that you've used in that tool if you've used it.
Wave Video Tools & Features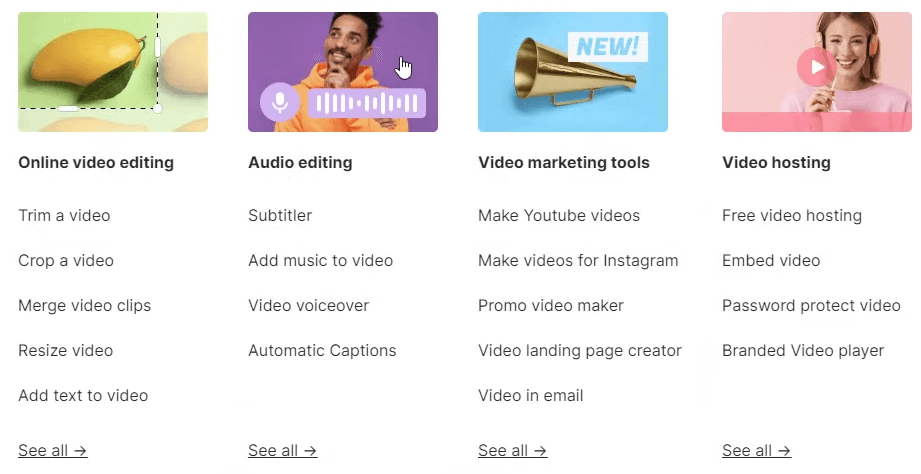 Wave Video offers a lot of different tools that are divided into 4 main categories:
Online video editing
Audio editing
Video marketing tools
Video hosting
The most interesting thing about Wave Video is that they give you hosting for your videos included with your subscription to the video editor.
And what this means is you get your own landing page for the videos that you create.
And on these landing pages, you can edit them, you can customize the video player, and even add your own calls-to-action and then you can send your traffic to this page, which is customized for you.
Maybe you're doing product reviews or whatever it is, you can upload your videos to YouTube and even share them through the landing pages built by Wave Video which is cool.
Wave Video Tutorial & Tips How To Use It
To create a new video, you just click on the "New Video" button where you'll have a few options.
You can start by uploading your own video and then you can use that to edit it through wave.video.
You can use their templates, stock video, and images, you can start with a blank video.
You can even use a blog post. So, if you have a link to a blog post you want to convert to a video, you can add that and it'll extract some of the content from that page and automatically turn it into a video for you.
And then you have your text so, this is what many of you are probably familiar with if you used Vidnami.
And basically, you add a script and what it's going to do is take that and it's going to convert it into a video, break it up into different scenes, and you can edit the text.
But with wave.video, you can do a lot more customization with your videos and what you could with Vidnami.
And let me explain you why.
So, we'll go ahead and convert text into video, and we can paste up to 50,000 characters in this script.
Once I paste my text then we get to choose the video format so depending on where you want to use your video; you want to make sure you choose the right one.
They even have an option here for creating videos for your Facebook cover, which is really cool.
I'll go ahead and choose horizontal for YouTube.
You can create folders to separate all your videos from. So maybe you're creating them for different projects, maybe you're creating for different clients; you can organize them all into different folders.
And then we're going to give it a couple of minutes. Now, this may, depending on how long your script is, this can take 1 to 2 minutes, it can take 5 to 10 minutes.
Video Editor
When it's done, it will bring you to the wave.video editor.
You can see, it picked this background image for us, it placed the text in the middle, and then down at the bottom, you'll notice a timeline with our scenes on it.
Each scene is using a different sentence from the script.
We can easily change and edit the text, we can change the design of it, we can change the background from a video to an image so similar to other tools that personally use like InVideo.
We can also brand our videos so if there's a certain type of font and color that you always use for all your videos, you can manage your brands and you can change these however you need them, and just select them and apply it to your videos.
If I click on visuals, it will show me a lot of videos that AI has already picked out for me based on what it thinks I like.
So, I can click on use, and it's going to replace it; that easy.
Then on the right-hand side, you have your editor.
And your editor allows you to make changes to whatever you have selected.
You can change all the texts from the upper case, lower case, you can highlight selected texts, you can move forward or backward, depending on how many layers or objects you have in your video.
And then if you find something you really like, you can apply it to the whole video by clicking "Apply to the whole video", and then it changes to this style and applies it to the entire video which will save you a lot of time.
Layouts
This feature allows you to have your video show up as different types.
This is something you'd have to play around with. Personally, I just like using the way it is, but you have a variety of options on how you want your video to show.
Overlays & Stickers
You also have overlays and stickers and this just gives you a variety of stickers and little gift things, logos and your own media that you can upload as well.
This is where you would also upload your own logos and just have them here on hand so you can add them to your videos as well as watermarks.
Stocks & Uploads
Next, you can also view their entire library of photos and videos that you can use.
Now you do have to be careful here though, because although they're integrated with Storyblocks, they're integrated with some others too, and you can use those other premium stock photo images and videos, but they do cost.
And there are some for $35 apiece which is very expensive.
So, you got to be careful what you choose.
Voiceover & Text To Speech
When the AI creates your video, it automatically adds background music to your video and they have a huge selection of background audio you can add.
If you don't want it, which I never do, I always add my own you can click on the audio track and add the voiceover to this.
You can click add voice, and it says auto-text to speech
So basically, you're going to choose your language and they have a lot of different voices.
They are just "okay" voices. In my opinion, a lot of them just sound robotic compared to other AI video editing tools like Pictory AI.
Honestly, I wish some of these text-to-speech places would integrate Microsoft Azure into their system because they're unlike any other voiceovers that I've heard and they sound so natural.
I use this tool called Lovo that I bought from AppSumo for a lifetime deal and I absolutely love it.
Publishing Video
And once you added your voice or background music your video is done and you can click on "Publish" where you need to select the publish option.
And you can see, you can download the video as an MP4, you can share it or embed it. And it also gives you a landing page where you can just send traffic directly to it.
You also have the option for a white label link. So, this is really neat. If you create videos for your clients and you don't want to give them the actual video yet, but you want them to preview it for approval.
What it'll do is create a page and it'll put this huge watermark over top of it that says preview, so where they can preview it to see if that's what they like, then if they do, and then you can move forward from there.
You can also create gifts or save the current frame as an image.
Here you can also render your video in these different resolutions.
To render your video, normally it'll take about 5 minutes or so, depending on the size of your video. The longer your video, the longer it's going to take to render.
And then what it's going to do is send you an email as soon as the video is complete.
At this point, your video is done but that's not all.
Video Landing Page
With Wave Video you can also create your own landing page.
You can edit your landing page and what it looks like for your video.
We can add a headline, we can add a call-to-action button and this is really cool.
So, you can add a button on your page that people would click on if they want to maybe buy it, sign up or whatever it is.
You can add a logo, you can change the layout of what it looks like on your page.
And then you can add tracking to it so you can view your analytics.
And then when it's done, click save changes and so, you have your own little landing page for your video that you can send all your traffic to, which is really neat but that's not all.
You can actually add an email campaign by simply taking this code and just copy it and put it inside of your email, depending on what autoresponder you use.
I assume it'll work with most of them.
Wave Video Discount Code
If you want to get 40% off for Wave Video you activate your discount coupon code by clicking here.
It'll bring you to this page where you can save 10% on any plan but if you close this out and click on, "no thanks," and then click on pricing, it's going to bring you to this page where you can get 40% off any one of these plans for life.
So, this is a similar offer that Vidnami would offer once in a while.
I don't know how long they're going to be doing this promo but if you think this tool is for you, then I would go ahead and pick it up.
Wave Video Pricing
Wave Video offers 3 different pricing plans:
Free plan – $0/month
Creator plan – $24/month
Business plan – $48/month
Wave Video Alternatives
Here are some of the Wave Video alternatives:
OFFEO
Recreate AI
Kapwing
Lumen5
FlexClip
As of now though, the most complete Wave Video alternative is InVideo. You can find out more about this AI video generator in my InVideo review.
It's the only good Wave Video alternative that I recommend. InVideo also has a free plan and offers a 25% discount for our readers.
Wave Video Review Wrapping Up
So, this is my Wave Video review.
In my opinion, it's one of the better AI video editing tools that I have used, especially with the option of hosting your videos and having your own landing pages, and then the ability to be able to customize the way it does.
Very impressive tool, especially for the pricing. Very similar to what Vidnami was.
If you like this Wave Video review you can also check out some of the other AI video editing software I reviewed on this blog.