Creating quality content can be hard you need to come up with your own ideas and research then you need to write it all out, make sure the wording is good, and then edit until it's perfect.
The problem is that once you've written one article how do you come up with more content and that's why many turn to artificial intelligence.
AI content generators are a craze these days, they can create any kind of content for you with a push of a button.
You only need to enter the input and the software does the work for you but the fact is these AI content generators are not cheap. Premium AI content writers out there will cost well over one hundred dollars per month.
So it's no surprise that many are searching for a low-cost AI solution that can get the work done without much hassle and that's where WordHero comes into the picture.
The tool is capable of generating endless amounts of blog posts, website articles, video scripts, and more for you using artificial intelligence.
Imagine being able to generate hundreds of unique articles per month without breaking the bank. Well, WordHero can do that for you. It is a relatively new software that has come onto the market and I was curious to find out if WordHero actually works as advertised.
So I went to check it out myself and in this WordHero review, I'm going to tell you what I found.
💡 Note
You can still get WordHero on the AppSumo marketplace for a one-time payment. Keep in mind that this offer is ending very soon and after that, the only way to purchase this tool will be by paying monthly fees so make sure you check that out.
WordHero Templates & Dashboard
Once we enter inside the WordHero dashboard, this is what you'll see.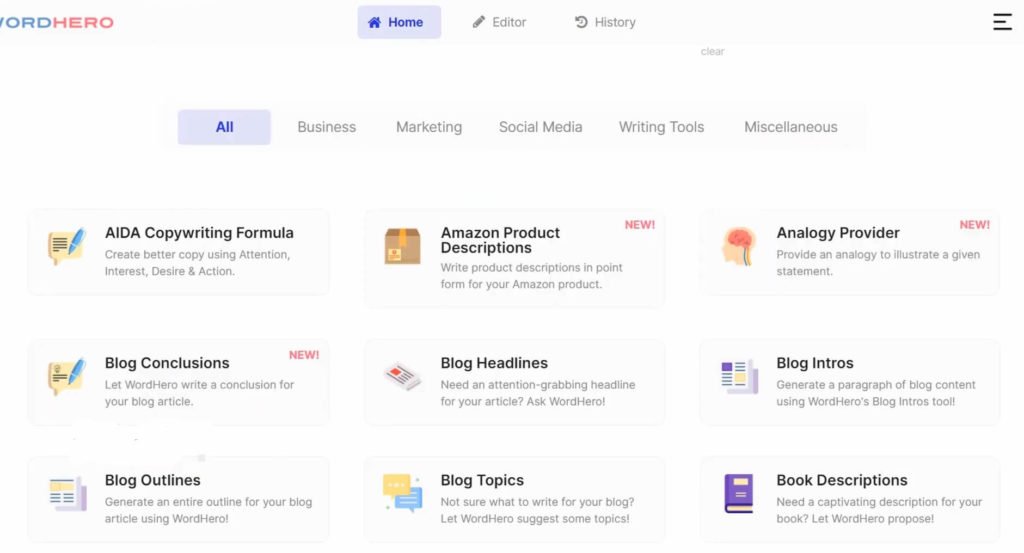 There are dozens of all these different kinds of templates available inside for us to kick start the content creation process like:
Ad copy like descriptions, headline, sub-headlines
Blog post ideas, titles, listicles titles blog post intros and outline, bullet points to blog
Sales copy based on proven copywriting: PAS, AIDA, pain-gain-claim, feature to benefit,
Blog templates like headlines, subheadlines, intro and conclusion
SEO meta titles and description
Content expander and rewritter
Startup ideas, slogans and elevator pitch
Video topics, script outline, script hook, introduction
Email subject lines and copy
And a lot of more unique templates that any other software doesn't have.
>> See all the things you can do with WordHero
I'm going to click on the blog intros template in the marketing section just to give you an idea of what's inside.
As the name suggests this template can be used to create an enticing introduction for your blog post.
All you need to do is enter your blog topic and click on the "right me" button to generate outputs.
And as of now, you get 3 outputs every time you click on the write me button. If you don't like what you get you can always generate more content, remember we have unlimited access to the tool.
WordHero Long Form Editor
Now let's explore the WordHero long-form editor feature because this is the one content creators use the most.
Let's see whether it is up to our expectations or not.
If you haven't upgraded your account by paying an additional $39 on AppSumo, this feature will be locked inside your WordHero dashboard.
The new upgraded recently editor looks like this.
All the templates we saw earlier can be accessed from here. On the top, you can see some icons which are being updated regularly which is great.
At present, there is a blog intro generator, blog outline generator, and a write more button.
There are also options to save your document, create a new document, open a document, and other advanced settings.
To generate a new article we need to start by entering a headline for our article.
Let's write an article about weight loss tips for women and let's begin the process by generating an outline for our blog.
To do that we can either click on the outline generator icon on the top or choose the blog outlines template on the left.
If we choose the template approach there is an option to move all the outputs to the editor with a click of a button.
We can generate more if we need to but for this demo this outline is sufficient.
Now we need to generate an introduction and the process is quite similar to the earlier one so let's generate an intro.
As you can see we have already finished writing a few hundred words without writing much ourselves. Keep in mind many improvements are coming to this tool as you can see in the product roadmap.
Now let me show you how to generate more content for the article.
Let's choose a subheading from the outline and make it h2.
Now I could either choose the blog intro option or start writing something myself and click on the write more icon to continue writing and the AI will generate copy for me.
I also like the example provider feature which writes an example based on the statement we input.
This is a very useful feature to have following the same process. I can generate an entire article within a few minutes without much work on my part.
However please remember that we need to edit the articles created by AI and fact-check them before publishing. The human touch is essential no matter what AI copywriting tool you use.
WordHero vs Rytr
Now I want to talk about the difference between WordHero vs Rytr.
Both of these editors are using GPT-3 form of writing and basically, it is a form of artificial intelligence language that can understand what you want based on the words that you write.
And the more requests you give it the more understanding of the style of writing that you request.
The editor for the WordHero software is what I've started to notice since it's a newer software tool there are fewer people using it and there's less understanding just slightly.
The Rytr tool has a little bit more understanding. There are significantly more people using it since it's much more famous and well known. So the artificial intelligence is a little bit more understanding.
So what I tend to find in terms of usage with the WordHero tool is you want to be a little bit more specific when you give it a prompt.
And also there's a tool feature about WordHero that I really love that Rytr does not have and this thumbs up and thumbs down feature.
And this thumbs up and thumbs down is essentially a way to tell them if they did a good job or not.
So I gave it a prompt it gave me some solutions if I'm not happy with the solutions I can hit thumbs down.
With Rytr however, when something is written there are no thumbs up or thumbs down. So what I could do is either just select it to write for me and it will create a writing solution or I can have multiple variations so it can produce multiple variations so that's a little bit different in the software.
Also, WordHero has more features than Rytr. So if you're an entrepreneur where you just do so many different projects, so many different businesses, WordHero is going to be better because you have more options, more use cases, and more apps that you can use.
WordHero Pricing
WordHero has only one pricing plan Pro Unlimited which is $49/month paying monthly or $29/month paying yearly.
WordHero Lifetime Deal
There is a WordHero lifetime offer on AppSumo that gives you unlimited access to all the features inside WordHero except the long-form editor. This lifetime deal costs $69 one time and you also get free updates forever.
if you also want lifetime access to the long-form editor you will have to pay an extra $39, this too is a one-time fee so what it means is that for a payment of a total of $108 dollars you can have lifetime access to the entire WordHero app with all the features and future updates.
This is a limited-time offer and is only available during the launch so it may not be active depending on when you read this review.
Is WordHero Worth It?
Before we wind up this WordHero AI review, I want to tell you what I feel about the tool.
So the content generated with the WordHero is decent. There is a lot of scope for improvement and I am sure they are working on that.
It is not the best but it will get your job done with some editing efforts on your part. I found that the content quality is a lot better when I use templates rather than the content I got using the "write more option" in the long-form editor.
But again it is still in beta.
But the one really cool thing about the software that separates from all the rest is that they are giving unlimited content.
And the only other tool that I've come across that gives you an unlimited plan is Jarvis AI – the leader in the market. But you have to pay monthly for and Jarvis is one of the most expensive ones but they do give you unlimited content.
So WordHero on this deal you can pay one time and get unlimited content and they're not going to give you a limit on characters per month and that is really cool so that separates them definitely.
Overall WordHero is a great value for money considering the lifetime deal with unlimited generations option nothing can beat that.