In this in-depth Writecream review, you'll find out everything you need to know about the most unique AI copywriting tool.
With Writecream you can create AI-powered long-form content, social media copy, advertising copy, and just like other AI copywriting tools out there they offer various templates.
But what really makes Writecream stand out is its focus on personalized outreach and sales. Particularly the personalized intros which I'm very excited to show you.
I'm also going to show 2 really unique features that are not available in any other AI copywriting software.
So let's dive right in.
Writecream Templates
So when you log in you'll see all of these copywriting templates.
We're talking about:
Cold Emails
LinkedIn Outreach
Backlink Campaigns
Image Icebreakers & Audio Icebreakers
Facebook, Google & Instagram Ads
Long-Form Editor (Article Writer)
Blog Ideas, Intros & Outlines
Heading Expander
And many other very interesting and unique features that are not available even in the premium tools.
>> See all the 74 things you can do with Writecream
Writecream Email & Linkedin Personalization
Let's talk about a very unique feature which is email personalization and this is really what makes Writecream stand out from the dozens of other AI copywriting tools because you can create personalized cold outreach.
For example, you put in any website URL and it'll crawl the page and create basically email introductions.
So if I put just put an URL and it'll read the page and then create all of these email intros and, for the most part, all of these sound pretty good
They all make sense, there are no grammatical errors the spelling is correct and it matches what's on the page.
And then LinkedIn personalization works in the same way. You just put in the person's LinkedIn profile, it'll crawl their profile and then create a list of personalized intros.
Now one thing to also note is for email and LinkedIn you can do this at scale.
So you can actually create a CSV spreadsheet with a list of all of the URLs and you can upload it into the tool and it will basically read and crawl all of the URLs in that spreadsheet and create personalized introductions for every single one of those URLs.
So you can really skyrocket your cold outreach really quickly with this tool.
Writecream Image Icebraker
Image icebreaker is really unique tool. So you put in the website URL and it'll again crawl the page and then create images with that intro text on them.
So you have six different image templates. There aren't any other image templates, these are the only ones that you can select but they look nice.
And I put this essential oils website and it created all of these different images and the text is compatible with them.
So it says "I'm really impressed with the quality of your essential oils and the prices you offer. I really like your customer service and I'm looking forward to using your products in the future"
You just download it and you just put it in your cold emails. You could even use this for social media so really nice feature that's very unique.
Writecream Audio Icebraker
This one is also very unique. So it'll crawl the page and then you can select from different languages, and then you can select the male or female voice, and then you can actually generate audio.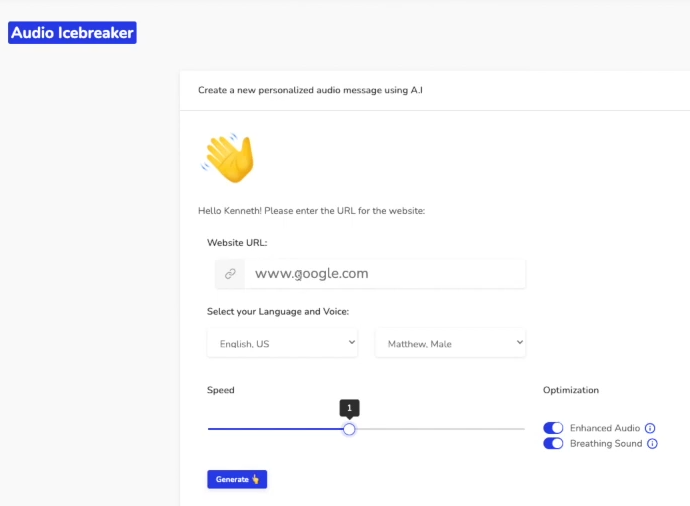 So instead of text you can generate audio and attach it to your email.
Writecream Website Headline
Let me just show you an example website headlines copy.
And an interesting thing to note is that it will remember your previous inputs so you just put your product brand name, product description and then these are all of the different website headlines.
You can review them and then copy and paste them onto your website.
Writecream Voiceover
another thing that I want to show you under copywriting is voiceover.
So similar to all the other voiceover tools out there you can actually put any text, select the language, type in the text, select voice type, and then AI will turn text into speech.
So pretty cool.
Writecream Blog Templates
They have also a lot of different blog templates under the SEO section available.
What I want to show you is a long-form editor so this one is like Jarvis where it's basically one blank page and all you do is just write whatever you want.
There are dozens of use cases that you can select and you can select a tone.
There's a headline that indicates okay this is the blog intro right and then they separate it really nicely.
If you've tried GoCopy it's not as nicely laid out as Writecream.
The grammar is good I didn't see anything wrong with it. It also doesn't sound like a robot.
But could it be better? Could it be improved?
I think it can, one thing to note is that you cannot highlight and then tell the AI to expand on it or, to rewrite it, or shorten it.
So this isn't like a long-form editor you just basically need to select your use case and then it'll generate it on this blank page.
Writecream Pricing
Writecream offers 4 different pricing plans:
Free- $0/month
Premium – $49/month
Professional – $69/month
Ultra – $99/month
Writecream AppSumo Lifetime Deal
if you are interested in this tool Writecream has a lifetime offer right now on AppSumo for $59.
So there are up to 5 codes that you can stack. Each code is $59 and you have 200 credits per month so about 400,000 characters.
Keep in mind it deducts 1 credit per every time you run these templates so you can run up to about 200 templates so that's actually not too bad if you are using for using it for yourself.
200 credits are more than enough and you have all of these features.
And the more codes you stack you get additional 200 monthly credits so basically just duplicating it so I mean if it were me at this stage I think 1 code is enough.
If you have other ai copywriting tools then just get one code but if you have if you don't have any other copywriting tools out there and if you are really into cold outreach which I think this tool is the best at if you really want to send hundreds of cold emails then you should consider stacking up to 5.
Is Writecream Worth It?
So this is my honest Writecream review.
Overall Writecream has really cool features that actually just work. I didn't find any real glitches in the software, it was all super smooth to use.
I'll definitely use this for my own ventures and I absolutely love the email personalization and image creation just by putting in a URL. it's a really nice touch for the whole AI copywriting industry.
I've not seen any other AI copywriting assistants do this sort of thing. It's definitely a nice piece of kit that I have no problem recommending to people.
If you have any questions whatsoever about Writecream or other ai copywriting softwares I reviewed on this blog, feel free to contact me, and thanks for reading!