Today I'm going to share with you my experience with Writer Access and show examples of content that I've ordered.
Writer Access calls itself the biggest and most successful platform for freelance writers.
In this Writer Access review, we'll provide an overview of what you can expect from this blog writing service and how it compares with articles written by AI copywriting software tools.
So let's get into it.
What is Writer Access?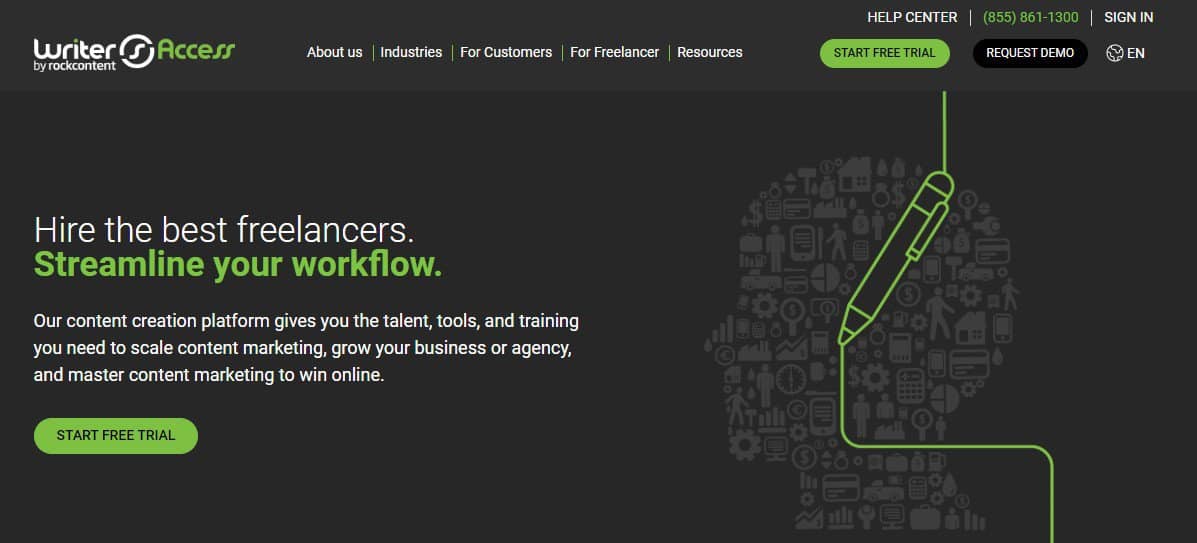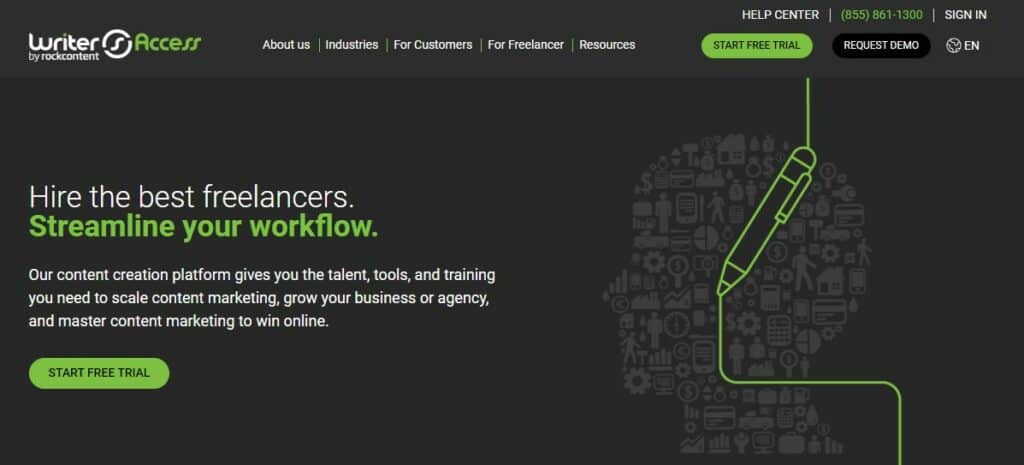 Writeraccess is a marketing platform designed to offer writing projects to freelance content writers. It is among some of the best-performing content mills, thanks to its better payment.
At Writeraccess, writers will work to produce an array of unique materials such as:
As well as video scripts.
Initially, Writer Access accepted writers from the United States; however, they updated their policy by the end of 2018. The company takes writers from the UK, Australia, New Zealand, Canada, the Republic of Ireland, and South Africa.
Now, those of us that are building out websites, really aren't that interested in writing all of those articles.
I am a writer, but I tend to write about things that I'm passionate about specifically. So, oftentimes I will hire writers from various companies.
How does Writer Access Work?
Alright, first things first, when you log in to the platform you'll see your dashboard where you can find writers.  
To get started, you're going to click on the "Find Talent" tab, and you can see there are a  few different ways to get started.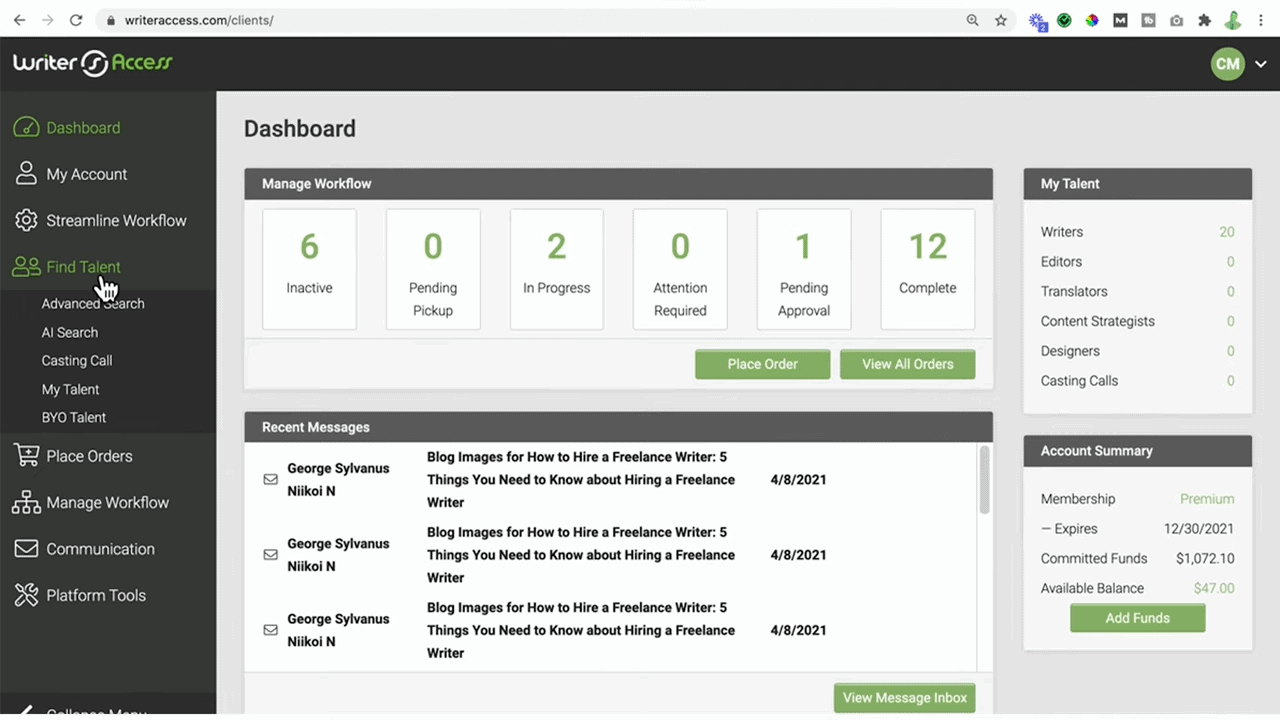 So we're going to start with the "Advanced Search", all you have to do is select the type of talent search and then you can further filter the criteria based on specialty.
You use the other categories, like star rating, industry, and content, to find exactly the talent you want.
Then WriterAccess will handpick writers who have those selected classifications.  
And then you can "love them," "like them" or place an order with them which is cool.
Next up, let's look at the AI Style Search tool which is a very unique feature, to be honest. 
So, all you have to do is enter sample text, identify the source of the text,  and the AI tool will match you with writers who use a similar tone and style in their work.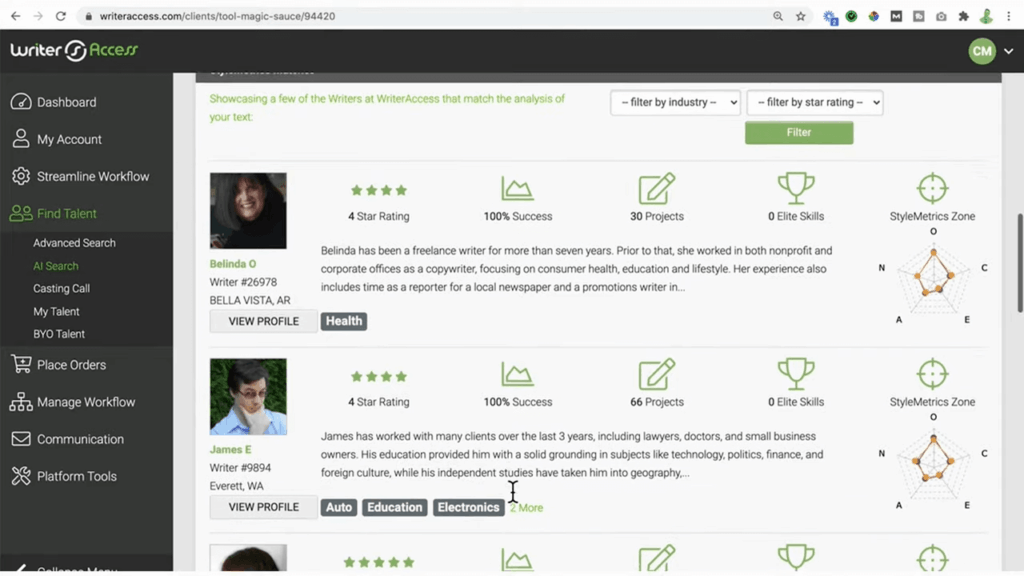 And finally, there's the Casting Call method,  which lets you create a post about your project that the talent can apply to.
Moving along, you can see all the writers you've added to your "love list" and "like list" in the "My Talent" tab.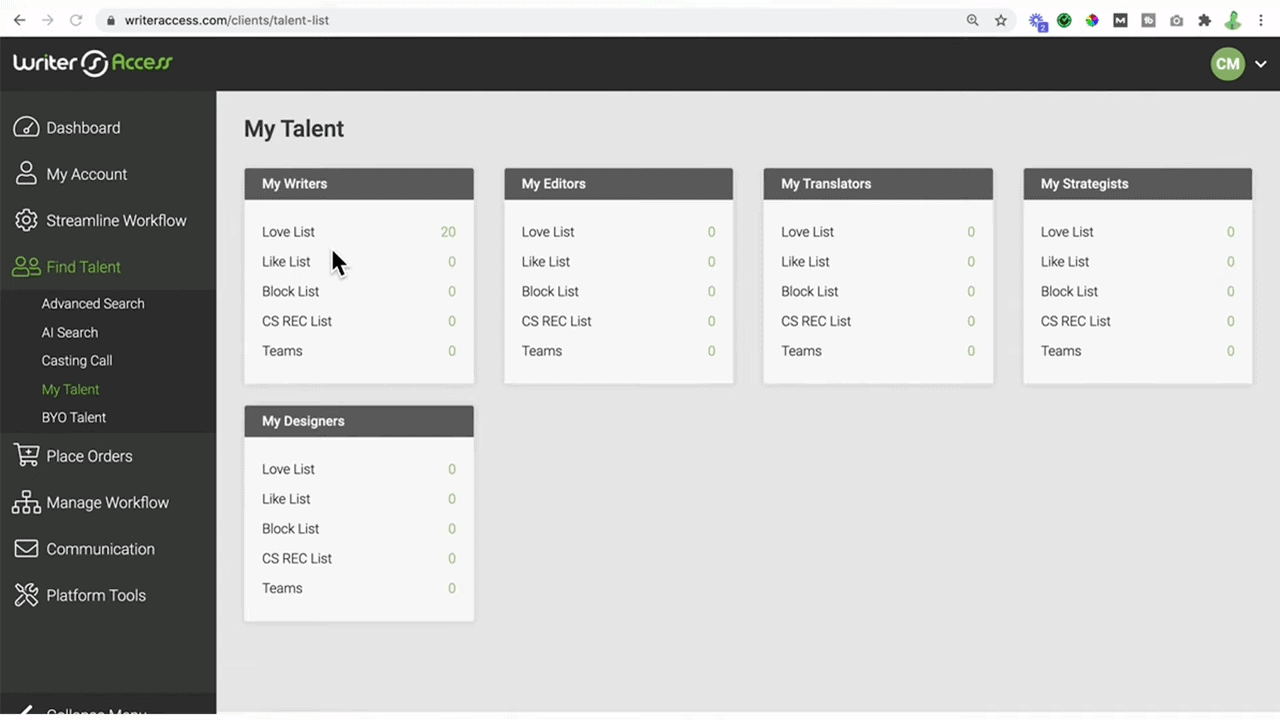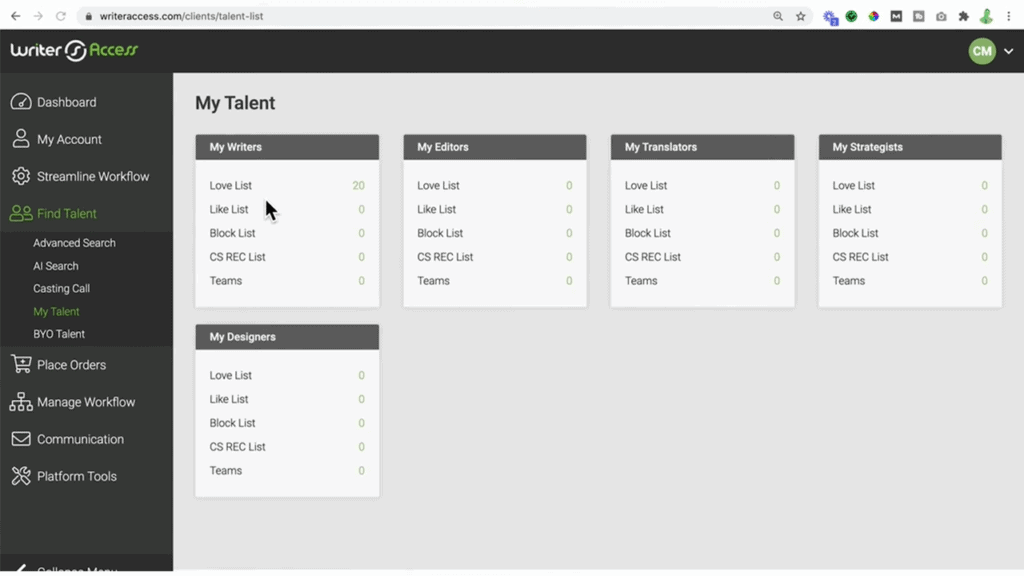 And if you already have some awesome writers in your arsenal,  you can bring them on board using the BYO Freelancer tab.  
And let me just say that I am pretty impressed by the platform itself.
Really easy to use, I like the overall dashboard, I can see what I've ordered, I can see where things are in progress.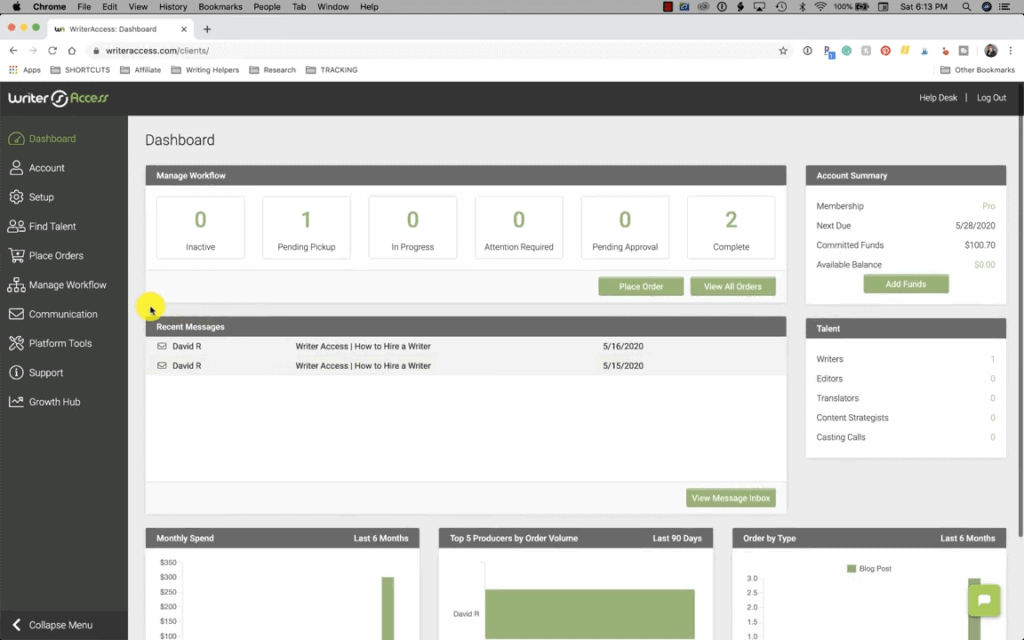 The writers that I hired were great communicators and we were able to communicate right within the system.
That was much easier than some of the other platforms that I've worked with.
And let's take a look now, I'll show you how to place an order.
Writer Access: How to Place an Order?
Now that we've covered how WriterrAccess works to find writers, let's go over how to Place Orders.  
Just click "Launch Order" select your order type, and then complete the form.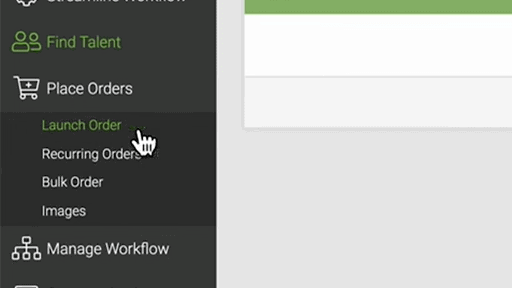 Down here, you can configure your Talent Selection, and either select the Crowd,  which is all the writers on WriterAccess, writers from your "love list", writers from your team,  or use the AI tool to have WriterAccess match you with specific writers.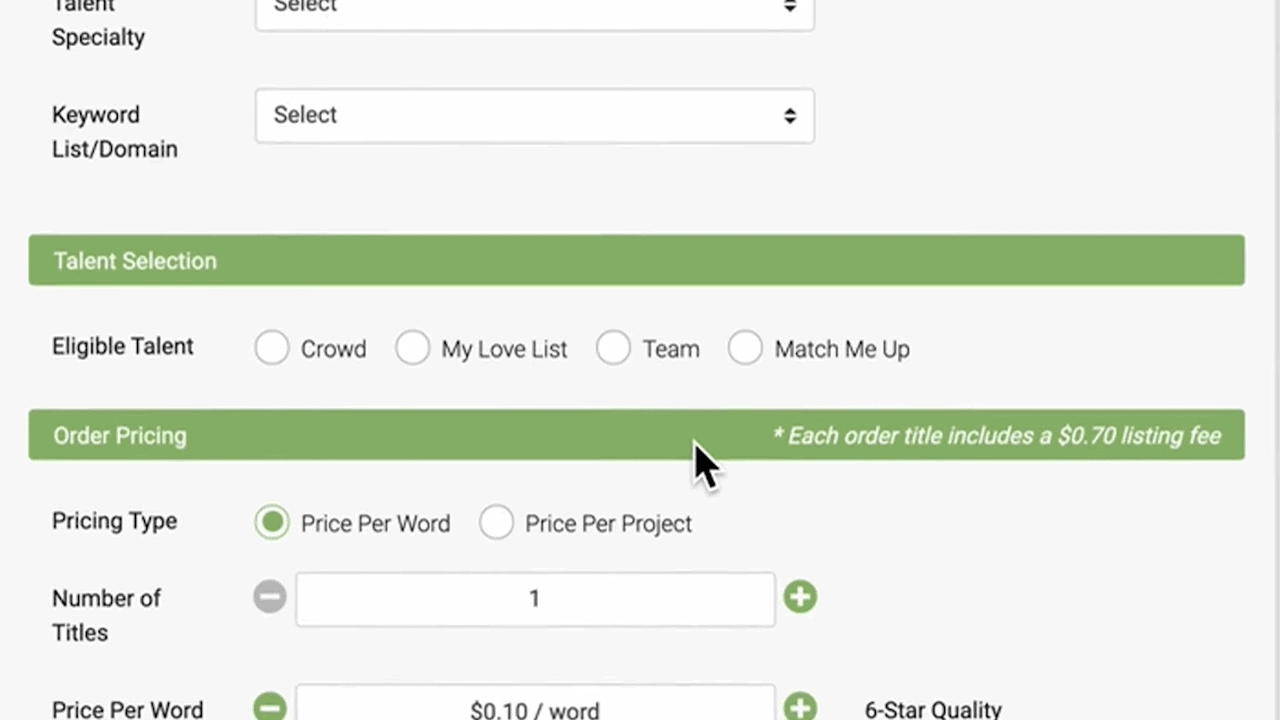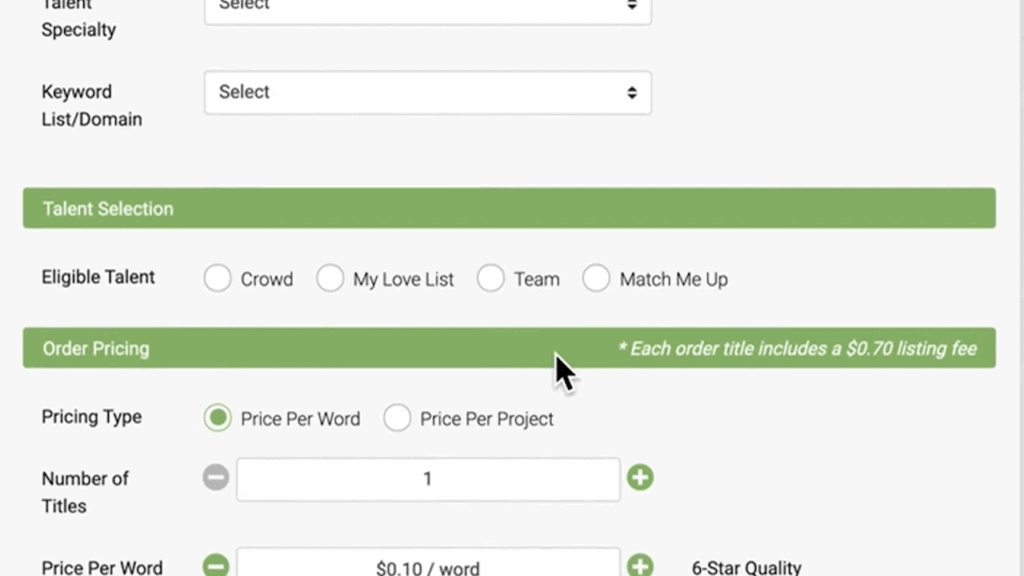 And to make things even easier, you can save any of your order forms as a template, to reuse later.
So once you've found your writers and placed your orders, you can manage their workflow.  
You get an overview of what's in progress on your dashboard and can manage workflow in other ways using these tabs.
So will see things like previous topic pitches, or materials that are pending approval. 
Back in your dashboard, you can see all your recent messages, and you can communicate with any of your writers directly.  You can even set up conference calls with them, or a record voice messages.
I've actually ordered an article on the best recurring affiliate programs.
Now, this is one of those interesting cases because I absolutely could have written the article myself but I was struggling to get all the information that I needed for some particular programs.
This is pretty much in my wheelhouse, but I look at the time, how long is it going to take me to sit down and write it, and is this something that somebody else can just do some research on and give me back some information?
If I think it needs to be a passion project, I'm going to write it myself.
Now in this particular case, I basically gave him the orders, I just wanted the best recurring affiliate programs for 2023. And I mentioned a couple that I wanted to make sure made the list because I cut the budget to get 1500 words so I knew that he may not get all of them in there.
So, you can see here, this is the content he returned to me.
📋 Writer Access Article Example #1
"Wix
Wix offers an excellent drag-and-drop site builder that allows one to design websites. With more than 500 templates to choose from and 100s of free templates, there is no doubt that Wix is one of the best website builders available in the market. Unlike most website builders, Wix offers its web hosting service and both free and paid domain names.
Wix offers one of the best commission rates in today's market when it comes to affiliate marketing. As an affiliate marketer for Wix, you will receive a commission rate of $100 per premium user, and the best part is that their cookie duration is 30 days.
· Cookie Duration- 30 days.
· Commission Rate- $100 for every premium user.
Weebly
Weebly is among the best website builders available in today's market. The company offers unparalleled user-friendly design along with an array of innovative features via an efficient user interface. Weebly combines both integrated marketing and templates in guiding its users on how to get started and grow their online businesses.
This website builder features more than 40 million users from across the globe. The best part is they offer a guided step on launching an affiliate marketing career for newbies, and it comes fitted with planning tools. In addition to that, their rates are top-notch and sufficient cookie duration, which makes it ideal for newbies out there.
· Cookie Duration- 120 days
· Commission Rate- 30% per sale."
So nice use of headlines, nice use of paragraph formatting, I appreciate the bullet-pointed lists, no extra fluff in there that wasn't related to the article, I can't stand when they stuff in all of these words that they think need to be in there.
It's kind of padding and these are right on, very informative, I did not have to make a single revision.
And let me tell you, I ran this through my Grammarly and it didn't pick up anything that needed change. That blew my mind.
So that one was cool.
And then the other one, "Best Kartra Alternatives", which is the platform I'm doing a review on.
📋 Writer Access Article Example #2
"Mailchimp
Mailchimp is a great marketing platform designed to help small business owners grow faster. This platform offers AI-powered and user-friendly tools that will help you grow your business significantly. With this platform, you will be able to put your targeted audience at the center, allowing you to send automated messages along with marketing emails, create target ad campaigns, send postcards, create landing pages, facilitate reporting, and sell and sell analytics online.
Finding a reliable marketing platform that serves as an excellent Kartra alternative is never a walk in the park. However, with Mailchimp, you are guaranteed a top-notch result. For most, Mailchimp is what comes to mind when they think about an excellent email marketing platform. This is because Mailchimp is capable of sending approximately 10,800 emails every second. Furthermore, the platform feature free plan allows you to send up to 10,000 emails per month to approximately 2,000 subscribers. This is a great offer for any small and personal businesses out there since most of the tools available on this platform can be accessed for free.
Mailchimp is an excellent alternative for Kartra, with millions of individuals and businesses trusting Mailchimp to connect with their subscribers and the right message at the right time and in the right place. An excellent email marketing platform is its easy-to-use design and offers an array of templates to choose from and powerful automation and integration features. The latest release of Mailchimp has extended towards hosting and domain name and web design, keeping it all inside a single platform.
Pricing
Mailchimp has three different pricing plans;
· 25,000 subscribers plan- $200 per month.
· 30,000 subscribers plan- $230 per month.
· 50,000 subscribers plan- $270 per month.
Pros
· It offers thorough reporting.
· It is equipped with an array of features.
· The platform features a generous premium plan.
· It features an excellent template editor.
Cons
· Its pricing plan tends to be significantly high."
You can see here, the same thing, nice use of headlines, the pros, the cons, and how you would use it.
So, these types of articles that are not, it's super intricate, super technologically, you don't have to be a super tech because you really just have to be able to go scout the web, pull in some research, and put it in a way everybody can read.
And I really appreciated his use of transition words so I was pleased.
Writer Access Pricing
When it comes to pricing, Writer Access offers various pricing options for their clients.
You will receive a 14-day free trial, and if you wish to continue with the service, you will start paying for it.
Basic Plan – $39/month
The Basic program allows you as a customer to access the Writeraccess site, hire writers as well as use their tool for approximately $39 each month. You will also have to pay a per-word charge for your project.
Pro Plan – $59/month
Pro is the second-best service offered by Writeraccess, and it costs $59 per month.
This plan allows 10 users to have access to writers as well as tools. Pro subscribers will have access to various freelancers, including photographers, illustrators as well as writers.
Additionally, you will have access to devices such as language grader, and BuzzSumo as well as SERP tracking which is super helpful.
Premium Plan – 99/Month
The premium plan is the most expensive Writeraccess pricing, which goes for $99 per month and offers an unlimited number of users. Here, you will have access to strategists and content managers, translators, and copy editors. You will also have access to various tools such as analytics reports, white-label solutions, persona builders, and multi-client publishing.
Writeraccess Pay Rates For Freelancers
Writeraccess will pay freelancers 70% of the total earnings of a project. However, you will need a PayPal account when working with Writeraccess, and payment is processed once every two weeks on the 4th and 19th of each month.
Usually, freelancers are paid using a per-word basis. In addition to that, writers are ranked from 2 to 6 stars and a corresponding price tag per word.
For instance, a three-star writer will command a price rate of $0.4 per word, and a six-star writer will command a rate of $0.8 per word.
However, there are no sufficient $0.8 per word jobs with a six-star writer working full time. This means that for job consistency, both 5-star and 6-star writers will work on projects that pay less, for instance, a $0.4 per word task.
Writeraccess Managed Service: Is it Worth it?
As a Writeraccess client, you will have access to managed services. When it comes to managed services, the platform that is Writeraccess will look for freelancers, structure your orders and then minimize your workflow.
Individuals using Writeraccess managed services will have a chance to run their business instead of managing freelancers along with their projects.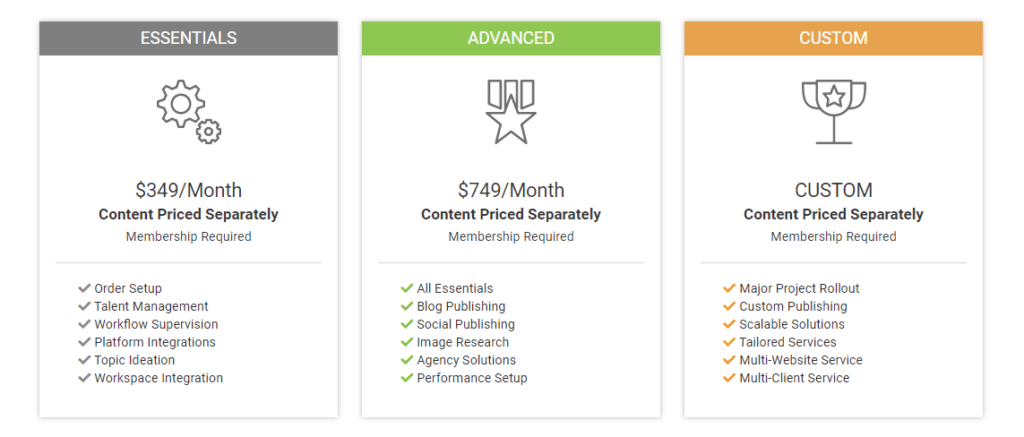 Essential Plan – $349/Month
Writeraccess managed services feature a starting fee of $349 for the Essential package, and this consists of:
Order setup
Topic creativity
Talent management
Among other benefits.
Advanced Plan – $749/Month
The Advance package goes for $749, and when using this plan, Writeraccess will do everything for you, including:
Social publishing
Blog publishing
Image research
Performance setup
To name a few.
Custom Plan
Moreover, Writeraccess offers a custom plan for businesses that would like to have managed services; however, they do not offer all businesses.
A business that chooses managed services plan should have a Basic, Pro, or Premium package. Clients are also allowed to pay monthly, allowing them to start and cancel their subscriptions at any time.
Writer Access Cons
Although Writeraccess features several benefits, it also has some downsides. Here are some of the cons of using Writeraccess;
👎 The platform has a significantly high number of writers, which also comes with its challenges.
Despite the fact that Writeraccess writers are vetted, you are forced to try a couple of individuals before finding one who meets your needs and requirements.
Some small content mill platforms will choose a candidate that will best suit your needs; however, this is never the case when using Writeraccess. Such service is only available to clients using the Premium plan and managed services.
👎 In addition to paying your writer per word, the Writeraccess feature platform fee. This makes it relatively expensive for most clients, especially newbies.
👎 The per-word writing pricing tends to differ significantly, making the budgeting process challenging compared to most blog writing services that offer fixed rates.
Writer Access Alternatives
Here are some of the writing platforms that could be great Writeraccess alternatives:
This company focuses on matching customers' needs of content writing with freelance content writing skills. The company started back in 2012 and has grown significantly to become one of the best places to outsource blog writing.
This is another excellent platform ideal for finding professional freelancers, particularly when working on a tight budget.
I was using other platforms as well like iWriter, and I got really dissatisfied by a response that I was getting based on the quality of writers that were coming in.
They ended up refusing one of my rejections which just flabbergasted me because I order so much content and I almost never reject it.
I always send it back for revision first and then I'll reject it only if I just can't get that writer to move forward.
And usually, I'll even ask them to drop it and let another writer pick it up, give them the option to do that before I would try to reject it.
There are various AI copywriting tools available in today's market including:
And more.
These tools are developed to help you generate content completely hands-off or improve your writing skills.
The tool that I like the most is Jasper AI because the quality of the content that it generates is actually very good.
My Personal Experience with Writeraccess
So far, I'm very pleased with the platform itself, with the response, with the communication and we will see down the road, how this works out in the long run.
I have a few different affiliate websites so, I'll be testing these writers in different areas and will see if I end up hiring somebody out of there to keep running them through the mill, I'll see how that works.
So right now, I'm testing 10 cents a word, which again, I was getting on my other one could get five or 6 cents a word for this type of Wikipedia-style writing.
So, will see how far I need to go up or where I can go with that. I don't mind personally spending a couple of 100 dollars on an article if it's a specialty type of article because you're investing in content.
This is going to live on your blog for a long, long time.
And if at all, you are either building an affiliate marketing website or you're selling courses or you're selling software or anything like that, then this is not a cost, it's an investment when you invest in content.
And so, in my case, it's very important to me to have a really good library of great content.
Writeraccess Review Final Words
Overall, Writeraccess is known for having decent copywriters, making it a good marketplace for freelancers and bloggers. Writersaccess reviews on the different software review websites are also not bad.
However, if you find Writeraccess expensive, you can always settle for the alternative mentioned in the article.
I personally found that AI writing tools like Jasper AI or Frase.io for more SEO-optimized content are more cost-effective than hiring a human writer, especially for businesses or individuals who need a large amount of content on a regular basis.
I hope it was helpful, if you have any questions feel free to comment down below.