Creating SEO-optimized content is not as difficult as many might tell you it is. With the right tools at hand, you can make your marketing life a lot easier for yourself. In this WriterZen review, I'm going to walk you through multiple modules and tools where you can do everything from keyword research to optimize your entire content to rank higher in the search engines.
WriterZen is an all-in-one platform for content marketing. It's a fairly new tool but it has big ambitions like ranking among the best AI SEO tools.
So in this review, I'm going to put WriterZen to the test.
First, I'll give you a quick demo to show you how the tool works. I'll cover the three key areas you need to know about and then I'll dive into each area and cover it in more detail then I'll get into the pricing.
So let's fire up the tool and see what's what.
💡 Note
In this WriterZen review, I'm going to walk you through this powerful SEO tool step by step, and at the end of this tutorial, you'll know exactly how to use this tool to do keyword research and create SEO optimized content for your website. So if you want to work along with me, you can start your WriterZen 7-day free trial (no credit card required)
WriterZen Interface & Ease of Use
The interface is hands down the best interface on any tool that I've used so far. The dashboard is nice and clean.
And when you log in you'll see the three main areas: topic discovery, content creator, and keyword explorer.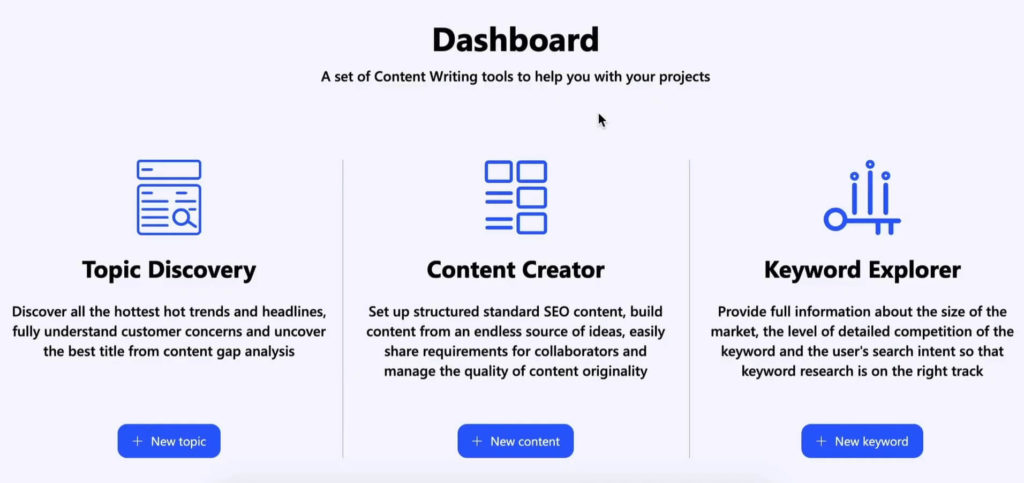 You'll see in a moment that this actually has been very well organized and very well thought out.
It is actually the content creation process all under one roof.
You have a sidebar with some handy shortcuts to each of the three key areas as well as a plagiarism checker and a keyword import screen where you can import your own keywords.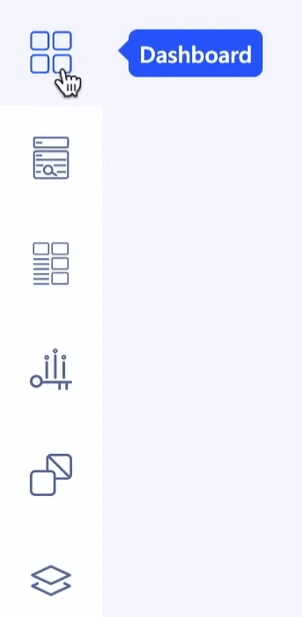 So let's start with topic discovery.
WriterZen Topic Discovery
To get started with the Topic Discovery tool first, type in a keyword you want to explore, select which country you want to rank in, the language, hit search, and let the tool do its thing.

For the purpose of this tutorial, I'm going to be using the keyword "cryptocurrency"
Note that I didn't put in a long tail search like "How to invest in cryptocurrency" instead I entered a seed keyword or a root keyword just so I can get a broad sense of what's out there.
And these are the results I got.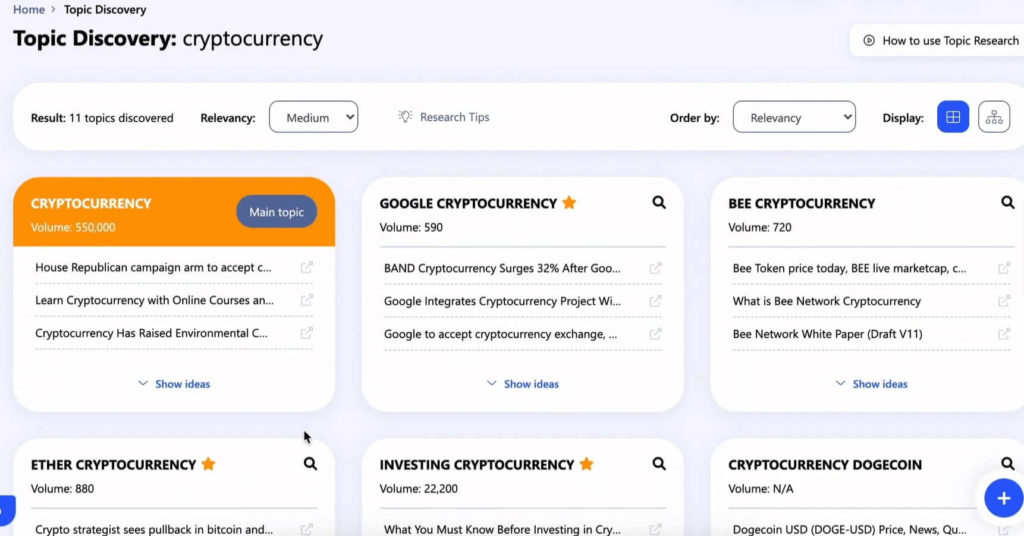 And this topic discovery dashboard gives you all these clusters or topics if you like or themes and from these, you can get great ideas about what to write.
Ahrefs has a similar function where you can see your keywords in themes.
The results are ordered by relevancy but I can order them by search volume too, which is handy.
The search volume is the sum of all the traffic volume across all the keywords in the cluster.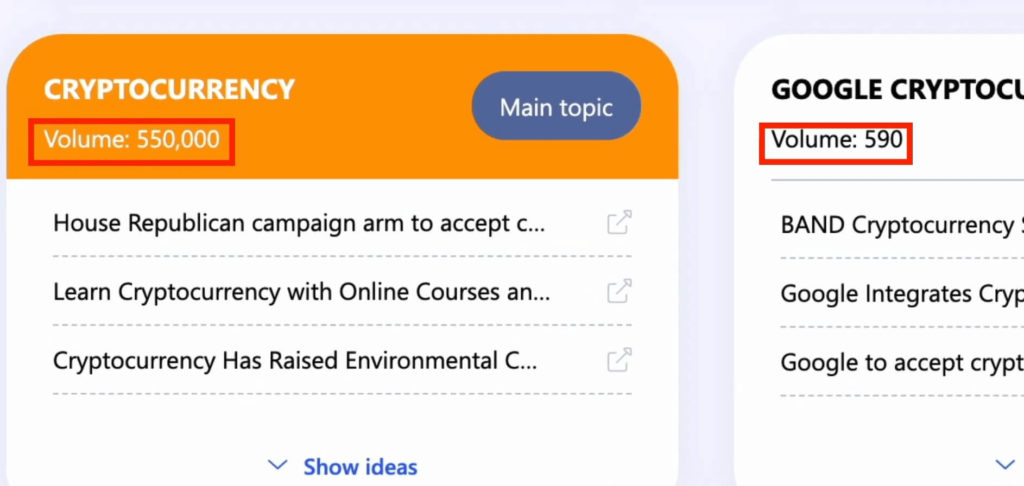 You can set the relevance to closely which is really narrow or widely which is broad or leave the default which is medium.
This is very impressive. Ranking today is mostly about relevancy.
You can get very high up in the search results without any links as long as your page is very relevant relative to your competition of course but these guys get it.
💡 Pro Tip
Take search volume with a massive pinch of salt. They're not accurate despite what you read anywhere. Even Ahrefs doesn't have accurate data. The exception is if a keyword has a lot of search volume then some of the big tools do a pretty good job of estimating what that search volume is. Otherwise, forget. Just use it as a guide.
Now let me show you something really cool.
Let's say that we want to explore the topic "cryptocurrency".
If you click on show ideas, this opens up this view.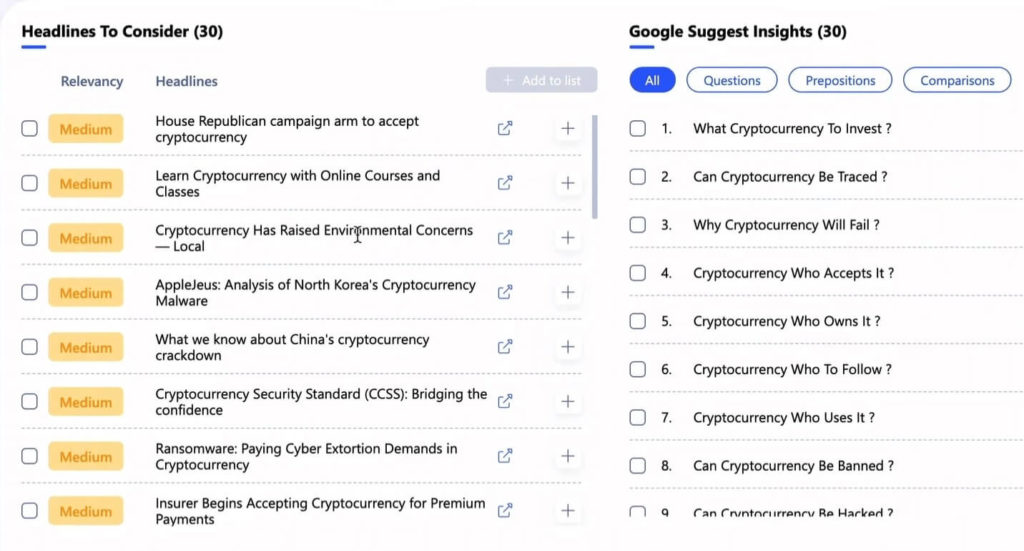 Here are headlines to consider and there are 30 there.
And obviously, these are coming from the search results.
And on the right-hand side, you have Google suggest insights, questions, searches with prepositions, and comparison-based searches.
This is very well done I have to say.
Now, this is something really cool if you like a particular title you can add it to a list.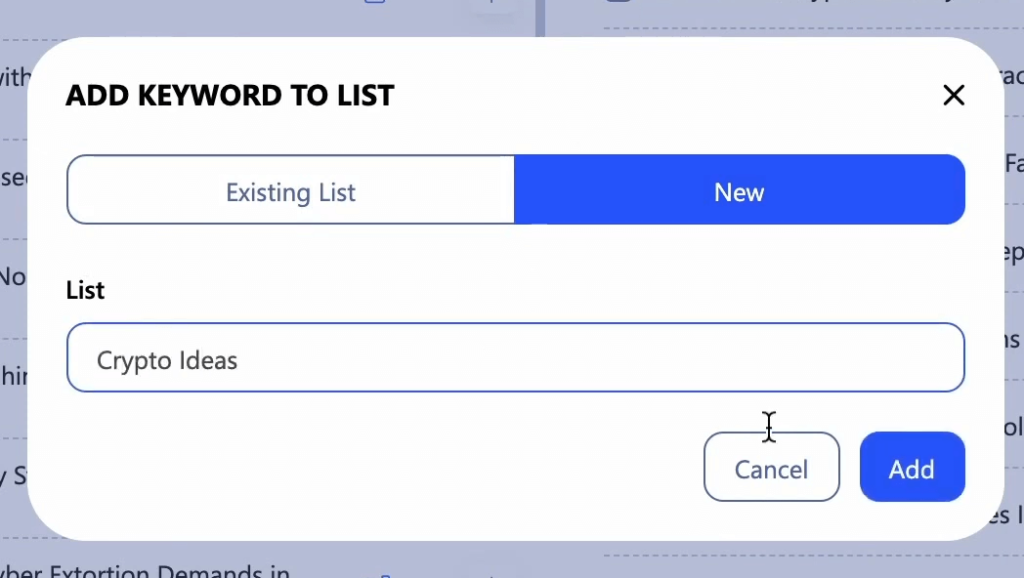 And I can add any questions or related searches or keywords to that list which I can later use to create my content.
And I have to say the way that they've organized this amount of data into a dashboard and made it look really good is amazing.
It's a big UX challenge to make big data pretty but these guys have nailed it.
It does a much better job than other AI SEO tools like INK, which I've also recently played with to see how it compares with WriterZen.
WriterZen Keyword Explorer
Okay now let's move on to keyword explorer here you type in a keyword you wish to rank for and WriterZen finds all the relevant keywords and ranks them by the search volume.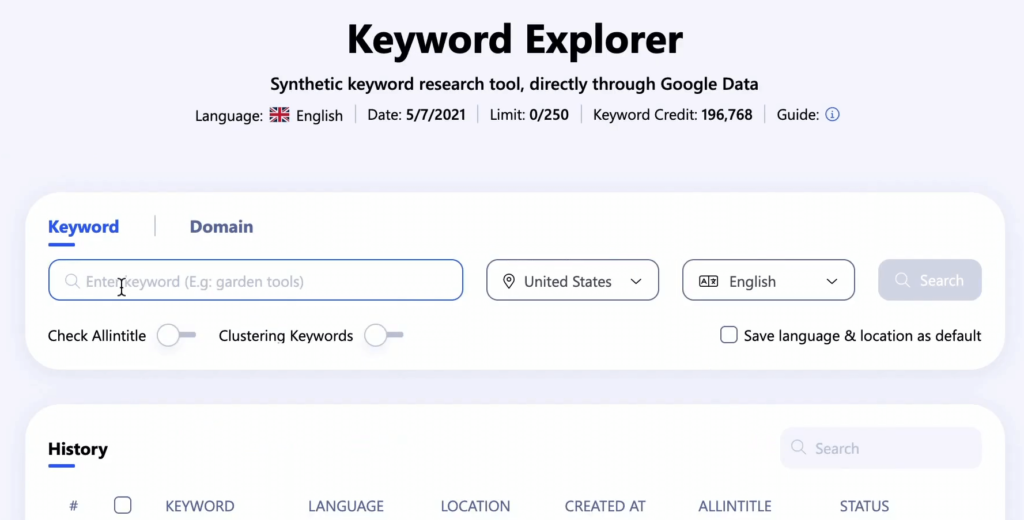 And here you can do an all in title search and I'll talk about this later but for now, don't do an all in title search because it will use some of your plan quotas.
Instead, use this section to explore a keyword and make sure there are enough opportunities there that you like before you commit to doing an all in title search.
As before you can set the country and the language and you can also crawl a domain and steal all the keywords.
So let's look at these results.
And here you see the estimated search volume and a nice touch is the fact that it shows you what they think is the search volume for last month and the average over the past12 months.
The cool thing is that they show you the cost per click as well as keyword ideas and the total search volume.
A very thoughtful section is the Google Trends dash that at least will give you an indication of whether there is traffic although Google has done a good job of hiding the numbers.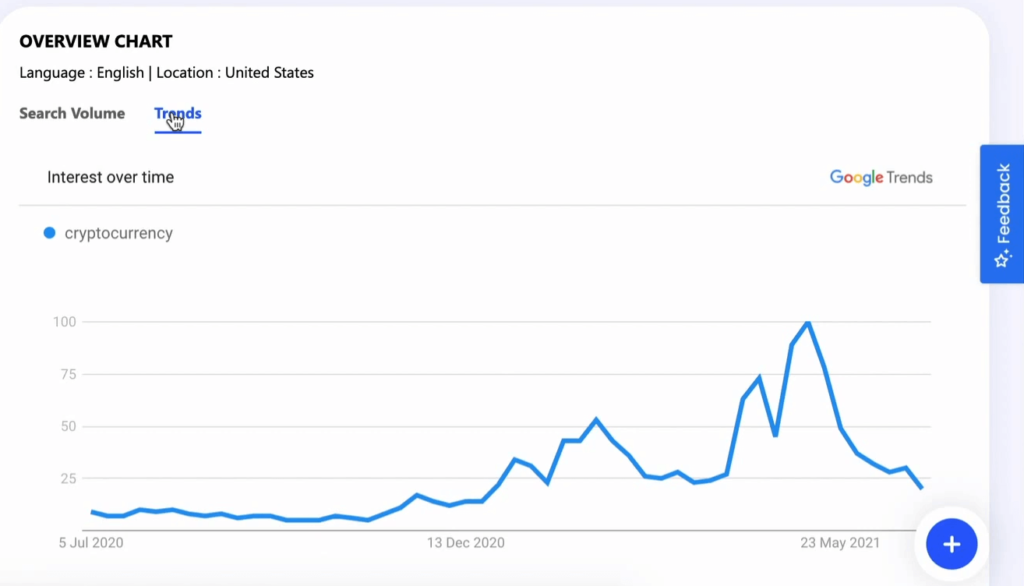 Now where WriterZen really excels is in providing well-thought outfitters all in one place.
And the big plus with WriterZen is the all in title search which is one of the Google search operators.
I've always done this manually and seeing this in a tool brings tears to my eyes.
So let me show you an example of filtering as I would use it.
I can specify that I want a minimum volume of a hundred and I know what I said about search volumes but I'm just filtering out the data.
At least filtering out the stuff that the tool has no click data for I can exclude words here from the searches so I'm going to exclude keywords like download, free, and pdf.

Next we can filter by word count.
Word count is a really cool thing that LongTail Pro used to really excel at.
And I can say only show me search terms that have a minimum of 4 words.
And now the all in title.
Now I'm going to show you a different keyword for which I already did an all in title search.
This is a keyword I just typed "Get website on Google"
And here, you have a bunch of keywords and you can see the all in title as well as the keyword score.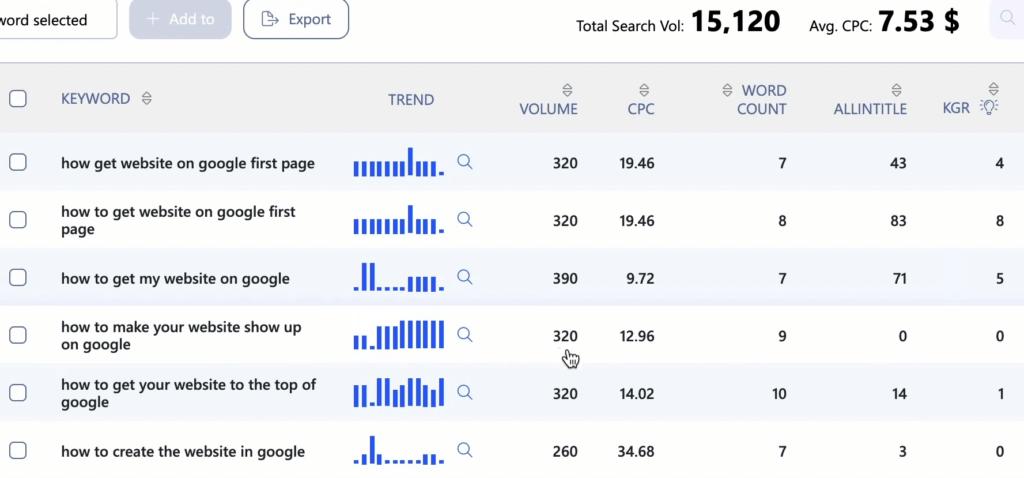 More importantly, you can see Google Trends data.
For example keyword "how to make your website show up on google" has zero under the all in title column.
And not surprisingly the keyword score is also zero so this is perfect if you have no authority.
The volume as I said you take with a pinch of salt but the Google Trends data looks good.
So you can see how quickly you can find a good keyword to target you just enter the root keyword, get a broad sense of what's going on, and then use the filters to really zone in on that perfect keyword.
And everything is on one screen which is very impressive.
Now let's go over to the content creator.
WriterZen Content Creator
In Content Creator, you give your project a name, you set the target location and the language, then WriterZen goes and gathers the data necessary for this new content.
I've already chosen a keyword that I want to target so let me show you what we've got.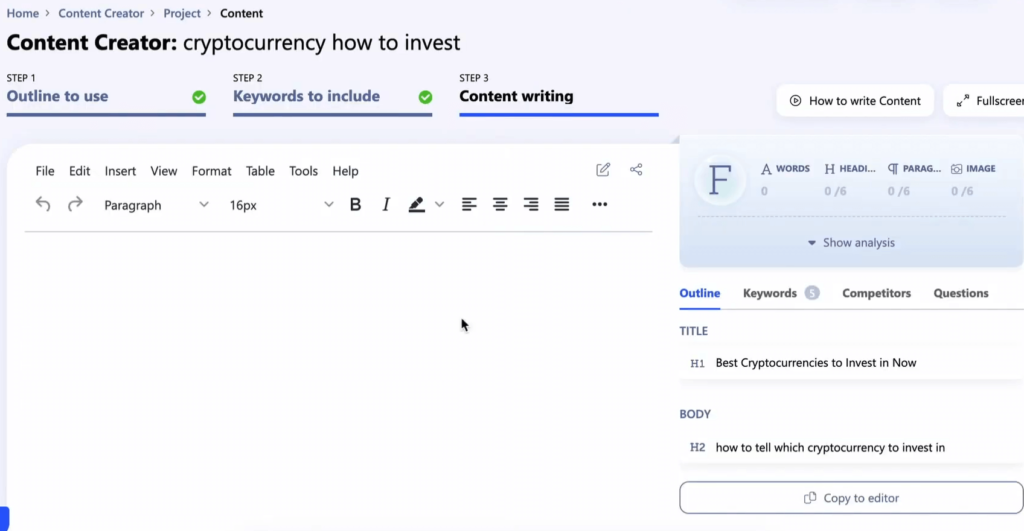 And you'll see 3 steps here.
The first step shows you the top 10 search results.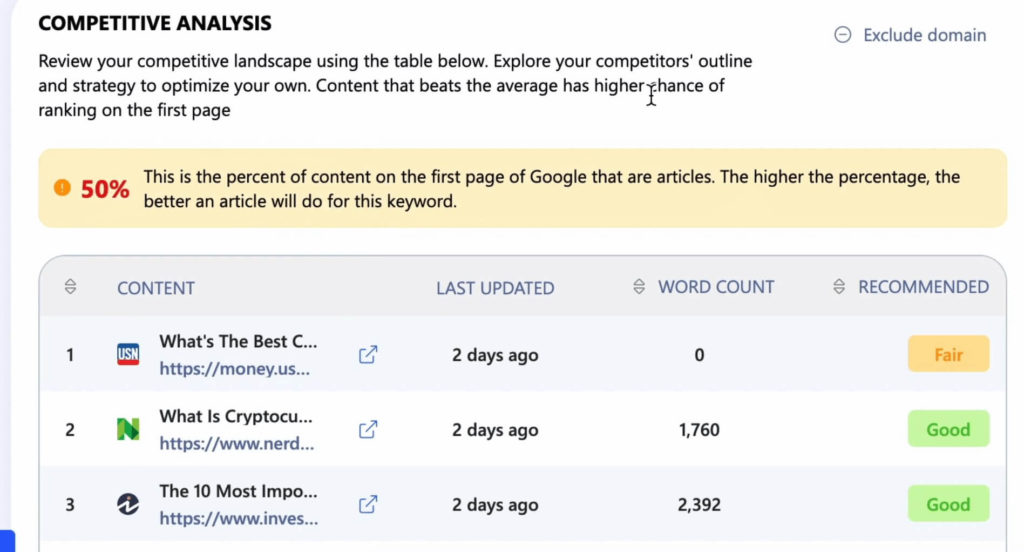 This is a nice idea but you can't drag the column width so you can't see the full titles of each website without actually clicking to open each one in a browser.
That defines the point of gathering the SERPs in that window in the first place.
The data is already there, we just need a wider column or to be able to change the width of the column so we can see all the titles in that window.
Now that said, the developers do seem keen to listen to all requests so this could be a reality in the future.
The Suggests Insights window is super useful.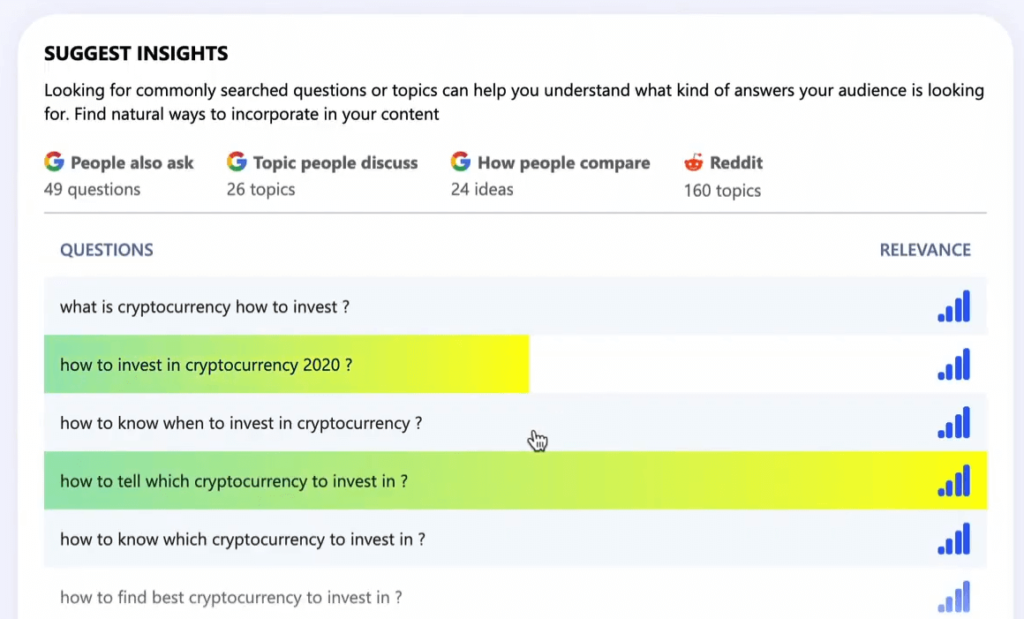 Here you can see Google suggests along with trend data.
If you click on any suggestion you'd like to include in your document and WriterZen adds it to the list as an H2.
In the top right you'll see a guide that shows you what to aim for in your document from word count to paragraph headings and images.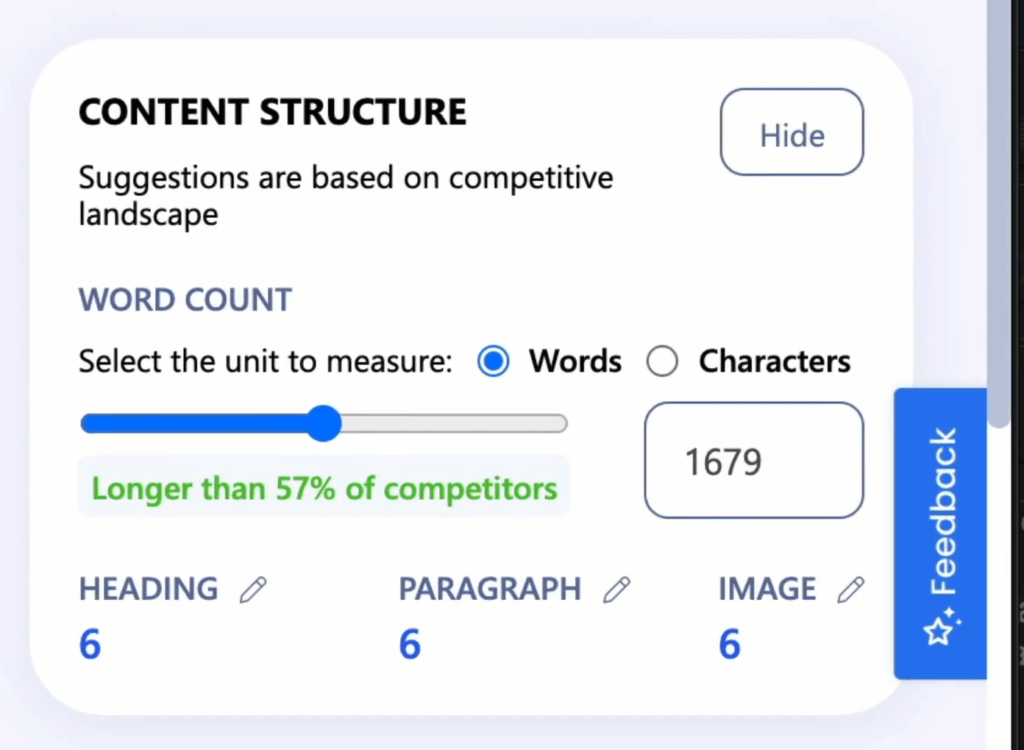 That's all based on the competing SERPs, of course.
You also have a handy outline builder add a title description and your H2s and then you can move to step 2.
Here is where you add the keywords you want to target in your document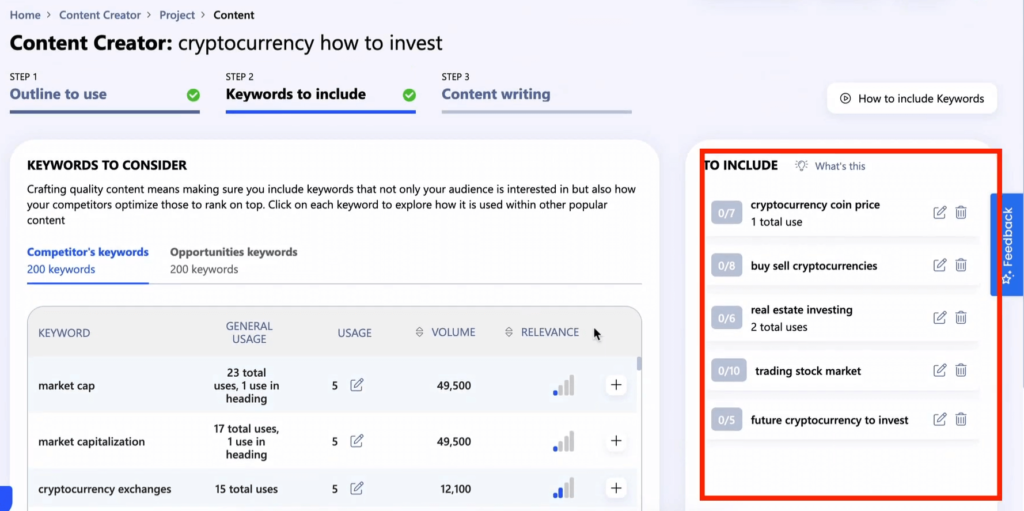 You can see volumes and trend data to guide you visually as well as a general use column that comes in really handy.
It shows you how many times a keyword or a search term is being used by your competitors. Kind of like in other AI SEO tools like Frase as you can see in this Frase review.
Opportunity keywords are there to help you see important relevant keywords, which you can quickly also add to your keyword list with a simple click.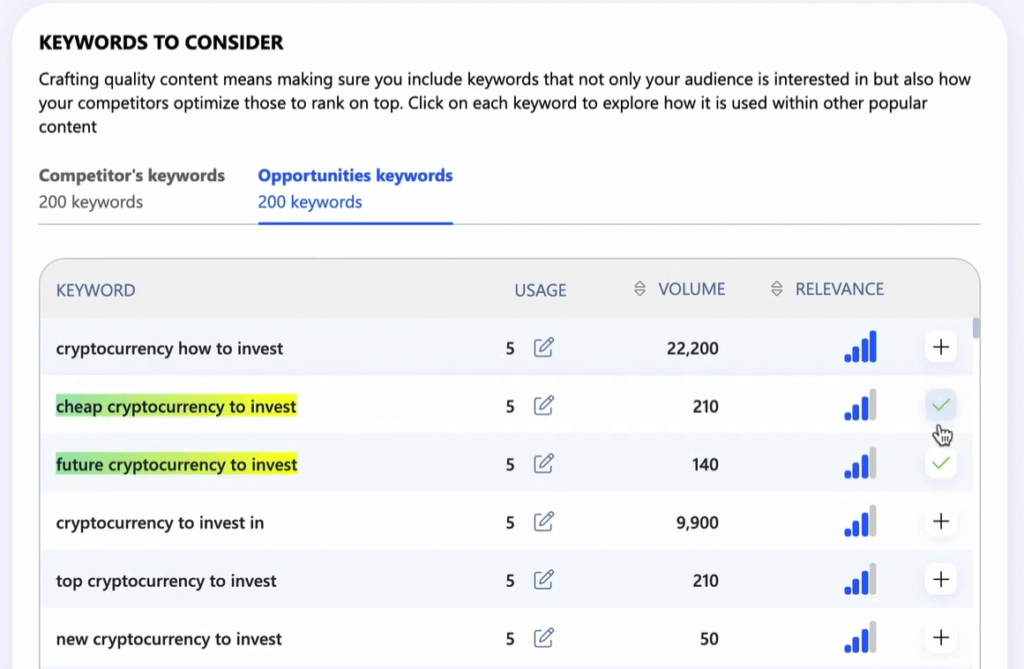 And a really nice touch is the fact that any keywords or search terms that you add are highlighted.
And when you're happy with the keywords you want to target you hit save and move on to step 3 where the writing takes place.
As you write you have this window on the right-hand side with various areas from your document outline to your chosen keywords and scraped questions that you can quickly add to your document.
And of course, you have a score at the top to let you know how you're doing.
So as you can see, it's a very powerful platform and in my opinion, WriterZen does a much better job compared to other AI content research tools out there.
Now let's talk about pricing.
WriterZen Pricing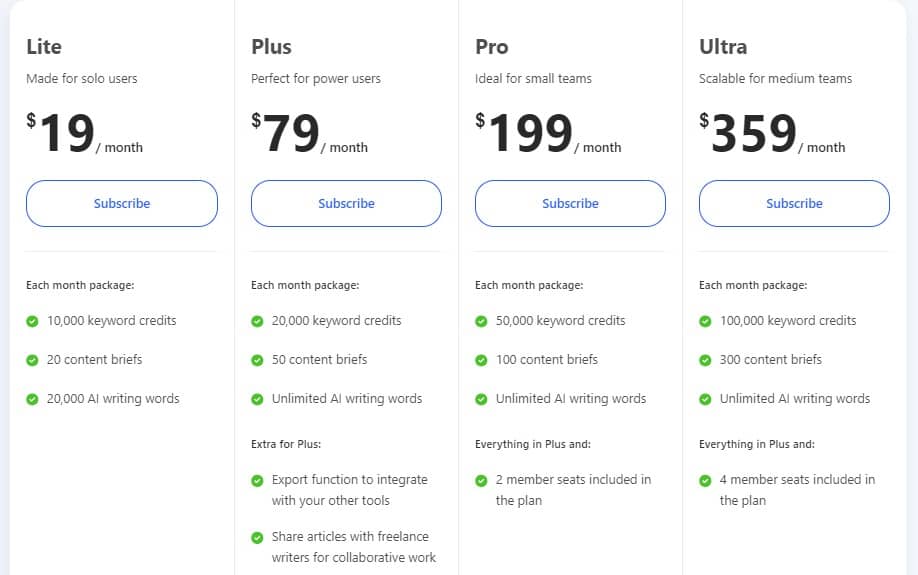 Lite – $19/month
Plus – $79/month
Pro – $199/month
Ultra – $359/month
WriterZen has a free 7-day trial which I really like to see on SaaS tools.
The lowest plan is the Premium plan which is $19 per month.
It's competitively priced compared to other keyword tools but WriterZen really is a Swiss army knife in content marketing when you compare it with other tools at this price range.
The Plus plan is $79 per month, so good value for money and something you should be able to afford if you're doing client work.
WriterZen Pros & Cons
Pros
AI writing capabilities: WriterZen's AI writer is better than most, and its output is fairly good quality, makes sense, has minimal grammatical/syntax errors, and sounds more 'human' than many competitor AI generators.

Keyword research: WriterZen offers a top-notch keyword research feature that helps users find new ideas for topics to write about by showing what people are searching for on Google

.

User search intents: WriterZen uses user search intents to determine what types of content people want to see, so users can create the best possible piece of content for their audience

.

Content writing interface: WriterZen has an easy-to-use content writing interface that enhances users' writing skills and ensures they tick the boxes regarding SEO, at the same time helping them bust through writer's block

.

Customer support: WriterZen has great customer support built by a team of SEO experts.

 
Cons
AI writing tool needs improvement: WriterZen's AI writing tool needs some improvement

.

Confusing UI: WriterZen's UI is not very intuitive compared to many other content writing and optimization tools

.

Price: WriterZen is a bit pricey, but users get what they pay for.
WriterZen Lifetime Deal
WriterZen is no longer available on the AppSumo marketplace.
The only way you can purchase this tool is via the WriterZen official website.
WriterZen Review Final Words
So, that's my WriterZen review.
As you can see WriterZen is a powerhouse when it comes to the process of content creation and SEO optimization.
They've really thought about the interface and taking you through the entire process of content creation interface is hands down the best interface on any tool that I've seen.
For me, WriterZen is now my favorite keyword research tool.
The topic explorer section is a very handy tool and keyword clustering is part of the SEO game and this tool significantly cuts down the time it takes to do that.
And if you combine it with tools Postaga for your link building campaigns, you can take your SEO game to the next level.
The content creation section is good but I'm not a fan of it. I'd much rather have the tools show me relevant keywords I can choose to add to my document rather than me having to pick those keywords.
But overall I think WriterZen is a good tool with huge potential and will continue using it.