Today I'm going to reveal everything you need to know about creating a Youtube automation or cash cow channel.
Youtube cash cow it's a pretty trending topic. It's a buzzword that a lot of people are using on Youtube which is automating your faceless YouTube channel.
Oftentimes the people that are creating these cash cow youtube automation courses keep a lot of the important information in the dark.
They don't really tell you how much they're paying their contractors. They're not telling you where they're getting their contractors from, and so today, I'll going to uncover all of that information for you.
In addition, I'll give a range of about what you should expect to pay for these individual opportunities.
So let's go ahead and get right into it.
YouTube Automation Niches
The first thing you need to do to get started with YouTube automation is picking a niche. A niche is just an area where you're going to create content.
It's important that you want to create a niche that has a lot of content, a lot of keywords, and a lot of opportunities for growth. One of the drawbacks that many people do when they get into a cash cow and Youtube automation is they try and create content in a niche that's too narrow so there's not a lot of room to grow.
If there's not a lot of room to grow, they're looking for niches that don't have a lot of competition. In reality, Youtube is completely different than blogging.
With YouTube, you want a niche that's pretty wide and has a lot of competition because that will help you with keyword ideas and get discovered in the recommended section.
You can do a little bit of searching. You can type in anything from dogs to make money online to new trending topics like Youtube automation, cryptocurrency, NFTs really, anything will work over on Youtube in 2022.
You could also hire someone over on Fiverr to find a niche for you, but I don't think that's really needed.
Video Script
The next thing that you want to do is you want to go out and find a scriptwriter. The scriptwriter will simply write scripts for you.
And when it comes to your niche, you can give your scriptwriter ideas to create content VA to do it as well.
If you're going to ask your VA to come up with ideas for scriptwriting, make sure you train that person on what to look for.
For video script writing you can find someone on Fiverr and you pay anywhere between $10-$100.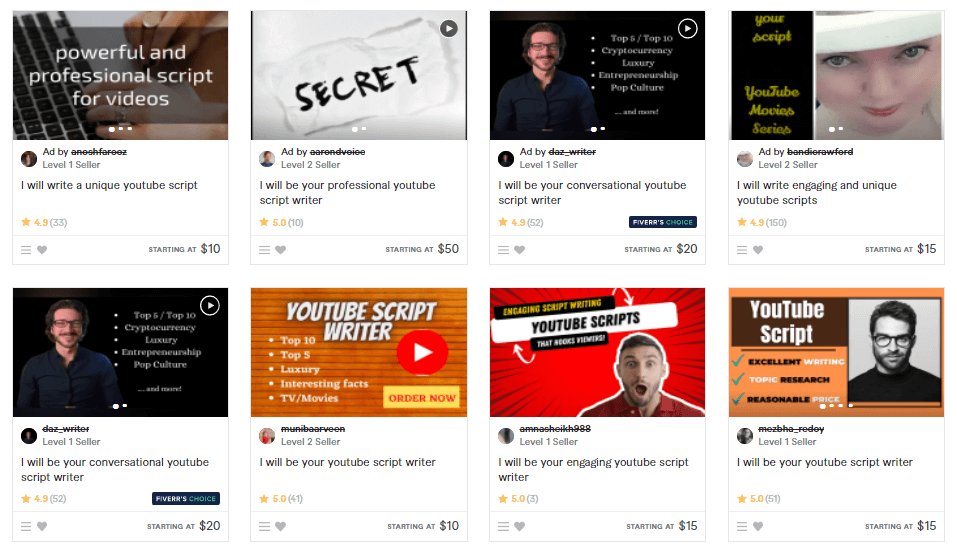 Ideally, you probably want something that's at least 1500-2000 words so that you can get an 8-minute video.
The key to your success when it comes to the cash cow Youtube channel is your videos need to be at least 8 minutes long so that you can add in ads throughout your videos.
Another thing you can do is you could use a website like hirewriters.com, and you could hire someone to write a blog post. For example, you could hire a beginner who will write up to 2000 words for $8.
Know that they're going to write the bare minimum. They'll probably write about 1000 words a little bit above that, but you could pay to hire someone more experienced and get a better quality script for your YouTube video.
Voiceover
The next thing that you need is a voice artist. There are a couple of places where you can find voice artists.
The first place is Fiverr, where you can find talented voice artists, but this gig's pricing is really high.
Freelancers charge even $20 per 100 words and this is a standard price.
You can also post a request where you can ask for exactly what you're looking for, and you can set the price.
The place that I recommend to find voiceover artists is onlinejobs.ph, which is a website where you can hire people from the Philippines.
This is a website where most of these faceless YouTube channels owners hire people to create videos from start to finish. And I know that first hand because I took many courses on this topic.
And here I share this with you for free 😉
This is a paid platform for about $69/month but it works out really great because one of the first languages they learn is English.
I use it myself and have a few applicants that are willing to do voice over for just $10 per 1000 words.
If you're serious about the YouTube automation business, you'll save more money in the long term using it.
Video Editing
The most expensive part is the video editing. Video editing takes a lot of time because you've got to come up with motion graphics, you've got to find different slides that actually makes sense with the content that the voice artist is talking about, and so this can take up the most amount of time and can be the most expensive.
The pricing for video editing on Fiverr ranges from 10 bucks up to a few hundred dollars.
For this, you can also use onlinejobs.ph. As mentioned earlier, on this website, you can get done entire videos for the fraction of the cost.
The best price that I've been able to secure for about an 8-minute video with motion graphics, animation, and music in the background is $17.
Virtual Assistant
Your virtual assistant could take care of uploading and YouTube SEO to get more views.
One of the most popular jobs over onlinejobs.ph is virtual assistants.
When I was looking to hire a virtual assistant to manage my Youtube channels to take care of my titles tags and thumbnails, I had at one point over 300 requests of people that just wanted to do the virtual assistant job.
I was willing to pay about $300 per month for this. And again, these people are going would be uploading your completed videos that they got from the thumbnail from the video editor. They would be doing the titles tags and descriptions.
You can also request that they go out and find keywords.
YouTube Thumbnail
And the final piece that you need is a thumbnail creator. You can do it yourself by using Canva and they have great templates for YouTube thumbnails, especially on the Pro plan.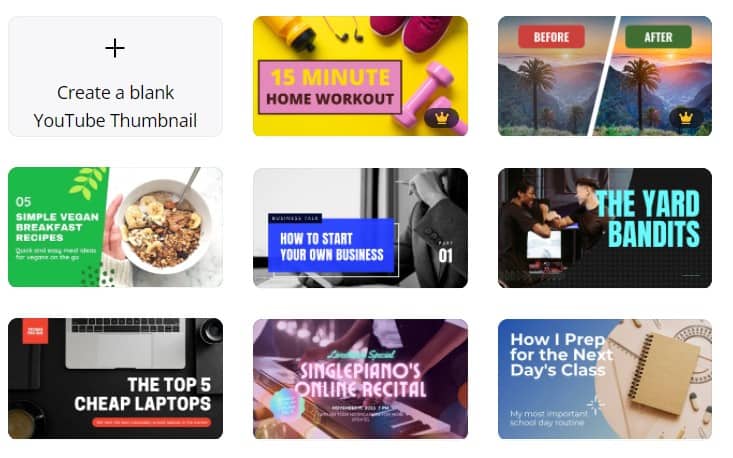 I use Fiverr for thumbnails because I do much better when hiring someone out for this.
Fortunately, this gig on Fiverr is very cheap because here you can find someone who can create 3 thumbnails for just $5.
YouTube Automation Costs
So if we're doing the math, we pay about:
Scriptwriter – $10
Voiceover artist – $15
Video editor – $10
Thumbnail creator – $5
Together is around $40 and that's only if you don't hire a virtual assistant.
So if you're doing 5 videos per week you multiply that by 5 times which is $200 per week and around $800 per month.
But keep in mind, asI said earlier, you can find someone on onlinejobs.ph that can do an entire video for just $20 which will cost you $100 per 5 videos.
And in this price range, you won't find anybody on Fiverr.
On onlinejobs.ph, you can put up 3 job requests and your job requests can be for:
Voiceover actor
Video editor
Script writer
This way, you're going to get all of that taken care of over.
Obviously, if you want to you can pay these people a bit more but these are the prices that I've been able to get for the most part.
This is the price if you want to completely automate your YouTube channel and this can be a great way to make money if you find the right niche and you are actually consistent with it.
Because one of the hard parts with Youtube automation or cash cow is seeing money go out the window and nothing coming back in return until you get monetized.
And even when you get monetized the first few weeks and months can look pretty lean simply because you're not making enough money to justify the expense.
But this can work for a few reasons because you're planning on making money on the back end.
Tips on How To The Job Done For Less
If you didn't have such amount of money to invest in your YouTube business, there are some alternatives. The first thing you'll need to do is figure out what's most important to you and what's the easiest to accomplish and the least expensive to accomplish. And that's what you're really going to focus on.
Video Script
So we're probably going to spend some money with a scriptwriter but you could also save money by writing the scripts yourself.
You could use something like Jasper.ai which has a great YouTube script template that can generate the video script for you.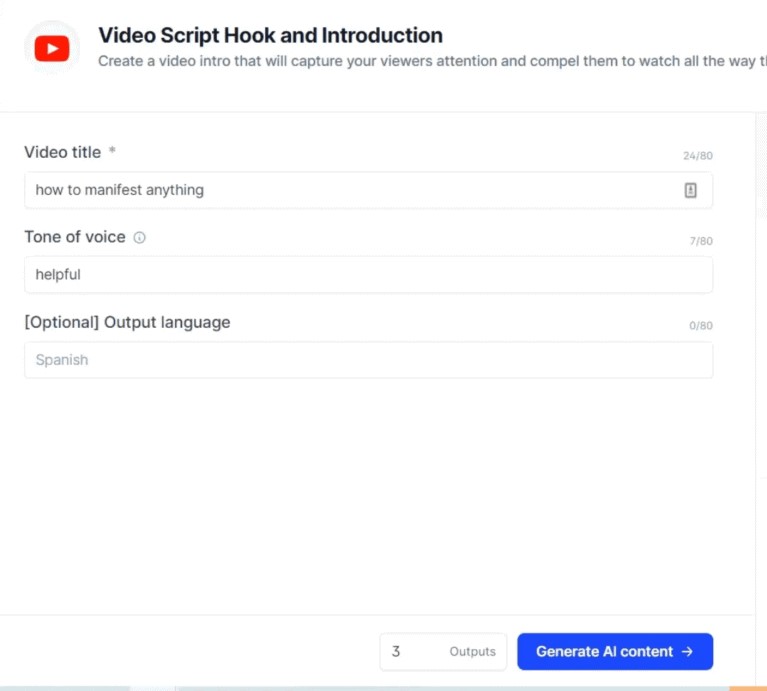 You could use this software to help or you write scripts yourself so that would actually save you some money, that's one alternative.
Voiceover
Voiceover is probably one of the most difficult parts and it's the most time-consuming with regard to reading the script because you have to get to read it correctly and it's very easy to mess up.
But for this, you can also use voiceover software you can find online, or even better, you can use Pictory.ai, which not just can help you with voiceover, but with creating faceless YouTube videos as well.
And this leads to the next point.
Video Editing
As mentioned earlier video editing is probably the most expensive part.most expensive.
So if you want to save your money on a video editor, I highly recommend Pictory.ai, which is an AI video maker that can generate an entire video from a script or even an URL of your article.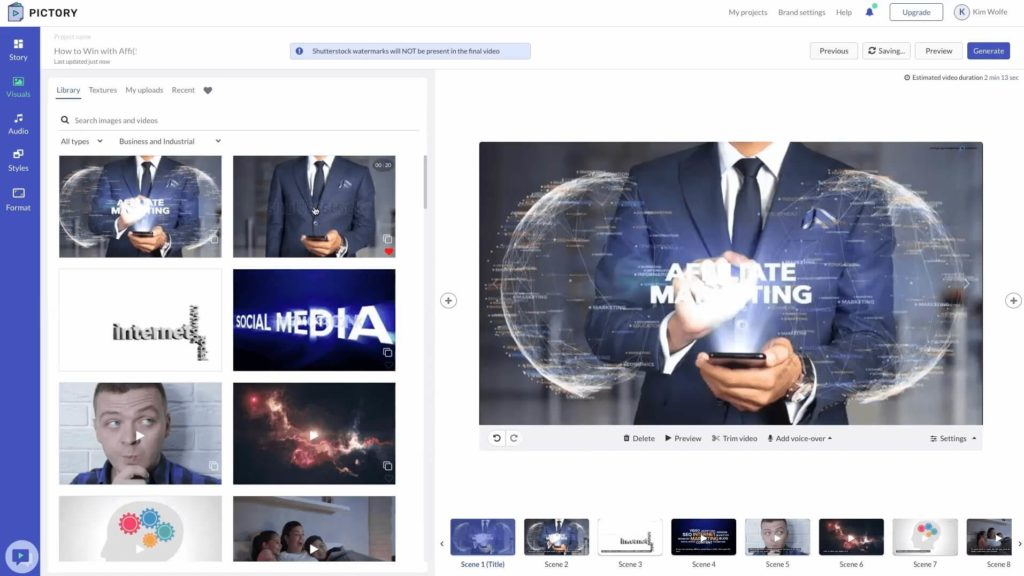 A bonus tip here is that I would hire either a VA or teach my scriptwriter how to create videos for me.
Making Money with YouTube Cash Cow Channels
With YouTube automation, you can make money with YouTube affiliate marketing, or maybe you have a digital product that you can sell that's congruent with what the target audience wants.
Once you get monetized your channel with YouTube ads, you'll be making money with the YouTube partner program. And this is where you can get back your money quickly, especially in a niche with a high CPM.
If your channel reaches 10,000 subscribers you could have the Youtube merch shelf.
You could also do sponsorships and brand deals sponsorships deals. You can also do shout-outs if you come across people that want to use your influence to grow their channel.
Final Words
So this is how to start a Youtube automation business.
As long as you can manage to keep your costs by about a few hundred dollars per month following these suggestions and you monetize your channel properly with YouTube ads and promote affiliate products in the backend, you could start making your money back or at least breaking even relatively close.
But Youtube cash cow channels are incredibly powerful if you do it the right way you keep your costs in line and you don't get crazy with the expenditures.
I'd recommend waiting on getting a Virtual assistant until you are at least breaking even with these expenses and you've monetized it properly.