YouTube automation is one of the most popular trends in the make money online space. Youtube automation is a process where you hire a team of people that will put together videos for you. At the same time, you sit back and collect the revenue.
Today I'm going to reveal everything you need to know about creating a Youtube automation or cash cow channel.
Youtube cash cow it's a pretty trending topic. It's a buzzword that a lot of people are using on Youtube which is automating your faceless YouTube channel.
Oftentimes the people who are talking about YouTube automation keep a lot of the important information in the dark.
They don't really tell you how much they're paying their contractors. They're not telling you where they're getting their contractors from, and so today, I'll going to uncover all of that information for you.
Let's get right into it.
💡 Note
Before we go any further, I have to tell you that this article is inspired by Tube Mastery and Monetization 2.0 by Matt Par which is one of the best YouTube automation courses available right now. So full credit to Matt.
1. Pick a YouTube Automation Niche
The first thing you need to do to get started with YouTube automation is pick a niche. A niche is just an area where you're going to create content.
It's important that you want to create a niche that has a lot of content, a lot of keywords, and a lot of opportunities for growth. One of the drawbacks that many people do when they get into a cash cow and Youtube automation is they try and create content in a niche that's too narrow so there's not a lot of room to grow.
If there's not a lot of room to grow, they're looking for niches that don't have a lot of competition. In reality, Youtube is completely different than blogging.
With YouTube, you want a niche that's pretty wide and has a lot of competition because that will help you with keyword ideas and get discovered in the recommended section.
Best YouTube Automation Niches
It is difficult to predict exactly what the best YouTube automation niches will be in 2023, as it can depend on a variety of factors such as current events, trends, and the interests of viewers. However, some niches that have traditionally performed well on YouTube and are likely to continue to do so include:
Technology: Tech-related content, including product reviews, tutorials, and unboxings, is often popular on YouTube.
Education: Educational videos, such as lectures, tutorials, and how-to guides, can be successful on YouTube, particularly in niche subjects.
Pets and animals: Videos featuring pets and animals, such as training videos, animal care tips, and cute animal compilations, can be popular on YouTube.
Comedy and entertainment: Comedy sketches, parodies, and other entertaining videos can do well on YouTube.

DIY and home improvement: Many people turn to YouTube for tutorials and tips on how to do things themselves, so DIY and home improvement content can do well.

Beauty and fashion: Beauty and fashion videos, including makeup tutorials, hauls, and product reviews, are also popular on YouTube.
Food and cooking: Cooking and food-related content, such as recipe videos and food challenges, can be successful on YouTube.
Health and fitness: Health and fitness content, including workout routines, healthy living tips, and nutrition advice, is another niche that tends to do well on the platform.
Ultimately, the best niche for you will depend on your interests and what you are passionate about. I recommend choosing a niche that you enjoy and are knowledgeable about, as this will make creating content easier and more enjoyable for you.
Further Reading
▶ 19 Best YouTube Niches in 2023
2. Find Video Topics
There are several ways to find topics for YouTube videos:
Look at popular YouTube channels in your niche
Look at what kinds of videos are popular on other channels in your niche, and consider creating similar content or putting your own spin on a popular topic.
Consider current events and trends
Keep an eye on current events and trends in your niche and consider creating content that addresses these topics. For this, you can use Google Trends and look for the topics around your niche.
Think about your own interests and expertise: Consider creating videos on topics that you are passionate about or that you have expertise in. Your enthusiasm and knowledge will shine through in your videos and make them more engaging for your audience.
Use keyword research tools
Keyword research is an important part of optimizing your YouTube videos for search, as it helps you understand what people are searching for and how to best describe your video to appeal to your target audience.
You can tools like the Google Keyword Planner or YouTube's own keyword suggestion tool to see what people are searching for on YouTube and get ideas for topics that are in demand.
Or you can use some of the Youtube keyword research tools like:
But one of the best ways to do Youtube keyword research is by using Videly which is an all in one video marketing tool that can help you find topics, optimize and promote your YouTube videos.
They have 5 different tools including niche analysis, rank tracker, keyword research tool, and more.

But what makes Videly stands out among apart other youtube tools is that it actually scans searches on different search engines to give you the lowest competition with the highest amount of search volume.
It also has real-time video analytics to help you understand how videos of your competitors are performing so you can make data-driven marketing decisions.
if you want to learn more about this cool YouTube SEO tool, you can read my Videly review.
And here you can also get Videly 75% OFF discount (not available on the official website)
3. Write a Video Script
The next thing that you want to do is you want to write a script for your video.
And when it comes to your niche, you can give your scriptwriter ideas to create content and VA to do it as well.
If you're going to ask your VA to come up with ideas for scriptwriting, make sure you train that person on what to look for.
For video script writing you can find someone on Fiverr and you pay anywhere between $10-$100.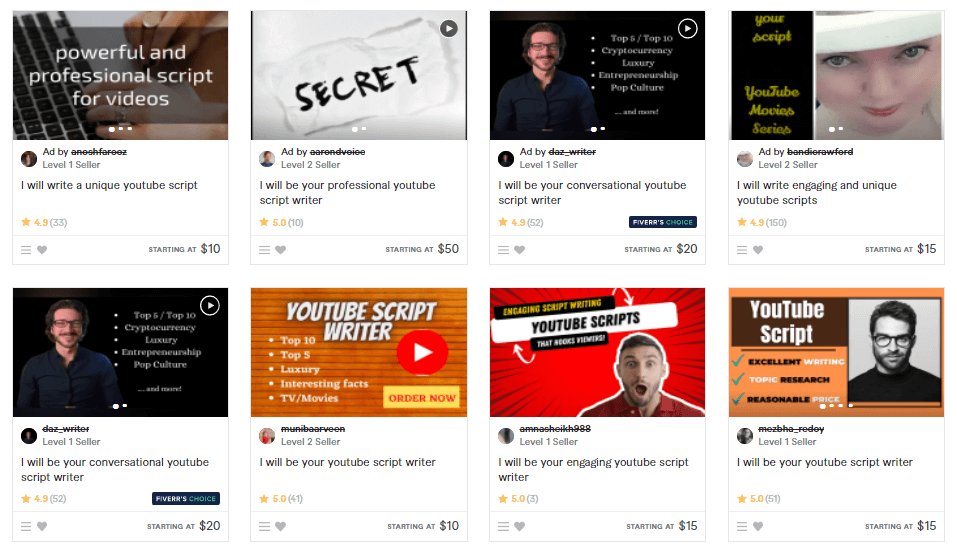 Ideally, you probably want something that's at least 1500-2000 words so that you can get an 8-minute video.
The key to your success when it comes to the cash cow Youtube channel is your videos need to be at least 8 minutes long so that you can add in ads throughout your videos.
We'll talk more about how to make money off YouTube automation later.
You could also save money by writing the scripts yourself.
You could use something like Jasper.ai which is one of the best AI copywriting tools. It has a great YouTube script template that can generate the video script for you.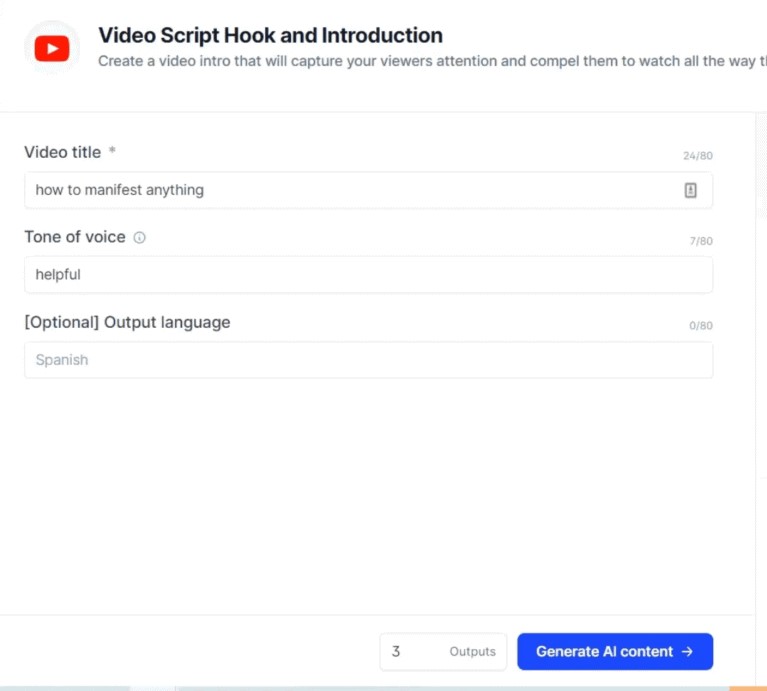 You could use this software to help or you write scripts yourself so that would actually save you some money.
4. Make a Voiceover
Voiceover is one of the most difficult parts of starting a YouTube automation channel. And it's also the most time-consuming with regard to reading the script because you have to get to read it correctly and it's very easy to mess up.
And here you have also 2 options; record a voiceover yourself or hire a voiceover artist.
There are a couple of places where you can find voice artists.
The first place is Fiverr where you can find talented voice artists, for a reasonable price.
Some freelancers charge even $20 per 100 words which is very expensive if you'd like to make a 1000 words YouTube video.
If you'd like my personal recommendation, I have one guy that I work with for a long time.
Go to Fiverr and type in (or copy and paste): dominionfire. This guy has over 3,100 5-star ratings.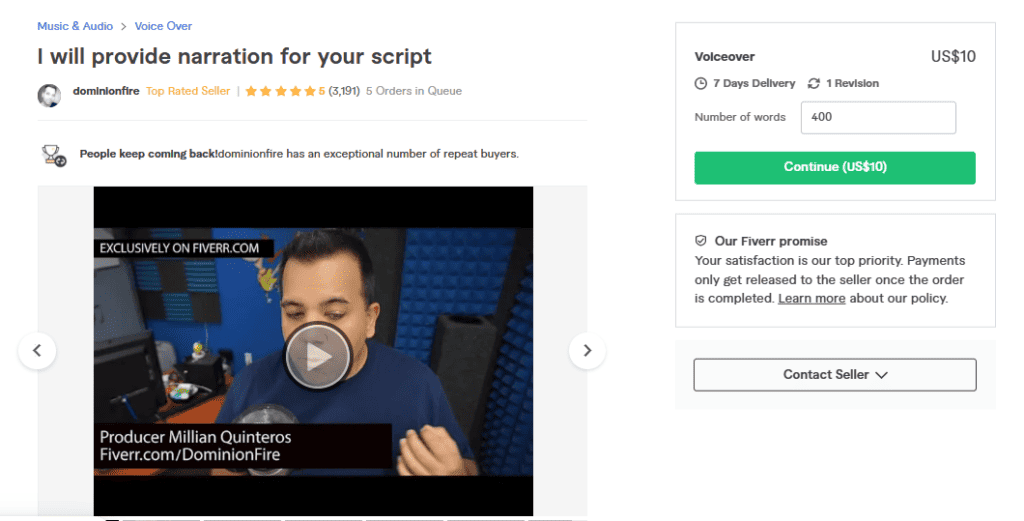 He charges only $10 for 400 which is a very good price. And to be honest, you probably won't find a better price for this type of gig.
You can also post a request where you can ask for exactly what you're looking for, and you can set the price.
The other place where you can find talented voiceover artists is onlinejobs.ph which is a website where you can hire people from the Philippines.
This is a freelance platform where most of these faceless YouTube channel owners hire people to create videos from start to finish. And I know that firsthand because I took many YouTube automation courses.
And here I share this with you for free 😉
This is a paid platform for about $69/month but it works out really great because one of the first languages they learn is English.
I use it myself and have a few applicants that are willing to do a voice-over for just $10 per 1000 words.
If you're serious about the YouTube automation business, you'll save more money in the long term using it.
Now let's talk about how to make YouTube automation videos.
5. Edit a Video
The most expensive part is the video editing. Video editing takes a lot of time because you've got to come up with motion graphics and find different slides that actually make sense with the content that the voice artist is talking about.
And so this can take up the most amount of time and can be the most expensive.
The pricing for video editing on Fiverr ranges from $10 up to a few hundred dollars.
And here again, I can recommend one guy who can make an entire cash cow YouTube video from start to finish including:
1500 words script on any topic
American accent voiceover
Video editing with stock footage & motion graphics
Youtube thumbnail
So again, you can go to Fiverr and type in alyyhash.
And thank me later 😉
If you take the DIY route, you can also video editing software, or even better, you can use Pictory.ai, which is one of the best AI video generators that can generate an entire video from a script or even the URL of your article.
Using this type of software can help you with creating faceless YouTube videos with voiceover, graphics, music, and all that stuff.
6. Create a YouTube Thumbnail
And the final piece that you need is a thumbnail creator. You can do it yourself by using Canva and they have great templates for YouTube thumbnails, especially on the Pro plan.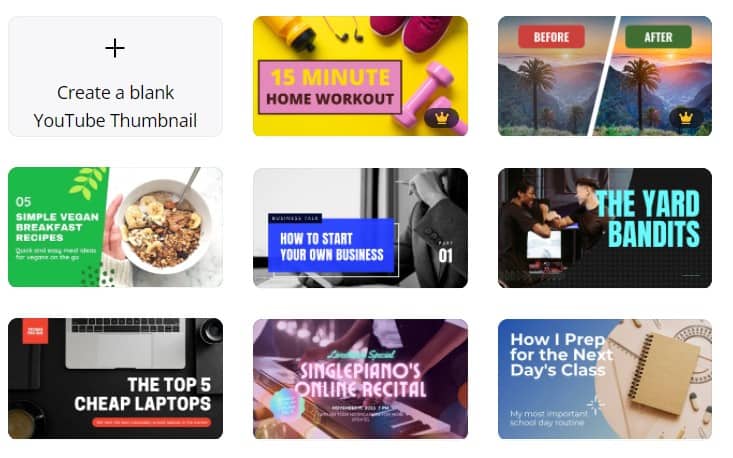 I use Fiverr for thumbnails because I'm not a great graphic designer and I do much better when hiring someone out for this.
Fortunately, this gig on Fiverr is very cheap because here you can find someone who can create 3 thumbnails for just $5.
(By the way, the guy I recommended in the video editing section does thumbnails as well)
7. Optimize Your Video for Higher Engagement
There are a number of steps you can take to optimize and rank your YouTube videos for maximum visibility and engagement:
Use relevant, keyword-rich titles and descriptions
Make sure your titles and descriptions accurately reflect the content of your video and include relevant keywords to help your video show up in search results.
Use tags
Use tags to describe your video and help it show up in search results. Choose tags that are relevant to your video and are commonly used by people searching for videos on your topic.
Use a custom thumbnail
Choose a thumbnail that is visually appealing and accurately represents the content of your video. This can help your video stand out in search results and encourage people to click on it.
Promote your video
Share your video on your own social media accounts or with your email list and consider collaborating with other creators or influencers to promote your video to their audiences.
Engage with your audience
Once you get some traction with your channel, you can respond to comments on your video and engage with your viewers to build a community around your content. This can help encourage people to watch more of your videos and subscribe to your channel.
Analyze and optimize your video's performance
Use YouTube's analytics tools to track the performance of your video and identify areas for improvement. Based on this data, you can make changes to your video's title, tags, or other elements to improve its visibility and engagement.
For more advanced tactics, you can check out my best YouTube channel growth hacks.
8. Upload Your Video on YouTube
Uploading a video on Youtube is very straightforward and you can do it yourself.
However, hiring a virtual assistant to do this can save you a lot of time.
Your virtual assistant could take care of uploading and YouTube SEO to get more views.
And this is one of the most popular jobs over onlinejobs.ph.
When I was looking to hire a virtual assistant to manage my Youtube channels to take care of my title tags and thumbnails, I had at one point over 300 requests from people that just wanted to do the virtual assistant job.
I was willing to pay about $300 per month for this. And again, these people are going would be uploading your completed videos that they got from the thumbnail from the video editor. They would be doing the title tags and descriptions.
You can also request that they go out and find keywords.
9. Monetize Your YouTube Automation Channel
There are several ways to make money with YouTube automation:
1. Youtube Ads
One of the most passive ways to monetize a cash cow YouTube channel is through advertising. When you enable ads on your videos, you earn a share of the advertising revenue generated from views of your videos.
For this, you need to get 1000 Youtube subscribers and have at least 4,000 watch hours in the past 12 months.
2. Affiliate Marketing
Affiliate marketing is another way you can make money on YouTube. With affiliate marketing, you promote products or services offered by other companies and earn a commission on any sales that result from your promotion.
To get started with affiliate marketing on YouTube, you will need to find a product or service that you can promote and that is relevant to your audience.
Then, you can create a video reviewing or demonstrating the product, and include a link to the product in the video description. If a viewer clicks on the link and makes a purchase, you will earn a commission.
3. Sponsorships
You can also make money on YouTube by partnering with brands and companies to promote their products or services in your videos. This can involve creating sponsored content or including product placements in your videos.
You can read more about Youtube sponsorship here.
4. YouTube Memberships
When your biggest fans join your channel as paid, monthly members, you can offer them exclusive benefits like custom loyalty badges, emojis, as well as members-only content. With YouTube memberships, you decide what kind of rewards to provide and how much to charge for each membership level.
5. Selling Merchandise
You can also make money on YouTube by selling merchandise related to your channel, such as t-shirts or other branded items.
Other revenue streams: In addition to these options, you can also explore other ways to make money on YouTube, such as offering paid consultations or services, or selling digital products like ebooks or courses.
Best YouTube Automation Courses
Here are 2 best YouTube automation channel courses:
Tube Mastery and Monetization 2.0 is a course created by Matt Par who runs 9 YouTube automation channels. The course covers a wide range of topics related to YouTube, including how to choose a niche, create and edit videos, optimize your channel for maximum visibility, and monetize your channel through advertising and sponsorships.
The course also covers strategies for building an engaged audience and promoting your channel.
This course exceeded my expectations. Matt shows you exactly step by step the exact roadmap of how to create a YouTube automation channel from start to finish.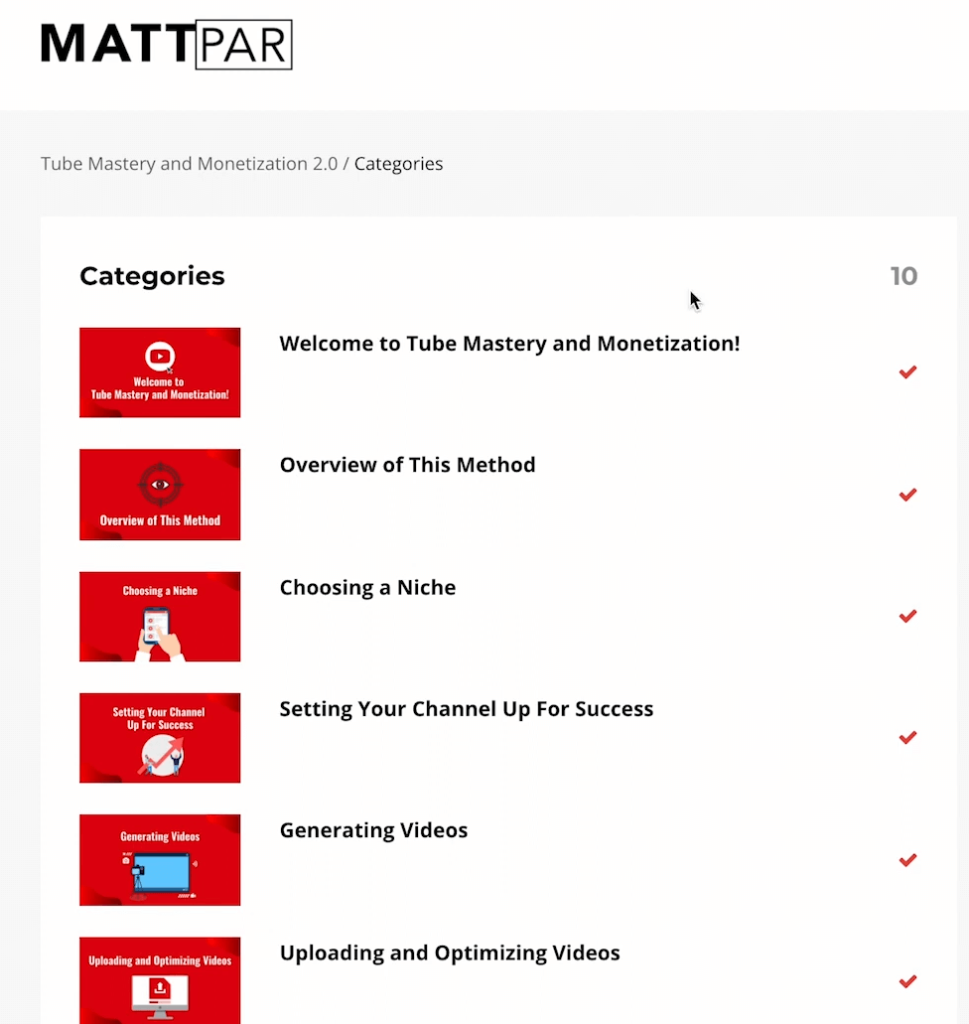 It is designed for people who are new to YouTube as well as those who already have an established channel but are looking to take their success to the next level.
And since I enrolled in this course, here you can get a nice discount on the Tube Mastery and Monetization 2.0 course.
You can also read more in my Matt Par course review.
The Bye 9 to 5 YouTube Monetization and Automation Program by Jordan Mackey is my second-best recommendation for a YouTube automation course.
As the name suggests, this course is designed to help people create a passive income stream through their YouTube channel and eventually replace their traditional 9 to 5 job with their YouTube income.
What's great, Jordan offers free Youtube automation training where he explains his methods.
How Much Does YouTube Automation Cost?
The cost of creating a YouTube video can vary significantly depending on a number of factors, such as the length and complexity of the video, the equipment and software used, the cost of any talent or crew, and many other production expenses.
But the average cost to produce a video for a Youtube automation channel is around $40 and that's only if you don't hire freelancers. If you hire someone you can expect to pay even a few hundred dollars per video. This is just an average, and the actual cost for your video will depend on your specific needs and goals.
So if we're doing the math, we pay about:
Scriptwriter – $10
Voiceover artist – $15
Video editor – $10
Thumbnail creator – $5
Together is around $40 and that's only if you don't hire a virtual assistant.
So if you're doing 5 videos per week you multiply that by 5 times which is $200 per week and around $800 per month.
But keep in mind, as I said earlier, you can find someone on onlinejobs.ph that can do an entire video for just $20 which will cost you $100 per 5 videos.
And in this price range, you won't find anybody on Fiverr.
On onlinejobs.ph, you can put up 3 job requests and your job requests can be for:
Voiceover actor
Video editor
Script writer
This way, you're going to get all of that taken care of over.
Obviously, if you want to you can pay these people a bit more but these are the prices that I've been able to get for the most part.
This is the price if you want to completely automate your YouTube channel and this can be a great way to make money if you find the right niche and you are actually consistent with it.
Because one of the hard parts with Youtube automation or cash cow is seeing money go out the window and nothing coming back in return until you get monetized.
And even when you get monetized the first few weeks and months can look pretty lean simply because you're not making enough money to justify the expense.
But this can work for a few reasons because you're planning on making money on the back end.
Starting a YouTube Automation Channel Final Words
So this is how to start a Youtube automation channel in 2023.
As long as you can manage to keep your costs by about a few hundred dollars per month following these suggestions and you monetize your channel properly with YouTube ads and promote affiliate products in the backend, you could start making your money back or at least breaking even relatively close.
But Youtube cash cow channels are incredibly powerful if you do it the right way you keep your costs in line and you don't get crazy with the expenditures.
I'd recommend waiting on getting a Virtual assistant until you are at least breaking even with these expenses and you've monetized it properly.