In this Predis AI review, I'm going to show you this all-in-one AI social media marketing tool that enables you to create and schedule content as well as analyze competitors.
I'm going to share with you my personal experience, what I like about the tool, what I don't like, and how it compares to other social media platforms like Ocoya.
Now I'm going to show you step by step how to use Predis AI to create fresh social media content tailored for your business, find hashtags, and schedule your content. So if you would like to work along with me, for a limited time, you can get Predis AI on AppSumo for a one-time payment.
So let's jump in.
What Is Predis AI?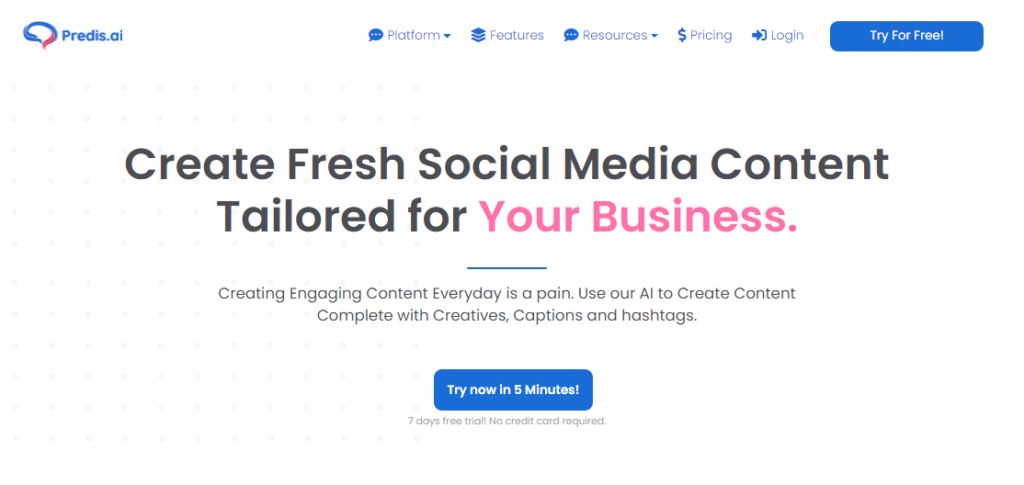 Predis.ai's a SaaS-based platform that helps you automate the entire process of creating content for your social media accounts. It does not require any coding knowledge or programming skills. It is helpful to create fresh and engaging content, as well as generate hashtags for any social media platform.
If you are a marketer, entrepreneur, and influencer, then let AI do the work for you. With Predis.ai, you can easily create great content for your social media pages. More than 8000 marketers, bloggers, and influencers trust Predis.ai to create amazing content for them every day.
Predis AI Dashboard & How To Use It
In the Predis.ai dashboard, the first thing you're going to do is when you log in, go to the "manage workspace" then "integration" and add your social media accounts.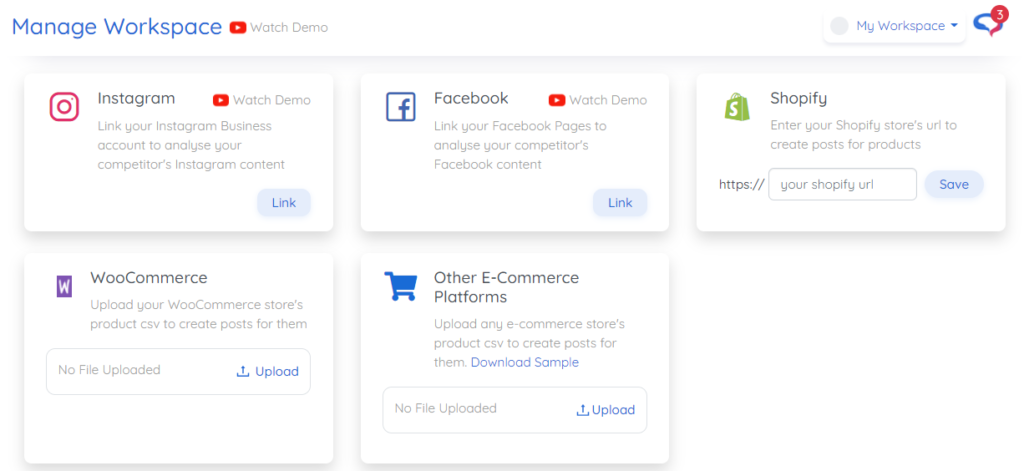 You can add Instagram, Facebook, Shopify, WooCommerce, and other e-commerce platforms if you run an online store.
There are not many integrations though like other social media platform like Ocoya, as you can read in my Ocoya review.
But if you don't really need other platforms like Pinterest or TikTok, then it's probably not a big deal.
Next, you can go to the content library and this is where you create your social media content.
And to create your post, first, you need to provide the AI with information about your business.
So I did that digital media marketing agency for small businesses, that's one line about my business.
Once you give a one-liner about your business or personal brand, you simply click on create posts and then choose your objective.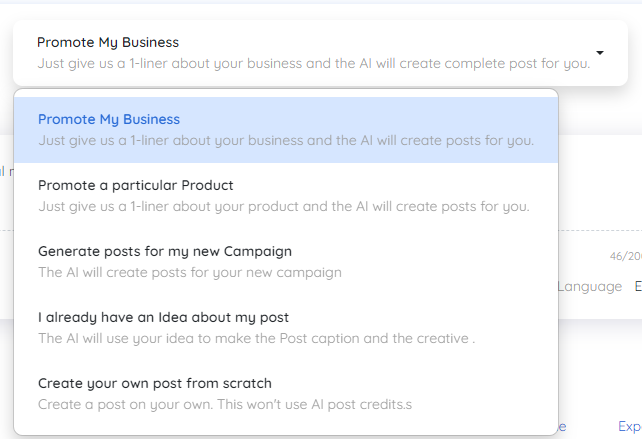 Next, you can pick what type of post themes you want. You have different options like:
Promotional
Educational
Behind the scenes
Contest
Polls
Surprise me
Expert interview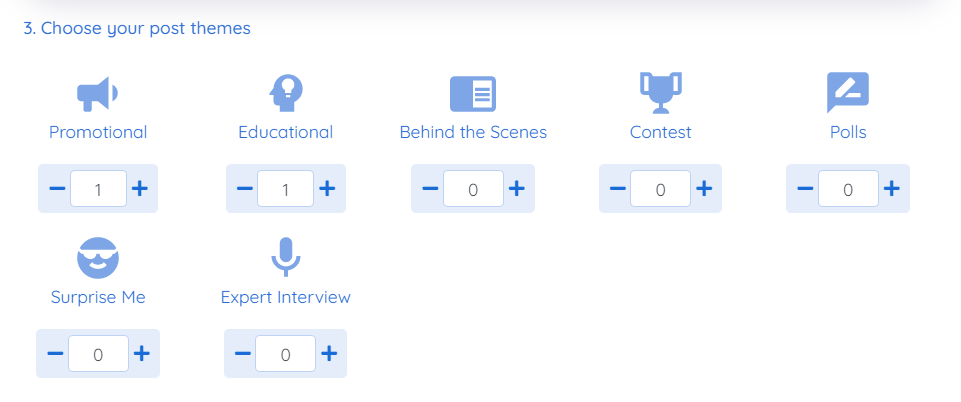 So Predis AI is able to create content and post with different themes in mind.
Then you can click on generate post and the AI it's doing its magic. it will take a few seconds to generate a social media posts that include graphics, descriptions, and relevant hashtags.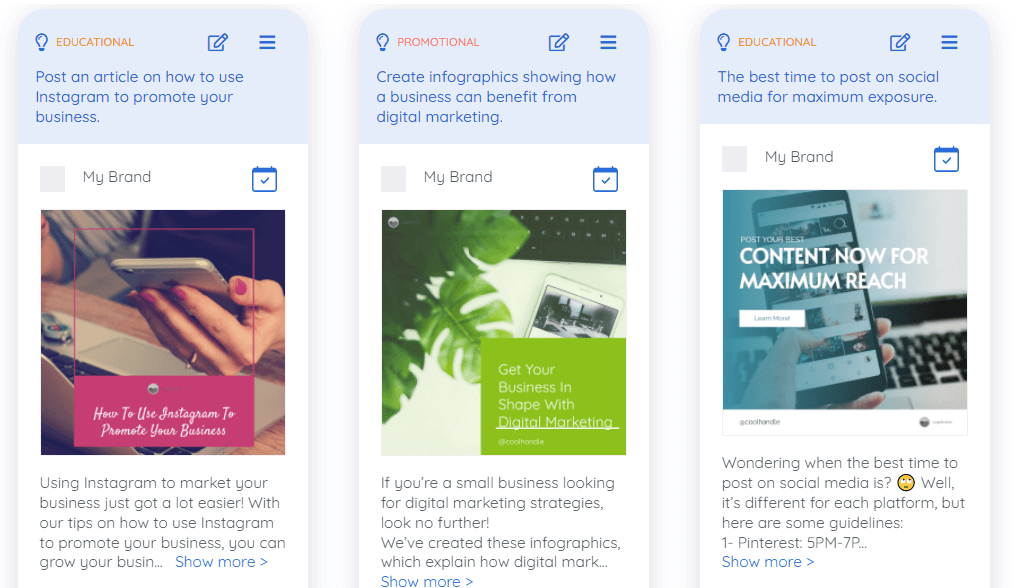 And it's quite relevant to my business which is cool.
You can also upload your logo and have it branded for your business. I have given the developers some feedback that would be great if the AI knew when to use a dark logo and when to use a light logo and they said that is on the roadmap which is also cool that they want to develop the software.
Here are some of the generated social media posts:
"Post an article on how to use Instagram to promote your business"
"Create infographics showing how a business can benefit from digital marketing"
"The best time to post on social media for maximum exposure"
"Top 20 digital marketing tools for small businesses"
And here are some of the descriptions generated by the software:
📝 Predis AI Social Media Caption Example #1
💥 Top 20 digital marketing tools for small businesses. For small businesses, digital marketing can be a challenge. How do you stand out in the crowd? Your digital marketing tools can make all the difference!
✔️ UTM tracking ✔️ Google Analytics ✔️ SEO ✔️ Website analytics ✔️ Social media ✔️ Blogging ✔️ Email automation ✔️ Crm ✔️ Influencers ✔️ PPC advertising ✔️ Lead generation ✔️ Affiliate marketing ✔️ Advertising management ✔️ Marketing automation ✔️ and many more!
📝 Predis AI Social Media Caption Example #2
Wondering when the best time to post on social media is? 🙄 Well, it's different for each platform, but here are some guidelines:
1- Pinterest: 5 PM-7 PM
2- Instagram: 10 AM-12 PM
3- Twitter: 6 AM-10 AM
4- Facebook: 3 PM-5 PM
Share these tips and tricks with your peeps to help them boost their social media engagement.
And if you're not happy with the captions generated by AI, you can also change them by clicking on the "Generate More" button.
This is super helpful because unfortunately what I found is the captions are not always relevant but you can always change them so it's not a deal-breaker.
Predis AI Social Media Templates
And here's another good thing about Predis AI. Let's say if you don't like this graphic, you can always pick something else from an extensive library of social media graphic templates.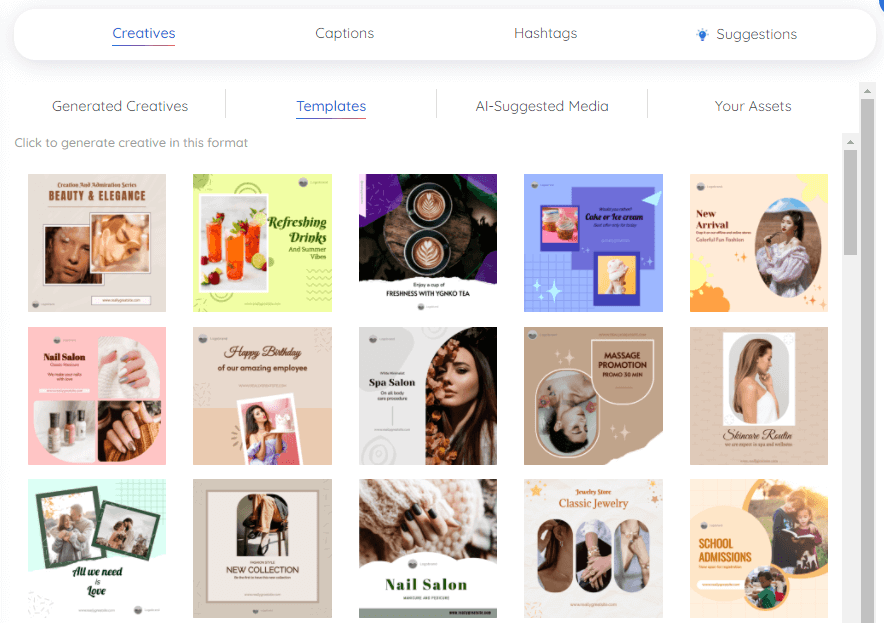 And if for some reason you do want to edit this maybe the graphic isn't quite right, it does have a built-in editor with access to templates and photos you can edit kind of like in Canva.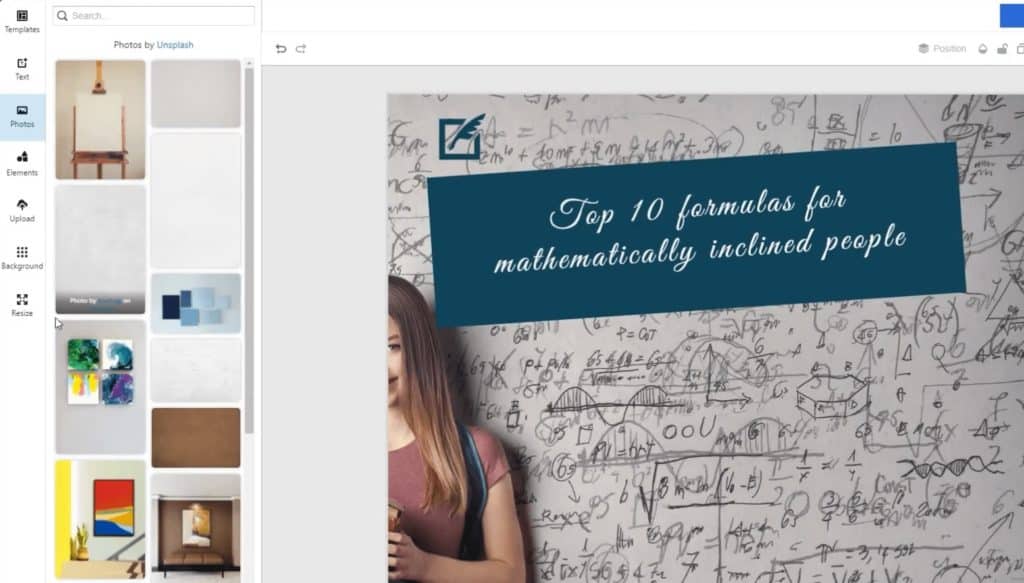 At this point, once you've got your creative, you can hit download and you can download that to your computer and then maybe upload it to your phone if you want to share it via your mobile or we come over to the content calendar which leads us to the next point.
Predis AI Content Calendar
The next feature that stands out the most in Predis is the AI content calendar that enables you to schedule your content in advance so every time you generate posts it will add them to the content calendar unless you take them off.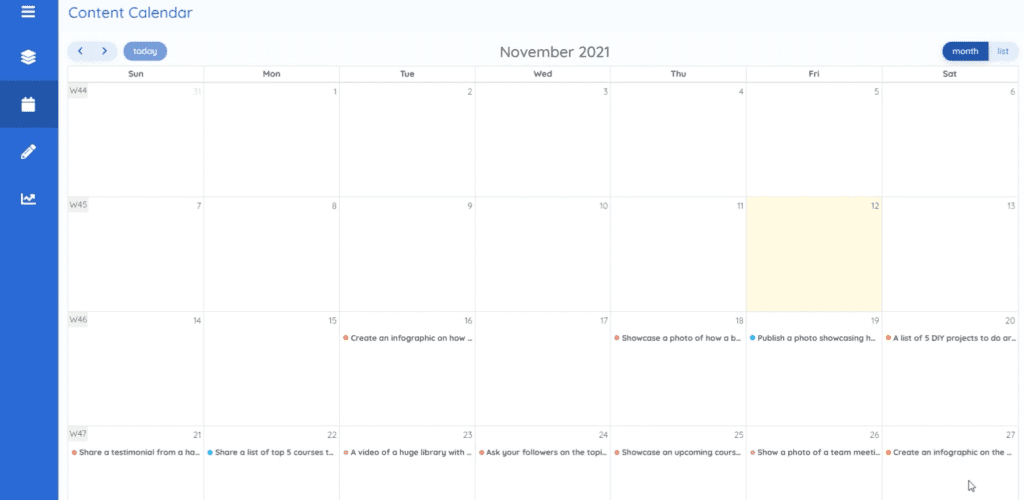 So, if you have a lot of social media pages, you can use this feature to automatically post content on a regular basis. Any important date, day, week, month, or year can be set as a trigger. Once it reaches the specified date, the system will start posting content for you.
You can also export it, select date range, and schedule it on other social media scheduling platforms like:
Publer
SocialBee
Sociamonials
Metricool
And more.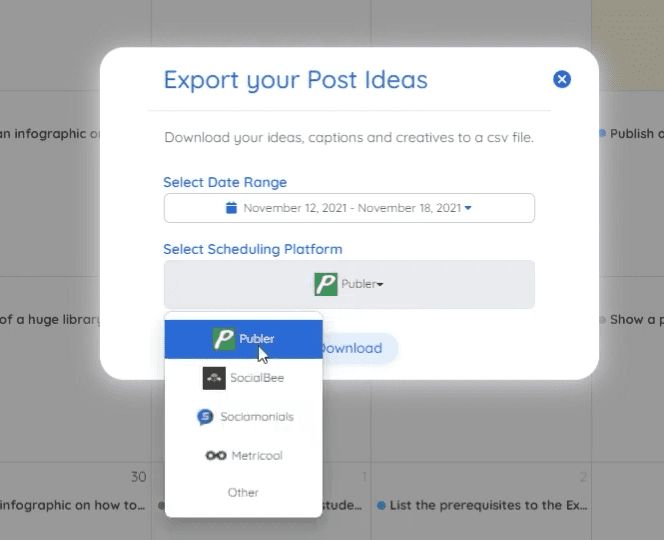 And if you have your own different schedule that's not listed here but you know that it has a CSV import, you'll be able to get in touch with the devs and they will sort it out for you.
In the long run, I think they're aiming to have this to be a real scheduling tool like Buffer or Hootsuite.
Predis AI Competitor Analyzer
is the ability to analyze the competition. If you want to see which competitors are doing well and which ones aren't, you can use this powerful feature.
This feature lets you compare your performance against your competitors. It will show you the top-performing posts, hashtags, and even channels.
You can check your competitors and beat them in the following ways:
Predis helps you to understand the strategy of your competitor
It helps you to identify which content is working for them
You can compare posts, videos, carousels, images, and many more
And this is another feature that sets Predis.ai apart from other similar products maybe expect Missinlettr as you can read in this Missinglettr review.
Predis AI Features
Predis.ai is leading the way when it comes to automation. This means that it has some incredible features that allow you to get the most out of your social media marketing efforts. Here are some of the key benefits of using Predis.ai:
Post Engagement Prediction
With this feature, you can predict whether or not your audience will like your content. This helps you to avoid wasting time and energy on creating content that won't perform.
Hashtag Suggestion
Hashtags are one of the most important aspects of social media marketing. They help users find relevant content quickly. But they also play an essential role in SEO.
Using Predis.ai, there is no need to manually search for hashtags. Instead, you can simply enter a keyword and receive suggestions.
Content Ideas Recommendation
It doesn't matter how good your content is if nobody reads it. That's why Predis.ai recommends ideas for new content. It analyzes all of your past content and suggests new topics that you might want to cover.
Social Media Monitoring
If you don't know what people are saying about you online, you might miss out on opportunities. Using Predis.ai, it monitors all of your social media accounts and alerts you whenever something happens.
So, these are the most amazing features that make Predis really unique social media platform.
Predis AI Lifetime Deal on AppSumo
At the time of writing this article, Predis AI is running a lifetime deal on AppSumo where you can buy it for a one-time price of $69.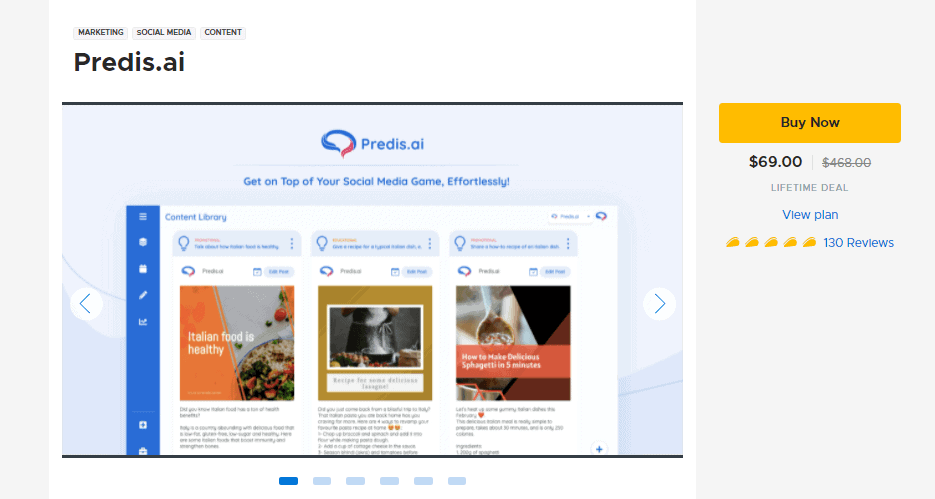 And depending on how many codes you get you can have a minimum of 45 posts per month so you can easily get more than 1 social media post a day with just one code and that refreshes each month so that can be very helpful.
Predis AI Pricing
Predis AI pricing plans go as follow:
Starter – $29/month
Growth – $39/month
Agency – $69/month
If you pay annually, you can get 2 months for free. All plans include unlimited data storage, daily reports, and access to the platform.
Predis AI comes with a 7-day free trial where no credit card is required.
Predis AI Review: Is It Worth It?
So that's my Predis AI review. As you could see this tool literally does everything for you. It creates the graphics, the images, it writes the copy, it generates hashtags for you.
You just tell the AI one line about your business, about your product and it will create all the content for you for all of your social media platforms.
The most interesting feature is the competitor analysis where you can keep an eye on your competition, You can sort of spy on them and see what's working best for their social media.
When it comes to content creation and AI copywriting tool are not there yet compared to other all-in-one social media tools like Ocoya.
But overall considering the lifetime deal, Predis AI is definitely worth trying out.