Before we go any further, I want to explain to you the reasons why Reply.io is one of the best AI lead generation tools.
You see, Reply.io does not only do omnichannel in terms of LinkedIn and emails like Lemlist or Mailshake, but it can also do use other SMS, WhatsApp, Linkedin, email in one single sequence.
You can also send reminders to phone your prospects and that's really useful because with the sales team a lot of times especially when you get a lead, you need to be super aggressive with the outbound with the follow-up, and with this advanced sequencing you can just follow really clearly and get better results.
Not only that, with Reply.io you can also AB test all these different sequences until you find one that really works then you create that sequence and you make sure each of your sales team is following that sequence and it's just really clean and clear structures for them to follow.
It's also worth mentioning that Reply.io has been featured by G2 as one of the 100 best SaaS companies in the world.
💡 Note
In this Reply.io review, I'll walk you through this platform step by step to show you how it works and how to create a multi-channel sequence. And if you want to work along with me, here you can start your Reply.io free plan where no credit card is required.
What is Reply.Io?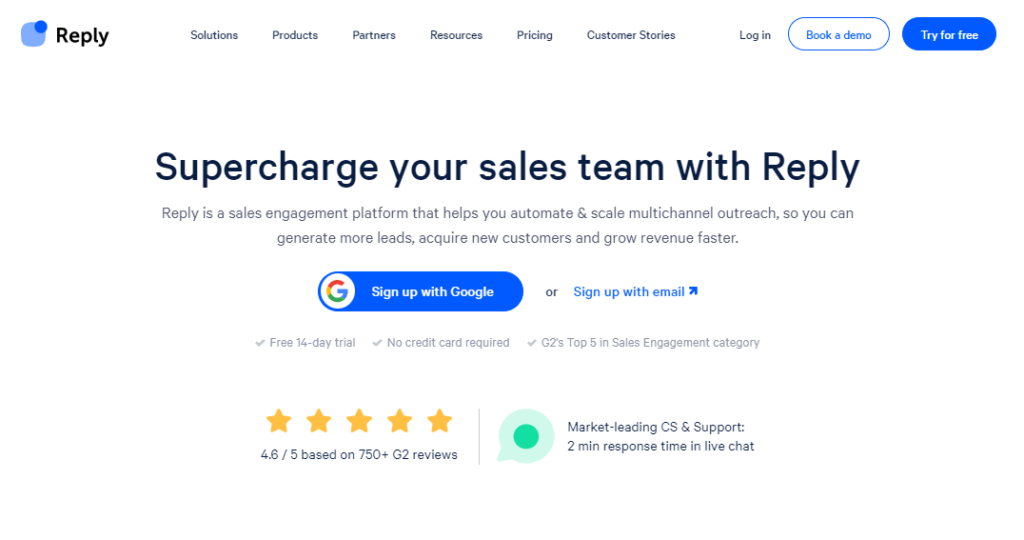 Reply.io is an email and contact management tool that allows you to handle hundreds of emails and connections. You may send emails across numerous channels, follow up on them, and nurture your prospects to enhance conversion rates. Furthermore, it supports seamless interaction with various CRMs for simple contact management.
Reply.io is a convenient and powerful tool. It not only has a beautiful user interface, but it also has a relatively short learning curve. It is simple to learn in a few days. Contacts may be sourced straight from LinkedIn using their extensions.
The software may send out broadcasts via Whatsapp, LinkedIn, email, and other channels. Reply.io even has voice calling capabilities, allowing you to phone contacts with an automated and interactive message. You may also look at the Reply.io platform to see how they've implemented different conversion methods across their domain.
The following are the fundamental functions that may be performed using Reply.io:
Contacts may be managed, imported, or followed up on from numerous sources.
Send out a large number of messages over numerous channels.
Repetitive chores should be semi-automated.
Send out voice-recorded messages.
Obtain campaign analytics.
Integrate with Zapier, Pipedrive, Salesforce, and other services.
Aside from that, Reply.io provides a plethora of choices and customizations for each.
So you know what Reply.io is and what it is used for, let's take a look at how to get started.
Reply.io Tutorial: Multichannel Sequence
Once you sign up to your Reply.io account, it'll take you through a setup process but I have already done that so we're going to just focus on the actual building of the sequence.
The multi-channel sequence is the core of the Reply.io sales engagement platform.
Each sequence includes a number of steps that you can combine in order that best suits your workflow indlusing:
Personal emails follow-ups
Linkedin outreach
Calls
Tasks
SMS and social touches
And all of that with programmable delays between each of those steps.
So there 2 options to create a new sequence; create a sequence from a template, or a new sequence from scratch.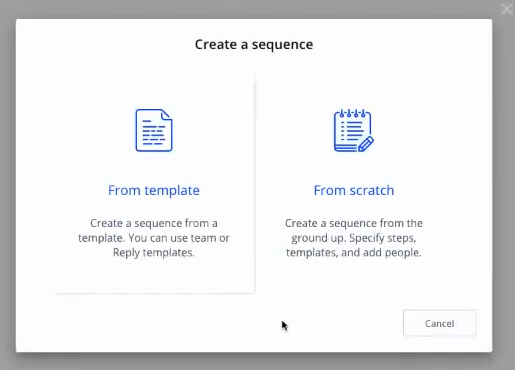 And for the purpose of this Reply.io review, we're going to do a new sequence.
From there the sequence wizard will guide you through the steps that you need to do in order to launch a new sequence.
Once you click on "from scratch", the next step is to click the "add step" button and you can choose between:
Manual or automatic emails
Calls
Manual or automatic SMS
Whatsapp
Linkedin messages
Connection requests
InMail
View profile
Zapier
Task steps
So let's start with an automated email step.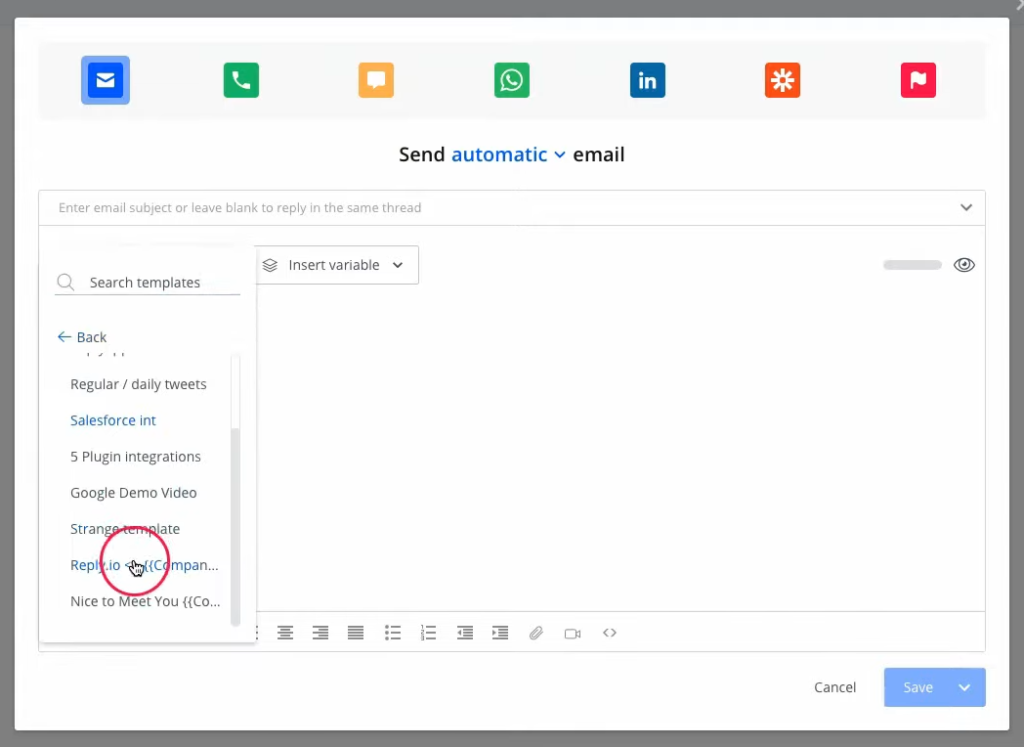 In the email composer, you can either use a public template or create a new email from scratch.
You can try reply's variables to create super personalized emails as well you can insert images, attachments, videos from Vineyard and preview an email here to see what a prospect will receive
So as you can see, as the first step, I've added an email and I'm not sure how accurate these scores are but I think it gives you a decent better than nothing idea of how you're doing in terms of writing your cold emails.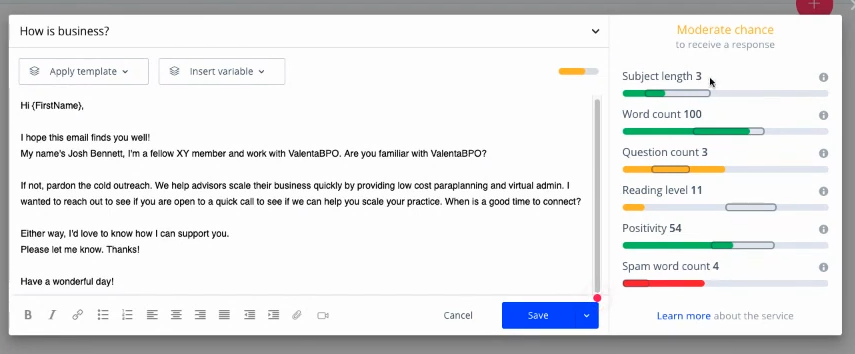 Next, we're going to add the next step so ultimately I want them to get a response and I feel like the best way to get a response is to warm them up first.
So instead of just cold emailing again, I can add a step "to do" and send a LinkedIn message or request nd usually, I recommend doing a personal video with that.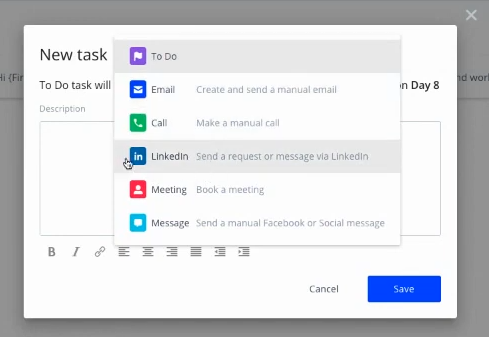 So, then after that, I will send another email.
After creating your sales sequence with several follow-up steps you can also customize the delays between each of those individual stages.
Also while creating sequence steps, you can reorder the steps using the drag and drop functionality.
After you've created all the necessary steps in your sequence, click "next" to select the campaign schedule.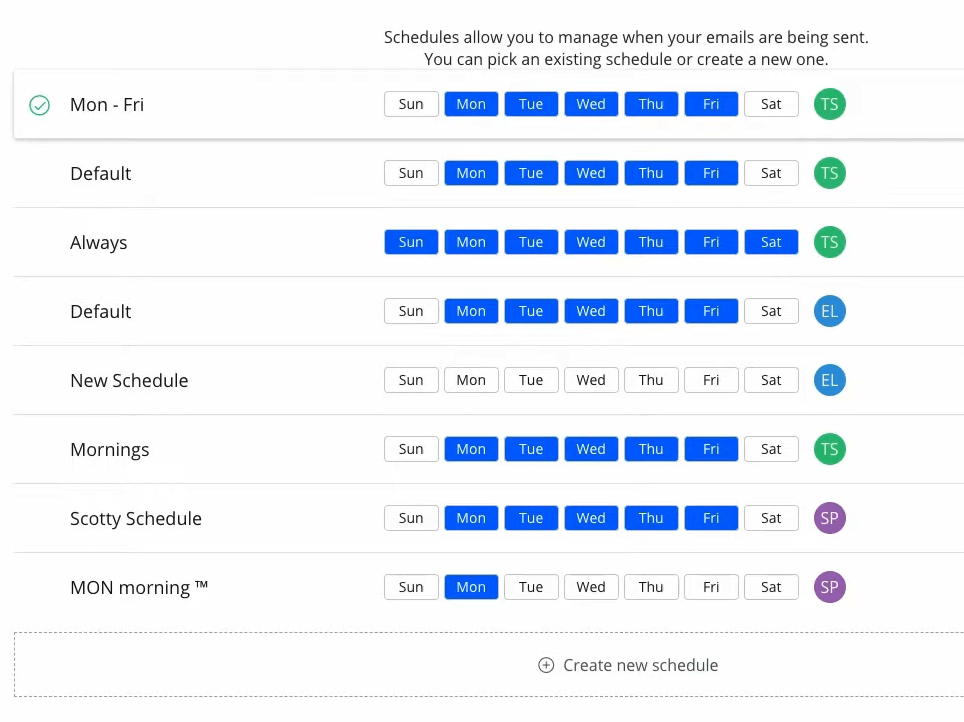 By default, you'll see a list of schedules available to you. You can select one and modify it based on your requirements.
You can also create another schedule that may be useful if you want to run multiple sequences targeted to different time zones.
Once the schedule is selected you can add contacts to your sequence.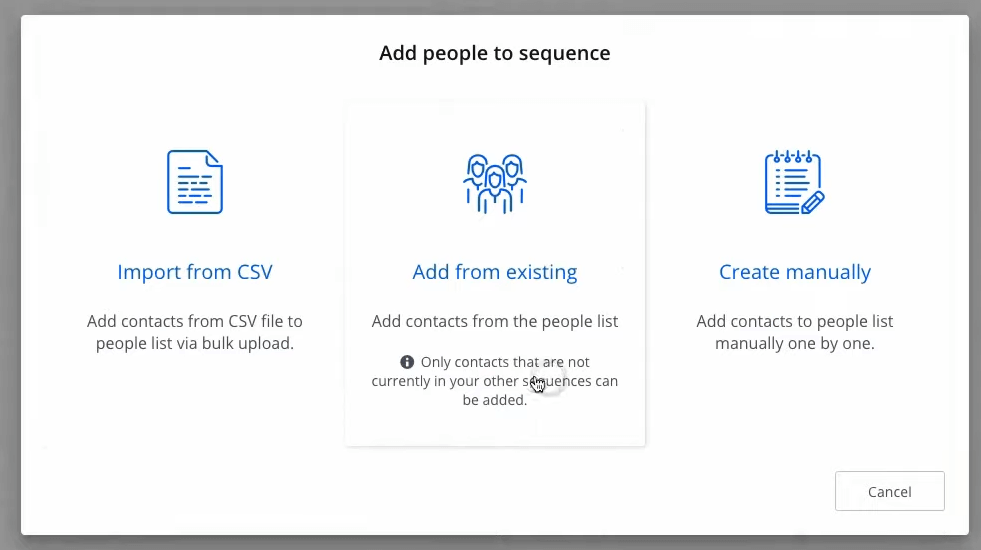 Here you can upload contacts from a CSV file, add existing contacts or create them manually.
To import contacts from a CSV file choose this option and select the file you'd like to upload. Once you're on the mapping page confirm and check the CSV fields to match the fields you'll be using in Reply.
In general settings, you can specify the sending email address, set daily sending limits, as well as the delay between each of your individual steps.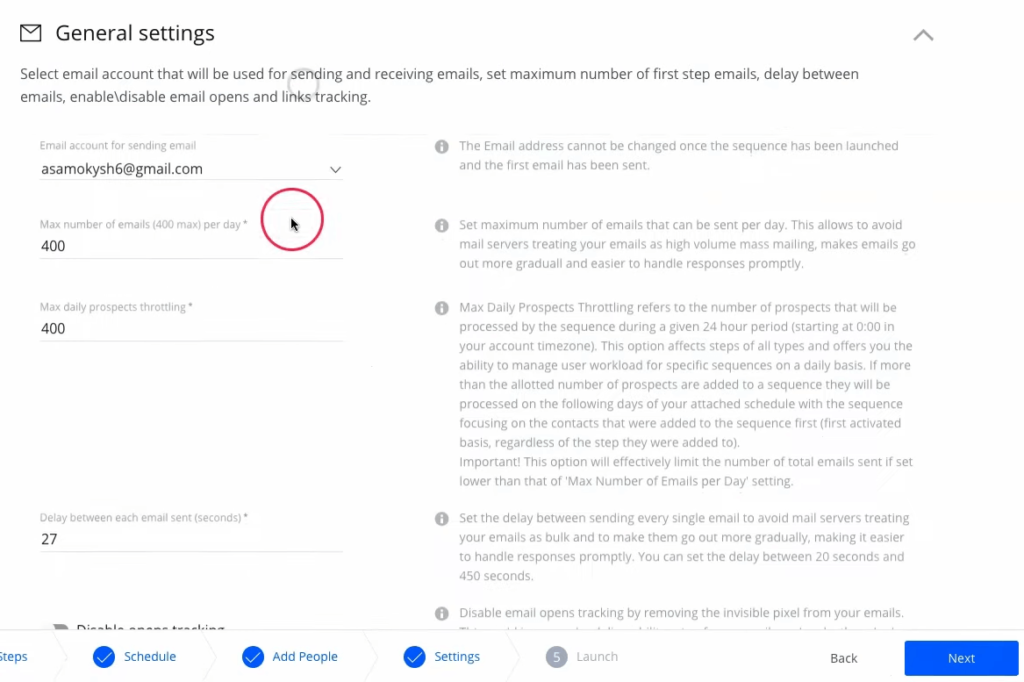 The launch step provides you with an overview of the sequence from here you can save or save and launch the sequence or even jump to any of the previous steps in the sequence wizard.
Reply.io Features
Reply has many features, which is one of its best qualities. Furthermore, for commercial users, everyone receives the same benefits. It eliminates the requirement for us to discuss service discrepancies in this Reply evaluation. Reply, as previously said, improves contact between organizations and sales prospects. The features of this product are categorized into four categories: Discover, Execute, Engage, and Improve.
Discover
Reply places elements that assist you in identifying email addresses and other contact information for possible sales prospects under the "discover" category. Then, using additional Reply capabilities and the Chrome extension, users may follow up on these leads.
Email search: To discover emails, use LinkedIn premium products.
Search the web for emails and phone numbers: It looks everywhere for you, individually or in quantity, so you don't have to. This data is extracted. Adds contact information to Reply tasks automatically. Phone numbers and email addresses are validated to avoid duplication and obsolete information.
Warm-up email: You may avoid spam punishments by ensuring that your contacts are ready for live emails.
Engage
It's time to communicate with potential clients once Reply has narrowed down the contact information you require. Reply's multichannel capabilities become more apparent and essential at this point.
Multichannel sequences: Contact through a variety of means. The options are LinkedIn, email, social network messaging, Zapier collaborations, branded links, personalized answers, video, A/B testing, and calendar integrations. Reach out to your connections no matter where they are.
Cloud calls: You may call anybody using their powerful browser extension or directly from your Reply account. Dialer, local phone number, caller ID, incoming call transfer, and international calling are all available.
Instant messaging (IM): Communicate with others via WhatsApp and SMS. Reach out to individuals via various channels with Zapier and forthcoming integrations.
Execute
The "execute" section of Reply's features comes next. These assist you in going the extra mile and converting sales leads into genuine clients.
Include video in your emails: Introduce yourself with a customized email created by Vidyard. Appointments may be scheduled using that email, and you will be notified when a prospect responds.
Automation on LinkedIn: Connection requests, messages, and Mail Messages are customized.
Appointment booking: Connect Reply to Google Calendar for easy appointment booking.
AI email assistant: Send "human-like" emails to prospects on autopilot. Emails are designed to elicit a possible reaction.
The flow of tasks: Provides personalized "to-do" lists to salespeople and assists them in carrying them out. Manual and semi-automated jobs are examples of this. Maintain a record of your progress.
Contact administration: Keeps contacts up to date, categorizes them, filters them, and tracks prior activity.
Collaboration: Having everything in one location allows teams to work more effectively together.
Improve
Finally, there's the Reply "improve" feature family. These aid in the tracking of performance and the improvement of future campaigns.
Analytics: Keep track of the outcomes of your efforts. Calls should be recorded and reviewed for quality assurance.
Reply.io Pricing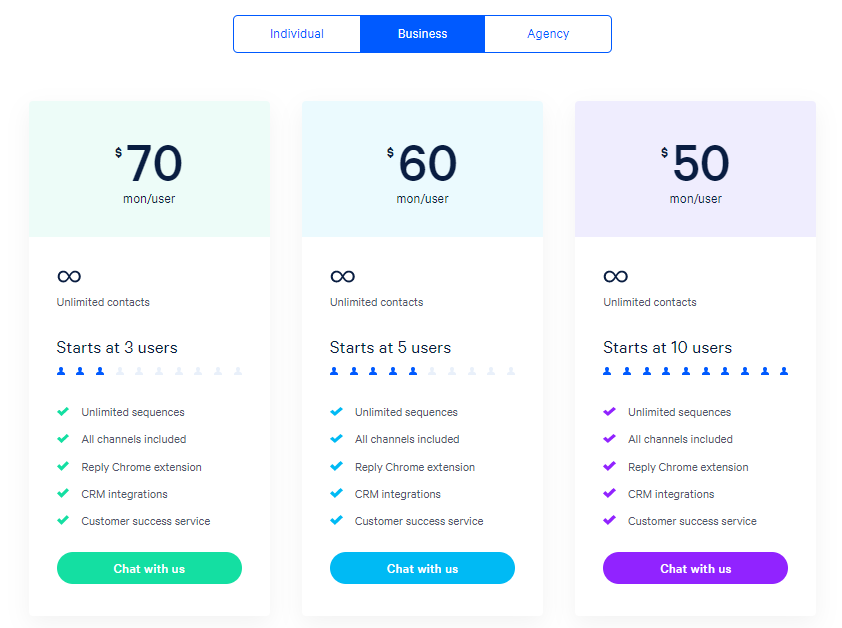 Reply has three price tiers dependent on the size of your company:
Individual
Business
Enterprise
Cost per user Count of contacts per month:
$70/month charged monthly 1,000
$55/month charged annually
$90/month charged monthly 3,000
$70/month charged annually
$120/month charged monthly Unlimited
$90/month charged annually
And if you want to try this software out before paying anything, Reply.io offers a 14 day free trial for our readers where no credit card is required.
Reply.io Alternatives
Now let's take a look at some of the Reply.io alternatives.
SmartWriter
SmartWriter is an all-in-one email outreach tool that allows you to create personalized emails to potential customers. It includes a built-in CRM system that tracks your interactions with potential customers and allows you to follow up with them at the right time. It makes it easy to find potential contacts, build relationships, and increase your email list.
Read more in this SmartWriter review.
Mailivery
Mailivery is an email warm-up tool that allows you to gradually increase the number of emails you send to your subscribers. This helps avoid spam complaints and keeps your subscribers happy.
It provides users with detailed analytics about their email campaigns, including how many people opened and clicked through their emails, and which subscribers unsubscribed from their list.
Read more in this Mailivery review.
Prospect.io
Prospect.io is a contemporary sales team's sales automation platform. You may use your browser to find anyone's email address. Prospect.io's Chrome extension allows you to locate prospects with a single click and conduct cold email campaigns directly from your browser. It's an economical solution that's also quite intuitive and performs well, plus the crew is highly responsive! Furthermore, the email monitoring and insights it gives are excellent.
Lemlist
Lemlist, one of the "trendiest" email outreach platforms, is popular among small companies and agencies. With highly tailored content, you can build human and warm interactions with your clients right away (images, videos & templates). With our unique email warm-up tool, let warm list increase your deliverability, so you never wind up in spam. The stuff is just enjoyable! We adore the mood we receive when utilizing lemlist's one-of-a-kind user interface. They also produce a lot of stuff regularly, host webinars, and have a very active Facebook community.
ClearSlide
If you're seeking cloud-based sales communication tools, ClearSlide is one of the most fantastic options for your company. As your team's engagement improves, so will your sales and your company's growth.
Cirrus Insight
One of the most delicate features of Cirrus Insight is that it integrates with a variety of different systems, including Gmail, Outlook, Office365, and Salesforce. This solution will give contact information as well as significant leads.
Reply.io Review: Wrapping Up
One issue unites all types of sales and marketing personnel: message. This issue may manifest itself in various ways, including sales leads reaching out to check what a product has to offer, emails, and answers to social media adverts. The need to reply to inquiries quickly is ever there in our digitally enabled, always-connected environment.
Worse, the continual intake and outflow of communications may be overpowering. It's a well-known reality that many professionals spend a significant amount of time each day dealing with communications and people want it back as soon as possible.
Fortunately, technology is now catching up to the continual message problem. Auto-responders, for example, is a popular approach to handling a vacation. Email automation also delivers messages when specific events occur, and chatbots help with basic customer care chores.
That being said, simple solutions do not always work well. Some messaging applications need a more extensive mix of sending and receiving messages. Or, the frequent texting consumes so much time that it's challenging to accomplish anything else. As a result, tools like Reply exist.
Reply.io is unquestionably one of the finest, if not the greatest, cold outreach software on the market. The reply.io is an easy tool to use.
Although it may be slightly more expensive than some of the other tools in the cold emailing field, the built-in capabilities for voice calls, awesome templates, and exceptional support make it well worth the money.
I hope you've enjoyed this Reply.io review and will help you decide whether it's the right tool for you.