Is Vonza the new best all-in-one digital marketing platform in 2023? Can it really replace all of the sales funnel, membership, and course-building platforms? Well, this is exactly what we're going to cover in this in-depth Vonza review
Today, I'm going to show you where Vonza stands out among other course-building platforms and membership sites, how it works, and at the end, I'm going to explain to you how it compares with other digital marketing platforms available in the market.
Let's get started.
💡 Note
In this Vonza review, I'm going to walk you through this platform step by step. And if you want to work along with me, here you can start your Vonza free trial
What Is Vonza?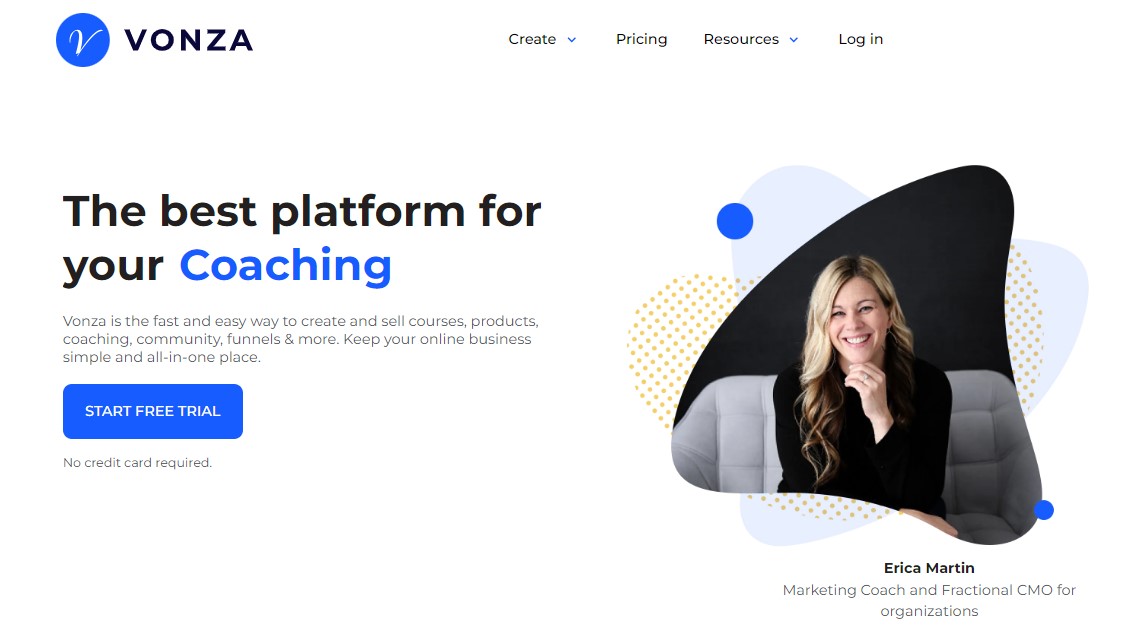 Vonza is an all-in-one digital marketing platform that lets you create courses, sell digital products and physical products, and even build sales funnels. In addition, Vonza provides a drag and drop website builder, meeting scheduler, and even a school management system.
Now let me show you all the tools and functionalities of this platform.
Vonza Overview & Dashboard
Let's start off with the dashboard. It gives you a snapshot to easily provide an eye-pleasing view of all the sales, total paid users, net income, lifetime sales, and even new signups as well as orders.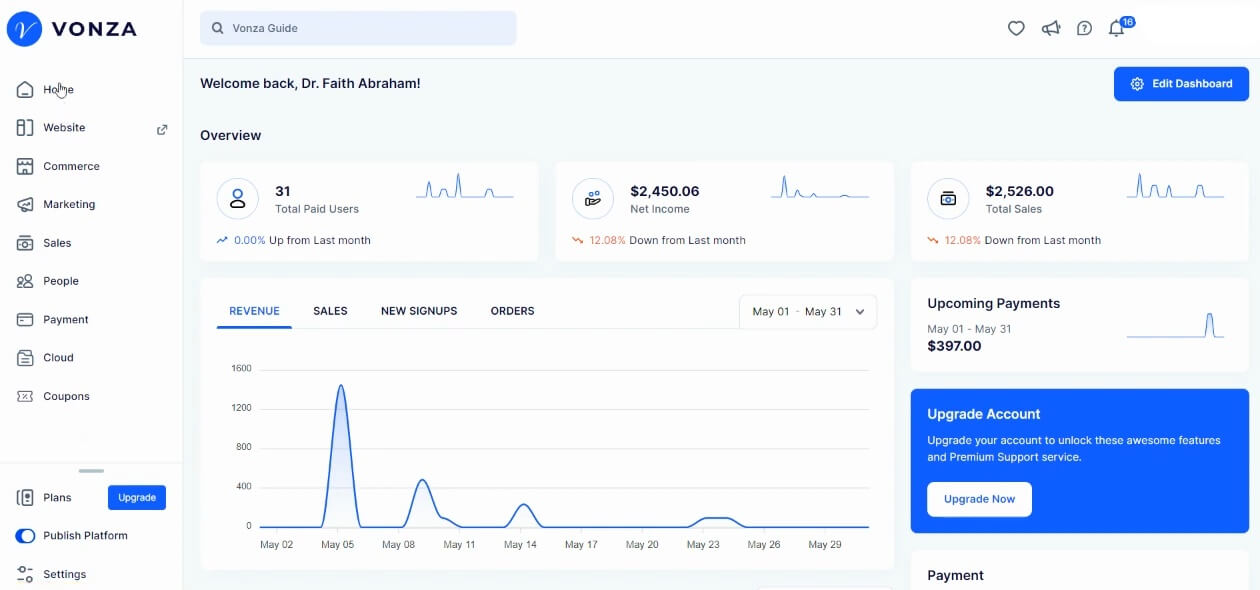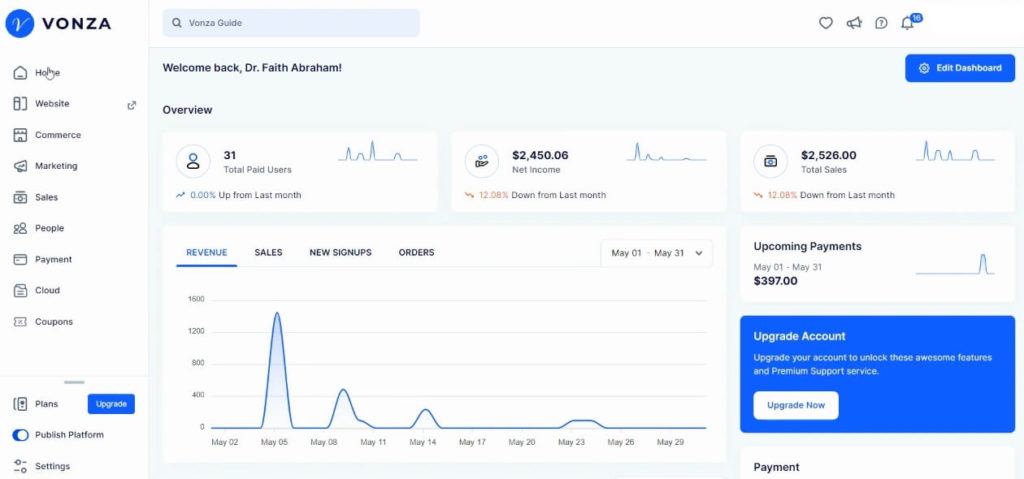 You can also cater it according to date which is really handy if you want to compare monthly statistics of your sales or calculate ROI.
Then, it gives you a further breakdown of everything that's going on inside this platform.
You can even edit the dashboard according to you your likes by filtering each feature that you want to show or you don't.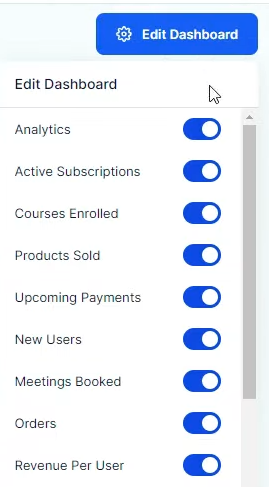 And this is also really helpful because you can see all the statistics that are important for your business.
You probably don't need all the stats. For example, if you don't sell online courses, you don't necessarily need to see all subscribers or courses enrolled.
And if you ever get stuck, you can always go ahead and click on the Vonza tour button. And it gives you a step-by-step video on how to do everything.
On the left-hand side, you have your main navigation where you'll see all of the Vonza Tools and features including a website builder, commerce, marketing, sales, people, and cloud.
Now I'm going to break down each of the tools one by one.
Let's start off with the website builder.
Vonza Website Builder
Creating a website is one of the most important things you can do for your business. It allows you to showcase your products and services, build authority and trust with potential customers, and collects leads/subscribers for your mailing list.
With Vonza, it's quite easy for you to build a website on the fly without having to sign up for a separate platform or service.
However, there are some drawbacks that'll explain in a moment.
The Vonza website builder is going to break down into 3 options:
Builder
Navigation
Domain
If you click on the builder, it would have already a pre-made website template for you.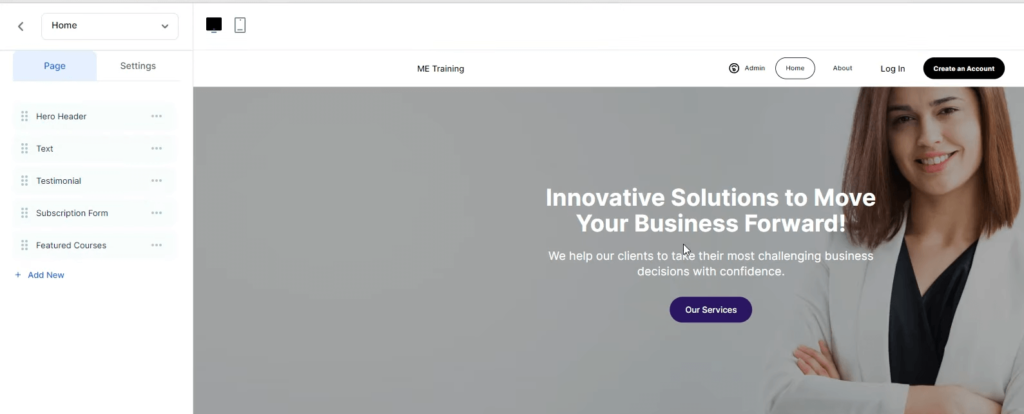 And this is actually really simple to use. On the left, you'll see it automatically scrolls down to the place it is. If you click on it, it will open up further options for you.
If you want to change the text, all you do is in the heading text. you'll just type in whatever you want to show in the title tag of your website, and it will automatically update it.
And that's basically how simple it all is. If you want to delete this section, go ahead and click the delete block, and then that will get rid of that for you.
If you want to add something, click "Add New," and then it'll have all of these options, including:
Featured courses
Featured memberships
Featured products
Video
Subscription form
FAQs
Testimonials
And more
So as you can see, you can also add eCommerce features so that visitors can easily order products from your site with just one click of the mouse.
If you want further flexibility, you can click on elements and you can add your custom HTML or images.
You can do further customization by clicking settings and you can change the title, URL, default coloring, font, logo, favicon, and more.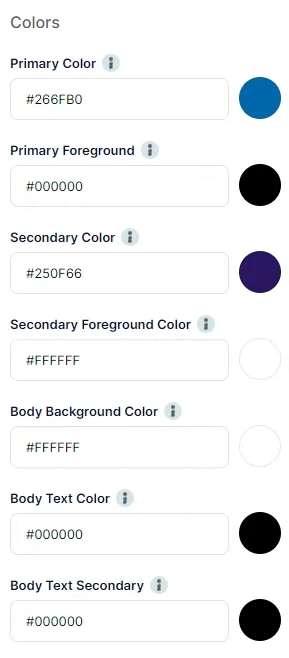 If you want to add a page, click add a page, and this will now take you to the new page where all of that information is present, and then you can start adding all your elements to the page.
And it also has a responsive editor, so you can see what it looks like on your mobile.
When you're ready to view it, you can preview your website and it will show you the live version of the website.
Website Navigation
Moving on to the navigation area of the website. Here you can build out as many pages as you like for customizing your website.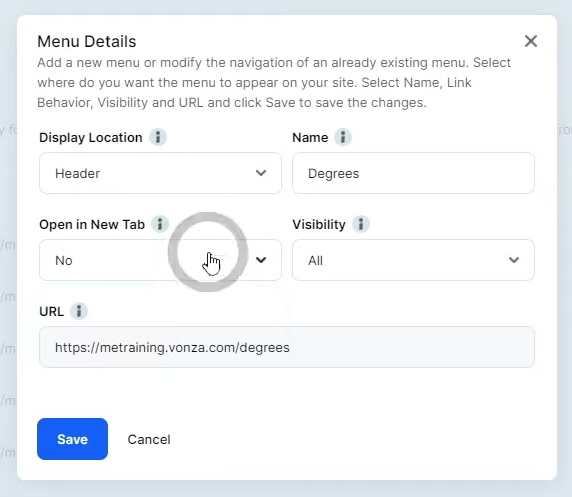 This is where you can decide if you want to enable or disable, grab a specific URL for the page, or even modify the information, like where it's going to go, the name of the menu, if you want to open it in a new tab, if it's visible or just visible for end-users.
And you can rearrange them by dragging them. You've also got quick access to the footer area, which again, you can do the exact same in the header.
Website Domain
The next one is a domain, and with a domain when you have a Vonza pro plan or above you will be able to add your custom domain name.
So you can add a custom domain or you can change your subdomain as well.
The website builder is not as powerful as the ones offered by other platforms like Builderall. But it does get the job done and it's easy to use. You can create a website in just a few minutes and you don't need any coding skills.
💡 Note
One thing about the Vonza website builder is that you can't create blog posts. Technically you can but it's don't dynamic. It's not a real CMS, so it can't pull content that you've recently published.
You can build your website with Vonza, but if you're heavy into blogging, in the long run, you're probably better off with a website builder like Builderall which is also an all-in-one marketing platform and has a blogging app built-in.
Moving on to the commerce section. Under this section, you'll find:
Courses
Membership
Products
Orders
Let's start with the courses.
Vonza Courses
When you click on courses, you'll see exactly where you can manage all your online courses.
To add just one simply click on the blue button at the top righthand corner, enter the information and then click save and it will automatically open up that course for you.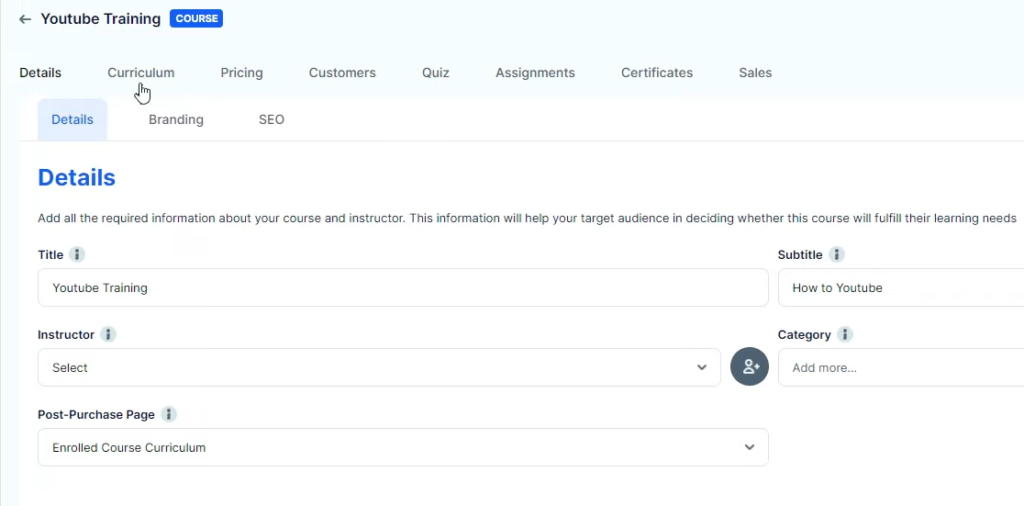 And now there's further navigation such as the curriculum, pricing, customers, quiz, assignments, certificates, and sales.
You can assign instructors, add them into categories and decide if after they purchase, they go to a custom URL that you'll put in, or just let the platform do it thing.
In the branding section, you can upload your own logos, you can even crop them, make them circle or rotate them, and then click upload.
And if you've got a promo video, you do you could upload it as well.
SEO Settings
Let's go to the SEO section.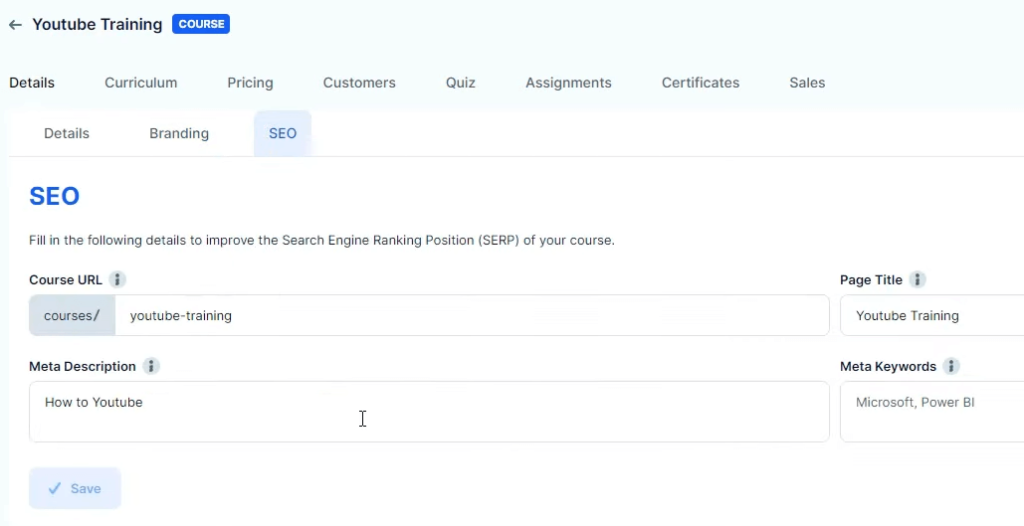 This is where you can decide if you want to show your courses in the search engines, change the URL, title tags, and things like that.
Curriculum
Then if we move to curriculum, we can add more options, which are lessons, quizzes, and assignments.
And what's really nice is that you can create lessons in bulk and then save them.
And now you can see, we have 3 options where we can actually add the contents into each one.
Then we have further options. This will allow people to have a preview of the lesson before they purchase. You can make it downloadable for your students, you can modify the lesson, duplicate and delete it.
Course Pricing Options
In the pricing section, you decide how much the course is going to cost or the one-time purchase is just a one-off buy.
There are also reoccurring payment options so, you can decide if you want it weekly, monthly, or yearly.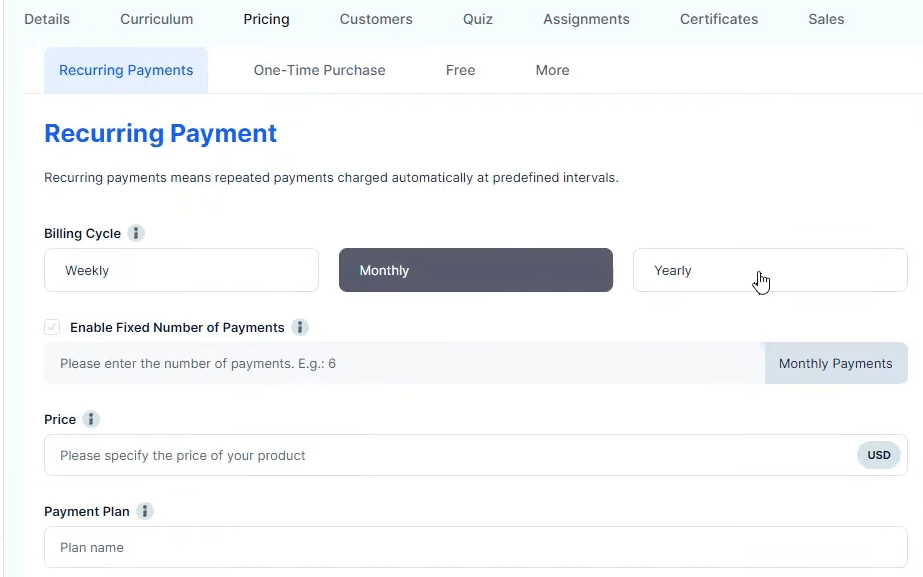 You can even enable a fixed number of payments and the payment plan, or if you want to offer it for free, you can do so.
They offer more options, which is installment plans and flexible payments.
You can actually do lots of different tier pricing, and it will show all of the different pricing options as well.
You can also enable drip mode, which will give them all the training or the material over a specified point of time.
In the customers area, this will show all the customers you have. You can also email the course material to your subscribers or even enroll a customer manually.
Course Quizzes
Next, you can add quizzes. Here, you can simply enter your question, enter your options, and you can even have it graded.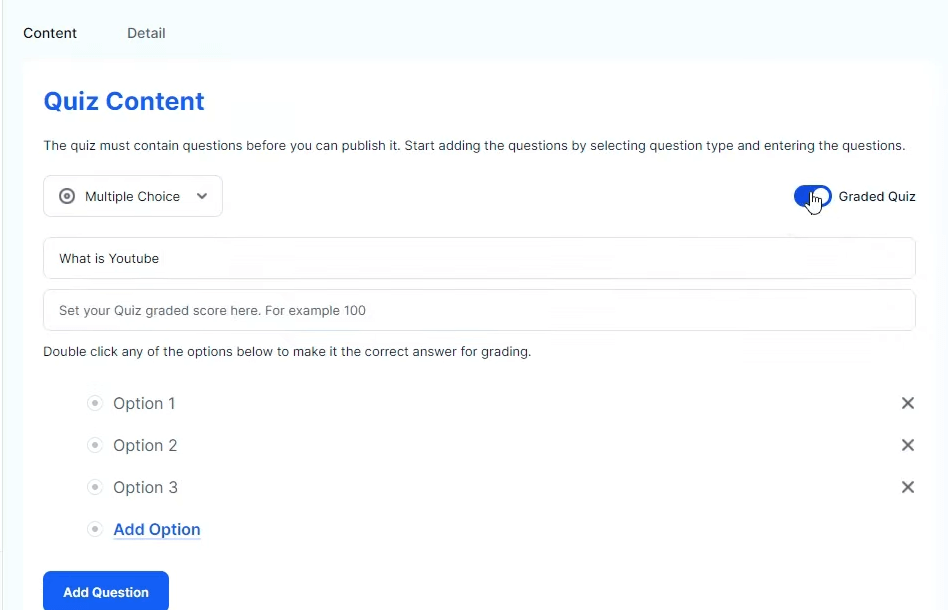 And then, once people start filling out the quiz, it will show you the percentages and see what people are saying.
Course Certificates
Next, you can issue certificates on this by clicking the create certificate. It will open up this designer and then you can design it however you'll deem fit and use one of the two templates they offer.
Finally, in the sales area, this will list all the specific sales about this actual cost.
When you're done, go ahead and click publish course, and this will give you a shareable link that you can share with your students.
Vonza Memberships
Next, we have memberships. So, it'll list all the customers and also all the sales for this specific membership.
So it's pretty much everything as we've talked about in the course section.
You can set up tiers for your membership site, so you can divide your members into different tiers, add sections, set up pricing plans, and all that good stuff.
Vonza Products
Next, if you have digital products or even physical products, this is where you'll list them.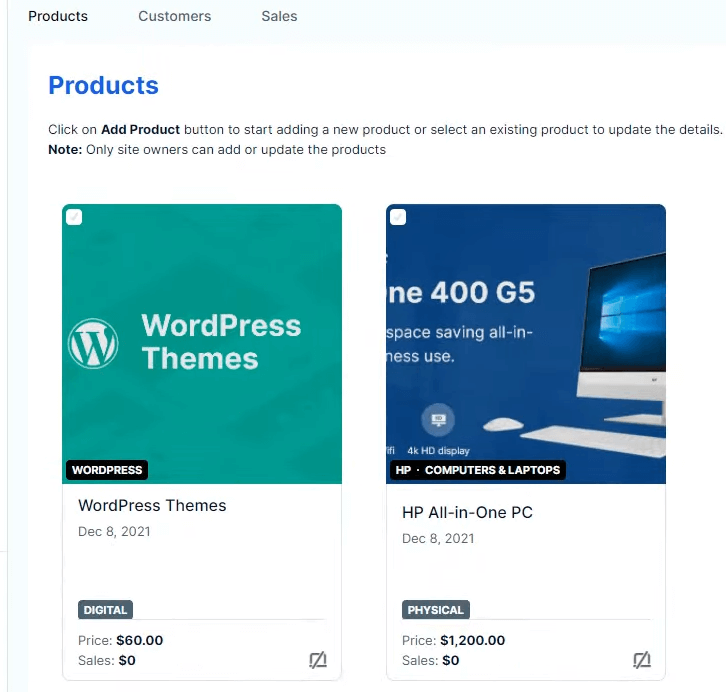 And if we enter into one of them, we'll get all of the basic information, followed by the additional details like the warranty, the size, the return policies, and of course SEO.
Then you can put in your shipping requirements.
You can even manage the stock with a special price, normal price, or quantity based, and then it'll list all of your customers.
You can also do email products to customers. And this is where all of the orders for the entire commerce will be listed in one place for you.
Next, we have the marketing section.
Vonza marketing section includes 4 categories:
Email marketing
Sales funnels
Forms
Scheduling
Let's break down each of these sections one by one.
Vonza Email Marketing
With the Vonza email marketing tool, you can create email newsletters with ease. You can also easily embed forms so that subscribers can join your mailing list directly from your website.
What's also great about Vonza email marketing is that you can segment and personalize your email campaigns based on different criteria.
If you already have your own email list, you can import contacts via CSV and even add labels so you can categorize your contacts further.
However, when it comes to marketing automation, I feel like Vonza is simply not yet at the same level as Kartra.
Vonza is simply lacking in marketing automation, which is an area where Kartra excels.
Kartra marketing automation features are on another level, as I explain in detail in my Kartra review, so you can check that out.
Vonza Sales Funnels
A sales funnel is a visual representation of the steps it takes to sell a product or service. It identifies the stages prospects go through from recognizing a problem or need to buy your product or service.
With Vonza, you can build your sales funnel from scratch or you can use one of their pre-made templates. The process is quite simple and there are tons of options to choose from. Plus, if need be, you can always change the design as well as copy a template's code
You can start off by building a funnel by clicking "build a new funnel", and you can decide what sort of funnel you want.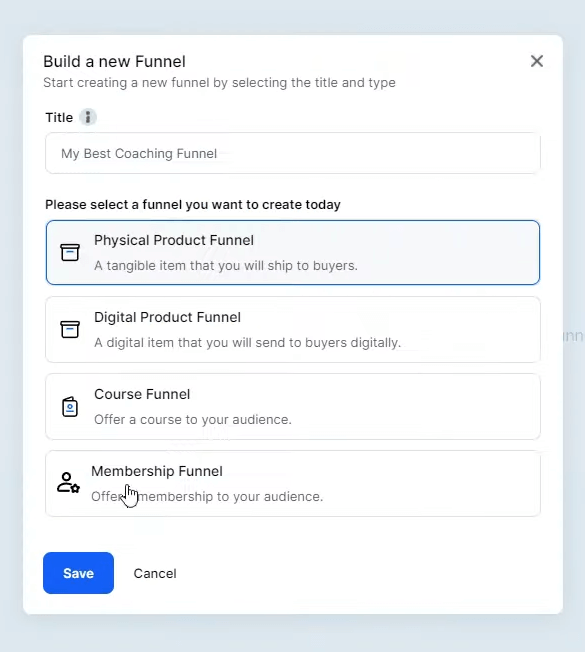 Then it will show what the sales funnel process looks like, which is really handy.
To add automations, you can click on the automation tab and then do new automation, enter what the automation is going to be called, followed by the action, then the label, and then how soon after you want something to be sent.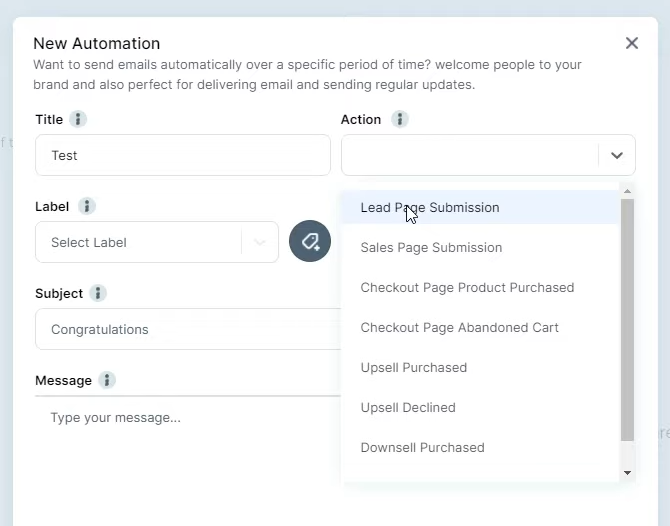 And now that automation has been set so whenever someone becomes a lead, it will then automate the rest.
And you can always customize the look and feel of your funnel to match your brand.
If you want to edit your sales funnel process, just go ahead and click on the page, it will give you all the basic information, and then you can start customizing it.
I would say building a sales funnel with Vonza is not as intuitive as with other platforms like Builderall. Their website and sales funnel builder are more complete and easier to use as I explain in my Builderall review.
In addition, Builderall offers over 400 ready-made sales funnels and all you have to do is simply download them and put your business information.
Vonza Forms
Forms are an important part of any digital marketing strategy. A lead capture form allows users to subscribe to your mailing list and gives you their contact information. You can gather email addresses, social media profiles as well as phone numbers, etc.
With Vonza, you can create forms with ease. You can also easily embed forms so that subscribers can join your mailing list directly from your website.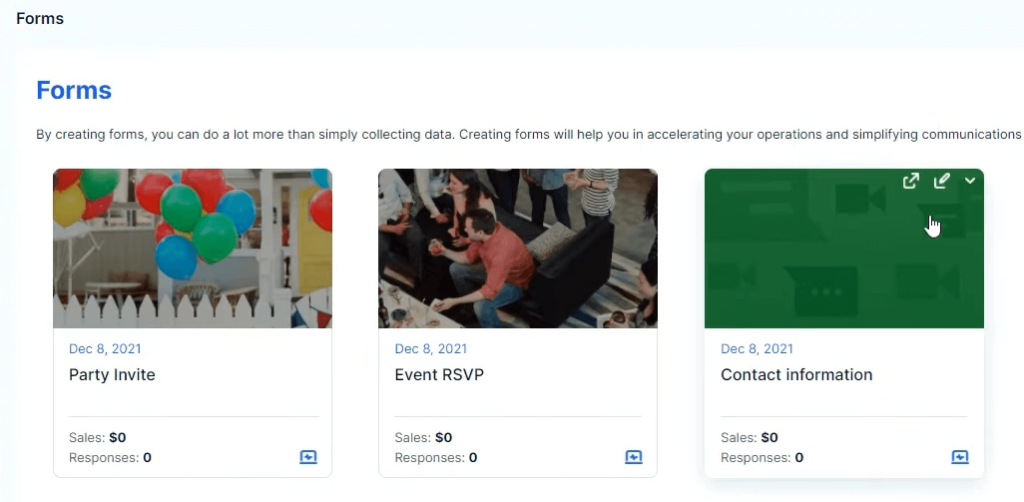 And if you want to edit or add a new one, you'll just come into the editing area and you can customize it accordingly.
You can also build and order forms. An order form is used to collect payment information.
It typically includes fields for name, email address, phone number, shipping address, and credit card details like expiration date, security code, and billing address
If you want to include pricing in your forms, you can do so with all the pricing features they offer.
With Vonza, you can easily build the above forms without having to dig deep into the platform's settings.
You can also embed these forms onto your website or blog so that visitors who land on your site can subscribe to your mailing list or order a product directly.
And if you want to export them all, you can do so, which will export it into a CSV document.
Vonza Scheduling
Schedule appointments is one of the most powerful features in Vonza.
With Vonza, you can book appointments with people without having to use any other tools like Calendly.
It's easy to use, simply schedule your appointments by entering your customer's email address and phone number then choose the time/date you want to meet with them.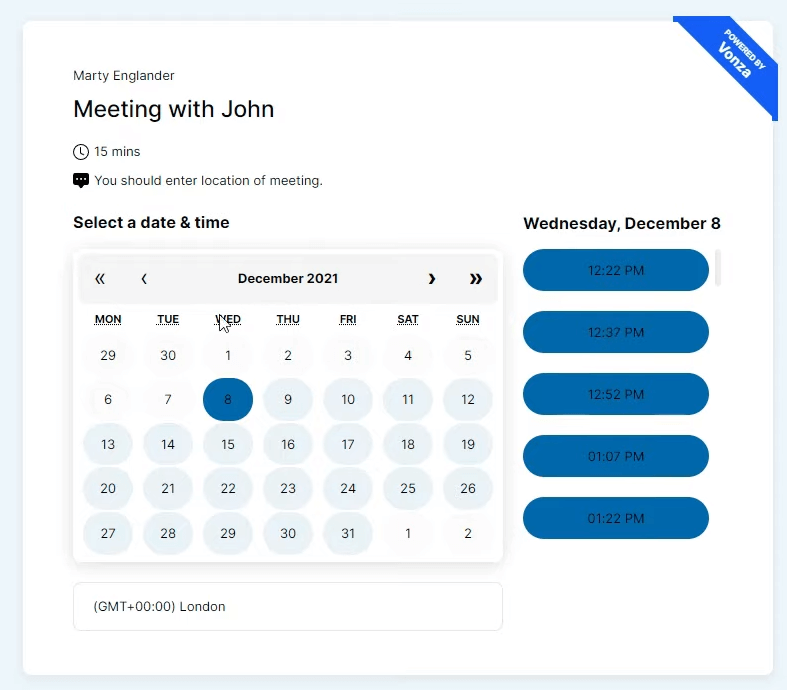 You can easily schedule an appointment by sending a link where people can choose their own time and date.
You can customize the options for the duration, and even set up the pricing options.
Then you can publish the meeting, copy the link, and now you've got a fully powered meeting.
You can also request recommendations on the best times to meet with them. It's pretty convenient especially for coaches or small business owners.
Vonza Sales
Under the sales tab, you have further elaboration of all the analytics: statements, payouts, reserves, and a breakdown of everything.
Analysis
The Vonza analysis area helps you to keep track of your sales and conversion data. You can view data for individual products as well as all products combined.
Additionally, you can see how much revenue each product generates as well as the conversion rate for each product.
This information is valuable for optimizing your sales funnel and determining which products are most successful.
Payments
Payments: The Vonza payments area helps you to easily accept payments from your customers. You can choose from a variety of payment processors, including PayPal and Stripe.
Vonza also supports digital products such as e-books and software. This area makes it easy for you to sell your products online.
And if you want to add manual payments, you can do it by clicking the add manual payment section.
Coupons
Coupon creation is one of the most popular ways to market products online, and Vonza makes it easy to use coupons. You can create a coupon for any product in your store. Y
Your customer simply clicks the coupon's name or enters its code to receive discounted pricing on your product.
Sometimes you might want to give away a free product in exchange for a customer's email address. Vonza helps you do this too by enabling you to run email marketing campaigns from within your dashboard which is really interesting.
Vonza CRM
The people section is kind of like your CRM. This is where all your customers, invitees, and email contacts will be.
It has also got cloud storage so if you want, you can upload your files and documents. You can share those files with people.
But in terms of the CRM system, it feels half-baked compared to other Vonza alternatives like Kartra.
With Kartra CRM you can track interactions with customers through emails, social media, and then through the recording of your customer interactions as they go through the sales process, you can effectively assign and track leads.
Vonza Pricing
Vonza offers 3 different pricing plans:
Basic- $99/month
Pro – $199/month
Business – $499/month
And this is if you pay monthly. If you pay annually, you'll get 2 months free.
With the Vonza basic package, you'll get access to all of the tools and features included in the platform besides automation, custom domain name, graded quizzes & exams, and flexible payments.
In addition, Vonza provides a 14-day free trial where no credit card is required.
Vonza Alternatives
Here are some of the all-in-one digital marketing platforms that you could replace Vonza:
In terms of features and functionalities.
In theory, Vonza can replace them all because you will have every single feature that you need from a digital marketing platform in terms of building sales funnels creating and selling your courses.
However, as mentioned earlier, there are certain things that other platforms do better, which leads us to the last but not least point…
Vonza Review Final Words: Is It Worth It?
I do hope you've enjoyed this honest Vonza review. My thought on this is that it's actually so close to being one of the perfect all in one solutions.
Courses and membership sites are two of the most powerful features of Vonza.
The price is a little high, but then again, there's actually not much on the market that isn't super module-based and is pretty slow and glitchy so Vonza actually does a really good job of centralizing everything whilst maintaining speed and necessity with what we actually need.
However, when it comes to marketing automation, there are better solutions like Kartra.
But for creating online courses or membership sites or even selling products online, you can't go wrong with Vonza.
But overall, Vonza has positive reviews. It's a great platform for online entrepreneurs who want to create and sell online courses, products, and more. It definitely can replace some of the course-building platforms available on the market.