After testing multiple cold email warm-up tools, I've decided to put together this Warmbox review to show you how this new email warm-up tool compares with other AI lead generation tools and how it can help you improve your deliverability rate and avoid blacklisting your domain.
Let's get into it.
📋 TL;DR
Warmbox.ai is a good warm-up email tool with in-depth analytics and some cool automation features that actually can help you improve your deliverability rate and avoid blacklisting your domain.
However, in regards to features, this is what it specifically does, it's just the email warm-ups and nothing more. I tested this tool for my business but I personally prefer all-in-one cold email outreach tools such as Reply.io so I don't have to switch back and forth between different tools.
But overall, if you need just a warm-up email tool, then Warmbox is a really good option, especially considering their really affordable pricing plans compared to other tools out there.
Warmbox.ai has a completely free plan where no credit card is required so you can test the software out and see if it can help you increase your deliverability rate.
What is Warmbox.ai?
When it comes to email marketing, Warmbox.ai is the greatest tool for warming up your inbox reputation. You can prevent your emails from ending up in spam folders by using its artificial intelligence-powered program meant to improve your deliverability rate.
Warmbox supported me in warming up my email inbox leads and helped me by preventing my emails from ending up in people's spam boxes.
As an artificial intelligence software, it had the power to automatically send emails through my own account without me having to do it manually as we did previously.
Ever since I started learning about lead generation and stuff, I knew in order to be successful, specifically in cold outreach, I had to have a certain amount of expertise in the subject.
I knew that methods like spamming customers' would not be sustainable long term, because that would have meant, any emails that I sent would've ended up in my email prospects' spam folder as a result of this.
Not to mention, my email provider could block my domain any day, which may even have had major issues like the inability to send or receive emails from my business in the first place.
The second I realized this I knew that it was imperative that I couldn't send my emails to the spam inbox in order to avoid having my domain blocked by my service provider.
Not only did I realize I had to do something about this but I also found out that according to Warmbox.ai, 51% of all emails are directed to spam accounts.
Warmbox Tools & Features
AI & GPT-3 Technology
In order to increase conversions from leads, Warmbox leverages GPT-3 technology to create and distribute high-quality emails that may be tailored for each recipient, and it helps busy entrepreneurs like you to engage more quickly with prospects by automating email answers or generating new leads.
When I found out that Warmbox utilizes GPT-3 technology to design and send high-quality customizable emails for each of my subscribers, it gave me the confidence that I was going to maximize the conversions from my email marketing campaigns. Being able to use automatic email responses and growing my email lists has been really beneficial for me and my growing business. It allows me to communicate more quickly with prospects without having to spend time on what seems to feel like a repetitive process.
Blacklist Cheker
Warmbox Blacklist checker enables you to audit your IP and domain blacklist status based on over 120 checkpoints.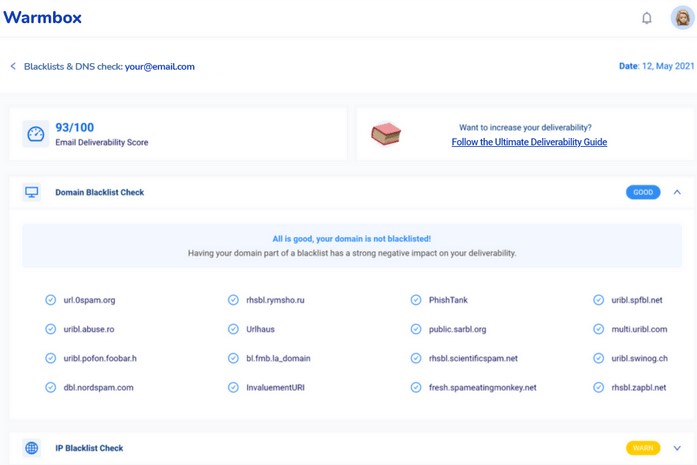 You can easily inspect your domain settings like SPF, DKIM, and DMARC to verify if your emails are auth and protected from malicious activities.
Analytics & Reports
With the Warmbox dedicated inbox dashboard, you can follow the number of emails sent, the replies rate, your spam score, as well as your warm-up schedule so you can easily monitor your inbox reputation.
Email Templates
While I played around with the software I found out that Warmbox.ai provides a huge library of email templates as well as the ability to somehow bypass and communicate with inboxes over private networks, which gave me the opportunity to help my business look more trustworthy in my emails.
Warmbox Integrations
It's easy to get started with Warmbox.ai by connecting your Gmail, GSuite OAuth, Outlook 365 or Yahoo Mail account in just a few seconds with whichever email service you're using.
In my current business, we always geek out when we find out the software that we use connects to each other. So when we found out Warmbox could connect to a number of platforms we use, you can imagine the internal party that went on in our heads. One especially surprising and amazing benefit that we found is that Warmbox essentially works with all email providers.
Given that all of these email providers were supported, it felt like I could easily send a welcome message to everyone on my list at the same time if I wanted to. I could easily connect to it if I used an email provider like Gmail, Yahoo, AOL mail, Outlook, Sendinblue, Mailgun, SMPT, Amazon SES, or Zoho mail, for instance.
Warmbox Pricing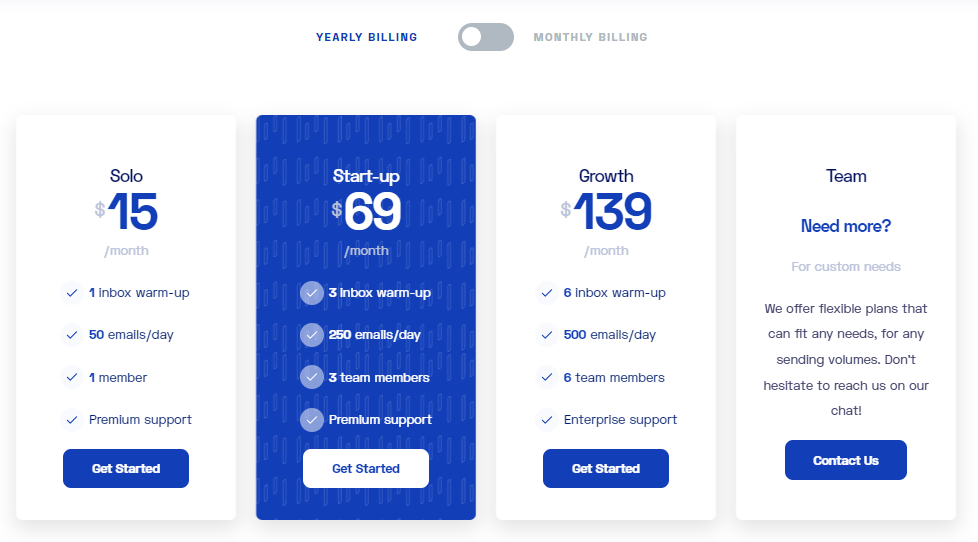 When it comes to businesses, Warmbx.ai provides a wide selection of price options as well as personalized support to ensure that you get the most out of your plan.
When I started out Warmbox's solo starter plan cost me $15 a month, so I began testing it out at that price point first. After a short period of time, I moved onto their next biggest plan that included 50 emails per day, and three inboxes with the Startup plan, which started at $69 per month.
Over time as my email campaigns and business grew in size, I upgraded to a $139-per-month plan that gave me six inboxes and 500 emails per day for their growth plan, which was a huge savings for the amount of added benefits. I was able to add a total of five other team members who were able to make use of the account so we didn't have to share the same password! So far we have not exceeded this plan but once we do I will make sure to contact their team to get pricing details.
Looking back using Warmbx.ai, I liked how I was able to choose from a variety of pricing choices while also receiving personalized help to ensure that the plan met my business's unique goals and needs.
In the end, my options were the:
Solo Plan – $15/month
Start-Up Plan – $69/month
Growth Plan – $139/month
Team Plan – Contact For More Details
It is also highly likely to save money on your warmbox.ai subscription by signing up for a year-long membership plan. In addition, you will receive extra perks.
Warmbox Alternatives
Here are some of the Warmbox alternatives:
QuickMail
Warmup Inbox
Warmbox
Mailwarm
Mailivery
Warmbox.ai has competitors in the same field of helping businesses and improving their deliverability rate, but they do not compare to the amount of savings in the long run. Not only does Warmbox save you money but they are more upfront and honest about how they charge you.
As I was price shopping as we all do, I was looking and comparing all the alternatives out there and I found that other softwares were either super expensive, or completely free, but neither provided what I needed for my business or my team.
While Quickmail performed the same fundamental purpose of warming up my email list, it lacked the analytics capabilities that I needed in order to make decisions to continue our marketing strategy.
Mailivery on the other hand has nice analytics and reporting however it's really expensive considering the fact that it's just an email warm-up tool. You can find out more in this Mailivery review.
💡 Note
The only Warmbox alternative that I can recommend is SmartWriter.ai. It's not an email warm-up tool but an all-in-one cold outreach software for email outreach, Linkedin, and even backlinks.
Warmbox Pros & Cons
This Warmbox review wouldn't be complete without its advantages and disadvantages.
Warmbox Pros
Offer Several Paid Solutions
Email Deliverabilty Monitoring
Makes Email Marketing is a Breeze
Fantastic Affiliate Program
Warmbox Cons
Free Plan Has No Theme Options
Free Plan Has No Inbox Warmups
After my experience using Warmbox, I can confirm that what I observed was that it did indeed have both upsides and downsides. On the one hand, you are provided with a variety of paid option plans, you are given easy access to check if emails have arrived in inboxes, it makes email marketing truly simple without the need for technical knowledge, and you are given the opportunity to participate in a nice provided affiliate program.
The free plan, on the other hand, has no theme options accessible for the program dashboard's user interface and does not include any inbox warmups, which is understandable given that it is a free service being provided.
Warmbox Review Final Words: Is It Worth It?
Using Warmbox.ai, you can improve the return on your email marketing campaigns by ensuring that your messages land in the inbox and not in the spam or junk folders. With one inexpensive monthly charge, it also helps to generate answers from cold emails rather than being ignored or blacklisted because of terrible reputations.
I'm really grateful that I stumbled across Warmbox.ai, after some research, I found it was precisely what I was looking for to provide my company a competitive advantage in this ever-changing digital world. I was able to take advantage of the solo plan, and I was confident that it would be useful to me. After that, I opted to sign up for their growth yearly plan and was pleasantly surprised by how simple it was to use their service after a short period of time.
I really like the ability to integrate many platforms we work with. If you are searching for a simple solution to assist in increasing email deliverability rates and enhancing your business's email marketing, this is the tool for you.