Today, I'm going to show exactly step-by-step how to start a drop service business in 2023.
Drop servicing is one of the best online business ideas in 2023 and now is the perfect time to hop on board and try it out.
Because the model is untapped and there are not a lot of people doing it, which makes it super easy to get started.
So in this free drop servicing course, I'm going to show you how to find a profitable niche and service you can sell, how to easily get clients for your business, and fulfill the service.
I'll also show you how to create a drop servicing website, or if you don't want to build a website yourself, you'll find out how to get a professional website done for you.
First of all, let me explain what is drop servicing so that you have a better understanding of how it works.
What Is Drop Servicing & How It Works
If you heard about dropshipping, it's a similar business model but instead of selling a physical product, you're selling a service. It's also known as service arbitrage.
The idea of drop servicing is you create a website where you list all the services that you provide, for example:
Website design
Copywriting
Logo design
App development
Paid advertising
And more
Don't worry, if you don't know how to do this is going to be taken care of by your service provider.
After that, you'll drive traffic to your website and when someone purchases the service, you just purchase the same service from your service provider for cheaper and deliver results to a client.
And then you pay your service provider and pocket the profit.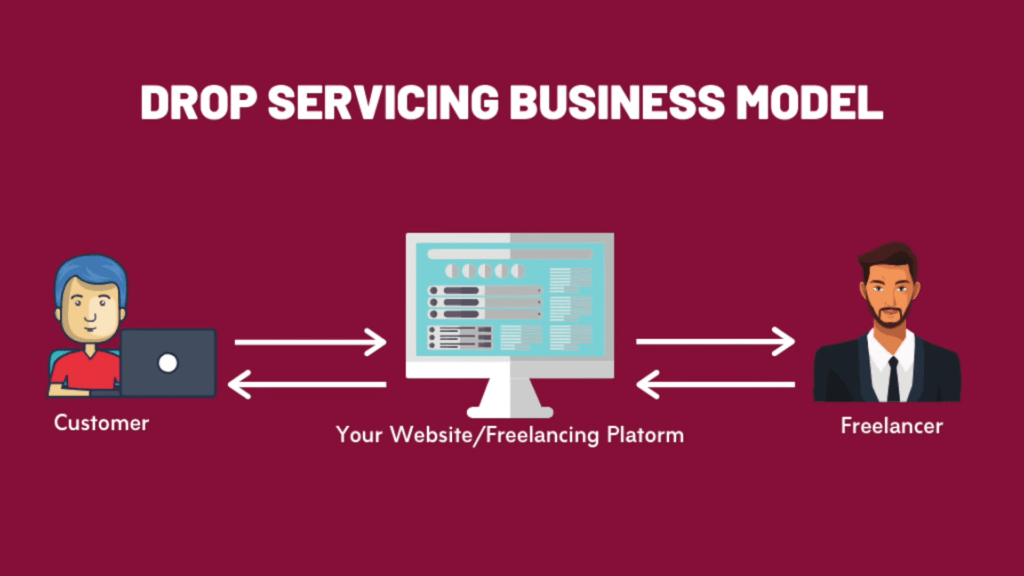 Essentially, you're providing services to their clients, but without personally providing the service. That's what makes this model so amazing and simple.
You just put up a website and drive traffic to it and then find someone to provide a service for your client.
And I'll show you how to do all of that in this tutorial, step by step. But for now, let's take a look at the best drop servicing niches in 2023.
Best Drop Servicing Niches in 2023
When it comes to niches for drop servicing the possibilities are endless:
Real estate agents
Chiropractors
Doctors
Mortgage brokers
Restaurants
Plastic surgeons
E-commerce store owners
Accountants
Gyms & Trainers
Car dealership
Photography
And more
Finding Drop Servicing Services
There are multiple ways to find great services to sell online. My personal favorites include:
Sometimes I use Upwork data but it's a little bit hard to analyze.
When finding services to sell, think about what services people want to buy but wouldn't necessarily go on Fiverr for. Because they didn't know they can get the service on Fiverr will probably go on Fiverr and get it there.
But if you have a unique service, or at least you're presented in a unique way, people are going to purchase it from you and they're not going to shop around.
Also, think about what services you can build a drop servicing agency around.
What services are in such high demand that you can hire multiple services providers and work with many clients at the same time?
This is the key to scaling this business sky-high.
All right, now, let me quickly show you how to use Google Trends to find services to sell.
So let's type, for example, website design. And see how popular is it.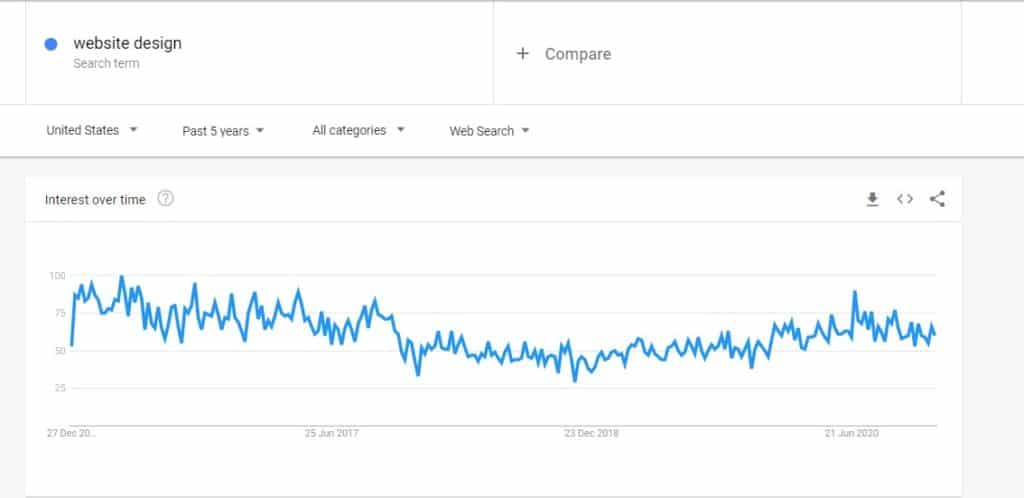 So as you can see, in the past five years, the trend has been pretty steady. It's not really declining much.
So, as you can see, the demand is high. So you can definitely try doing this service.
But ideally, we want to find something that is more trending, something that is on the uptrend, something that people are constantly searching for more and more every year.
So a good service would be digital marketing. And digital marketing is doing things like Facebook ads, Google ads, Pinterest ads, and pretty much everything related to advertising online.
And if we compare website design to digital marketing in the past five years, you can clearly see that the trend for website design is kind of plateaued.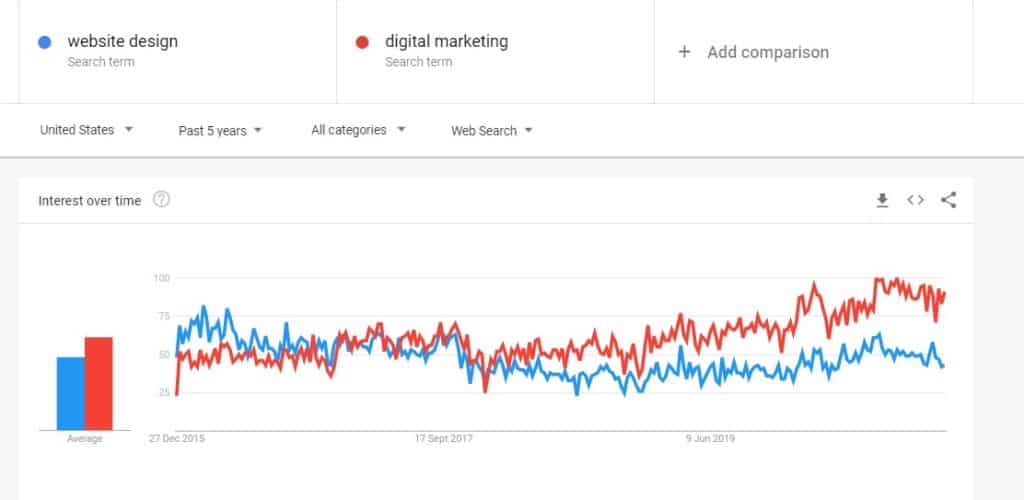 But digital marketing is growing super-fast. Like in 2015, it was at 25. But now like right now it's peaking at almost 100. So this is huge.
So I'll definitely consider doing digital marketing as my drop servicing business.
But you've got to be a little bit more specific about what you're doing. Pick a niche, for example, just doing Google ads, or Facebook ads, because if you do all of that, at the same time, it's probably going to be a little hard.
And if you have other services in mind, just type it in the Google Trends tool and compare it to other services and pick the one that is trending and the one that you like.
Basic vs Complex Services
And before I show you how to find service providers, essentially people who will be doing the service for you, I want to quickly explain the difference between basic and complex services.
When you start a drop servicing business, you can pick one of two routes.
Basic Services
These are things like:
Logo design
Copywriting
Voiceover
Graphic design
Short video
Basically, things that people can, you know, take a look at your website on, take a look at your portfolio, and purchase right away, they don't require a lot of explanation.
And clients can pretty much see what they're going to get.
People are searching for things like logo design constantly. So it will be a lot easier for you to find clients for your business every day.
But since you need a constant stream of clients that has also become a disadvantage, especially if you pick the wrong service.
Because if you can't find enough clients, the model will not be very profitable. A huge advantage of this business model is that clients usually have very low-quality standards.
And they don't really know what the end result should look like.
For example, when I did logo design, I would send my clients three different versions of the logo. And they usually pick the one that they liked the most.
Only a few times clients said that they didn't like anything. And in this case, I'll usually ask my service provider to create a few more versions of the logo, I'll send them back to the client, and oftentimes they'll just pick one out of the new versions.
And everyone is happy.
Okay, let's talk about the complex services.
Complex Services
Number two is providing complex services and by complex, I mean usually needing multiple people in order to do the job correctly.
Providing complex services is similar to starting a digital marketing agency.
You need to hire people, it takes longer to find clients. But you also make more money. One type of service is not necessarily better than the other.
The biggest advantage of providing complex service is that you have very high margins. One or two clients can provide you with a constant stream of income because it takes time to develop a website or create a mobile app.
And it usually takes at least a couple of months. So once you found a couple of clients and started working with them, you don't need to worry about finding new clients at least for a couple of weeks.
But because these clients pay more, they have much higher quality centers, and you need to really know what you're doing in order to provide a good service.
You also need to communicate with your clients more and constantly send them updates on how things are going on, which makes this model a little bit more hands-on.
💡 Pro Tip
If you're starting your first drop servicing business, I would recommend picking the basic services model and influence positioning into the complex services model because that's where the big money is.
Now, let's take a look at some drop servicing services.
Drop Servicing Services Ideas
Some services that are a good fit for a drop servicing business include.
Logo design
Photoshop design
Infographic design
Illustration
T-shirt design
Social media design
Social media marketing
SEO
Sales funnels
Content marketing
Video marketing
Email marketing
SEM
Influencer marketing
Affiliate marketing
Podcast marketing
Article writing
Book & eBook writing
Blog posts writing
Proofreading
Resume writing
Cover letters
Sales copy
Cases studies
Website content
Press releases
Scriptwriting
Animated explainer
Video ads
Video editing
Logo animation
Intros & Outros
Visual effects
App development
Website design
Website development
Chatbots
Data analysis
Databases
Cybersecurity
As you can see you can choose literally anything that you can do on a computer.
You can pretty much sell any service that is in high demand.
There are hundreds of other services that you can sell to your clients.
Alright, now it's time to find the right niche for your drop service business.
How to Create a Drop Servicing Website?
Now I want to show you how to set up a website for a drop servicing business.
You don't need to have design or programming skills to build a website.
There are many platforms that allow you to just drag and drop things around and build a website that way.
I'll show you the platforms in a minute. But for now, I want to talk about the components that your website must have no matter what platform you end up choosing.
Here I have a list of the five most important components for your drop servicing website.
And I call them essential components because, without them, your drop servicing business is just not going to work.
#1. Choose a Platform
There are two ways to create a drop servicing website. The first way is to create a self-hosted website with WordPress.
WordPress website is cheap but the downside is that WordPress is not that beginner friendly.
You would just need a domain and hosting which with platforms like Bluehost is just $2.95/month.
But if you want a full-service drop servicing business you'll also need:
Email marketing provider
Sales funnel builder
Upsells & Downsells
Live Chat
CRM
And more third-party tools and apps that will add up very quickly.
WordPress setup is more complicated, you have to basically set up all the components and find a way to connect them.
The second and much easier way to create a drop servicing website is to use a digital marketing platform like Kartra which is the best drop servicing platform.
They have lots of ready-made templates so you can have your website up and running super fast.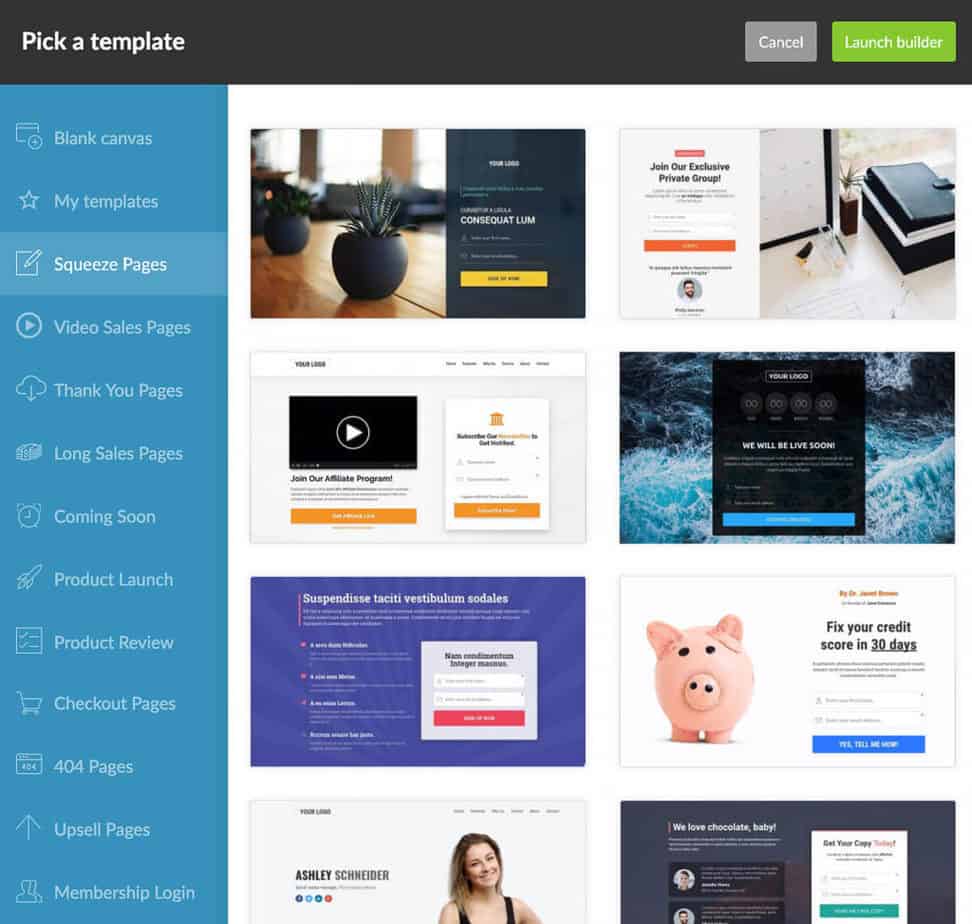 Kartra is an all-in-one solution and has pretty much all the tools that you'll need for the website, you can connect the checkout, and email marketing platform, and they have a built-in CRM system so you can easily track your clients.
#2. Pick a Good Name & Domain
Don't just name your agency "ABCconsulting.com" because it doesn't tell anyone anything.
Make sure that the name is coherent with the services you're actually selling and the niche you're in.
#3. Create a Sales Page
A sales page is the next important part of your website.
Show your clients why they should pick you and how you're different from other sellers.
Put yourself in your clients' shoes. Would you buy from your website?
If the answer is no, keep working on your sales page until you can answer yes.
#4 Provide Testimonials & Portfolio
Testimonials from happy customers really help make the selling process a lot easier.
Also, oftentimes, if you have a good portfolio with a lot of examples, and if you have a lot of testimonials put back on this portfolio, the selling just happens on its own and you don't have to have an elaborate copy and you don't really have to do the selling.
#5. Set Up a Payment System
You also need to have a way for your customers to pay you so it's going to be the checkout page.
For the checkout, I personally use Stripe and PayPal but you can use other service providers.
You can easily connect Stripe payments to your Kartra account in just a couple of clicks. They offer many payment provider integrations.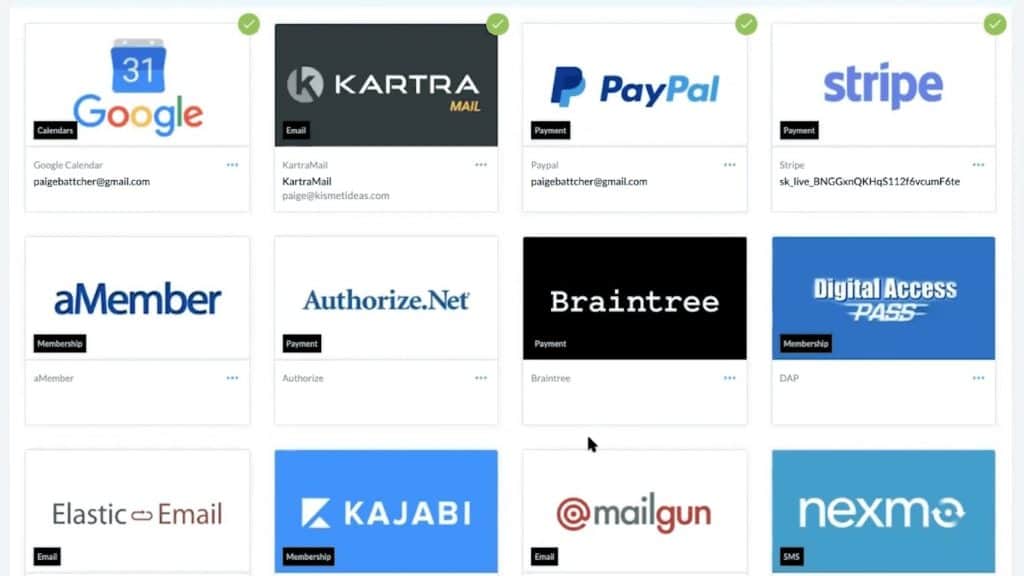 #6. Implement Email Support & Live Chat
And the last most important component is customer support. Ideally, you want to have live chat and email support inbox.
Because customers are going to constantly message you and ask about the status of their order, how things are going.
As your business starts growing and you become more experienced, you can add additional components like upselling more expensive services or setting up a customer relationship management system to manage your orders more efficiently.
I hope this gives you a good overview of how to create a drop servicing website.
💡 Pro Tip
And if you're a Kartra member you don't have to worry about that because ALL of these features and tools mentioned earlier like a sales funnel, email marketing, and payment systems are included in their plan.
So far we have learned how drop servicing works, what types of services to pick, how to find service providers, and how to build a website.
Done For You Drop Servicing Websites
If you're not willing to spend hours on a build drop servicing website, don't worry because now you can buy a professional done for you drop servicing website.
yass001
Price: $50 – $650
Rating: ⭐⭐⭐⭐⭐
zeemcorp
Price: $185 – $495
Rating: ⭐⭐⭐⭐⭐
mfaizanulhassan
Price: $150 – $750
Rating: ⭐⭐⭐⭐⭐
Now, once your drop service website is up and running let me show you how to find clients for your agency.
Getting Clients For Drop Servicing
The goal here is to find and acquire clients for your business and let's take a look at some free and paid traffic methods.
Free Traffic Methods
Here are some examples of free places where you can find clients for drop servicing:
Facebook groups
Linkedin
BNI networking
Reddit
Yelp
Groupon
One of the most effective ways to get new clients is cold email outreach and here is how to do it the right way.
Active outreach is very cheap to do so compared to paid advertising and you can use UpLead to customize searches and find the decision-makers of companies.
It's an extremely useful tool that allows you to build your client email list.
You to search for people based on their job titles, the business they work with company size, and other factors.
That will help you create custom lists of potential customers so you can message them on LinkedIn.
Here's a simple process you could follow:
#1. Create specific search criteria on UpLead
For example:
Job title: founder, co-founder, CEO
Company size: 1-10, 11-50
Search term: design agency
Countries: US, UK, Canada, Australia
Now you'll have a list of founders and CEOs of small to medium size design agencies.
#2. Set up Campaigns with Cold Emails
Set up campaigns with cold email templates that you can A/B test to determine what works best for gaining positive replays from decision-makers that need your service.
You could send 100 emails with one template, 100 with a second template and 100 with a third template.
#3. Analyze The Results
Then you analyze the results and determine which email gets the best open rates, replies, and click-through rates, and conversions.
#4 Repeat The Steps
Repeat the steps and use the email template that performs best.
So you're essentially doing continuous testing and choosing the one that's working best and then using that one testing more and continuously refining and improving metrics to get more sales at a lower price.
Paid Traffic Methods
The best and most effective way to get clients is to run ads. Facebook and Google Ads proved themselves very effective for drop servicing business.
Twitter and LinkedIn ads might be also effective.
But I recommend starting ads only if you have at least $100 because ads are kind of expensive, but at the same time very effective.
And now let's talk about how to find service providers, people that will be doing the work for your clients.
Finding Drop Service Providers
Now, I want to show you where and how to find service providers for your drop servicing business:
Fiverr
Upwork
People Per Hour
Freelancer.com
Two places that I usually use for my drop service business are Fiverr and onlinejobs.ph.
And you can actually do the work yourself if you know how to do it.
But since we're building a drop servicing business, I would recommend hiring someone for it.
And for the purpose of this article, we'll be using Fiverr.
If you're not familiar with Fiverr it's a website where you can go and purchase different services like website design, copywriting, voiceover, for very cheap because most people who work in Fiverr are from overseas and they charge very reasonable rates.
Let's hop on Fiverr and see if we can hire someone.
The reason why I love Fiverr so much is that on this platform, you can find pretty much anyone to do anything you might need.
Let's search for one of the most popular services, which is logo design.

The prices are very different and we definitely don't want to pick someone who does logo design for $1000.
But what we can do, we can actually sort by bestselling and limited by budget.
And just take a look at this gig.
682 reviews, five-star rating
The logos are very high quality. They look good, almost like a 3D design, which is awesome.
And basic service costs around $25, the standard is $60 and the premium is $100.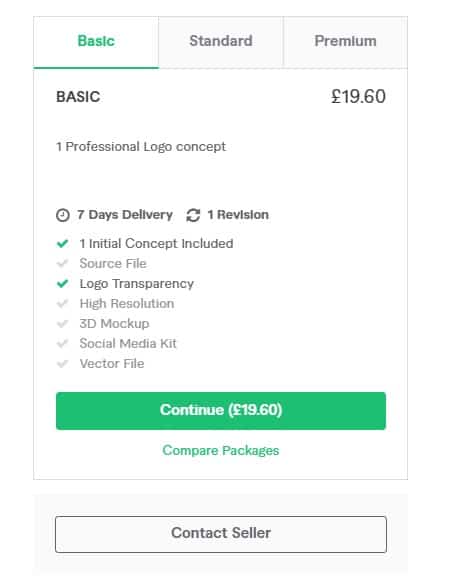 So you can sell basic service for $100 on your website, standard service for probably, $150, and premium for $300.
Next, find at least three service providers that you like with reasonable prices, and save them.
And once you get an order, you need to quickly contact them and you probably won't have enough time to search for new service providers.
So it's always good to have multiple.
Service Quality Control
Now I want to quickly talk about service quality control because this aspect is constantly being overlooked by people who think that drop servicing is just a get rich quick scheme.
And they don't treat it as a real business. Always 100% make sure that the service provider does a quality job and the client is satisfied with the result because you will be held liable for it.
Clients trust you with their money. So none lead them down, do a good job. And it will result in long term success for your business. This is just common sense.
Always have multiple service providers. I already mentioned why. Life can get in the way, a service provider can start doing a good job.
So make sure you got this covered. If you're selling a complex service, make sure that you have a team of different roles in place and never let one person do it all.
Again, you don't want to put all your eggs in one basket. And before you rush into selling complex services because it's more lucrative, make sure you understand how to sell basic services first, this will save you a lot of time, money, and nerves.
Best Fiverr Sellers
Here is a list of some of my favorite sellers that I work with that help me scale my online business with Fiverr.
So if you decide to drop service some of these services I guarantee that you'll not waste your time and money.
Drop Servicing vs Dropshipping
Drop servicing is a spin on the popular online business, model of dropshipping.
Dropshipping is taking a customer's order and shipping details and giving them to retailers or wholesalers that can fulfill their order and ship goods directly to the customer.
With drop servicing, you take a customer's order for a service and you fulfill the labor required to deliver that service with a help of freelancers.
So it is sometimes referred to as subcontracting and outsourcing.
To keep things simple:
Dropshipping is selling a product (e.g clothes, smartwatches) manufactured and delivered by a third party for profit.
Drop servicing is selling a service (e.g writing, animation, design) produced and delivered by a third party for profit.
Drop Servicing FAQ
Is Drop Servicing Profitable?
Drop servicing has insane scaling potential. And there's virtually no limit to how many clients you can work with and how much money you can make, as long as you put in the work. If it's done right drop servicing is very profitable. How profitable you will depend on your ability to package and sell your services.
Is Drop Servicing Worth It?
Drop servicing is worth it if you stay consistent and follow the right steps, it's possible and realistic to expect that you can make enough money to replace a full-time job. It's important to remember that while drop servicing is legitimate and can be lucrative you do have to put in the work and stay committed to your business to ensure it grows.
Starting a Drop Servicing Business in 2023 Final Words
So that's pretty much everything you need to know about how to start a drop servicing business in 2023.
I really hope you got a lot of value from this guide.
And if you think that business is not a good fit for you, check out this comprehensive list of +60 Online Business Ideas in 2023.
Thanks for reading.