Today I want to share with you how to start a digital marketing agency with no experience and spending money on expensive courses.
And in this free digital marketing agency course, I'll show you:
How to start a digital marketing agency with no experience
Why a digital marketing agency is one of the best businesses in 2023
How to get your first clients using free methods
How to get results for your clients
How to scale your agency
And more
Also, I want to break some things down a little bit further in this guide of how to fulfill those clients that you bring on so you can keep them long-term.
Let's get started.
The Role of a Digital Marketing Agency
The role of a digital marketing agency is simply bringing businesses new clients leveraging various digital marketing services including:
SEO
Email marketing
Social media marketing
Reputation management
Paid advertising
Website design
And it might seem a lot but I know for a fact that getting local business results is very easy.
Here's the deal I've been working with marketing for a couple of years now long enough to know that these businesses could make you a lot of money and this business model is booming in 2023.
The digital marketing business is in huge demand. If you think about it no matter where you go you're always going to find local businesses and the one thing that they need is more clients.
And this is where you come in to help them as a digital marketing expert.
Also, while most companies and businesses were losing clients and money our company was growing exponentially throughout the crisis because we work in an everlasting niche, which is digital marketing.
Starting a Digital Marketing Agency
So, let's talk about the digital agency business model.
And for those of you guys who are brand new here, maybe just stumbling upon this blog, just a little background on myself, I run a digital marketing agency. I help small business owners generate leads.
And so I want to show you guys exactly how to make this happen. I don't make my money from selling courses on how to make money.
I make my money actually running this marketing agency business.
Now I want to show you guys the step-by-step of how I got started back in the day, how I fulfill for clients, how you can get guaranteed results in success for your own marketing agency, and hopefully scale up to $10,000 per month.
So let's just start out with the biggest thing and this is going to sound super cliche.
But the number one thing before starting a digital marketing agency you've got to do is you got to pick a service.
#1. Pick a Service
Step number one is deciding what exactly you're going to sell. This is very, very obvious, but most people just get this wrong.
So what I suggest here is having a service that is as productized as possible and ideally, just one service.
There are a lot of different avenues you can go with this business So, I'm going to show you the 6 services that you can go out and start selling.
And some of them require literally no experience.
Let's get started.
1. Web Design
Web design is one of the most demanding digital services in the market because business owners know the importance of having a professional website.
In fact, this is how I started my entrepreneurial journey. My first ever business online was a web design business. And it was a very successful business.
With this business model, you can also make recurring income selling web hosting.
2. Directory Listing
Another service that you can offer that's very, very quick. Turnaround is directory listings. A lot of these businesses, don't understand that they need to be on websites like:
Yelp
Trustpilot
HomeAdvisor
TripAdvisor
Yellow Pages
Glassdoor
If you can go out and optimize their Google my business and then optimize their directory listings, you're going to get them phone calls.
Now, if you're wondering how you can go about that a little bit better. For this, you can use any review management software like SemRush Listing Management which is a great tool that allows you to check all of your directories and see if they're consistent within Google's algorithm.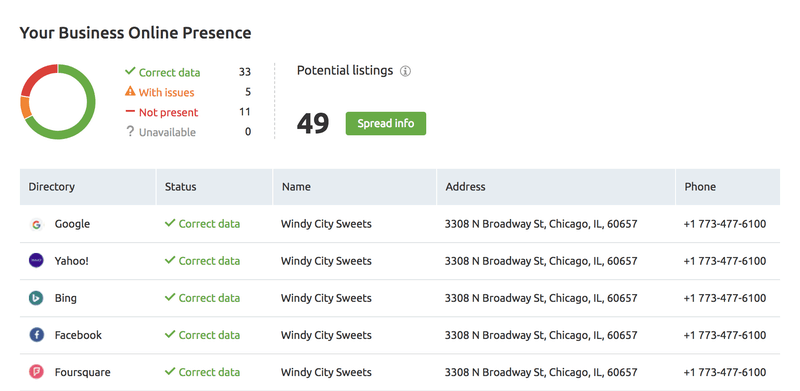 Then all you do is type in the business name, click on the little search tab and now it'll show you a consistency score throughout Google.
And this is checking all of the major directories. So, when you take on a client or you want to take on a client, you know how consistently they look across Google. And this is one of the easiest services to sell.
3. SEO
So basically what search engine optimization is, if you get a client and they have a website, it's helping them get their website ranked on the search engines.
There are several different strategies to help get your client's website ranked for specific keywords.
4. Email Marketing
The next easy-to-sell service that you can leverage with your digital marketing agency is one of my favorites because the ROI is absolutely insane. And that is email marketing.
Most people that have been in the business for a few months, or even a few years, have an email list of past clients, past customers, and past leads that you can just leverage.
So you take this list of leads, this database that they have, and you upload it into a digital marketing agency software like GoHighLevel.
And then you can blast out some promotional emails and really quickly you can get these results for your clients by bringing in new leads right out the gate.
And the ROI is absolutely incredible because it really costs a few pennies to send out a couple of thousand emails.
5. Social Media Marketing
You can also start a social media marketing agency where you provide social media services for clients.
Social media management is quite easy to sell service and the funny thing is, most of your clients are going to think this is way more important than it actually is to grow their businesses.
6. Google My Business Optimization
A lot of people overlook Google My Business, but in reality, it's free to set up. You can quickly find businesses that aren't listed on Google.
All you have to do is type in the query and it'll show you a list of companies who haven't even registered their business on Google My Business.
It's so easy for you to pick up the phone, dial all of these businesses, and just say,
"Hey, I noticed you weren't listed on Google. Is there anything we can do for you to expedite that process?"
Something along those lines. We'll talk about how to approach a business later.
Tips on How To Choose Your Dream Service
You don't want to sell SEO and email marketing, and whatever else, you want to have ideally one service that is as repeatable as possible, i.e. productized.
What that means is, you're ideally doing the same thing over and over again, for every single one of your clients who haven't a completely custom new process every time because that just simply doesn't scale.
Beyond that, you want something that is a high ticket and recurrent so you don't have to go find a new client every single time.
And beyond that just whatever fits with your skills and your strengths and your interest, right?
Whatever you're actually interested in doing as a service.
Now, again, stick to one thing ideally, though, when you started now it's okay to kind of play around with different things. It's not scalable, but you don't have to build a scalable business from day one.
You just want to experiment in those early days and figure out what are you interested in and what are your strengths.
#2. Determine Your Ideal Niche
Now we have a service to sell, you have to figure out who is going to be your ideal customer. And generally, again, I say the same thing, you want to be a specialist in almost all cases.
So what I usually recommend for beginners is starting with local business type. To help you find a niche, here is a list of the most profitable niches:
Dentists
Chiropractors
Restaurants
Gyms
E-Commerce stores
Real estate agents
It doesn't really matter what niche you choose because the strategies that I will teach you will work in any sort of the above digital marketing agency niches.
Choose one that you feel most comfortable with or that interests you the most.
If you start with local businesses, it's really, really easy to get the results, it's really hard to screw it up, and is usually quite easy to approach them and talk with them.
Choosing a Niche Tips
Please don't make the mistake that I've done in the past. What I used to do when getting started. I was literally going through all the different niches and trying to help everyone.
And because of that, I wasn't able to actually see any results…
So, pick one industry ideally where you already have relationships in that industry.
If you don't have any relationships you feel like I don't know anyone that even owns a business nothing like that. Pick something that you're somewhat interested in.
So if you're interested in physical fitness, personal training all that stuff start diving into that world.
Now, let's talk about some free organic ways to actually get clients for your agency.
#3. Find a Client
Let's first some easy ways to get your first clients 100% for free. So you don't have to invest any money. 
This is just investing your time to get these first clients.
1. Post on Your Facebook and Linkedin Profile
The first one that I like to do and what I did when I first got started is just posting on Facebook to connect with your friends.
So for example, let's say you're going to work with realtors like I said, this works for any industry that doesn't really matter.
But I'm in the real estate space so if you guys want to kind of copy and model exactly what I this is what I would do I go through and I post on my Facebook profile and say:
📢 Social Media Post Example
"Hey everyone,
I'm starting a marketing business. Does anyone know a real estate agent, or are you a real estate agent?
I'd love to help you go and get more leads for your business."
And then from there what happens is you'll get some likes, you'll get some comments. Maybe people tagging other people that actually are real estate agents.
And the great thing is you can also do this over on Linkedin.
Because people that are following you on Facebook or friends with you on Facebook they're gonna be completely different people on LinkedIn and LinkedIn is more of a business-minded approach so you could do the same exact strategy on both of those platforms.
2. Join Facebook Groups in Your Niche
The second thing that I would do is I would start going through and joining Facebook groups, and the same thing goes for LinkedIn. 
You can join Facebook groups that have your ideal target customer.
So for example, if it's a dentist. Start joining some dental groups on Facebook and some dental groups on LinkedIn.
And once you're approved don't go through and spam inside the group. No one is going to like that. You're going to get kicked out super quickly.
And the reason why you want to do this is that when you post on your personal profile down the road in the future they're going to be your ideal client and they're going to see your posts.
They're going to see your posts about maybe past client success stories or different things like that and so they'll start to get to know who you are, what you do and how you can actually help them.
Now, a quick reminder here, don't add every single person in the group because you're going to easily get blocked by Facebook.
But I would go through and add maybe 15 to 20 people every single day and yes, it's going to take about five to 10 minutes of your time but these are free ways to get your first clients.
3. Search for Customers on Google
The next step is to go to Google and type in, for example, if you are working with dentists type in "dentists near me" or dentists in whatever city you're located in.
And see what ads pop up at the top.
And this is because if a dentist is running ads that means they have bought into the concept of going through and advertising their business, and more than likely they have a successful business that they can actually invest money into advertising.
And so you can click on the ad go to their website, reach out, contact them and see if you can help them with maybe their Facebook advertising, maybe their Instagram advertising.
They probably already have someone running their Google ads, obviously, because that is why the ad is showing but can go through and offer other services as well.
And they've already kind of been sold on the concept that they need to advertise to grow their business.
So a great thing is, is it's a lot easier sale instead of going through and finding someone you have to convince and sell them on the idea of advertising.
When you're first getting started it is ideal to work with clients that are in your area because then you can meet with them in person. You could just build a lot more trust and rapport right out of the gate.
💡 Pro Tip
And to make your life easier I highly recommend using lead generation tools like UpLead. It's one of the best lead generation software out there with very unique features. You can find thousands of potential clients for your agency with just a few clicks of a button.
4. Browse Google My Business
So staying on Google here for a second because there are several other ways we can actually go through and get clients 100% for free here.
So if we type in "dentists near me" or "dentists in your local city", if we scroll down below the ads (the ads are going to be at the top) you're going to have reviews of local dentists or reviews of local chiropractors or whatever industry that you're in.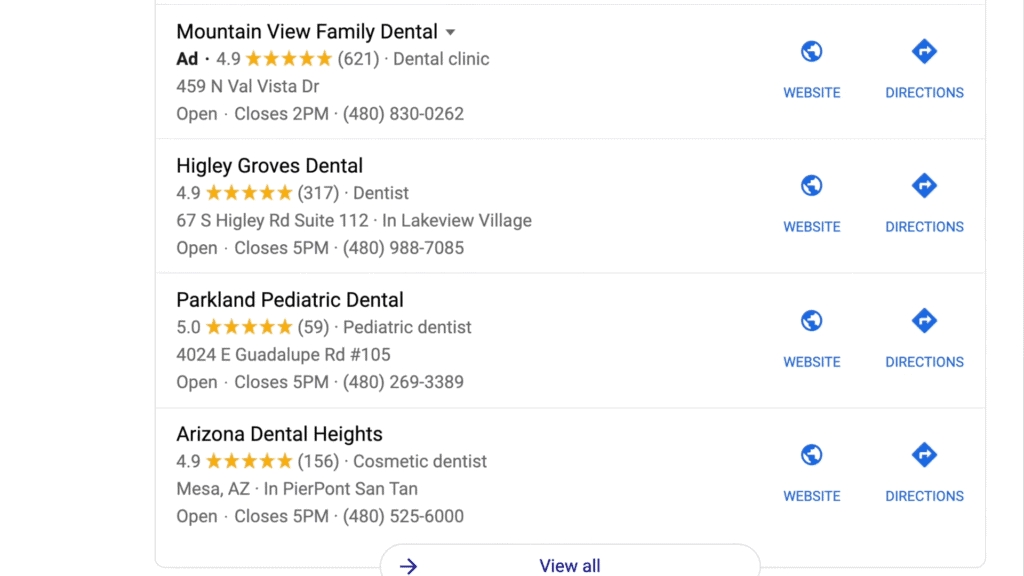 Now more than likely if someone has some reviews or they have Google My Business.
Those local businesses typically have gone and hired some sort of marketing agency to help them get reviews or help them get their business on Google My Business.
So once again this goes along the lines of the concept that I talked about a little bit earlier, that they are willing and ready to invest in their business, in their marketing, their lead generation, and in their growth.
So these are great prospects to go through and reach out to offer your services.
So just real quick, I want to share two more free ways of going through and getting clients for your digital marketing agency business.
5. Join Local Networking Groups
So another way is leveraging local networking groups.
There is a group it's called BNI.
The whole idea of this group is to help other people expand their business and have referrals and so everyone's going there with the mindset of giving you referrals and helping you out with your business,
And I actually went to some of these BNI networking groups back in the day and at these groups, they have like a dentist, they have a chiropractor, they have a real estate agent, a mortgage broker.
There is basically somebody in your local area that does like pretty much all the basic services.
So what you can do is you can go there and you can let people know who you are, introduce yourself. You can network, and let them know how you could help them.
So it's a great way to get to know other people in your community and potentially bring on a new client for your digital marketing agency.
6. Start Digital Marketing YouTube Channel
So one more, just stick with me here because this one's super cool, and then I'll show you guys how to guarantee your success and results for all of your clients. So this is leveraging YouTube.
The great thing about it is you can post a video on YouTube and you can get some exposure now you can also get exposure 6 months, 12 months, or 2 years from now.
Social media posts' lifespan is no longer than a few days. Whereas with Facebook or Instagram, you make a post and that post kind of dies out after 24 to 48 hours.
Whereas with YouTube, somebody can search for a specific keyword and they can find those videos months or even years down the road.
And yes, you probably will not get millions of views.
However, you'll get VERY targeted views and these are all new potential clients that could come into your business, not only now but in the long term.
So what you want to do here is just think about what your ideal client would be searching on YouTube or Google to help grow their business.
For example, let's say you are working with dentists. So you could say something like
"The Best 3 Facebook Ads for Dentists"
"Dentists Lead Generation"
"Dental Marketing"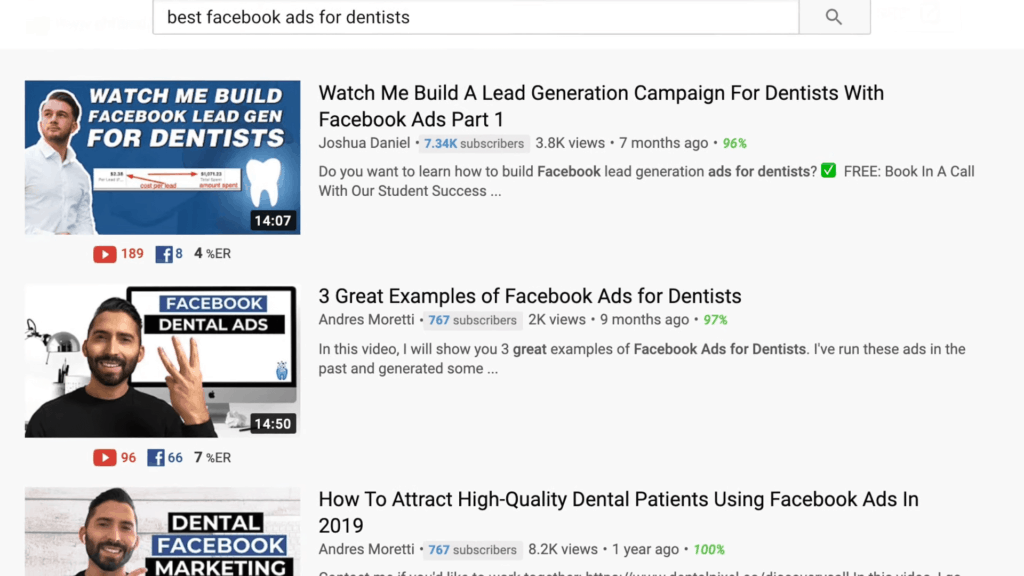 Or different terms like that.
Then you just go through and shoot videos on it and you show them how you can go through and help them with their marketing.
And honestly, you don't even go through and pitch anything. You just show massive value.
7. Leverage Referral Marketing (Word of Mouth)
The great thing is once you actually have some results and success. Then you may ask your client for other referrals.
"Hey, do you know any other dentists?", "Do you know any other chiropractors?" or anyone else that I can work with?
This way you'll become recognizable in the digital marketing industry.
Referral marketing is one of the most overlooked forms of marketing.
👉 Read more about how to get clients for a digital marketing agency
If you want to learn more about selling marketing services make sure to check out this step-by-step guide to how to get clients for digital marketing and discover more ways to get clients like:
Cold calling
Cold emailing
Social media outreach
And more
#4. Deliver Results For Your Clients
Okay, now you have your first client. Now you might be wondering:
"What do I do?"
"How do I actually run get them results?"
Well, the whole point of getting the client results is to help them get more leads, help them make more money, and more sales.
It's very, very important at the beginning stages here, you want to get really good results for your clients.
I want to show you how to successfully get the results for these clients and guarantee that when you bring on that new client, you actually get the results so you can keep them in the long term.
So, let's talk about running a digital marketing agency.
1. Generate Leads For Your Clients
Now the first thing that you need to do in order to get sales is to help them generate leads.
The platform that I use in my agency to generate leads is GoHighLevel which is an all-in-one digital marketing platform designed specifically for marketing agencies.
They give you so-called Snapshots for nearly every niche you can think of. Snapshots give you the ability to deliver an account snapshot and everything that's in that account to another account that you set up in HighLevel.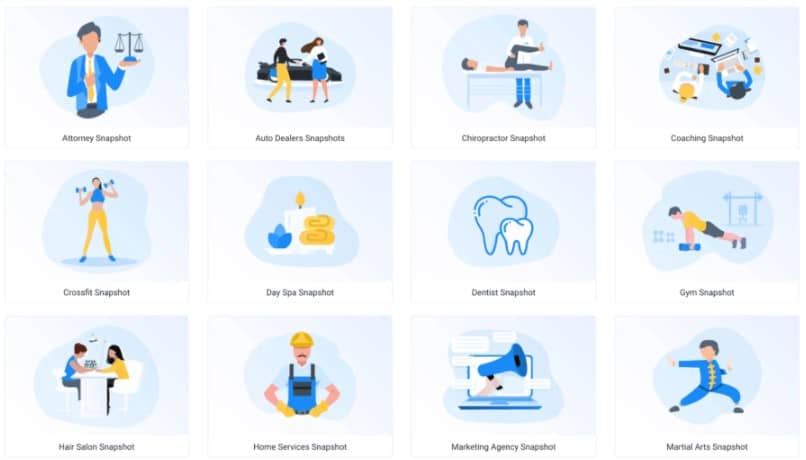 But what I like about GoHighLevel the most is they provide step-by-step training to sell digital marketing services which is very cool.
By the way, GoHighLevel offers our audience a 14-day free trial.
But you can also use ClickFunnels if you're more familiar with this platform.
So now what you want to do is create a simple landing or capture page.
And you want to have some type of hook to actually get the person get their potential clients interested to put in their name, their email, and phone to actually become a lead.
So here's an example for the dentist industry.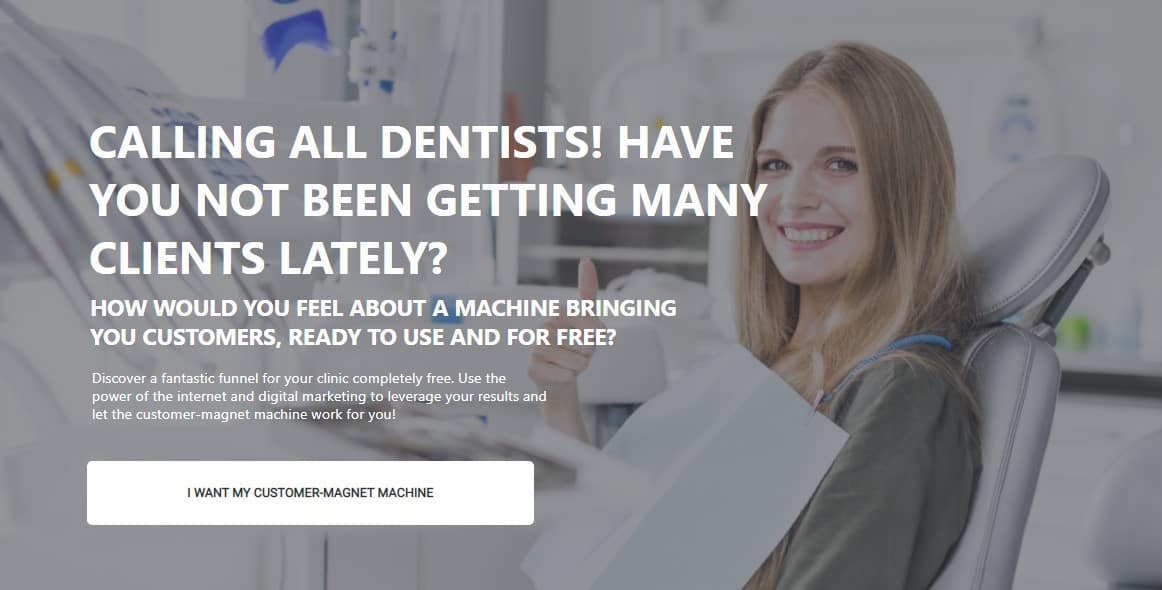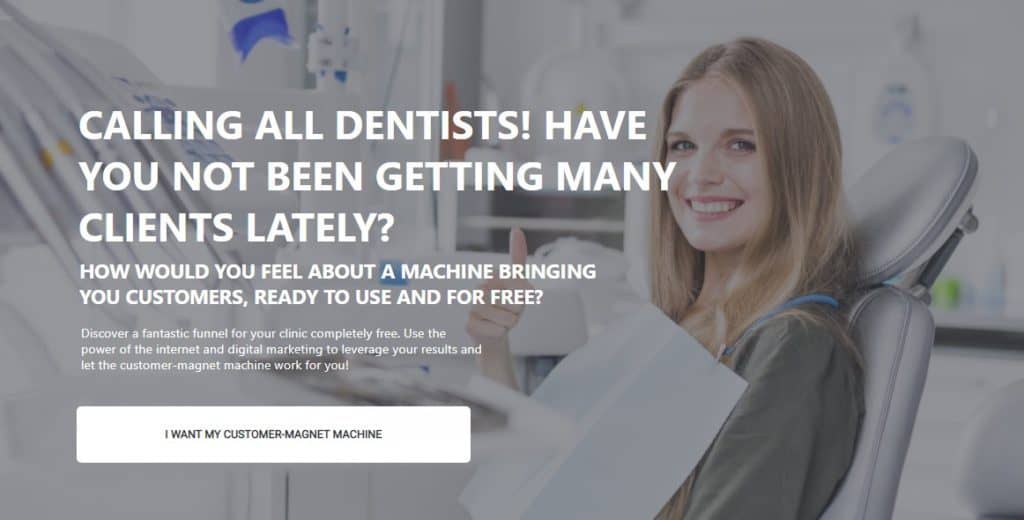 You can see it's a very clean, professional landing page.
2. Set up Campaigns
If for example, you decided to run paid advertising now you set up a campaign for your client.
And I'm not gonna cover this in this article because it would be not an article but an entire book.
You have many options when it comes to learning all these different marketing skills.
You can find tons of online courses that teach you the concept of digital marketing
If you don't want to waste your time and get no fluff online course, I highly recommend Fiverr's Paid Advertising: Social And Search.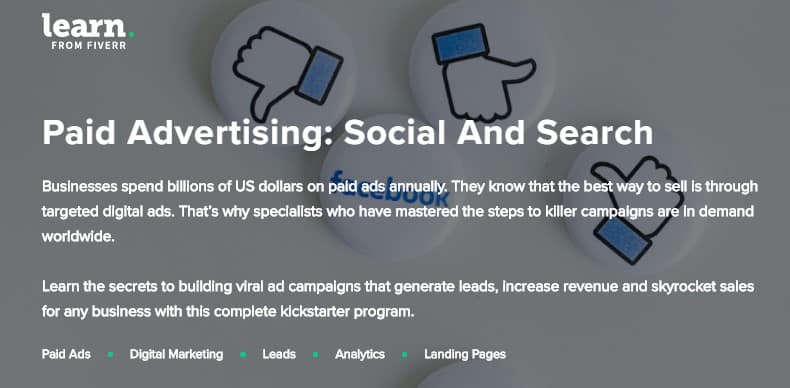 It's probably one of the best online video courses in the market taught by the top digital marketing experts.
What you'll learn in this course?
SEO
Facebook ads
Instagram ads
Google Analytics
Creating high-converting landing pages
Content marketing
Lead generation with Facebook
This is the course that I've finished and recommend to all my students. And especially useful for a digital marketing agency is module 8 – "Lead Generation with Facebook Ads"
3. Communicate With Your Clients
That is the most important part of digital marketing agencies is making sure that you're communicating with your client effectively.
I've had so many types of people telling me that they've been fired.
And I asked them the first question that I always ask is how much more are you talking to the client?
The answer is I didn't talk to them for the whole month.
Look, that is an unprofessional salesperson. That is an unprofessional business owner. People want to hear from you.
You guys need to understand that when people pay for marketing when they invest in your marketing is what they're doing is, is they're throwing their money into a black bag and throwing it in the galaxy.
They don't know what you're doing. You need to tell them what you're doing.
So my way to combat this is I use TeamWork, which is software where you can literally manage and all your project management.
So you can put your clients, you can update what you're doing for them. Some companies do every single post on Facebook, this is just an option for you.
You don't have to go about it like this, but this is the best way to communicate with your clients besides email.
Nobody wants to do that. If you can stay communicated with your clients through TeamWork each and every day, they're never going to fire you.
I promise you clients would rather hear from you more than see results as crazy as that sounds.
4. Show Your Clients The End Result
Your client has to see the end result of your work whatever you're offering.
You can show everything that you actually are going to do because the truth is at the end of the day, the dentist, the real estate agent, the mortgage broker, the chiropractor, they don't want to do what you're going to be doing. 
They are so busy running their businesses.
They don't want to run Facebook ads so you can show everything that you're going to be doing.
They don't want to go set up landing pages.
They don't want to set up their websites because that is not where their expertise and their time are best used.
And so they just want to know what you're doing and from there after they see that you can help them get results they're like,
"Okay, this guy knows what he's doing. I'm going to carry on."
And this is how you can get lifetime clients for your agency.
Why Getting Good Results For Your Clients is Essential For Your Agency?
Don't stop prospecting, don't stop outreach, don't stop trying to land clients, but make sure you get really good results for them because if you get really good results for them it does two things:
1. More Referrals
Number one increases the chances that you're going to get referrals. And referrals become really a big part of this business over time. Again, it is a people business.
2. Confidence Boost
And number two it's going to give you a massive confidence boost which is really going to help you with landing your next clients.
It's really difficult than getting that first client. A lot of it comes down to yourself; your lack of skills, your lack of experience, and your lack of confidence.
By having a client you got really good results for, it's going to massively help with landing the next one.
So get them really good results as you should anyway.
Because, there are a lot of people in this whole make money online thing and they're hyping up that starting a marketing agency is easy, but it's not.   
And they're not really emphasizing the need to actually get the clients really good results, which is essential for building a long-term sustainable business.
#5. Price Your Service
A lot of people ask me about how much to charge in the beginning.
According to webfx.com, the average cost for digital marketing services in 2022 ranges from $2500 to $12,000 per month, $50 to $500+ per hour, and $1000 to $7500 per project.
I would probably start out charging between $500 to $1,000 per month and then whatever they charge or whatever they want to spend on advertising.
That is in addition to whatever they're paying you.
So if they're paying you $500 per month, plus they want to spend $10 a day on ads.
Well, that is $500 going directly to you, and then $10 per day on ads is going directly to Facebook.
And a great way to take payment is a merchant processor called Stripe makes it super easy.
There's another one called PayPal, and I'm sure you guys have heard of it.
Those are great ways to get started to actually take that payment. 
So hopefully, you've got several ideas of how to get started
How Much To Charge For Digital Marketing Services?
Now I'm going to give you some very important things to think about while pricing your services.
Because at this stage you're thinking to yourself, "Well, I don't even know how much to charge."
This is a question I get all of the time.
How much should I charge?
And ultimately, it's a confusing question because there's no clear answer. There's no one price that works.
It's not as if one service just has a set number but you have to look at a few factors.
1. Don't Undersell Yourself
The moment you bring up a short price to your clients for services you offer, they're going to notice you're unprofessional and they're not going to do business with you.
And you are not going to understand what just happened.
2. Don't Overprice
Here's the other thing don't overprice because a lot of people feel that marketing is just something that everybody wants to spend a million dollars on, and it might be the truth.
But your first contract, meaning the first client you signed for 3-6 months, whatever it may be. Look, they're still building trust in you.
What I'll do is I'll do a 3-6 month campaign. And then after six months, we'll reevaluate and I'll up the price and do more ad spend or whatever it may be.
This is a very, very safe way to approach.
The only reason being is because if you can do good work in three months to six months, they're going to sign a year or two years with you at a much higher price because they've already tested the waters.
So when you go into pricing, make sure you're pricing your services based on market value, which leads us to the next point.
3. Price Your Services Based on Market Value
Don't base your prices and services based on what you feel you need to make.
That is an emotional decision, and that is not a smart business decision.
And the moment you make it, an emotional decision in business, it starts having this ripple effect where it starts actually impacting everything else around you.
So make sure you do business with all logical intentions.
To find out the market value, just go to any of your competitors, check out what prices and services that they have, and literally re-implement that into your business and start getting clients.
4. Focus on Lifetime Value, Not Short-Term Profits
You don't really want someone to just pay you for one month. You want someone to pay you for potentially even 6 or 12 months.
So pick a price with that in mind. A price that they should be comfortable paying and a price that ultimately will give them enough value.
So, if it's $500 a month and you signed them up for 12 months, that's way more valuable than signing someone up for 3 months and they pay you $1000 every single month.
Because you're looking for longevity with this. You don't want to just sign a client and then they never talk to you again. You want them to pay you every single month.
So, look at those factors, what am I comfortable with? And, what's a good number for them? You don't want to absolutely extend their budget. You want to make it just enough that is within their budget and they can afford to do that.
Now let me show you several proven funnels, websites, templates, and everything that will help start your own digital marketing agency business.
#6. Choose a Digital Marketing Agency Software
I truly believe that to sign your first three, even five clients you don't need a logo or even a website.
But if you're serious about this business getting professional software is a must.
If you're trying to bring high-quality clients, you want to make sure you present yourself as an expert.
I just want to make sure you understand that if you're looking for premium clients, you want to make sure you have a premium look.
So, let's take a look at the best software for your digital marketing agency.
1. GoHighLevel
GoHighLevel is a software specifically created for digital marketing agencies. This is an all-in-one digital marketing platform that:Create full websites, landing pages, and sales funnels
Build surveys and forms
Schedule appointments with clients
Customize your follow-up sequences
Create membership areas
And more
The cool thing about GoHighLevel is you can actually white-label this software.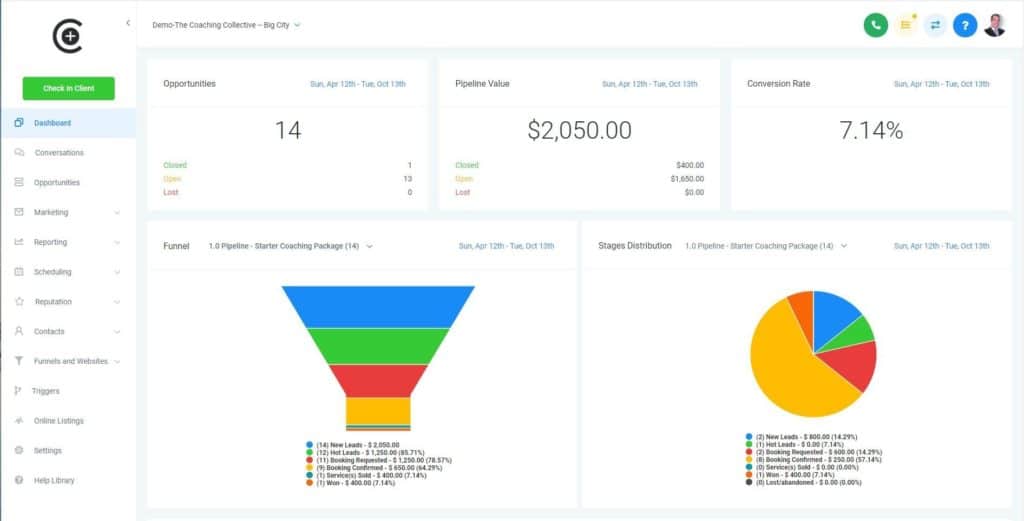 This tool can manage all of your clients and any new clients that you bring on. If you got two, three, four, five, or fifty clients, you can manage them all under one account, and white-label it so it looks like your own platform.
And what I like about the HighLevel the most is that they have templates for nearly every industry including:
Agency
Auto dealers
Chiropractors
Dentists
Construction
Gym
And these are templates that are proven to work for over 5354+ agencies.
You can check out my GoHighLevel review or if you want to access this software they actually offer a free 14-day trial.
2. Builderall
The next great digital marketing software is Builderall.
With over 50+ digital marketing tools, Builderall is one of the most feature-rich all-in-one platforms in the world.
They also provide a great solution for digital marketing agencies where you can sell web design services.
Another great thing about this platform is that Builderall offers a Funnel Club which is a collection of over 400+ websites and sales funnel templates.
And inside Builderall Funnel Club you'll find ready-made templates tailored specifically for digital marketing agencies including industries like:
Beauty salon
Pet shop
SPA owner
Car wash
Yoga
Cleaning services
And of course, more popular industries like dentists, restaurants, gyms and so on.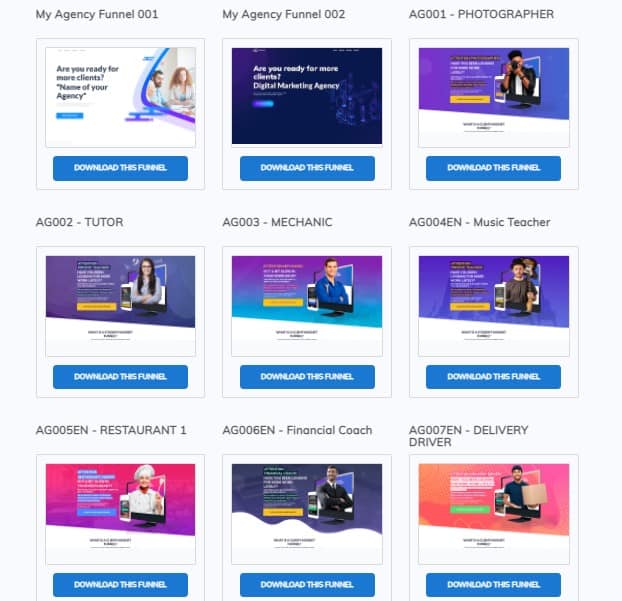 And what's cool about these funnels is that all you need to do is simply download and install them on your computer.
You can of course edit them however you like.
And with Builderall you'll not only get sales funnel templates for your agency but also over 40 digital marketing tools including:
Website builder to create websites for your clients or your agency as well.
Builderall autoresponder to set up email campaigns and advanced automation
Sales funnel builder to build high-converting sales funnels and generate more leads
Booking tool to schedule appointments for your clients
Builderall SEO tool to help your customers rank higher on the search engines
Builderall CRM to automate the contact with your leads
And more great digital marketing tools to play with.
And what sets apart Builderall from the competitors is their ridiculously low pricing plans.
With Builderall you can start at $16.90/month, and their most expensive plan is actually $87.90/month which is a bargain compared to other platforms like ClickFunnels or Kartra.
Choosing The Best Marketing Agency Software
So these are the best CRM software for marketing agencies.
To be honest with you, the best option is GoHighLevel.
And the reason is that this platform is specifically created for digital marketing agencies. And also you have the ability to white-label this software and start a SaaS business.
However, if you are just getting started you probably don't need as much sophisticated type of software so I highly suggest you get started with Builderall to build your online presence as a digital marketer.
In fact, they both offer a free trial so you can test them out and check what platform would be better for you.
#7. Hire Your Team
The next step is not essential, but if you want to build a scalable digital marketing company, then you need to outsource so you need to delegate.
And what I suggest at this stage is basically to hire contractors, or outsource pretty much from day one.
Also, you do that with drop servicing business model comes in. This is the most effective way to scale your agency fast.
It's better to get into that position and that mindset of an actual business owner from day one, rather than having to do everything yourself.
Even just one client can be a lot of work and can really limit your potential growth and scale.
So by, immediately on day one I highly recommend outsourcing the most time-consuming tasks.
If you're just getting started with outsourcing, Fiverr is a great website for that. You can pay people a few bucks per gig and hire people to do some of this work.
Note: See how to outsource on Fiverr in this step-by-step guide, and discover the best services you can delegate to take your online business to the next level.
That makes it really easy to scale quicker, even in the early days and gets you in the right state of mind as a business owner when you work on your business more so than in your business.
There's still going to be a mixture of both in those early days.
#8. Scale Your Marketing Agency
Now, I want to share with you 8 ways to scale your digital marketing agency. And these aren't the typical other services that you could be offering that you hear about all the time.
My goal is to really show you that money doesn't have to be hard, it doesn't have to take a lot of effort or a lot of time on your part in order to be able to start really generating the revenue in your business that you want.
I want to show you some of the offers that are on the table right in front of you that you probably haven't even noticed yet.
So let's jump in with the very first one, which is to put more offers in front of more people.
1. Offer More to Your Existing Client
The first opportunity here for you is to offer more to your existing clients. These are people who have already said I will pay you and they've paid you. And then what comes next?
So this is a way for you to look at what offers could you put in front of your existing clients. This is the probably easiest, least effort way to make more money in your business to put those offers in front of people who've already paid you
2. Become an Affiliate
Affiliate marketing is a great way to scale your digital marketing agency. And you hear about this for common things like hosting, for instance, which if not an affiliate for your favorite hosting company, why not? But this is also an opportunity for you to look at other ways like other software, other tools, and other websites that a client can really use to help grow their business.
This could be something that they sign up for, and then you manage it for them, or something that you just allow them to take and run with on their own.
But this is a really good way for you to continue to add value, to provide specific recommendations, and to be paid on the back end for that as well.
I personally leverage the Builderall affiliate program to grow my agency. They offer 100% commission for the first payment and then 30% recurring commissions each month.
I simply recommend this software to all of the clients that I work with.
3. Create a Consulting Opportunity
Sometimes there are businesses that come to me and they aren't necessarily looking for services, they're just trying to figure out what to do next. They are in a place where they feel stuck and they're not sure which path is really going to make the most sense for them.
And so there are two ways that this can work. One is that we can get into a consulting arrangement where really we are working very closely together, and I'm guiding them through the process to help get them unstuck and figure out what their very next best step could be.
Now a lot of times, this is a way to link what you are talking about in your consulting over to your services, by providing the consulting and talking to them about what is really going to move the needle, what's really going to grow their business.
And then they have the opportunity to take what you've given them, go implement it themselves, go hire someone else to do it, or then hire you.
So a lot of people will take this consulting, and they will be paid for that consulting time. And then they can say that consulting payment will be applied towards the service payment if they choose to go with them.
Now, you don't have to do that. There are many times when I will offer this consulting service, and I don't follow up with actually providing the service for one reason or another.
4. Make Money with Resseling Web Hosting
If you're selling web design services you can increase your revenue by reselling web hosting. It's a simple way to make an additional passive income stream for your agency. There's huge income potential in hosting websites for small business owners.
5. Offer a Paid Masterclass or Training
This is where you have an audience and you are working to pull them in around a topic that really addresses a specific pain point that they have.
And they are paying to be there but they're paying a low cost. But it is covering your expenses, it is covering your time and putting that together and being there for them that allows them to be able to answer questions sometimes and engage with you to build up some trust, they can build up some knowledge.
And also typically it's good to give them one or two things that they can take away and actually apply themselves to see results. But, it's good when you can also offer a back-end offer on that. So they've paid to be there for this training. And then you make an offer for anyone who is interested in continuing to work with you there.
So you have two opportunities to grow your agency.
6. Establish Partners
This can be real with no work at all. But this could be for partners to send work to you. And when they do you send them a commission for that, or vice versa. If you have clients that come in, and they're there for one particular reason, or for one particular service, and you are able to build up your Rolodex of connections and say,
"I really think the next step for you would be to grow in this way, I don't provide that service. But here is a great service provider that I recommend"
Send them over and then that company can give you a commission so long as your client becomes their client and pays them.
So this is a really easy way to make some extra money in your business with not a whole lot of extra effort.
7. Put More Offers in Front of More People
I want you to look at any audience that you have, any leads that you've had, even if you have closed them as leads, reopen them, for the time being, and work to put in more offers. Put different offers in front of these people. Not every client or potential client who comes to you is going to need the same offer or want the same offer. And if they decline one offer does not mean that they will decline a different offer. So don't hesitate to put more offers in front of more people.
8. Raise Your Prices
If you've listened to me before, you've heard me say this one definitely before, and that is to raise your prices. I mean, if you want to attract high-paying clients this is the most obvious of all.
But, if you have not raised your prices, you just think about it, or you think that you can't do it or you don't deserve more, well, it's time for you to do it anyway. And you really got to raise your prices in order to start generating more revenue in your business.
And you'll stop being so resentful of clients who are coming in when you just don't feel that you're getting paid what you're worth. So you want to put in less effort and this just whole cycle is hard to break out of. So you gotta raise those prices.
9. Implement AI Technology
With the right AI marketing software, you can automate and improve marketing tasks, freeing up time for human marketers to focus on strategy and creative work.
There are many ways to incorporate AI into a digital marketing agency business. Here are a few ideas:
AI can help optimize ad campaigns by analyzing data and making recommendations for targeting, budget, and ad content.
AI can help identify patterns in customer data to segment audiences and personalize marketing campaigns.
AI writers can be used to generate unique and personalized content for social media, email marketing, and other channels.
AI-powered customer service tools can be used to handle customer inquiries, provide support, and even handle sales conversations.
AI can help gather and analyze data to better understand market trends and customer preferences.
Best Digital Marketing Agency Courses
To help you get started here is a list of the best digital marketing courses in 2023:
6 Figure Marketing Consultant by Trey Cockrum
Agency Incubator by Iman Ghadzi
6 Figure Agency by Billy Willson
Marketing Agency Program by Kevin David
7 Figure Agency by Joel Kaplan
The prices range from $497 up to $4,000 so it's a really good thing to do your research before you buy any of these courses because there are a lot of less-than-ethical course sellers out there on the internet.
I personally highly recommend the free digital marketing course provided by GoHighLevel.
They not only provide you with all the tools to run a successful digital marketing business but also give you access to step-by-step training on how to capture, nurture, and turn more leads into customers including modules like:
Immediate, Automated Wins For Any Client
Calendars – Scheduled Success
Pipelines – Visualize The Funnel
The Ultimate Appointment Automation
Reactivation Campaigns – Leads With Zero Ad Spend
And my favorite; "Start And Scale Your SaaS Business" which, as the name suggests, they teach how to start a SaaS business
Importance of Digital Marketing Agency For Businesses
After major shutdowns, people losing their jobs, companies going broke, businesses and people have finally realized that you need an online presence.
You see, schools are doing online classes, restaurants are doing online orders, my sister's karate class is doing Zoom calls and Zoom classes.
So what does that all mean, and what does that have to do with you?
Well, most businesses are now looking for new ways to attain more clients.
They're looking for new ways to attain more clients.
You don't have to be a genius to see that the world has changed, and even after the virus is gone and quarantine is over the world will still be changed and you won't come back to what it was before.
But what I like about this business model the most is you can literally make money helping local businesses and it's a win-win situation.
And you also don't have to be a genius to see that this is a huge opportunity for you because where there is demand there is money this is where I come to help you with this free course.
Digital Marketing Agency FAQ
In this section, I want to answer the most common questions regarding starting a digital marketing agency.
How Much Can a Digital Marketing Agency Make?
As a digital marketer, you can charge them thousands of dollars each month as long as you're getting the results.
I've had clients pay me $1,000, $3,000, $5,000 and have a client who's willing to pay me $10,000 for me to do a campaign for him.
I know people who charge even $10,000 to build a couple of photos and do a couple of campaigns the better results you get the more you can make.
So with just a few clients, you're making thousands of dollars.
And if you're starting out, I'd probably charge no more than the $500 per month just because you're still trying to get that skill set.
Do I Need a Contract?
Yes. The reason being is that if a client really wants to cancel, there's probably a reason.
So what you need to do is you need to set the expectations with them that they're going to be in a contract for 6-12 months.
For me, I'm not going to legally pursue somebody. If they cancel the contract or, if they don't pay, that's just not what I do.
I would rather spend my time finding other clients because they're much easier to work with.
Is Digital Marketing Agency a Good Business?
The good thing is that in 2023 all these small local businesses are looking for new ones to attract more clients.
They're looking to build an online presence and that is where you come in. And the best part is that it's super easy getting them results.
And the reason that it is easier to get local business results is people feel safe knowing that there is a physical place that they can go to. So they don't feel like they're getting scammed.
The second reason is that it's actually something that people need.
For example, if you have pain in your teeth where's the first place that you think about going? The dentist.
If you have a pet and you need to give them a bath where are you gonna take them to? The petshop.
If you're looking to buy or sell a house, where are you gonna look? A real estate agent.
You see these are things that people need these are things that people are used to so it is easier to get the results.
Starting a Digital Marketing Agency in 2023 Final Words
So I hope this free course will help you to start a digital marketing agency with no experience.
Digital marketing is one of the best-paying high-income skills that will allow you to make good money without a college degree.
And as you can see starting a digital marketing agency doesn't require buying any expensive course to be successful in this business.
It is not as difficult as it might seem. Just go through using these exact strategies, get the clients, get results for your clients, rinse, and repeat.