Today I want to share with you how to start a web design agency with no experience. You'll learn exactly everything, you need to know no matter if you're just getting started with website design or want to turn your skills into a career and start your own agency.
And in this web design business course, we're going to be focusing on:
As you might already know web design is one of the high-income skills that will allow you to make good money without a college degree.
And first, I want to talk about the mindset behind creating a website business and how I got started.
Well, for those who don't know, my first ever business online was a website agency. In fact, it was a very successful business.
I started my entrepreneur journey basically creating websites and then started my digital marketing agency.
And in this course, I'm going to show you how you can easily profit from working just a few hours a day with today's one of the best niches, web design.
But now you might be wondering, is web design a good business?
START YOUR 7 DAY WEBSITE CHALLENGE
See exactly step by step how to make your first $500
in 7 days selling websites for local businesses in 2022
Is a Web Design a Profitable Business in 2022?
The first thing that I want you guys to understand is that there's a huge demand for building websites for local businesses and web design is one of the most profitable online business ideas in 2022.
Do you want to know what all of these businesses have in common? It's actually one thing. Every business needs more clients.
And this is where you come in as a web designer. Your job will be to get those businesses more clients every single month and that's how you're going to make money.
And as mentioned earlier I started as a freelance web designer building websites for businesses in my local city.
Here are my results:

So, as you can see you can make pretty good money building websites if you know how to do this the right way.
Now, keep in mind this is the way that I made money. This is the way that I made my website business.
You simply have to find businesses that need a new website or businesses that need a website redone, a make-over.
Let's start with step number one.
#1. Choose a Web Design Platform
Today, there are many free and paid sites where you can learn HTML and CSS.
What if I told you that you don't even need to know what is HTML or CSS to design professional websites?
Because of various free software platforms, you no longer need to know HTML and CSS in order to get started.
And if you want to get started your web design business you have two options.
Let's take a look at each of them and find out which one will be the best option for you (and from which option you can make more money).
The first option is WordPress is just software that you use to build your very own website or blog and publish it on the Internet.
It is also called a content management system or CMS. It was created back in 2003 and since then it has become one of the most popular website publishing programs in the world.
In fact, WordPress powers 37% of the Internet.
There are many free and paid website builders available in the market like:
Wix
Squarespace
Joomla
Drupal
And more
So What Platform To Choose For Web Design Business?
Years ago I started with Wix then graduated to WordPress for a generic website.
Now with digital marketing trends leaning away from traditional websites and more toward lead capture landing pages and sales funnels naturally, I tried Clickfunnels.
Now I have quit them all.
All of the software mentioned above have great unique qualities and I will never regret using any of them.
But I needed an all-inclusive digital marketing platform with all the tools built-in with seamless integration.
And this is where Builderall comes in.
Builderall is one of the best website builders for businesses in the world with over 210,000 active members and over 500,000 websites published.
Now, let me show you why Builderall is the best option for you if you want to start a web design business with no experience.
What if you're not a designer?
Well, don't worry because you don't need to be a designer to build amazing incredible websites.
Inside Builderall you not only have hundreds of professional templates but also you'll get access to the Local Business Website Agency Course.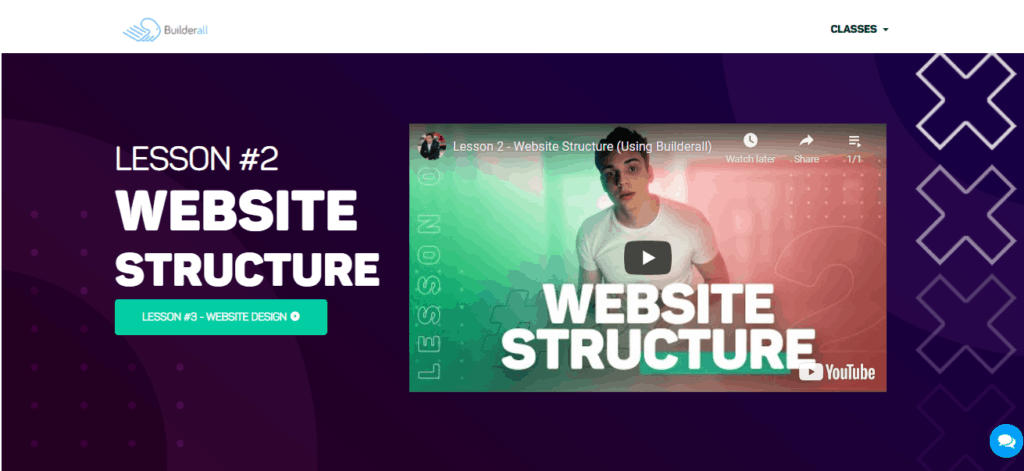 So if you're just getting started with web design I highly recommend Builderall.
You'll not only save your time and money but also make more money from your web design business!
How?
We'll talk more about it later.
With Builderall Cheetah you can build professional websites with no technical skills with a simple to learn drag n drop method.
As mentioned earlier website speed matters. And Builderall is actually the fastest website builder in the world with the highest score on Google PageSpeed Insights.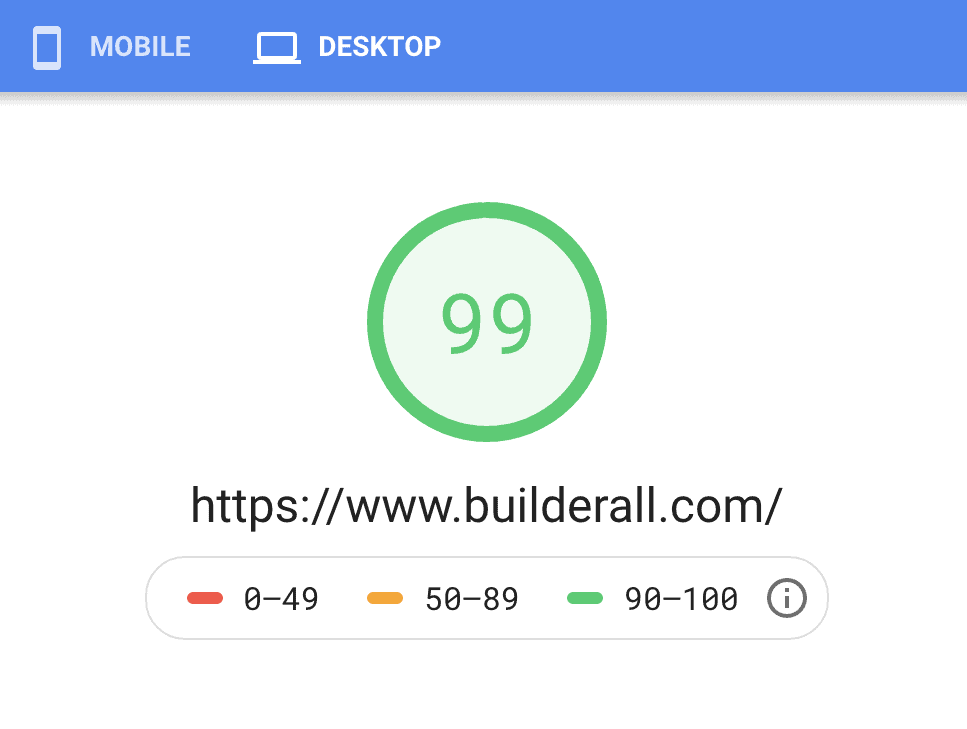 Builderall Funnel Club is a huge website templates library with over 600+ done for you pre-made templates.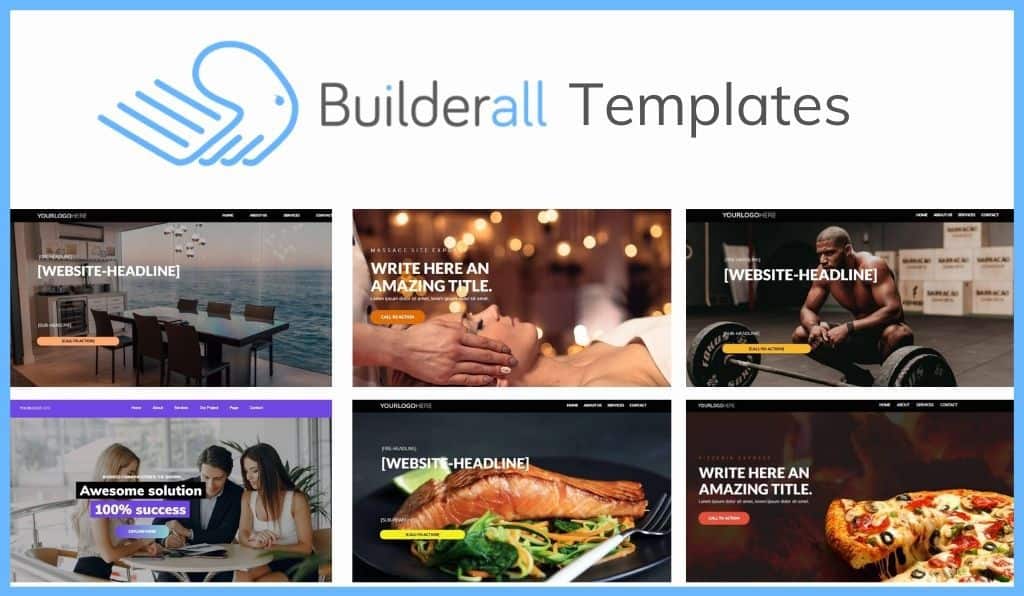 With these templates, you'll be able to create a website for your clients in nearly every industry including:
And many more.
Many people choose WordPress because of SEO.
However, to rank your WordPress website higher in search engines you need comprehensive knowledge about SEO.
Builderall allows you to optimize your website for SEO with just few clicks using Builderall SEO report tool.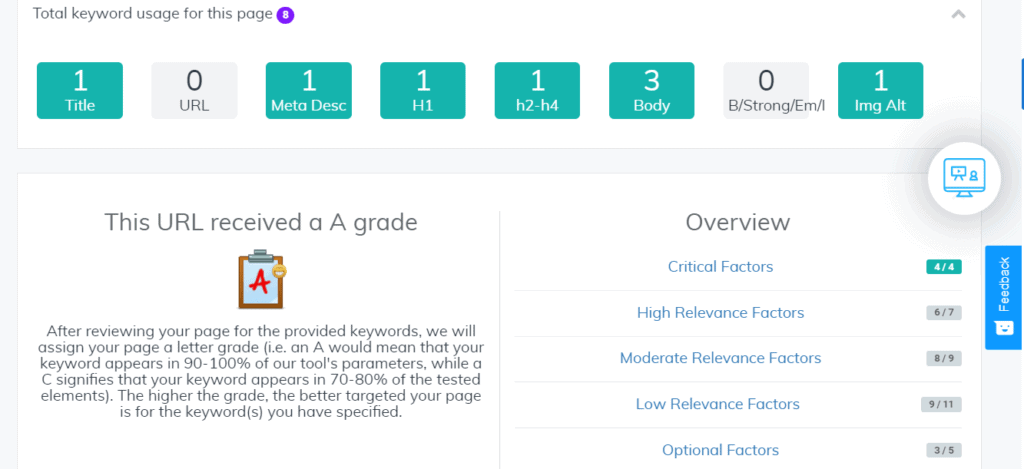 All you have to do is add your keyword and the URL of your website.
And it will give you a grade, and shows you how to improve your content depending on the keyword that you want to rank for.
So if you're just getting started you can use WordPress or other website builders.
And if you want to get started with Builderall you can start completely for free.
#2. Find a Web Design Niche
In this step, you want to make sure that you are getting crystal clear on exactly who it is that you want to serve. So this is the difference between serving anyone who is willing to pay you and be very specific so that you decide who it is that you want to work with.
Now, when you look for specific clients, what's going to happen for you is that you're going to be able to dramatically reduce your competition, you're going to be able to increase your prices.
And because you have similar clients, and you're applying this similar solution to help them get results that you are learning and improving upon over time, this is going to help you finish projects faster.
Because you're gonna be able to put a process in place to be able to make this more efficient. And when you do that, you make more money.
And because you are serving these clients you get better and better and better at serving that type of client and getting that kind of result.
Well, now you're going to start being able to close more deals.
Benefits of Niching Down
Now, you're also going to be seen as an expert, because people are going to start to learn who they need to go to in order to get the results that they want.
And this is going to overall help you have to do less selling.
Now as people we tend to just follow the crowd. So this very much sounds counter-intuitive, because there are so many people who are out there just serving anybody they can get their hands on.
And so we want to make sure that we are really focusing on who we want to get to. When we focus, that helps us get the results.
So this doesn't mean that we can't serve a wide variety of clients that does work for some businesses. My goal is to help you be able to get the results that you want the fastest way possible.
So especially if you have no clients or if you have one or two clients, and you want to be able to build up your business as fast as you can to hit your revenue goals as fast as you can, well this is a great way to go.
Now if you're not convinced, I understand, what I want to do is look at some specific examples of agencies who are doing this. And they're blowing this out of the water. Progressive Dental Marketing is our first example here.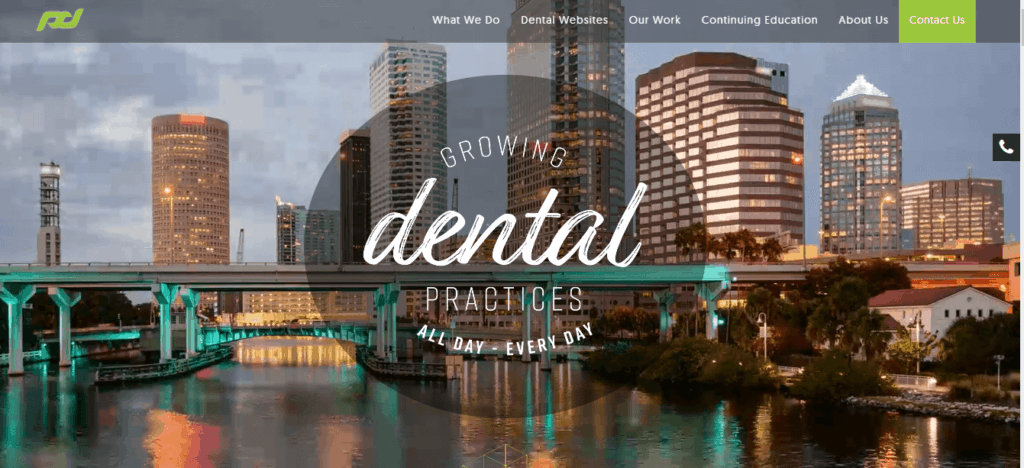 They have been at both in the Inc 5000 list and the Inc 500 list, and have experienced almost 300% growth over just a few years. And they are making millions of dollars in revenue.
And they're only working with dental practices.
So their goal is to attract dental practices and help them attract more patients for their businesses.
Next up, we have Pure Cars, and they make tens of millions of dollars.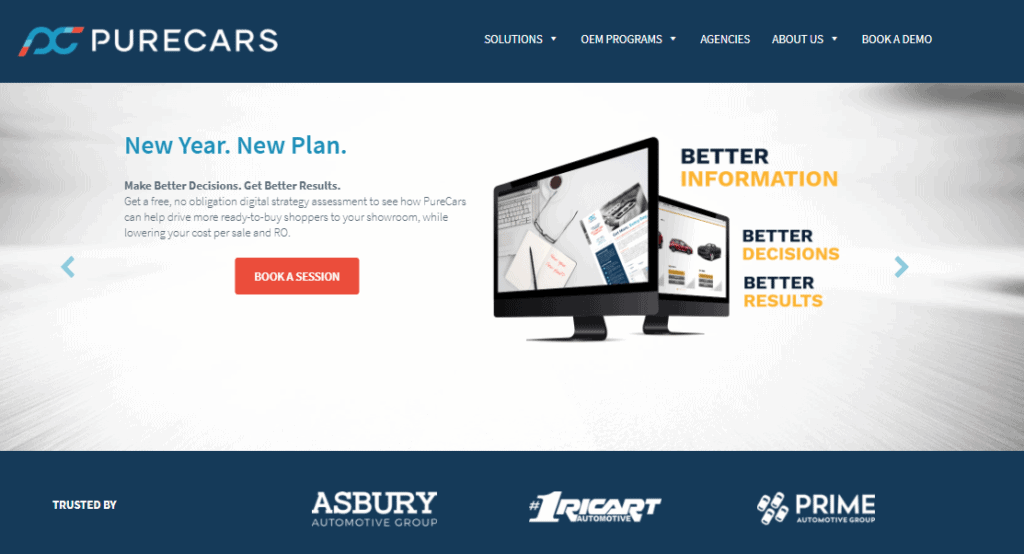 They've also been on the Inc 5000 list for many, many years now. And they were so big and so successful that a few years back, they were actually acquired by another agency, and they exclusively focus on auto dealers.
My goal here isn't to tell you that you should go focus on these particular industries. And my goal here isn't to make you feel bad that these agencies are out here making millions of dollars per year.
But my goal here is to really show you that if you're feeling like there isn't enough money to be made when you really get specific on who it is that you want to serve.
And there are different ways to do that, which we can talk about at another time. But when you focus in, you are really able to get very specific on who you serve, you're able to get very focused in on your marketing and on your lead generation funnel.
Also, you'll have a better way of getting right in front of the exact clients that you want and being able to get them to hire you easier because they know that you're looking at them specifically, they know that you are able to get them the results that they need.
To help you find an online business niche for your web design business, here are a few examples of profitable businesses you can find and work with:
These are businesses that you're going to find everywhere, no matter where you go.
You make money helping local businesses get more clients, building websites for them.
#3. Make Irresistible Offer
So let's move on to step number three, which is to create your irresistible offer.
Now, this is where a lot of people mess up because they offer:
Web design
SEO
Facebook ads
Email marketing
Well, guess what all of that is very resistible. But what we want is an irresistible offer.
So when we are talking to a business owner, most business owners, are going to respond very well to someone who wants to help them generate more leads, more customers, more sales, because that is where the money is at.
That means if they hire you, they pay you money to work on a project. And after that project, they end up with more leads, more customers, more sales, well, that's more money for them.
So they generated that money back plus more money on top of that.
And that is how you are going to be able to help them see that what you are offering is an irresistible offer.
How you get those results is through web design, and SEO and conversion optimization and email marketing, Facebook ads. There are so many different ways to help get these leads, customers, and sales.
And that's what you're going to get good at for the specific types of clients that you want to serve. But when you do that, that is how you make the offer irresistible to them.
#4. Build a Web Design Portfolio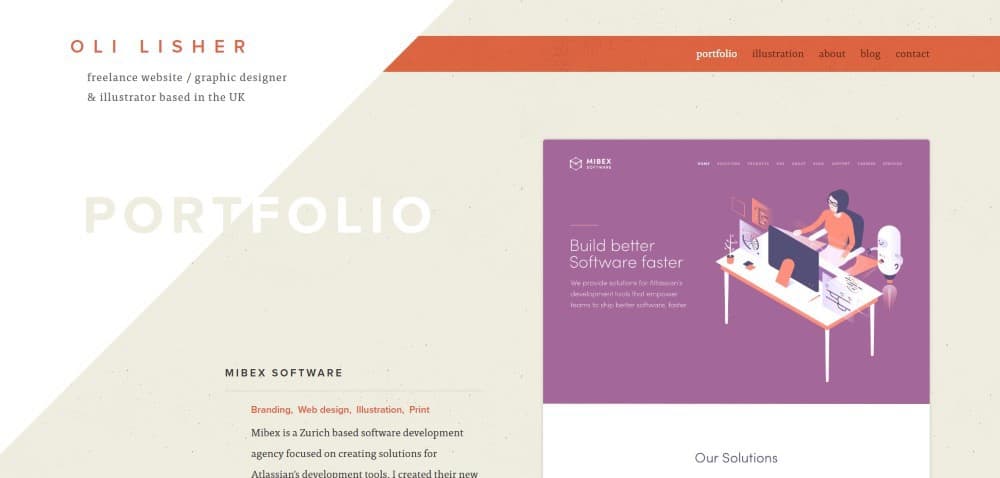 The most important thing when starting a web design business is social proof is getting results in showing your results and based on your results getting clients.
The first thing you do is should do as a web designer is build your portfolio.
The same thing that I did, get a few people and make websites for them for free.
What you can do with it you create a post all over your social media like this:
Hey guys, my name is (your name)

I'm starting a web design business and I need social proof. I can create a business website for free for the first 10 people.
So if you're interested comment down below and we'll start your website makeover ASAP.

Best, (your name)"
And you don't necessarily have to do 10, you can do 5.
Just make sure you get enough social proof to show to your other potential customers now one of the
So what you can do is post on Facebook asking about who wants a free website makeover.
Now one of the things that I recommend is in exchange for your service ask for a testimonial video or just a written testimonial for you to place on your portfolio website.
The cool thing about this method is that not only you're gonna have a bunch of social proof on your website but it's free.
And these people that you build websites are going to start recommending you that is if you do a good job.
And I know recommendations are not enough so you have to find a way to get more clients to bring traffic to your portfolio website.
And there are two ways that you can get more clients.
The first one is doing advertising that's the paid method and the second one is doing it organically the free method which we will cover right now.
#5. Get Web Design Clients
So in this step, you'll learn how to get web design clients.
As mentioned there are free and paid methods to find clients for your website design agency.
And when it comes to free organic methods, you've got hustle in the beginning,
There is no way around it.
The first few weeks is going to be the hardest.
It just is because you're learning so many new skill sets.
You're building a personal brand, you're going through and getting all this stuff moving at the same time.
And so that's when it's actually going to be the hardest but if you hustle after that first, let's say five weeks things just start to kind of flow into your business, and things just really start to grow.
And I guarantee you if you stick with it, you're committed. You're gonna actually see the results.
So, let's take a look at free methods to get clients for a web design business.
Yelp & Groupon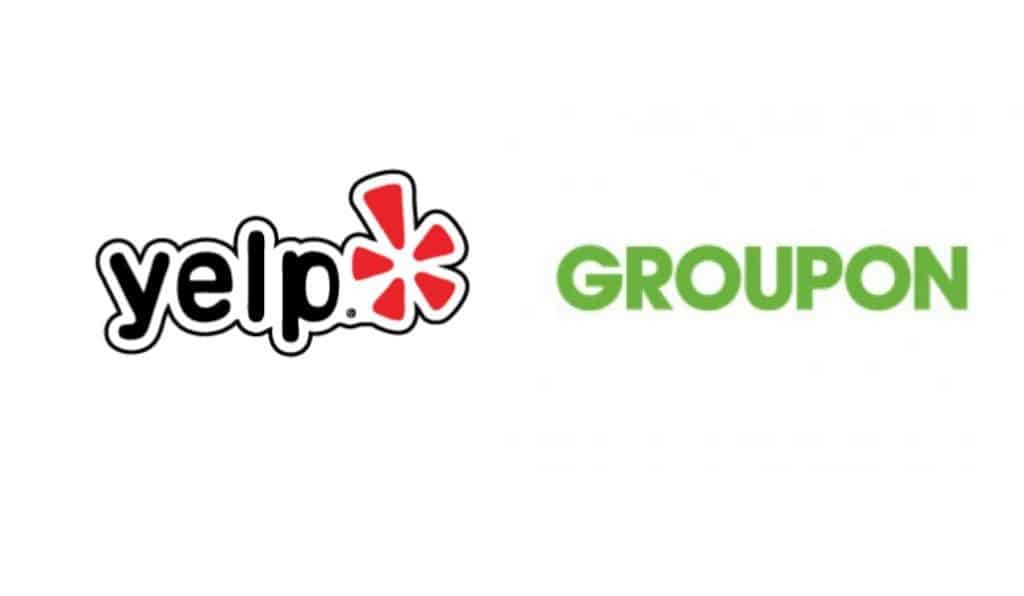 You've probably heard of Groupon and Yelp. These are huge platforms where you can find local businesses around your area.
Knowing that Groupon and Yelp have thousands of customers and their customers are local businesses.
What you can do is go to Yelp, go to Groupon search for example a restaurant, and right there you'll have their contact information.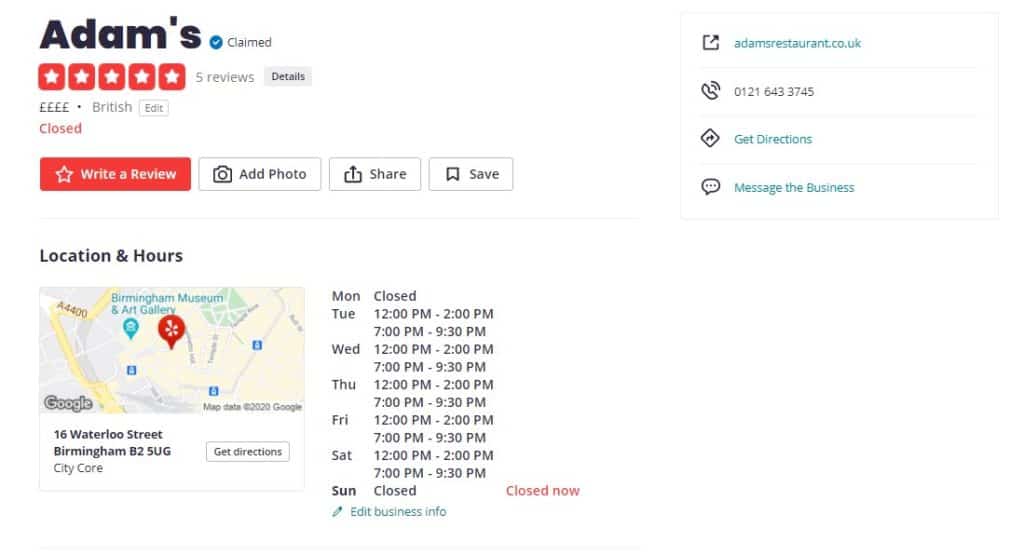 You have their:
Email
Phone number
Adress
Location
From here what you can do is start building your list, start contacting them.
📝 Web Design Portfolio Proposal
"Dear Owner of (Business here),
Hello! Today is your lucky day. I'd like to give you a discount on my web design services. My name is (name) and I have a local business designing websites. You can see my portfolio at (website).
I noticed that your website is outdated and the mobile version of your site is also hard to navigate. If you had a beautifully designed modern website, then it would help you bring in more customers.
Let me know if I can be of service to you!
Best, (your name) (your website)"
One of the things that I did was I started contacting them through the phone.
But I found out that if you want to get more results you can go pay them a visit.
So you go there you talk to the manager, you grab their phone number, and two or three days you send them a website preview if they approve they pay.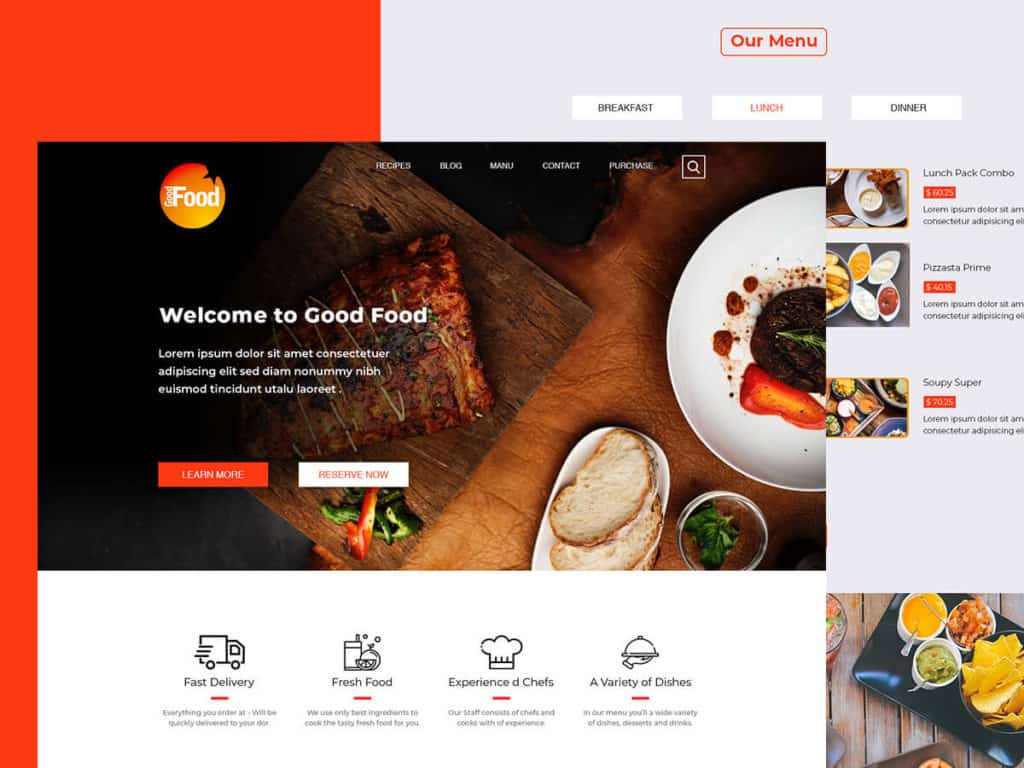 It is that easy you literally have a list of thousands of potential customers for your web design agency.
BNI Group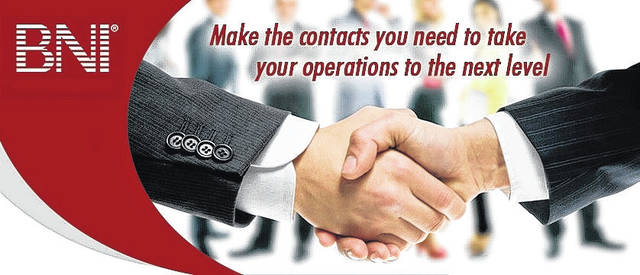 I remember several years ago I went to a BNI group and I was like making connections and kind of meeting all these people.
And BNI it's a local business networking group where you can find people from many niches including:
And they only let one of each business profession inside of this group.
And then the whole idea of this group is to help each other expand their connections and have referrals for their businesses.
And so everyone's going there with the mindset of giving you referrals and helping you out with your business.
And so what you can do is to go there and tell them the benefits of having a professional website in today's business world.
Meetup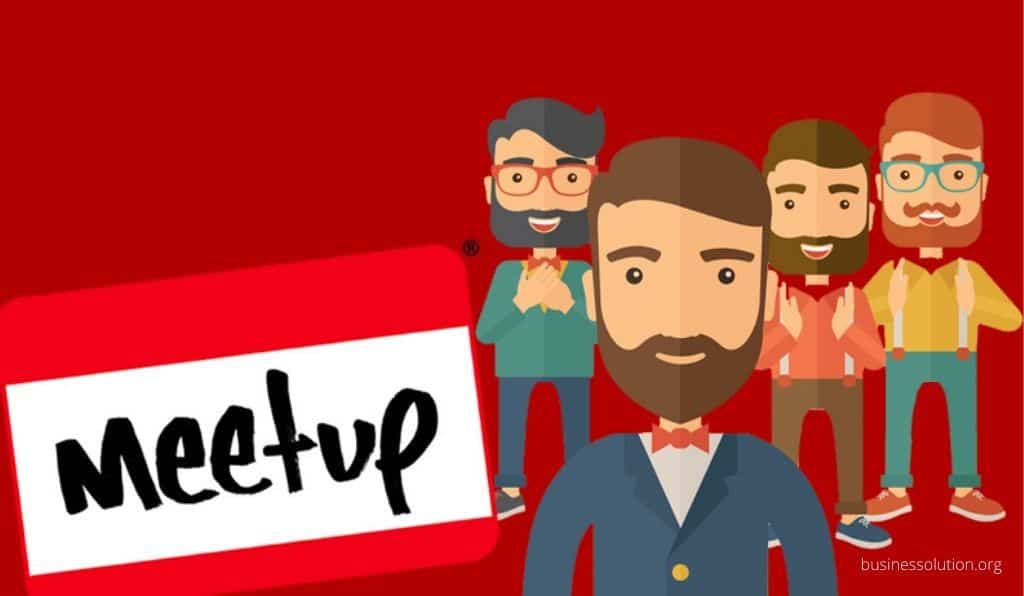 You can also go to Meetup and find other meetups of people that might need help with their business website.
So this is another great place to find clients for your web design business.
Getting Web Design Clients Tip
So, these are some free organic ways to find clients for your agency.
Here's the biggest thing guys.
You'll have to get out from behind your computer.
Go and connect with people in real life not just on the computer and you want to go through and connect with and go meet them PERSONALLY.
You see most designers don't have any results because they're not willing to put the work.
There is no better way to go out there and meet those business owners personally and talk to them face to face.
So if want to be successful as a web design freelancer or agency owner you have to get out from behind the computer, get out of your house and take action and do some work right here.
And if you want to know how to do that the right way, check out this step-by-step guide to How to Approach A Business To Sell Your Digital Marketing Services.
How To Price Web Design Services?
The web design pricing depends on your niche but you can charge an initial fee of $100, $200, $300, and a monthly fee to keep the website online. And that's what we call the hosting fee.
The hosting fee is basically a fee that they pay to keep the website live and that's how you make money.
That's how you make recurring commissions every single month.
You're selling the website for maybe $300, $200 but you're actually making money from the hosting, and hosting is one of the biggest niches today.
Let me show you the math. This is just an example. This is what I was doing when I had my website agency.
If I had a client, I would charge $297 plus $29 monthly. The $29 was the monthly fee. It was the Builderall license that I sold. 
So, I would charge $297 to build a website from scratch and then I would sell Builderall, and if you want to keep the website live you've got to have Builderall and I would sell the $29 monthly plan.
Let's say in one month you can get 10 clients, right?
And with the strategies that I'm going to show you, you can get way more clients than that.
You get 10 clients, and you charge $297 + the monthly fee for 10 clients.
1 Client = $297,90 (one-time rate) + $29,90 (monthly)
If in 1 month you find 10 clients you can make:
$297,90 x 10 + $29,90 x 10 = $2,979 + $299 = $3,278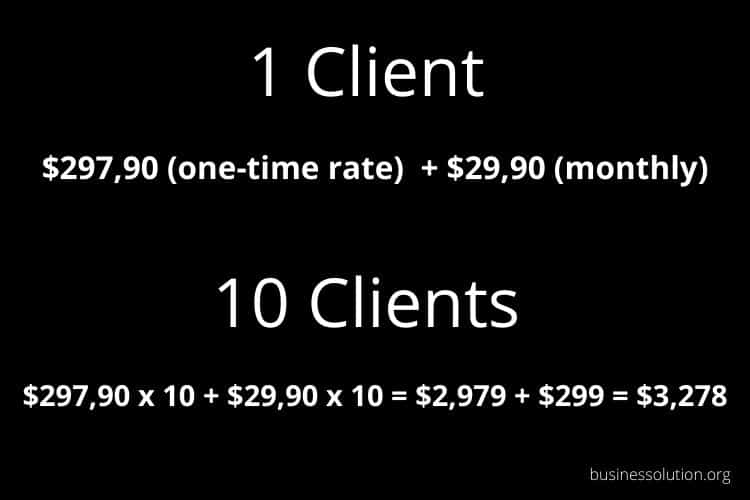 This is what you're going to be making monthly from those 10 clients.
And at the end of the day, this is what you're going to be getting the first month.
Now, this is where the magic happens.
If you decide to build your website with Builderall and you can bring 10 clients every single month, in one year, you're going to have made over $35,000.
But also you're going to be generating $3,600 just from the hosting.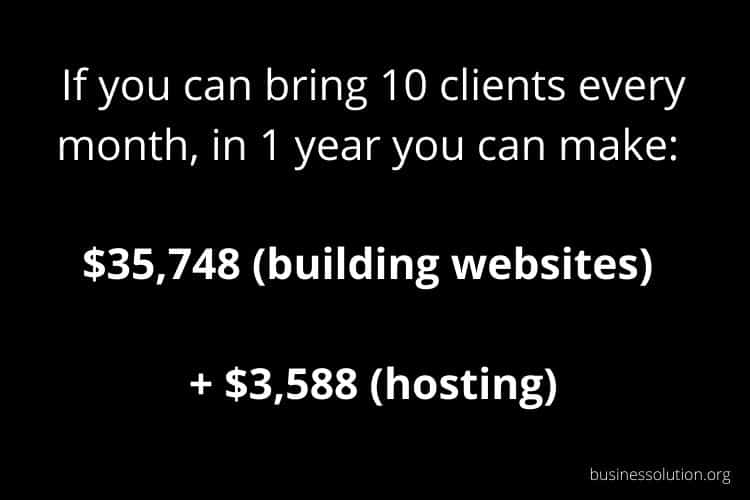 So if in one year you can bring 10 clients every single month to build websites, not only do you make almost $36,000 that year but you also generate $3,600 of recurring income.
But let's not forget that you can also charge for other fees, such as updating the website. A lot of people ask for you to build a website. They're going to need an update.
You can also charge a fee for you to update their website or for you to take care of their website meaning that you can make a lot more money. 
Now, if you're building websites from scratch, you can charge way more than $297.
However, if you're just getting started I would not charge more than that.
How To Scale a Web Design Business?
The best way to scale your website design agency is to offer your clients other web design services.
Compliance & Accessibility Services
I'm sure you've heard about some regulations and laws like GDPR; the general data protection regulation and ADA; the Americans with disabilities act.
And there are many other regulations and laws and they're changing and new ones are coming in all of the time.
You see, most businesses don't think about these or they just don't know where to start or what they need to do to actually be in compliance so this is a great way to be able to appeal to a lot of different types of businesses to make sure that they are protected and always in compliance and that everyone is able to use their website.
Web Design Consultations
This is an excellent way for people to be able to pay you on an hourly basis to run their ideas by you to get your insights to help them make a web design plan for what they have coming up.
But even that this is a good way for people to be able to spend more time getting to know you to be able to hear more about your ideas before they commit to larger amounts of work with you.
Alternative Buying & Pick Up Options
And the last option is helping businesses set up alternative buying and pick up options.
These options are very likely here to stay as people have become more and more used to options like curbside pickup, in-store pickup delivery, and other e-commerce setups.
You see, prior to a couple of years ago most businesses were not offering this at all and many still aren't and so they're a bit behind and they'll definitely lose out on customers when they don't offer some of these options.
So this is a great way for you to go into a business that is still thriving but doesn't have the time or the energy the expertise to be able to figure out how they can start offering some of these options to new and existing customers
If you want more ideas, make sure to check out this list of 12 Digital Marketing Services You Can Sell.
💡 Pro Tip
If you want to learn more about scaling your web design business even more, then you'll love this in-depth guide on How to Start a Drop Servicing Business and learn how to outsource web design services to others.
Web Design Software
Now let me show you some of the web design tools that will help you build your websites and grow your business.
Builderall
As mentioned earlier Builderall is one of the most complete website builders on the market.
I know there are a lot of people out there that don't like these website builders because they don't give you the full range of customization that you can get with code so that's why I use Builderall.
Honestly, the reason that I am taking my web design business more seriously is because of what Builderall has to offer for freelancers and agencies.
Instead of actually typing out the code line by line, you're able to use an interface where you're able to drag and drop elements across the page,
I can bill my clients, I can charge them whether that's a one-time charge of a few thousand dollars, or if I'm charging them monthly I can do it directly through Builderall.
There are hundreds of pre-made templates for even very niche-specific industries where all you have to do is to put a logo, business information, and website is ready.
I highly recommend giving it a try even if you're using WordPress, Builderall offers our readers a 14-day free trial.
Dribbble.com
Dribbble.com is my personal favorite place to look for website inspiration. It's a place where designers can showcase their work. There are posters, graphics, logos, and of course web design.
I love looking through other people's web designs on Dribbble.
Figma
So after I find inspiration for a website I generally like to make up some kind of prototype of the website design.
So when I'm not using a template and I'm building out the actual prototype, my favorite tool to use is called Figma.
You can use Figma to plan out your websites and make graphics. I've been able to build out an entire website and share it with the client have them approve it and then I turn around and build it on Builderall.
Canva
Canva is another really good website where you can kind of use it the same thing as you were using for Figma.
This is a great place for you to find graphics and animations. There is a free option and there are a lot of really good graphics in the free option.
I will admit I do have the paid version and it is absolutely money well spent. They have the best graphics, they have the best images, it just kind of feels like it's my all-in-one-place where I go there if I'm looking for something a little additional to add to my website. Highly recommend it, it awesome website.
How Web Design Help Businesses?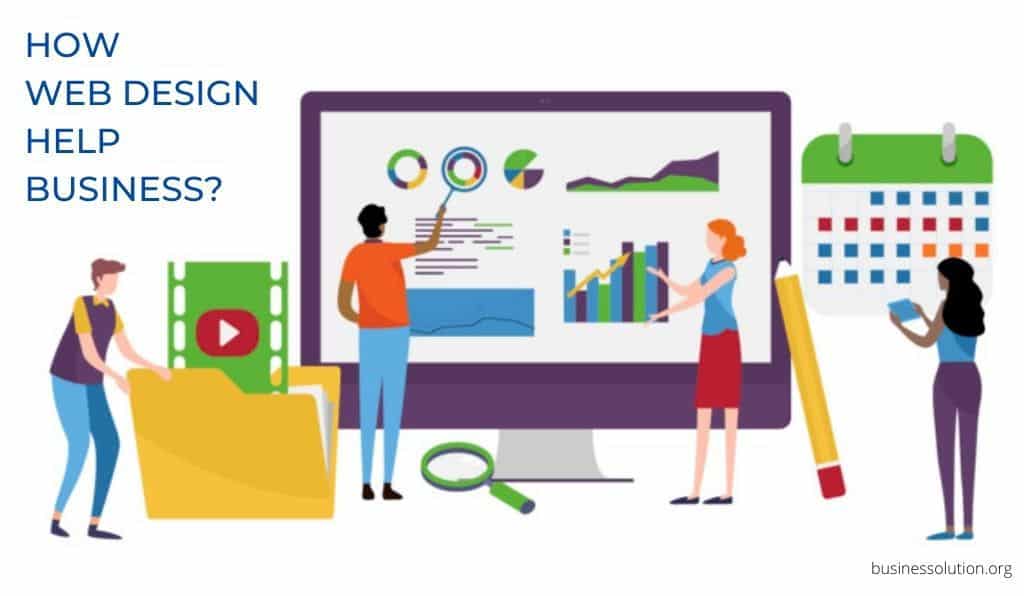 I know this one's sort of obvious, but it's true. Small businesses with professional websites tend to get 40% more clients.
There are 4.3 billion people active on the internet which is 57% of the world's population. And out of 4.3 billion people, 3.9 billion people are active on the internet on their mobile devices.
That's 52% of the world's population meaning that 52% of the world's population has access to the internet on their mobile devices.
Now this one is also very important. Studies have shown that 40% of people abandon a website that takes more than 3 seconds to load.
Starting Web Design Business Final Words
And that's pretty much it for this course.
Hopefully, now you know how to start a web design business and how to get clients.
But just remember, no matter if you want to start a web design as a freelance or your own agency if you don't take action, none of this will matter.
Making money online is a matter of action. So make sure you take action and actually apply those strategies that you've learned.