In this in-depth comparison, we're going to talk about the best CRM software for a digital marketing agency. You'll find out which platform might be the best option for you depending on your business needs.
Choosing the right CRM system for your business can be a bit of a nightmare. There are so many options on the market and each has its own unique set of features that it can be difficult to know where to start.
In this review, we prepared a list of the 17 best CRM for marketing agencies that will help you gain more customers and profits by spending less time on marketing, but focusing on what really matters – providing excellent service to your clients.
We have compared features, pros and cons, and more to choose the best one for you.
1. Dashclicks
DashClicks' Contact Management CRM software allows you to add, manage, and segment all your 'people' contacts and organize your sales process. The same applies to your 'business' contacts as well. 
Regarded as one of the best contact management software available in the market today, it lets you easily manage your 'business' and 'people' contacts with efficiently designed contact cards. The software is well-suited for SMBs, digital agencies, and SaaS companies.
If you talk about any cons, the only one I found was the limited contact records available with the free account.
DashClicks Features
Let's now talk about the features of the software.
DashClicks' Contact Management CRM is powerful and efficient and allows you to add new contacts with ease. You can add people and business contacts manually, bulk upload from a CSV, or do a single click data transfer from other popular sales CRM software.
Also, one of the best things about the software is its attractive and uncomplicated UI. It is easily customizable as well.
Apart from this, DashClicks' CRM lets you unify all your communications with prospects, leads, and customers directly from your contact cards.
DashClicks Pricing
The pricing options are as follows:
Free plan – 0 USD
Pro – 97 USD/month
Plus – 297 USD/month
Premium – 597 USD/month
2. GoHighLevel
GoHighLevel CRM is among the best software for new as well as established digital marketing agencies that are not quite at the point where they can afford any other expensive CRM systems.
GoHighLevel is a new marketing tool that has managed to gain popularity and momentum due to its advanced marketing automation capabilities.
It was only started in 2018, but now there are over +15,000 agencies with large distribution networks that use GoHighLevel CRM software for their marketing campaigns.
In fact, GoHighLevelCRM is specifically created for digital marketing agencies.
So if you're looking for something that's more affordable, I highly recommend looking at GoHigh Level.
GoHighLevel Features
GoHighLevel is an all-in-one digital marketing platform that allows you to:
GoHighLevel Workflows
You can use the drag and drop designer to easily define your marketing workflow. The visual automation tool allows you to build multi-step marketing campaigns within minutes.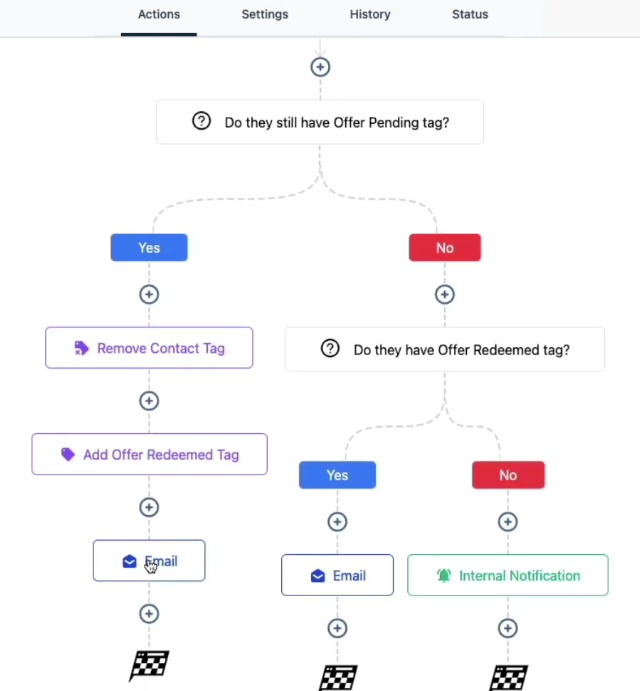 From there, you can set autoresponders to send automatic email responses and follow-up messages based on time or contact actions.
The CRM software also comes with free outreach tools to keep customers engaged. You can inform customers of new deals and your latest news with email newsletter templates and then view data on opened emails and clicked links.
Also, it shows you the actual conversation, all the emails and text messages that have been sent to your clients.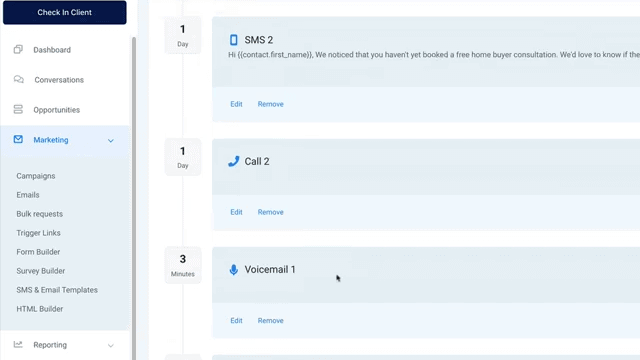 It shows me information about the customer which is coming from a form where we're collecting information.
See all GoHighLevel automation tools and features here.
GoHighLevel Agency Templates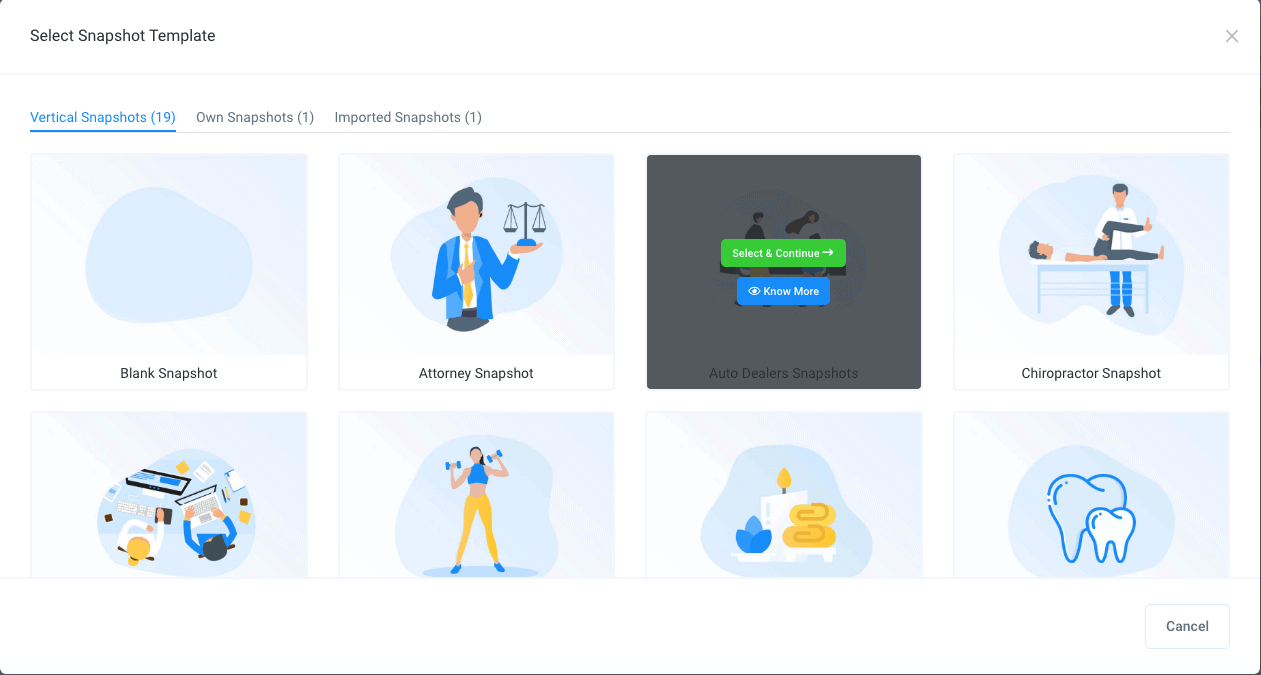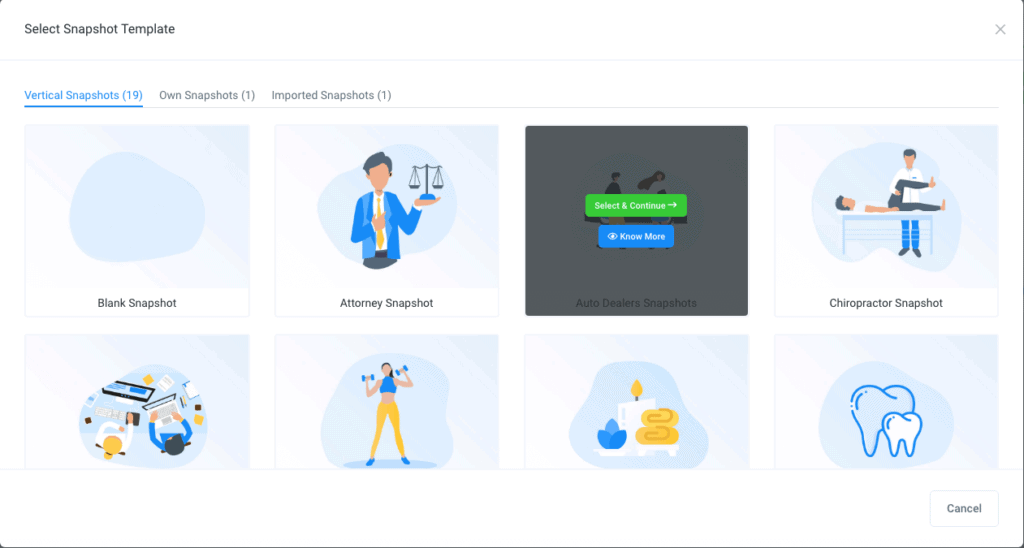 GoHighLevel provides professional templates for many industries, including dentists, gyms, chiropractors, real estate agents, and so much more.
And many more.
GoHighLevel Integrations
It also allows you to integrate your Facebook account, Google Business account, Linkedin, HubSpot, reviews, pretty much all integrated into this one CRM.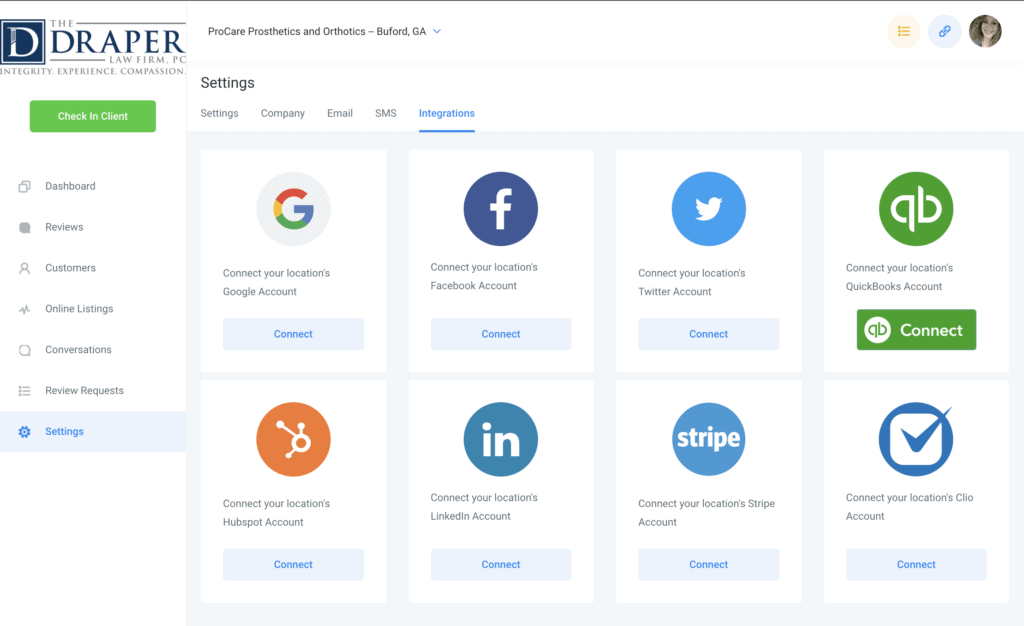 So it makes it super easy to see where your money is, where your contacts are in the buying process, and really get the most out of your communication efforts.
GoHighLevel White Labeling
The last thing that I want to talk about is the fact that this is an added benefit for agency owners.
With GoHighLevel you can white-label your marketing agency CRMs at a $497/month level.
And you have unlimited access to all of the features that you could possibly want with this CRM.
The only downside that I can say that is pretty much existing right now with GoHighLevel is the fact that they don't have "if-else statements".
Meaning I can't build conditional logic into my automation, but I'm still able to build a functioning and effective automation to send emails and text messages, phone calls, and voicemails to my potential client.
Also, you're going to get unlimited users and contacts.
So you can put a hundred sales reps into this platform and they're not going to charge you an extra dollar just because you're adding more users where pretty much every other platform that you'll see, charge on a per user basis.
GoHighLevel Pricing
GoHighLevel offers 4 pricing plans for their users:
I'm paying one single fee per month and I can have unlimited users and unlimited contacts.
So that means I can put in as many potential leads as I want without having to pay or upgrade.
I have all of the automation that I need including text message sequences, email sequences, phone call sequences, voice mail drops.
And the best part is that using this platform you don't need any more third-party tools including sales funnel builders and email marketing software.
That means it is going to save you lots of money in the long term.
I recommend getting on board before they start raising the price. If you join right now, you get grandfathered in at the price that you first bought in at.
So your price will never go higher than $297. Even when they start charging everybody else more than that.
>> Start GoHighLevel 14 Day Free Trial
3. HubSpot
HubSpot is one of the most advanced CRM for digital marketing agencies. It is all in one platform that incorporates sales, marketing, and customer services.
However, at the same time, it's one of the most expensive pieces of software in the industry.
While it's loaded with tools, getting started can be a little confusing since there are so many options.
HubSpot is a great solution for established and growing agencies, people who are trying to scale, sure, this makes a ton of sense.
But if you're not growing yet, and you're just starting out, not what you want to look at.
HubSpot Features
Its main features include:
In addition, it enables businesses to track interactions with customers through social media and emails.
Through the tracking of leads and the recording of customer interactions as they travel through the sales process, you can effectively assign and track leads.
As far as integration services, features, this platform is just as good as far as marketing agencies are concerned at CRM management definitely comparable to Salesforce, pretty much identically.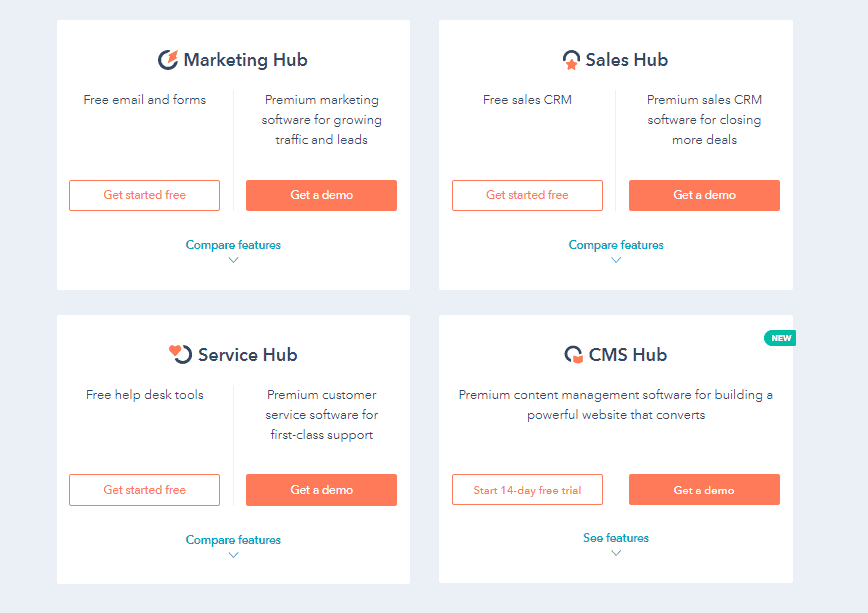 So if you're at that stage in your business, we're not going to spend too much time here, but HubSpot is where you want to check out.
If you get to the point where you're scaling your business, you're going to look at HubSpot, it's really great for option marketing agencies.
HubSpot Free Tools
To start they do have the free tools like:
All of these tools are very useful but it is not enough to get everything that you want to be done.
HubSpot Pricing
When it comes to their pricing it is pretty flexible as far as being able to add or remove features.
While HubSpot CRM is free to get started, there are add-on packages that add advanced features like artificial intelligence and automated marketing to the HubSpot platform.
4. Kartra
Kartra is an all-in-one digital marketing platform. Besides the very advanced CRM system, Kartra assists you with creating sales funnels, running email marketing automation, video hosting, building membership sites, and more.
Kartra Features
Kartra has 12 business tools including
Kartra CRM
Here, you will be able to track and manage your leads in a funnel. Kartra CRM allows you to manage your contact list with the utmost ease.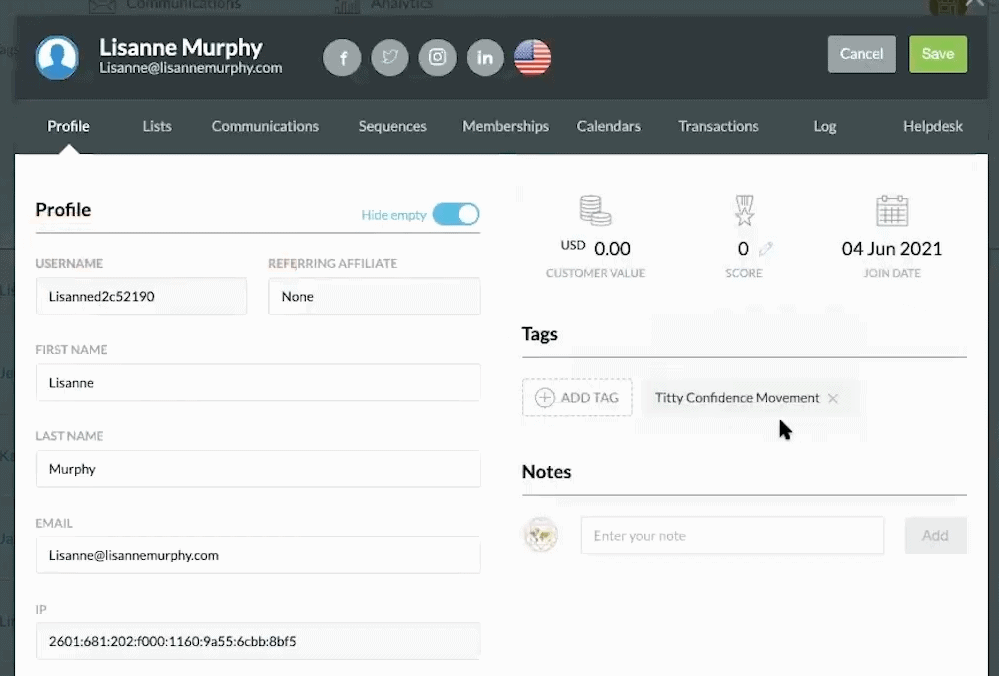 Additionally, you can add tasks, appointments, and notes, to name a few.
Kartra Email
Kartra's built-in email marketing tool is comparable with some of the dedicated email marketing software like GetResponse, AWeber, ActiveCampaign, and more.
With this tool, you can create very advanced email marketing automations.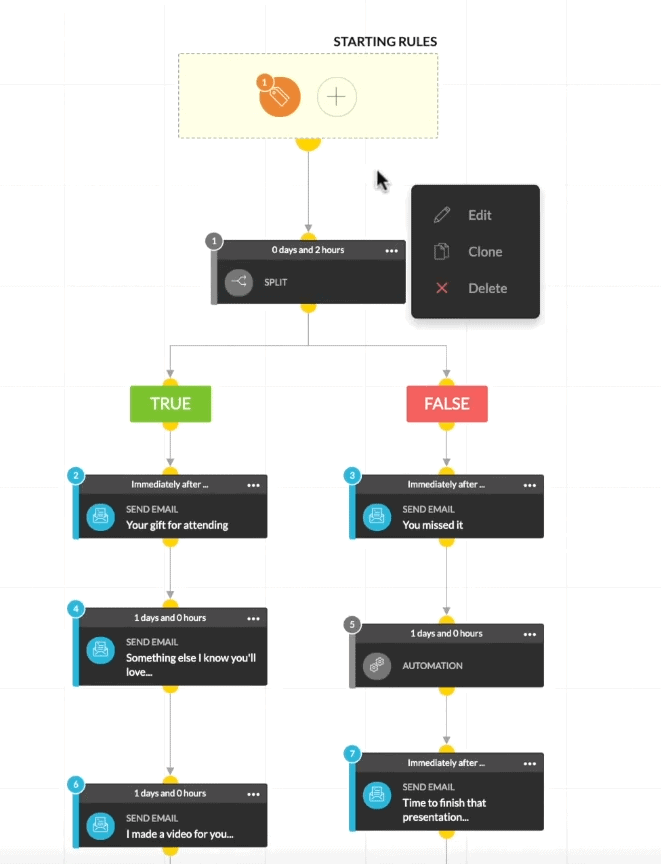 Kartra allows you to add your leads to different automation for email, voice, as well as SMS
Kartra Video
It's also an amazing video player that it's branded for you.
You can actually have deep analytics, you can see who watched how much of the video, you can have a lead capture form within it, and more really advanced options.
This is probably the most useful feature for digital marketing agency owners because this feature enables you to have subaccounts for your clients and manage them inside one dashboard.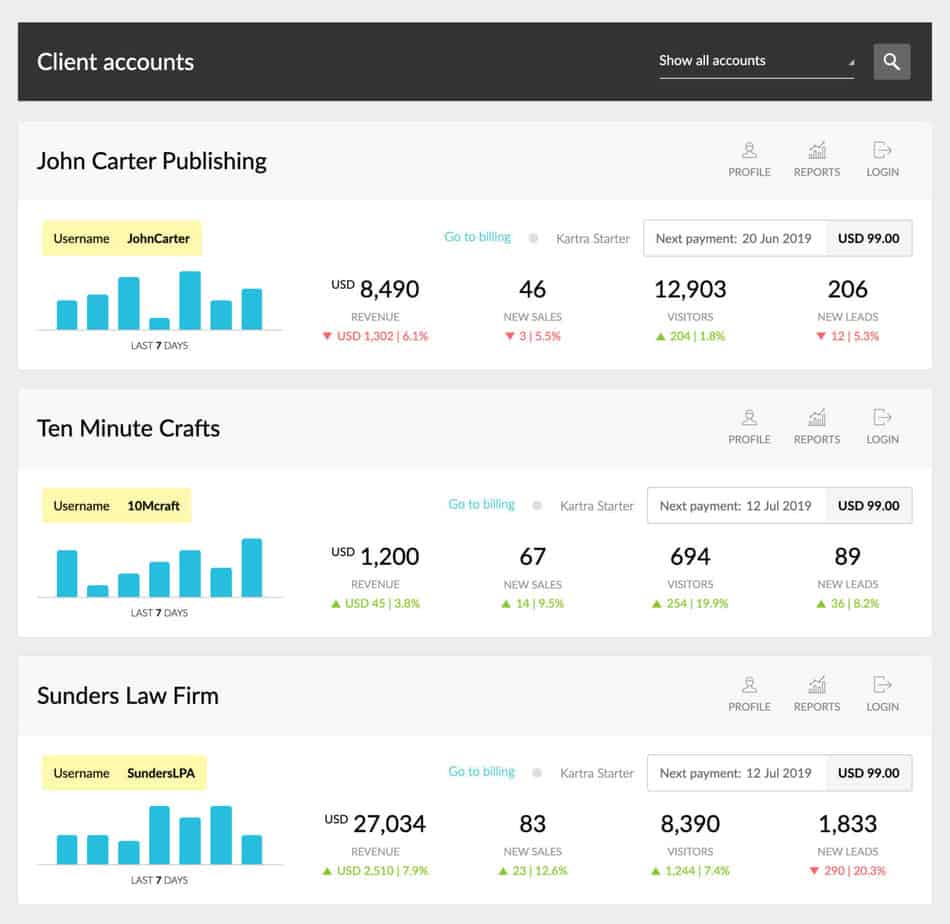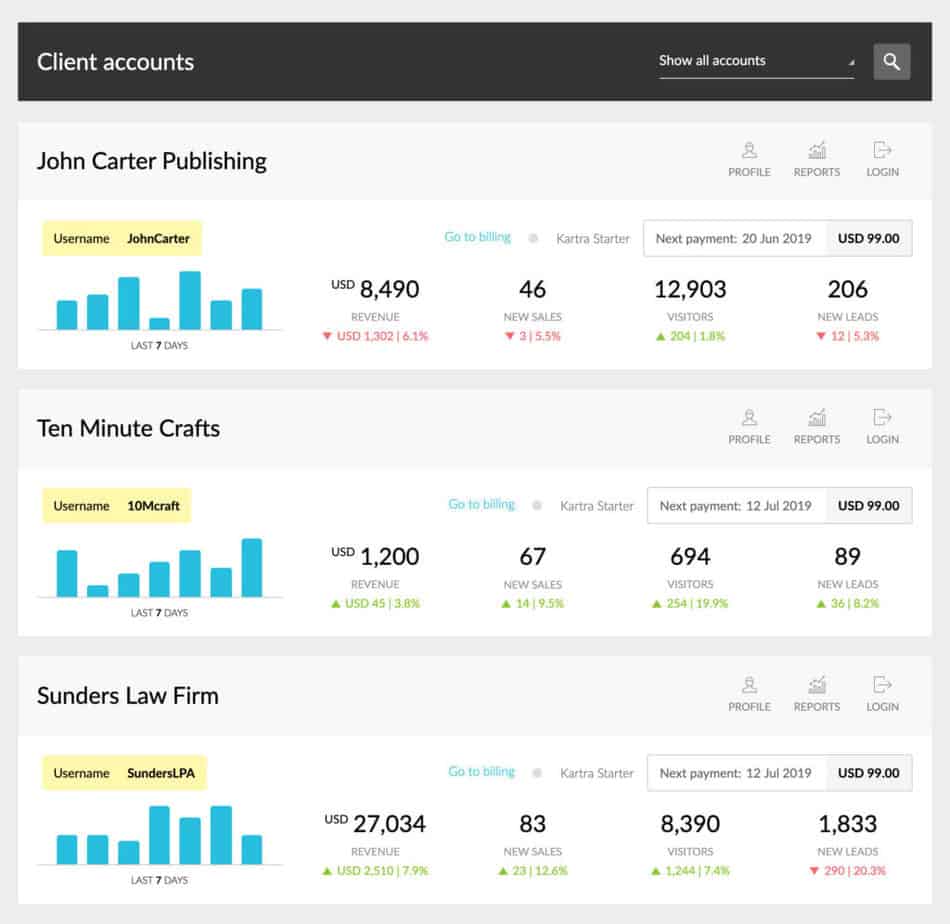 Kartra is integrated with different payment providers like PayPal, Authorize.net, Braintree, and Stripe so you can sell your digital marketing services.
Kartra Pricing
Katra offers different pricing plans based on user subscriptions. They include:
Starter plan – $99/month
Silver plan – $199/month
Gold plan for $299/month
Platinum plan – $499 per month.
Kartra offers a 14 day trial for $1 but you can extend this trial to 30 days if you use the link below.
5. Builderall
The next all-in-one platform for agencies on this list is Builderall.
It's one of the top-rated all-in-one digital marketing platforms for entrepreneurs, business owners, and web designers.
Builderall Features
Builderall offers over +45 business tools and apps, including:
See +200 things you can do with Builderall
Funnel Club
Builderall Funnel Club is a huge library with over +400 websites, sales funnels, and chatbot templates.
There are six different categories inside the Funnel Club and one of them is dedicated to agencies, it's called Agency Funnels.

You'll find here funnels for industries like:
And many more.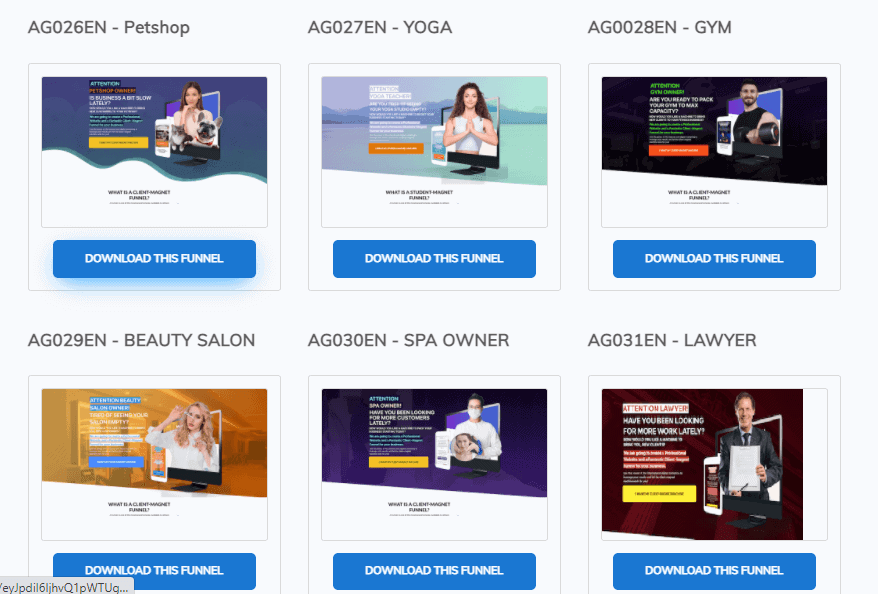 And to use some of these templates, all you have to do is just download and install them on your website.
Builderall CRM
Last but not least, Builderall's CRM is a very advanced way of managing your clients' data without knowing any coding.
Builderall CRM includes many features like:
Builderall Pricing
Builderall offers 4 pricing plans:
>> Start Builderall 14 Day Free Trial
6. Omnisend
Omnisend is one of the best CRM for marketing agencies in the e-commerce industry. Powered by AI technology Omnisend CRM system automatically collects, analyzes, and leverages all of the customer data.
Omnisend Features
With Omnisend you'll get a complete list of the actions that your customer took on your site including a number of sessions, pages and products browsed, order placed, and more.
With this data, you can understand your audience better, discover how to improve the content on your website, and even better, how to convert your visitors into customers.
Omnisend also provides a great feature called smart segmentation that filters your audience based on a variety of transactional events and purchase behaviors.
This makes it easier to reach out to specific segments of customers with more targeted messaging, boosting the personalization of your campaigns.
You can simply select preferred segmentation rules, buyers who have purchased a specific product in the past let's say 7 or 30 days for example, and nurture them with special content, discounts, and offers.
Omnisend Pricing
7. Zoho CRM
Zoho CRM is a customer relationship management tool that comes with a number of different features to help businesses close more deals in a shorter amount of time.
Zoho Features
A great feature that comes along with Zoho is that they integrate with pretty much any other software from Zapier to QuickBooks, to Facebook.

Another great benefit is when you choose the enterprise plan, they have individual training. They do one-hour demo calls.
All of these are included when you purchase those packages to help you get on board and to make sure that you understand the product that you're using.
So they're really about making sure that the customer understands why they're buying this product and how to best implement it into their business.
Zoho Pricing
Zoho is pretty great for smaller agencies because they are super affordable.
Zoho offers 4 pricing options:
Just like other CRMs, Zoho prices can increase when you opt for a monthly contract rather than paying annually.
They also offer a 15-day free trial, so that way you can actually take some time to get it set up and see how the platform works.
8. Agile CRM
Agile CRM is an online customer relationship management system for small and medium-sized businesses.
With features for sales marketing and customer service Agile CRM lets you take advantage of modern tools like built-in telephone, social media marketing, and multiple live chat windows.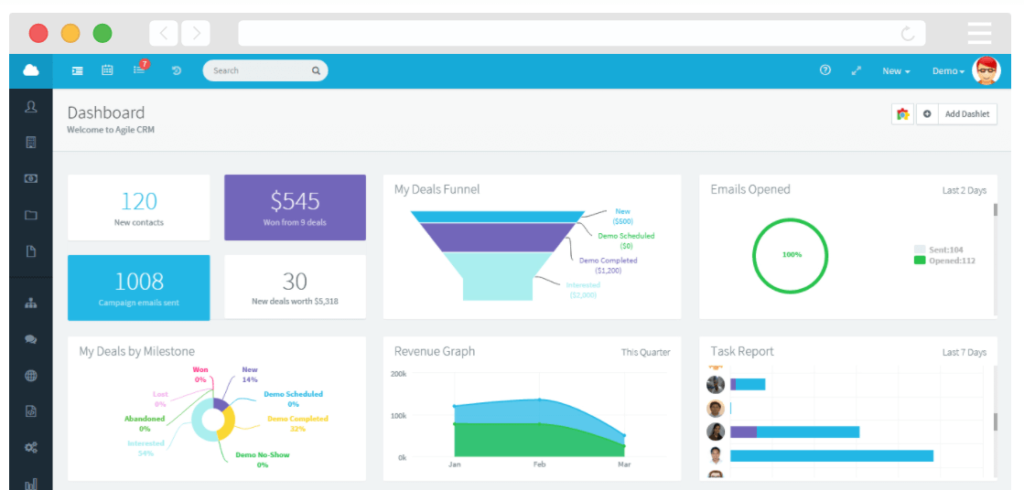 If you're exploring the CRM marketplace for a solution, you'll want to take a closer look at Agile CRM.
Agile CRM Features
Agile CRM gives you the tools to boost your salesforce and optimize your activities. The system shows a 360-degree customer view from a complete customer profile that includes information on social presence, web activity, and other interactions that you can track using a timeline.
The highly visible sales pipeline lets you track your deals according to defined milestones so you can predict your revenue better.
You can also track KPIs using a variety of tools, such as cohort analysis, conversion reports, and built-in analytics.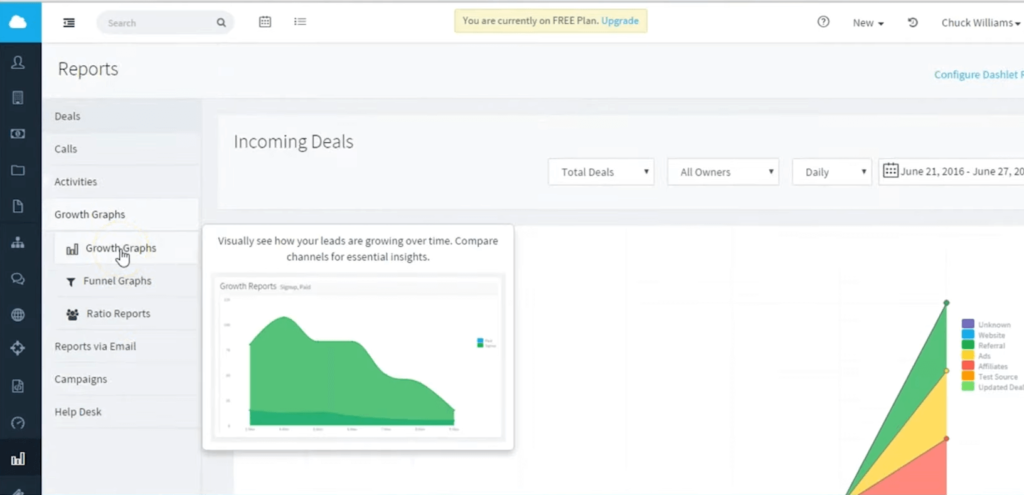 Gamification features let you engage your salesforce better with a little in-house competition.
You can also use leaderboards' real-time alerts and sales metrics to encourage your team to deliver their target. Marketing automation tools and Agile CRM can help small teams run multiple campaigns successfully.
You can also use the automated tweets feature to engage contacts on social media as part of your multi-channel campaign.
Agile CRM offers impressive customer service features that can help you satisfy and maintain customers, organize and respond to customer requests with the help desk ticketing system, instead of communication channels via phone, email, or social media.
You can use customer data to segment customers and assign them to the right support team. As your support team works through tickets, you can use smart views to get at-a-glance insights, view current service levels and streamline the administration and processing of tickets with automated workflows.
Agile CRM is easy to use and quick to set up, but some customers have mentioned the UI could use an update to improve user experience. The reporting tools are also not as extensive as those available from other CRM solutions. That being said, customers report quick response times from the support team for help navigating present limitations.
Agile CRM Pricing
Agile is actually pretty competitive with its pricing.
They have a free version that allows for 10 users.
And you get:
With their competitiveness, as far as pricing is concerned, it's hard to pass up on.
9. Bitrix24
Bitrix24 is a collaboration software platform that provides tools for communication, project management, CRM, and customer support.
This software lets you and your team collaborate using different communication tools, a social internet portal lets people start conversations with the option to reply and react with likes and dislikes among others.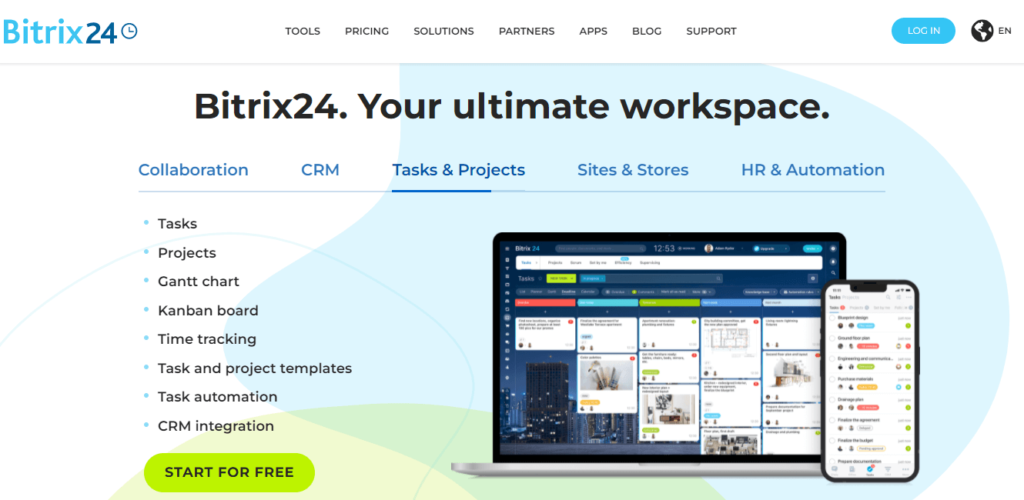 Bitrix24 Features
When it comes to their features Bitrix24 includes:
And many more.
Bitrix24 offers several advantages. Let's go over a couple of them.
Mini CRMs for small businesses only offer basic features like contact and pipeline management, but Bitrix24 consolidates the central tools and capabilities into a single solution.
You can access sales tools, automated lead scoring, email marketing, and communication tools all in one platform. Enterprise-grade systems offer extensive features that can be too expensive for S&Bs, but Bitrix24 CRM gives smaller companies similar capabilities without the high price tag.
But the feature that this product has that a lot of CRM's have not is they actually allow you to invoice customers directly from the CRM.
This platform really has just about any feature that you could possibly think of that you would need from a business management and operations perspective.
Bitrix 24 Pricing
They have a different way of actually managing their CRM internally.
The first is the Cloud version and it features 4 pricing options:
And on-premise pricing is going to be very comparable to HubSpot or Salesforce pricing. Those are the two more expensive platforms on this list.
But if you go with the cloud version you get up to 12 users for free, one admin, and 5 gigabytes of online storage.
You get all the way up to $159 where everything is included in.
Everything is pretty much unlimited with regards to your online storage data. You get unlimited all of your CRM, your tasks, and projects.
10. Salesforce CRM
The next digital marketing software is SalesForce and it's called King of CRMs.
I was actually using Salesforce when I worked at the marketing agency and they're an almost $4 billion company so of course, they're using Salesforce.
So I have a bit of experience with this software.
Salesforce Features
They have all the different services and packages and products and features that you can potentially buy.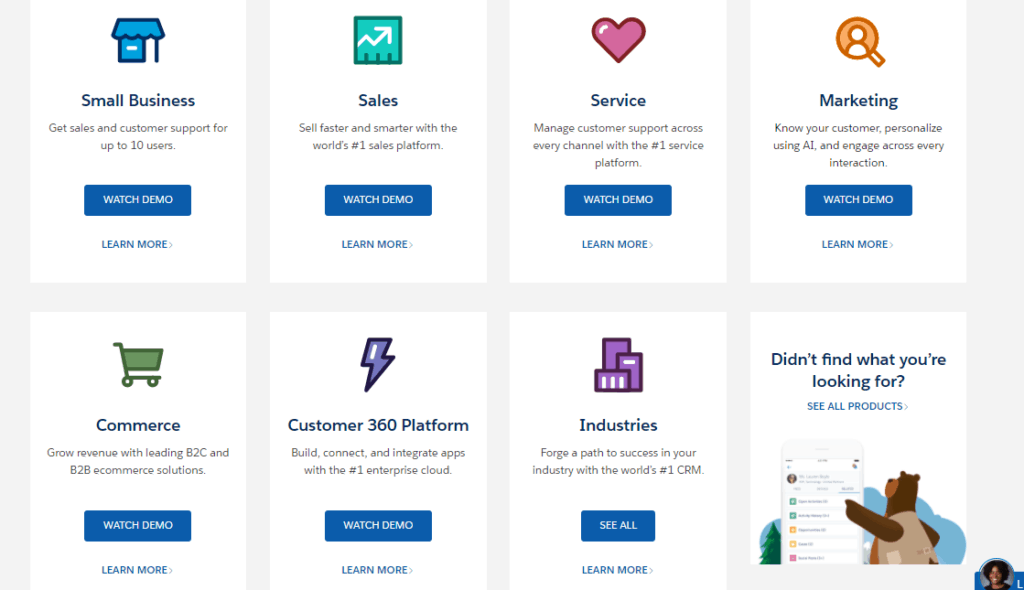 They have a whole marketing platform that allows you to automate a lot of your marketing.
They have something just for commerce B2B and B2C.
They really have just about everything that you could possibly think of when it comes to operations in a digital marketing agency and managing their customer.
This is definitely for established marketing agencies.
Salesforce Pricing
It ranges from $25 to about $300 per user so as you can see, it gets very pricey very quickly.
And I don't even believe that they have an option for unlimited for as far as let's say contacts.
I'm pretty sure what their enterprise plan is, you still have to pay. If you go from a hundred thousand to a million contacts, there's still another level that you have to pay.
Whereas a lot of these other softwares I've shown you have unlimited contacts and it's all included even at the top level payments.
So I definitely recommend checking out Salesforce, if you're trying to scale your business and you're moving to that next point, but in the beginning, definitely not something you're going to spend time on.
11. Copper
Copper is a CRM solution designed for native integration with G suite designed to mimic the look and feel of Google products, copper aid sales productivity through lead and contact management, visual pipeline management and task management.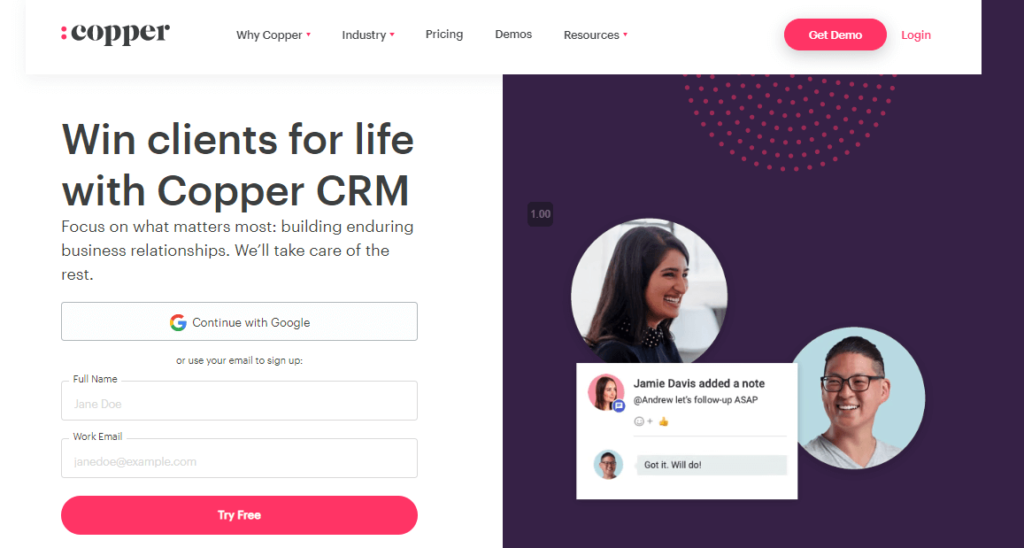 Seamless integration with G suite automatically sinks emails and alerts and notifications allow users to stay on top of conversations and anticipate customer needs.
Copper Features
Copper provides features like automated data entry, smart identification, lead and customer tracking, plus optimization of sales, contacts, and opportunities.

It does improve the management of your team and workflow with weekly pipeline progression reports using drag and drop functionality, custom filters, and alerts when deals might be going to stale.
So, it's really great for keeping up with those sales pipelines and making sure that your contacts are being hit in a timely manner to make sure that nothing drops off or falls through.
The UI is really well set up to allow you to see each individual contact and make sure that they're going through the sales pipeline and where they are in that sales pipeline or qualification process depending on what your life cycle looks like.
Going into some of the drawbacks, there is a bit of a learning curve so be forewarned, you'll need to set aside some time to meaningfully implement the CRM into your business.
Copper can be a little bit more complicated than the other CRMs in terms of getting the features exactly set up the way that you want.
There can be issues with importing data from Excel meaning you might have to manually enter the data into Copper.
Their import process does have some issues sometimes and so just be ready if you have a large import list, Copper definitely can have some issues with that.
Copper Pricing
Copper provides 3 different pricing options:
Copper does offer a 14-day free trial for all paid plans so if you want to take a shot and try out Copper, it's at no cost.
12. Pipedrive
PipeDrive is one of the easiest CRM systems and makes it so easy for us to quickly and easily add automated tasks and other activities so that we can spend more time on the bottom line.
PipeDrive will help you save so much time by creating simple automation so that you can spend more time selling and spending time with your clients, and not just managing everything within your customer relationship management system.
The sales pipeline tool of Pipedrive CRM provides a fully visual sales experience to help you improve efficiency and close deals faster. Using this tool, you can actively track deals at all stages of the sales funnel through a fully customizable dashboard.
Pipedrive Features
It has some great features like mobile apps, insights and reports, privacy and security.
And the nice thing with Pipedrive is it already gives us a variety of different templates that we can use to create some of the more common types of automation that we use within our CRM systems.
Through features like sales pipeline management, a sales assistant, and customizable reports, users can use pipe drive to gain a better understanding of their sales process.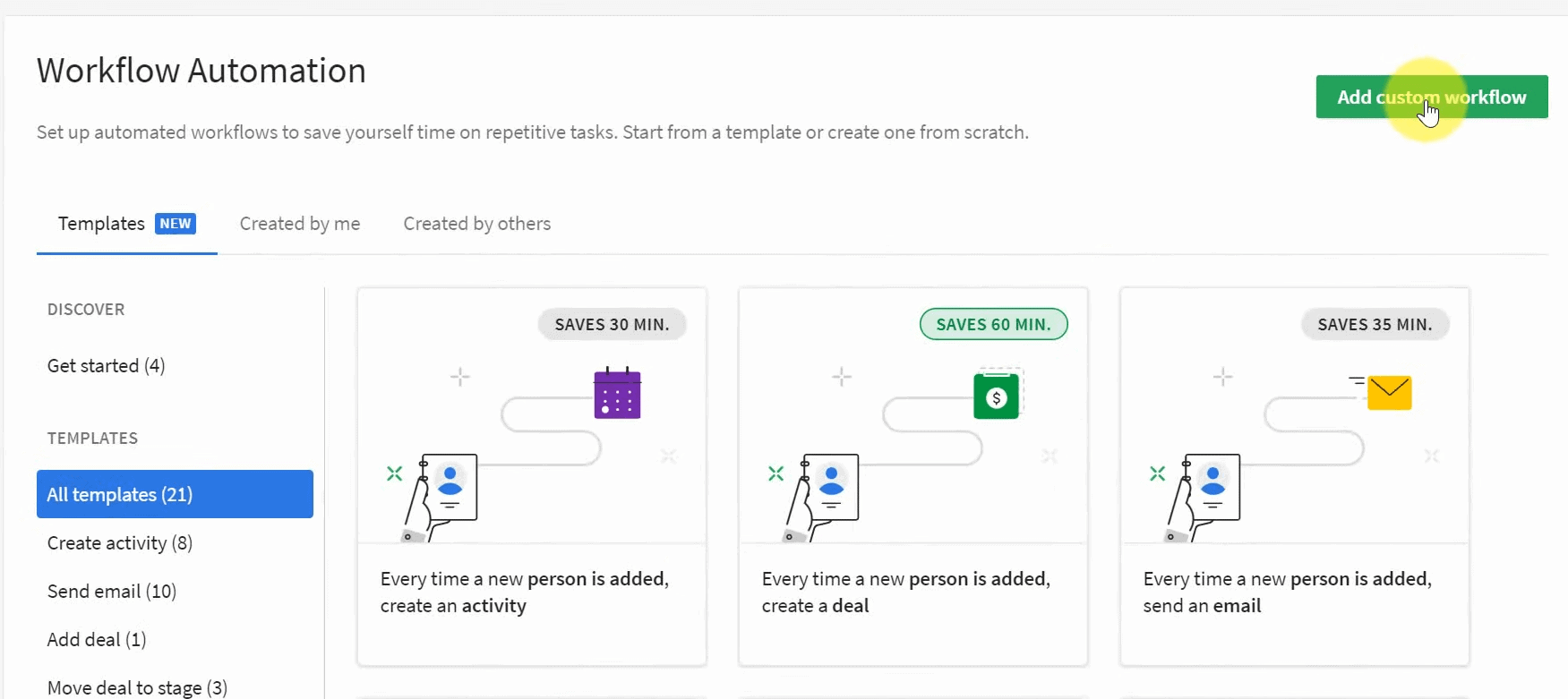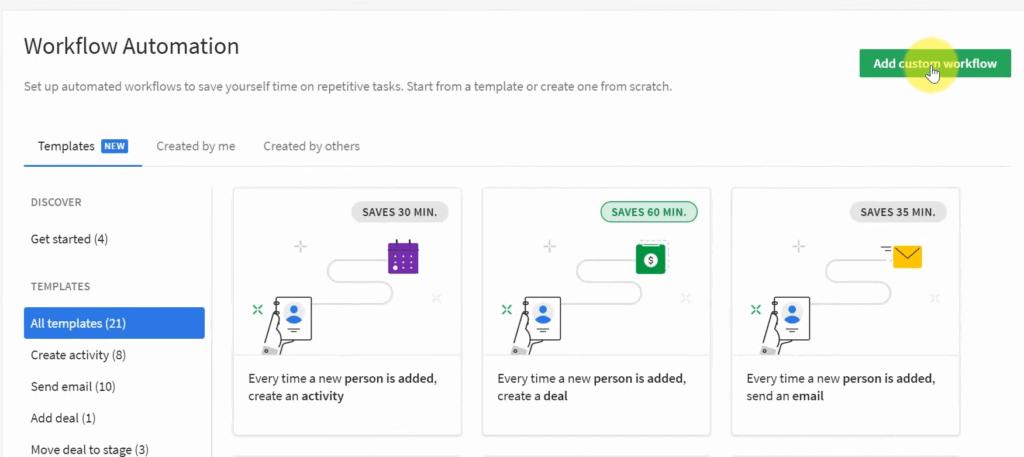 Pipedrive CRM offers several tools and integrations useful for both sales and pipeline management while maintaining an interactive and visual approach to tracking analytics.
Pipedrive CRM can be useful to marketing agencies of all sizes, but it tends to work best for small to mid-size businesses looking to manage their sales efforts in one place.
The sales assistant tool of Pipedrive CRM provides users with an AI-powered sales mentor to help boost performance with personalized insights so users can act quicker when making decisions.
The use of AI integration eliminates repetitive tasks and increases workflow automation across all stages of the sales process. Users also have access to prefilled email templates, which are automatically tracked through the use of smart contact data, which allows users to instantly find valuable data.
However, some users have noted that the lack of features at lower-tier plans can affect email outreach results. Others have expressed issues with limited integrations from outside applications.
It's always a good idea to get multiple quotes before choosing a CRM solution.
Pipedrive Pricing
Pipedrive offers the following monthly pricing plans:
Pipedrive offers a 14-day free trial where a credit card is not required.
13. Keap
With Keap CRM you can set up really targeted campaigns, visualize everything very easily, make sure the right people are getting the right emails and it basically takes all the complications out of it.
Keap is really great but at the start, it was a little bit of time to just optimize everything and understand the whole process and how your business works.
Keap Features
There are 3 features that set Keap apart.
Appointment Scheduling
Chances are, you're already using another tool such as Calendly to manage all of your scheduling, and you know what?
That's just one other place you need to go to manage all of your appointments. It's also an additional cost.
Well, the great thing about Keap is that it keeps your appointment scheduling built right in.
Automation Templates
Keap gives us a number of different templates to help us get started.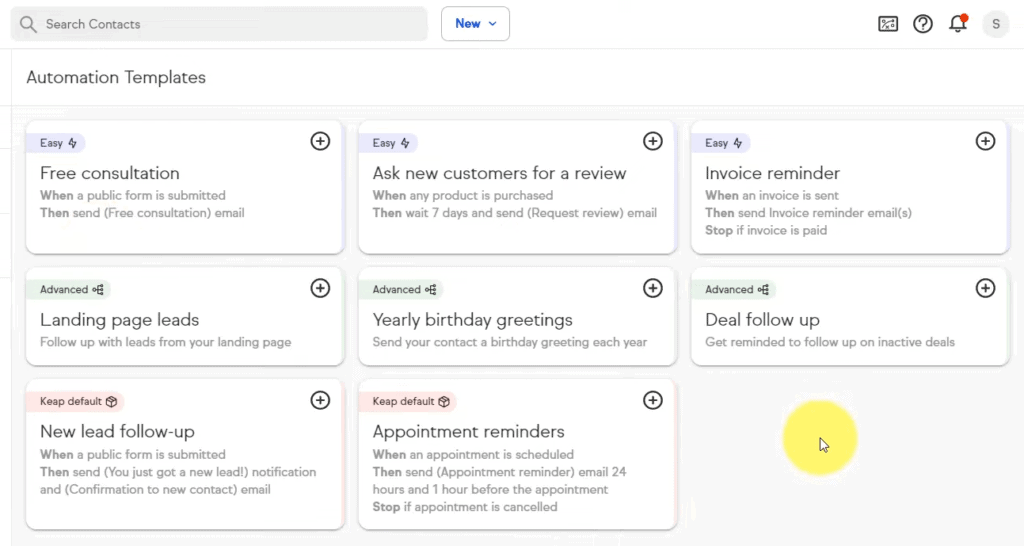 Everything from some easy or simpler ones, all the way to some more advanced.
And you can build your own from scratch if you like.
Mobile Features
Last but not least, and maybe my favorite are the amazing mobile features within Keap.
The great thing that will save you so much time is that Keap gives you a free second line.
Meaning, you can use one device, your single phone, and manage both your personal number and your business number which is really going to make a difference with your business.
Keap Pricing
Keap offers 3 pricing plans:
Keap also offers a 14-day free trial where no credit card is required.
14. Insightly CRM
Insightly offers two main software products: a CRM and a marketing automation tool. What makes this platform stand out among other CRM systems is its project management capabilities.
Insightly Features
Insightly CRM lets you manage customer relationships using the contacts, organizations, leads, and opportunities views.
You can create a new record for each of these categories manually but for contacts organizations and leads you can import many records at once through Gmail, Outlook, and MailChimp integrations.
But as mentioned earlier what makes Insightly stand out is its project management capabilities.
Tasks
Insightly CRM comes with the tasks view but this shouldn't serve as a stand-in for project management software.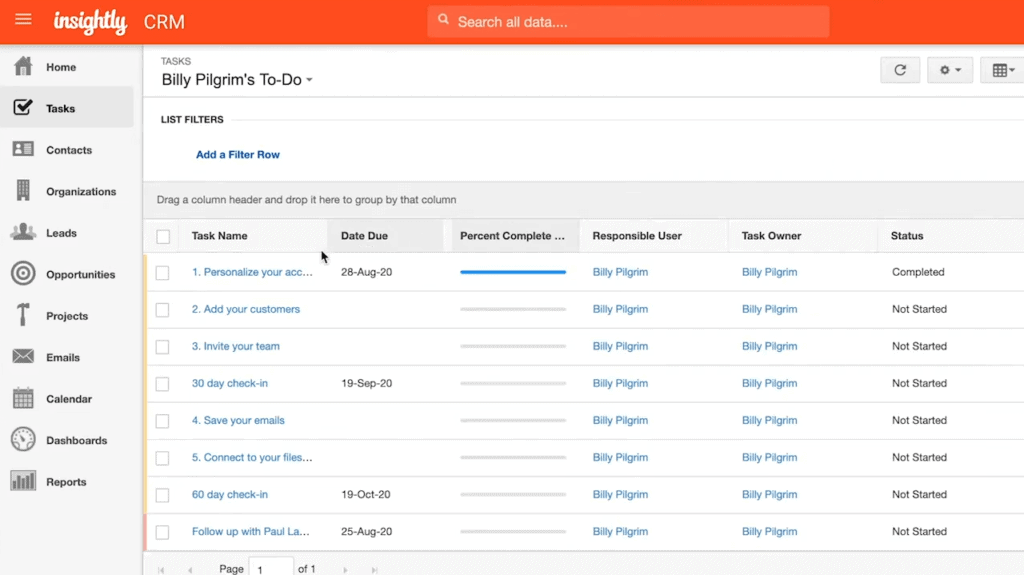 Instead, tasks are good for things like setting reminders and next step actions.
You can name tasks, assign them to team members, give them a due date, and set a completion.
Projects
Projects allow you to group tasks as part of a project. You can set descriptions for projects, add tags, set and change project stages, link other records like contacts and organizations, set due dates, and assign to team members.
Insightly Pricing
Insightly CRM comes in 3 pricing plans that vary the most in terms of automations and customer support.
The plus plan offers little in the way of automation features while the enterprise plan includes features like workflow automation, custom object creation, and custom validation rules.
Insightly also has a 14 day free trial with no credit card.
15. Monday.com
Monday.com is one of the easiest to use CRM for marketing agencies. It synchronizes data in one location, making it easier to manage customer's data.
If you're looking to streamline your sales process, Monday CRM's customizable dashboard allows users to track deals, revenue, activities, and move them across all stages of the pipeline with an easy drag and drop tool.
You can track your KPIs in one place and monitor team progress at a glance. You can set individual team and company-wide goals to track progress across your sales efforts in real-time making for an easy and collaborative process.
Monday.com Features
Inside the Monday shareable board you can invite the client as a guest.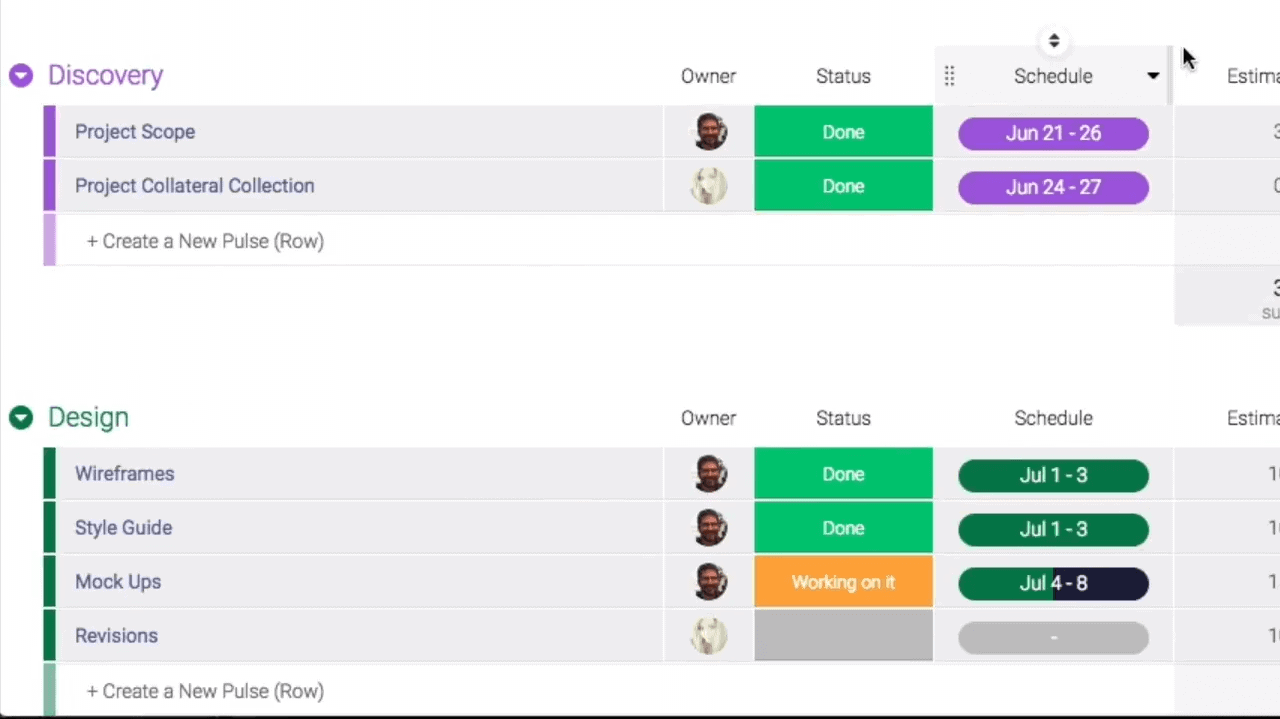 Since it's a shareable board client can upload their own files, join in on the conversation in the updates area, and even be assigned tasks while maintaining total visibility at all times
Other Monday CRM features include invoicing and billing, lead management, customer tracking, and workflow automation.
Monday.com Pricing
Monday has five pricing strategies based on the number of users and tasks involved. They include:
16. ActiveCampaign
ActiveCampaign is a marketing automation software system that can help you manage a number of different marketing automation functions from one platform.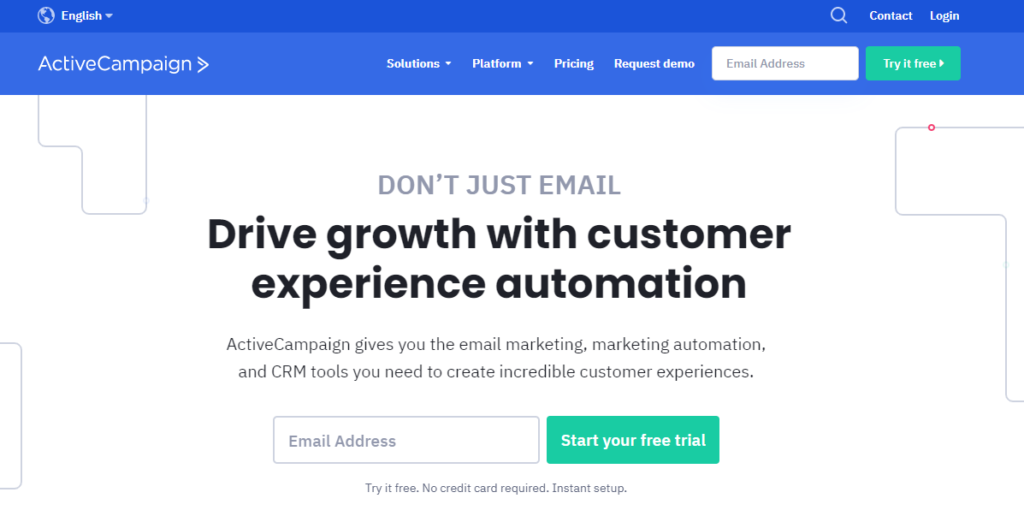 ActiveCampaign bills itself as the number one customer experience automation platform. It aims to consolidate email marketing, marketing automation, and crm tools all under one system.
ActiveCampaign is available as a web-based solution and is accessible via Windows, Mac, or Linux and on mobile devices with either Android or IOS.
ActiveCampaign Features
ActiveCampaign comes with a number of features to help you manage marketing automation functions.
Email campaigns are a major focus of this platform. There are several configurable email templates you can use to fine-tune your campaigns as you see fit.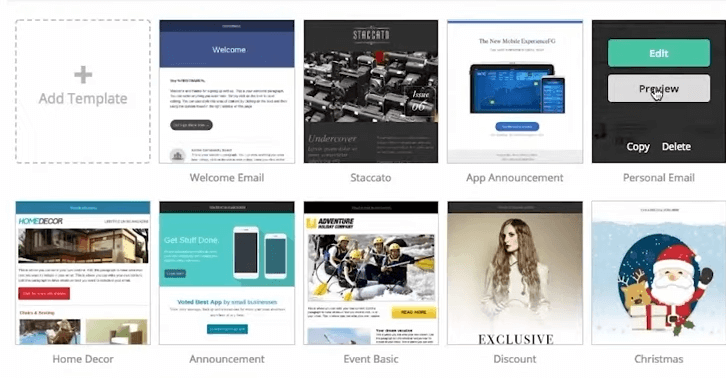 Triggered emails allow you toautomatically send communication basedon different events in the business cycle including site visits, purchases, or other engagements.
Segmenting your audience and customizing dynamic content allows you to populate your email campaigns with the information your customers want.
ActiveCampaign utilizes a user-friendly drag-and-drop marketing automation platform.
With this tool, you can grab different triggers and actions to create an automated workflow. This workflow can expand and cover your entire customer life cycle giving you a bird's eye look at all of your automations with a single view.
However, because there's a lot that you can do with the system, it can be hard to pickup on the tools and terminology when you start.
That said, there are plenty of training videos available and the professional plan includes a dedicated onboarding specialist.
Reviews state that some of the features still feel like they're in an early stage citing theform builder and crm functions in particular.
ActiveCampaign Pricing
17. GetResponse MAX
GetResponse is mostly known as an email marketing provider, but in fact, it's a complete all-in-one digital marketing platform with multiple great CRM features for digital marketing agencies.
GetResponse Features
Here are the main features of GetResponse:

Normally if you want to create a high-converting sales funnel then you would have to learn paid ads, email marketing, design, and more.
But, those days are gone when you have to worry about this all.
This automated sales funnel creator will just do all of it.
GetResponse Pricing
Getresponse prices range from $15/month to $99/month.
GetResponse also offers a 14-day free trial, so you can test it out for two weeks and see if you like it or not.
Best CRM For Marketing Agency Final Words
So, these are the best CRM software for digital marketing agencies.
Whether you run an established agency or just want to start a digital marketing business these platforms will help you take your business to the next level.
Let me know what you think about these different platforms, what CRM you're using in your agency, or what struggles you're having when using your CRM.
Leave that in the comments below. And if you're still unsure what platform to choose, make sure to check out the video down below.