If you want to write articles, blog posts, or even a book, but don't have the time or money to hire a professional copywriter, there are some great free AI writing tools out there that can help you polish your work.
There are a ton of different AI copywriting tools out there, and it can be hard to decide which one is the best for you.
That's why we've put together this list of the best free AI writers and content generators. These tools make it easy to create content that is both engaging and accurate.
They are all powered by GPT-3 technology and offer features like spell checkers, grammar and syntax checking, and autocorrections but each of them offers other unique features.
So let's get into it.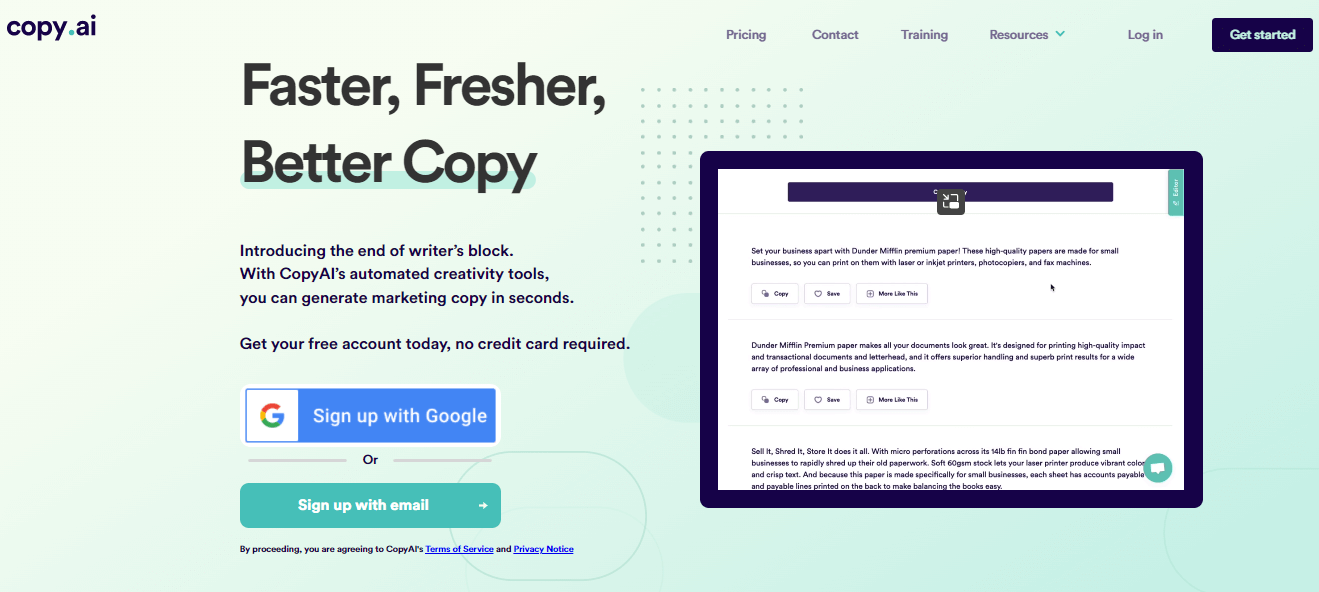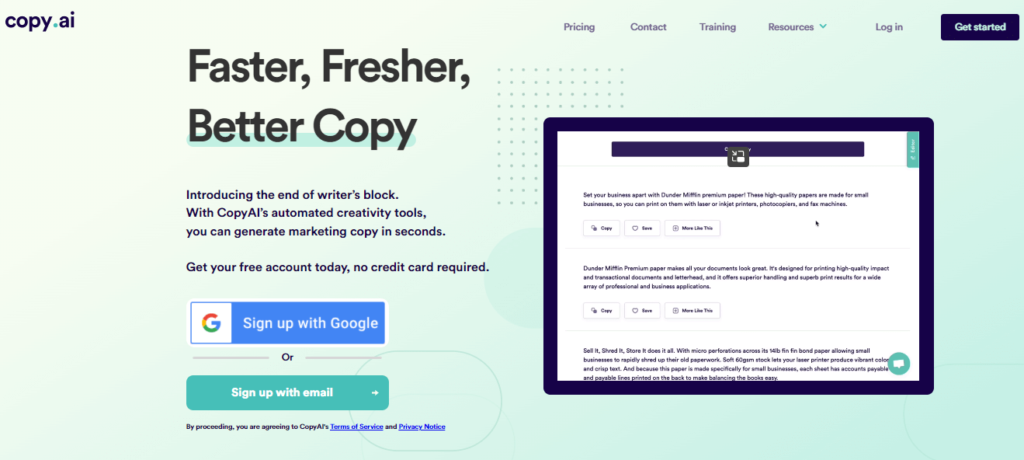 There are many free AI writers available in the market but if you're looking for the best solution, Copy AI is for you.
With over 90 copywriting templates, a user base of over 250,000 marketers around the world, and high-quality generated content, Copy AI ai hands down the best free AI writer.
Whether you need to write a blog post, create an email campaign, or create a sales pitch, Copy AI can help. With its help, you can easily create high-quality content that is both accurate and well-written in over 25 languages.
It offers conventional copywriting frameworks like AIDA, PAS, and BAB. But what makes Copy AI better than its competitors is the advanced long-form editor that enables you to generate high-quality articles that are both engaging and useful for your readers.
Copy AI was launched in 2020 and has testimonials from marketing experts who claim it is the best copywriting software. In fact, more than 100,000 people are using this AI copywriting tool due to its generous free plan.
It's used by enterprise companies, marketing agencies, as well as bloggers, affiliate marketers, and freelance content creators.
With the Copy AI free plan you'll get 10 credits every month and 100 bonus credits for the first month
Copy AI Pricing
Copy AI features 3 plans:
Free plan – $0/month
Pro plan – $49/month
Team plan – custom pricing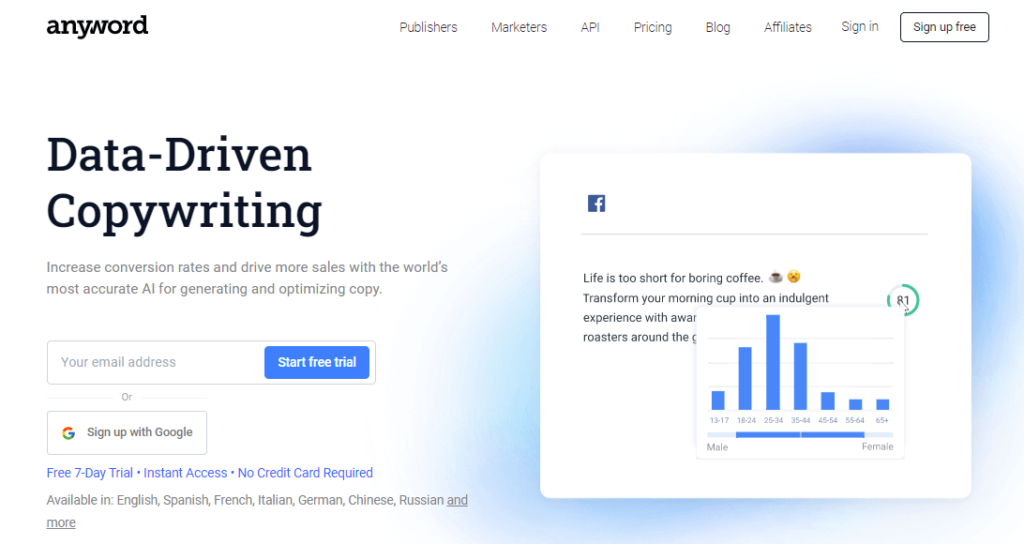 Anyword is another leader in the market for AI-based copywriting tools. And similar to other AI writers, Anyword provides users with plenty of templates including a landing page generator, social media post generator, blog post generator, sentence rewriter, and many others.
But what makes Anyword unique from other free AI writers is its predictive performance score feature. Anyword, use this feature to score your content. The score mirrors the predictive performance of your copy.
This number tells you how likely the copy will convert the audience. The higher the number, the better chance there is of a conversion.
This score is based on Anyword's "Big Data" collection that comes from articles, ads, and other content online that have been worth more than $250 million. With this information, Anyword's AI can understand which words appeal to audiences on a statistical level.
The AI of Anyword compares the quality of content from already published content that is performing well and based on that scores your content.
With a low starting price point, Anyword is suitable for any marketer who needs a lot of copy that requires constant optimization across many formats.
Bloggers, marketers, marketing agencies, and eCommerce businesses will benefit from the creativity, automation, and optimization that Anyword provides.
Anyword Pricing
Free – $0/month
Data-driven basic -$79/month
Data-driven unlimited – $239/month
Enterprise – $999/month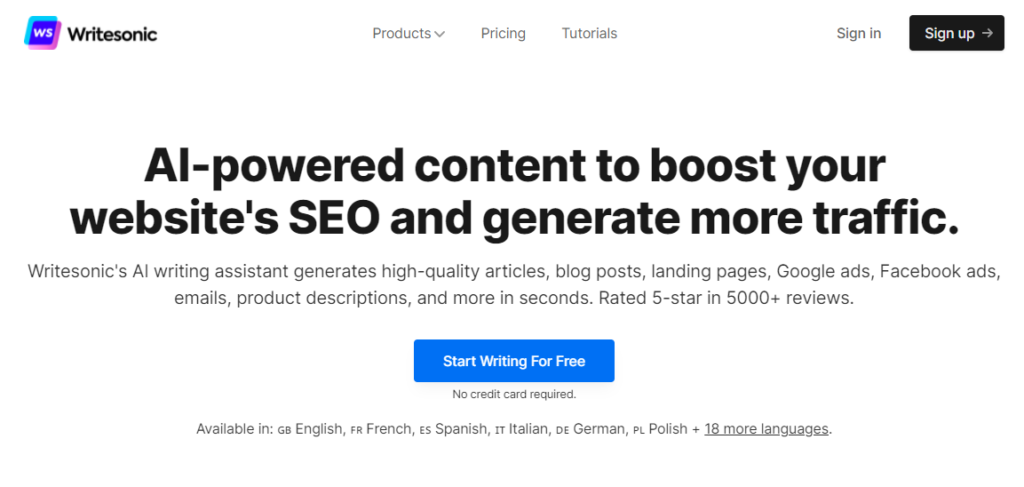 Writesonic is another free AI writer that helps you generate any type of writing, from blog posts to marketing copy. It's like having a permanent copywriter with you wherever you go. You can use it to generate articles for Google and Facebook ads and other blog posts.
With over 80 AI copywriting tools, Writesonic can generate blog posts, social media content, ad copy, sales copy, and website copy, just to name a few.
Besides all of these templates, Writesonic comes in with other interesting features including 1-Click WordPress Export, browser extension, and Sonic Editor which is its built-in proofreading software that makes your content more engaging and checks the grammar mistakes.
Writersonic caters to all types of users, such as eCommerce entrepreneurs, digital marketing companies, bloggers, content creation agencies, and freelance content writers.
With Writersonic free plan, you get 10 credits that will let you generate 6,250 words each month.
Writesonic Pricing
Free trial – $0/month
Basic – $15/month
Professional – $45/month
Startup – $95/month
Agency – $195/month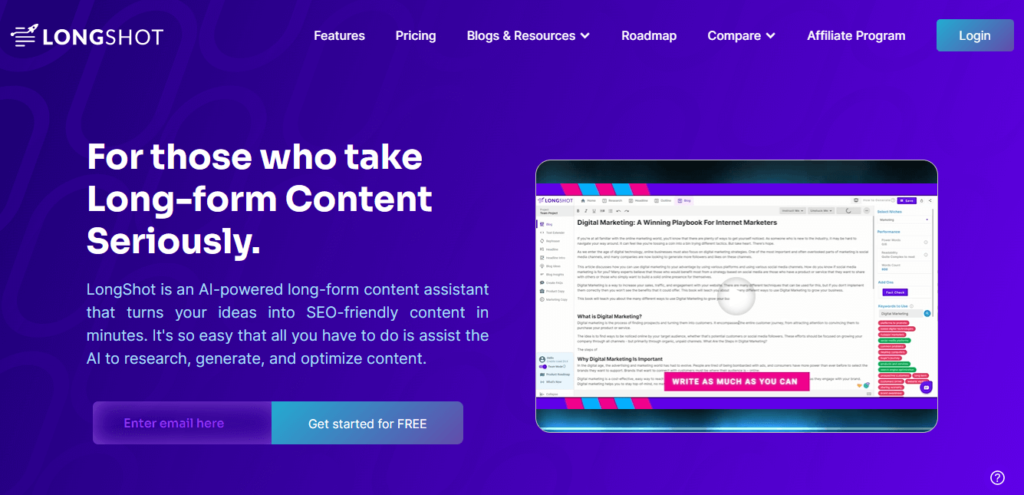 With over 10,000 happy customers, Longshot can write an SEO-optimized blog post, create a sales copy or create a website copy.
Research Topic is the key feature of Longshot, which stands it out from the rest of the free AI writers. This feature helps bloggers and content writers write high-quality SEO-optimized content.
If you are a blogger or freelance blog post writer getting out of ideas for their new blog posts, then Longshot is a good choice for you. Its features like Niche Selection, Blog Wizard, and Rephraser make it very easy for bloggers to develop new ideas.
With its basic free plan, you get 10 free credits every day, including Topic Research and Long Form Editor.
Longshot Pricing
Starter plan – $0/month
Pro plan – $29/month
Enterprise plan – $109/month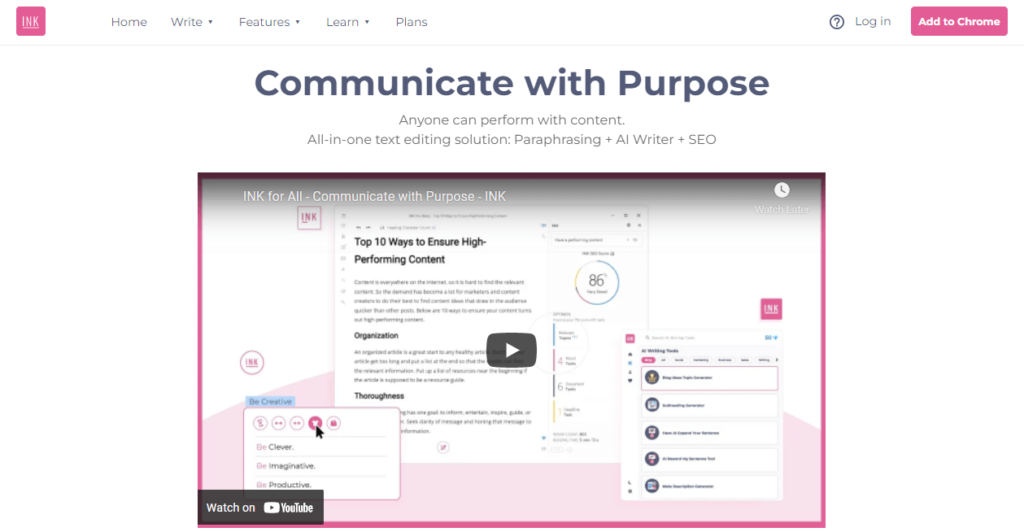 Coming up with the next free AI copywriting tool on our list, Inkforall, also known as INK, can write articles, sales copy, website copy, and even more.
One unique thing about this free AI writer is that you can download it on your PC or Mac. Using the app of INK AI will help you import all different types of documents to integrate directly into INK AI.
With over 60,000 users worldwide, INK is considered one of the best free SEO writers since it provides a spell checker, grammar checker, and tone checker and also comes with a Chrome extension.
The software also scans your competition's content to see how they are doing with SEO and grades your article accordingly.
It is primarily used by bloggers, enterprises, content creation agencies, digital marketing agencies, and freelance content creators.
Inkforall Pricing
INK Free – $0/month
INK Pro – $35/month
INK Unlimited – $99/month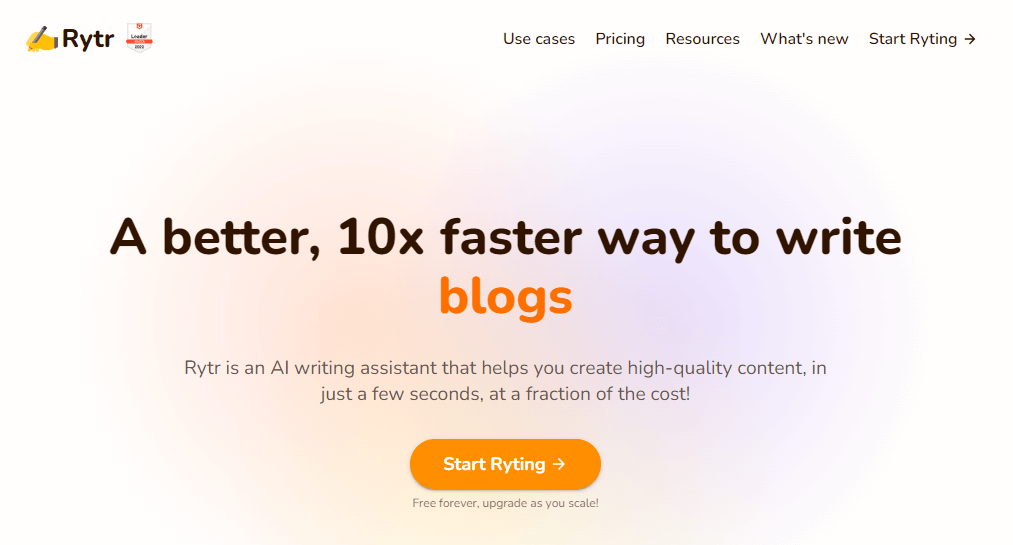 Rytr is an efficient yet free AI text generator tool that can write articles, create sales copy, ad copy, and write social media content, such as captions.
Even though it's new, the quality and features give its competitors tough competition.
This free AI writer uses the latest AI language model, GPT-3. In addition to this, Rytr has its own proprietary AI which makes your copywriting experience even better. Your marketing copies will be more engaging and human-like.
The latest software update includes a plagiarism checker, team seats, and a resource center.
Rytr is new to the AI copywriting scene in the digital space, but it has already gotten high ratings and positive reviews from its customers.
Its free plan comes with all the features, including 30+ languages in 20+ tonnes of writing. But with a limitation of 5000 characters.
It is used by eCommerce entrepreneurs, bloggers, content creation agencies, and digital marketing agencies.
Rytr Pricing
Free plan – $0/month
Unlimited plan – $19/month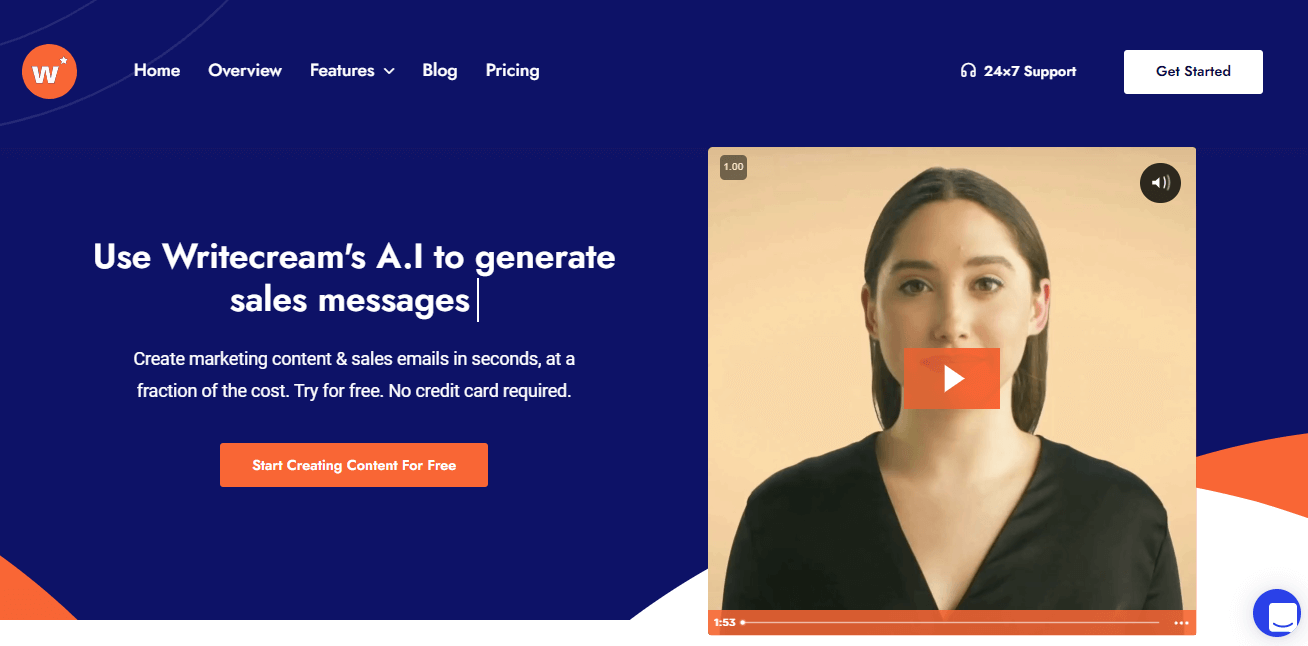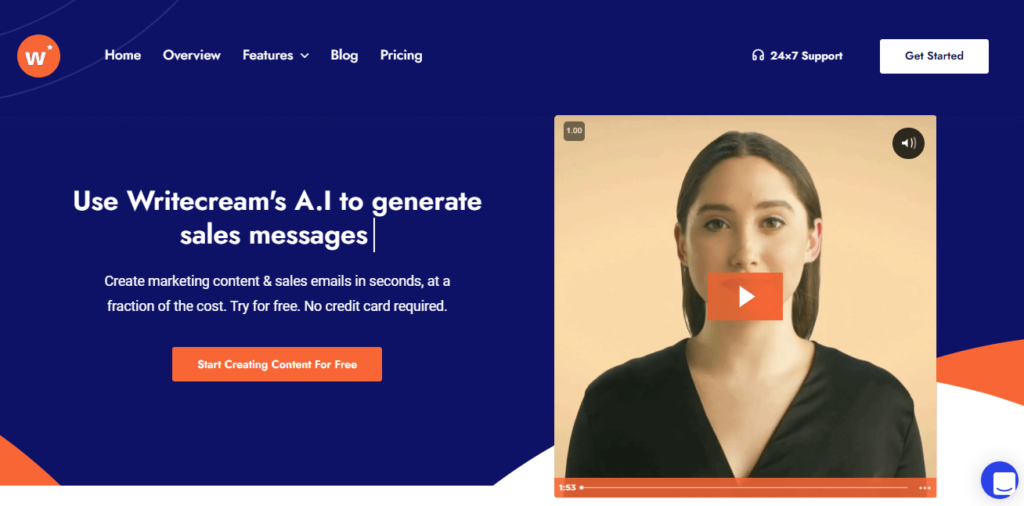 Writecream can help you write blog articles, YouTube video voice-overs, podcasts, digital ad copies, website copy, product descriptions, and more.
However, it's, mainly geared toward cold outreach since it includes things like personalized cold emails, LinkedIn connection requests, and even image and audio icebreakers.
Writecream is also known for creating text-to-speech content with its advanced AI technologies.
In addition, Witecream offers 40+ templates and you can write in 8 different languages.
Writecream Pricing
Free- $0/month
Premium – $49/month
Professional – $69/month
Ultra – $99/month
Best Free AI Writers Wrapping Up
In conclusion, there are a number of great free AI writers and content creation tools that are available at zero cost.
These tools can help you to improve your writing skills and to produce better content.
So, if you are looking for a way to improve your writing, then these tools are definitely worth checking out.