In this article, you'll see the most complete list of AI copywriting software ranked in different categories. We've tested and compared all of these tools to help you choose the best AI writer for you depending on your individual needs.
Best AI Copywriting Software Tools in 2023
Here are our top choices for the best AI copywriting software to try this year:
Jasper AI – Best AI copywriting software overall
Copy.ai – Best free AI copywriting software
Shortlyai – Best AI writing assistant
RankIQ – Best AI writer for SEO
SmartWriter – Best for AI writer for email, Linkedin, and backlink outreach
Ocoya – Best AI content writer for social media
Contentbot – Best AI copywriting software for WordPress users
AI copywriting has been emerging as a new way of content creation. It's an effective way to save time and better focus on other aspects of content creation with these powerful AI content creation tools.
The GPT-3 based tools from OpenAI are capable of generating high-quality content in less time. They are used by many bloggers, digital marketers, and entrepreneurs for creating any type of copy, including blog posts, website copy, social media content, and advertising copy.
Regulars to the blog know that I've tested most of these tools so today I'm going to share with you the results so you can decide which software would be the best for you depending on your needs.
The results of these tests were really interesting and there was a big difference between the best and the worst piece of software, so if you're thinking of investing in one of these tools below, I suggest you read this article right to the end.
Keep in mind that I'm not going to rank these tools in a particular order because everyone is looking for something different. Some of them are better for long-form content, others for SEO writing, and some of them have really unique features that any other tools have.
So, let's find out what is the best AI copywriting software for you.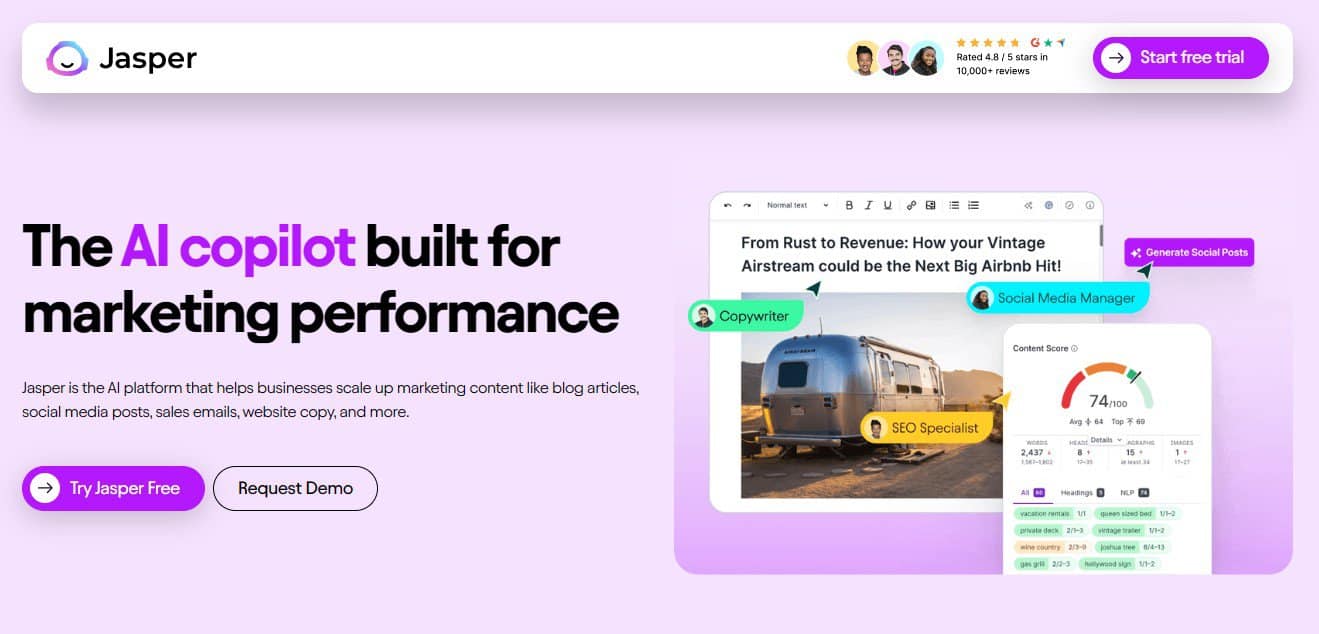 Jasper.ai (before Jarvis.ai) is one of the best AI copywriting tools on the market for many reasons.
With over 3000 5-star reviews, 50 copywriting templates, command functionality, an extensive training library, customer base of content marketing experts at companies like Google, IBM, Logitech, and DigitalMarketer – Jasper AI is hands down the best AI copywriting software available in the market
Some of the Jasper AI copywriting templates include:
AIDA Framework
Problem-Agitate-Solution (PAS) Framework
Product description
Content improver
Creative story
Blog topic ideas
Personal bio
Google & Facebook ads
And more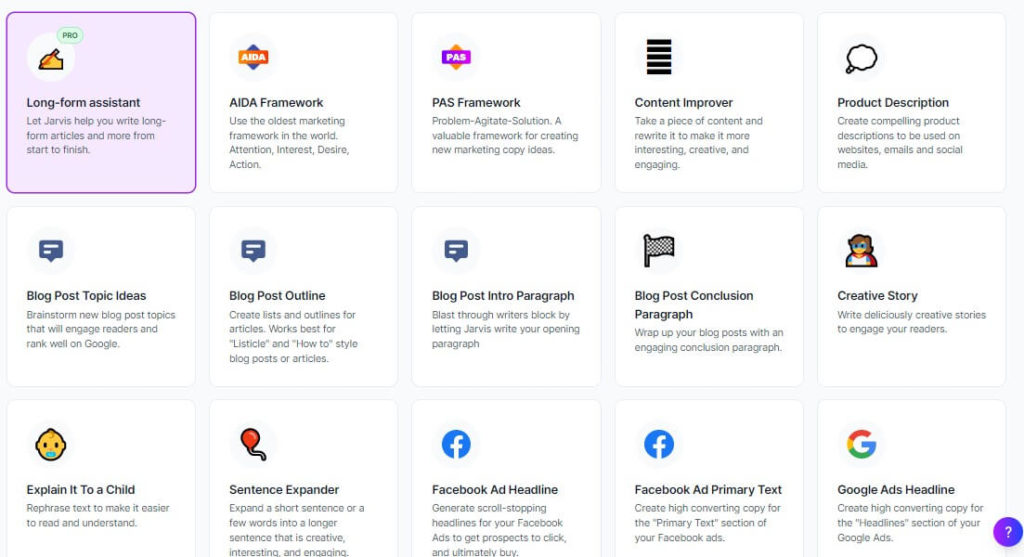 In addition to all of these different copywriting templates, Jasper also includes a feature called Boss Mode.
It's a great tool for creating long-form content using keyword shortcuts also known as commands. This allows you to simply ask Jasper what you want to write about and the AI will generate content for you.
Besides that, the founder of the company Dave Rogenmoser consulted with the best SEO and marketing experts to teach Jasper how to write various marketing copy like blog articles, emails, social media posts, website copy, and more so you can rest assured that the copy generated by Jasper is very high quality.
And now you can integrate Jasper AI with one of the best AI content optimization tools, Surfer SEO. This powerful combination enables you to write SEO-optimized content that ranks higher on Google and other search engines.
So no surprise that the best overall best AI copywriting software is Jasper AI. It does short-form content, it does long-form content, it's got the most number of options and integrations it's simply the best product and because of that, it comes at a pretty high price compared to other tools.
The one thing to keep in mind about Jasper AI is that you definitely need to fact-check some of the stuff that it spits out. Generally, it is okay, but sometimes what it says is just not right.
Jasper AI Pricing
Creator – $49/month
Teams – $125/month
Business – Custom pricing
▶ Start Jasper.ai 5 Day Free Trial (+ Get 10,000 Free Words)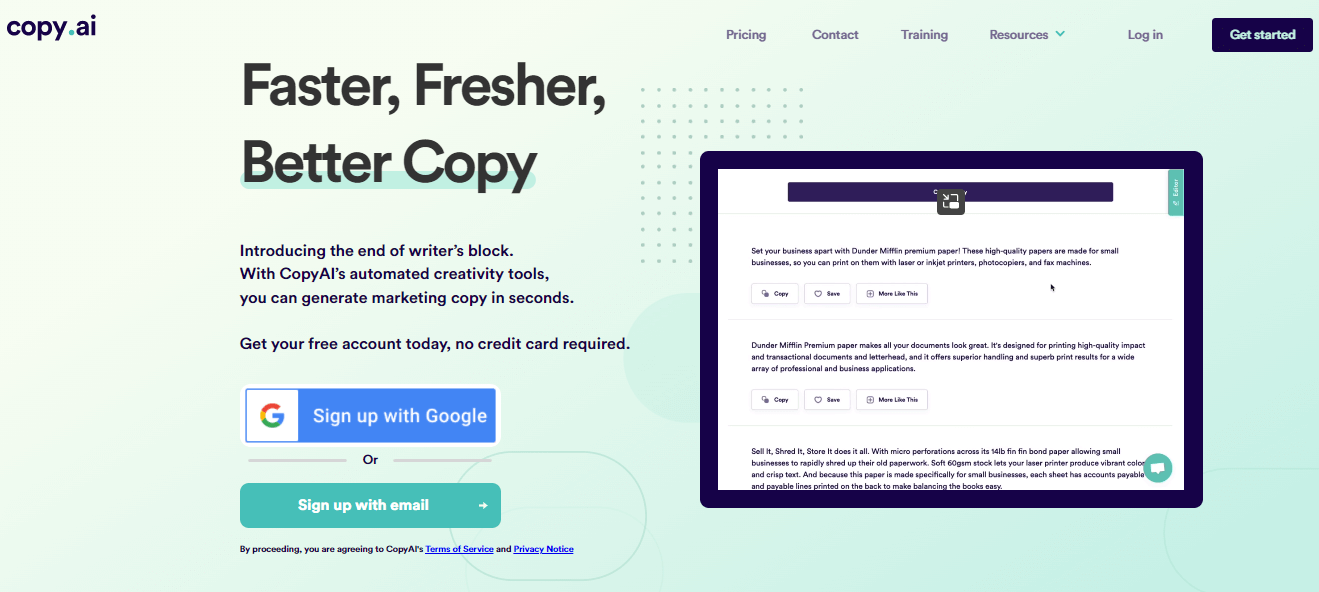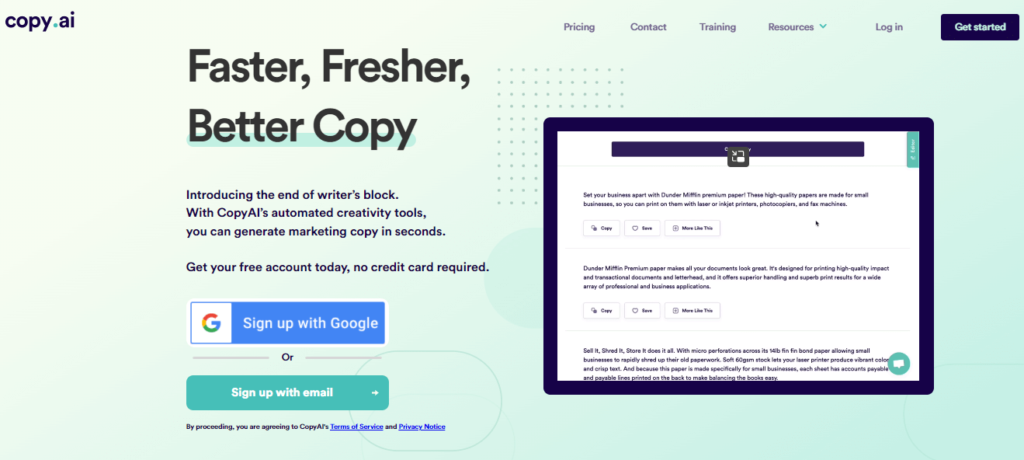 Copy AI is one of the first AI copywriting tools powered by GPT-3 technology available in the market.
With +90 copywriting templates, a user base of over 250,000 marketing professionals around the world, and high-quality generated copy, Copy.ai ai actually one of the best AI copywriting tools.
Copy AI templates are organized into multiple categories such as:
Blog content
Website copy
E-Commerce copy
Social media copy
Digital ad copy
Sales copy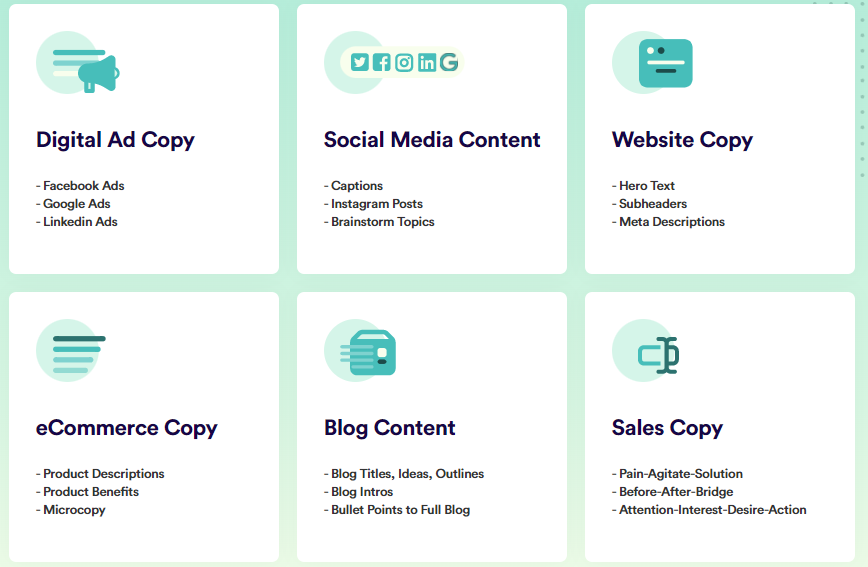 You will also be able to adjust the style and tone of your content. This will definitely help you match the tone of your business so that the overall essence stays intact. There are many different styles from which you can choose, some of which include humorous, clever, and intelligent.
In addition, Copy AI is trusted by companies such as eBay, Nestle, and Zoho.
So now you might be wondering, is Copy AI actually better than Jasper?
Well, there are many people that prefer Copy AI over Jasper AI claiming it's the best free AI writer in the market.
And the only way to find out is to actually check the software out and see how it works for you.
Copy AI Pricing
Copy AI features 3 plans:
Free plan – $0/month
Pro plan – $49/month
Team plan – custom pricing
The Pro plan is unlimited and if you pay annually, you get it for just $35/month.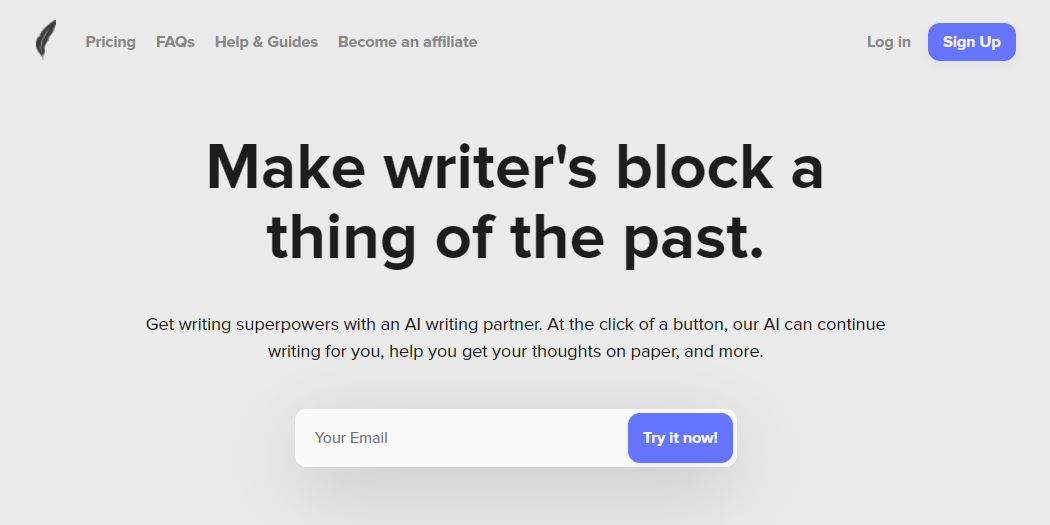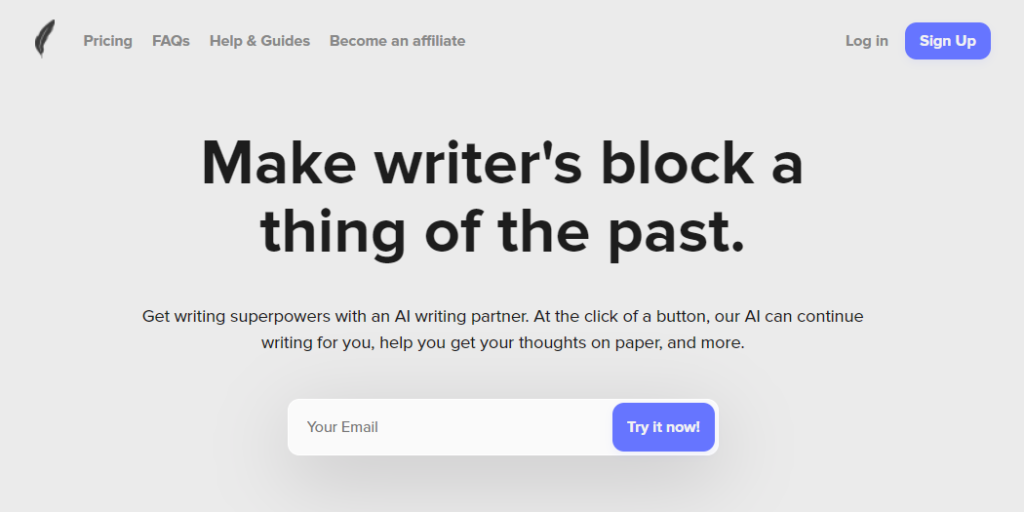 Shortly AI is the best AI writing assistant due to the fact you have total control over the process so that you get precisely what you want from it.
And the best part about Shortly is that this software does not generate everything itself like all of the other tools on this list but it works as a writing assistant that accepts commands and works along with you.
With Shortly, you get excellent results and this is something that is unique to Shortly only. No other AI writing app gives you this level of control and flexibility.
The truly amazing thing about Shortly AI is that it's so straightforward but it's also just kind of subtly complex. The interface is just like opening up a blank canvas document.
Whatever your writing needs are Shortly AI can do it and that's one of the main reasons why Shortlyai is one of the best AI writing tools on the market right now.
Simply because of all this flexibility you have in the power of this instruct command to give you whatever you need quickly.
There are not a lot of tools or templates to get in the way. You simply get to write your heart out and when you need the AI assistance it's just under the surface.
And the one thing that gives you total control over it is your words and how you use them in the article's brief title, the content area, and inside of the special commands that you're going to find inside Shortly AI.
Shortly AI Pricing
Shortly AI offers a 3-day free trial and after the trial, they offer 2 paid plans:
Monthly plan – $79/month
Annual plan – $65/month
And what's great about Shortly AI is that they offer unlimited credits.
So you're free to do whatever you want and if it produces something that feels not quite there, you can redo it and you can just keep experimenting as much as you want.
Whereas almost all of these platforms on this list have credit limits so you have to think twice before generating any content. Otherwise, you just burn these credits out very quickly.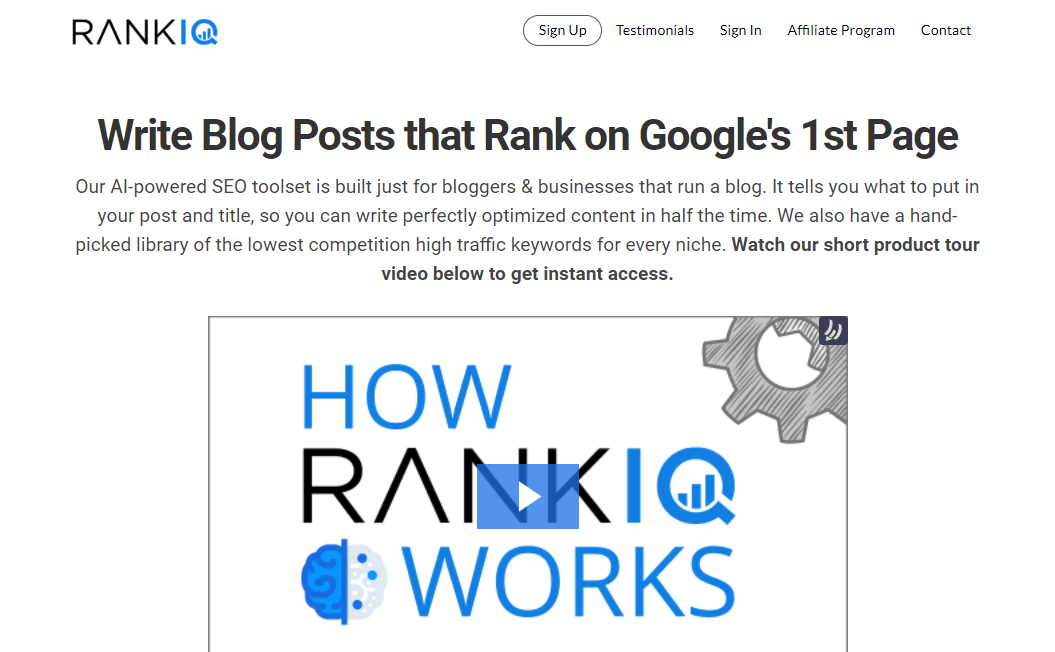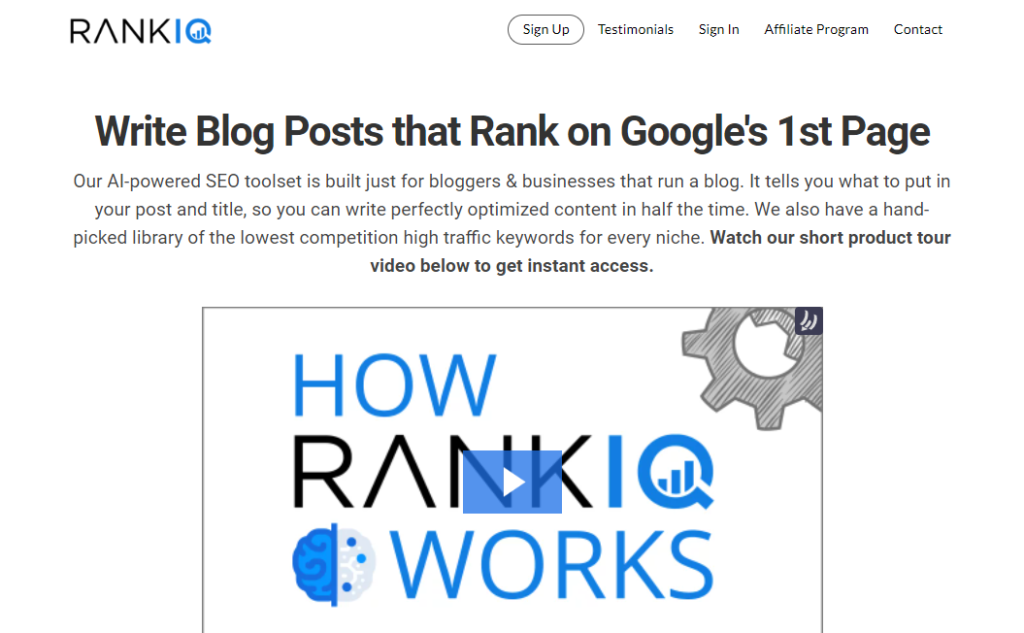 RankIQ is not just an AI writer but also one of the best AI SEO tools in the market. RankIQ is a machine learning-based tool that includes an AI SEO writing tool, a keyword research tool, a competition analyzer, and a rank tracker.
And what makes RankIQ stand out among other AI SEO content writing tools is that Its algorithm will provide suggestions for what exactly you need to include in your content so that it can achieve a top ranking on a Google search.
Moreover, the tool allows you to create a blog post outline in minutes as it has a highly-advanced AI engine that makes suggestions about the topics you should write about.
What's really great is that they provide a keyword database that is specific to any blog niche, and each one of the databases is filled with low-competition keywords that are sure to get a high amount of organic traffic.
These are some of the reasons why RankIQ is the best AI SEO content writing tool for SEO-optimized content.
RankIQ offers our audience a 7-day free trial that is not available on the official website.
RankIQ Pricing
RankIQ has a single pricing plan which is $49/month.
▶ Start RankIQ 7-Day Free Trial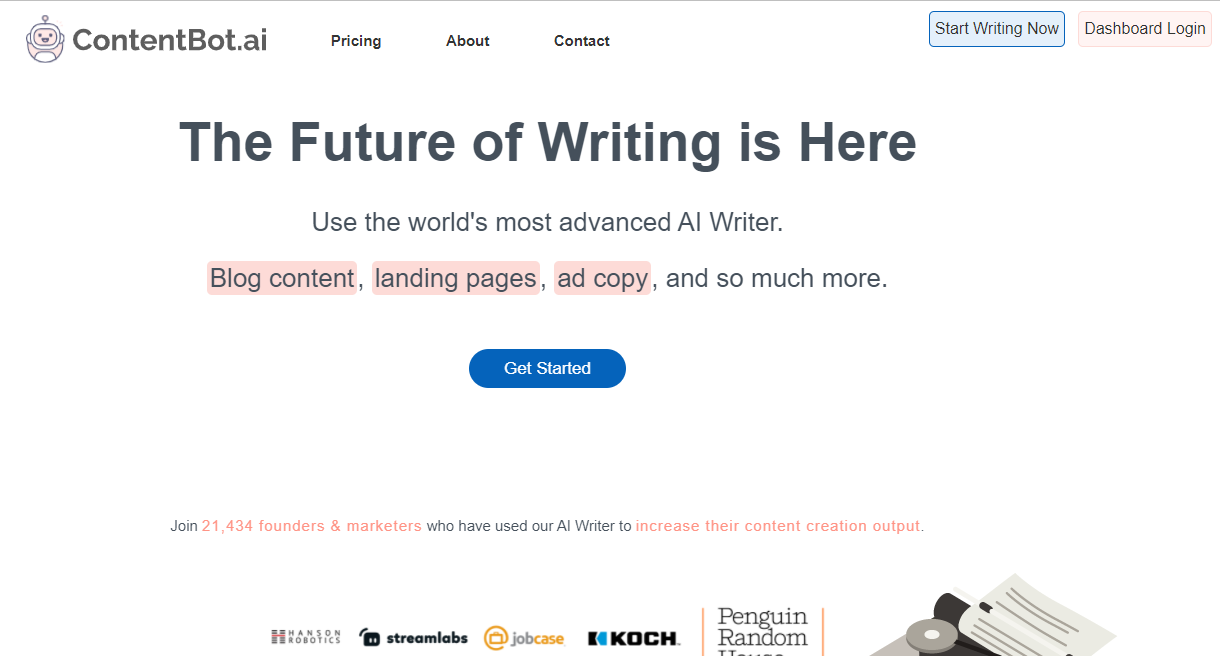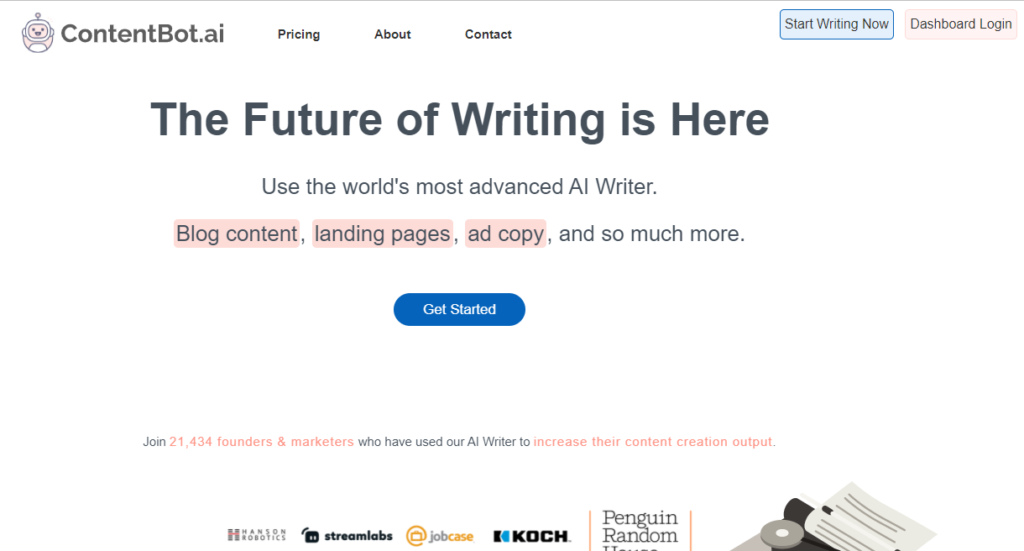 ContentBot AI is an AI copywriting tool that aims to change the way content is written. ContentBot uses two AI systems; Open AI and TinySeed algorithms to write unique content.
ContentBot AI is used by over 21,400 marketers and offers an impressive range of features such as:
Page headline ideas
Product description
Marketing ideas
Blog topic ideas
Blog intro
Bullet point expander
Finish the sentence
Article summarizer
And more
Other features include multiple language support including English, Spanish, German, French, Chinese, and many more.
I decided to test the translation capabilities to see if the algorithms accurately translated the meaning of sentences in my native language and the results were actually pretty impressive.
But where ContentBot AI stands among other AI copywriting tools is that it's the only AI writer that offers a WordPress plugin using Open AI GPT-3 so you can generate content inside your WordPress dashboard.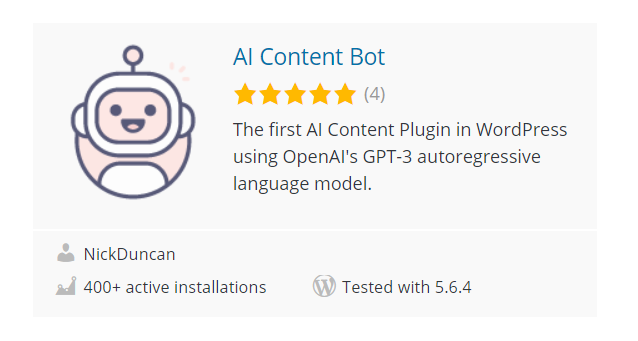 Besides that, ContentBot AI also provides a Chrome Extension so with tool you can create content everywhere, wherever you are on the different websites.
Contentbot AI Pricing
ContentBot pricing plans go as follow:
Free – $0/month
Premium – $29/month
Premium – $79/month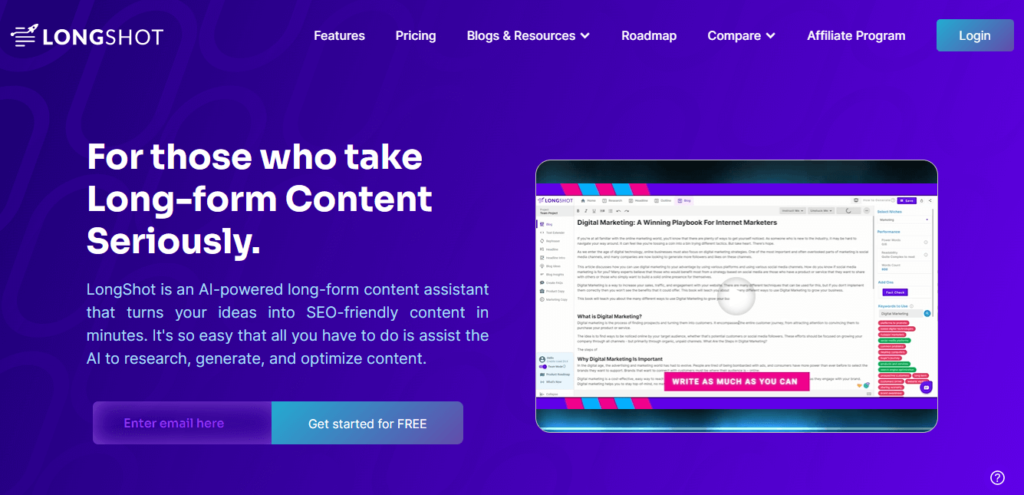 Longshot AI is a software that combines SEO optimization and keyword research, as well as generating content with the help of AI technology.
What's cool you can get key questions, trends, and keywords about the niche you want to write about.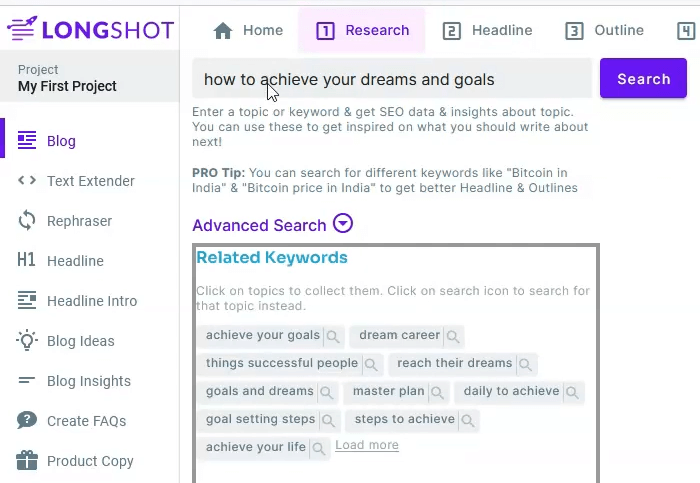 Being a relatively new tool, LongShot AI has already got good feedback from many users who test it and use it for their online projects.
There are several reasons for that, but the main ones are first – good price for an effective software with many great features, and second – simplicity in use.
But where this software stands out the most among other AI copywriting tools is that LongShot AI is purely focused on long-form type content, whereas other tools fail a little bit when you try to create +1000 articles.
And most important, they're continuing to optimize the way how you create content, which is cool that they are willing to grow as a company.
Longshot AI Pricing
LongShot AI offers a 7-day free trial and after the trial, the pricing plans are as follows:
Basic plan – $0/month
Pro plan – $39.90/month
Enterprise plan – $99.90/month
And if you pay annually, you can get this tool for as low as $29.90 a month or $99 a month for unlimited content.
I do believe that LongShot AI takes long-form content to the next level for the price that you'll struggle to beat.
So, if you're a blogger and you need SEO-optimized and longer content and looking for a cheaper Jasper alternative then LongShot has the best value for your money.
▶ Start Longshot AI 7-Day Free Trial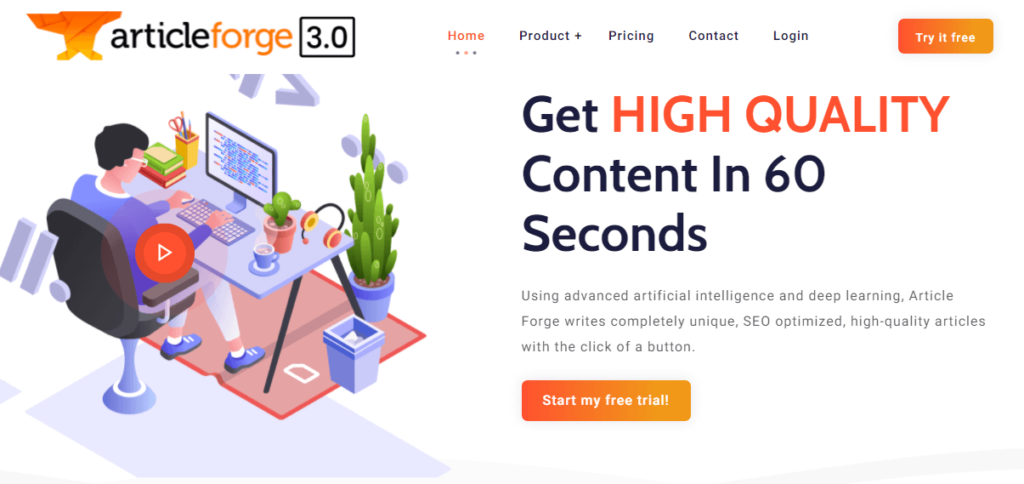 Article Forge is one of the best article generator software so unlike other AI copywriting software, Article Forge actually creates SEO-friendly blog posts with a few clicks of a button using advanced machine learning technology.
With this tool, you simply type in a few keywords about what you want your article to be about and it will generate an entire article for you in seconds that is both plagiarism-free and SEO-friendly. 
I have even tested this software for plagiarism with Copyscape and surprisingly every time it showed that the content is non-plagiarized.
Article Forge Pricing
Article Forge offers a 5-day free trial for all the plans and after the trial, they have 2 pricing plans:
Standard – $57/month
Unlimited – $177/month
▶ Start Article Forge 3.0 Free Trial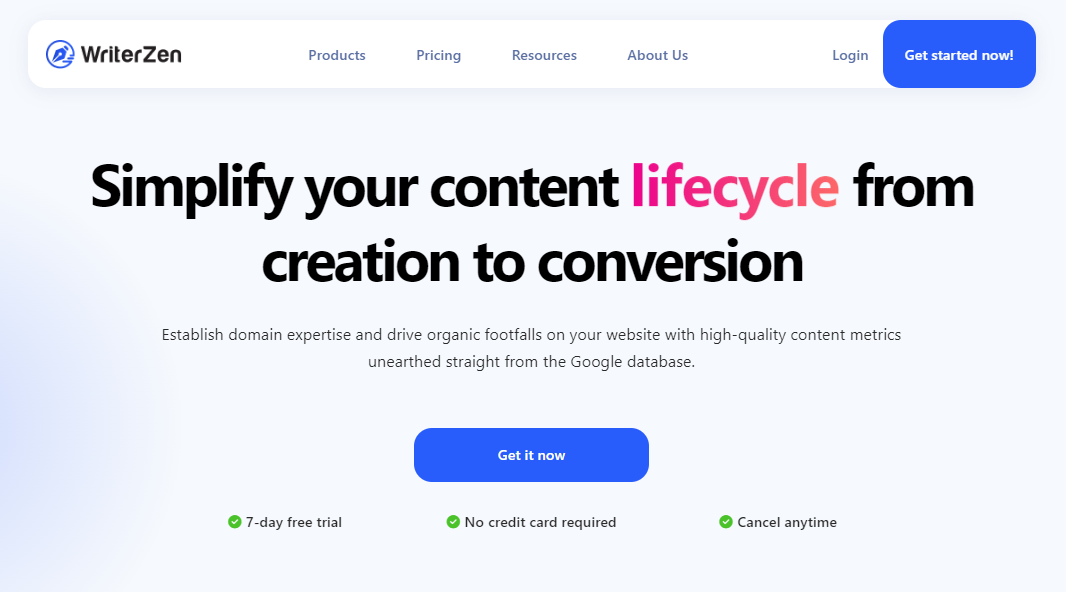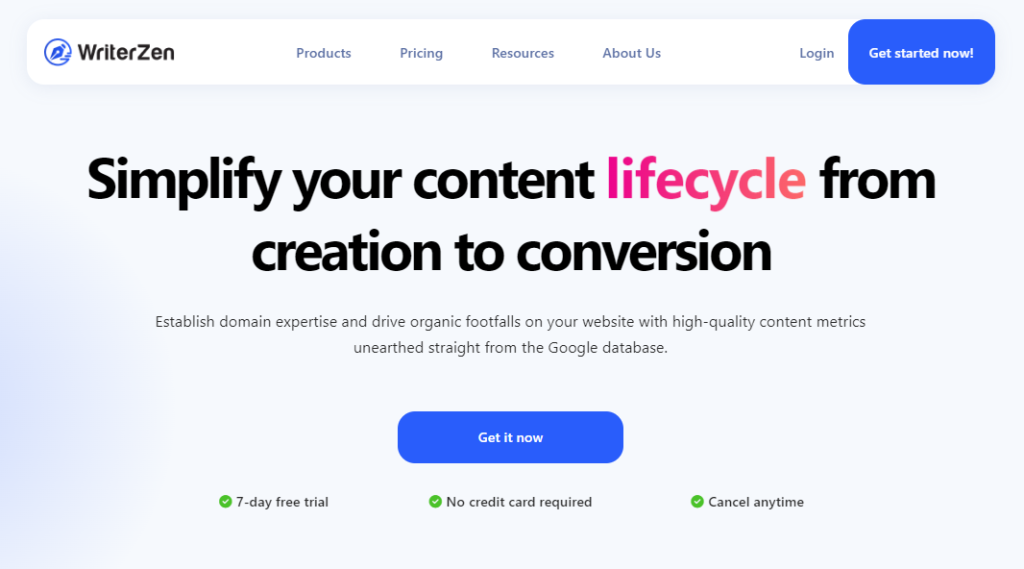 WriterZen is more than just an AI content creation tool that will do the writing for you – it is also an all-in-one SEO platform.
It combines keyword research tools like Ahrefs and Semrush, content optimization tools like Frase as well as all of these different AI copywriting tools all in one place for the price you'll struggle to beat.
WriterZen is divided into three main areas:
Topic discovery
Content creator
Keyword explorer
Actually, WriterZen doesn't write the content itself. It uses AI to learn about your topic and then generates keyword suggestions that you can use.
This saves you the time of having to do it yourself because it does an excellent job at discovering information on your chosen topic.
So, it all starts with the topic discovery section in WriterZen. Here, you're asked to enter any keyword that you want in your text. After hitting 'enter', WriterZen will return a list of related topics that can be used for content creation.
The topic discovery algorithm generates content suggestions that are highly relevant to what people are searching for.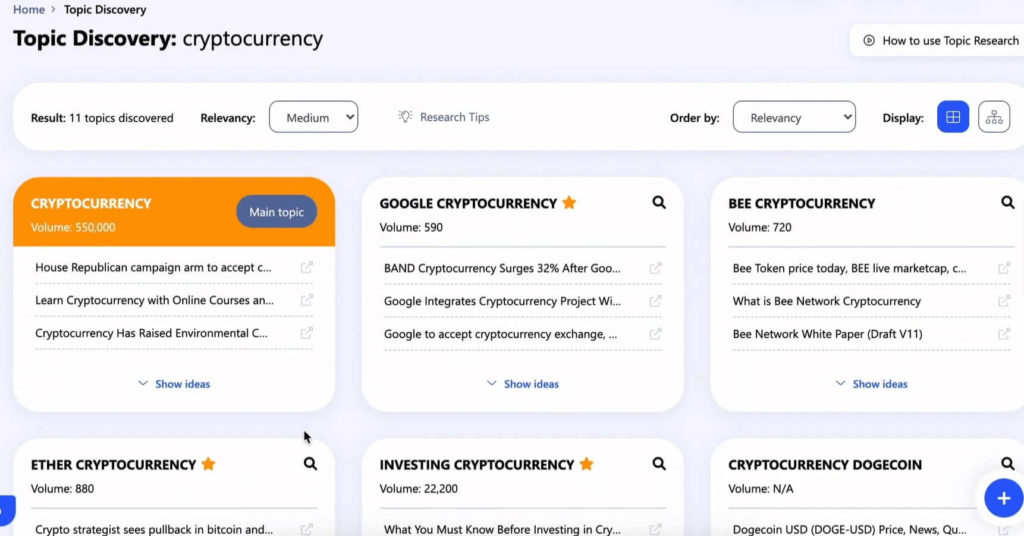 WriterZen then takes the topics and extracts relevant keywords from them, which are displayed on the keyword explorer section together with their monthly search volume.
Next, you can immediately start writing SEO-optimized and data-driven articles with a click of a button.
WriterZen will add your keywords to the article while removing unrelated terms. This is a big help since it reduces the time that you need for content creation and prevents unnecessary additional work.
WriterZen is a complete content marketing suite when you compare it with other tools at this price range which leads to the next point.
WriterZen Pricing
WriterZen has a free 7-day trial and after the trial, they offer 2 paid pricing plans:
Premium – $49/month
Platinum -$70/month
▶ Start WriterZen 7 Day Free Trial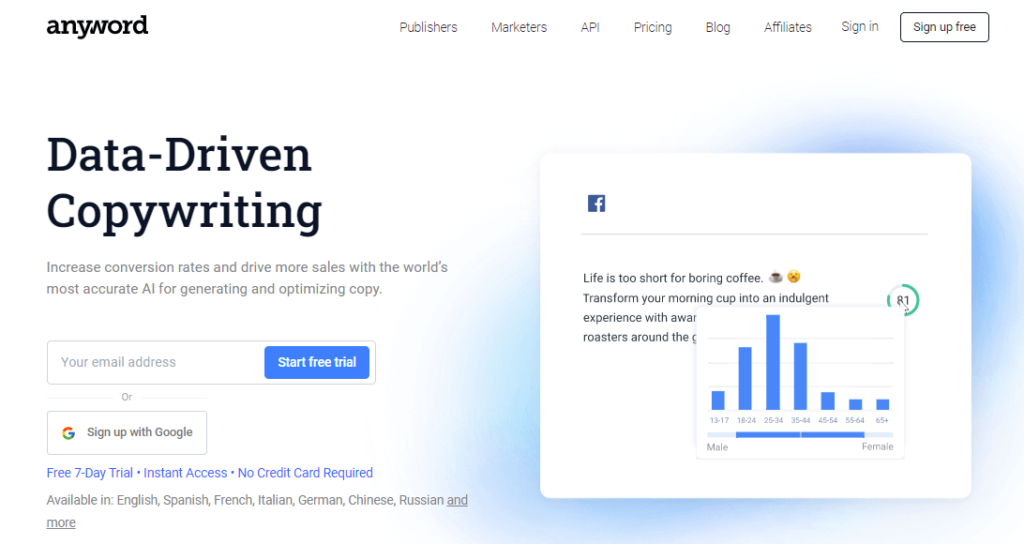 The next interesting AI copywriting software that brings something unique is called Anyword.
The output generated by Anyword is really high quality and they a quite a bit features.
This tool has a lot of benefits including a predictive performance score that will assign a score to every copy generated.
But the most interesting feature is that you can also optimize your landing page or a sales page just by simply typing in the URL of that page.
It will automatically generate and optimize all of the headers, sub-headers, product descriptions, calls to action, and any other copy elements.
Anyword Pricing
Anyword offers a 7-day free trial and after the trial, there are 4 pricing plans:
Free – $0/month
Data-driven basic -$79/month

Data-driven unlimited

– $239/month

Enterprise – $999/month
With the Anyword free trial, you'll get 5,000 words that you can play around with just to make sure that it's going to be perfect for you.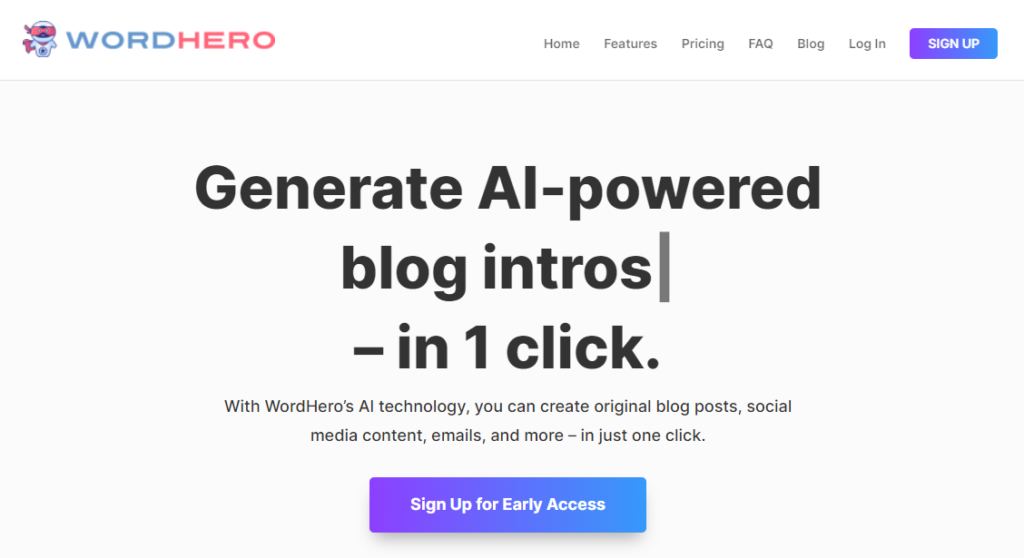 WordHero is a new Al writing tool powered by Open AI and GPT-3 – an autoregressive language model with 175 billion parameters.
Like almost all of the tools available on this list, WordHero allows you to quickly create high-quality blog articles, social media captions, emails, advertising, sales copy, product/SEO descriptions, and more with its huge template library of over 60 copywriting templates.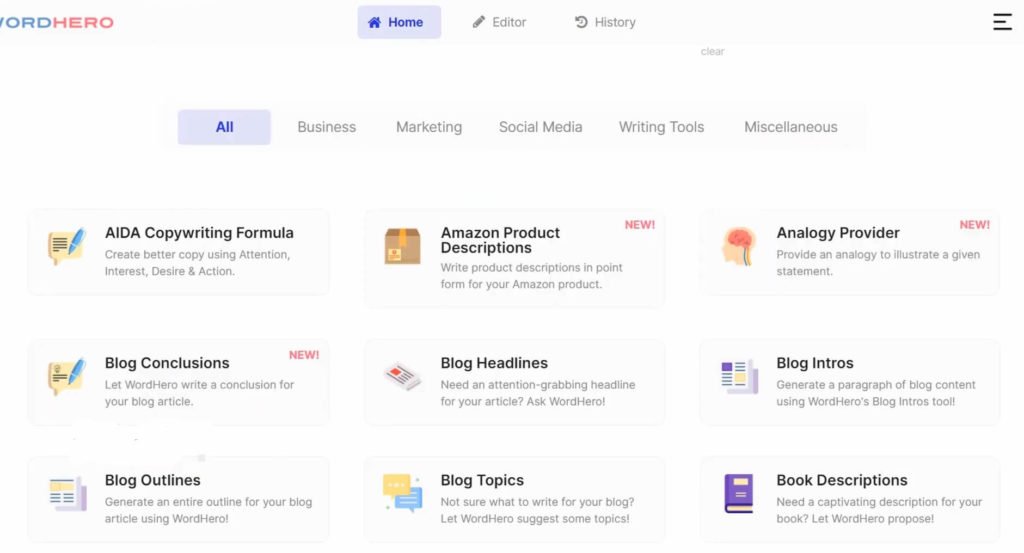 But what makes this tool stands out are some of the really unique templates like startup ideas, slogans, elevator pitch, pain-gain-claim, feature to benefit, and a few more.
It is time-saving, straightforward, and simple to use.
WordHero Pricing
WordHero offers a single pricing plan – Pro Unlimited, which is $49/month paying monthly or $29/month paying yearly.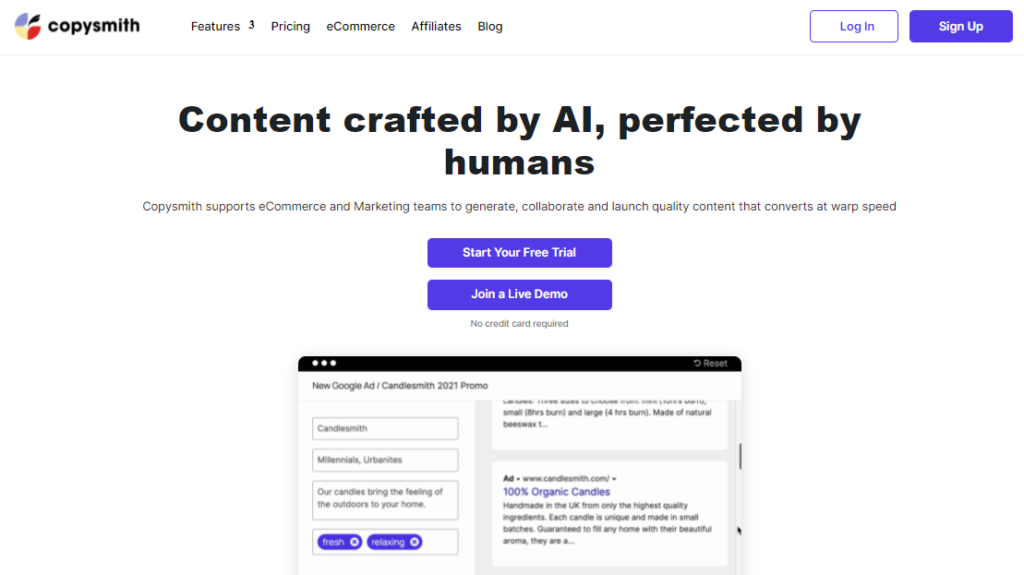 Copysmith is another AI writer that also offers a lot of copywriting tools.
This software does have a long-form generator as well, and I did test this one out. I created one article using that long-form generator where you just basically give it the article title, and it just writes the whole thing for you.
And then the second one, I used the individual tools, very similar to the first two tests where I used the blog intro tool and listicle tools.
However, I did struggle to create any kind of serious length of copy. The results came in around 250 words which isn't quite long enough.
So, it was all a bit of a struggle, but the copy that it did create was okay. It was readable and perfectly fine. The product-focused article turned out better using the product description tool and the blog post intro tool.
The copy is good and I managed to get about 600 words out of the tool by using those individual elements and stitching them all together.
CopySmith is my pick for the best value if you're only doing short-form content. I'm not saying it's the best overall output but I think it's the best combination of features, user experience, and price.
Copysmith Pricing
Starter – $19/month
Professional – $59/month
Teams – $118/month
Enterprise – custom pricing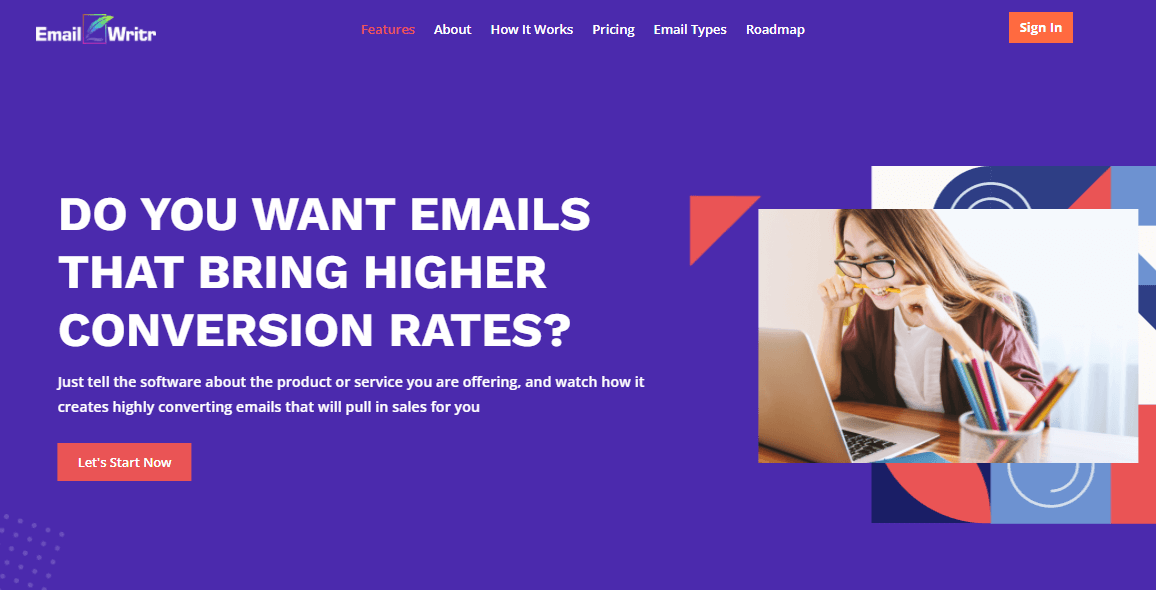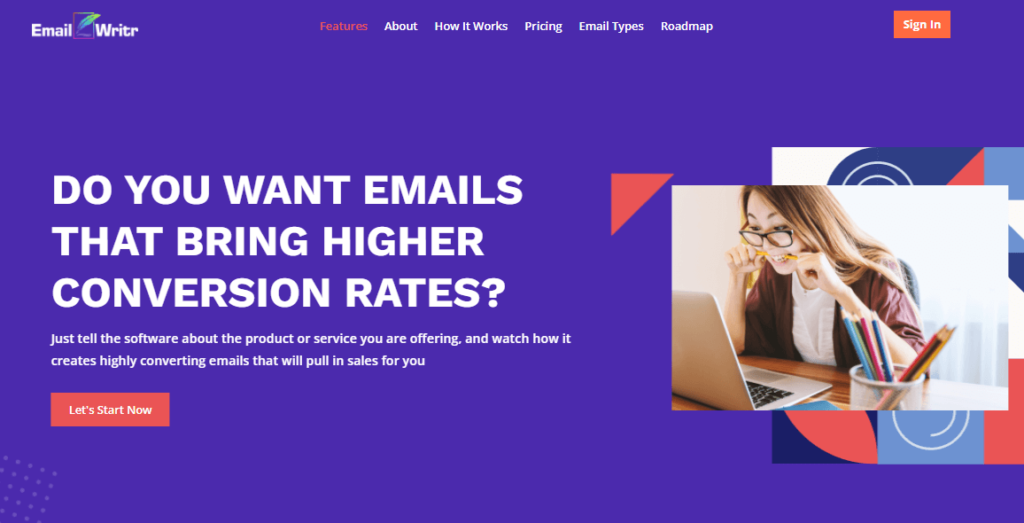 EmailWritr is a new AI copywriting software for email marketing that will automatically generate emails and entire email sequences.
This tool provides over 1,300 pre-made email templates that you can customize and use in your email marketing campaigns across every industry after answering just a few questions about your business and your prospect.
Some of the niches you can generate emails for include:
eCommerce
B2B
Affiliate marketing
SaaS
Coaching
Consulting
Make money online
Health & Fitness
And more
EmailWriter is great AI email marketing software that boosts open rates, engagements, and sales whether you're a digital marketer, freelancer, business owner, or agency.
EmailWritr is running a lifetime deal on AppSumo that will give you unlimited custom email sequences.
EmailWritr Pricing
Basic – $39/month
Standard – $49/month
Premium – $69/month
▶ Get EmailWritr Lifetime Deal on AppSumo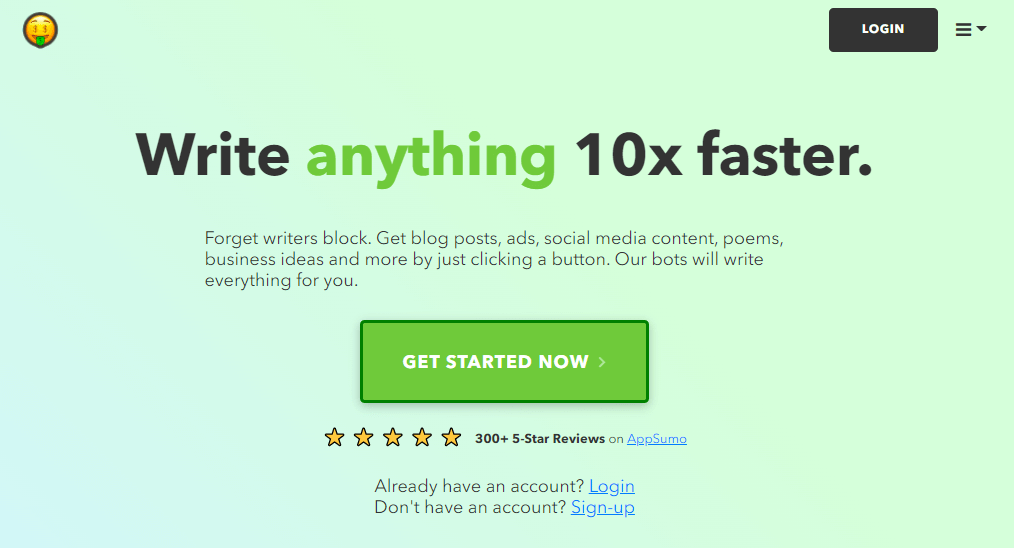 Nichesss is quite unique tool that can help find an online business niche and also create marketing copy for your brand new business
The interface is clean and the navigation is easy to use.
Basically, you can use its powerful Reddit search to find subreddits by the number of people in them. If you look for subreddits with less than 100k subs, you'll find a great resource to create high-quality content.
Youn can simply type in a subreddit that you would like to create content for. Once you find a subreddit that seems like a good fit, just describe the people in that subreddit.
After you've found a business you like, we can help you craft your social media posts and marketing copy. They'll also create posts that you can share on Reddit and Product Hunt, allowing you to validate your ideas.
After testing this tool, they only really separate themselves from the quality of experience a little bit not necessarily the output so much.
Nichesss Pricing
$59 of a one-time payment for unlimited use.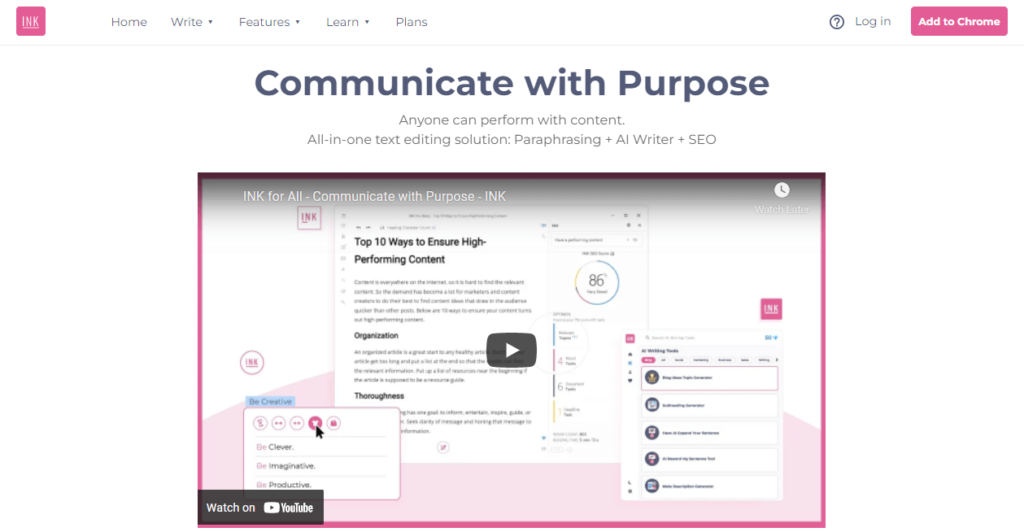 Inkforall is an AI SEO writing tool that not many people have heard of and it's very different from all of the others.
It allows users to find trending keywords and generate SEO-optimized content all in one platform.
You can download the INK app on Windows, Mac, or Linux and it also runs as software so you don't need any other apps or programs installed on your computer.
INK AI copywriting tool has features like:
Focus mode
Sound mode
Typewriting mode
Dyslexia and colorblind more
Grammar and spelling checker
Headline analyzer
And more
And automatic captions & correct licensing to save time.
INK is one of the best in the content SEO industry with patented semantic AI content scoring which gives keywords, topics, sources, and a complete SEO analysis.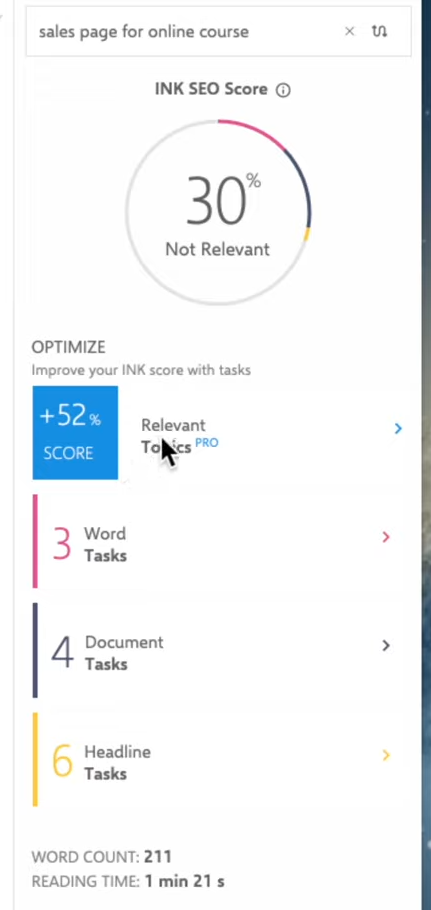 They're the only ones who combine the semantic AI insights with copywriting for SEO outcomes which is great.
Ink is a great solution for people who are already accomplished writers, they're looking for some SEO help, and don't mind having a little bit of GPT-3 available in case they just need a little nudging or want some ideas generated for them.
Inkforall has a dedicated WordPress plugin, and I think it's much better than Yoast for content, it does alt text, metadata, and keyword density but much more – full topic analysis.
In addition, in the near future, they have a lot of big things in store including e-commerce optimization, landing page score & optimization, and more.
Inkforall is innovating the content marketing industry with its AI copywriting tool and it will improve your overall experience of generating high-quality and most importantly, SEO-optimized content.
The best part of INK is that it offers a free plan to test out its service without any obligation.
Their service is affordable and you get a lot for your money. Their plans have been made so that anyone can promote their business in the best possible way.
Inkforall Pricing
Inkforall offers 3 plans:
INK Free – $0/month
INK Pro – $35/month
INK Unlimited – $99/month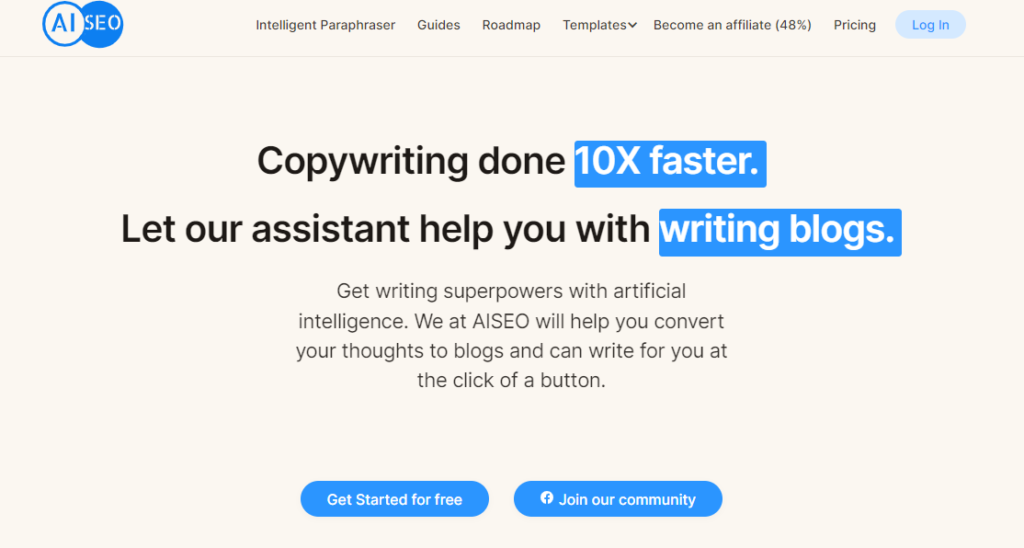 AISEO is one of the best AI copywriting tools for SEO that can you help you create content that ranks higher on search engines.
Some of the AISEO tools include:
Long-form assistant
Readability improver
Blog post generator
Content paraphraser
SERP data
And many copywriting templates like BAB, AIDA, and PAS.
Interestingly with the content paraphraser, you can paraphrase up to 50000 characters at once and generate higher-quality content.
The AISEO team is working on a Chrome Extension that will allow you to generate and paraphrase content wherever you are on the web.
In addition, AISEO also optimizes, edits, and rewrites blog entries all in one location, according to Hemingway's style.
AISEO Pricing
Starter – $0/month
Growth – $19/month
Scale – $49/month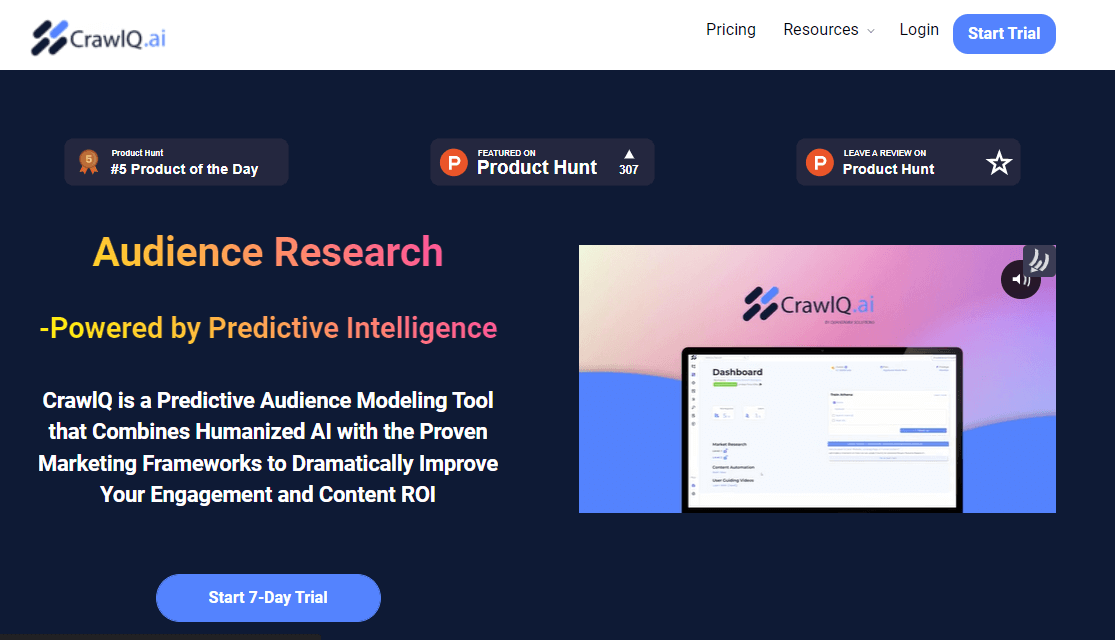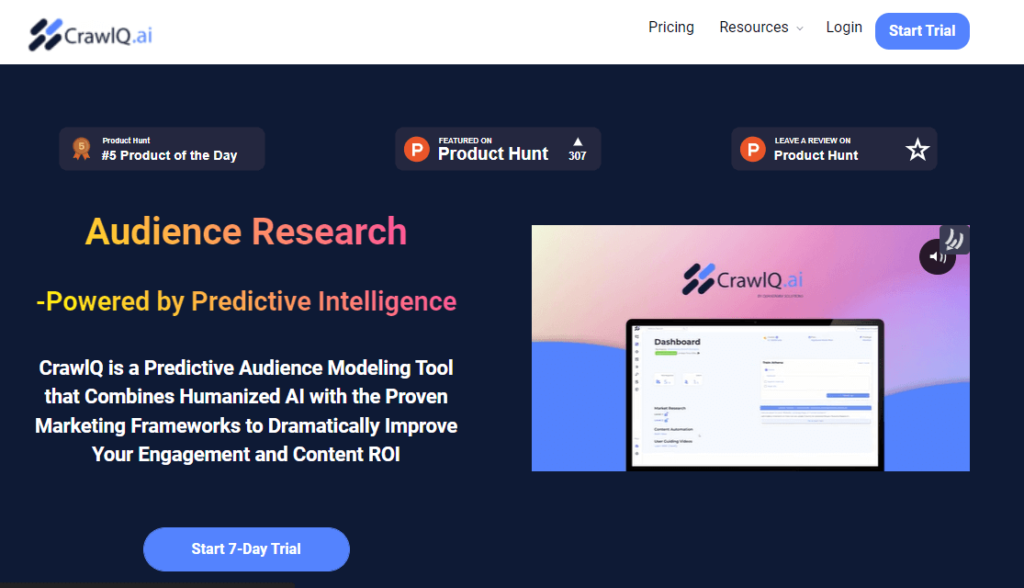 CrawlQ is an advanced, AI-driven market research tool that automates content creation for improved conversions by generating customized, targeted content.
CrawlQ helps you find your target audience, conduct market research, and produce high-quality content that is tailored to your desired audience.
The application is effective for any business, blogger, or individual that wants to get more organic traffic.
In addition, CrawlQ allows marketers to track their keywords more closely and measure the impact of their copy on conversions, providing real-time monitoring at all times.
CrawlQ makes identifying your target audience by providing you with data right at your fingertips.
Once you input your website URL and choose the keywords you want to research, CrawlQ provides you with a list of suggested keywords, as well as information on search volume, CPC (the price you would pay for those searches), and the competitiveness of those keywords.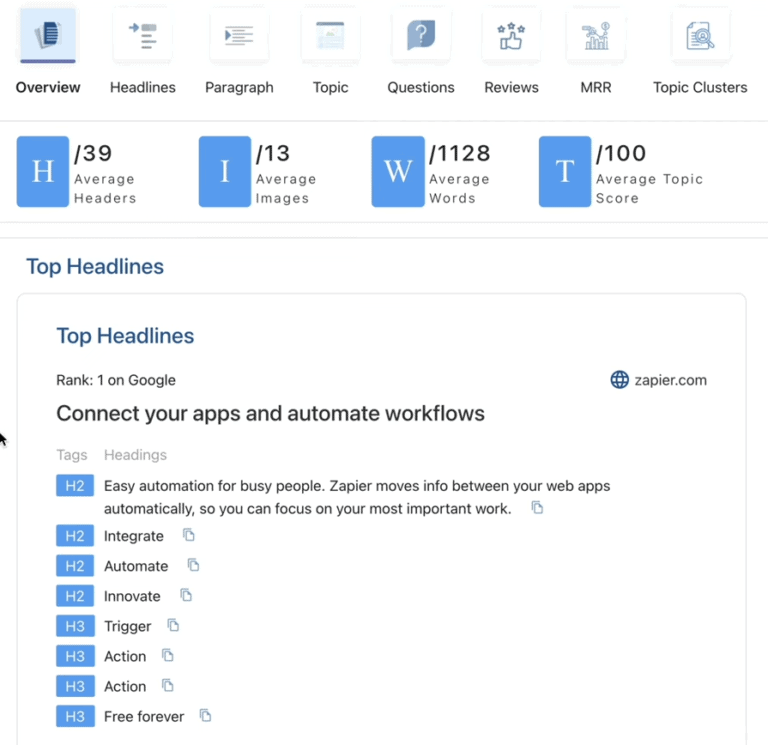 After you have chosen your desired keywords, CrawlQ provides you with a detailed report on what people are searching for within your industry. It also creates tailored content suggestions based on the information it provides.
Then, CrawlQ's AI engine, Athena, will take the wheel to automate content production after you've obtained insights into your market niche.
Athena will extract and summarize data from your reports and then create relevant, SEO-friendly blog posts that contain the keywords you've been looking for which is super useful especially if you're in SEO.
CrawlQ Pricing
Basic – $79/month
Advanced – $158/month
Pro – $237/month
Enterprise – custom pricing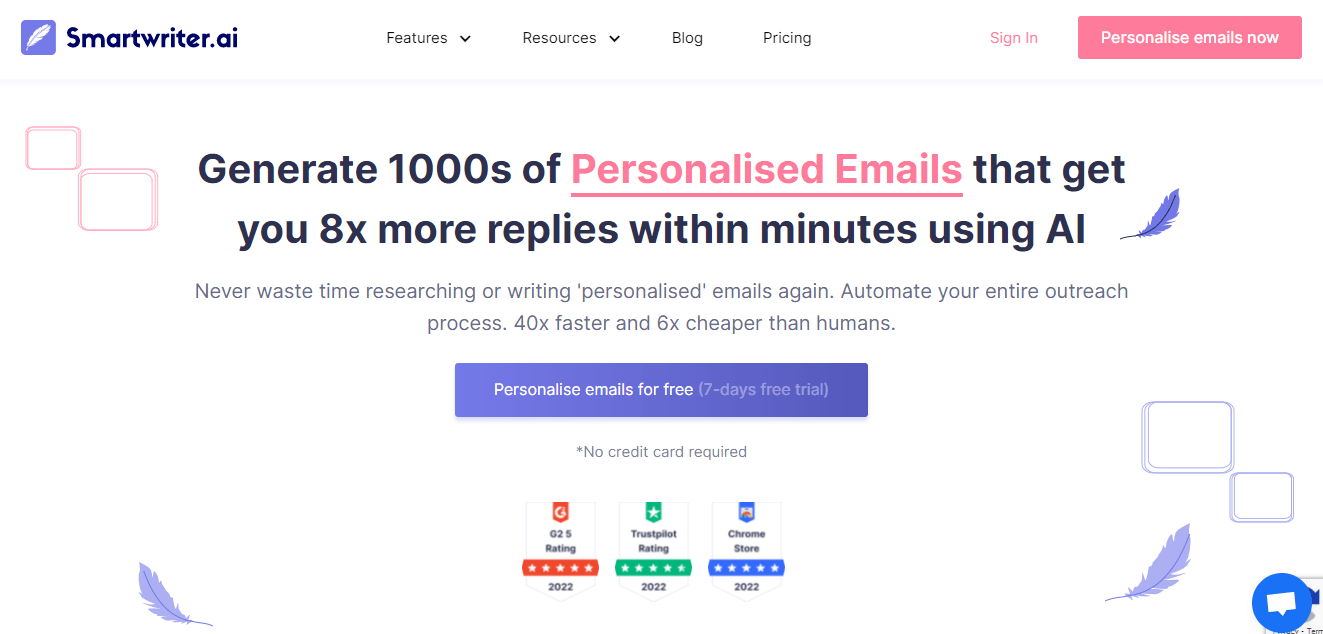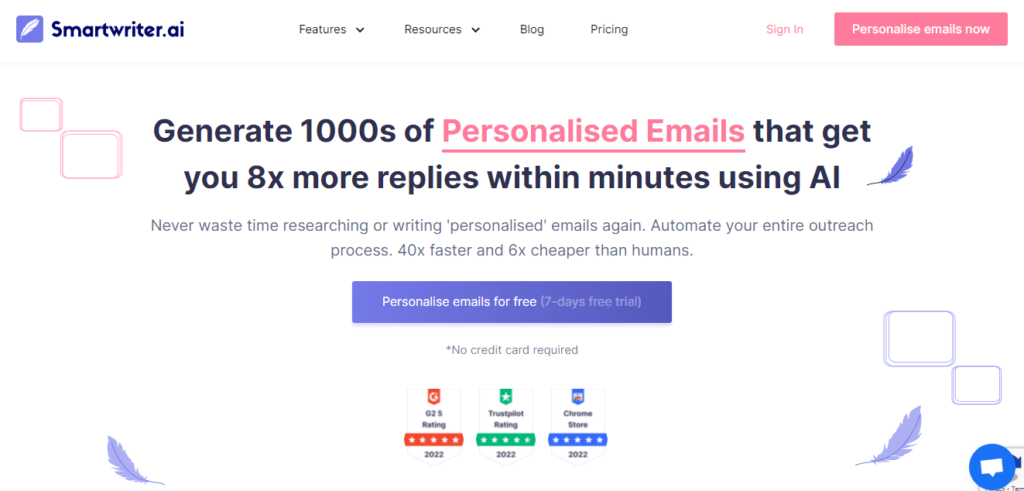 SmartWriter AI is an AI email generator that will help you automate your email outreach, Linkedin outreach, and even backlink outreach.
They find and use your prospect's online data to create super personalized cold emails for sales or backlinks at scale with the help of AI technology.
The SmartWriter personalized cold email outreach tool uses information that they find about your prospects' business on the web.
So that you can craft a unique personalized message that distinguishes you from everyone else in your prospect's email Inbox, increasing the likelihood of a response.
This tool is purely focused on email and social media outreach.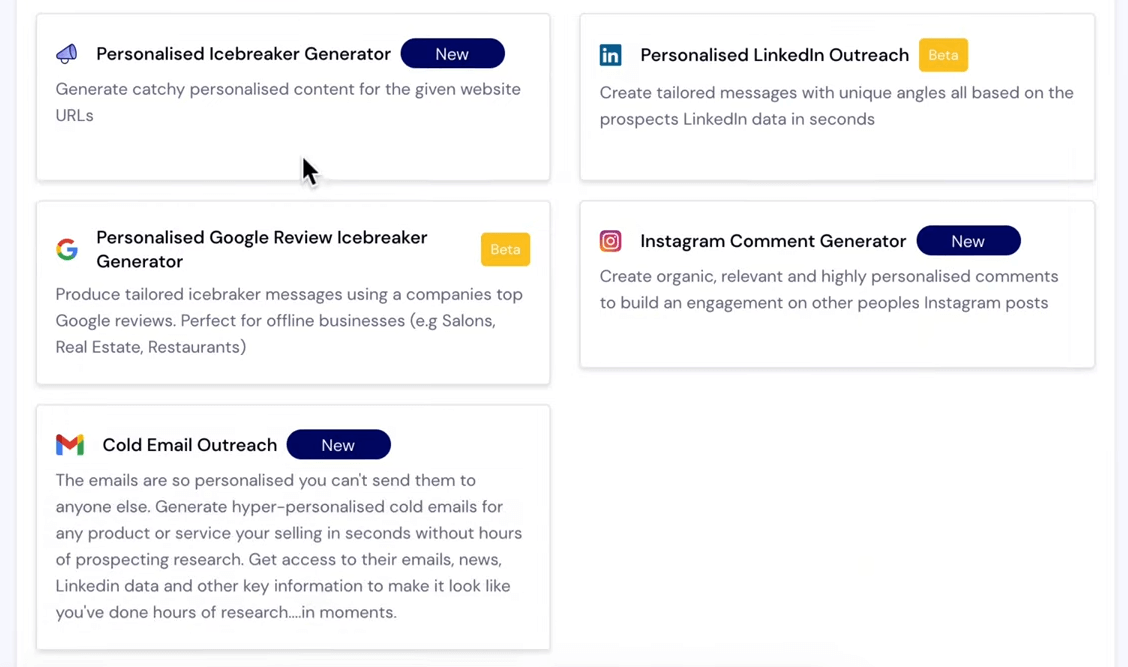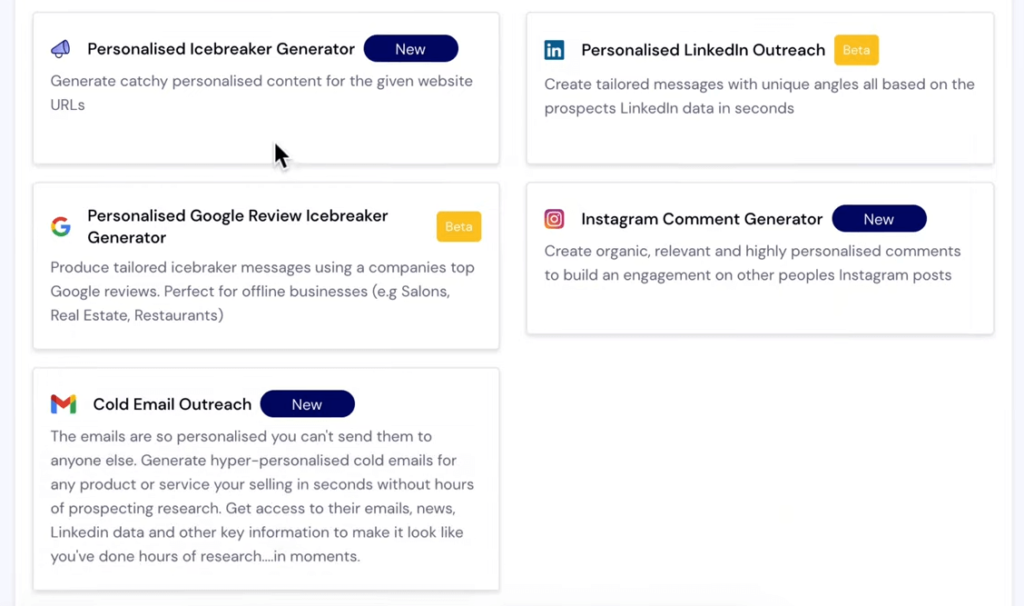 But they also have other different tools and templates such as:
Email verification
Personalized icebreaker generator
Personalized Google review icebreaker generator
Instagram comment generator
And also tools for long-form content like the blog title, blog intro, blog outline, and more.
But my favorite SmartWriter feature is the personalized backlink outreach tool.
This allows you to just simply paste a blog link and they create a unique message in the context of the blog that catches the author's eyes.
If you do a lot of outreach, this is one of the most effective AI email tools for automating your entire outreach process.
You won't find another outreach tool that will make your outreach process as easy as SmartWriter AI does.
SmartWriter Pricing
Basic plan – $59/month
Popular plan – $149/month
Pro – $359/month
▶ Start SmartWriter 7 Day Free Trial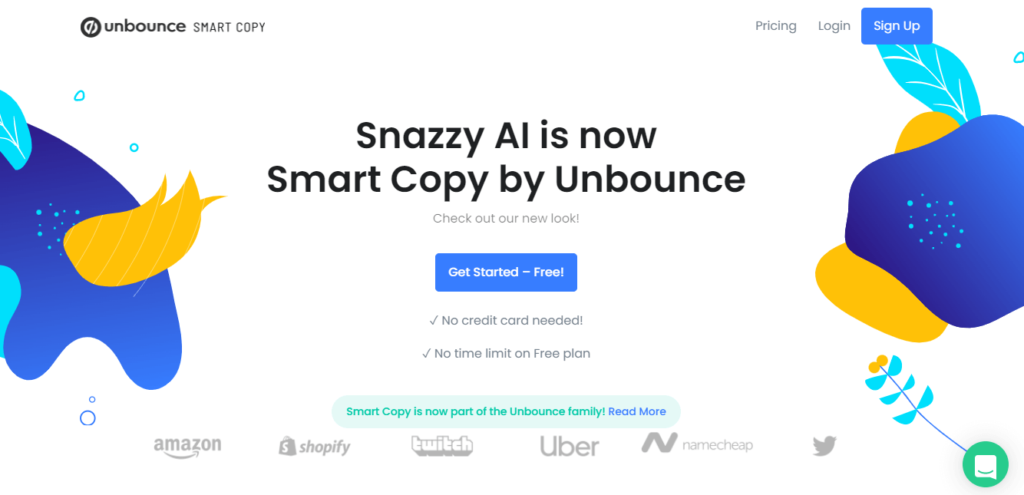 Snazzy.ai is an AI copywriting software that is integrated with Unbounce., a well-known landing page builder.
Snazzy AI makes use of a combination of its own proprietary ML along with GPT-3 technology by open AI making it one of the best AI copywriting tools for marketing professionals.
This tool has 30 content templates and a customer base of over 30,000 users. Despite a huge variety of tools to choose from, the interface is very nice and the dashboard is easy to navigate.
Some of the interesting Snazzy.ai tools include:
Brand Statement
Pain Benefit Solution
New Product Ideas
Mission Statement
Amazon Ads
LinkedIn Text Ads
Pitch a VC
You can find tools for writing emails, product descriptions, article intros, listicles, and all that kind of stuff, that are really useful when you're creating content.
In addition, Snazzy AI has a handy Chrome Extension that you can use in Google Docs, email, as well as Grammarly.
I've been testing this tool for a while and after Snazzy.ai has been acquired by Unbounce the quality of the copy is a much higher quality.
Snazzy AI Pricing
Snazzy AI has 2 pricing plans:
Starter – $0/month
Growth – $49/month
Ocoya is an AI social media marketing platform, that offers a graphic design tool, scheduling options, as well as AI copywriting tool called Travis AI.
It's a simple tool anyone can use to generate great-sounding pieces of content for their social media accounts including Facebook, Instagram, Linkedin, Twitter, TikTok, and very soon – Pinterest.
Travis – the AI script generator has dozens of different copywriting templates including blog ideas, product descriptions, Google & Facebook ads copy, Tweet ideas and more.
All you have to do is input some basic information, and Travis will create a copy based on what you've given it.
With Ocoya you can also generate hashtags, inspirational quotes, and even product announcements for your social media posts.
Other Ocoya features include:
E-Commerce integration
Social media scheduler & analytics
Hootsuite integration
Buffer integration
And more
You can also create social media posts using Canva or Crello since Ocoya is integrated with these platforms as well.
Ocoya's unique selling point is that you can create graphics, generate copy, and schedule posts on social media channels- all in one platform.
Ocoya Pricing
Ocoya has 3 different pricing plans:
Silver plan – $49/month
Gold plan – $119/month
Diamond – $539/month
▶ Start Ocoya 7 Day Free Trial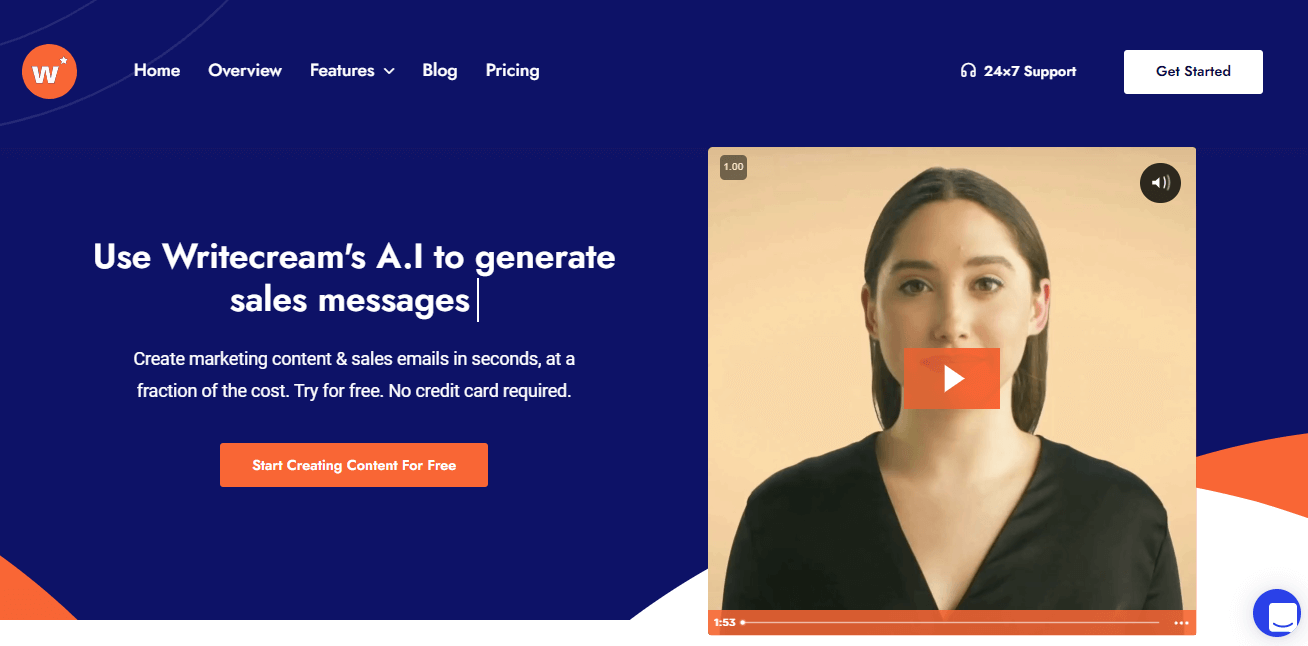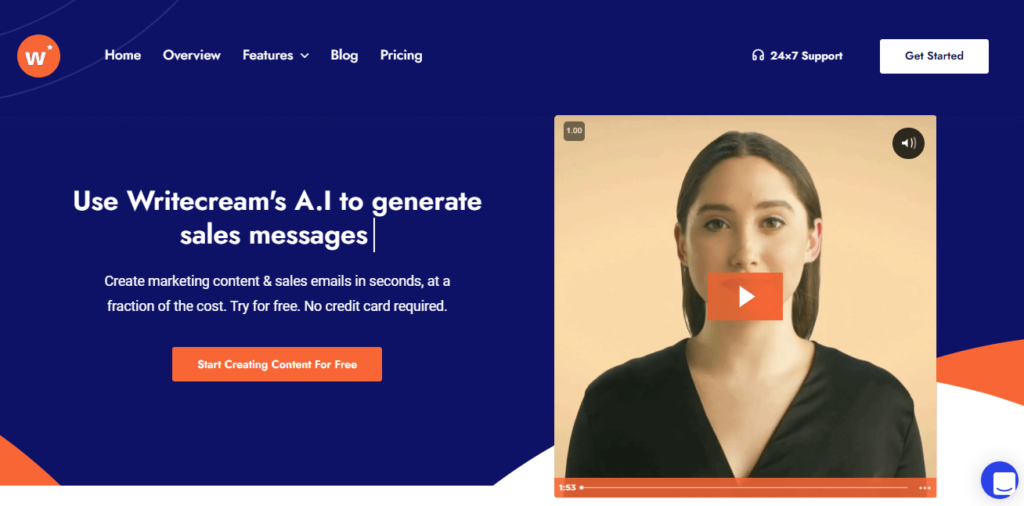 Writecream is one of the best AI content writing tools for entrepreneurs and marketing professionals. Writecream has plenty of copywriting tools but the main focus of this tool is sales and marketing.
It can save you hours of time and energy by generating personalized introductions and messages with the click of a button.
You can use Writecream to generate messages for any type of cold outreach including email outreach, LinkedIn outreach, backlink campaigns, and much more.
The best part about this tool is that the messages are personalized so you don't have to worry about being spammy or repetitive. This means that your emails and messages are more likely to get responses from recipients.
The other unique tools are audio and image icebreakers so you can include these types of media in your emails and stand out in your prospects' inboxes.
Writecream Pricing
Free- $0/month
Premium – $49/month
Professional – $69/month
Ultra – $99/month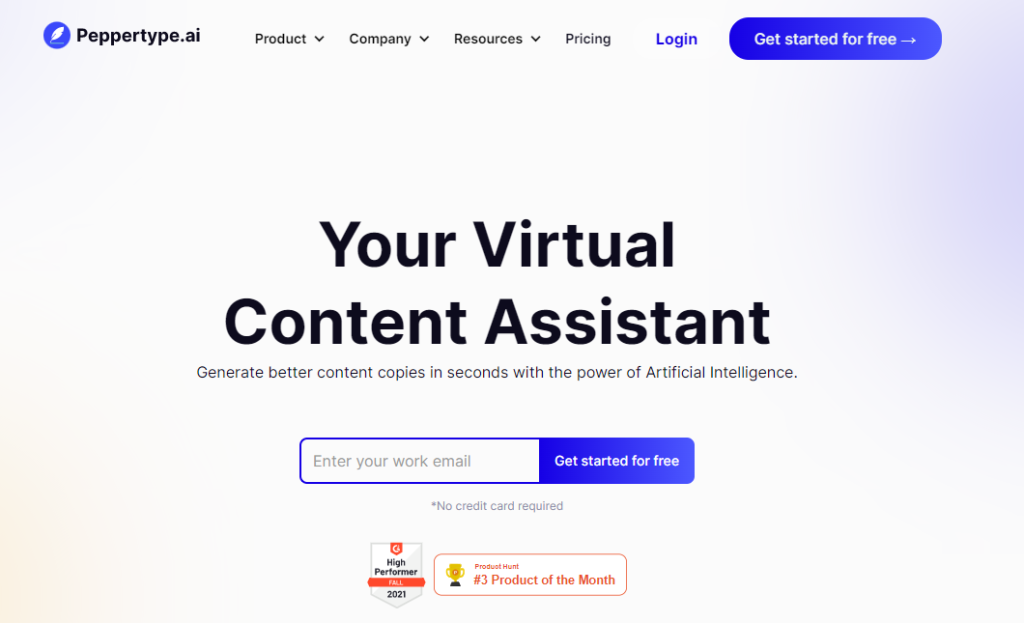 Peppertype is a feature-rich rapid content generator that offers 34 copywriting templates.
Some of them include One-liner Quirky Tweets, Informative Quora Answers, Customer Review Response, as well as multiple copywriting frameworks such as BAB, PAS, and AIDA.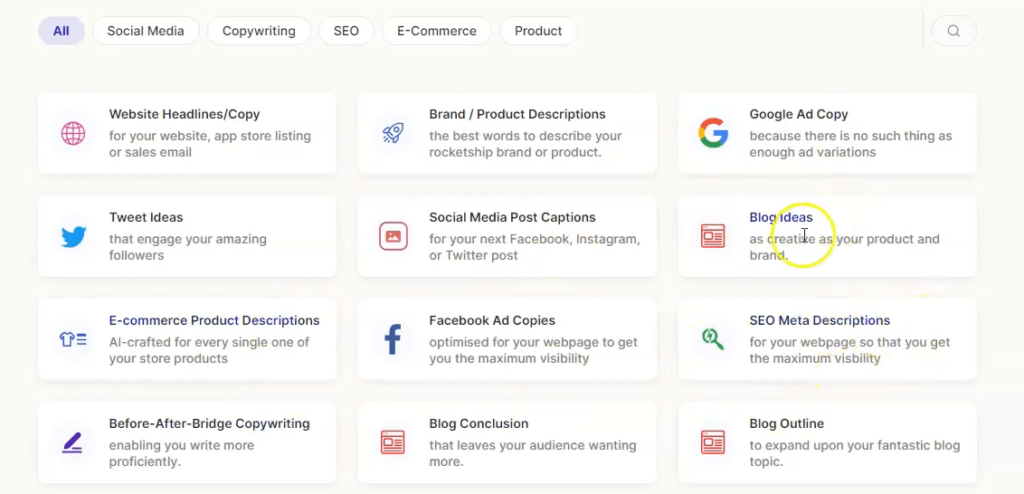 it's worth mentioning that Peppertype.ai is trusted by companies such as Facebook, Adobe, Amazon, and more.
This AI writer is better suited for short-form content so things as product descriptions, product reviews, emails, and advertising copies.
Peppertype Pricing
Starter– $35/month
Growth – $199/month
Enterprise – Custom pricing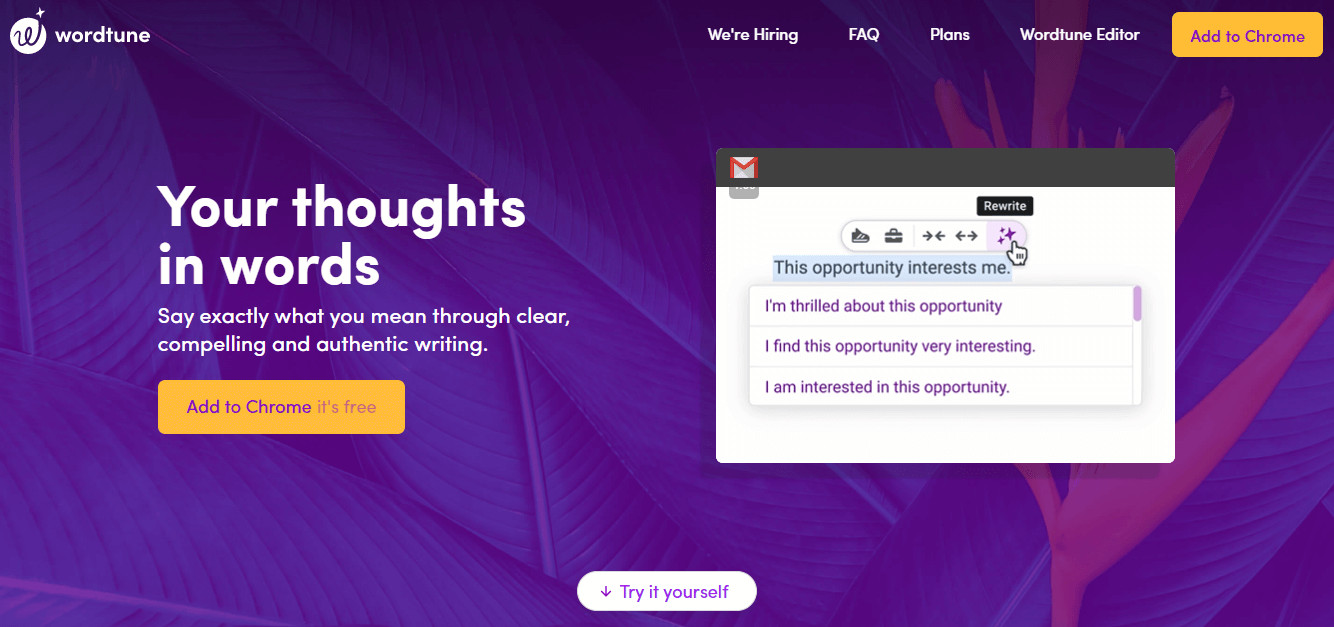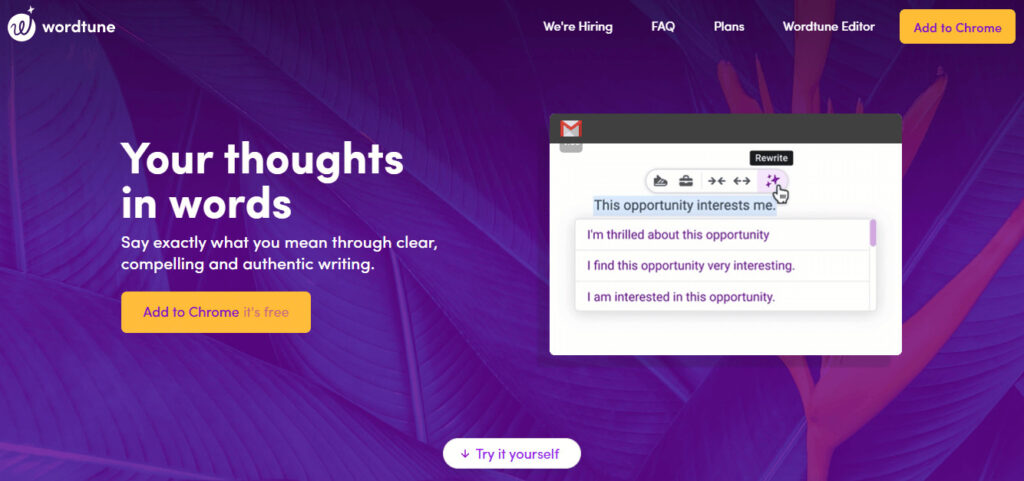 Wordtune is a free AI copywriting software that allows you to rewrite, shorten, expand and even change the tone of your existing content.
I have used Wordtune for some time now, and it is a great way of tweaking your content with artificial intelligence.
I find that being able to rewrite my content makes this app very useful.
It's also pretty cool that they have a Chrome Extension that makes it possible to edit articles directly in your browser or even Gmail.
However, keep in mind that with this tool you'll not be able to generate content.
Overall, Wordtune is a great AI writing assistant and I would happily recommend it to anyone interested especially considering the fact that you can use it completely free.
Wordtune Pricing
Free plan – $0/month
Premium – $9.99/month
Premium for Teams – custom pricing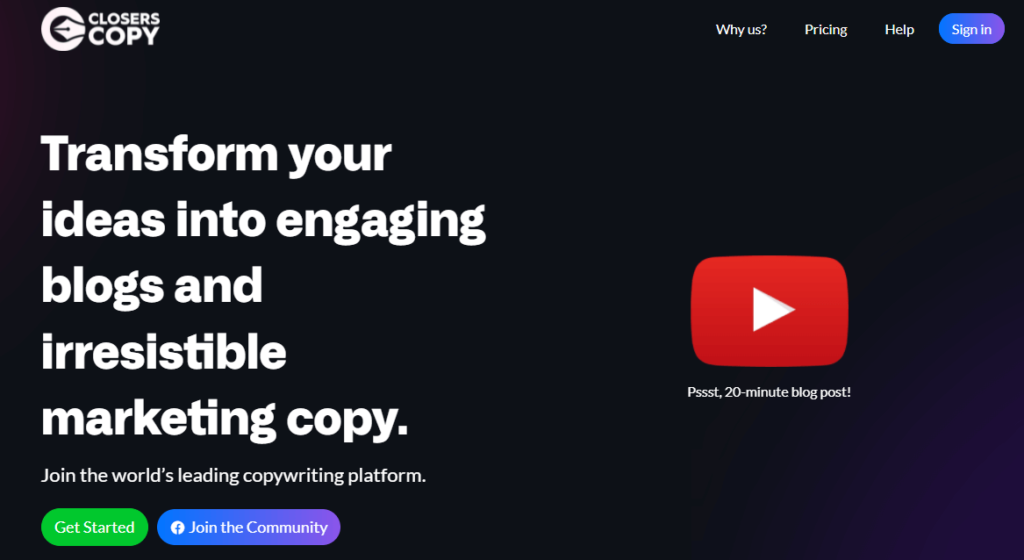 ClosersCopy is an AI writer that has been for a while in the market.
It started out as basically a word processor or copywriting software that also had the ability to test your writing for certain things like emotional content and give it a spam score.
And it also had a repository of a high-converting copy built into it.
But since then, this product has evolved and they've added an AI writer and GPT-3 to it, which increases the possibilities of this tool.
They have added a lot of features and also improved the output quality substantially.
ClosersCopy is more inclined towards marketing and copywriting but you can do much more using this tool.
It comes with a decent long-form content editor and it has a lot of frameworks for you to play with.
With CloersCopy, you'll also have a creativity slider to get the most flexibility out of the underlying technologies that is GPT-3.
After testing ClosersCopy, although commands are really functional you need to be really cautious about crafting your command.
Meaning you need to treat the commands that you give as programming actual coding because you need to get rid of ambiguity.
Their engine is not so great when it comes to understanding natural language compared to other AI copywriting tools.
ClosersCopy Pricing
Starter – $29.99/month
Professional – $49.99/month
Unlimited – $79.99/month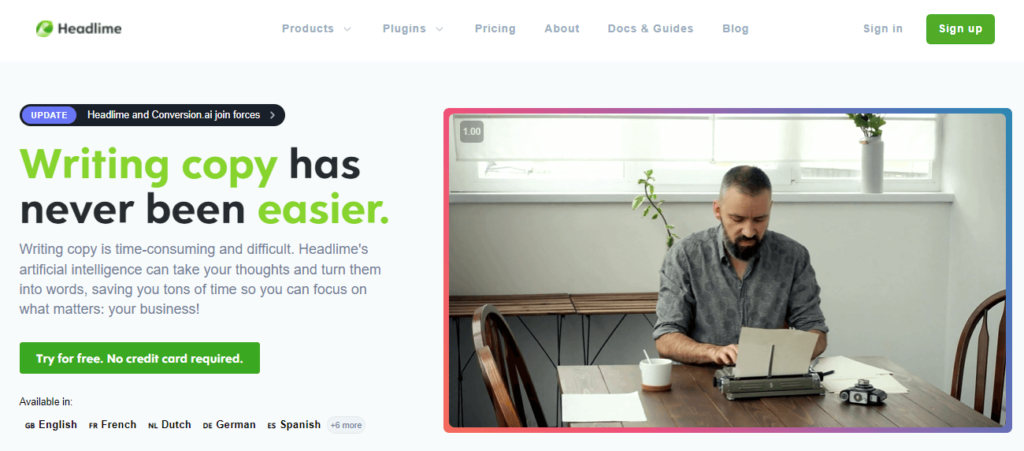 The next AI writer assistant powered by GPT-3 technology is Headlime which also has been acquired by Conversion AI (currently Jasper AI)
If you want something that guides you through the process of creating content, you can just pick copywriting templates like:
Value proposition
feature to benefit
Facebook headline
Article headline
Blog post ideas
Tagline
Google ads headline
These types of things are available to you as individual tools they call them.
The Headlime blog post tool is somewhat similar to other platforms except that instead of giving you just a nice blank canvas to write with right away, you go through a series of forms to get to a certain point.
Headlime is a great option. If you need a little bit more of the guided requests to get what you want from the AI, then you don't mind the credit limits, because maybe you just don't need to create that much content every month.
In addition, this tool is available in 11 languages including English, French, Dutch, German, and more.
Headlime Pricing
Individual – $59/month
Business – $399/month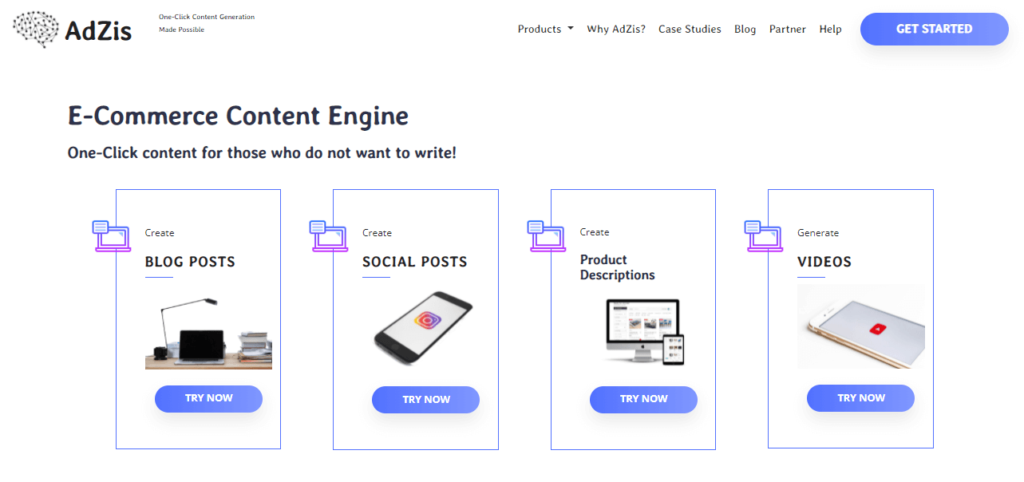 The next AI content generator we've got is AdZis which will help you create not just unique and plagiarism-free copy.
But what makes AdZis stand out among other AI writers is this tool also has an AI video generator that can create a video for your business or social media with no technical skills.
It's got a nice step-by-step wizard that it takes you through to create the article, social media graphics, and videos.
AdZis Pricing
Starters – $9/month
Intermediate – $49/month
Professional – $99/month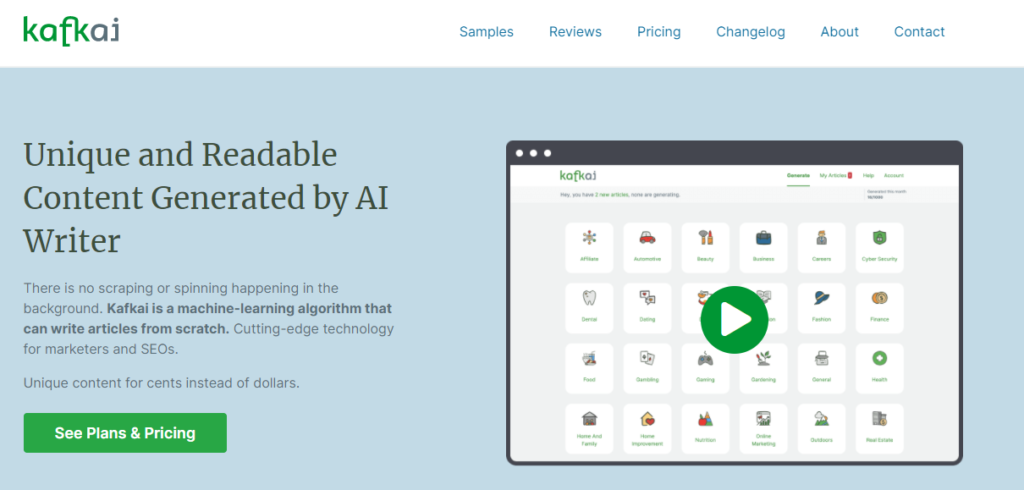 Kafkai is another AI text generator software however, this tool is powered by GPT-2 technology, which is less powerful than other AI copywriting software powered by GPT-3.
Technically it works the same way where you just provide AI with the article title and it spits out a complete ready-written article but unfortunately the quality is not that good.
Kafkai also can generate articles in 6 languages and offers a WordPress plugin that you can install on your WordPress site.
With Kafkai you can generate content for niches like:
Affiliate marketing
Automotive
Beauty
Business
Careers
Car Insurance
Cyber Security
Dating
Education
And more
KafKai offers 3 different modes for content creation. With the first 2, you can create a niche-specific model for a particular type of article, and a non-specialized model that allows you to try anything you want.
However, I have to say the quality of the copy was actually not that good and it was just hard to get a decent quantity out and it just didn't seem to be enough tools and templates to do what I wanted to do.
Kafkai Pricing
Writer – $29/month
Newsroom – $49/month
Printing Press – $129/month.
Industrial Printer – $199/month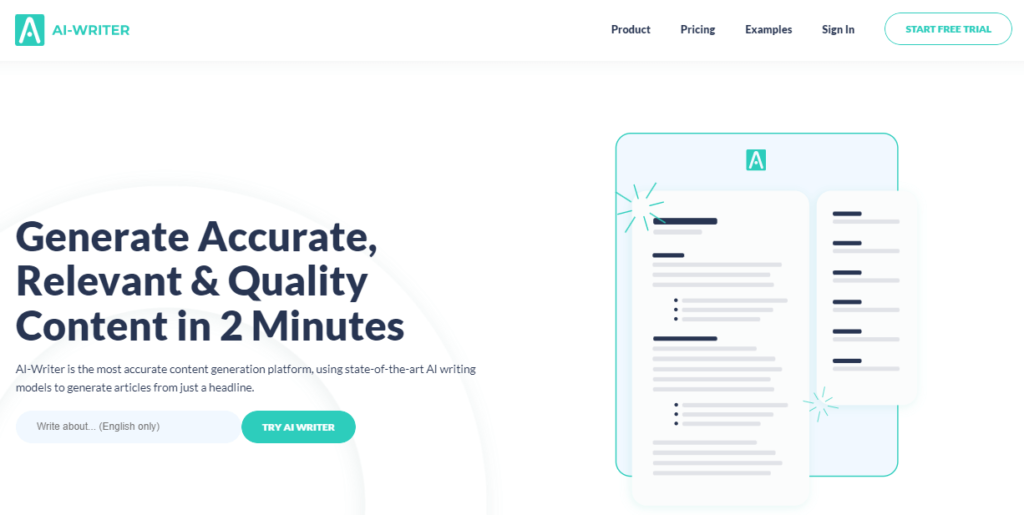 AI Writer is a text generation software tool that can write any kind of text. It has some unique features like verifiable citations, text rewording, and SEO focused text editor.
It's possible to automate the process of writing blog posts and website content with the help of an AI writer. AI will provide content that is objective. Without the need for a viewpoint, it develops content on a wide range of themes and styles.
However, AI Writer is only available in the English language so keep that in mind.
AI Writer Pricing
Basic – $29/month
Standard – $59/month
Power – $375/month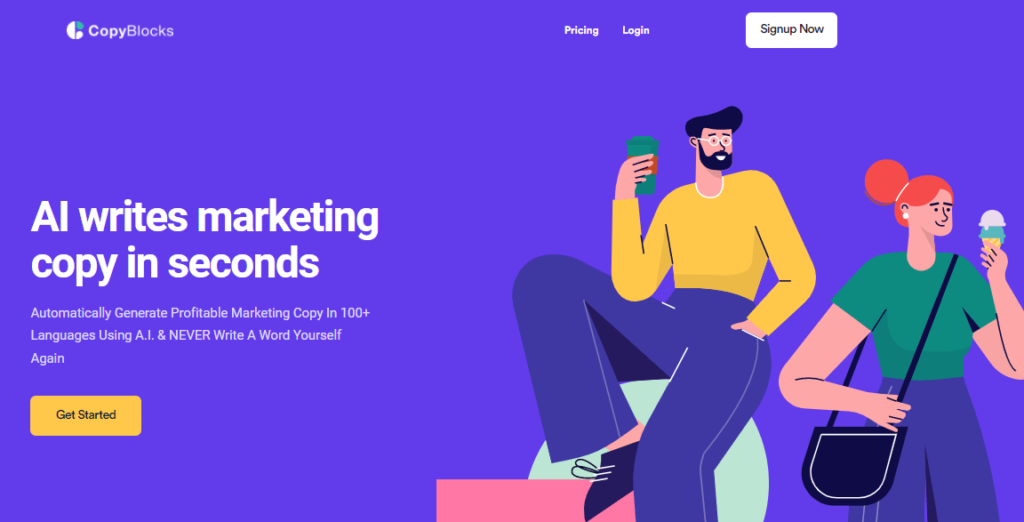 CopyBlocks is an AI script generator that can help you generate human-like text for marketing purposes in over 100 languages.
It offers over 50 copywriting templates including:
Advertising copy for Facebook and Google Ads
Blog ideas, titles, listicles, titles, intros, outline, bullet points
Templates of websites, eCommerce sites, and the product descriptions
Documents like corporate brochures, mission statements, vision statement
Copywriting templates based on proven marketing frameworks: AIDA, PAS, Before After Bridge
SEO meta titles and description
Video topics, script outline, script hook, introduction
CopyBlocks Pricing
CopyBlocks has 2 one time payment pricing plans:
Commercial – $67
Bundle Offer – $247
▶ Get CopyBlocks For a One Time Payment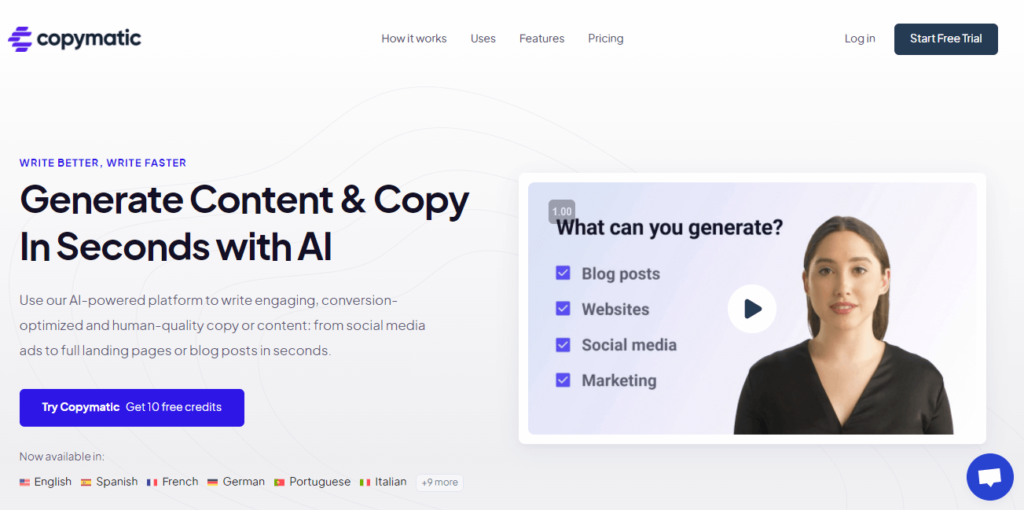 Copymatic is an AI content writing tool that allows you to write email scripts, video scripts, ad copies, page copies, and in the near future, they are about to launch Ecom product descriptions and webinar presentation slides.
And the only thing you have to do is answer a few questions about your products and then this AI is going to write the content for you.
In addition, Copymatic offers features like Sentence rewriter, Grammar check and it's available in 15 languages.
CopyMatic Pricing
CopyMatic has 2 pricing plans:
Starter – $29/month
Pro -$49/month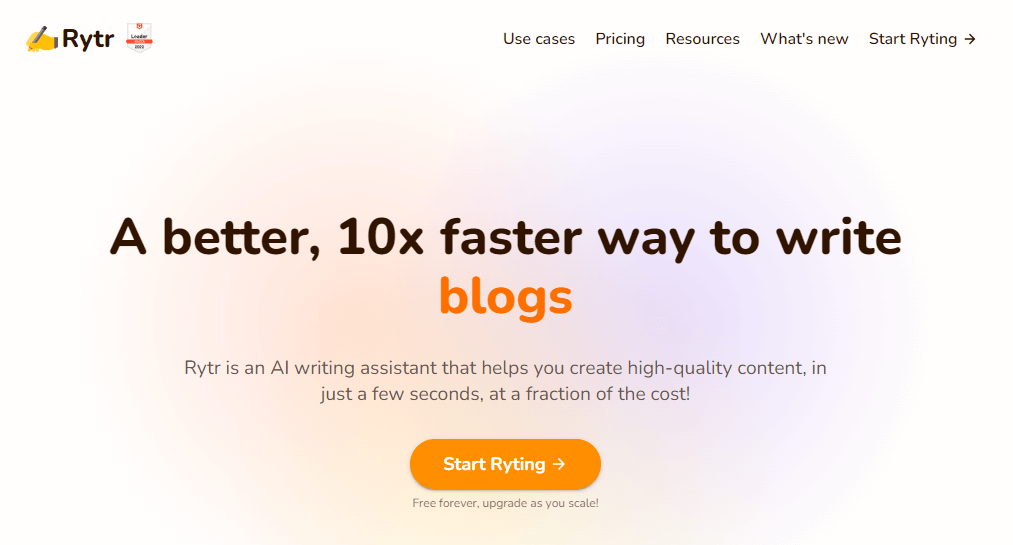 Rytr is one of the best free AI copywriting tools that aid in writing content automatically from blogs to emails, social media, and ads. The best part is that you will receive this at a fraction of the cost.
This new copywriting software offers templates where you can write high-quality content as well as automatically generate creative texts including an AI story generator.
The software is mobile-optimized to write as well as edit to your requirements.
And due to its cool design and functionality, Rytr has been receiving a lot of positive reviews from Trustpilot, G2, and AppSumo.
Rytr offers a completely free plan where you can generate up to 5,000 characters a month. In addition to that, you will be able to choose your niche, add input for context, and generate output.
Rytr Pricing
When it comes to payment, here is the pricing plan for Rytr;
Free plan – $0/month
Unlimited plan – $19/month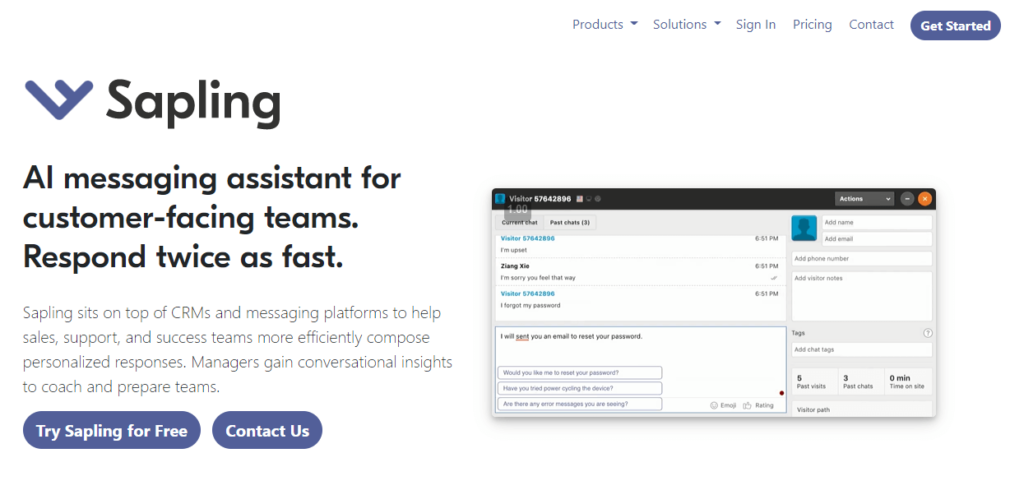 Sapling AI is a tool for marketing professionals that can help write better emails by providing you with grammatical and stylistic guidance.
It helps agents compose text messages quicker by providing deep learning-powered autocomplete suggestions across all messaging platforms. Agents can quickly insert snippets containing common responses.
Sapling AI for chat and helpdesk tickets helps agents by retrieving relevant responses from a team, allowing agents to respond to customers faster by simply clicking on the desired response. This helps team members provide quicker responses and manage high inbound volumes.
You can use this tool to proofread your writing for problems in spelling and grammar, and then revise your work to make sure your SMS and emails are error-free.
Sapling Pricing
Free – $0/month
Pro – $25/month
Enterprise – custom pricing
Bonus: Builderall Script Generator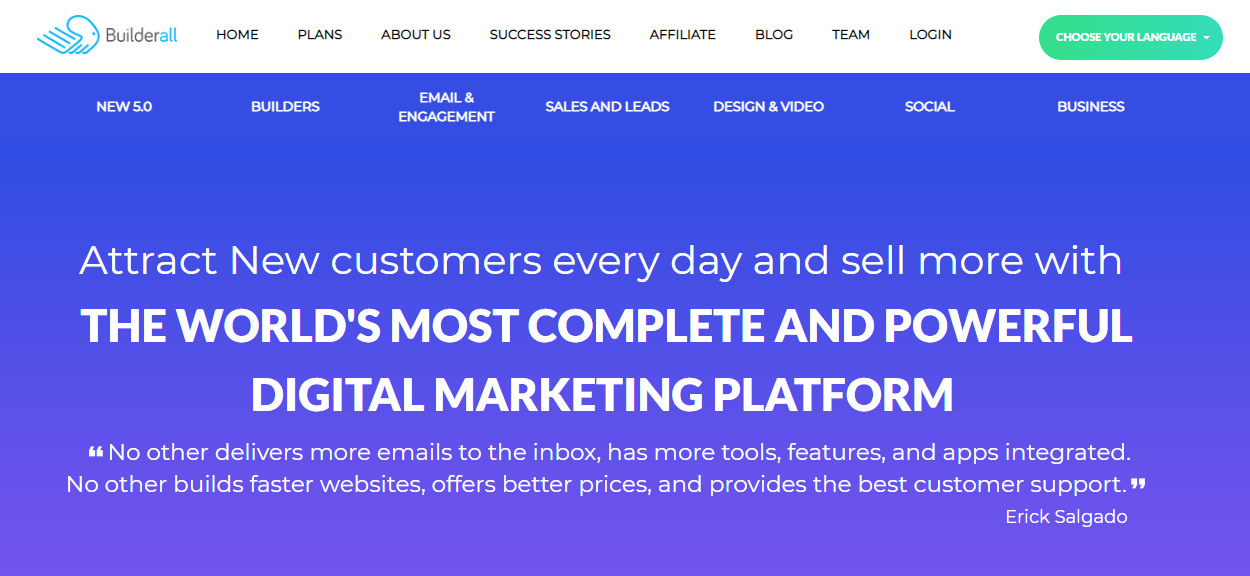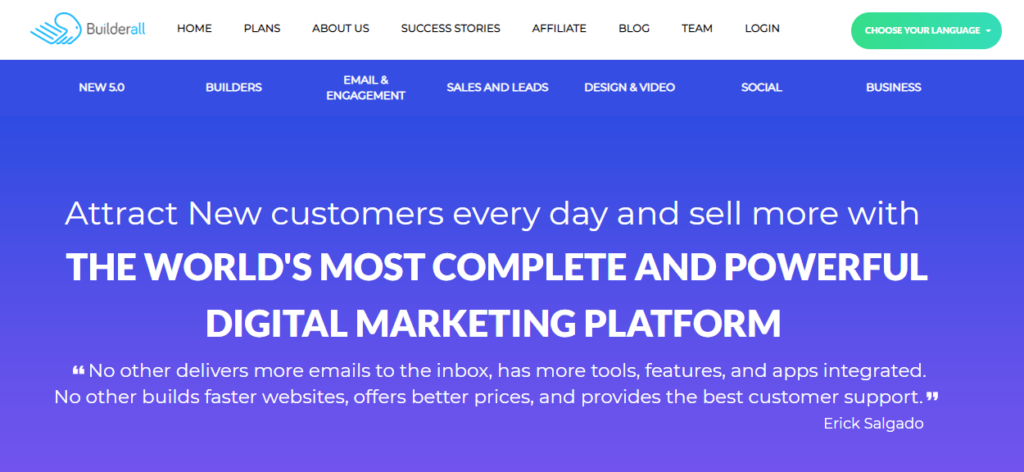 Builderall Script Generator is copywriting software and it's just a small component of Builderall – the most complete all in one digital marketing platform with +50 tools including:
Drag and drop website builder
Sales funnel builder
Chatbot Messenger
CRM
Video hosting
E-learning platform & membership site
Video maker
And more
With the Builderall Script Generator, you can generate pretty much everything as you can with other tools on this list like sales funnel scripts, website copy, OTO scripts, email scripts, advertising copy, and more.
However, this tool is designed more for entrepreneurs, copywriters, and marketing professionals.
Builderall Script Generator Pricing
Cheetah -$14.90/month
Marketer – $69/90/month
Premium – $79.90/month
Funnel Club – $79.90/month + $199 one time payment
▶ Start Builderall 14 Day Free Trial (No Credit Card Required)
Tips on Using AI Copywriting Tools
✅ Research The Topic Before Writing
If you're trying to create any type of long-form content you should always do your research first. If you want to get the most out of any of these platforms you have to provide relevant information otherwise it will not make any sense.
You should know the topic before you just start writing about it. The same holds true as if you were going to write it yourself.
✅ Always Fact-Check Text Generated by AI
As you probably know, none of these GPT-3 writing tools are perfect. You still have to put in a lot of work itself.
All of these tools can generate copy for you for all sorts of marketing materials, but you should always fact-check the text before using it.
Fact-checking generated text by AI copywriting tools is important to avoid mistakes that can lead you astray.
✅ Perform a Test For Plagiarized Content
Performing a test for plagiarized content is an important step in the process of checking if your content is original or not. There are many plagiarism detection tools that detect plagiarized content like CopyScape which can help you avoid potential issues.
✅ Avoid Low-Quality Article Spinners
Avoid article spinners that just take an existing article, pump it into the system, and spin it as we would usually call this, and then have a similar article with the same facts just presented in a new format or with other wording around it.
It's not the type of content that you want on your blog or your website and it's safe to say that this is against all that Google stands for and I don't think that's what Google wants us to do either.
AI-powered tools use GPT-3 which stands for generative, pre-trained transformer. If we take a look at Wikipedia, we'll find that:
AI Copywriting Tools FAQ
AI copywriting tools are computer programs powered by natural language processing that can generate written content for websites, blogs, and other marketing materials. They use artificial intelligence to learn from previous writing and create new content.
No, AI will not take over copywriting since it doesn't understand empathy, emotions, and it lacks creativity. AI is a tool that can be used to help with the writing of content, but it cannot replace human creativity and intelligence.
Best AI Copywriting Sofware Wrapping Up
So these are the best AI copywriting tools available in the market that can save you time and money by writing unique content for you.
And as you can see, there is no perfect AI writing tool since everyone has different needs. 
And if you are undecided about which platform to choose, most of these platforms offer free trials so I highly recommend checking them out and doing your own research to see which platform suits your needs best.
Once again, I left the best and latest discounts, free trials, and lifetime deals in this guide for you.
So I highly encourage you to see which one works the best for your particular niche and for the content that you're creating.
With that said, we hope you have found this article beneficial, and if you want to take your content marketing to the next level, make sure to check out our complete list of AI content creation tools ready for 2024.