Besides Youtube affiliate marketing, selling merch is one of the best ways to make money on YouTube without monetization.
And if you're like many YouTube creators, you were probably thinking about selling merchandise on your channel at some point.
But there's a lot of confusion out there about how to do it correctly. This guide will teach you everything you need to know about how to sell merch on YouTube so that you can make the most money possible.
Let's get into it.
1. Choose Print On Demand Service
The next step to selling merch on YouTube is to choose print on demand service. And here you have options like:
Printful
Teelaunch
SPOD
Printify
Apliiq Dropship
Redbubble
Teespring
I personally recommend Printful and the reason is that the shipping is relatively fast. On print-on-demand services like Teespring or Redbubble, the shipping isn't all that fast.
And another negative to Teespring and Redbubble is that they do keep all your customer information. So, when people would buy from your Teespring store, I won't get all the customer information that you need.
And if you want to take your brand and merch store to the next level, you do need that customer information especially if you start running ads and stuff like that to grow your brand.
And the cool thing about Printful is that they offer so many premium items.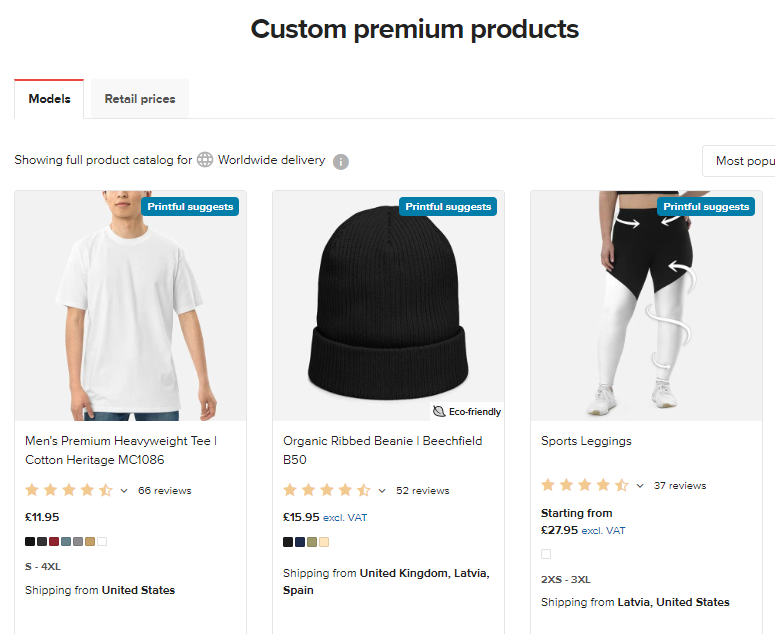 Whether you want to sell t-shirts or tank tops, skirts, dresses, flip flops, hats, swimwear, drinkware, phone cases, beach towels, blankets, jackets, laptop cases, or bags.
They have so many options and they're all premium items so I love them so, so much.
Then, you need an e-commerce platform to connect your Printful store to because you can't sell directly from Printful.
Printful needs to be connected with a selling platform like Shopify, Woocommerce, Etsy, or others in order for customers to be able to see and purchase Printful products.
Some are costly, some are free. It just really depends on what works best for you. I personally recommend Shopify – the leading e-commerce platform.
Shopify is $29 a month so it may cost a little bit amount of money but if you sell like two or three shirts, you'll get your money back.
Let's move on to the next step where I'll show you step by step how you can create merch for my YouTube channel without any design skills.
2. Design Your Merch
So, I'm going to walk you through how to create shirts and designs with Printful so you know exactly how to do it for yourself.
So, what I always like to do is go to product templates.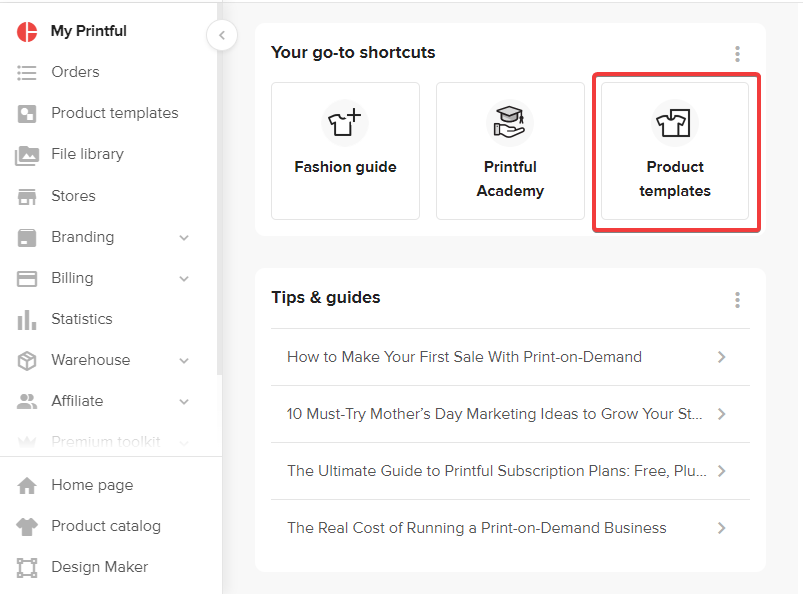 And this is where they give you all your options, okay. As I said, they have literally whatever you want to set up for your brand.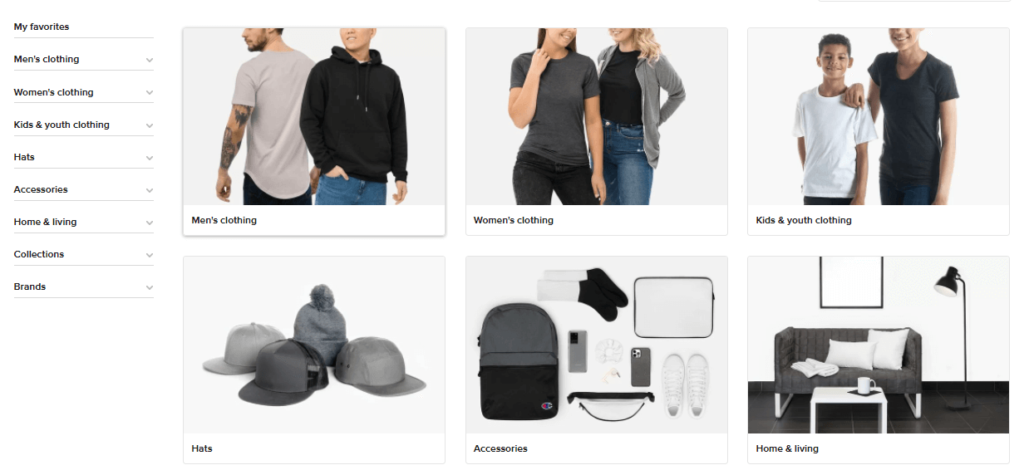 But let's just keep it simple. We're going to do men's shirts and we're going to do t-shirts because that's the easiest thing to create.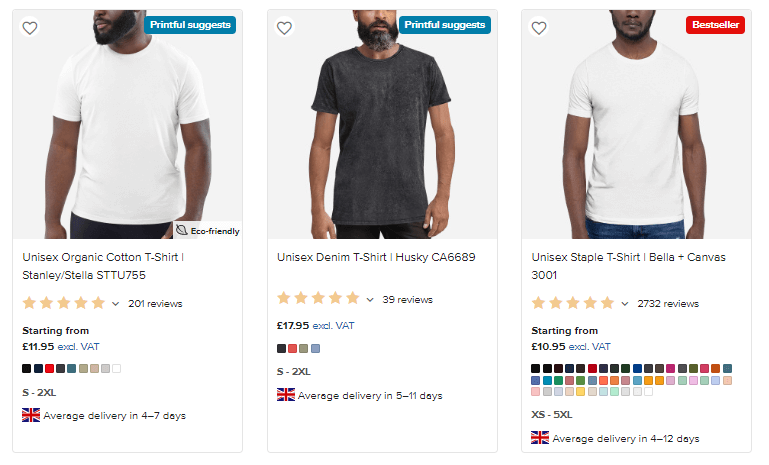 And they give you all the reviews so they tell you upfront the quality, real reviews from people who already sell merch.
Then, you can start customizing your merch. You can put your designs on the front, back, outside label, inside label, left sleeve, right sleeve.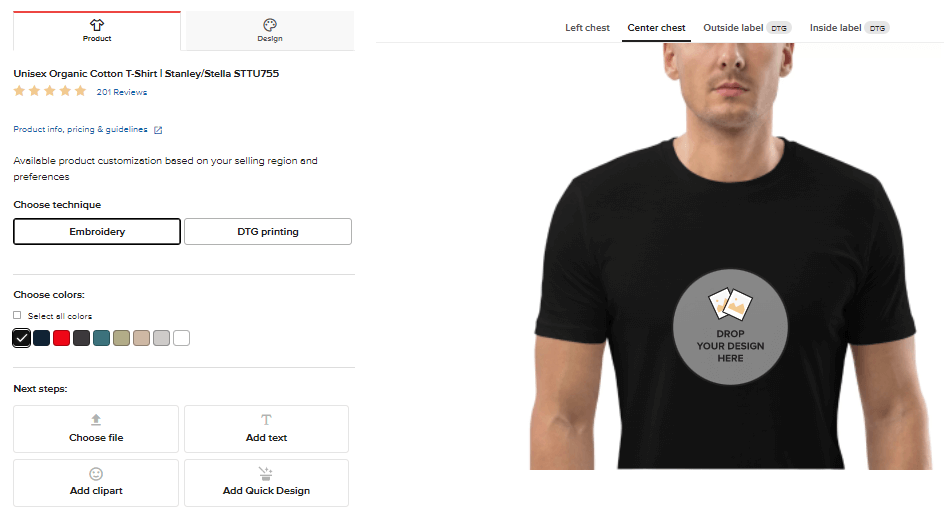 Then you can add the text, clipart, or even upload your own design.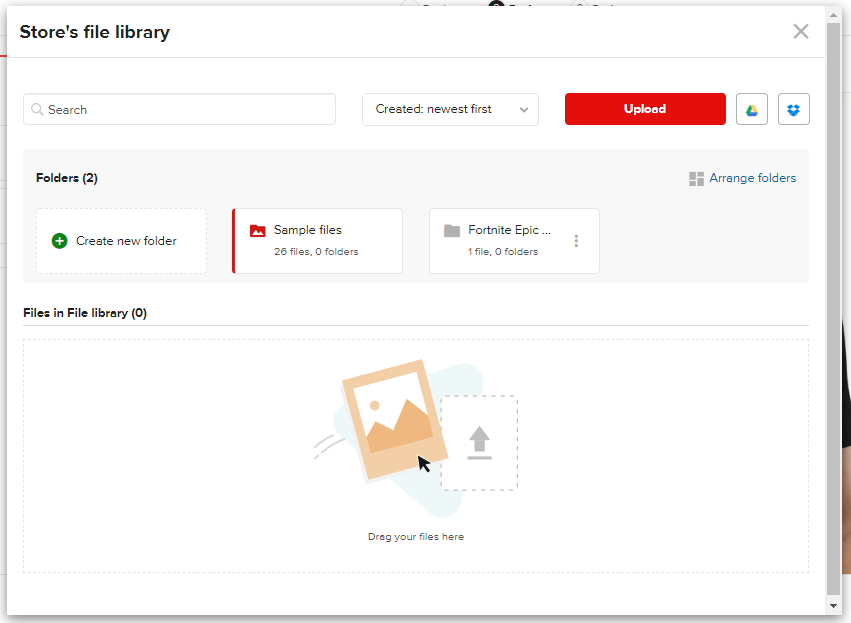 To design your merch, you use a graphic design tool like Canva. They have great templates for T-shirts and other merch.
You can also use Fiverr to buy designs if you're not really good at graphic design.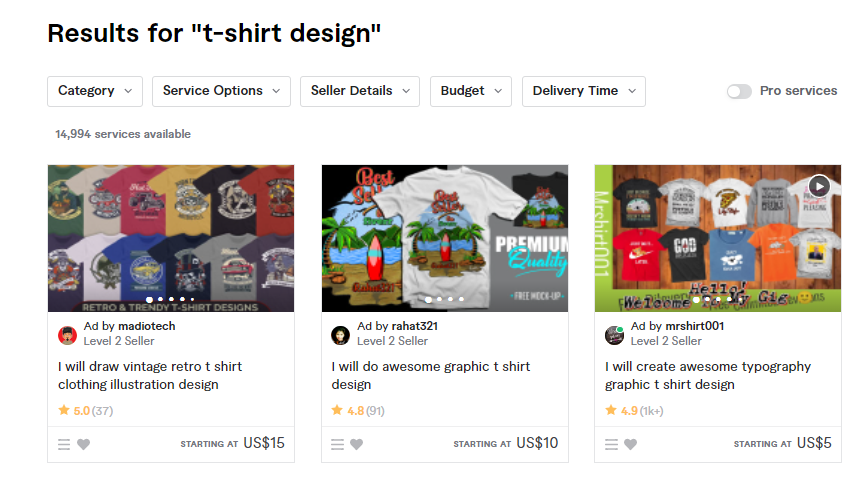 Fiverr does have a lot of really inexpensive people that can create designs for you. So, if you're not really graphic design-savvy, then you can go that route.
But I did want to preface it, you will need designs to upload to your print on demand store for this to work for you.
When you're creating these designs, you want to make sure that you're uploading a PNG file and that it's of high quality.
And what's cool about Printful is they'll tell you what the quality is.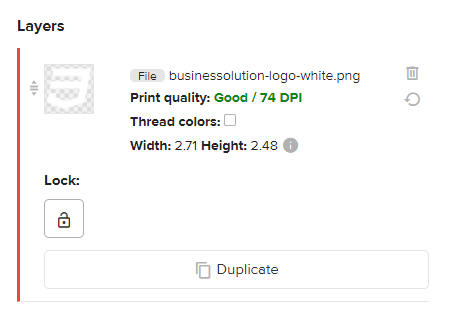 So, you want to make sure that these designs are high quality.
Once you're happy with your design, you can hit continue, then name it, and save the product template.
Next, you can add it to your store, so you hit add to store and connect it with your e-commerce platform.
3. Select a Mockup
And so, the cool thing with Printful is that they automatically give you mockups to use.
So, they give you women's mockups, they give you couples mockups so you can use that on your Instagram or if you want to use that for your website, which is great because you don't need another third-party service.
4. Add Product Details
Next, you just need to add product details like product description, title, and size guide.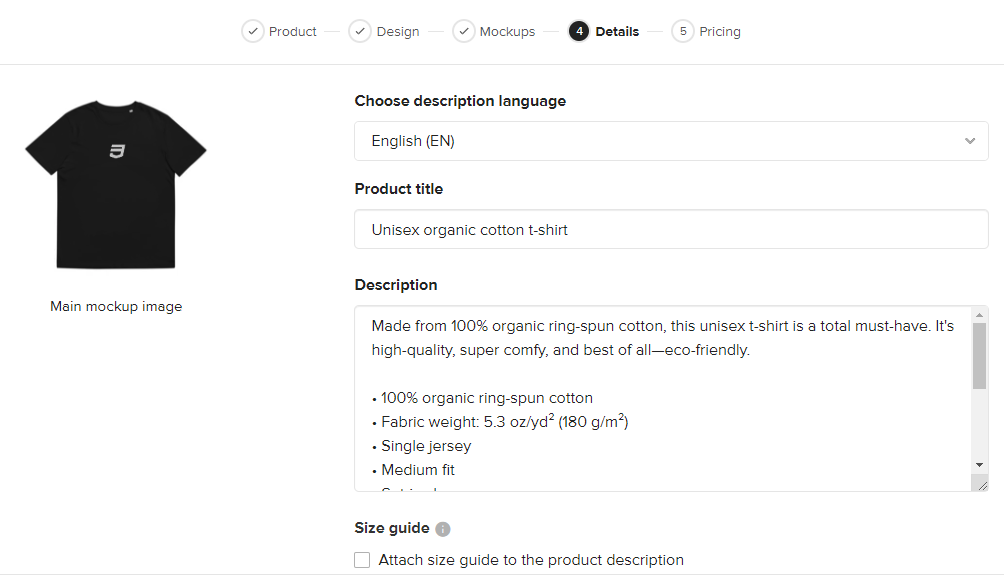 And I recommend writing a custom description because by default it's very generic. In your product description, you need to give a reason to buy it from you.
5. Set Up The Price
The next step is pricing and here you can set up your revenue.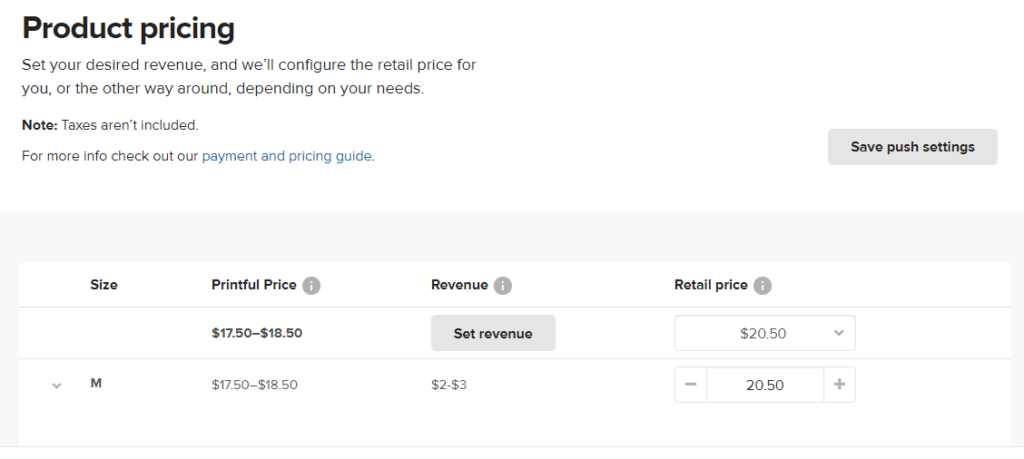 As you can see in this example, Printful price is $17.50–$18.50 but it depends on your product size and color, print placement, and fulfillment location.
So, let's just say you want to sell your shirt for $24,99.
Next, you just click on "submit to store" and you can start selling your merch on YouTube.
6. Deliver The Product
Let's just say someone wants to buy this shirt from you. So, you can click "Make Order"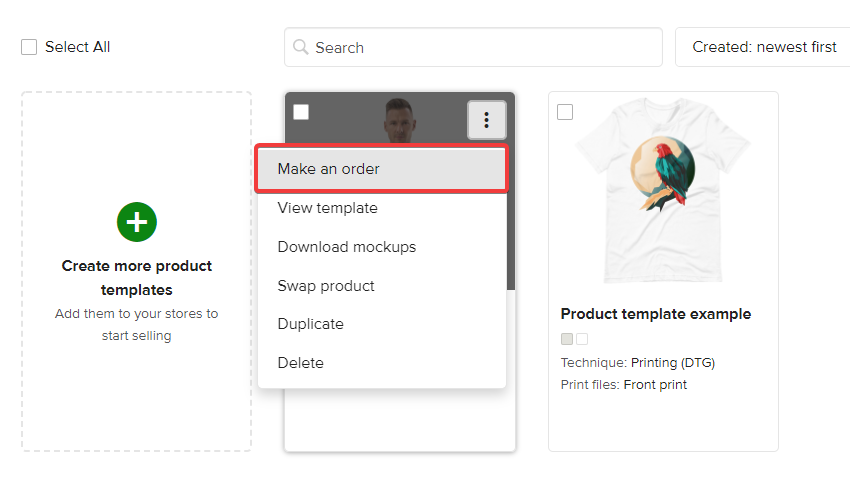 Then you can click on your e-commerce platform in this case I have Shopify connected.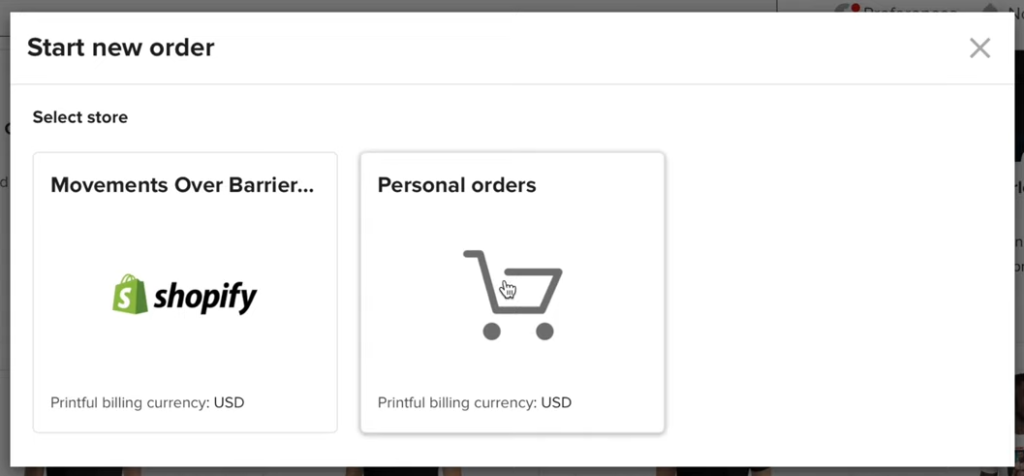 But let's just say you don't want to connect it to your store. You don't have to.
You can manually order some of these things and for this, you click on "Personal Orders"
Next, you select the type of order. You can do a basic order or a sample.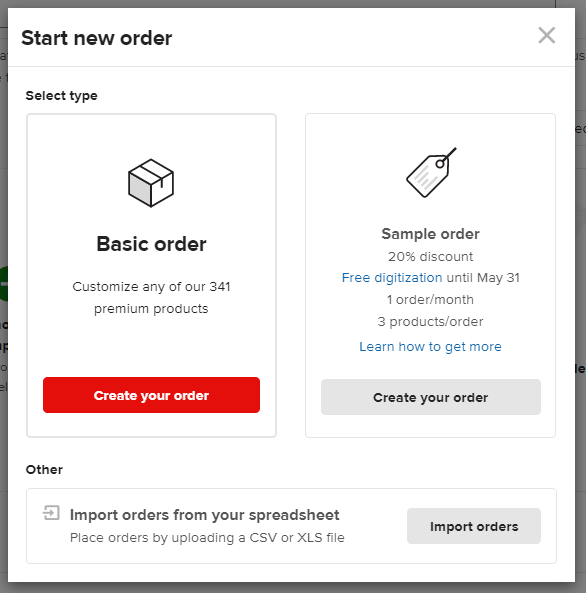 Let's just say you want to create samples for yourself; so, you can get them at a discounted cost, or let's just hit create order.
Then take the template, select your color, whatever you want, and click continue.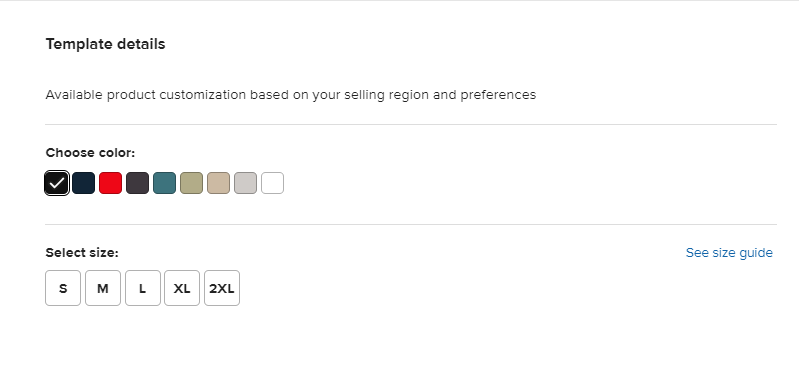 Then, it'll tell you the price of the shirt, and then you can decide what you want to sell your shirt for.
Continue to the shipping. And so now, all you have to do is put in the customer information, address line, all of that stuff.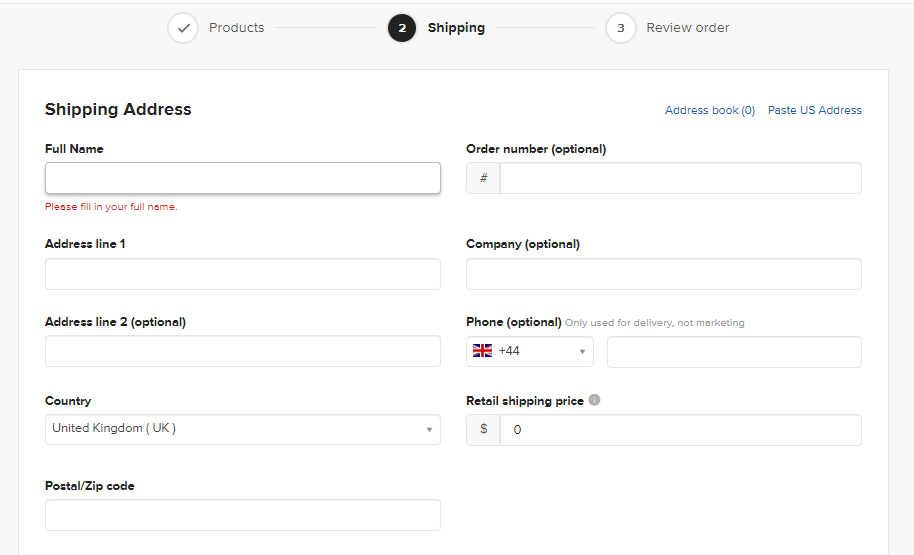 And you can ship out the order or calculate the shipping and you can pay for your invoice.
So as you can see it's very simple to create and sell merch with Printful.
But there are many questions regarding selling merch for your YouTube channel and your websites and all the stuff that I use to create my merch, I do want to answer some questions.
And the first question that I get a lot is how many subscribers do you think I will need before I even think about creating YouTube merch.
How Many Subscribers Do I Need To Sell Merch on YouTube?
A good rule of thumb, anywhere between 500 subscribers and up is a good place to start. You can start from scratch from zero because if you want to turn your YouTube channel into a business, having a product or something to sell is a good starting point.
So even if you have zero subscribers, but you want to get ahead of the game, then by all means you can start selling YouTube merch on day one. It also depends on your YouTube niche.
But obviously, if you don't have any subscribers, you don't have a base, and you have nobody to sell it to, doesn't really make sense, but I will say it's not really a bad time to create merch, no matter how many subscribers you have.
You definitely want to build your audience first.
What is The Best Merch To Sell on YouTube?
To find what is the best merch to sell on YouTube you can ask your audience what they may like or what they may want, because you may think about creating shirts, but then your audience may care for phone cases or maybe a pillow or a blanket.
There are so many things of merch that you can create, but without having an audience you don't even know what they may want.
So, wait till you build up an audience before you try to sell to them because you don't want to turn the audience off.
How Much Money Do You Need To Sell Merch on YouTube?
You can start totally for free or with very little amounts of money to get started creating merch for your YouTube channel. With print on demand, you don't have to pay for anything upfront, you don't have to house any inventory. Once your subscriber pays you, then they ship out the product or service.
But you may want to go the manufacturer route. If you go that route to get your t-shirts and phone cases made upfront, then you will need income to pay for those things, and then you have to house your own products and then you have to ship them out.
So, it really depends on how you want to go about it. For me, the print on demand route just works best for me. I don't have to house any inventory, I don't have to worry about returns or anything like that. And I think it is the easiest way to get started with creating merch for your YouTube channel in 2022.
The only negative is that you don't get as much profit upfront.
Selling Merch on YouTube in 2022 Final Words
In conclusion, selling merch on YouTube is a great way to make money and build a connection with your viewers.
It's a fun and easy way to show your appreciation for their support, and it can also be a great way to promote your channel and attract new subscribers.
So if you're looking for a way to make some extra money or promote your channel, selling merch on YouTube is definitely worth considering. Thanks for reading!