In this Streak review and a full tutorial, we'll take a look at this CRM system for Gmail. We'll go over the pros, the cons, alternatives and at the end of this article, you'll know whether it's right for you or not.
If you're having trouble communicating with current and potential clients, you might want to consider using AI-powered CRM software that will help you communicate more effectively. One CRM solution worth considering is Streak.
Streak CRM integrates directly with your Gmail inbox. It allows you to create customizable workflows to help you manage different customer profiles efficiently. This includes tracking all of their relevant contact information, managing sales and recruitment as well as project management.
So if you want a CRM for your business, we have given below a detailed Streak review for you to decide whether it is worth it or not.
What is Streak CRM?

Streak is a cloud-based customer relationship management (CRM) tool that makes it easy to manage your contacts and communicate with them. It offers contact and task management capabilities in a single interface.
Streak CRM offers a variety of tools to increase efficiencies, such as Mail Merge and Email Tracking. It also offers pre-written templates and enables mail merge with Google Docs, email tracking, task, reminder management, sharing pipelines for collaboration within your company, and more.
It's easy to use once you familiarize yourself with it. Below, we will go through every step for you to start with Streak CRM.
How To Use Streak CRM
Now I'll show you how Streak works and helps you organize your inbox, collaborate with your team, and be more productive in Gmail.
First, let's do a quick overview of the key components of Streak and how they all fit together. Below are definitions of these components, plus instructions for signing up for Streak.
Boxes: With Streak, we can organize all of those emails into boxes. A box is a place to store all of our information about a certain thing that we're tracking. Here we can add emails, jot down notes, attach files, create tasks for ourselves, and keep it all organized in one place. Depending on what we're tracking a box could be a sales lead, a support ticket, a candidate for a job, or anything else.
Pipeline: pipeline is the actual workflow. In this example, we're tracking sales leads and each of our boxes is listed as a row in a pipeline.
Stage: The steps of the pipeline or workflow are called stages. We can move it through stages in our process as we complete actions like reaching out to a lead for the first time, giving a demo, scheduling interviews, or resolving a support ticket.
Columns: it is the layout of the information that will be stored in the boxes.
Now that we've seen how we can organize emails and information in boxes and pipelines, we'll dive in and see how it all works.
Streak CRM Tutorial
Streak Installation
To get started with Streak CRM, visit Streak official website and click on "Add to Chrome".
Keep in mind that at the time of writing this article, Streak is only available on the Chrome Web Store or Safari Extension Galery and no other browsers are officially supported.
As it integrates directly into Gmail, you will need to grant access to your inbox to use Streak.
Streak Pipelines
Once Streak is installed, users can start setting up workflows for managing their business. Streak CRM contains pipelines that can be considered as maps of your whole process.
Now you'll notice that you have a whole bunch of templates to choose from.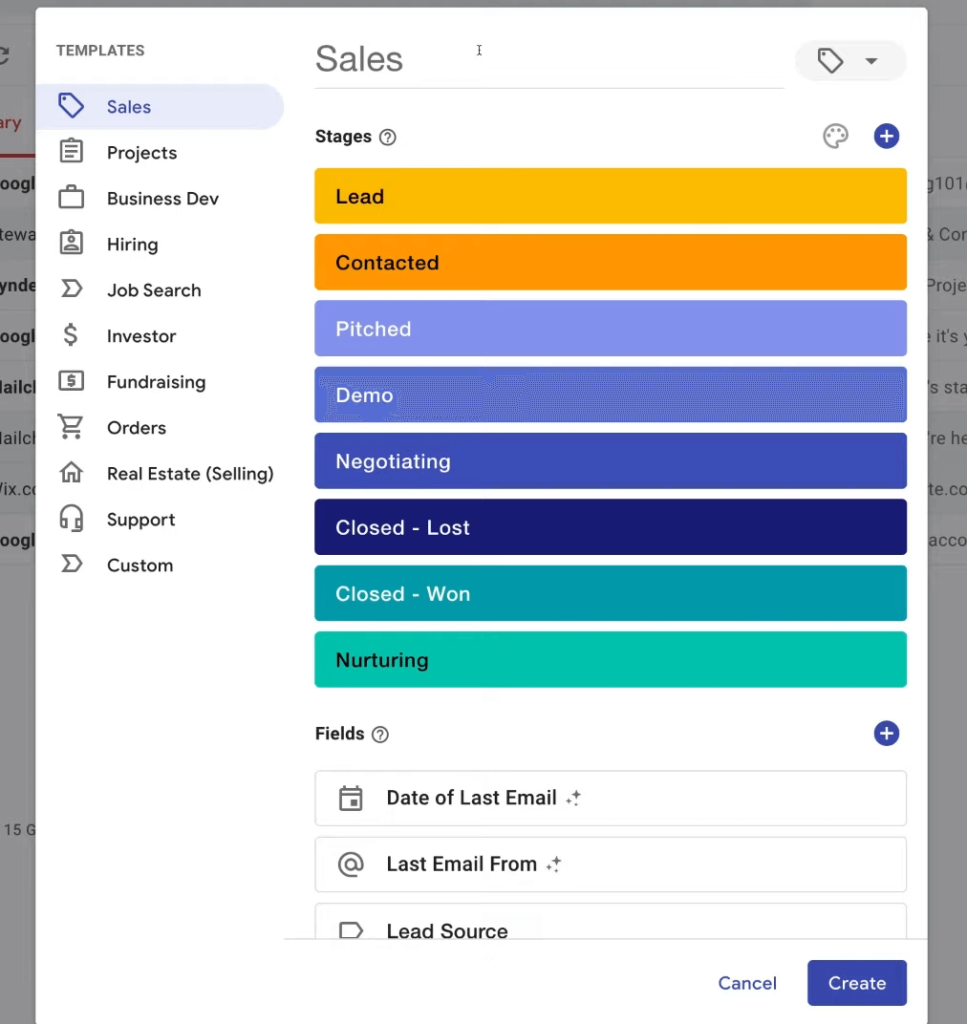 So if you go through and navigate these different templates you can find one that best represents your project you want to manage with your Gmail whether it would be:
Sales
Projects
Hiring
Orders
Job Search
Support
And more
You can use a separate pipeline for customer outreach and a separate one for work outsourcing.
It is possible to create your own pipeline or use Streak's pipeline templates.
Streak Stages
After you have selected a pipeline to track, you will have to add different stages to your pipelines. A stage represents the different steps or milestones that a project goes through from start to finish, so it can be helpful to add an appropriate number of stages for any given project.
So if your selected pipeline is sales the stages would be:
Lead
Contacted
Pitched
Demo
Negotiating
Closed – lost
Closed – won
Nurturing
You can create stages that capture every detail of your workflow. You can color stages in different colors to make them more organizable, delete them if you want, or move them around.
You can also modify fields inside of stages.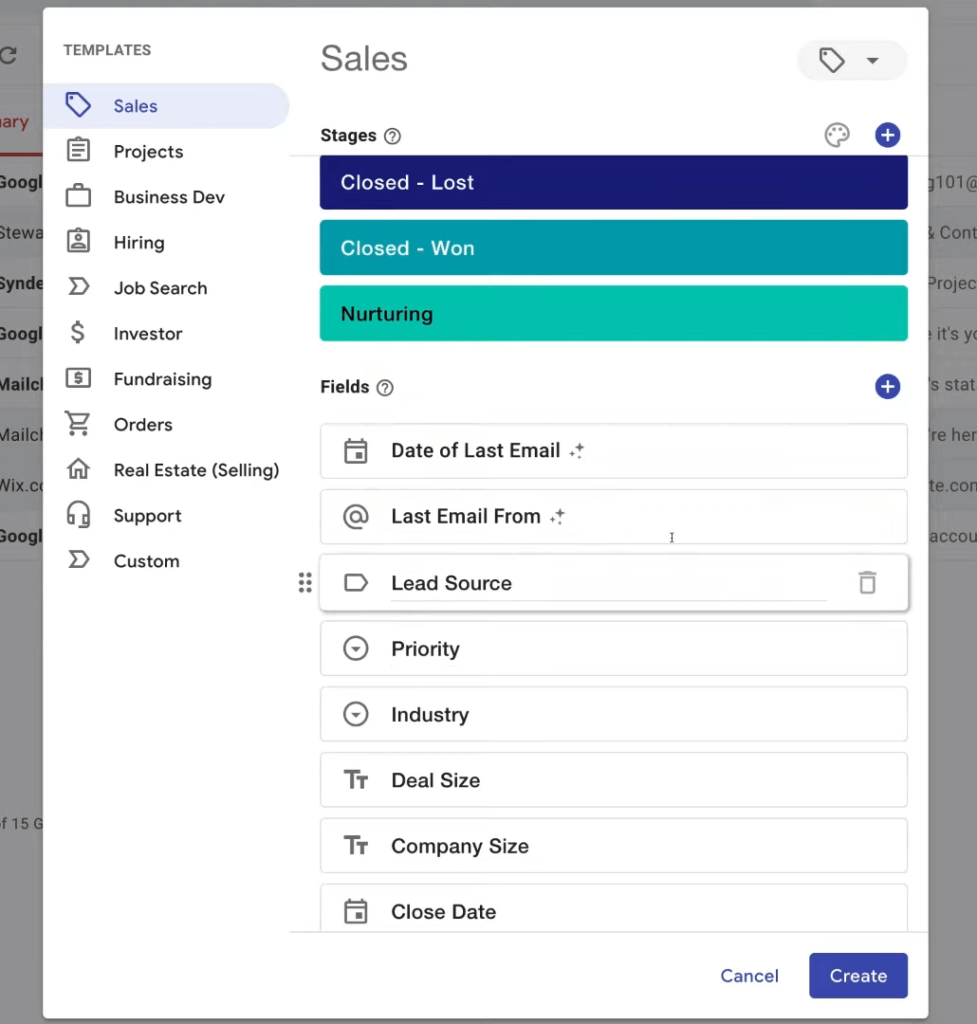 And if you're happy with these different fields you can simply click "Create".
Now because this Streak tutorial is for beginners, we're only going to focus on the free Streak plan which means we can only share it with ourselves.
You can't actually have additional team members however if you decide to upgrade to the Streak paid plan, you can share each of these projects and pipelines with your different team members.
Next, you simply click "Create Pipeline" and you have just created your first pipeline.
Streak Boxes
Streak CRM allows you to track your clients' information in a centralized space. The boxes show up in your pipeline as individual line items, which you can delete, add, or move to other stages in your pipeline.
When an email arrives, you have to assign it to one of the boxes. Once you assign an email to a specific box, the email itself will become available for tracking and reporting.
To create a new box, in the top right corner click the + sign and then "add box".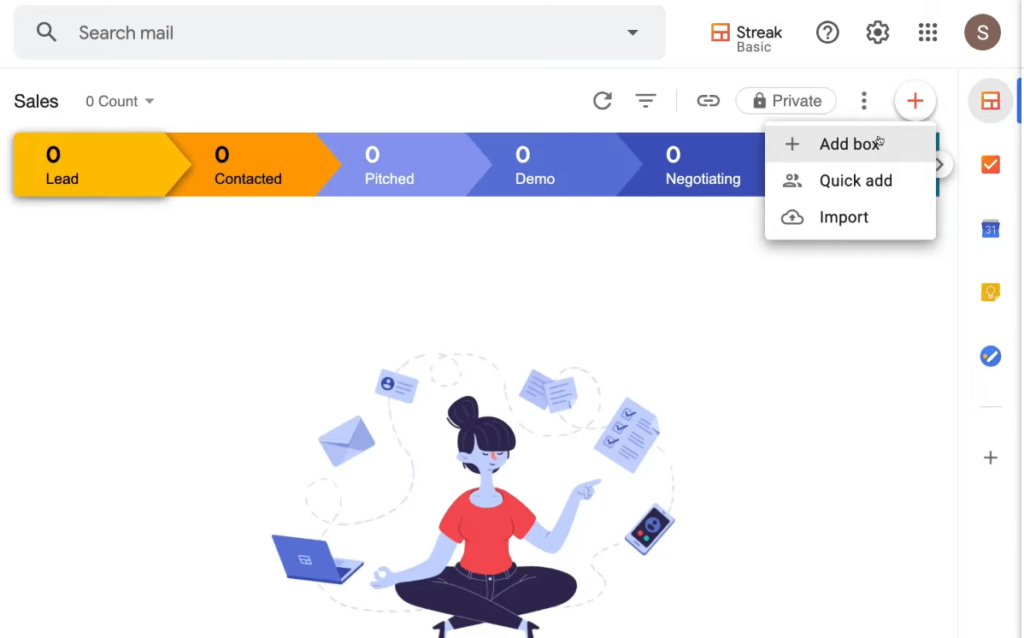 Once you create a box, you can manage it by assigning related tasks, setting reminders, and viewing upcoming changes made through the timeline.
Then you want to add the name of your newly acquired lead.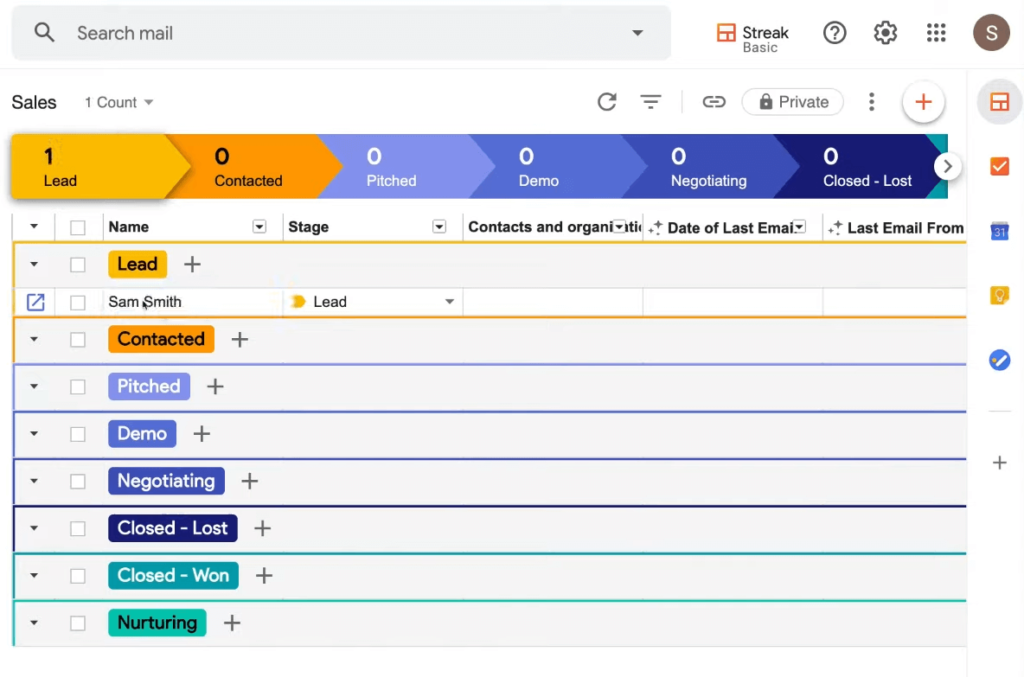 And as you can see I now have one lead within my sales process.
Now you can add other information that's relevant to this particular lead, for example, contacts and organizations, lead source, last email. You'll have this information appear when you start interacting with this individual 
These features make it easy to stay on top of all of your client interactions and activities. You can customize the layout of every box to display specific information that is relevant to you and your team.
This allows you to see all of your client's contact details, communications history, and activity. These features make it easy to stay on top of all of your client interactions and activities.
Since I've added this email to a box in Streak, we can see the box details in the sidebar.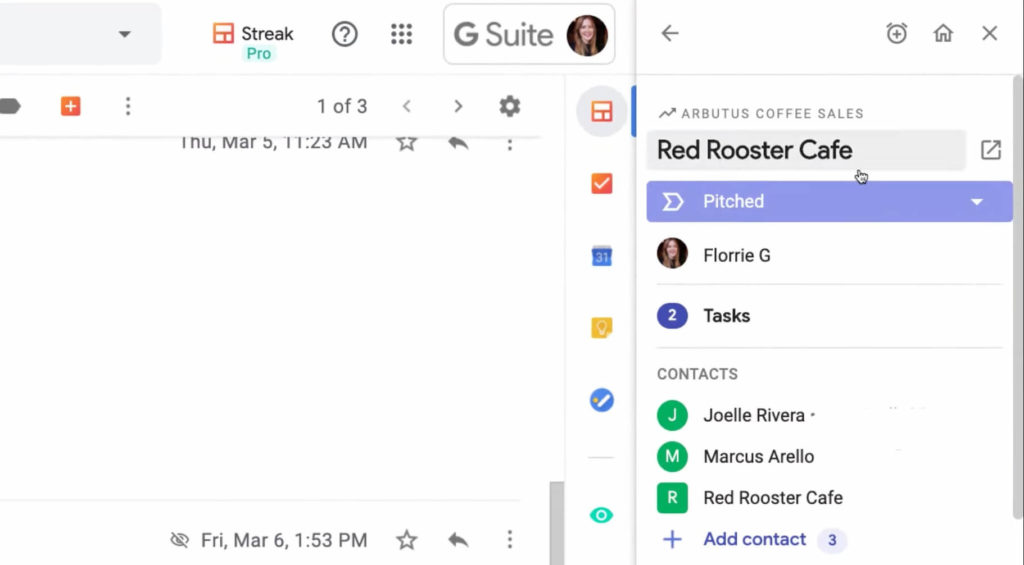 This shows us what pipeline stage our lead is in and we can also see who this lead is assigned to and that there are a couple of tasks to complete before we move them to the next stage.
We can also see details that we're tracking like what products they're interested in, how they learned about us, and more.
The contact section shows us the individual people and companies that are involved in this.
And all of the contact information is organized in this contact card.
From here, I can create a calendar invite for our upcoming call and invite contact with one click.
Reviewing your team's activity helps you stay up to date on recent calls and other interactions so you know where the conversation left off before replying to an email.
Streak Columns
After setting up the workflow, you can then display fields in columns to track the data you need to work with. Streak easily lets you add, move, or delete the information you want to collect with ease.
Depending on what you want it to include, you can add checkboxes, dates, or freeform text to a field.
We can also add columns, which are called "magic columns", where Streak automatically fills in the data for us.
Magic Columns is one of their most amazing features. These automatically generated columns display additional data that Streak collects for each record as an individual communicates with your team. You can now check when was the last time any one of your clients interacted with your business and in what sense.
For example, here's a column that automatically shows who sent the last email and when, how many emails we've exchanged, and how many days this lead has been in the current stage.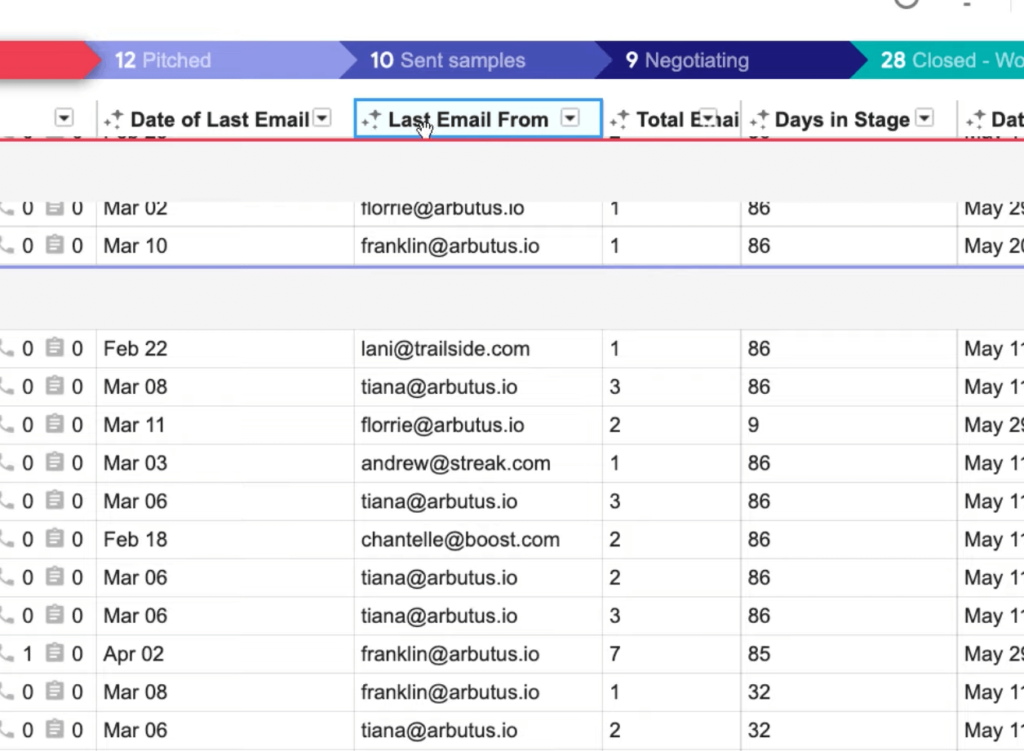 As your team adds more emails and data to Streak, you can use the information in your pipelines to prioritize daily work.
I created a saved view to filter based on the assigned column and show only the deals that are assigned to me. And another view to show me which deals haven't had any interaction in a week.
Once we know what needs attention, we can take a look at our weeds that need follow up and create a mail merge to reach out with personalized emails to each lead.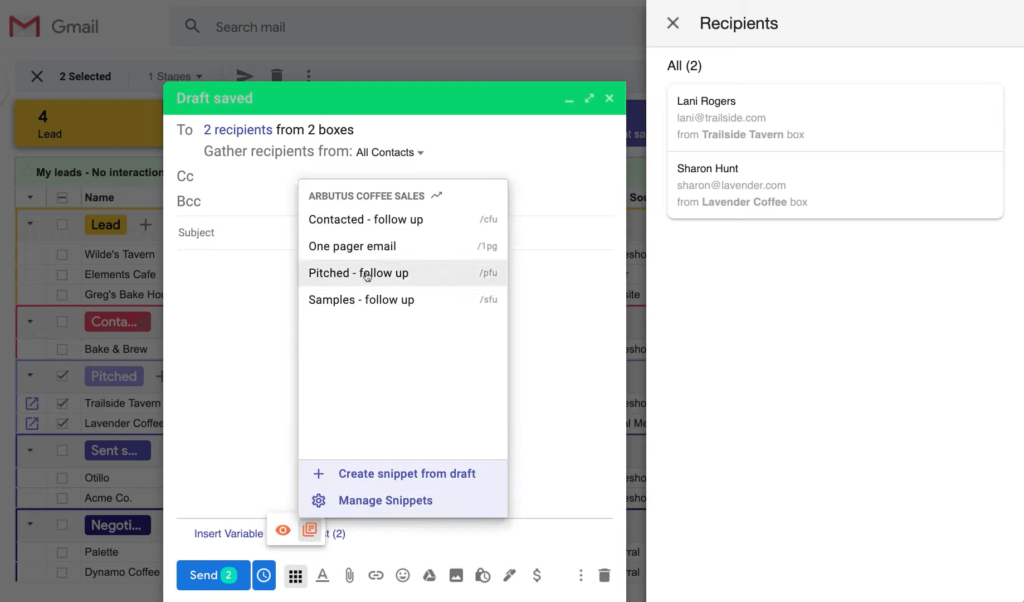 I can also choose to see any boxes that end up in this filter front and center in my inbox by clicking show in inbox for this saved view.
Streak Pricing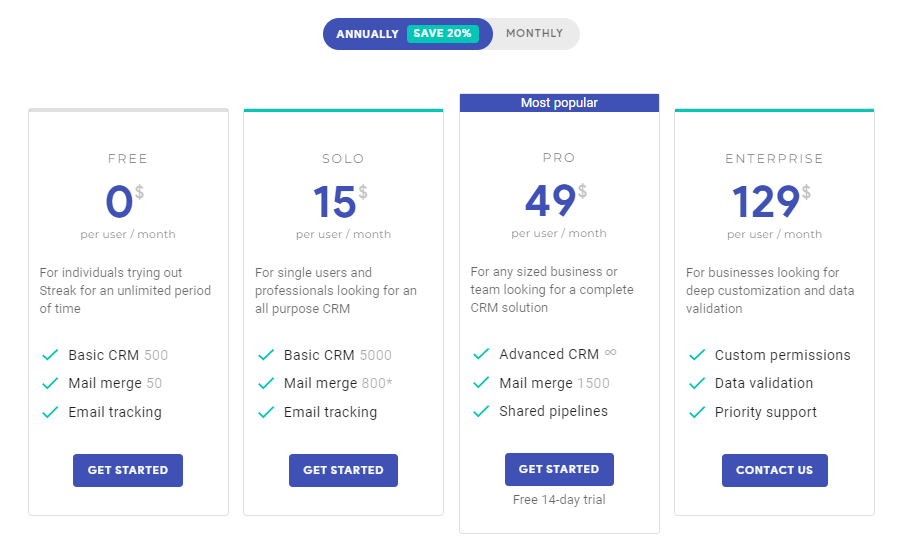 Free: 0$ per user per month
Solo: 15$ per user per month
Pro: 49$ per user per month
Enterprise: 129$ per user per month
Streak is a free CRM tool with additional features available to paid users.
With the Streak-free plan you'll get access to unlimited pipelines, mail merge, email tracking, and basic CRM features like tasks, reminders, contact details, and custom fields.
Streak CRM Features
Streak is a lean, powerful tool that combines the simplicity of Gmail with an efficient CRM. It is well-packaged and has some powerful features that make CRM more efficient. Below, we have a few points that we liked most about Streak CRM.
Ability To Build Any Workflow
Streak is a CRM that allows users to set up workflows to track their day-to-day business processes. Streak is also great for managing support tickets, keeping track of content creation, and more.
One of the greatest advantages of Streak CRM is its versatility. With it, you can create a pipeline to manage support requests and IT issues and a process to manage recruitment efforts. Essentially, you can break down any job into steps that can be built as a workflow in Streak.
Streak's features include the ability to manage customer interactions and to create workflows around common business processes. Using Streak, you can track leads, email about projects, and recruit, all through one tool.
Built to organize and track sales-related information, Streak also comes with a number of other built-in applications that make it more versatile than a traditional CRM. Streak can be used as an Applicant Tracking tool and custom applications for lead management, project management, and team collaboration.
Streak CRM is designed to help businesses streamline and manage everyday workflows, such as contacting customers, tracking time spent on projects, and building new pipelines for recruitment. This eliminates the need to use multiple tools for each different process in your company.
Collaboration Options
Streak CRM has excellent collaboration features. Streak allows you to create teams to share and track your contact information. Streak allows for multiple users to collaborate effectively. The software includes several collaboration tools, including creating teams and assigning permission levels (e.g., payer only, administrator) for each team member.
You can share multiple pipelines, ensuring that all team members have access to current customer information and contact details. Once you have created a pipeline, you can assign it to a team member and add comments, reminders, and due dates. If you are looking for a platform that allows multiple members to work on projects and file sharing, Streak is an option to consider.
Email Integration
Streak can integrate email with your existing CRM to make tracking, marketing, and sales simple and easy. Streak can help you manage your contacts, schedule meetings, and track your email correspondence with clients. To get the most out of Streak, we recommend using its email power tools.
The tools Streak offer include tracking, mail merge, snippets (pre-written emails), and a thread splitter. These tools work seamlessly within your inbox to provide you with the insight needed to work efficiently and effectively. Streak CRM has powerful email functionality that can help you determine which communication methods result in closer relationships with your contacts.
Streak CRM offers powerful email merge and snippet features to use pre-written text in emails. This will help you save time preparing similar messages for your list of contacts. Streak's email tools are fast and easy to use. Enter a contact's information once, then reach out to them in multiple ways through mail merge and email snippets. If you have a list of contacts outside your existing pipelines, you can upload their email addresses as a .csv file for quick contact building. Streak CRM's built-in mail merge feature allows you to quickly and easily send personalized emails to multiple leads or contacts.
Email Tracking
Once a new customer has received a welcome email from you, use Streak CRM's email tracking feature to see when the customer opens that message, how many times the message was viewed, and what device/location they use to read it. This will make it easier for you to plan your follow-up with relevant prospects. For example, suppose you find that prospects in California are more likely to respond to messages within the first hour of them being opened. In that case, you can choose to send messages to your target audience around 8:00 am in that area. Also, you will get 200 tracked emails even in your free plan.
Email Scheduling
Another amazing feature of Streak CRM is the snooze button. By using the snooze button, you can temporarily archive an email and bring it back to the top of your inbox at a later date, kind of like the Boomerang Gmail extension. By clicking the snooze button, the email is archived. It will appear in your inbox on your scheduled day when you are ready to take action. If you decide to use the snooze feature, ensure the conversation view is enabled in Gmail.
Streak CRM's scheduling feature also allows you to send out emails at a certain time. For example, you can write all of your emails for the week and then schedule it to send at the appropriate times.
Streak CRM Cons
Streak CRM may not be right for everyone because of its lack of integrative capabilities, steep learning curve, and other limitations. In our Streak review, we found the following shortcomings that could make the experience bitter.
Streak is a plugin for Gmail that differs from full-featured CRM platforms like ActiveCampaign CRM in certain ways, including its automation and reporting capabilities, but it does provide contact management features similar to those found in a CRM.
Streak is exclusive to Google and only works within Google Workspace. If you're already using Gmail, Streak is a handy add-on that enables you to manage your workflow directly from your inbox.
Is Streak CRM Right For You?
Now, for the million-dollar question, is the Streak CRM right for you?
Well, Streak is an affordable, customizable CRM built by a team of ex-Google engineers that integrates with Gmail, Google Calendar, and the rest of your G Suite tools which is great.
It makes it easier to keep track of your workflows, prioritize leads and sales opportunities, and convert prospects into customers.
However, the tool is quite difficult to use and it lacks some of the professional-grade features of other CRMs on the market like ActiveCampaign which is my personal recommendation.
But if you're a small business and you're working on your business yourself and you don't actually need a team to interact with when it comes to customer relationship management then the free version of streak is more than sufficient enough to get you started.