You probably know that working with affiliate programs of a one-time payment, you need to work hard, again and again, to achieve sales every month to survive.
With recurring commission affiliate programs, you don't need to worry about working and working to make a consistent and predictable income.
So today I want to share with you the best recurring affiliate marketing programs divided into different categories:
And all of the affiliate programs from those categories pay monthly recurring commissions.
So let's get started.
2 Tier Recurring Affiliate Programs
Did you know that there are affiliate programs that not only pay you on your own sales but also pay you on other people's sales as well? This is called 2 tier affiliate program. And this is when a company structure their program in such a way when you as the main affiliate you not only get on your sales that you refer to that company but also you get paid on sales of affiliates that you've referred.
Builderall
Builderall is an all-in-one digital marketing platform with over 40+ different tools and apps including website and sales funnel builder, email marketing software, chatbot, booking system, hosting platform, webinar, and many more.
So, with Builderall you and your customers can find everything they need for their online business in one place, at a very affordable price.
And this is one of the software that I personally use in my business and have success with as an affiliate.
It's also very beginner-friendly, very easy to understand for users and affiliates so it makes it easier to promote this product even for complete beginners.
With the Builderall affiliate program, you'll earn 100% of the first sale that you make so the entire payment of the customer in his first month will be yours.
And additionally, every month you get paid a 30% recurring commission.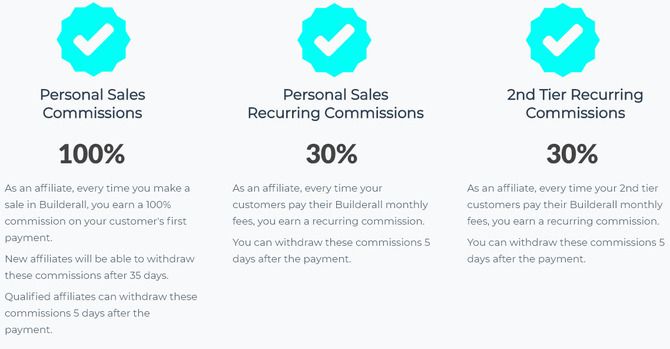 But also if you bring more affiliates to Builderall, you will end the 30% of the monthly payment of the customers of your affiliates on the 2-tier commission structure.
So you get paid just as much on the people that you refer, as sales you actually make yourself.
This is the only affiliate program that pays so much on the 2nd tier.
They actually have 3 paid plans:
Builder Plan – $29.99 a month
Premium Plan – $69.99 a month
Funnel Club – $99.99 a month + $199.99 one-time payment
But also, for promotion purposes, you can offer a Builderall free trial with no credit card required and you can open a free account to watch everything inside.
This is one of my favorite affiliate programs because you can promote it in so many different ways.
You can promote it to local business owners, you can promote it to other affiliates you can do services for people and sell the product that way.
Plus Builderall gives all the resources that you need as an affiliate including more than 400 done for you sales funnels that you can use to promote Builderall and also other affiliate products.
Things like this are going to be a game-changer for your work as an affiliate marketer because people remain a customer quite a long time because if they've invested a lot of time into this they're not going to really go in and out of it.
Become a Builderall affiliate for free + Get my Top Affiliate Training
ClickFunnels
With the ClickFunnels affiliate program, you will earn 40% every month getting paid from $39 – $119 each month for every customer that you refer.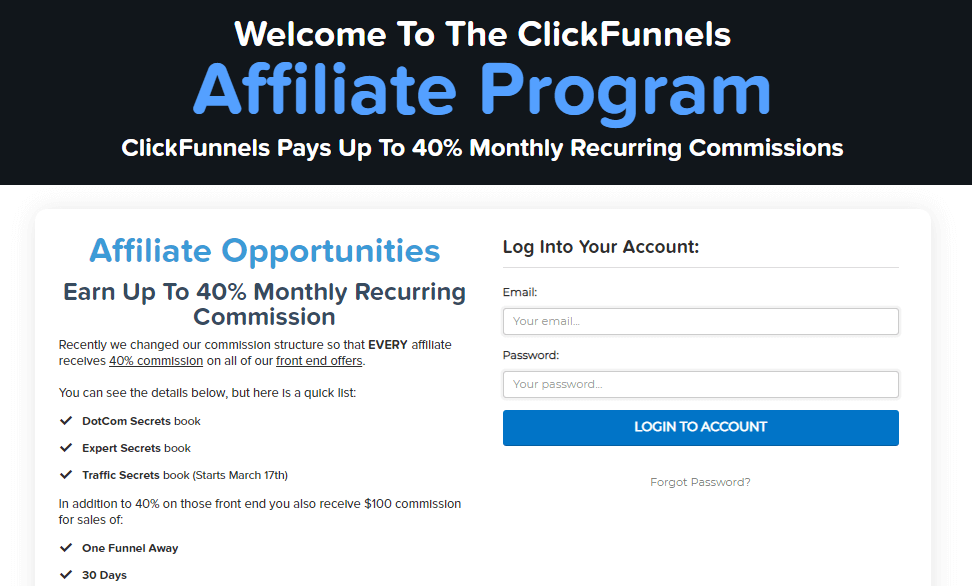 But this doesn't end here.
You'll also get paid on the 2nd tier if you refer not only a customer but an affiliate too, earning you 5% of all his sales.
Here, you will find one of the best supports that you can find in an affiliate program with a lot of resources, training and again, constant support whenever you need it.
And as long as you have 100 members or more means you will be earning $3019, they will pay you for your car, send it to you every month for $100 dollars for this purpose.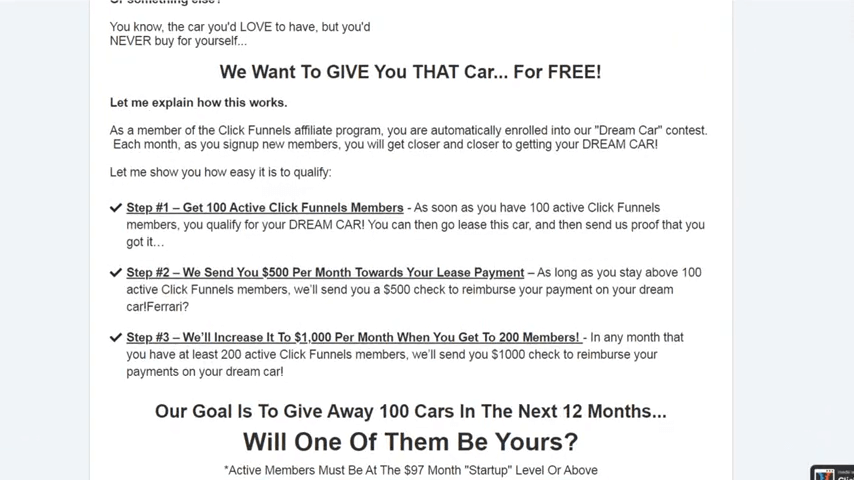 And if the number is 200 members, they will pay $1,000.
ClickFunnels also will continuously offer more upsells to your referrals. More offers for them once they are members so you can expect some good recurring commissions from them.
Become a ClickFunnels affiliate
Kartra
The next platform with 2 tier affiliate program is Kartra. This is also a complete digital marketing platform with a lot of features.
Its affiliate program is a little bit tough to be approved because they are looking for only high-quality affiliates to keep their brand at a high level since they consider itself as a tool that has everything that an online business needs; accurate focus on the quality of the product.
Good for them, that is the right mindset.
And if you want to know how to get approved as a Kartra affiliate, check out this Kartra affiliate program review where I explain how to get approved step by step.
In this post, I also explain how to promote this software because you need to be good at finding people which are ready to pay these prices.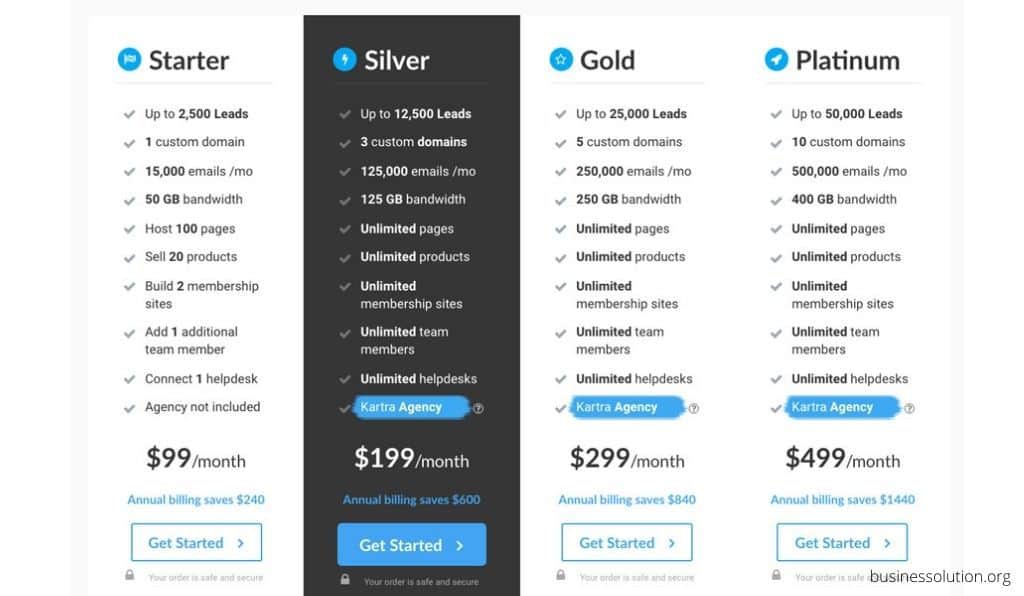 Not so difficult but you need an additional effort so you can earn $40, $80, $120, or $200 as a recurring commission per customer referral to Kartra.
Because as a Kartra affiliate you're going to make 40% recurring income on tier 1 and then 10% commission on the tier 2 affiliates.
GrooveFunnels
GrooveFunnels is a suite of lots of different digital marketing tools that comes from Mike Filsaime and a team of other folks who are highly experienced marketers. Very well known in the online marketing space.
The idea of the GrooveFunnels affiliate program is that they offer a free plan for their users where they give them access to some marketing tools like landing page builder. sales funnels builder, shopping cart, and a few more.
And then offering the ability to upgrade into their paid services which is a whole suite of lots of other things.
With this software, you can make 20% as a free member and you can double your commission rate up to 40% as a premium member.
So if someone purchases a Lifetime Deal, you're going to earn $558.80 per sale and that makes GrooveFunnels a high ticket affiliate program.
And on the second tier, you're going to make 10% as a GrooveFunnels affiliate.
Become a GrooveFunnels affiliate
WebinarJam
WebinarJam is probably the most popular all-in-one webinar software in the market.
They also have a great affiliate marketing program where they pay a 40% recurring commission.
Plus you can earn 10% of every sale on the 2nd-tier.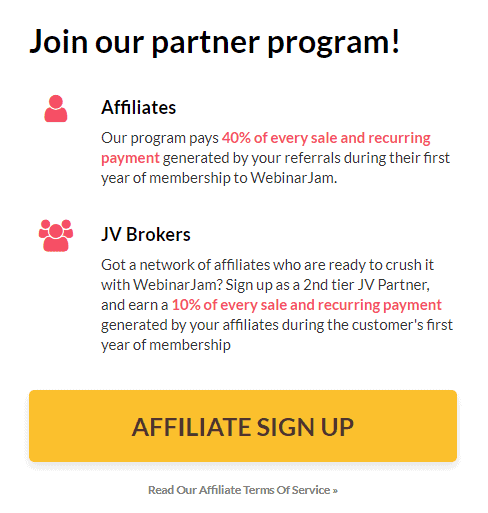 And their packages range from $297 to $497 so I think you can do really well promoting this software.
GoHighLevel
GoHighLevel is one of the best CRM software for digital marketing agencies. This platform helps agency owners with:
Capturing new leads
Nurturing leads into paid customers
Closing more deals
Automating digital marketing campaigns
Booking appointments
Creating membership areas
GoHighLevel also provides a great affiliate program where they pay a 40% monthly recurring commission on tier 1.
Additionally, HighLevel pays out an additional 5% on the 2nd tier.
The prices range from $99 – $299 a month.
So, you can make a lot of with this program.
Become a GoHighLevel affiliate
👉 Read More
If you want to see more affiliate programs you get paid on sales of affiliates that you've referred, make sure to check out this complete list of 29 best 2 tier affiliate programs to promote.
Email Marketing Affiliate Programs
In this section, I want to share with you email marketing affiliate programs that everyone who has a business must have if they want to keep care of their customers and get consistent sales.
And this is the main reason why if somebody purchased this through your affiliate link, you can potentially earn lifetime commissions.
GetResponse
GetRresponse is one of the best email marketing platforms with over 350,000 active users.
It's a reputable company that even popular sites like CNN use in their business.
With the GetResponse affiliate program you have two options:
Making $100 for every customer that you refer or the 33% recurring monthly commission.
And always it's going to be as long as they pay their monthly bill.
It has a cookie duration of 6 months and a ton of offers for whoever you refer. Again, they can try it for 30 days for free, and later on, your earnings can be:
Or the powerful enterprise option earning you $395 each month. That is insane.
And of course, they pay through cheque or PayPal, once you reach $50 of earnings in one month.
And their platform is also translated into 20 different languages so you can promote it in different languages to different audiences which is really cool.
URL: GetResponse affiliate program
AWeber
AWeber with a one-month free trial and your customers can send unlimited emails, no matter what big plan they choose.
And as an affiliate, you are going to earn 30% every month of that purchase.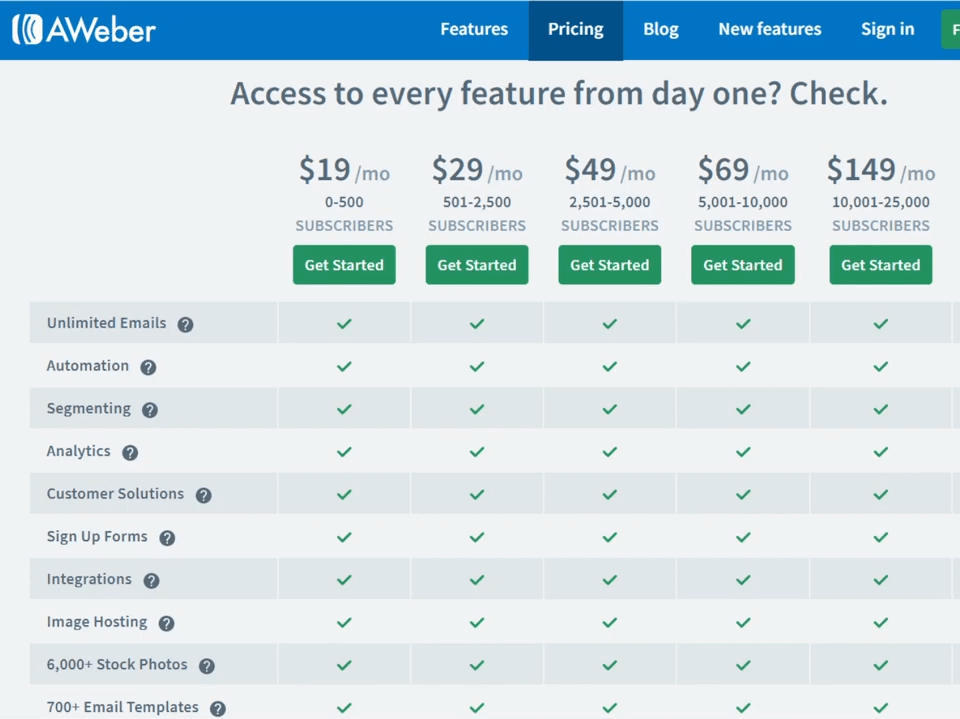 In other words, you can earn from $5 – $45 monthly recurring income.
And they have a very long cookie length of 365 days.
Always keep in mind that it can be literally forever once your referral sees that his business is growing, thanks to this tool or just making more money.
Every business needs this kind of tool. It will be way easy to sell than you think.
Active Campaign
This is an email marketing software that I used for a very long time. ActiveCampaign is more for savvy entrepreneurs someone who's a little bit more familiar already with online marketing and they want to be able to do a little bit more with their automation.
Some of the top marketing professionals in the world use ActiveCampaign so it's a high quality product.
And they have a fantastic affiliate program as well so depending on your sales volume as an affiliate you're going to earn between 20-30% monthly commissions.
URL: ActiveCampaign Affiliate Program
Sales Funnel Affiliate Programs
One of the best affiliate products to promote in 2022 with recurring commissions is software products like sales funnel builders. something that your customer needs if they have an online business to set up that completely works together with an autoresponder or email marketing tool.
Because the email marketing tool is to use your email list to send those emails automatically.
But how are you going to capture those emails to grow that email list or to simply send them to an offer? You need to get a sales funnel builder to create your landing pages or sales pages.
That's why it's such a big opportunity to promote this when you realize that everyone will need to create the sale funnel for his business.
Kajabi
The next all-in-one digital marketing platform is Kajabi. It's great for coaching courses and membership sites.
Kajabi is a very high-end product and that's why it's also a little bit more expensive than other platforms mentioned earlier. Kajabi offers 3 paid plan options:
Basic – $149/mo
Growth – $199/mo
Pro – $399/mo
The good news for you is that that means the 30% commissions are worth a little bit more. Because for the lowest Kajabi package and 30% commission, you'll make $50 as an affiliate.
And they have 30 days cookie policy which is not bad.
However, to become a Kajabi affiliate you need to use this platform yourself.
Systeme.io
Systeme.io is a complete digital marketing platform and it's a really good piece of software that offers email marketing, online courses, webinars, and more.
This one pays 40% lifetime commission which really good.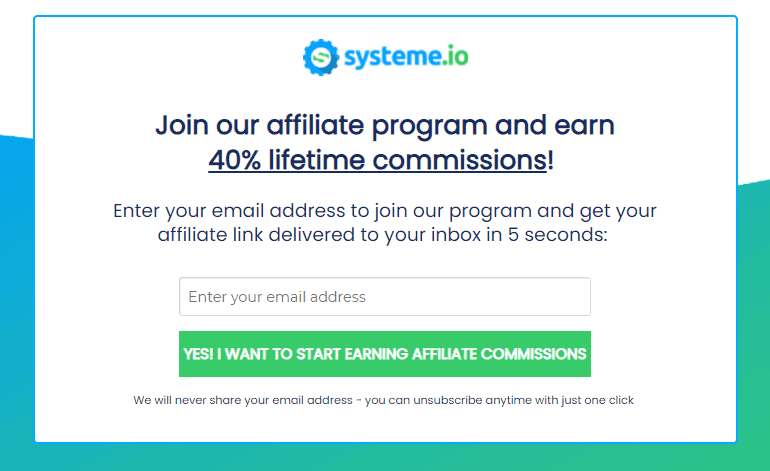 And it's also very easy to join, meaning they accept almost everyone.
URL: systeme.io affiliate program
Thrive Themes
Thrive Themes offers WordPress themes and plugins that help your website to convert more of your visitors into subscribers, customers, and clients.
And so the themes and the plugins help people to create landing pages on your WordPress website to create opt-in forms and just help with an overall improvement of conversions on a WordPress website.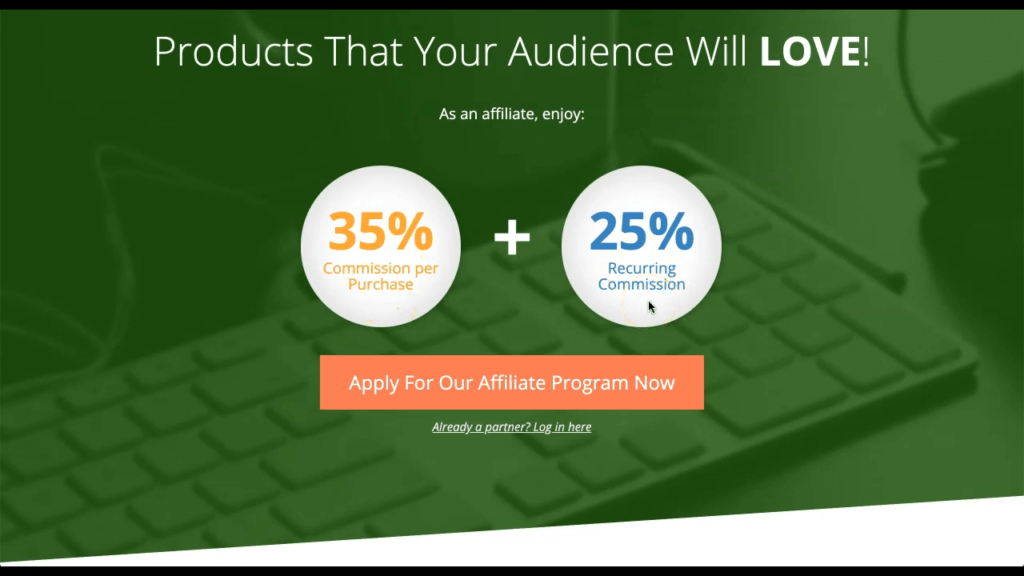 What's nice about this ThriveThemes affiliate program is that they pay a 35% commission per purchase plus a 25% recurring commission.
URL: Thrive Themes affiliate program
OptimizePress
The next WordPress page builder is OptimizePress. With this software you can create:
Sales funnels
Opti-n pages
Online courses
Checkout pages
Upsells & Downsells
And more.
As an OptimizePress affiliate, you make 30% on the front end of sales plus 20% recurring which is pretty awesome.
URL: OptimizePress affiliate program
LeadPages
LeadPages is a popular page builder that offers also an e-commerce option.
They pay up to 50% recurring income for as long as your referral remains a customer.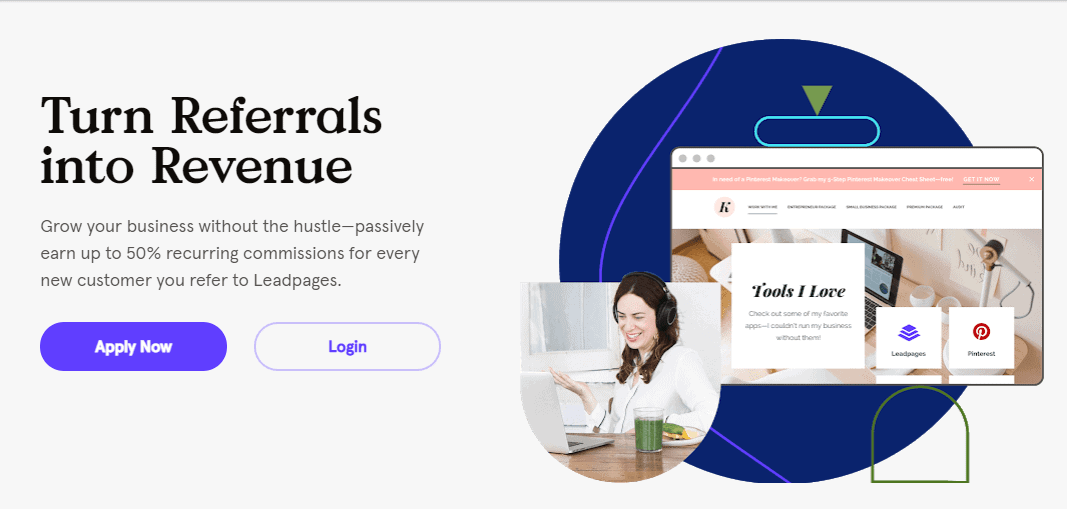 LeadPages also provides a lot of resources for their affiliates.
URL: LeadPages affiliate program
Simvoly
Simvoly is a very easy-to-use landing page builder with CRM, e-commerce, booking and white label option.
And as a Simvoly affiliate, you'll make a 35% commission, plus they have 60-day cookies
URL: Simvoly affiliate program
Unbounce
Unbounce is a nice page builder that allows you to create landing pages and sales funnels, set up an email marketing campaigns, sell products online and more.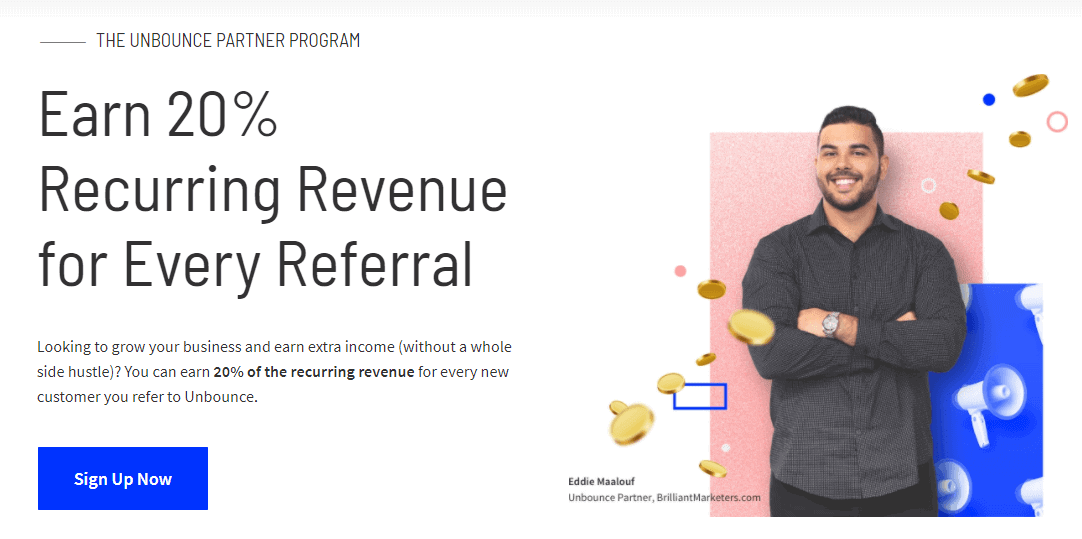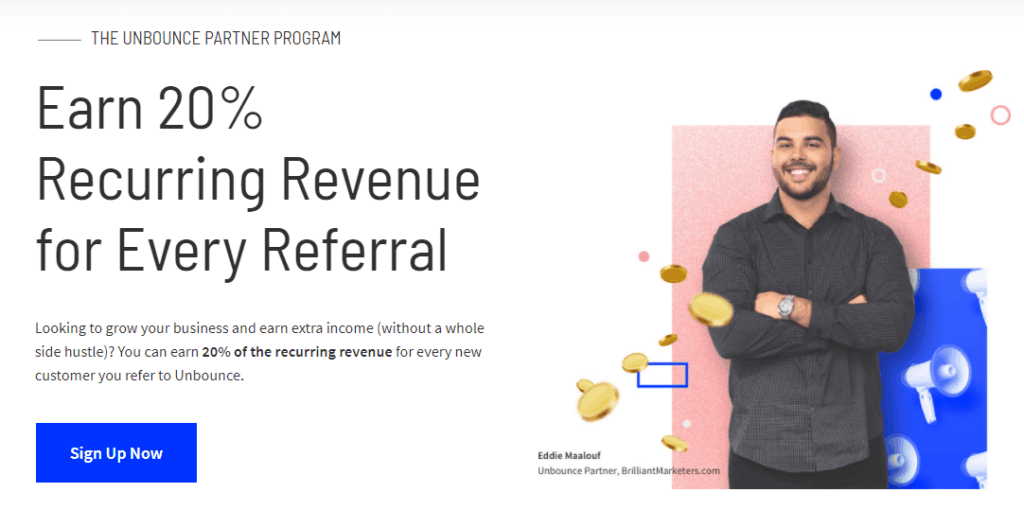 And they pay 20% commission per sale.
Also, they offer affiliate resources like banners, training and all that good stuff.
Instapage
Instapage is essentially a landing page builder that includes a few different tools to help you increase conversion rates including personalization, experimentation, ad map, and more.
But what do they offer for an affiliate commission?
Well again this is also quite significant so for the first sale is 50% and then 30% recurring which is massive.
URL: Instapage affiliate program
Elementor
Elementor is a WordPress page builder plugin that replaces the basic WordPress editor with a live front-end editor so you can create a complex layout visually and design your website live.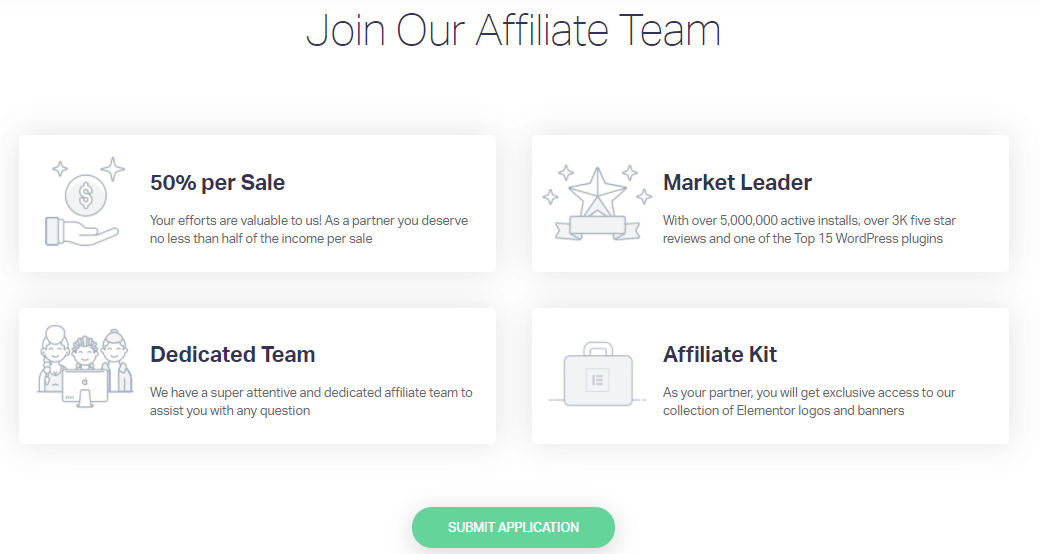 With the Elementor affiliate program you can get up to 50% per sale.
Also, as an Elementor partner, you will get free access to their collection of Elementor logos and banners.
URL: Elementor affiliate program
Educational Affiliate Programs
Here you'll discover the best platforms that teach people how to get started with digital marketing and online business.
Legendary Marketer
What's cool about Legendary Marketer is the school of marketing. They don't just have courses they also have coaches that you can hop on a call with at any time like a business advisor.
They have also events that have recurring subscription products.
And what's my favorite part about Legendary Marketer hands down is their good education system.
It's not a bunch of BS get-rich-quick schemes. It's all taught by digital marketing experts and entrepreneurs.
They pay a 40% commission on all sales.
They have a bunch of different products for different prices so anything from $2 products up to $4,500 products.
And they have sticky cookies so if you get someone to sign up for a $2 product and then they later buy any of the high ticket products you'll get a cut from this product as well.
And what's cool about this is you never had to sell any of these high ticket products.
They did all the work so all you have to do is to sell the low-ticket entry product.
URL: Legendary Marketer affiliate program
Wealthy Affiliate
Wealthy Affiliate is a training membership site that has got training about affiliate marketing.
It's based on a freemium model where it's free to actually get in and get signed up but then they upsell you to actually sign up to the premium plan.
Their average commission is $121 per sign up.
So you can earn some good money from this and it is quite a good resource if you want to target other marketers that want to learn more about affiliate marketing.
URL: Wealthy Affiliate affiliate program
AI Affiliate Programs
AI writing software are very popular nowadays. These tools make it easy for anyone to generate high-performing marketing content using artificial intelligence. And the content that these platforms generate, you can use to create Facebook and Google ads, website content, social media posts, video content, SEO, and much more.
Let's take a look at some of the AI writing tools that offer profitable affiliate programs.
Jarvis AI
Jarvis AI is one of the best AI copywriting tools on the internet. It has a robot called Jarvis that can create anything you need for copywriting utilizing GPT-3 technology.
And this is one of the software that I tested out and use in my business.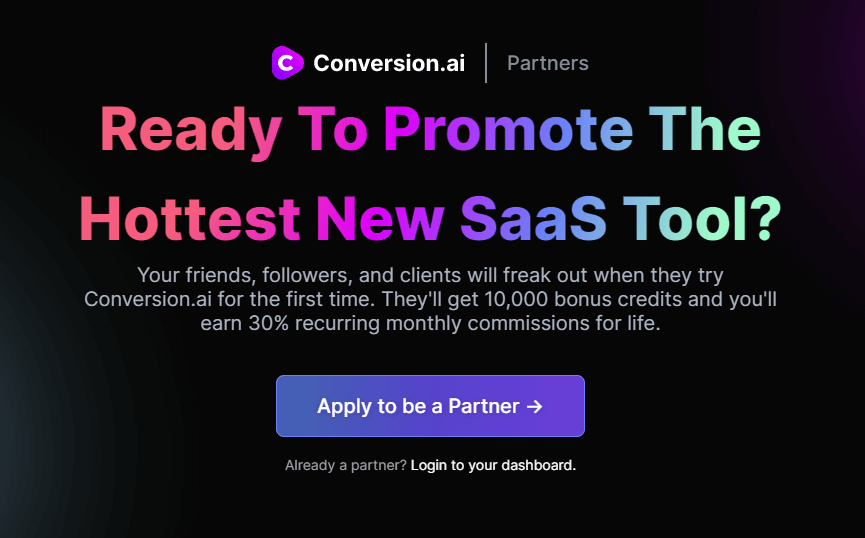 They pay a 30% recurring commission, plus your referrals will get 10,000 free credits when using your link.
And the pricing plans ranges from $29 to $109 a month
URL: Jarvis AI affiliate program
Copy AI
Copy AI is a new software that is very similar to Conversion AI in terms of features, tools, and templates that allows you to create copy for Facebook and Google ads, Instagram captions, e-commerce product description, sales copy, and more.
With the Copy AI affiliate program you can also make a 30% recurring commission per sale.
URL: Copy AI affiliate program
Shortly AI
Shortly AI is a GPT-3 based copywritng tool that gives you the most flexibility of any of the content creation tools that are available on the internet. It works more like a writing assistant tool rather than a text generator.
With their referral program, you earn 20% recurring monthly commissions for every person you refer.
Shortly AI provides 2 paid plans: $39.99 a month billed monthly and $24.99 a month billed annualy.
URL: Shortly AI affiliate program
Copysmith
The next AI copywriting tool is Copysmith that also offers a wide variety of tools and has a long-form content generator. You just simply give it the title of the article, and it writes the whole thing for you.
As a Copysmith affiliate, you'll make 30% recurring commissions.
They offer 3 paid plan options:
URL: Copysmith affiliate program
E-Learning Affiliate Programs
The Next category will be e-learning platforms that you can refer to people who want to create and sell online courses and monetize their knowledge. They need a platform to host the course and to sell it without worrying about technical stuff.
Teacheable
The first eLearning platform with a lucrative affiliate program is Teachable which is beginner-friendly, easy to use, and with a good reputation in this industry. Your customer will have a lot of benefits because they can start for free and host unlimited courses also for free.
And this is huge to make more sales in affiliate marketing.
And once they upgrade for more features, you will earn 30% of each payment every month with a 90-day cookie if somebody visits Teachable but doesn't sign up right away.
If they return anytime within the next 3 months and sign up, you have the credit so you will get paid.
You'll get paid via PayPal and you will need to be approved by the company or regularly you will promote the Teachable will offer as a signup process to a free webinar so you don't need to worry about the sales process.
I will make a detailed tutorial about how to promote teachable for free as an affiliate to get better results in a professional way.
URL: Teachable partner program
Thinkific
By becoming a Thinkific affiliate, you earn up to $675 per referral annually. You will get paid the 20% of a monthly paid plan as long as they keep paying.
And to get started you need to sign up to affiliate marketing network, PartnerStack.

They also offer a bonus of $25, $75, and $150 depending on the subscription plan chosen by your customer.
And they have also a 90-day cookie period. To get started, you need to sign up as an affiliate on PartnerStack to be approved by the company to later receive your unique affiliate link through a welcome email of Thinkific.
URL: Thikific affiliate program
Heights Platform
Heights Platform is a great e-learning platform that is also super easy to use even for complete beginners. Meaning it's easier to promote this platform for people with no technical skills.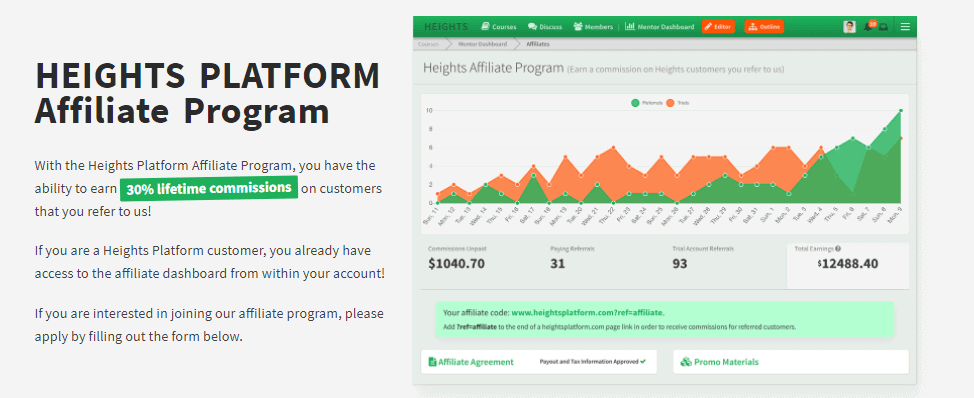 They pay affiliates 30% lifetime commission and their cookie length is 90 days.
URL: Heights Platform affiliate program
Podia
Podia allows you to sell courses, create membership sites, sell digital products, and it's all tied into one e-learning platform.

With Podia partner program you earn 30% recurring commissions.
YouTube Affiliate Programs
The other tools that you can promote as an affiliate and your customers will love are YouTube tools and software. Very important for people who have a YouTube channel and want to save time on the process of the analysis of what's going on in their channels and what opportunities they have available on the platform.
TubeBuddy
The first great YouTube affiliate program is TubeBuddy which is a certified YouTube SEO tool that connects directly to a Youtube dashboard.
A lot of YouTubers know how powerful is this tool to find the right keywords, new video ideas, how much competition exists in some terms, and more.
In general, it helps you boost your video ranking on YouTube, and to get more views and of course you can start for free. You don't need to pay to start seeing some benefits.
What are the prices? Having between 1 and 49 referrals, you get paid the 30%.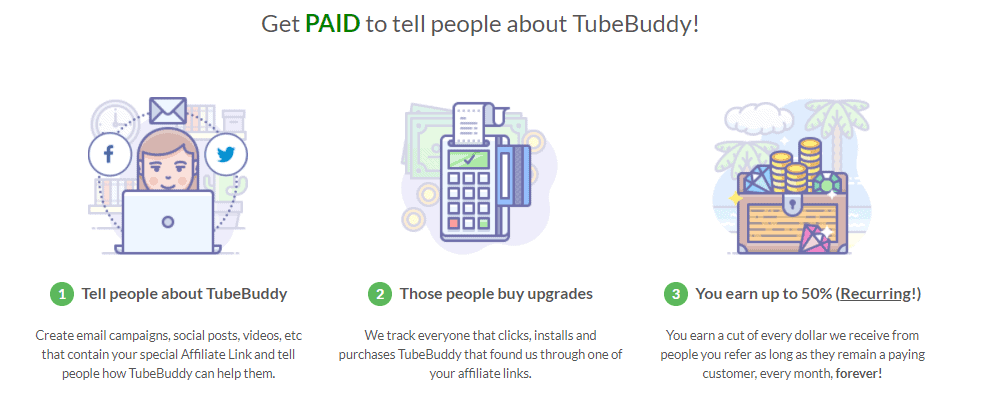 Between 50 and 249 referrals they pay you the 40%.
Plus the Legend Plan for free for one year which is $49 a month.
And having more than 250 referrals means the 50% commission with the Legend Plan for life.
Commissions that you get each month via PayPal, it's great.
URL: TubeBuddy affiliate program
VidIQ
VidIQ in the same role as TubeBuddy, helping you to get more views on YouTube.
With 3 affiliate levels, you earn:
15% – 0-10 sales
20% – 11-50 sales
25% with more than 51 sales.
They have a different pricing structure. You can also start for free, but with the paid version, it's a little bit lower; the cheapest option.
And they only have the boosts option as a regular offer at $39 because it's truly difficult finding some people who want to purchase this option.
At $415 per month, a huge number, but for affiliates, yes, it would be difficult.
SEO Affiliate Programs
According to Fobers, SEO is worth over $80 billion and it's still major driver of traffic and leads to websites many people. SEO affiliate programs are also very lucrative.
SemRush
Let's now take a look at Berush, the affiliate program of Semrush, one of the most well-branded and powerful SEO tools that people can use to grow a blog or the website organically on Google.
With the SemRush affiliate program, you will earn a 40% commission each month, having you available a lot of resources and knowledge to promote such a specific offer.
They pre-approve almost everyone that wants to join this affiliate program so you can start your work very fast.
And they have the "first-cookie wins"
It means that it doesn't matter if your customer clicks in affiliate links of other people, if you were the first, we'll send them to the program. You are the person which has the right to earn that monthly recurring commission.
And if you combine this with a cookie of 10 years; this is an incredible offer. One of the best in the market to build a successful book-based of customers who are going to keep paying for so awesome tool.
URL: SemRush affiliate program
Ahrefs
The next all-in-one SEO tool is Ahrefs which is also a very popular platform.
Their commission rate is 20% so not as high as in the case of SemRush but still, 20% of the prices of their packages is still very good.
And the packages of Ahrefs range from $99 to $999.
Mangools
Mangools offers 5 simple yet powerful SEO tools for an effective SEO workflow. They also offer a free trial.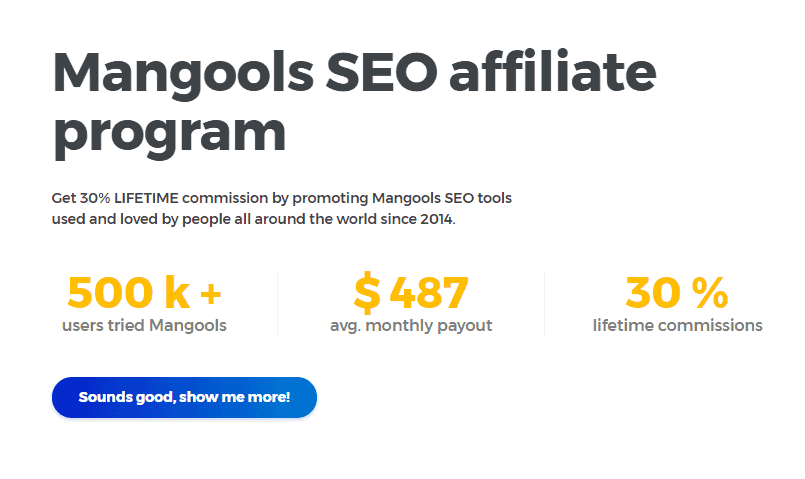 With the Mangools affiliate program you can make 30% lifetime commission.
URL: Mangools affiliate program
Long Tail Pro
Long Tail Pro is an SEO keyword tool that can help you dominate your competitors. After generating longtail keyword ideas you can conduct a website competitive analysis of the top sites that appear in search engines.
Here you can earn a 30% commission on all sales and that will be a recurring commission.
URL: LongTailPro affiliate program
Digital Marketing Affiliate Programs
Here I want to share with you software and tools tailored for agencies, freelancers, and digital marketers. So this is also a huge, untapped audience for affiliate marketers.
PDFLiner
PDFLiner is the perfect tool for busy professionals who need an all-in-one PDF tool. This user-friendly PDF solution makes it easy to get the job done quickly and efficiently. With PDFLiner, you can create and edit PDFs with ease, sign them electronically, and share them with colleagues or clients in just a few clicks.
The PDFLiner affiliate program offers 40% commissions from every first sale and 20% commission from a recurring sale, making it one of the most lucrative programs in the digital marketing space.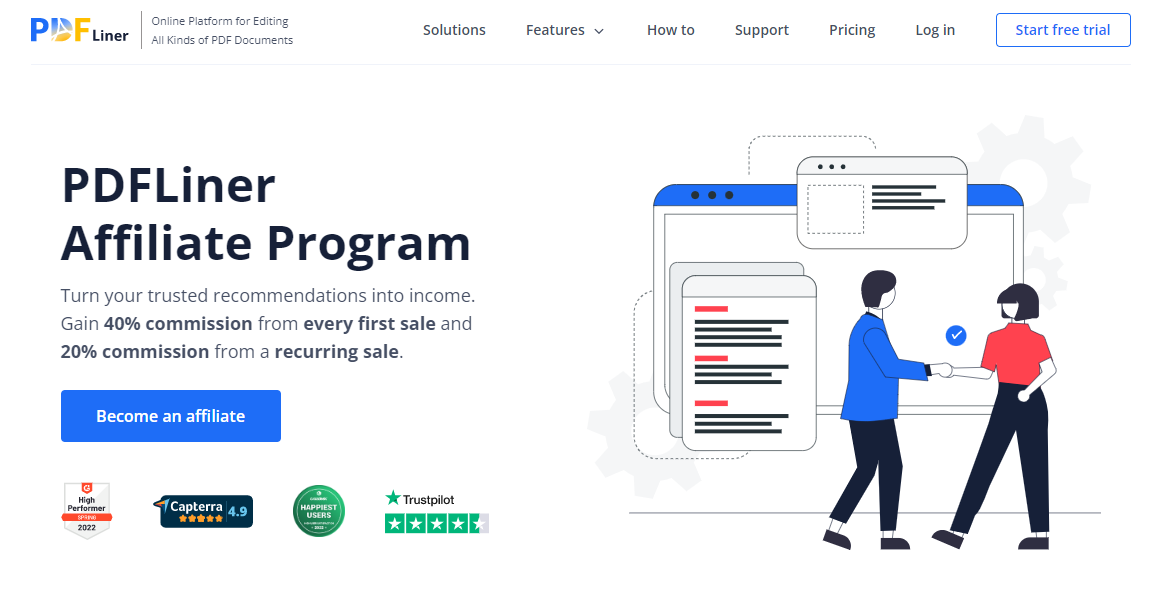 Plus, their high-quality PDF tools are sure to please your audience, so you can feel confident recommending them.
URL: PDF Liner affiliate program
Oviond
Oviond is the most complete client reporting software in the market. This combines all of your marketing data into one single dashboard and automated reports.
With Oviond you can organize data from all of your channels like:
Google Analytics
Google Search Console
Facebooks
WordPress
And create comprehensive, intuitive dashboards to share with your team and your customers.
It's a must tool for all digital marketing agencies.
And they pay a 50% recurring commission which is insane.
UseProof
UseProof is one of the best social proof tools in the market. This software will help you increase your conversions by displaying different types of social proof on your website, sales page, or landing page.
This tool is used by over 25,000 online businesses, so it's a solid product.
They pay up to 30% recurring commission for each sale with cookie duration of 90 days.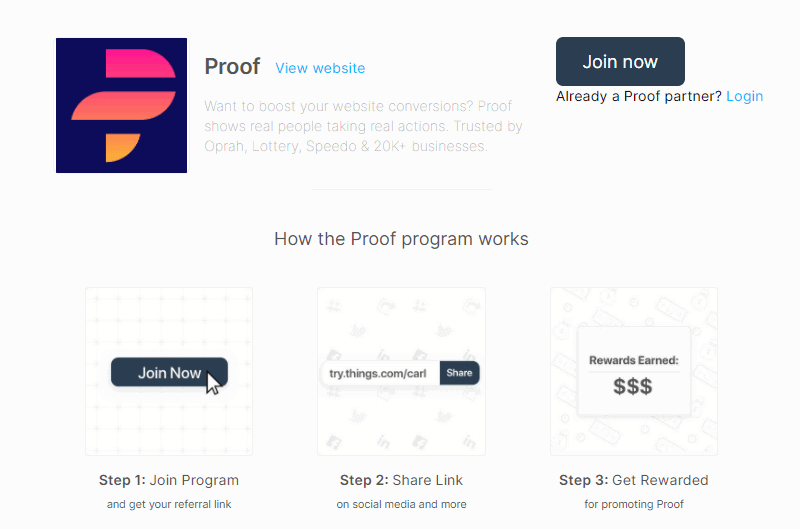 To become a UseProof partner you need to join PartnerStack.
URL: UseProof affiliate program
Vyper
Vipers software is basically for creating viral giveaways. They have a bunch of different tools and campaigns that you can run. However, their big thing is giveaways and many big companies use this software like Walmart, Callaway and Warner Brothers.
And they have an amazing affiliate program where you can get a 25% reoccurring commission and that's quite a lot if somebody purchases the big packages.
They have a free plan and then it goes all the way up to $299 a month.
Getsitecontrol
Getsitecontrol gives you the ability to have pop-up forms on your website and collect your visitor's contact information. So it's work pretty much similar to Thrive Themes.
And you don't need any technical knowledge. You just plug in a little JavaScript on your website and you can control and customize your forms.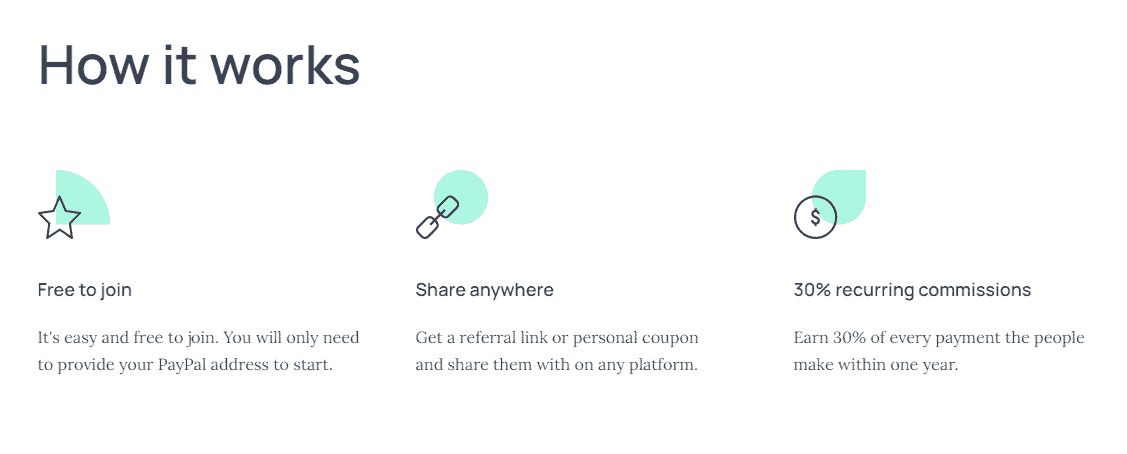 With this platform, you can make a 30% recurring commission as an affiliate.
URL: Getsitecontrol affiliate program
Improvely
Improvely is an analytics software and this is going to make it easier for you to see what's going right and what's going wrong in your business or your sales funnel.
Improvely is going to give you 50% commission for the first payout and then 10% reoccurring thereafter which can actually add up to $1400 in your pocket for people who need to improve their analytics.
URL: Improvely referral program
OFFEO
OFFEO is an online video ad maker suitable for any social media platform that you can think of. They offer a huge variety of features and templates to choose from.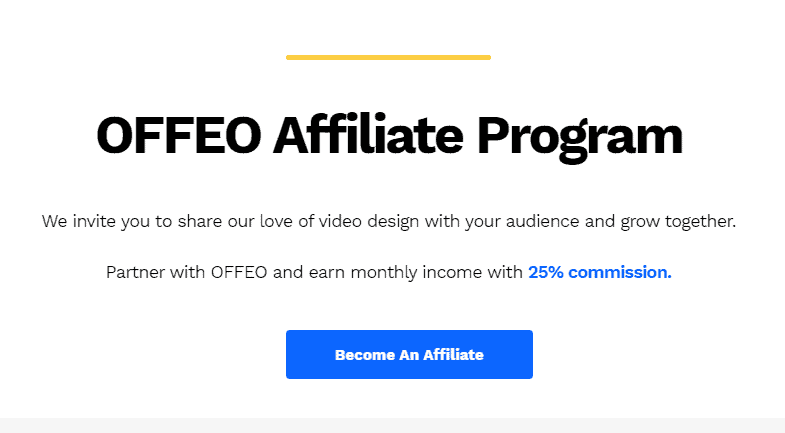 With OFFEO affiliate program you can earn 25% monthly income.
Ecommerce Affiliate Programs
E-commerce is the next billion-dollar industry that is growing exponentially every year. And here you can also find many high-paying recurring affiliate programs.
Shopify
Shopify is very famous online because it's basically the number one place for people to set up e-commerce stores to sell pretty much anything that has to do with e-commerce.
With Shopify, you have everything you need to sell online, on social media, and in person. You can create your own store literally in minutes, manage products, accept payments and integrate with other apps.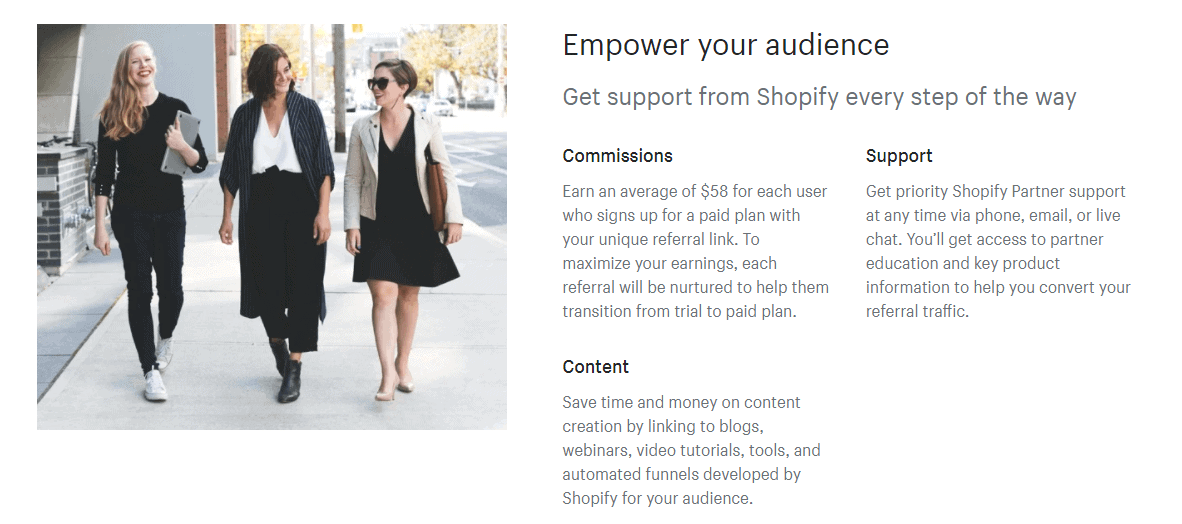 Shopify also has a great affiliate program where they pay you an average of $58 per sale.
URL: Shopify affiliate program
Samcart
The next e-commerce affiliate program with recurring commissions is Samcart
Samcart is a shopping cart software but unlike other shopping cart software like Shopify or even sales funnel software like ClickFunnels Samcart is a one-page sales page with the checkout form on the same page.
And it's up to 40% commission rate and so far so good they pay via PayPal.
URL: SamCart affiliate program
BigCommerce
BigCommerce is also a huge e-commerce platform that offers a very lucrative affiliate program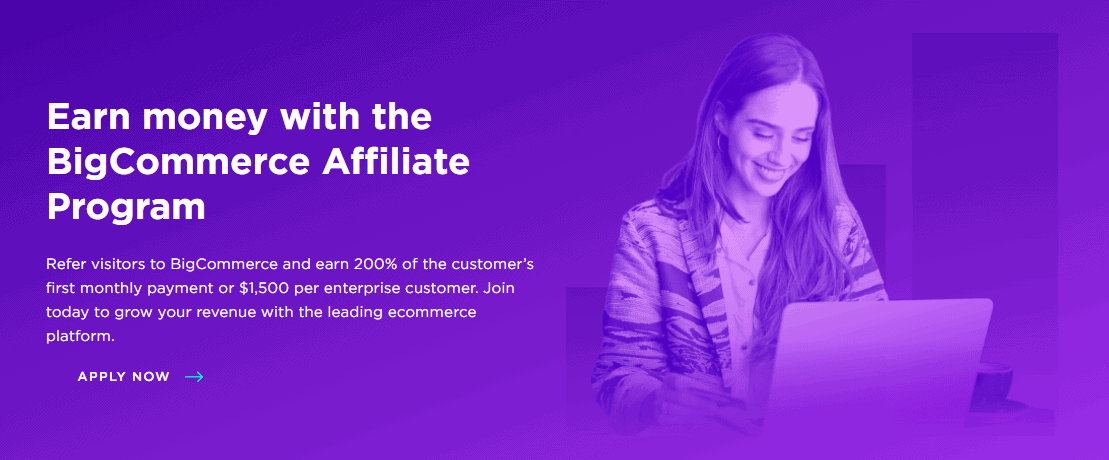 BigCommerce will pay you 200% of your customer's first monthly payment and up to $1,500 per sign up.
URL: BigCommerce affiliate program
3dcart
3dcart is a powerful and feature-rich platform that lets you build an e-commerce store and they empower more than 23,000 stores operating globally.
With this program you can make a $100 commission per sale.
Tracking Software Affiliate Programs
The next category is analytics software. if you actually have a website or a sales funnel you need to check the analytics to see if people are clicking through, where they're coming from, and how they're getting there.
And it's very important so you know at what point things are going wrong so you can tweak them and get more sales.
Voluum
Voluum is one of the most well-known affiliate tracking software available on the internet.
And it basically allows you to run paid adverts and track your click, conversions, and sales.
With the Voluum affiliate program you can earn 20% recurring commissions for each sale.

It's not got the best affiliate program I would admit that but it's definitely a very high-quality product and people need this type of software.
ClickMagic
ClickMagic is basically a tracking tool allowing you to track every single part of your business and optimize the sales process and conversions so you know exactly where your sales and traffic are coming from.
So click magic is a tool that is used a lot by affiliate and internet marketers because they want to know exactly where their money is going but ClickMagic also has a great affiliate program where they pay 35% recurring commissions on every single sell depending on the type of plan that your customers actually choose.
URL: ClickMagic affiliate program
Post Affiliate Pro
The last tracking software on this list is Post Affiliate Pro which is a software created specifically, as the name suggests, for affiliate marketers. They have over 170 integrations so you can track your campaigns no matter what platform you're actually using.
With Post Affiliate Pro you'll make 20% recurring revenue plus $5 sign up bonus.
URL: Post Affiliate Pro affiliate program
VPN Affiliate Programs
Global Virtual Private Network (VPN) market is estimated to reach $107.6 Billion by 2027. VPN tools help you protect your identity by hiding your location online and this way prevents from hackers or being found so you can search the web anonymously and that's what this type of tool is. It's got quite a few different uses and quite a few different target audiences.
PureVPN
The first VPN software in this category is PureVPN. They pay 40% commissions which is great.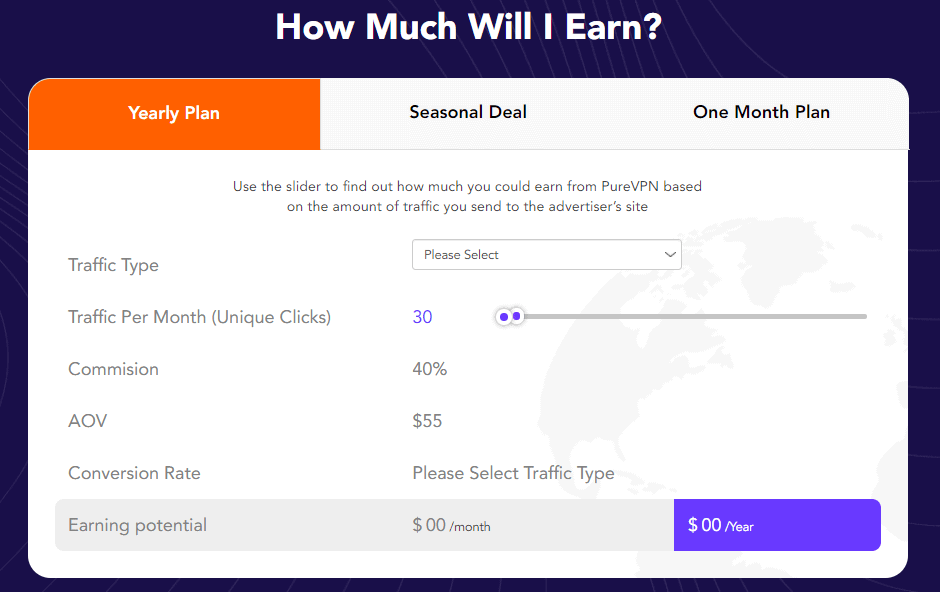 They also have a one-dollar trial to get people in as well.
There's a little calculator which you can come on to the affiliate page and see how much traffic you can send them and how much you can earn.
URL: PureVPN affiliate program
NordVPN
NordVPN is one of the best VPN software available in the market that can help protect your online privacy and secure your data.
And they pay you 100% for the first payment and then they pay 30% renewal.
URL: NordVPN affiliate program
IPVanish
as an affiliate of IPVanish, you can actually get 100% upfront commissions on the sales that you get and then also 35% recurring commissions.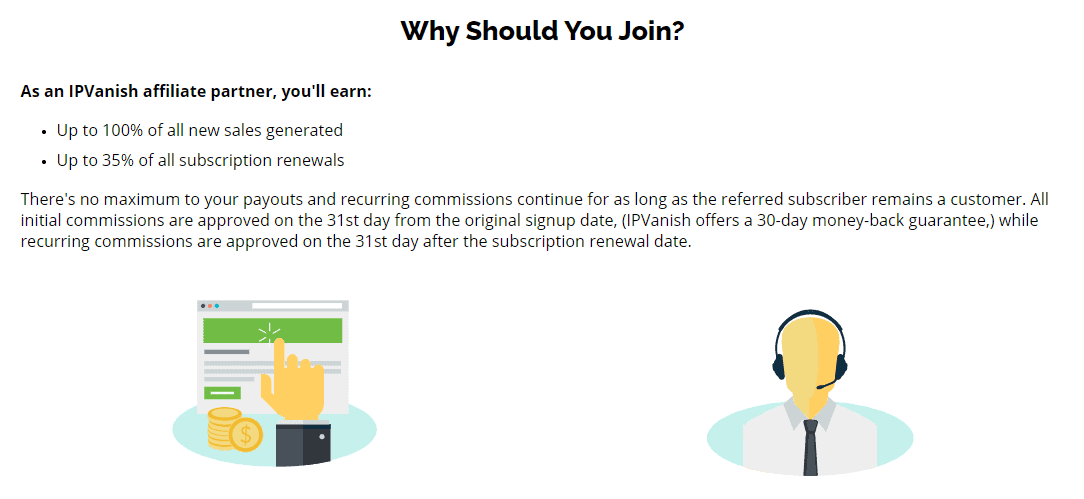 Most of you know if you have a VPN you usually pay yearly, quarterly or every single month.
So if somebody does the yearly plan you're gonna get 100% commissions upfront and then as soon as they get rebuilt a year later you're gonna get 35% until they cancel.
Private Internet Access
Private Internet Access is also a very advanced and feature-rich VPN platform with multiple security tools like Encrypted WiFi, P2P support, ad and tracker blocker, and unlimited bandwidth.
Their affiliate program is free to join and allows you to earn up to 33% in monthly commission.
URL: Private Access Network affiliate program
Private VPN
And same a Private VPN they're paying up to 50% commission if you get just a normal sale.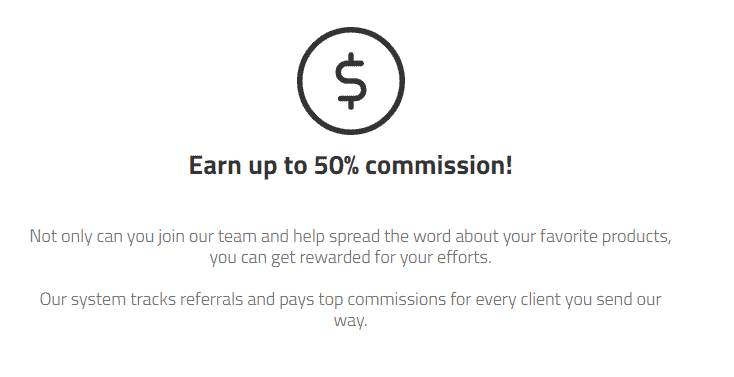 And then they're paying a smaller commission if you get a two-tier affiliate program.
URL: Private VPN affiliate program
Hidemyass
The benefit of this program is you can earn up to 100% commission on the front end as well as up to 45% in recurring income.
So this is a super generous affiliate program and I think just the name alone makes it just really good in itself.
URL: Hidemyass affiliate program
Webiste Builder Affiliate Programs
Here, I want to show the best website builder affiliate programs that pay monthly recurring commissions.
Weebly
Weebly is among the best website builders available in today's market. The company offers unparalleled user-friendly design along with an array of innovative features via an efficient user interface. Weebly combines both integrated marketing and templates in guiding its users on how to get started and grow their online businesses.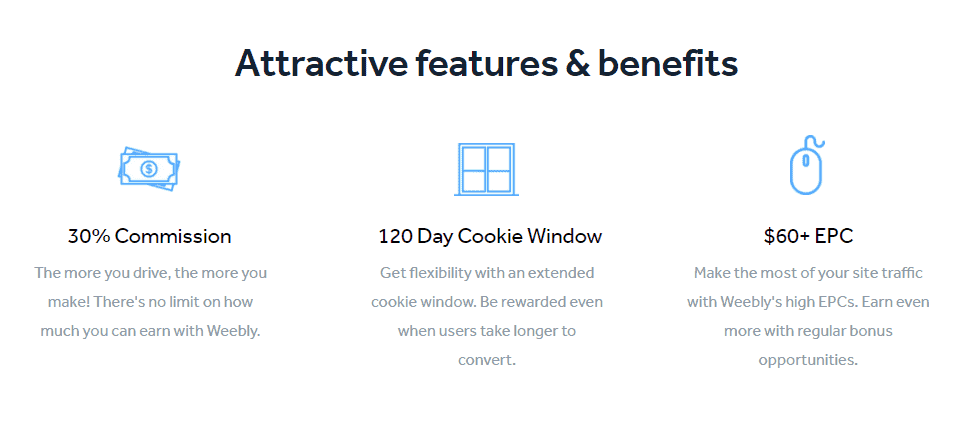 This website builder features more than 40 million users from across the globe. The best part is they offer a guided step on launching an affiliate marketing career for newbies, and it comes fitted with planning tools. In addition to that, their rates are top-notch and have sufficient cookie duration, which makes it ideal for newbies out there.
The commission rate with the Weebly affiliate program is 30% per sale.
Squarespace
Squarespace offers one of the best blogging tools and incredible support than most of its competitors. This website builder provides 100s of flexible templates that are very responsive and adapt to mobile devices.
As an affiliate marketer, you will be able to make decent cash as a Squarespace affiliate marketer. The company is known for its reliable affiliate marketing service, incredible commission rates, and excellent cookie durations;
The cookie duration is 45 days.
With Squarespace as an affiliate, you'll make 30% of each sale
URL: Squarespace affiliate program
Ucraft
Ucraft is a top-notch website builder known for offering good-looking templates, customization, mobile site as well as excellent support. It has been created to make a website designing a walk in the park. It features an easy to use the website, making it a perfect place to start learning and master the art of web design.
The site features a responsive interface via a drag-and-drop feature. What makes Ucraft a top-notch website builder is that it allows both small and experienced business owners to grow with ease, thanks to its user-friendly design. And when it comes to affiliate marketing, Ucraft is known for offering some of the best commission rates as well.
With the Ucraft affiliate program you can make a 25% commission.
Format
Format is an excellent platform for designing portfolios. The site is designed specifically for individuals who love to showcase their art, videos, and photographs online. This makes it an ideal web builder for creating a top-notch portfolio. It features a great design which makes it worth the purchase.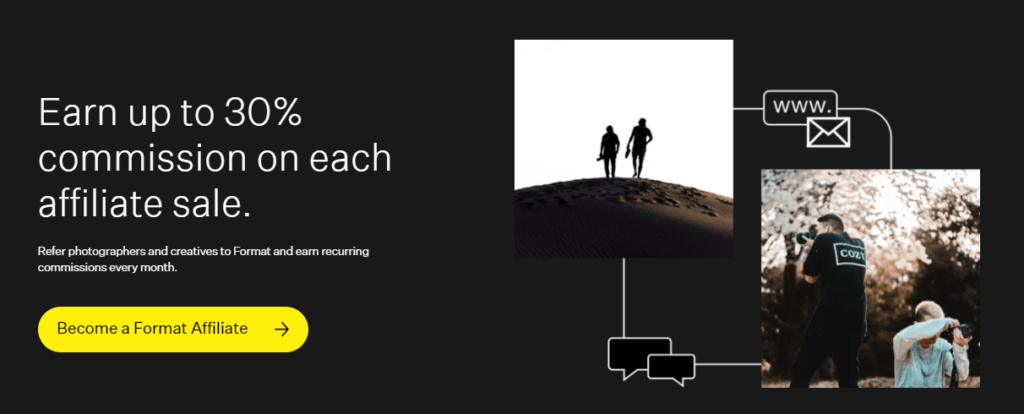 On the other hand, its affiliate program is reliable and one of the better paying in the industry. Therefore, if you are in need of a dedicated web builder with an excellent affiliate commission rate, the Format will be best for you.
As a Format affiliate, you can make up to 30% recurring commission.
MotoCMS
MotoCMS is another reliable website builder in today's market. The company is known for offering fast and reliable service, making it stand out from its competitors. In addition to that, it incorporates a relatively easy to use system and provides excellent possibilities for web designing.
You start a website with MotoCMS with ease irrespective of whether you are a blogger, a business individual or a web designer. And if you are on the lookout for a reliable website builder affiliate program, then you should look no further than MotoCMS. With this company, you are guaranteed some of the best commission rates and the most prolonged cookie duration available in the market.
Their cookie duration is 365 days and you can make up to 50% commission.
URL: MotoCMS affiliate program
TemplateToaster
TemplateToaster is a website builder which offers excellent value for money. It is a perfect hybrid of CMS template as well as a website builder.
The site provides unlimited themes for its users to work with and a popular content management system while guaranteeing the power and top-notch flexibility of the drag-and-drop interface. The website is pretty much to use, making it an excellent website builder for newbies.
Its affiliate marketing rates are no different. The company is known for offering some of the best commission rates and cookie durations an affiliate marketer would dream of.
Your commission rates with TemplateToaster will be 16% per sale.
URL: TemplateToaster affiliate program
Webinar Affiliate Programs
Recent years have seen a boom in webinar marketing. It's no surprise that selecting the right webinar platform has become one of the most important decisions for so many digital marketers and businesses. And this is why it's a great opportunity to promote webinar affiliate programs.
Webinar Ninja
Webinar Ninja is also a very advanced webinar software with mutliple features including analytics, private chat, offers, polls and many integrations.

And they offer a 30% recurring commission and the cookie lengths is 90 days.
In addition, they provide 14-day free trial so it's easier to get people to signup.
URL: Webinar Ninja affiliate program
Demio
The next webinar platform is called Demio. Demio allows you to create live hybrid, automated and on-demand webinar.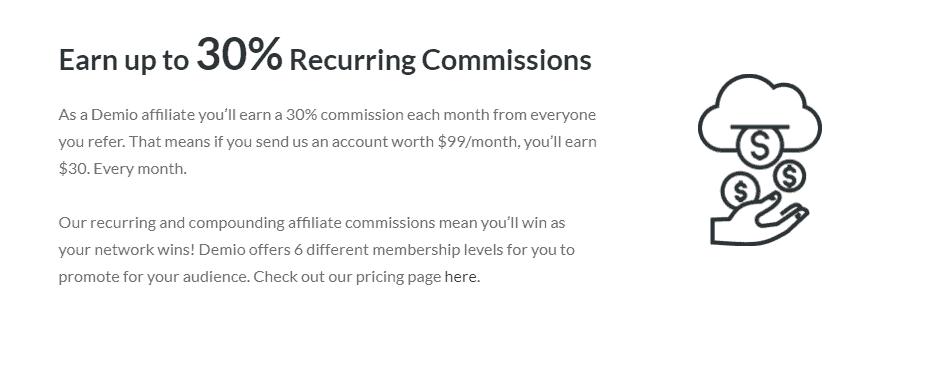 This one has a 30% recurring commission and 30-day cookie length.
They provide a free trail period where no credit card is required.
LiveWebinar
It's also cloud-based webinar software and they offer screen sharing live video streaming and recording features.
LiveWebinar also has a 30% recurring commission and the best about their affiliate program is that they offer a lifetime cookie length which is awesome.
URL: LiveWebinar affiliate program
Business Hangouts
This one's a little bit different in comparison to the other webinar software because Business Hangouts this webinar and web conferencing software for Google Apps so the way that it works is that you create an account with Business Hangouts and then you connect your YouTube account to stream your events live.
And they offer up to 50% commission.
And they also offer a 14-day free trial.
URL: Business Hangouts affiliate program
+ Bonus: Clickbank Recurring Products
In this bonus section, you'll see the best ClickBank products with recurring commissions.
Cutom Keto Diet
So the first one is going to be the Custom Keto Diet. And if you go on Clickbank you can see they have a recurring rebill.
So anytime it says "Rebill" this means that after this initial commission you make you're usually going to earn some more commission.
With this product, you're going to earn around $21 on average.
The 12-Minute Affiliate System
The first Clickbank affiliate recurring product is the 12-Minute Affiliate System. One of the best-selling products in this marketplace, as proof of how people are getting results with a program like this with an excellent price and easy to understand,
And the benefits are very good for affiliates too.
There are many upsell structures of this product.
So, when you send people through your affiliate link, they will see by default this landing page.
If they like it, they will start 14 days paying almost $10 to test the product.
If they like it too, something with a probability on your side, they pay first $39 + $67 more to set up the system, making you in the process, $55 on average.
But the most important thing is this, as long they are still using the system which makes money for this client, almost on autopilot, they need to pay at least $47 each month, earning during the process, $23.50 for every client that you refer.
And this is only if they use one affiliate marketing niche. If they choose three niches, they will pay $97, very cool in your pocket, almost $50 every single month.
If they don't want to pay monthly, at least you will receive high ticket commissions from sales that allow lifetime access to your referrals.
Organifi
Product number two is Organifi. In this case, it's a physical product that makes millions of dollars to his funder with thousands and thousands of people delighted by his quality and results.
You need to know that you need to be approved by their team before start promoting this product, following some guidelines to keep safe their brand.
The way to make money is as follows.
If somebody decided to purchase three bottles option, you will earn 50% of the price, earning almost $75 by selling three bottles one time.
And the customer also has an option to order this product every single month meaning the company will send them one bottle every month by paying $58, earning you the 30% recurring commission, as long as they keep paying each month.
Remember this product has been selling a lot of times and it's proven to make happy to the customer so you can feel the security. If somebody purchased, it's a very low probability to cancel the service.
You make enter 100 people buying one bottle option and you are earning $1,700 as a receivable income.
Super Affiliate System
The Clickbank product number three that I want to show you is the Super Affiliate System.
And this is a product teaching people how to make money with paid traffic and affiliate marketing.
The owner John Crestani is a millionaire affiliate marketing and a good size of his fortune comes from the sales of this product.
I was surprised the first time I saw the commission structure, earning you almost $500 for each sale and at each earning you make every month, $124 recurring income.
Also, this product on ClickBank has a good gravity score.
It means that is a proven product to sell and earn as an affiliate marketer.
ClickBank University
And my last sample is an excellent one, the digital product of ClickBank itself; the ClickBank University. It has one of the largest commission payments for affiliates because well, It's the product of ClickBank.
They know very well what works and what doesn't.
So, it's a good structure product with high quality in his teaching process. That is the reason why they will pay you as follows in this funnel.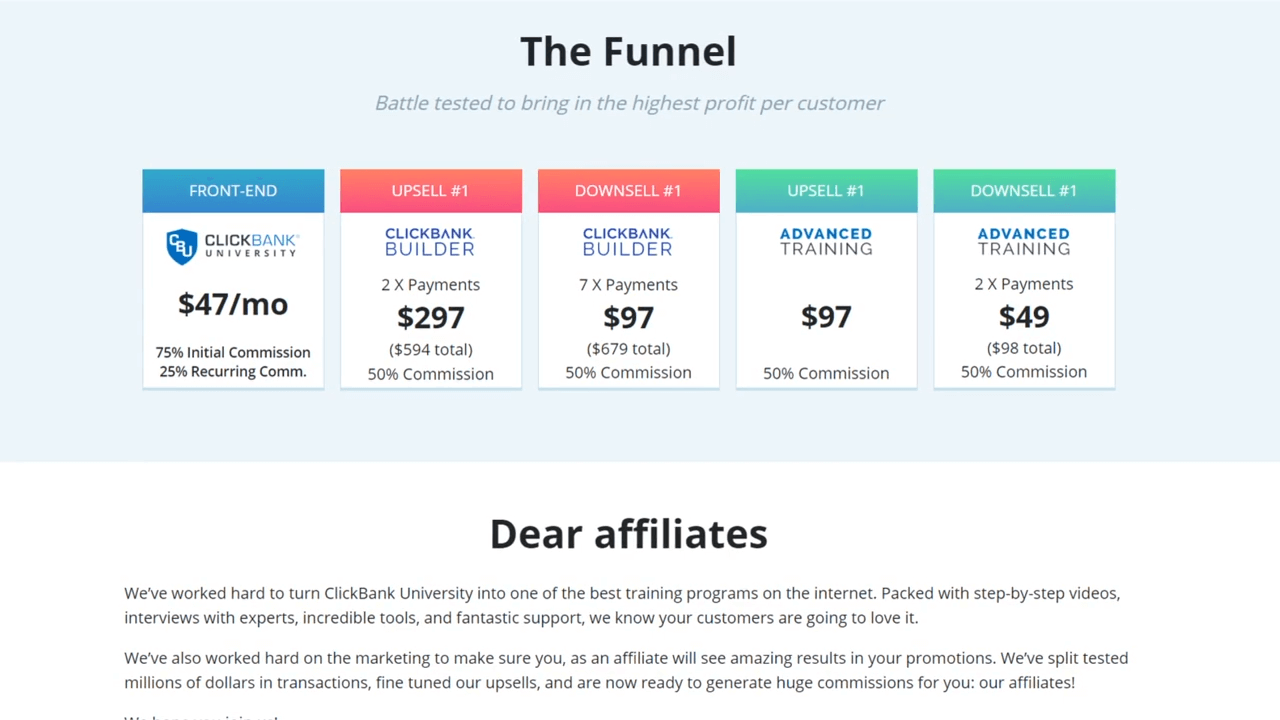 First, you earn the 25% all way up to 50% as a recurring income.
Do you want to try? This looks amazing.
How To Promote Recurring Affiliate Programs?
All right, you have now some ideas of recurring affiliate programs, but you know me, this information is almost useless if you don't take action especially because you don't have any idea of what you need to do to promote these offers.
You need to call the attention of your potential customers with the benefits that these programs and products have to offer to them that come in the first place as you work as an affiliate marketer, the sales processes work of that company.
Plus the work of keeping the people paying each month. Your ability to do that is the retention rate. And every program that I showed you have high levels of retention rate.
The quality and the value of these offers are unbeatable.
So, you don't need to worry about that to keep receiving a predictable recurring income. Your focus should be only on promoting these offers by showing the results that you or other people have by using it and how their lives and businesses, in general, improve by purchasing that product.
Don't convince only with words, show too.
Show People How To Use These Products
You can make some reviews to get started or go to Facebook groups about sales funnel builders, share your knowledge about this as a way to create a trust to later make a sale.
But in the end, the most effective and organic way to apply this is by showing and teaching how you can make money with this product.
Prove to other people some ways of how they can increase their income levels by using it. You can find a lot of people which are doing it right now by applying this concept.
For example, one product that I promote myself is Builderall. I show in my Top Affiliate Training how you can use it to start and grow your affiliate marketing business, taking advantage of all the digital marketing tools that they provide.
By demonstrating the value on this website of Builderall and how I've used it to generate five figures in monthly affiliate commissions has resulted in me getting over 100 active users to sign up to Builderall.
The best way to promote this product is by using those digital marketing tools that I explained to you before using a sales funnel and email marketing, something very simple to understand.
Most beginner affiliate marketers don't make money because they spam all the internet with their affiliate link expecting to make some quick buck for that.
Why Somebody Would Purchase From You?
They don't even know you, to trust in the offer.
People don't go to buy the first place, you need to create a relationship with them, having first, some, let's say a conversation, and one of the best ways is with email marketing.
You capture the email address with a landing page to later send them out automatically day by day a group of emails to prepare them to buy is the only effective way. Most of the time, when you apply that correctly and pay attention, you don't need to create those follow-up emails.
The owners of those affiliate products have some email swipes, ready to use, and more resources.
→ Start Your Top Affiliate Training ←
Best Recurring Affiliate Programs Conclusion
That's all you need to know about the best recurring affiliate programs using your brain for something really useful reaching financial freedom.
Be fast now and make sure to check out this an affiliate marketing PDF to make even a full-time income from the internet.
If you need to know more about this and how to do it, how this works to make money with affiliate marketing, let me know in the comments below!