Billions of dollars are changing hands in 2022 and you can make some of that money using a business model called affiliate marketing, which allows you to earn commissions from products that you recommend to other people online.
And today I'm going to walk you through the 9 best affiliate products to promote in 2022.
Let's get into it.
1. Software
Softwares are among the most effective affiliate products, thanks to recurring affiliate commissions.
There are also software programs that offer different types of services for other professions such as business owners, digital marketers, and even software that helps others to create videos.
Business owners are always looking into software that can help them grow their business and cut down on time-consuming tasks such as accounting or scheduling events.
Some of the most popular software products you should be promoting in 2022:
Programming software
Web/Mobile applications
Artificial Intelligence software
Application Software
And more.
Many of these software products have created their own affiliate program so it's easy to spread the word about their product through your online presence.
So, if you are in the digital marketing space, promoting software products would be a great affiliate opportunity.
💡 Pro Tip
If this is something for you make sure to check this complete list of best recurring affiliate programs where you'll find over 70 different software for every case scenario.
2. Skincare Products
Skincare seems to never get off the list because it is always so high in demand.
People are always looking to be beautiful and they have been seeking to look beautiful for thousands of years.
One of the most profitable affiliate products in that niche is LED face masks where people don't even really have to do much. They just sit there with this kind of weird-looking mask.
In addition, people like new and novel things, especially when it comes to skincare and this is a reason why this particular product is selling so well.
I personally have made a lot of money selling skincare products. And the way I would promote skincare products was through paid traffic like Facebook ads.
Skincare products are among the best Clickbank products you can promote.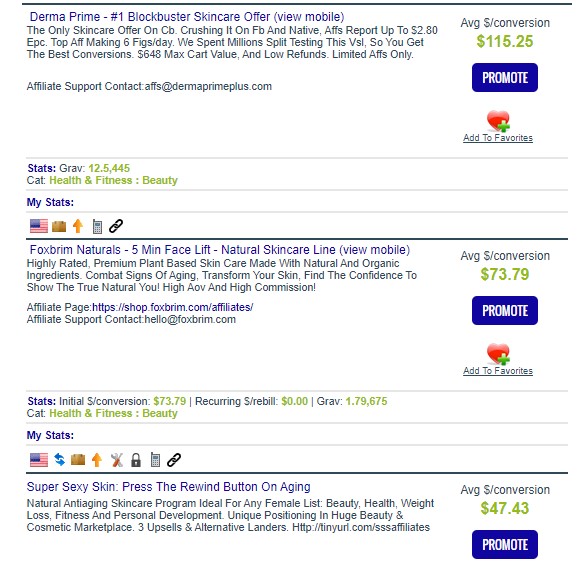 And it's a pretty easy sell because everyone's looking to look more beautiful.
If you can't sell skincare online, then you need to get better at marketing.
And if you're looking to get better at marketing, I recommend you check out my free affiliate marketing course where you'll learn all the most important skills like paid advertising, copywriting, lead generation, email marketing, and more.
3. CBD Products
The second top product category that is very trending right now is CBD.
CBD is an anti-stress, anti-anxiety type of medication and it's derived from marijuana, but it doesn't have any THC in it, which is what people get high off of and makes you a little bit loopy and in the star.
CBD does not do that. It just relaxes the body and people are buying this stuff like hotcakes now that it's legal and you can earn a really high commission you get somebody to purchase this product.
You can find lots of CBD affiliate products on ShareASale – one of the biggest affiliate networks worldwide.
As you can see there are 552 merchants in the CBD niche and over 17,000 affiliate products.
You sell a couple of these a day using whatever free traffic methods you are utilizing, and you can make a lot of money and a nice income.
If you aren't aware of my free traffic sources for affiliate marketing post, make sure to check out this in-depth guide and you will find +20 different methods showing you how you can do affiliate marketing on Instagram, Facebook, TikTok, Google, YouTube, and many more.
It isn't very hard, the methods are pretty obvious, but I show you exactly step-by-step how to get your affiliate links out there so you can get people buying.
4. Fitness Watches
Fitness watches are also really high in demand right now. And generally speaking, anything in the electronics category that is trending is a really good idea for a product that you could be promoting as an affiliate.
People are looking to get healthy. People are coming out of a pandemic having put on extra weight.
And fitness watches are just a new sort of thing, they're trending, people don't care about their personal information anymore generally speaking. Everybody has smartphones with all these things enabled to track their data.
A fitness watch is just a great extension of getting more data and being able to tell you about your health.
So, you can make a lot of money by getting people to buy fitness watches. And if you're doing e-commerce or Amazon FBA, Shopify dropshipping, this is also another fantastic product category that you could do yourself.
If you're looking to get started selling this stuff, I suggest you paid affiliate traffic.
The best place to find fitness watches to promote is Amazon Associate and ShareASale.
5. Security Cameras
The next best affiliate products to promote are security cameras.
A really popular type of camera that many people are adopting is dash cameras, which are cameras that you put on the front of your car or your motorcycle in order to make sure that both in the case of an accident that you have evidence to back up what just happened to you.
These are really popular, and a lot of people with the whole pandemic, everyone is scared of everyone else.
So being able to have a camera on people that might be loitering around your car or your apartment or your house is very high in demand.
So that's a great product since there's a great fear angle you can really use to hype this product up.
And of the best ways to advertise these types of products is I use listicles. Listicles are when you have a list of items in the article.
Security.org is a good example of an affiliate website that does that really well.
This is very good because this gives you a chance to sell multiple different products.
Related Article: How To Create Affiliate Marketing Website
6. Phone Accessories
The next trending product category has been around for a little while, yet, it's still very popular, and that is phone accessories.
Phones and tablets are getting larger screens, more features, and better cameras every year. People want to protect their devices from breaking or having them stolen. They also look for accessories that can help them take good photos with their phone's camera such as selfie sticks or lenses they can attach to the back of a smartphone.
It's a great opportunity for affiliate marketers to make some money promoting phone accessory products such as phones chargers.
As phones become bigger and use more apps and use more battery power, phone chargers are quickly becoming a signature staple that everyone needs to use in order to stay in contact with the internet and it's very easy to make money off of this.
There are also other categories of phone accessories such as headphones and memory cards that you can promote too.
Everyone has a smartphone these days so it's an easy way to introduce products that your audience are already using in their day-to-day lives.
7. Drones
The next category we found to be thriving in 2022 is drones thanks to their ability to take high-quality photos and videos from the sky.
The market will continue to grow exponentially over the next few years due to its affordability and popularity with consumers.
Drones are also among the highest-paying affiliate products. Prices range from $50 to thousands of dollars depending on the type and quality of the product.
People who own drones love technology and gadgets – which makes them perfect targets for affiliate marketers looking into drone products in 2022.
If your website focuses on technology then affiliate marketing opportunities around drones are perfect for you.
8. Tracking Devices
The next trending product category that you can promote online is tracking devices.
The global GPS tracking device market is expected to reach $4.93 billion by 2028.
Tracking devices to help people find their lost keys or important items around their house are becoming increasingly common as people have increasingly more wealth and more items and bigger houses.
9. Massage Devices
The last category is massage devices.
Since joint stiffness problems are becoming increasingly common as human beings are increasingly being sucked into computers for work, the demand for these types of products is getting higher.
You can easily find these types of products on affiliate networks like OfferVault.
As you can see you can make up to $75 in affiliate commission for these types of products.
Best Affiliate Products To Promote in 2022 Summary
So these are the best affiliate marketing products to promote in 2022.
If I were to give you my recommendation of what product you should get started if you were to choose one category, it would be all of them.
I hope you enjoyed this article. If you don't know how to get started with affiliate marketing, I have lots of articles on this blog on how to do marketing online the right way and I really encourage you to check them out.
You can also check out my free affiliate marketing course where I'll show you how I successfully promote products that pay monthly recurring affiliate commission.