Today, I'm going to be going over how you can get a Builderall free trial and what you'll get when you get started.
Let's be straight about this…
There are some tools that are essential to your online business.
You need a website builder, email marketing provider, funnel builder, chatbot and that's just for starters.
Soon you will realize that the tools you need for your business are starting to add up to hundreds of dollars per month and that's starting to eat into your profits massively.
But it doesn't have to be this way.
Because now with Buillderall you can get access to all the essential tools to start and grow your online business at a very affordable price.
💡 Note
The only way you can start Builderall free trial is by Builderall Funnel Club members. This is actually something that they did in Builderall 5.0 launch. So if you want to try this platform for free, here you can get started.
Builderall Free Trial: What is Available?
With your Builderall free trial, you will have everything that you get with the premium plan. The only difference is that you will not have a domain that you can attach to your website or sales funnels.
When you are ready to connect your domain or have access to all the courses and training, you can upgrade to the paid plan.
So comparatively, that's the only difference that you have. All the Builderall tools that you need to start promoting your online business that comes with the free trial.
Here is what you'll get:
Let's see what tools Builderall offers you to help with scaling your company and take advantage of your niche.
Builderall Cheetah Website Builder
Builderall Cheetah is one of the best website builders in the market.
With this easy-to-use tool, you can build your online presence using HTML five technology by simply dragging and dropping your different elements like:
To integrate them into fast, responsive web pages.
In addition, you'll get access to hundreds done for you Builderall templates.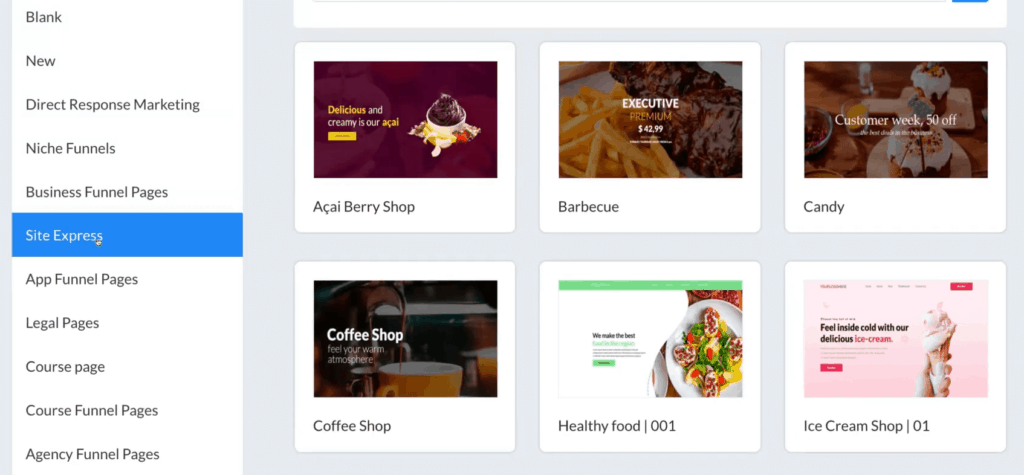 Builderall Sales Funnel Builder
Another powerful tool we have is the sales funnel builder. You can start from a tutorial and then choose a professional sales funnel template, or blueprint that you can edit and integrate with different checkout widgets.
Builderall Video Hosting
With Builderall's video hosting tool you can avoid those third-party headaches and invest in hosting that's more affordable.
Builderall now gives you the same control options and added countdown as well as access to your in-depth video statistics.
A/B Split Testing
This platform also allows you to do A/B split testing and run analytics. When it comes to the internet, you should always use a better safe than sorry approach.
That means that you should test more than one website or funnel design and see what your clients watch or click more.
The more data you take into consideration and optimize it, the more sales you will have.
Builderall Autoresponder
Builderall free plan gives you access to their email marketing autoresponder called MailingBoss.
So you can build an email list and can send valuable information to your clients or do follow-ups when they complete an action on your, website, blog, or online store.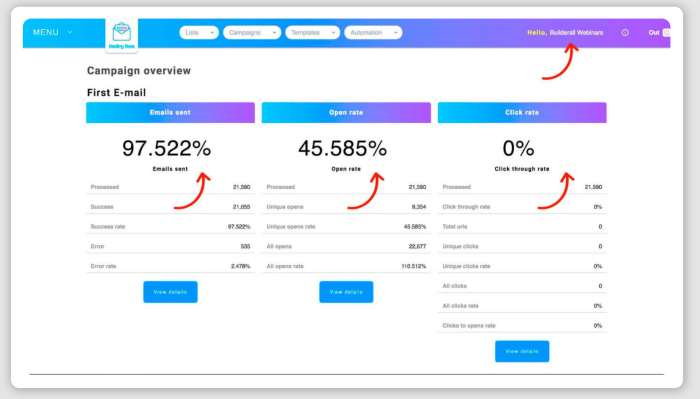 You can easily respond to your leads according to the behavior and even automate the process at no additional cost.
Webinar
Also included at no additional cost is the Builderall Webinar platform.
This tool is the place for creating professional webinars without added cost.
CRM
Builderall CRM is very advanced software with many features. This tool allows you to collect your customer's data and track their behavior. You can analyze the interactions your clients make and also anticipate their needs.
Chatbot
Let's not forget business automation using Messenger bots because people spend many hours online, researching, and inevitably come in contact with products and brands.

You need a bot. A bots job is to guide those people through resolving their problem or getting information about, and finally buying your product or service.
Blog
You can start your own blog for free. It's a great alternative for Wix, Squarespace, or Weebly. All with no additional plugins, hosting fees, updates, and all that stuff.
E-Learning Platform
A huge niche today is online education and courses. Builderall also has its own education platform. You can upload videos, documents, make quizzes all while setting triggers to maintain your audience's attention and involvement.
Other Builderall Features
Other features that you will find in Builderall free plan will help with:
As you can see, Builderall is an all-in-one platform for entrepreneurs in search of their next great business or tools that they will need to scale the current one with tens of thousands of satisfied users.
How Much is Builderall After the Free Trial? [New Pricing Plans]
Builderall actually offers three paid plans ranging from $69.90-$79.90/month:
Let's take a look at each one of them:
Builderall Builder Plan
The Builder plan is the cheapest plan at $29.90 per month. It includes enough to get you up and running.
This is a great plan for anyone just getting started or who wants to get more familiar with Builderall.
Builderall Premium Plan
Builderall Premium plan gives you access to all tools, features, and training except Builderall Funnel Club.
And when you can compare their Builder Plan with the Premium Plan, you'll get:
Builderall Funnel Club Plan
The Builderall Funnel Club plan includes all of the Builderall premium tools and features plus additional hundreds of done-for-you professional sales funnels. This plan is recommended for companies, affiliate marketers, and agencies. The cost involved is $99.90/month.
Builderall Funnel Club is one the biggest library of ready-made websites, sales funnel, and chatbots funnels. The templates are divided into six different categories: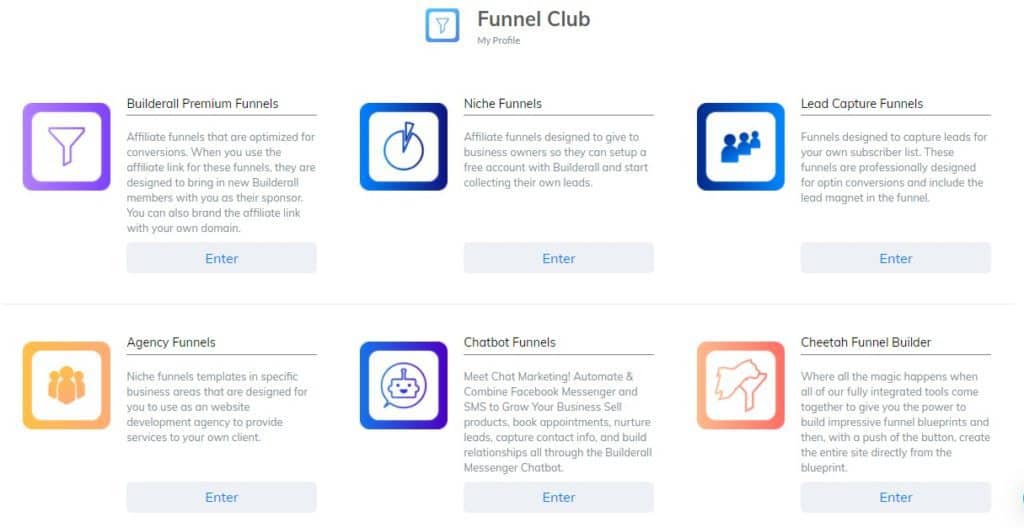 Make sure to check this in-depth Builderall pricing breakdown to choose the right plan for you.
Builderall Free Trial – How To Get Started
Once you sign up to Builderall, this is what it'll look like inside.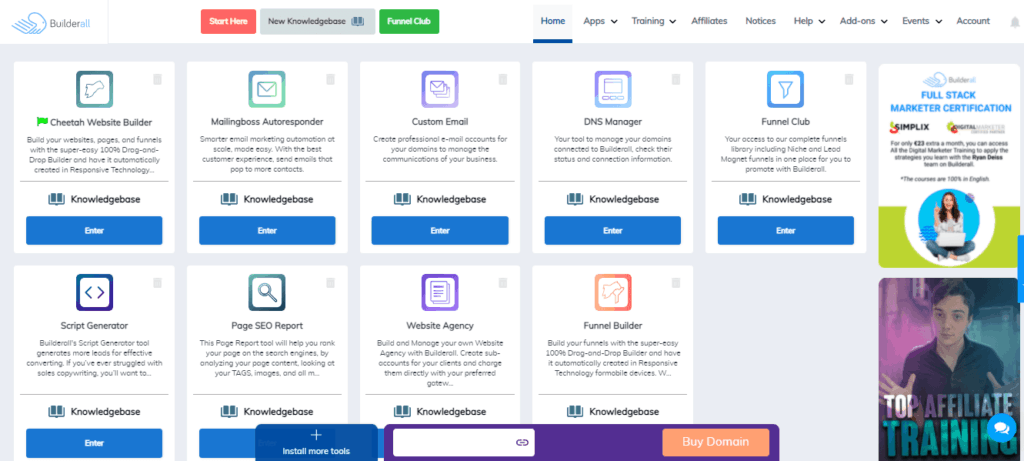 This is the Builderall back office where you can find all of the Builderall tools and apps.
Keep in mind you can install more tools if you want. These are the tools that are used in my business the most.
Your free trial has everything that my premium plan has. You're going to have everything except for just your own domain.
So, you can play around with the apps for a little bit, and then maybe later on, once you decided you liked this software then you can go and upgrade so you can connect your own domain and start building your own online business.
Builderall Free Trial Key Benefits & Why To Give It a Try
Now, I'm going to share with you why you should take advantage of the Builderall trial.
Builderall is Super Affordable
Compared to other popular all-in-one digital marketing platforms, Builderall is actually very affordable.
To be honest Builderall 4.0 is insanely underpriced. A lot of the software and website hosting is massively overpriced.
With Builderall there is no need to integrate any third-party tools. There are no upsells, and you don't have to worry about hosting.
Also, you get a 10,000 subscriber autoresponder. Just imagine how much you would normally pay for that mailing freedom.
Multiple Tools
As mentioned earlier Builderall gives access to a plethora of essential tools and apps. Meaning as soon as you get started you'll be able to:
And so much much more for less than the price of one of these tools alone.
Builderall Training
The free training you get inside the Builderall dashboard is worth thousands of dollars. Never in my life have I seen a platform give away so much for free.
Most software companies try to upsell you to maximize revenue from each of their customers by charging for upgrades and charging for additional training,
With Builderall, they give you everything without charging for it which I think is incredible.
Just look at all the training inside the platform:
It's insane how much they give away.
30-Day Money-Back Guarantee
After the Builderall free trial, you can upgrade to some of their paid plans. If you decide it's not the right platform for you, you can always cancel your subscription and get your money back within 30 days. So it's 100% risk-free.
Unlimited Website Hosting
Apart from 15 domains available, Builderall also offers unlimited website hosting with no extra costs.
24/7 Support
Not only that they'll even teach you how to use everything and guide you every step of the way with 24/7 great customer support.
Builderall is Super Fast
When you create a website using Builderall's Cheetah drag n drop builder the end result is speed.
According to Google PageSpeed Insights, Builderall is the fastest platform with results of 99/100 which is extremely fast.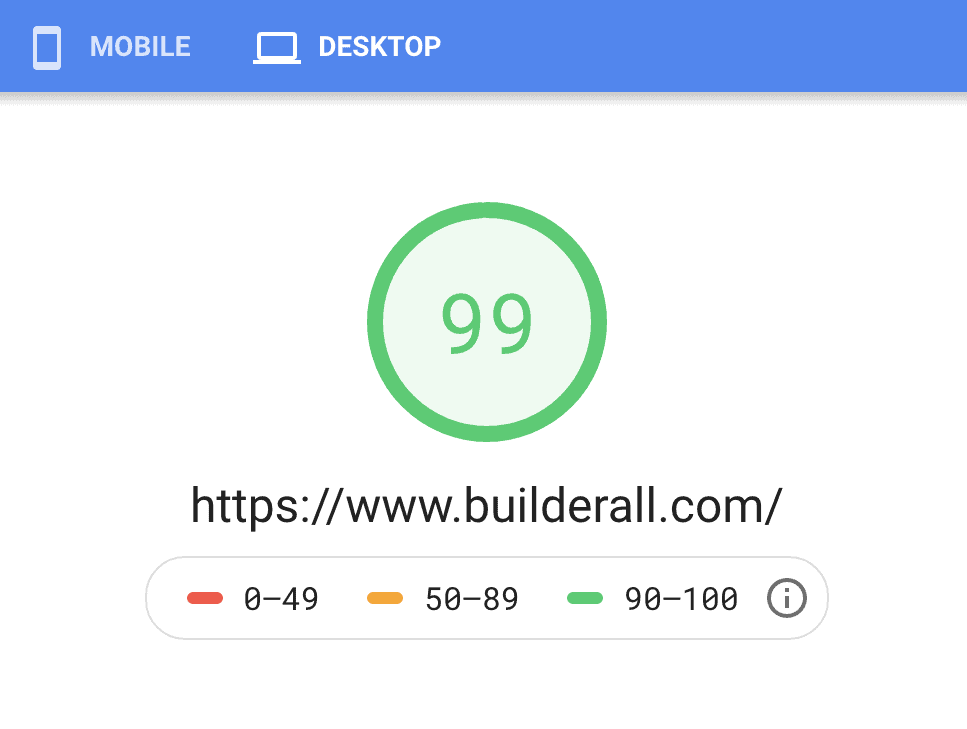 When you compare all the Builderall competitors you will see that Builderall is really the one with the best Google Page Speed score.
Builderall 14 Day Trial
Builderall offers a 14 day free trial for new users where you can experience all Builderall tools and features. After your trial, you will be charged $69.90 for their Premium Plan.
What is Builderall?
Builderall is an all-in-one marketing platform with over 40 marketing tools to run a successful online business.
So, the idea is instead of buying each of the tools that you will need for your business, you'll get all the tools in one place.
From sales funnels, website builders CRM, to real-time social proof for your sales pages, analytics, heat maps, click maps, and so much more.
You probably know purchasing all these tools will cost you hundreds if not thousands of dollars every month.
Who is Builderall For?
Builderall is best suited for small business owners, entrepreneurs, and digital marketers.
Since the power of the internet has risen, there are more and more entrepreneurs that fight for a place in the market and trying to find new features and tools for the business to bring in more clients, sales, and leads.
No matter what sector your business is in, you can use this platform to grow it by attracting new clients and increase your sales.
There are many ways that you can use Builderall in your business If you want to see more ways, check out these 14 ways to make money with Builderall.
What is Not Included in Builderall Free Trial?
The tools restricted in the free trial are Cheetah Turbo templates, Builderall Agency, list import, Webinar tool, scheduling tool, SEO tool, and chatbot builder.
Can I Promote Builderall For Free?
Yes, even as a free member you can take advantage of the Builderall affiliate program, but you would have to apply in order to become a Builderall affiliate.
So the actual owner himself is going to go through each affiliate application and approve or disapprove.
How Do I Cancel my Builderall Subscription?
In the Builderall dashboard go up to the top right-hand side and click on your profile and choose account info.
Next click on "Advanced Configuration"
And here you'll have a button available that says "Delete account".
This allows you to cancel your payment and delete your account completely from Builderall.
It's really important that you do not click this button unless you are 100% sure that you not only want to cancel your payment but you want to cancel your account from Builderall and be forgotten.
Builderall Free Trial Final Words
As you can see, Builderall is an all-in-one platform for entrepreneurs in search of their next great business or tools that they will need to scale the current one.
With tens of thousands of satisfied users, this platform is the one to go with when you plan to have an online business that you want to turn a profit.
And you can start your Builderall free plan with absolutely no risk.