I'm going to be compared the new ClickFunnels 2.0 version with the new Builderall 5.0 version they recently released so this is an up-to-date review.
I'll break down the main differences between these platforms, what ClickFunnels does better, what Builderall does better, and which platform is easier to use.
And then finally I'm going to give you my recommendations on which one would be better for your business based on my experience after running my business on both of these platforms.
ClickFunnels vs Builderall TL;DR
The main difference between ClickFunnels and Builderall is that ClickFunnels is better for building sales funnels since its offers a more intuitive page builder. Builderall might be a better choice for you if you need a more comprehensive all-in-one marketing platform with a wider range of tools for building websites, creating and managing email marketing campaigns, and automating marketing tasks.
Update for 2023
ClickFunnels used to be software specifically designed for building sales funnels. On October 4, 2022, the founders launched the new ClickFunnels 2.0 version which is considered a game-changer in the industry.
Compared to the old version, ClickFunnels 2.0 is much more versatile, lighter, and provides users with much more features than before.
The new updated version was designed to be an all-in-one sales funnel automation platform with tools like funnel hubs, visual automation builder, team collaboration, CRM funnels, real-time analytics, and blog builder.
ClickFunnels is also generally considered to be more user-friendly, with a more intuitive interface.
Builderall and ClickFunnels offer free trials for our readers which will be super helpful since both platforms provide a lot of tools and features. So I highly encourage you to try out free trials of both platforms to see which one works best for you before making a decision.
👉 Start ClickFunnels 2.0 30-day free trial
What is ClickFunnels?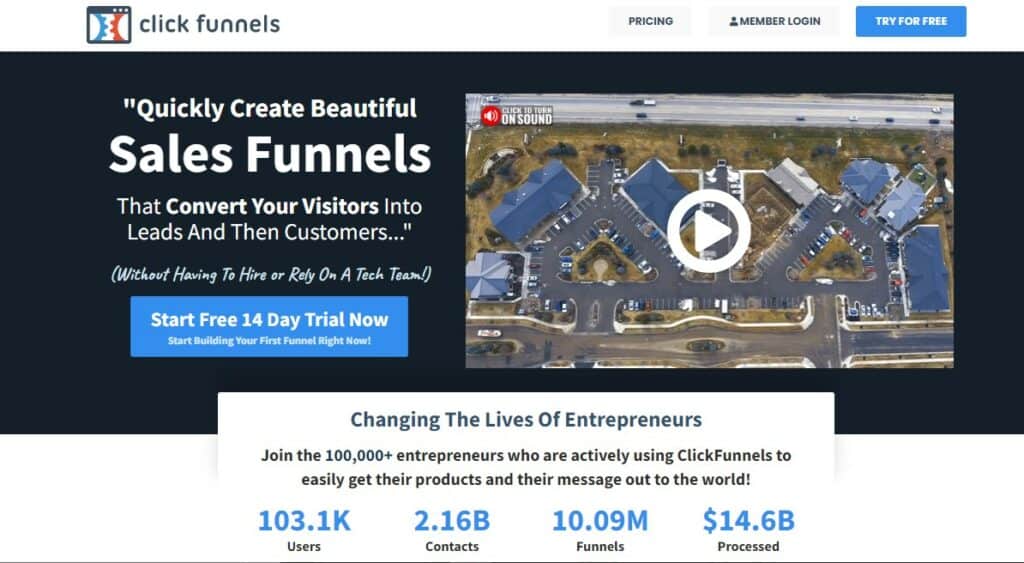 ClickFunnels is primarily sales funnel-building software designed to help you build pages of your funnels in the quickest and easiest way possible.
When it comes to building funnels, ClickFunnels has long held the title for being not only the best but also the most popular option when it comes to sales funnel builders.
And when you think of the word funnels, you probably think of ClickFunnels. And that's largely part of Russell Brunson's genius marketing when it comes to promoting ClickFunnels.
But when it comes to tools is ClickFunnels really the best Builderall alternative?
This is what we're going to be covering in this review.
What is Builderall?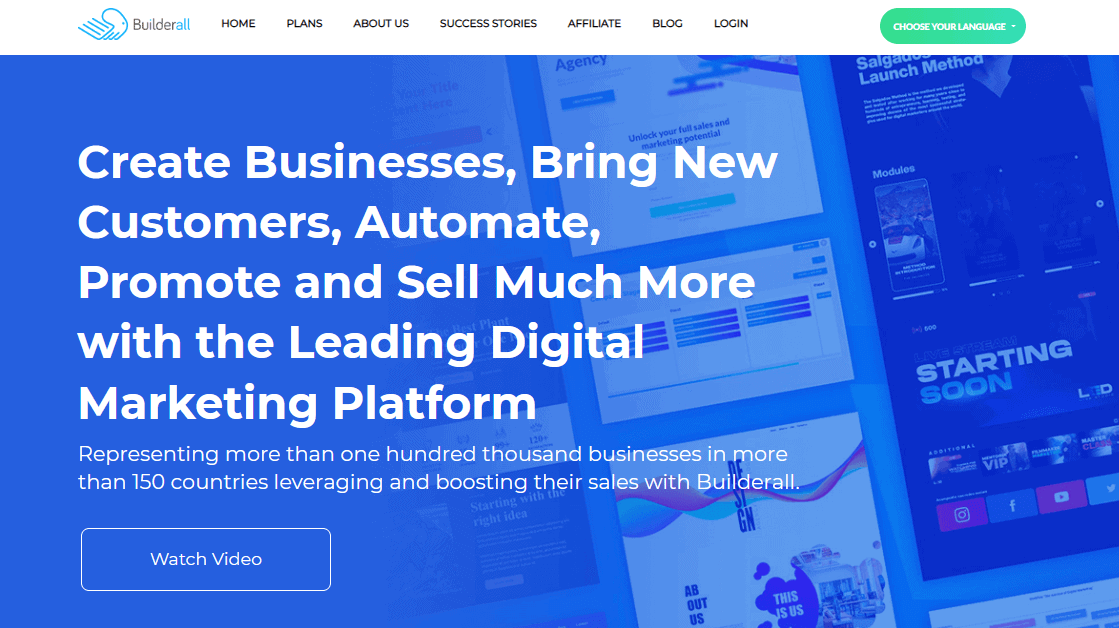 Builderall is an all-in-one digital marketing platform that assists you with drag & drop website builder, sales funnel builder, email marketing automation, CRM system, and more tools that we're going to cover in a moment.
And what makes Builderall stand out from the competition is that all of the different tools included in their software all integrated with each other.
This means that you don't have to signup for any other third party and spend hours having to learn how to make work them together.
But is Builderall really as good as they claim?
That's why I'm here today.
Sales Funnel Builders
Both Builderall and Clickfunnels incorporate easy-to-use drag-and-drop builders, allowing users to easily build sales funnels and websites.
Let's take a look at each of the builders.
ClickFunnels Page Builder
With ClickFunnels you can create custom landing pages or funnels to attract more customers.
You can edit any page of your sales funnel. You simply just choose an element on the right, drag it onto the page, drop it, and edit it however you like.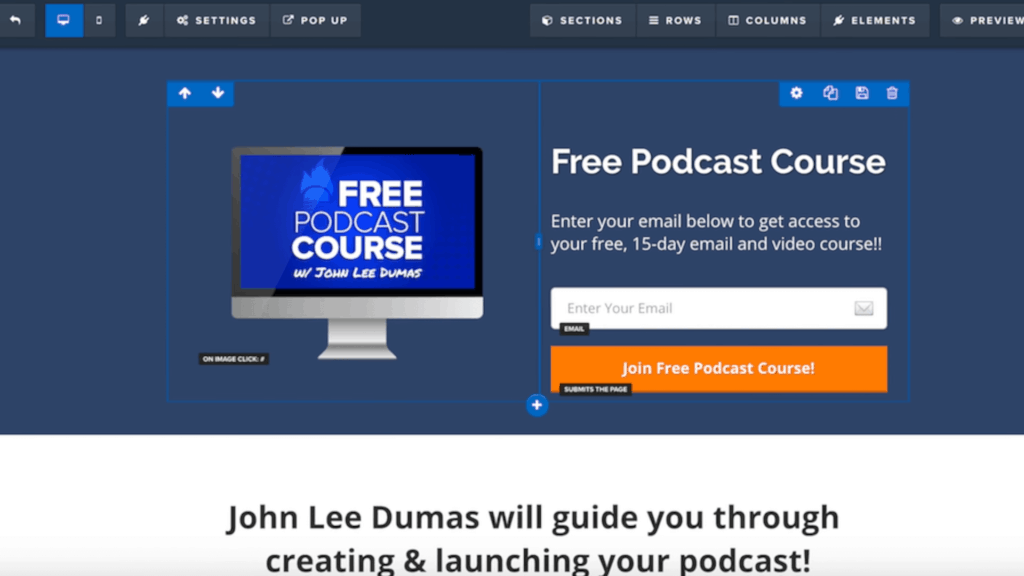 ClickFunnels also has a large library of templates to choose from that we'll cover in a moment.
It also enables integration of your favorite autoresponders or shopping carts and there is no need to install just log in and you're ready to go.
ClickFunnels also allows you to do A/B split testing to see what landing pages perform better as well as create upsells and down sells to increase your average order value.
It has features that can solve all your funnel-building problems however when it comes to designing your pages you don't really have the freedom to place the object anywhere you want on the page.
In addition, a lot of times saving the work that you've done on ClickFunnels has been a little bit sketchy.
Sometimes when you click on a button to go to another page, it doesn't load or it goes to the ClickFunnels.com official website.
And that is not a good thing for your brand and obviously, the money that you'll be making down the line.
Builderall Cheetah Builder
Builderall Cheetah is a page builder that allows you to create not only mobile-friendly and SEO-optimized websites but also high-converting sales funnels with a simple drag & drop method.
You have 100% freedom to edit your websites and funnels however you like.
Here are some of the Builderall Cheetah features:
Unlimited websites and pages
Site setting, SEO, and scripts
Facebook Pixel and Google Tag Manager script field
Website and funnel sharing feature
Hundreds of pannel and global elements
Email marketing form and contact form
Rotation banner and super slider
iFrame
And more
Builderall also provides a funnel simulator included in the pricing plans so you don't have to purchase additional software like Funnelytics.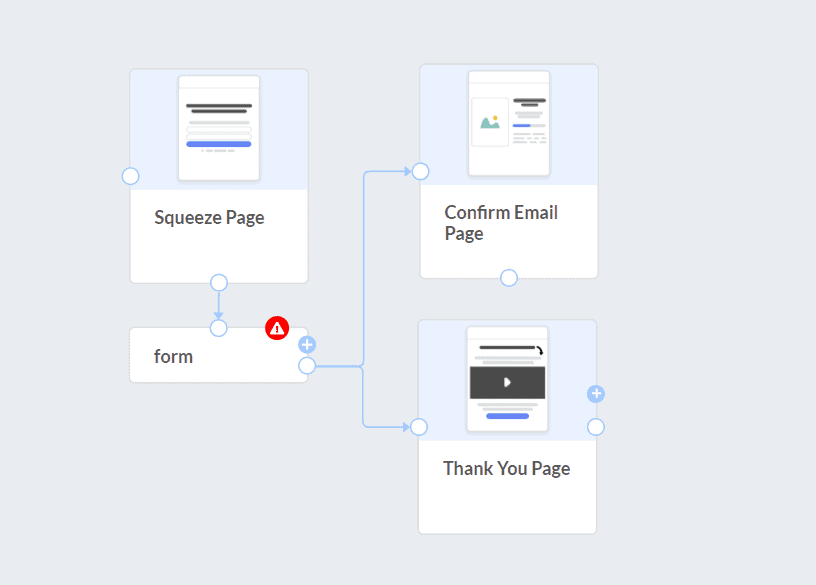 And keep in mind, if you're running your online business on ClickFunnels in the recent Builderall 5.0 launch they released a feature where you're able to import all of your staff from ClickFunnels to Builderall with just a few clicks of a button.
But what makes Builderall stand out among other sales funnel builders is the massive collection of website templates and done-for-your-funnels that we'll cover right now.
I also go in about ClickFUnnels and Builderall sales funnels in this video:
Templates
Both Clickfunnels and Builderall offer a variety of templates so users can quickly and easily create their pages. However, there is a big difference when it comes to the number and the pricing of these templates.
Let's take a look.
ClickFunnels Templates
ClickFunnels has a variety of templates including:
eBook funnel templates
Membership templates
Webinar templates
Landing & thank you pages
Order form pages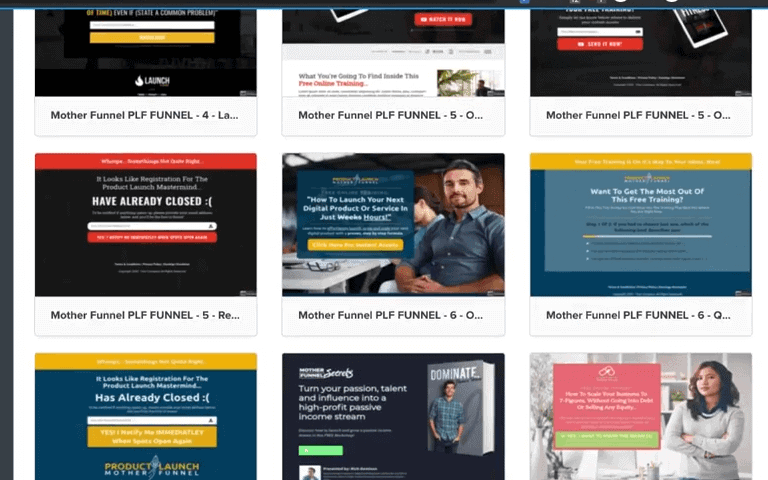 Now let's take a look at Builderall templates.
Builderall Templates
Builderall offers a huge library of 400+ website and sales funnel templates called Funnel Club.
Here you'll find templates such as:
300+ Cheetah strategic funnels
50+ niche funnels to capture leads
50+ niche funnels for digital marketing agencies
30+ Messenger chatbot funnels
20+ niche funnels for building an email list
Premium sales funnel templates
Here are some of the examples of Builderall done for you sales funnels.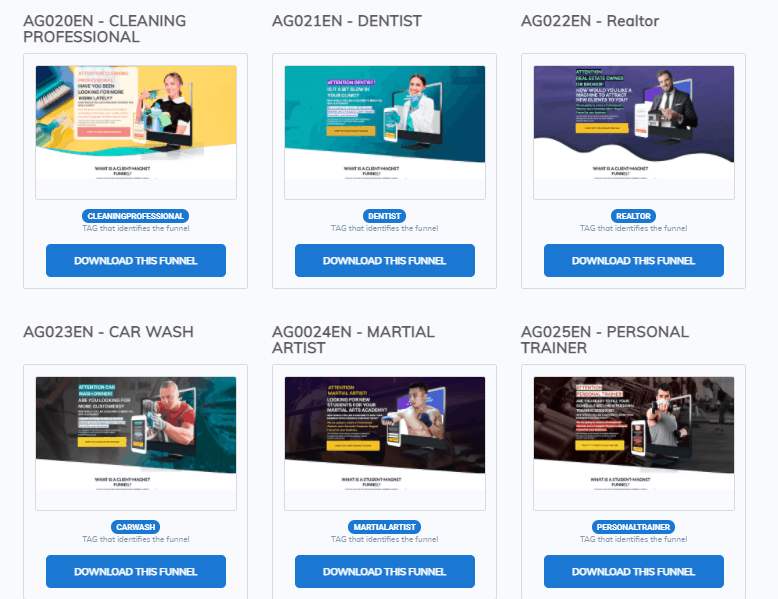 These pre-made funnels are great solutions for digital marketers, affiliates, and small business owners who don't have time to build and set up marketing funnels.
All you have to do to use some of those funnels is to connect your domain or subdomain with some of these pre-made funnels.
Ease of Use
Now let's talk about which solution is easier to use. ClickFunnels and Builderall, both have a learning curve that you need to start getting used to when it comes to creating funnels and things like that.
ClickFunnels Ease of Use
Most people who start to use ClickFunnels are found that they do have to learn how it works, but they can learn how it works a little bit quicker when it comes to building funnels and building landing pages.
However, it's only in the beginning since even though ClickFunnels is easier to build your funnel, later on, you then need to learn other third-party software for your email marketing, video hosting, automations, and things like that.
That's where it starts getting a little bit more complicated when you use ClickFunnels for more than building marketing funnels.
Builderall Ease of Use
Builderall because it does so much more than ClickFunnels, sometimes it can be a little bit overwhelming where to even get started because it does pretty much almost everything you would want it to do for marketing automation.
That being said, usually, the learning curve on Builderall is a little bit steeper than it is with ClickFunnels but once you've got past the learning curve with Builderall, you know the basics and how it all works, it's actually much easier in the long term to use Builderall.
And this is because you don't have to use and manage and integrate third-party software to do everything that you want it to do.
So, Builderall and ClickFunnels have some pros and cons, so when it comes to which one is easier, at the end of the day, you're going to have to learn how to use both of these systems, whichever option you go with, there's going to be a little bit of a learning curve.
Email Marketing Automation
In this category, we're going to be covering the ability to send out emails and have them delivered to people in your email list.
ClickFunnels Actionetics
Clickfunnels has an autoresponder called Actionetics. It is an email marketing software, so you can send broadcasts, and create email campaigns.
It's integrated with the ClickFunnels page builder so you can capture the contact information of your customer and send targeted follow-ups via emails.
It's pretty easy-to-use software however to get access to Actionetics you'll have to upgrade to the ClickFunnel Platinum plan which is $297/month.
In addition, this tool is very limited and the vast majority of ClickFunnels users use other third-party email marketing tools anyway.
Builderall MailingBoss
On the other hand, Builderall has an email marketing tool called MailingBoss which is included with every plan.
So even with the lowest Builderall $14.90/month plan you still get email marketing where you are allowed to:
Send automatic emails
Design email templates
Set up sequences
Tag people
And it has some really cool email marketing automation features that are only available on dedicated email marketing platforms.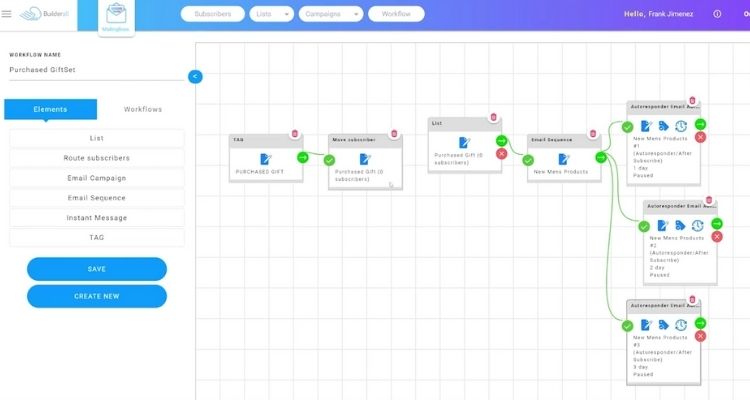 You also get unlimited email marketing leads and emails sent per month so you can see this is actually a no-brainer.
So if you're going to be sending out email marketing campaigns, Builderall has you covered on all fronts.
Video Hosting
so this is the part where I really feel like you start to see some major differences in these software tools.
ClickFunnels Video Hosting
Unfortunately, ClickFunnels simply does not allow you to upload your videos directly to the platform itself.
And that is just incredibly unfortunate because as a ClickFunnels user you are going to have to upload your videos onto another third-party tool like Wistia or Vimeo and what's the problem with that it becomes incredibly expensive.
Builderall Video Hosting
Builderall allows you to upload your videos and it's embedded with the Vimeo platform so you get the brilliance of the Vimeo player without having to pay for their premium software on their own it comes incorporated into Builderall.
Membership & E-Learning
The next category is a membership area because chances are if you're looking for funnel builder software you're interested in selling your online course or building a membership area.
And each one of these platforms is going to allow you to create a members area with a little bit of nuance and I want to explain that let's start with ClickFunnels.
ClickFunnels Membership
ClickFunnels membership area is very easy to use but it's really mediocre.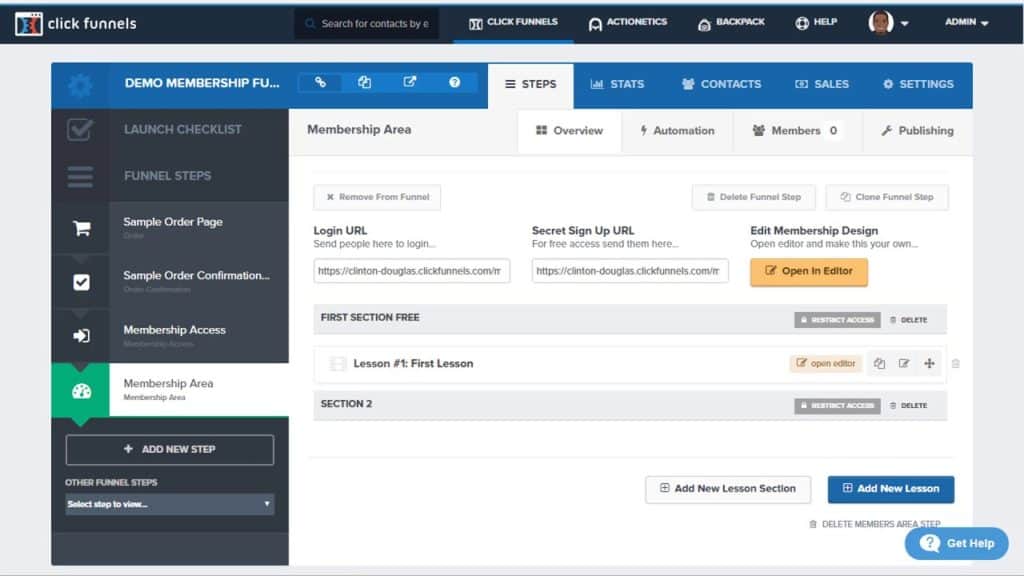 The experience is subpar and what I find is that even ClickFunnels themselves when they sell their online coaching programs put a lot of coding effort and they go in and they write all this crazy custom code for it to look and feel like a cool members area as the baseline features for Clickfunnels don't really allow for its a look or feel very cool.
Builderall Membership
Unlike Clickfunnels where you're really limited on the number of different elements you can add to a page with Builderall you can really add unlimited things like:
Accordion
Animated elements
Big menu
Drop down list
Checklist
Buttons
PDF
Videos
You can add any kind of page element that you would on a normal funnel page into the member's area.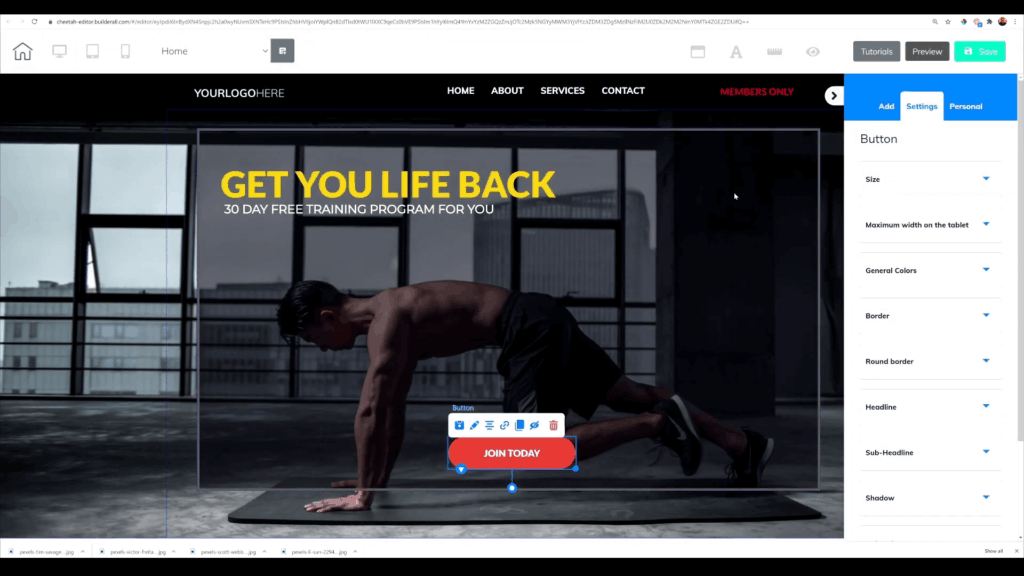 In addition, the Builderall member's area is integrated with the Supercheckout which is a selling system where you can set up recurring payments, upsells, down sells, and order bumps.
In addition, you can set up an affiliate program to promote your courses with this marketing channel. order bumps so it helps you sell your course as well.
Checkout System
Another feature that both Builderall and ClickFunnels have is the checkout or taking payments online feature.
Now when it comes to both of these options, allowing you to take payments online, both do an excellent job, and you'll be able to easily take payments from different clients through PayPal or Stripe or whatever sort of payment integration you want to integrate with your funnel.
However, I have found that Builderall gives you some slight advantages when it comes to things like creating recurring payments and trials and stuff like that.
And ClickFunnels does allow you to do this, but it requires a little bit more work on the backend and changing some settings inside of Stripe and PayPal to do this.
Whereas with Builderall, you can actually do this all within the Builderall Supercheckout system, and it's a lot easier to manage the different payments and the different payment plans that you might have when it comes to taking payments online.
So again, Builderall would get a slight advantage with this one over ClickFunnels when it comes to taking payments online and selling your digital or physical products.
Marketplace
The biggest difference between the ClickFunnels marketplace and the Builderall marketplace is the ClickFunnels is pretty specific just to different funnels either purchasing one or putting your skills out there to create one or hiring someone to create one.
The Builderall marketplace has a much wider range with a great deal more products available so between the two I am really liking the Builderall marketplace.
There are just tons of products available and different training there also.
You can pick the niche that you're interested in for the product:
eBooks
Media files
Courses
Subscription
Services
So there's a great deal that is available for you.
So between the two, I think if you are looking for a greater variety of things then Builderall would definitely be the way to go for you.
If you are just interested in funnels either buying or selling then the ClickFunnels marketplace would probably be the way to go.
Builderall marketplace is similar to the marketplace of another funnel builder Systeme.io as I explain in this Builderall vs Systeme io comparison.
Where ClickFunnels is Better Than Builderall?
Now, I'm going to show some of the tools and features that ClickFunnels has to offer.
ClickFunnels Books
ClickFunnels offers a great collection of digital marketing books.

I can tell you that there are no other books out there on the Internet and I truly don't care who you're talking about some of the biggest names in the world in marketing these books are some of the best books.
I only have two of them on the left DotCom Secrets and Expert Secrets.
They have a book called Network Marketing Secrets but I don't have that one because I'm not interested in MLM.
But if you're in it MLM or network marketing then obviously it would be worth your time to get that book.
For me these books it's like the online Bible to online marketing.
FunnelFlix
ClickFunnels also provides a lot of online training to help you be successful with your funnel.
They have things like FunnelFlix, which includes lots and lots of different videos that you can watch.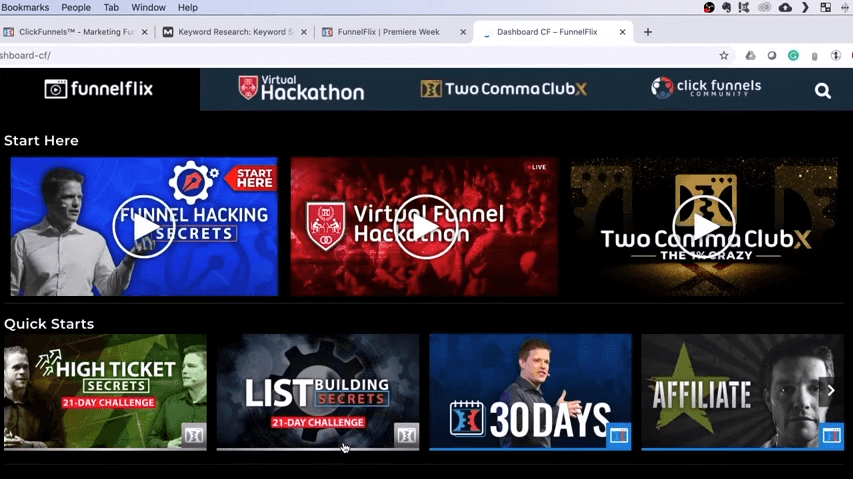 It can help you when it comes to learning about how funnels and marketing and social media and all these different things can help you actually get results with the funnel that you create in your business.
The only drawback of FunnelFlix is that this feature is only available on the ClickFunnels $297/month plan.
Upsells & Downsells
ClickFunnels has really great upsells and down sells customization.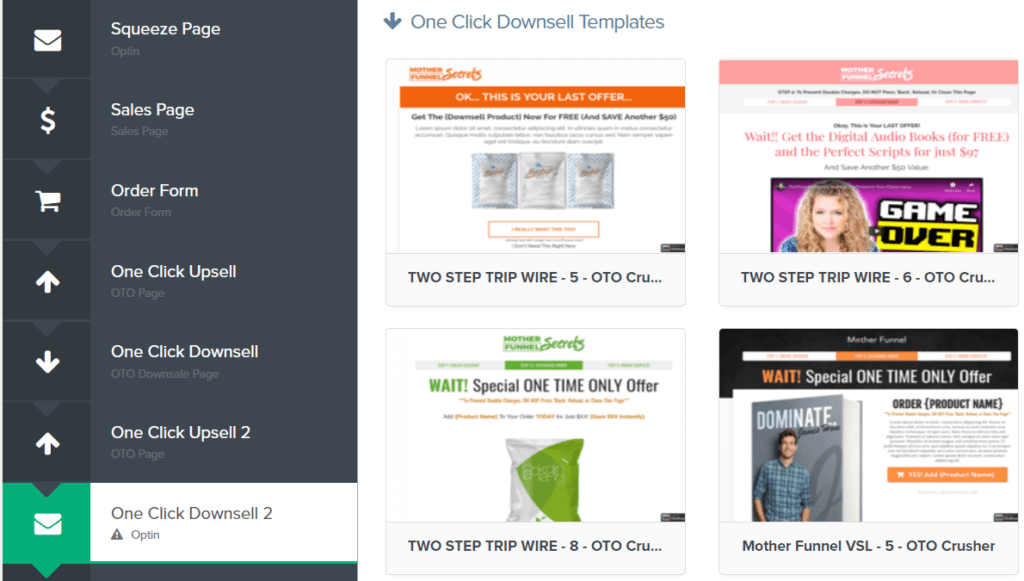 And also they have the option to integrate a membership site and to have an affiliate management system.
So you can have affiliates to promote your products on ClickFunnels.
Where Builderall Is Better Than ClickFunnels?
Builderall actually offers over 50 digital marketing tools and even more features and it's all included in their plans with no additional costs.
You don't have to integrate anything with Builderall because Builderall has everything included in their plan.
Let me show you some of the Builderall tools.
Builderall Webinar Tool
This tool is really good because you can do all types of webinars.
And the best part is that with only two clicks you can integrate your webinar with your funnels and websites.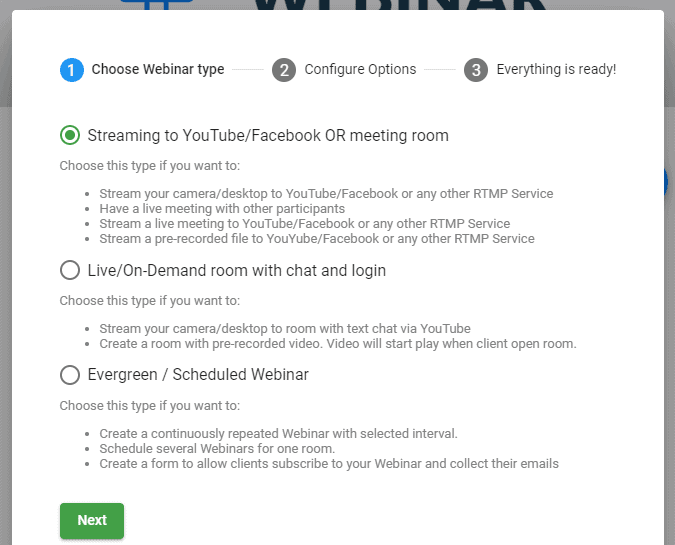 Builderall webinar tool is a great alternative to tools like WebinarJam or EverWebinar.
Builderall E-Learning Platform
On Builderall you have a complete e-learning tool made for course creators where you can make your students take a test and earn a certificate at the end of your course.
And again it's included with Builderall and it's super easy to place on your websites and funnels.
Builderall founders promised to create a platform that is going to look like nothing out there that's available on the market.
Builderall SEO Report Tool
What the Builderall SEO report tool does is it'll ask you what keywords you're ranking for and or want to rank for.
You type the keywords and your website's URL and it grades how your website is performing.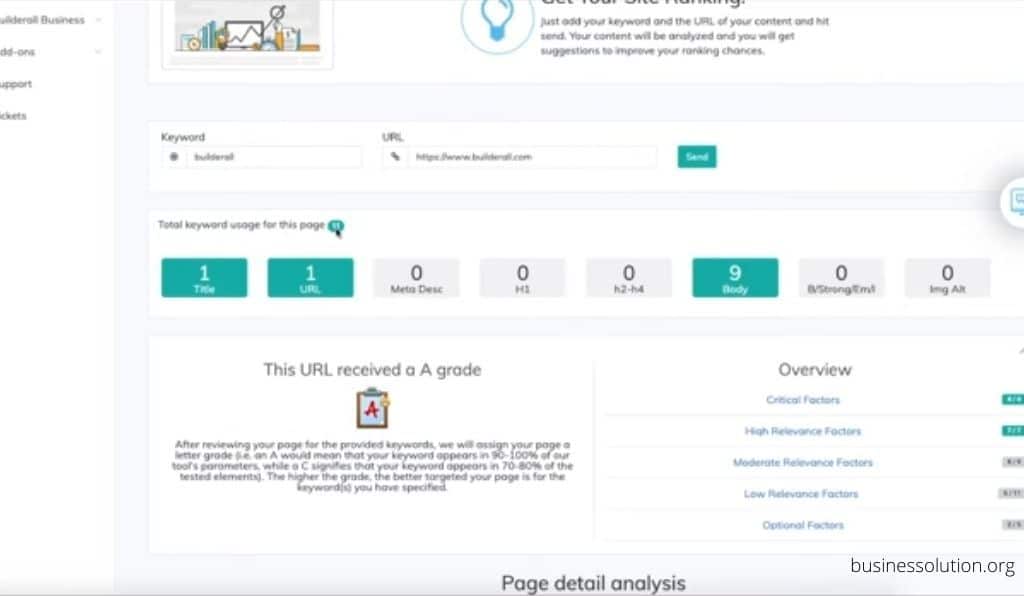 And it'll rank everything from the meta tags, headers, content, and keyword that you're trying to rank for and it'll give you grades in each area of how you rank from a to
It also tells you how you can develop those areas so that you can rank higher for that keyword so which is pretty cool.
So, when it comes to SEO capabilities, Builderall is comparable with WordPress as you can read in this Builderall vs WordPress review.
Builderall E-Commerce Platform
Builderall not only offers also an e-commerce solution that will allow you to sell your physical or digital products online as well as create a dropshipping store with its ALiExpress integration.
Here you'll also find lots of professional e-commerce templates for your online store.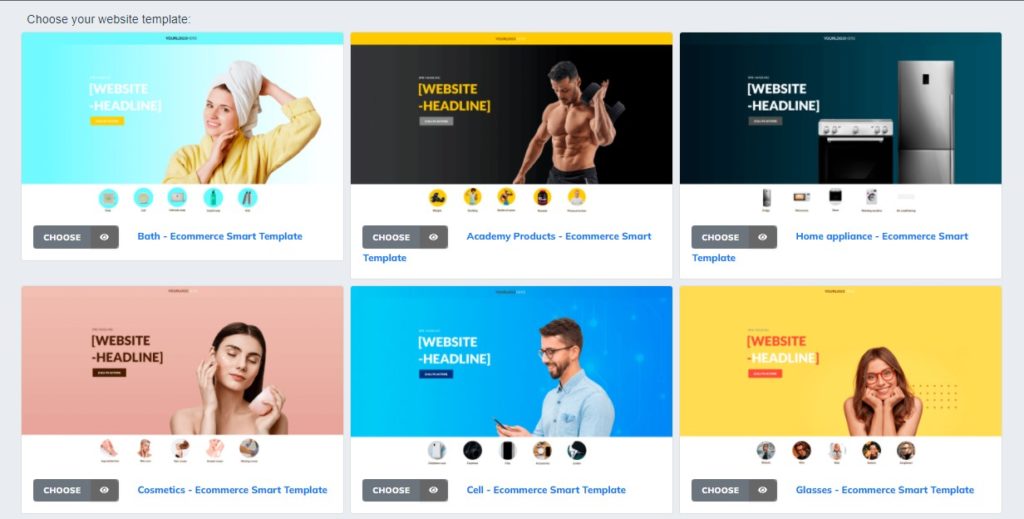 Builderall's e-commerce platform is integrated with Magento and WooCommerce.
Builderall Messenger Bot
if you think about the Digital marketing trends in the next years, Facebook automation is going to be very important.
And having automated messages to people's Messenger is going to be important.
And Builderall has that built-in Messenger Chatbot that is included in the plans with no additional costs.

In addition, it's super easy to install it on your website.
Builderall CRM
Builderall provides very advanced CRM software for all kinds of agencies and small business owners.
This is the feature you can use to track and manage your clients in the customer value journey.
Builderall Script Generator
Builderall Script Generator tool is a copywriting tool that allows you to create:
Email marketing copy
Advertising scripts
Titles and headlines
Webinar scripts
Website copy
And more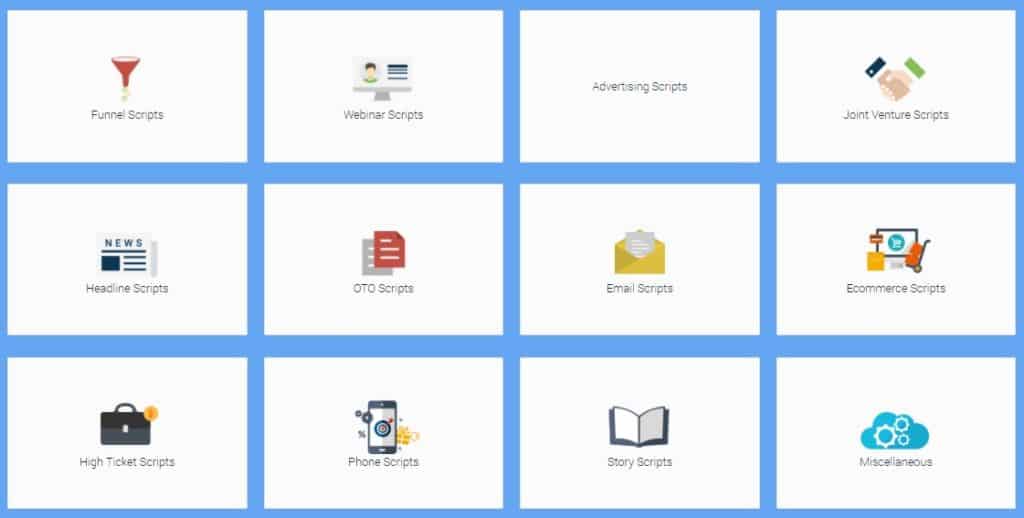 This tool is worth at least a hundred bucks and Builderall includes this tool in their plan with no additional costs.
Keep in mind that ClickFunnel for their copywriting tool called Funnel Scripts charges an additional $797.
Builderall Click Map
This tool will help you find out where your visitors have been clicking on your web pages.
This works especially well if you have any product for sale or you're running a blog or pretty much any type of website and you want to know what people are clicking on.
So you can see exactly a lot of people are clicking this but nobody's clicking that. Maybe I should rearrange it and switch it up.
That allows you to really check your website out and really basically have an eye on the person's mouse pad or on their index finger or whatever finger they use to touch their phone.
Builderall Training
Similar to ClickFunnels, Builderall not only gives you a huge variety of tools at a very affordable price but also shows you how to actually use them.
They provide multiple high-quality training and courses led by digital marketing experts including:
Facebook ads training
Local business marketing training
Network marketing training
Product lauch training
Website agency course
Affiliate marketing training
And more.
WordPress Integration
This feature allows you to make WordPress websites and integrate them with Builderall and use their hosting because if you didn't know Builderall is a web hosting platform as well which leads us to the next point.
Unlimited Hosting
Builderall offers unlimited hosting for its users with no additional costs.
In addition, you can have up to 15 domains with unlimited subdomains.
So, those are some of the reasons why Builderall has an edge over some of the other Builderall alternatives out there.
Affiliate Marketing
Affiliate marketing is a great way for new entrepreneurs to generate additional income. And both platforms provide solid affiliate programs.
Let's break down each of them.
ClickFunnels Affiliate Program
ClickFunnels rewards you for 30% of the plan that you sell as an affiliate.
And what's cool about ClickFunnels is the resources that Russell Brunson gives his affiliates to build essentially that side of the business.
He has that webinar option. He has the book option. There's no lack of resources or clarity when it comes to being a promoter or an affiliate for ClickFunnels.
Builderall Affiliate Program
The Builderall Affiliate Program is one of the top-rated affiliate programs in the market that rewards you with 100% of the first payment for anyone you refer to Builderall and then 30% recurring affiliate commissions each month.
In fact, I'm personally one of the top Builderall affiliates, and trust me that you can make a lot if you do it right.
If you want to learn more, make sure to check out my Top Affiliate Training.
Pricing Plans Comparison
In this section, we're going to take a look at the pricing plans of both of these platforms.
ClickFunnels Pricing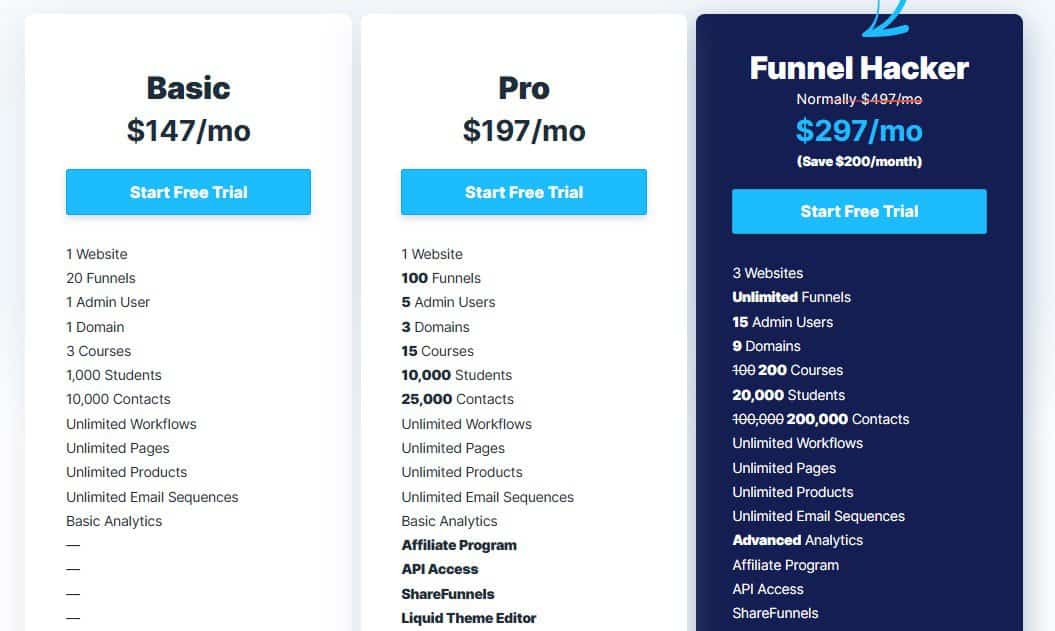 So, how much does ClickFunnels cost per month?
ClickFunnels currently has 3 different plans:
Basic plan – $147/month
Pro plan – $197/month
Funnel Hacker plan – $297/month
Builderall Pricing
Builderalll provides a 14-day free trial and then you can upgrade to one of the following plans:
Cheetah plan – $16.90/month
Marketer plan – $76.90/month
Premium plan – $87.90/month
Funnel Club plan – $87.90/month + $199 one time payment
Builderall offers a free trial for its users.
Even on the lowest plan, you can have access to Builderall's email marketing tool MailingBoss with 2000 subscribers.
The other tools that you can use are smart popup, membership site, super checkout, website sharing, and more.
The most complete Builderall plan Funnel Club is $87.90/month and that includes all of the tools, features, and training.
And the only way you can start Builderall free trial is by Builderall Funnel Club members. You will not find it even on the official website.
So if you want to test this platform out, here you can start your Builderall 14-day free trial.
ClickFunnels Cons
And the first con that I have to talk about for ClickFunnels is the branding of the sales funnels pages because everybody is using ClickFunnels. Hands down it is the most popular.
And once you're in the game and once you're an online marketer as long as I've been, when I land on a ClickFunnels page, I knew immediately that is a ClickFunnels page.
It's very easy to identify and a lot of people leave up the little ClickFunnels badge on the bottom.
So people can know that it was made with ClickFunnels, which is insane.
And I get it. I know it's because if somebody clicks on it and they sign up, they get the affiliate sale but it's just very unprofessional.
There is a lot of headaches with the webinar integration feature inside ClickFunnels.
It's just a lot of things that take a ton of time to integrate and on the mobile version, you can tell that it's just a video that's playing. You can start it and stop it, start it and stop. It doesn't really feel like live webinar at all.
The biggest downside of Clickfunnels is no doubt their price and upsells.
So, when you pay for the $147 plan, you have a huge limit on page views, the number of funnels that you have, and the number of pages that you are able to use as well.
This can be frustrating when you want to scale up your business but you don't want to pay an extra $100 or $200 per month.
Builderall Cons
Some users may find Builderall to be more complex due to its wide range of features. ClickFunnels is generally considered to be more user-friendly, with a more intuitive interface and a focus on sales funnel creation.
And The Winners Is…
So, this is my Builderall vs ClickFunnels review.
The final question is which option is the best? ClickFunnels or Builderall?
Choose ClickFunnels If
ClickFunnels might be a good choice for businesses that are primarily focused on creating and optimizing sales funnels. Its features are geared toward helping businesses build high-converting landing pages and sales pages. The new ClickFunnels 2.0 version includes a CRM system, membership sites, funnel sharing, and more.
>> Start ClickFunnels 14 day free trial
Choose Builderall If
If you're looking to just have a solution that just takes care of almost everything, Builderall would definitely be the best option for you.
Builderall is better for you if you want to do everything that ClickFunnels does when it comes to building different funnels, and you also wanted to take care of your email marketing, video hosting, analytics, and pretty much all the other features that Builderall has.
And it would also be the most cost-effective because you wouldn't have to spend more money on additional different software to do what you would normally have to do with ClickFunnels to get everything working properly.
>> Start Builderall 14 day free trial
Builderall vs ClickFunnels: Which is Better in 2023?
So, that is my review of Builderall vs ClickFunnels as you can see both options work well, depending on what you need for your online business.
If you're looking for a platform that can help you streamline your sales process and increase conversions, ClickFunnels might be a good fit. It's especially well-suited for businesses that are selling physical or digital products or services online.
On the other hand, Builderall might be a better choice for businesses that need a more comprehensive online marketing platform with a wider range of features. It includes tools for building websites, creating and managing email marketing campaigns, and automating marketing tasks. It might be a good fit for businesses that are looking for a one-stop-shop solution for their online marketing needs.
Ultimately, the right platform for you will depend on your specific business needs and goals. It may be helpful to try out demos or free trials of both platforms to see which one works best for you before making a decision.