The first tool we're going to be using in this tutorial is Jasper AI which is the leading AI copywriting software that will help you generate scripts for your videos,
And another one is Pictory AI which will help you create videos that are also automatically generated by artificial intelligence.
Both of them offer free trials for our readers if you go to the links, so check them out.
You can create content for whatever you want. If you want to create videos for affiliate marketing or if you want to create content for YouTube without showing your face or even TikTok, it doesn't matter.
The way it works is that once we create the content through Jasper.ai automatically, we plug it into Pictory and Pictory has an AI that will match the music, the transitions, and the photos it puts into the slideshow based on what the text is saying.
With these tools, I was able to upload a video on my faceless YouTube channel and it got views. This video got over 1500 views and that's actually better than some of the videos that I create by myself.
And it only took me about 10 minutes to do this.
So if you're not interested in doing video, you don't want to be on camera, you don't want to talk, you can have AI create content for you.
So, now I'll show you what it looks like step by step.
Step 1. Generate Script For Video With AI
So the first tool that we need is Jasper.ai which is hands down the best AI copywriting tool out there. And if you want to get started here you can start the Jasper free trial that is not available on the official website.
So once you log in, you'll see many different copywriting templates.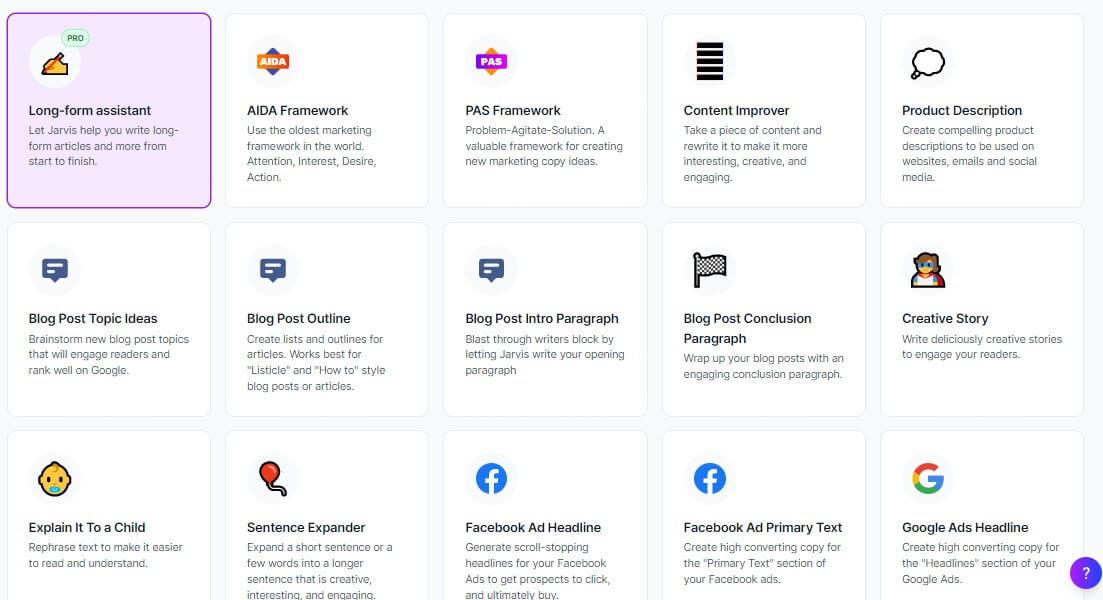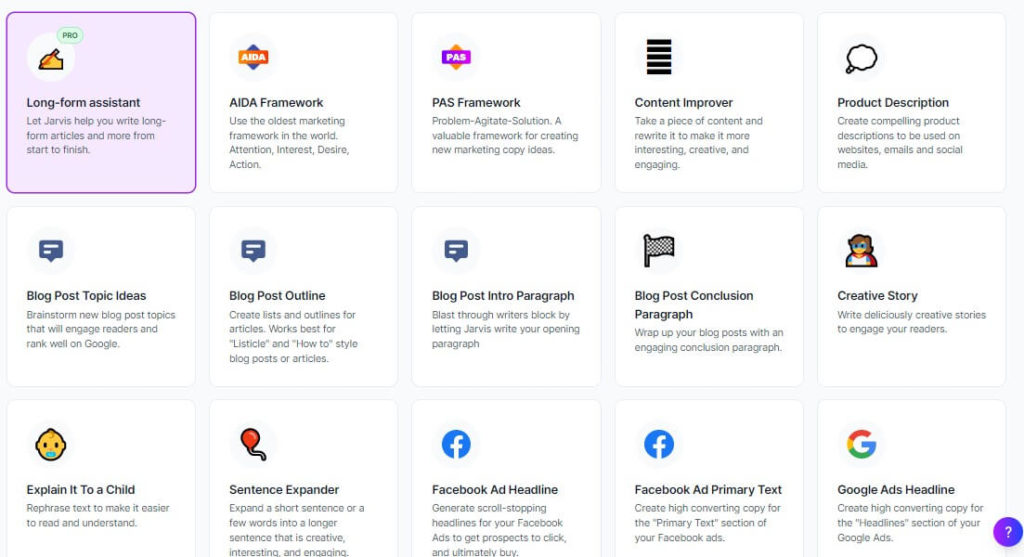 I usually just use the long-form assistant. You can use whatever you want, but I found that this tool works the best.
There is a lot of different stuff inside Jasper and I haven't really spent a ton of time looking at all of them but I know that from the ones that I've tried and using this long-form assistant is really the best tool especially for creating long-form type content.
So let's say we want to write a video script for my free affiliate marketing training.
So, what we're going to do is we're going to describe the content we want to create so we're going to say "please make a post about affiliate marketing, and whether it's a good online business to start or not."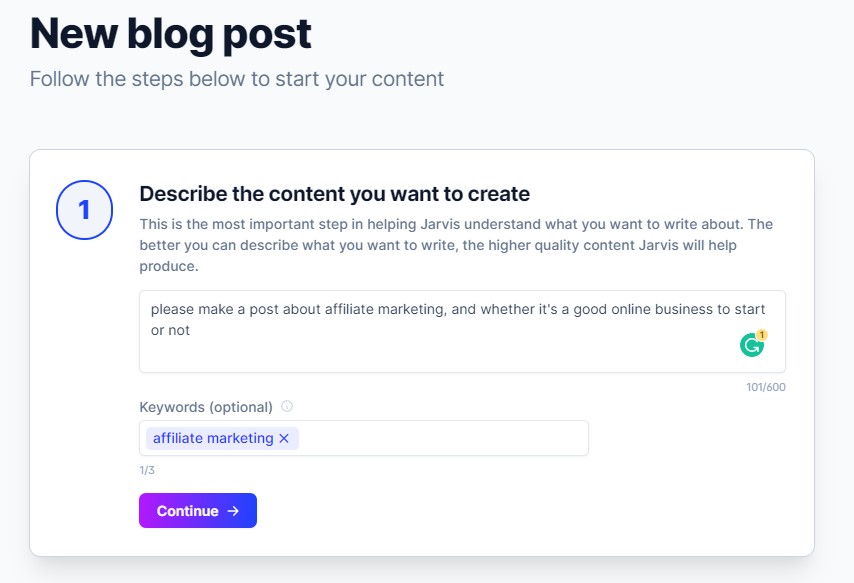 And now Jasper has a cool new feature where you can put in any keywords that you want and it'll help you make sure that the keywords are in that post if you're trying to rank the post, which obviously I don't know why you wouldn't want to try to rank the post.
So, we'll make one of the keywords affiliate marketing, the second 2023, and press continue.
Next, we'll generate our own ideas because I don't like thinking of titles.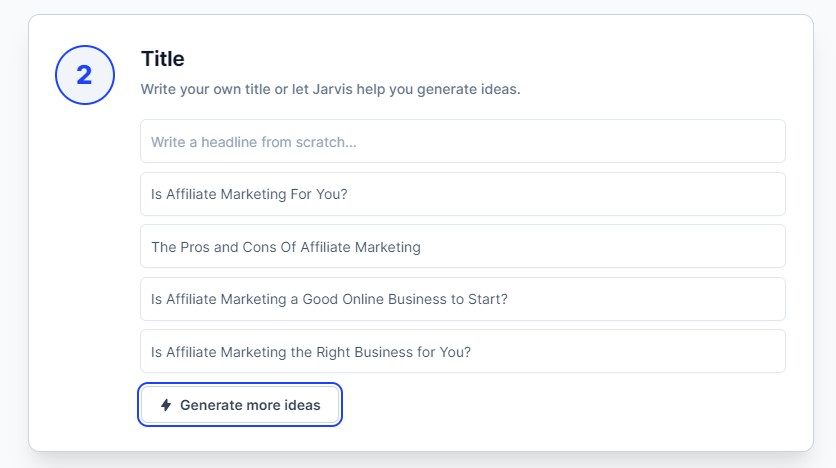 So we've got titles and I'm going to choose "Is Affiliate Marketing For You?"
I'll just use that and we'll generate some ideas for the intro paragraph.
And this is what we've got.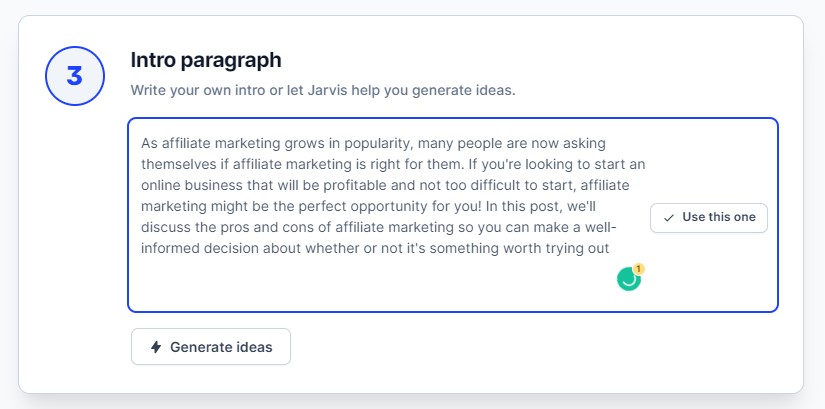 "As affiliate marketing grows in popularity, many people are now asking themselves if affiliate marketing is right for them. If you're looking to start an online business that will be profitable and not too difficult to start, affiliate marketing might be the perfect opportunity for you! In this post, we'll discuss the pros and cons of affiliate marketing so you can make a well-informed decision about whether or not it's something worth trying out."
This looks good so I'll use that.
So then click "Open Editor" where the AI will generate the rest of our video script for us.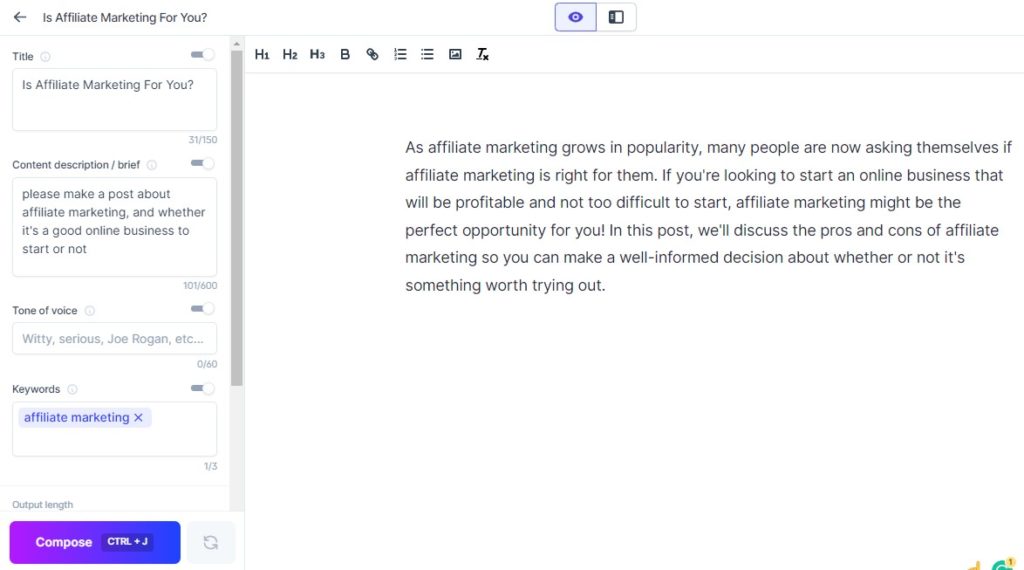 So this is how to generate automated scripts for videos with Jasper- the leading AI copywriting software.
Now we can create AI videos.
💡 Pro Tip
This is optional but if you have the Surfer SEO extension enabled which is integrated with Jasper (and it's awesome), you can just take what is recommended from an SEO perspective through Surfer and plug it in Jasper and you'll get SEO-optimized content so you can rank your content higher on the search engines.
Step 2. Turn Text Into Video
Once we've got our video script, we'll go over to Pictory.
There are many other AI video generators available in the market but the one thing that is unique about Pictory is that you will actually get more options on how you can create your videos than in the other tools and I'll show what I mean in a minute.
In order to create the AI video here's what you do.
Once you log in, you're going to choose the "Script to Video" option.

Then we're going to paste in the script that we generated with Jasper.
Next, we can choose the actual format of the video.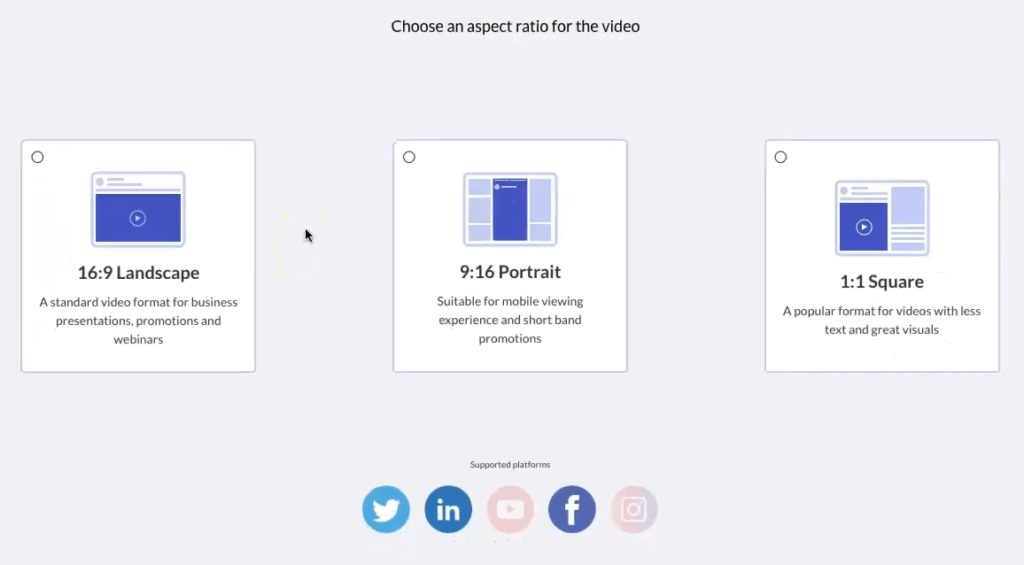 So, we'll just make a YouTube video but we could have one as a YouTube video and we can have one as an Instagram video and we could generate two different videos. it's completely up to you.
Now Pictory is actually turning text into video.
Here we go it auto-generated AI video choosing its own images and text for captions in each scene.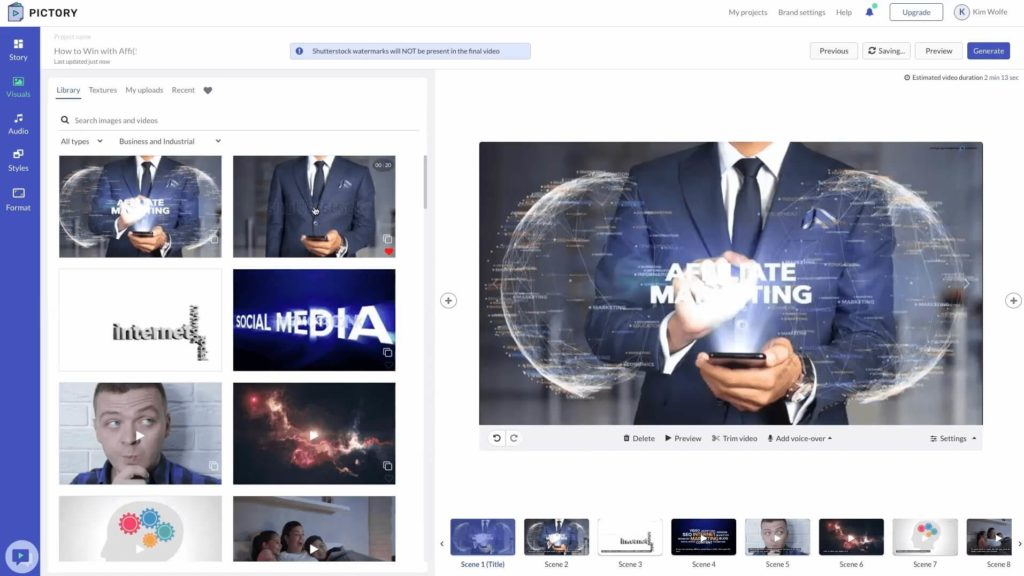 You have different editing options where you can come to each scene you can double click to actually edit and highlight any keywords that you want.
Step 3. Edit Video
Next, you can come to the visuals tab where you're going to select different images based on what you are looking for.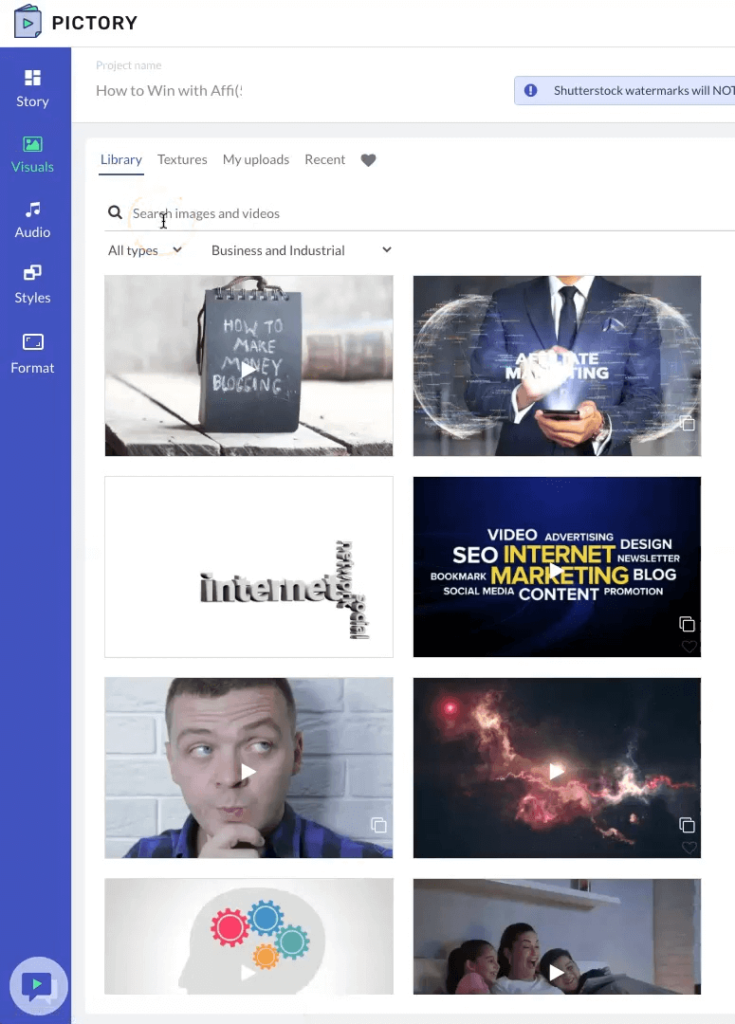 it is showing related images as the AI detects that my video is about business and industrial so it's got me inside of that category and showing me similar videos in that category that they think that I might like this particular scene.
Pictory actually pulls its stock videos and images from Shutterstock and Storyblocks so in your preview videos you're going to see the Shutterstock logo but once you actually create and generate the video the Shutterstock watermark will not be apparent.
So don't be alarmed when you see this watermark because it will not be in your video even on the Pictory free plan.
Step 4. Add Audio and Voiceover
Now this is where you're going to choose your two types of audio. The first one is the background music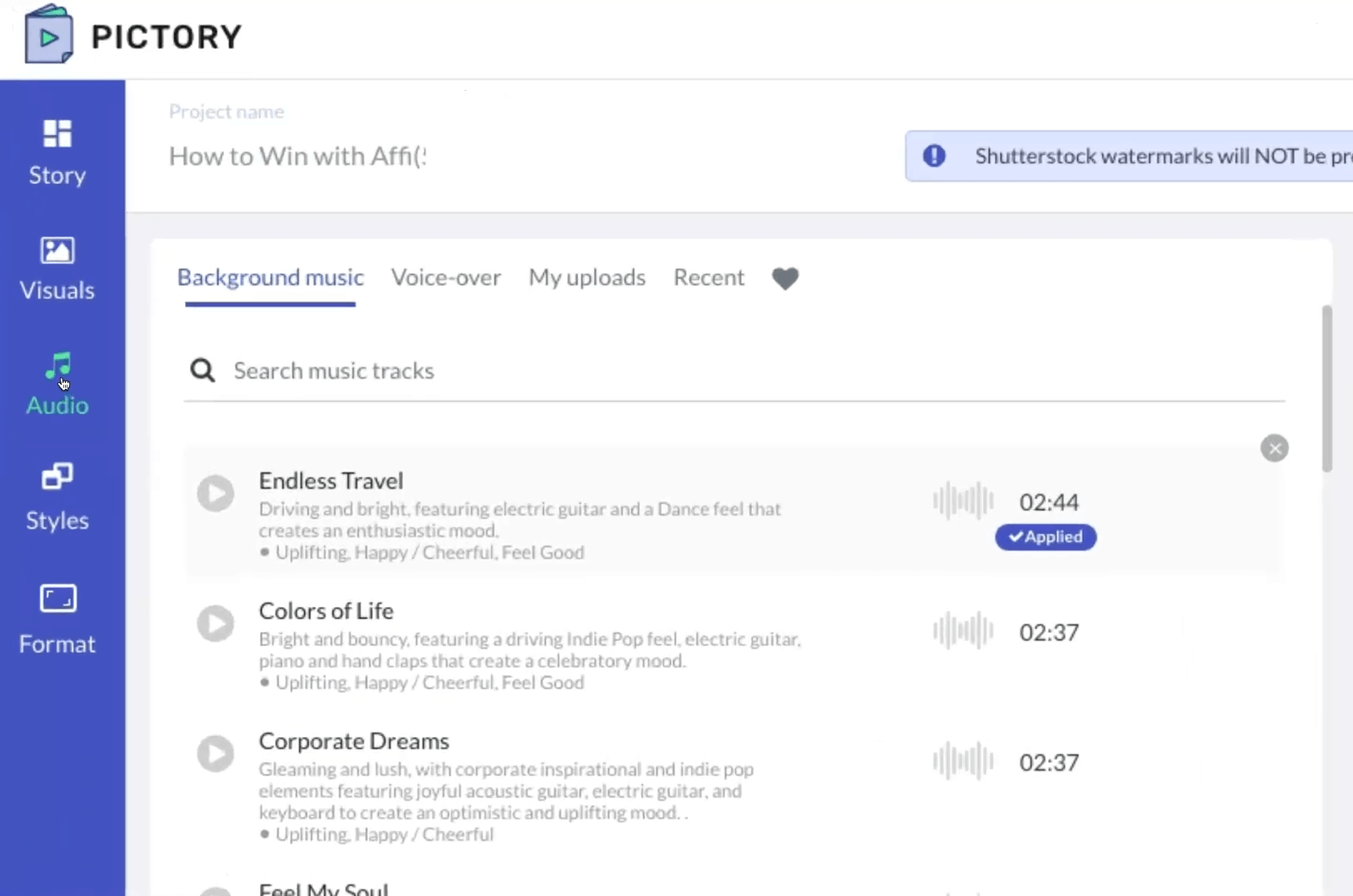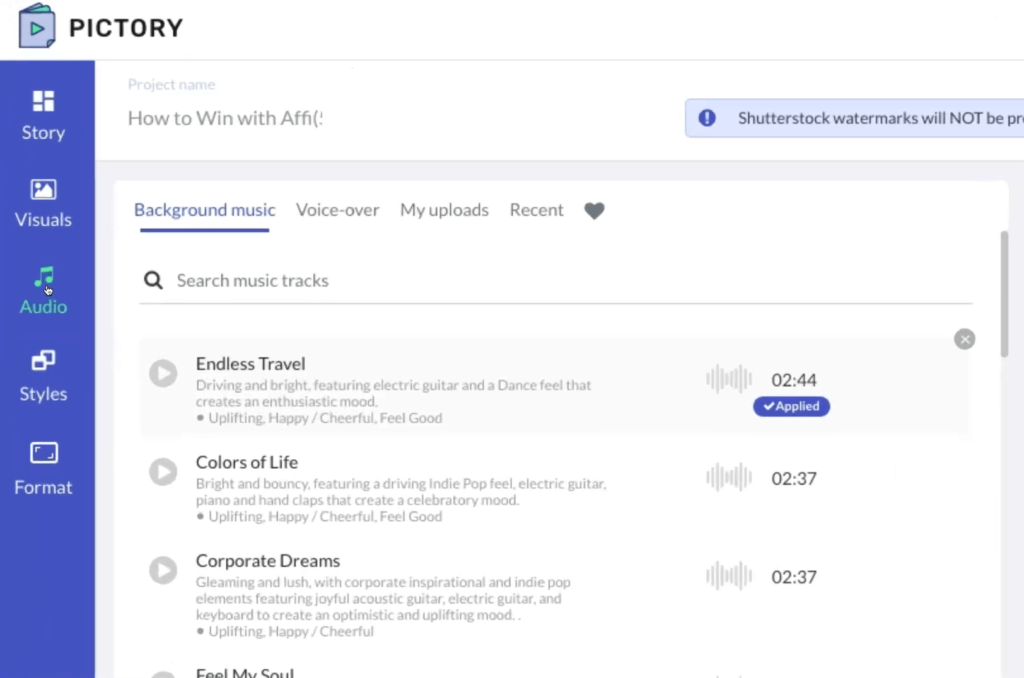 At any point, you can come here and choose the little play button and it will actually play the song for you so you can preview it and see if it's what you want to use for your video.
And when you're ready you just simply select it and it's going to be highlighted.
Next, you're going to come to the voiceover section and Pictory has 13 different AI voices that you can choose to use for auto voices.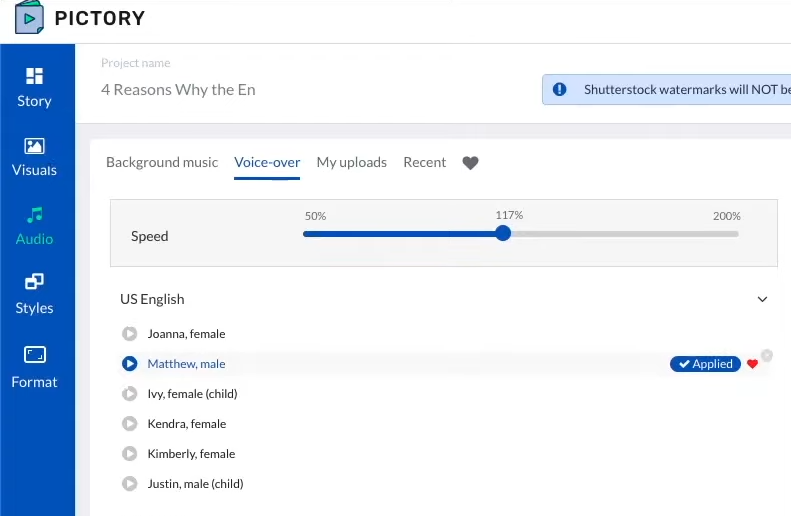 There are all these different robots you can use. If you want to have somebody from Australia, or if you want somebody from the US. Choose whatever you like.
In the same scenario, you can actually choose the little play button and hear a preview of each voice.
You can also record your own voice track, upload a voice track, or have somebody else do it.
It probably would work better if you had somebody else do it or you recorded your own, but this is how you do it if you're really lazy, like me.
You can play a sample to show you what the voice sounds like.
And this is the feature that only Pictory offers. There are many other great AI video generators like InVideo but it does not offer voiceover features.
Now we're going to go to the styles and this is essentially the template section that you start off with.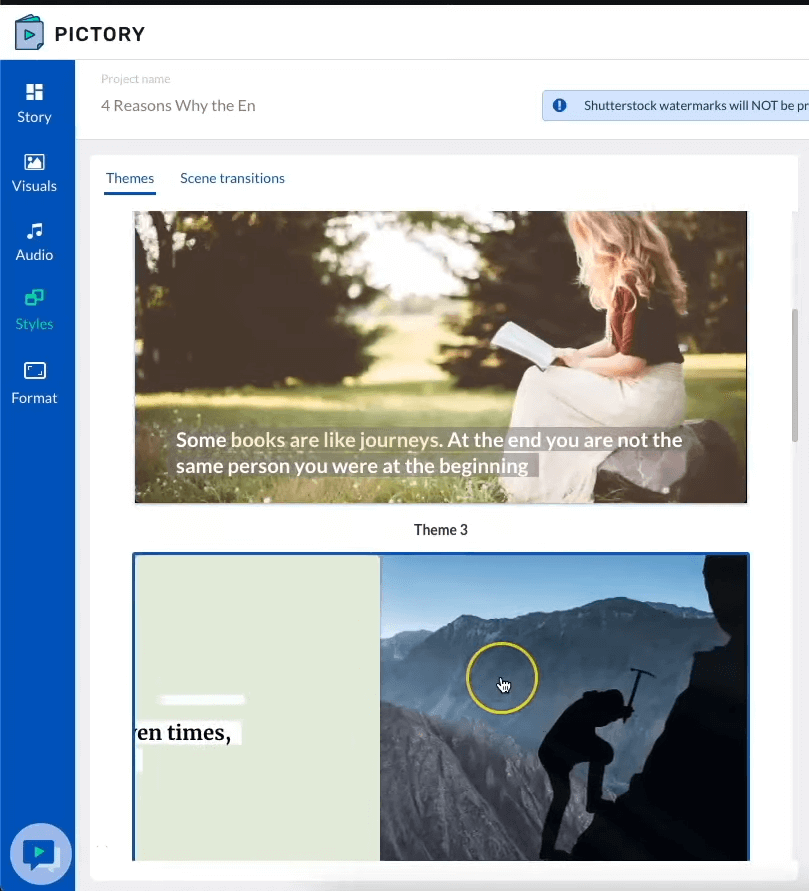 These are the different templates and themes you can choose that will automatically apply to your video.
So choose the theme you want and the colors you like and then come up with scene transitions where you can have different scene transitions that can either circle in or out, fade, blur the right bar, wipe bottom to the top, etc.
And I'm going to choose preview and actually preview the video so this is going to take some time especially the longer the video is and the bigger it is the more time it's going to take.
Step 5. Generate Video
And once the preview looks good you're now going to generate the video and this is going to be one more place where you're going to see some additional options.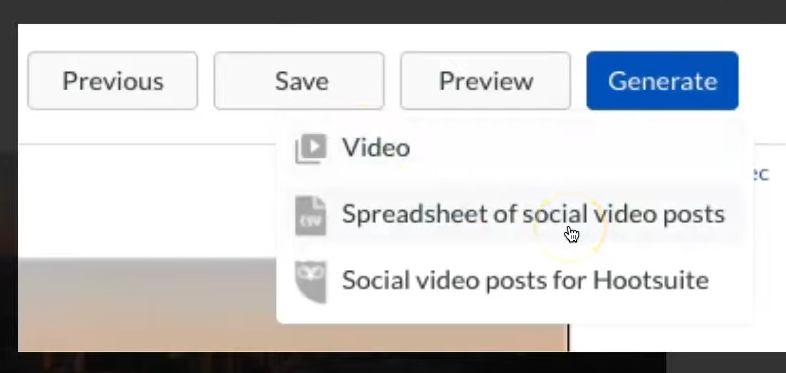 You can export these videos into a spreadsheet for social posts and also create them for Hootsuite which is a well-known and popular social media publishing platform used by many marketers today.
So you can select the option that you like and the AI will generate the video for you.
And there you have it, your video is ready to go.
💡 Pro Tip
You can also use tools like Videly that will allow you to rank your videos on YouTube super fast.
If I didn't know about these tools, I would never know that that video was generated by A.I, I would have never known.
So, it's just absolutely crazy what you can do right now. I think the tools are only going to get stronger and stronger.
If you have 10 minutes, you can start building videos like this right away. And now you really don't have an excuse to not do content on YouTube or TikTok, or wherever.
Creating Video With AI Final Words
So this is how to create AI videos. As you can see with tools like Jasper and Pictory you can create automated content with just a few clicks of a button.
I'm so sold on both of these AI content creation tools, and the cool thing is both the platforms don't cost that much considering you can generate content on autopilot.
Think about what this is going to look like in 10 years. If you're waiting to jump on to the robot automation train, I would not wait any longer, I'd start getting into this stuff especially if you do not feel comfortable on camera.
I can't be in 2023 and not own a robot. And I did ask people on my email list and asked them how many people actually use AI to generate content whether it's text content or video content.
Almost half of the people said they don't use artificial intelligence. It's so affordable you can do things that you would normally even last year have to pay a bunch of money for if you wanted to hire someone to do this for you.
So I hope this AI content creation tutorial was helpful. If you have any questions, feel free to reach out to me.