As digital marketing evolves, so does the need for tools that can automate and optimize tasks. Artificial intelligence (AI) is one such tool, and it is quickly becoming a staple in marketing departments around the world.
AI marketing automation tools are designed to help marketers manage large volumes of data, optimize campaigns, and improve customer engagement.
Best AI Marketing Automation Tools in 2023
1. ActiveCampaign – Best marketing automation software overall
2. GetResponse – Best affordable marketing automation platform
3. HubSpot – Best marketing automation & CRM system
4. Phonesites – Best AI sales funnel builder
5. Growth Channel – Best automated marketing intelligence platform
6. Omnisend – Best eCommerce marketing automation platform
8. Bant.io – Best B2B marketing automation platform
9. Crowdpower – Best marketing automation software for SaaS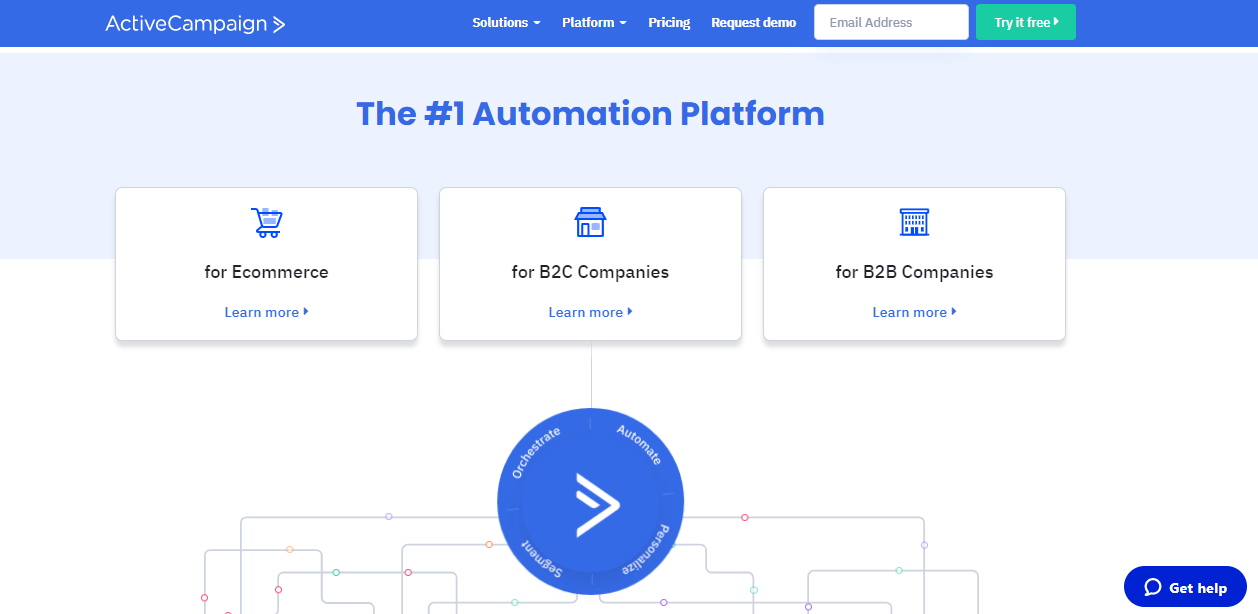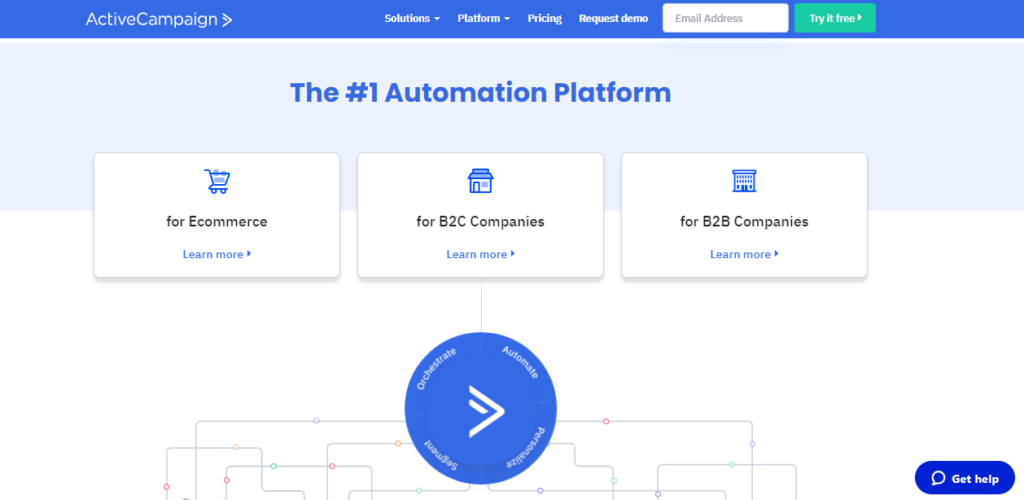 ActiveCampaign is a true pioneer in the marketing automation space and it's not hard to see why.
From smart email follow-ups to visual automation builder and industry-grade CRM capabilities to one-click segmentation, ActiveCampaign aims to help businesses provide their customers with the best possible experience at every touchpoint.
ActiveCampaign predictive sending is a powerful tool that increases the effectiveness of email campaigns. It harnesses machine learning insights to automatically tailor emails to the specific needs and interests of your customers. Predictive sending from ActiveCampaign can help you drive higher open rates, clickthroughs, conversions, and ROI.
The strongest point of ActiveCampaign is its powerful omnichannel marketing automation capabilities, including but not limited to, instant messaging and SMS, live chat, Instagram, and Facebook so you'll be able to connect with customers anywhere. 
With its intuitive drag-and-drop editor and pre-built templates, it's easy to set up campaigns that are tailored to the needs of each business.
Additionally, ActiveCampaign provides comprehensive analytics and reporting features so that users can track performance and adjust their campaigns for maximum success.
In essence, if you're looking to create a more efficient business with higher conversion rates and more loyal customers that bring in even more customers, then ActiveCampaign is exactly what you need.
ActiveCampaign Pricing
Lite – $9 /month
Plus – $49 /month
Professional – $149/month
Enterprise – $259/month
▶ Start ActiveCampaign 14 Day Free Trial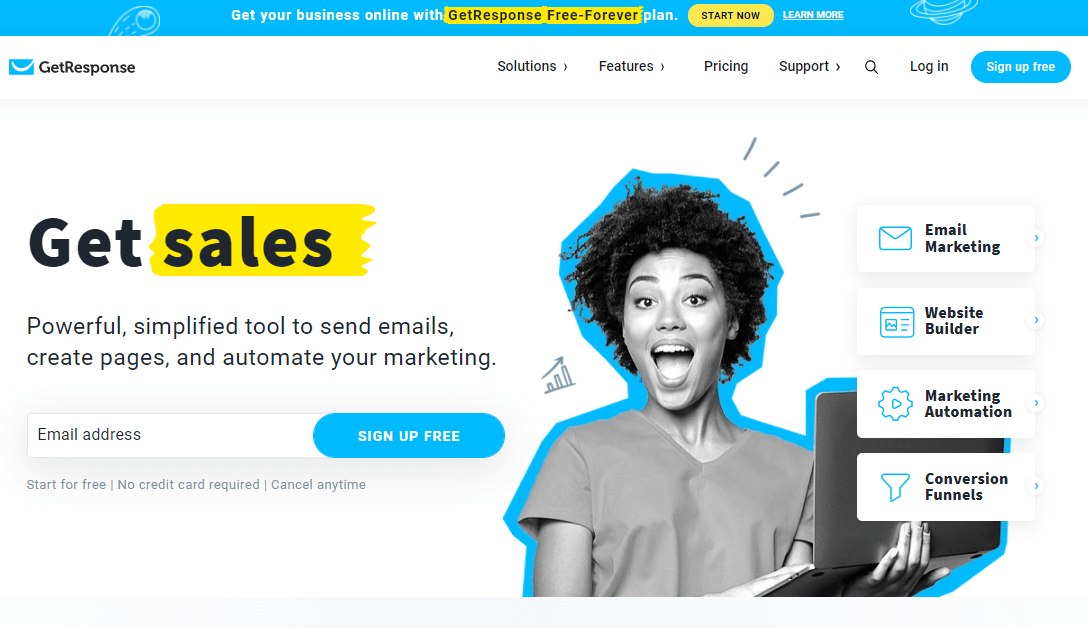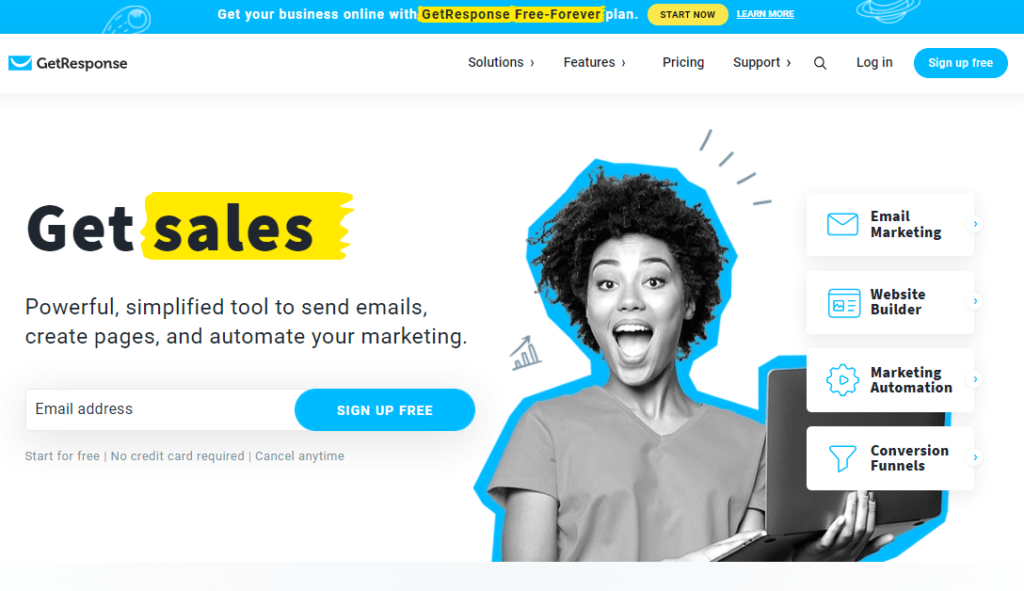 Trusted by millions of marketers and established brands, GetResponse is a powerful AI marketing automation platform that aims to simplify all of your marketing tasks into 3 core modules – email marketing, marketing automation builder, and conversion funnel.
GetResponse marketing automation is based on communication workflows that listen and react to your subscriber's behavior. It's made of conditions, filters, and actions that can be arranged like blocks.
The platform lets you customize every aspect of your communication – actions that trigger the process message timing, the number of recipients you want to reach, and the content you want to deliver.
You can trigger a different action or event based on individual activities and properties of your subscribers. All you have to do is drag and drop the specific elements, adjust the details, then join the dots to create a sequence of actions.
With GetResponse automation, you can also assign multiple tags to treat different groups of subscribers in their own special way and engage with those who haven't finished their online purchases.
The platform lets you understand and monetize your subscriber's interests based on the pages they visit, and products they purchase, and target them with the following offer.
And if you're looking for a way to track and rate interactions, the scoring model will allow you to reward your most loyal customers or identify those whose engagement is dropping.
It offers access to real-time analytics reports so that you know what's working (or not working) for your audience in real-time – allowing you to make necessary changes if need be.
From action-based sequences to A/B testing, no matter how complex your marketing needs may be, GetResponse can automate all of it with its drag-and-drop interface – saving you hours upon hours in manual work.
Whether you're big or small, GetResponse marketing automation saves you time and money, helps to build more detailed customer profiles, and makes your communication more targeted and profitable.
GetResponse Pricing
Free – $0/PM
Basic – 1000 contacts for $12.3/PM
Plus – 1000 contacts for $40.18/PM
Professional – 1000 contacts for $81.18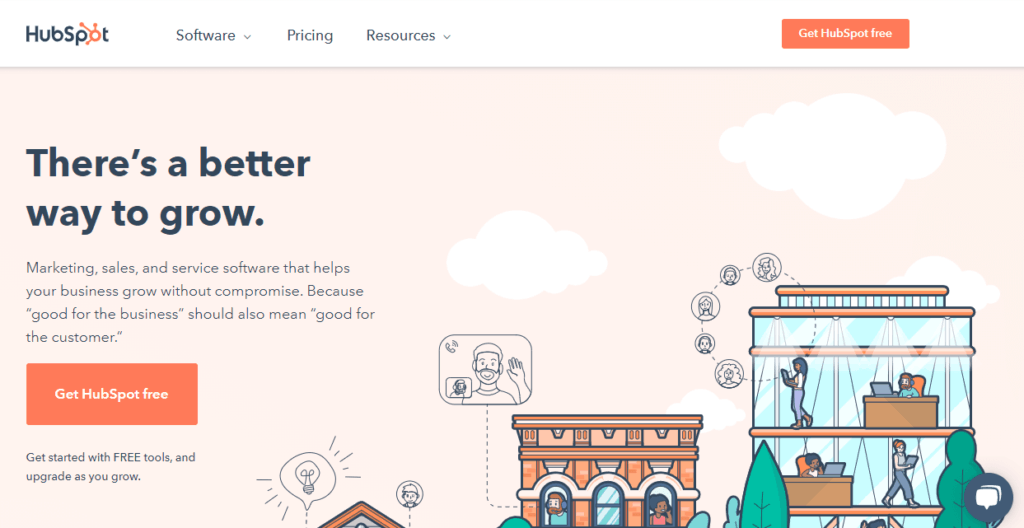 Thanks to adding AI marketing software into your workflow, gathering and managing information will be easier than ever before. And there are plenty of examples out there that demonstrate how useful marketing automation software can be, especially when it comes to search engine optimization (SEO).
Not only does HubSpot allow you to monitor leads and measure performance across several platforms, but it also provides you with detailed contact analytics detailing what content has been read by whom and where prospects spend their time on your website.
Plus, by integrating Hubspot's CRM tool for customer management alongside their customer relationship management tool, they ensure that all aspects of acquiring customers are covered – providing you with a platform that truly leaves nothing to chance.
In fact, automating simple tasks like sending new contacts daily follow-up emails while simultaneously following up with expired leads through SMS notifications via Hubspot Marketing Hub allows companies large and small alike to save hours upon hours of valuable time every week – meaning more time can be spent working on meaningful tasks.
In essence, if you're looking for a way to organize your sales funnel and nurture relationships with prospective customers effectively, HubSpot can help you do just that without compromising on either quality or quantity.
HubSpot Pricing
Hubspot – Automated AI Software is available to subscribers of Hubspot Marketing Hub.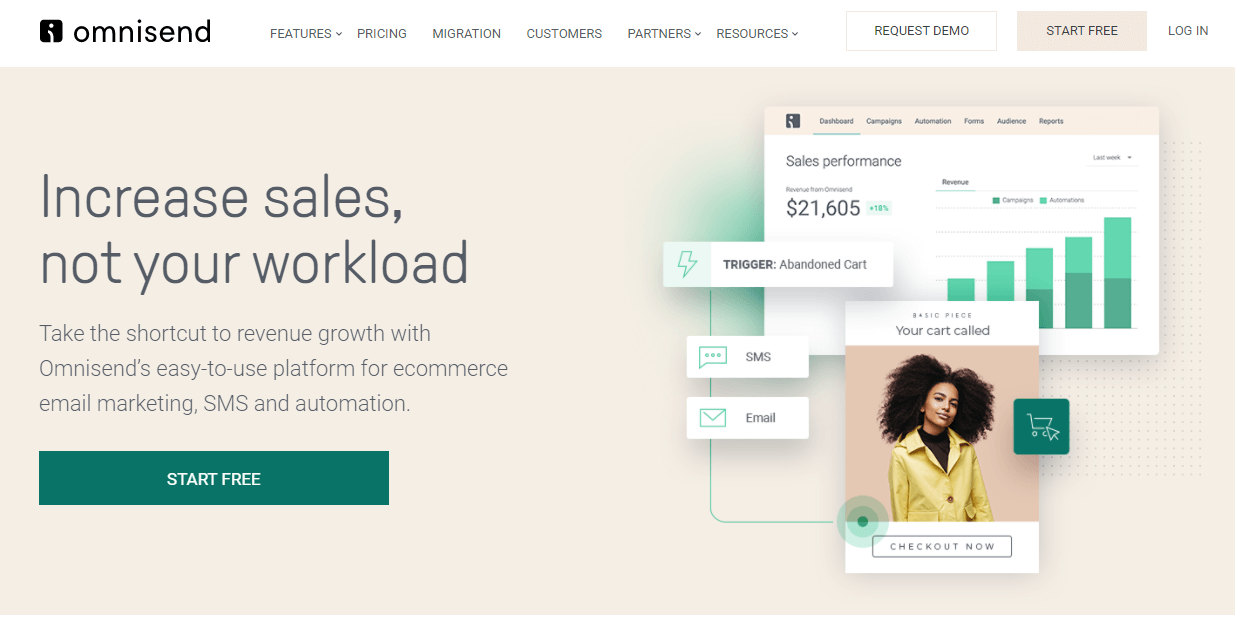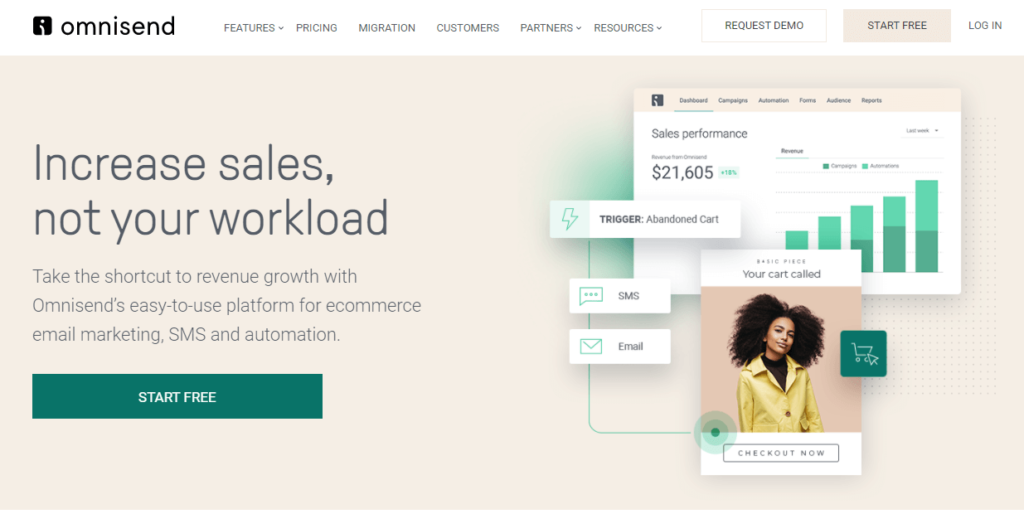 If you're just getting started with email marketing for your e-commerce business or looking to revamp your old list of inactive contacts, then Omnisend is a strong contender to consider.
Boasting a comprehensive set of powerful features that allow e-commerce business owners to customize each part of their email campaign down to every single pixel, it's safe to say that you'll have everything you need under one platform.
Thanks to its intuitive yet feature-rich drag and drop campaign builder tool, you can create campaigns for social media posts or engage in SMS marketing by adding phone numbers directly onto your landing page – no matter what industry your business falls into.
Further boasting a comprehensive segmentation and e-commerce automation functionality that allows you to change your marketing campaigns based on past user activity and increase conversions through better personalization and content delivery methods, Omnisend is arguably a worthy competitor for other leading marketing platforms out there.
Moreover, Omnisend brings the industry's leading 100% data sync with lots of available integrations, including MailChimp, GetResponse, AWeber, etc., making onboarding users and collecting important stats much easier than ever before.
Overall, an all-inclusive e-commerce marketing platform worth considering if you're looking for ways to automate most of your day-to-day digital tasks without too much hassle – from sending emails to building landing pages and creating Facebook ads; Omnisend does it.
Omnisend Pricing
Free – $0/PM
Standard – $16/PM
Pro – $59/PM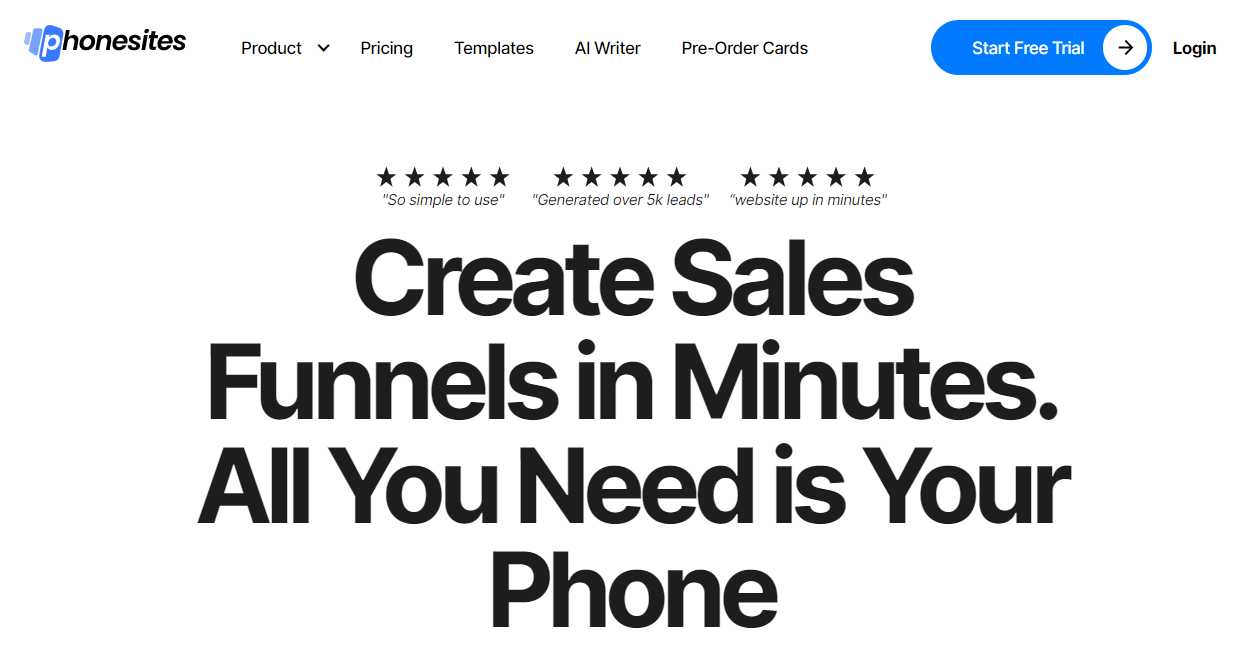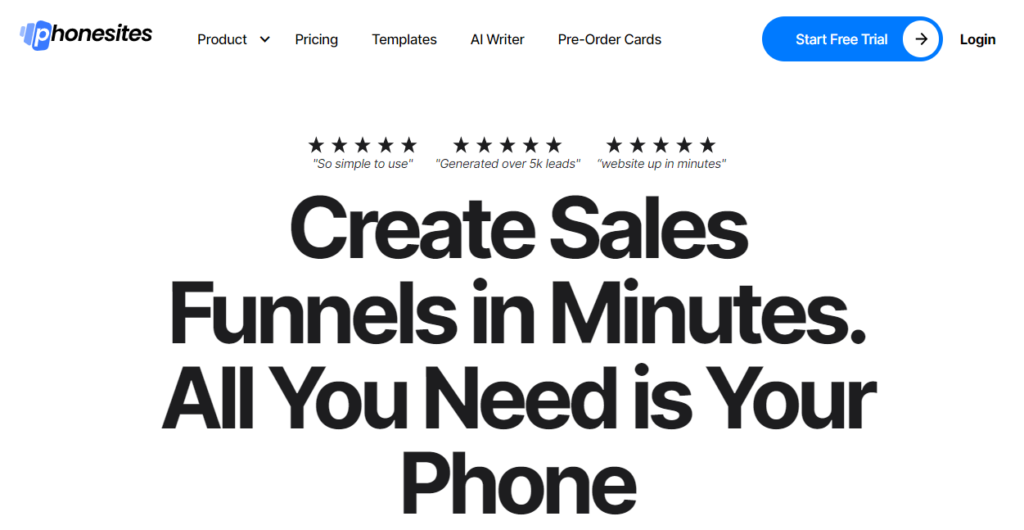 Website is a true cornerstone of any business – these days, it's no longer enough to have just one. If you're looking to scale your sales funnel and generate more leads for your business on-demand in minutes with your phone, then Phonesites may be just what you're looking for.
With its AI sales funnel builder that integrates with services like Facebook Messenger or Google Voice Number, you can set up professional landing pages or booking tools right on your mobile phone without any prior knowledge of web development.
Want to add new content? Phonesites also offer visual editors to edit everything from content blocks, popups, and banners – allowing users to get creative with their designs in real-time.
Phonesites is by far one of the most inexpensive ways of quickly setting up new websites or funnels.
Further bringing you access to unlimited AI content personalization capabilities, sophisticated marketing automation features, and real-time tracking capabilities across every channel imaginable – all from your mobile device.
Overall, if you don't want to spend hours upon hours trying to build out complex online systems (and hiring developers or designers), then give Phonesites a try.
Phonesites Pricing
Essential – $49/PM
Unlimited – $99/PM
Unlimited+AI – $148/PM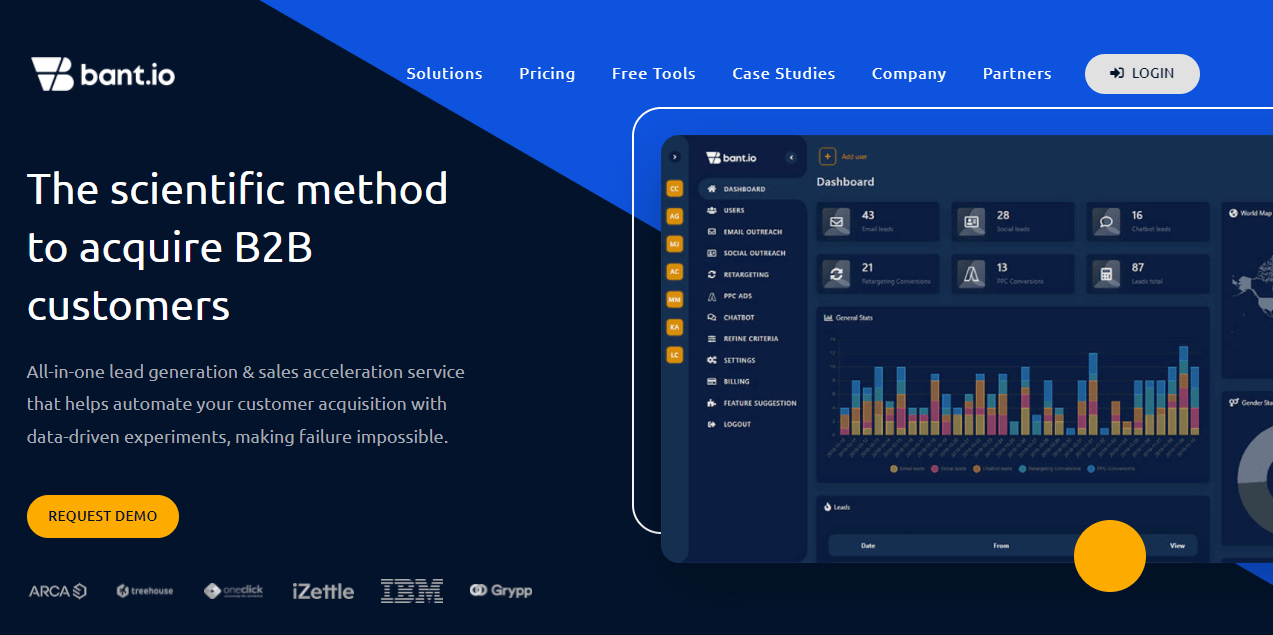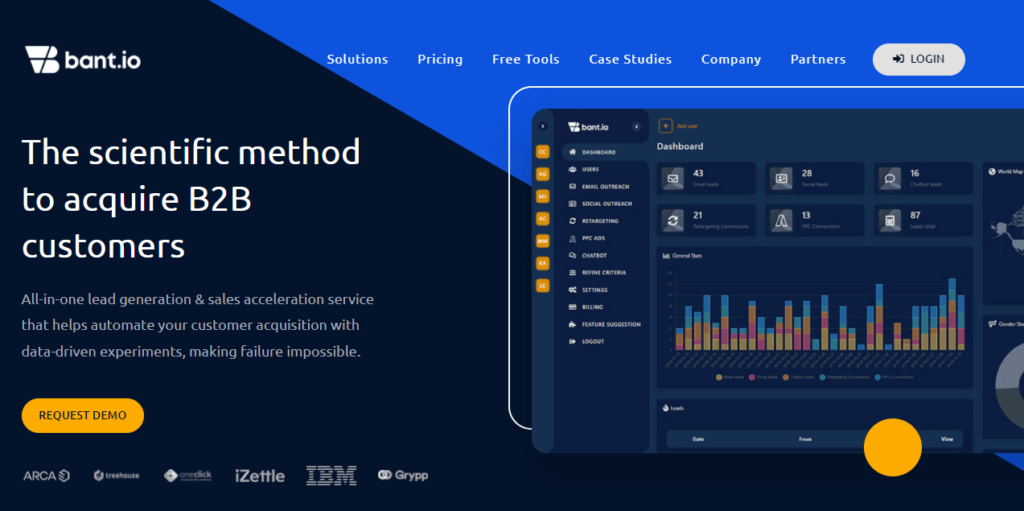 Marketing, especially for a new, budding startup, can be extremely complicated – there's just too much noise from competitors and growing demand from existing customers.
Worse yet, there's no real way of measuring your marketing ROI until it's too late. This is why most startups choose to stick with what works (like Facebook ads or organic SEO/content marketing) rather than experimenting with bolder ideas that can potentially alienate some customers.
Bant is one of the best AI lead generation tools for B2B lead generation that streamlines all aspects of your customer acquisition strategy into bite-size pieces.
It comes with its own robust database and platform so that you can adjust your conversion tactics instantly.
For example, let's say you notice a sudden drop in sales because certain demographic targets are less likely to convert; on Bant, simply create another experiment targeting other similar demographics who may also be interested in buying from you.
There are tons of tools out there that claim they'll help improve conversions, but only a few provide tangible results like Bant does, thanks to its 100% transparent results dashboard where everything gets tracked live.
When something goes wrong, Bant informs you as soon as possible so that adjustments can be made before any damage is done.
Plus, it's by far one of the easiest solutions to get started with since everything's pre-built within one simple interface. Simply plug in your goals & objectives and sit back while Bant takes care of almost everything else for you.
Bant.io Pricing
The monthly plan starts at $795/PM and goes up to $2175/PM
The quarterly plan starts at $1,908/ quarter and goes up to $5,220 /quarter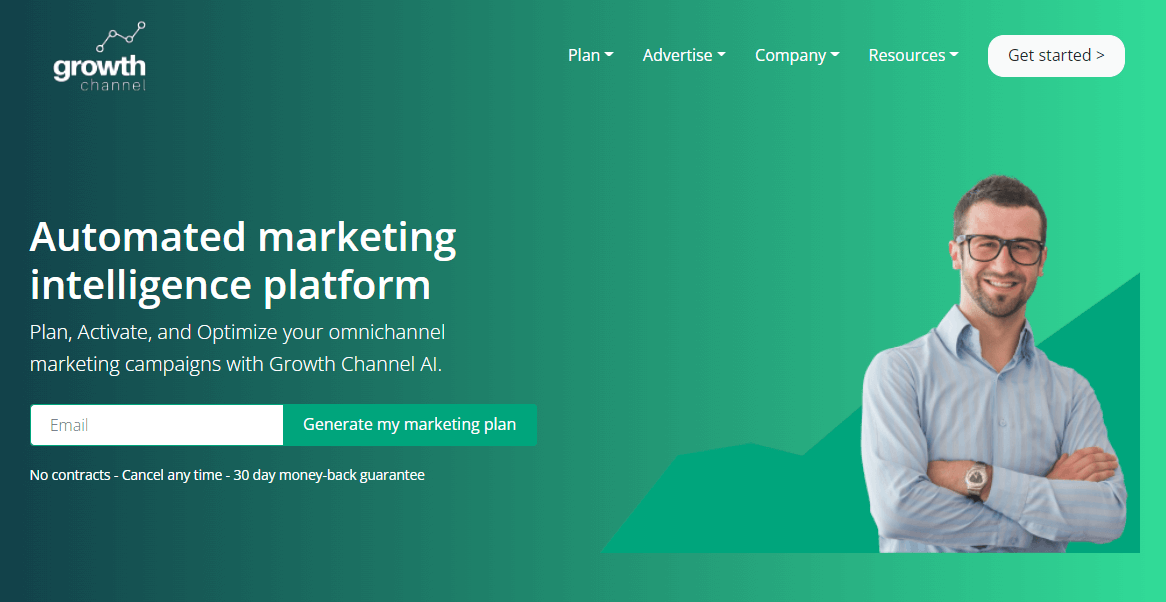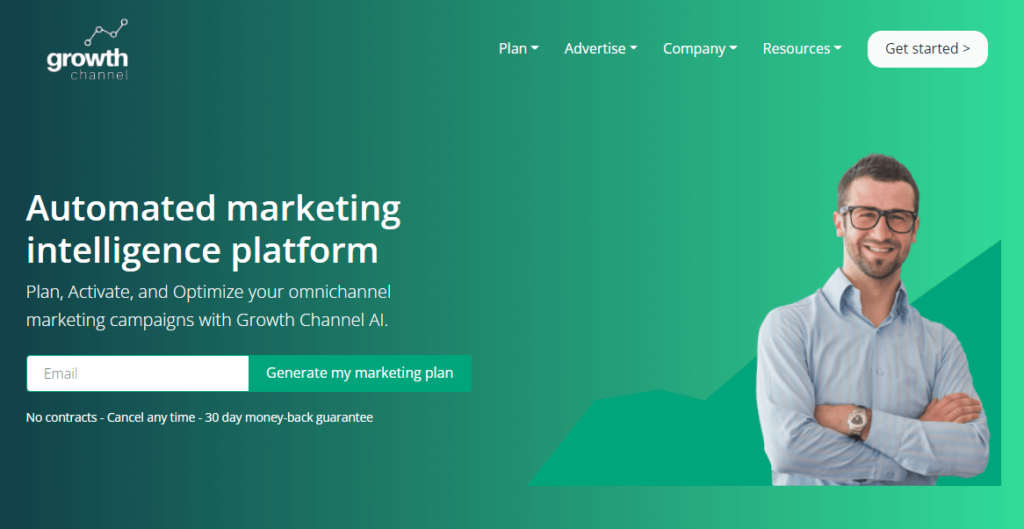 Getting your marketing funnel in tip-top shape can be an ongoing challenge, to say the least. It often feels like it's becoming increasingly difficult to reach your potential clients by means of email, text messages, or social media, but that doesn't mean you should give up.
You'll probably find yourself spending countless hours upon hours trying to figure out what works best for you as well as managing a myriad of platforms simultaneously – none of which are capable of communicating with one another. But with the Growth Channels automated intelligence platform by your side, all you have to do is drag and drop channels from pre-built templates based on your business goals into whichever sequence is most effective for you.
Plus, by centralizing reporting across your entire network gives you valuable information such as how many times each channel was opened and what devices were used. In other words, automating growth through Growth Channels allows businesses small and large alike to reach their target audience more effectively.
Beyond these essential features, Growth Channel also offers direct access to 150,000+ built-in, sortable, and perhaps the most comprehensive audience segmentation data available for digital marketers.
This very database is searchable by gender, age group, income range, interests, and much more so you can obtain detailed insights about who exactly your customers are. When combined with over six different types of technology (web display, social media, mobile, to name a few), analyzing behavior patterns among specific segments becomes a walk in the park for Growth Channel users everywhere.
This empowers you to create highly personalized campaigns targeted towards groups of people with similar behaviors, propelling your overall ROI considerably higher than you'd imagine possible thanks to automatic optimizations when needed.
better is because they put automation front and center within its service offering; there's no limit to how fast you can scale your business while saving time and money along the way.
Growth Channel Pricing
Basic – $99/

month
Pro – $249/month
Scale – $999/PM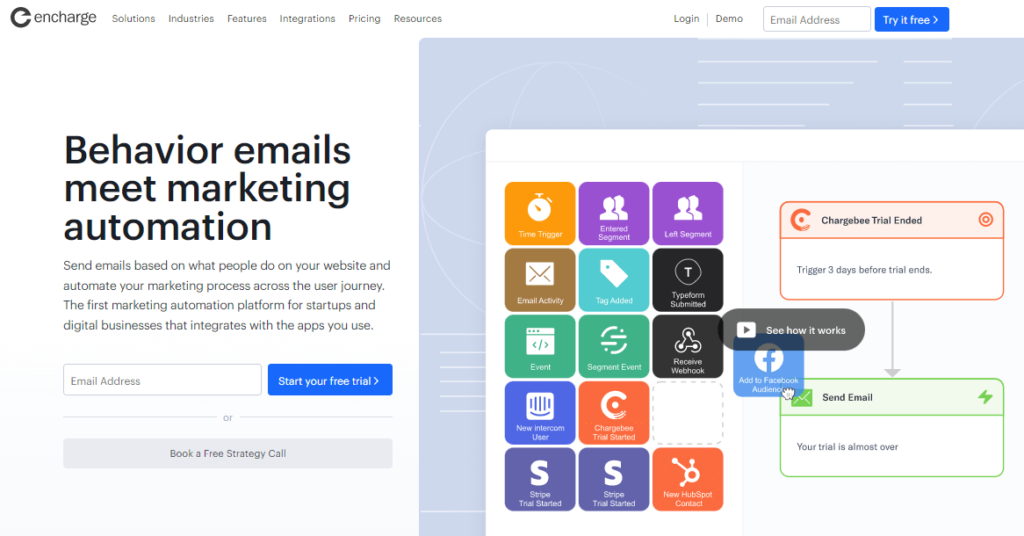 Personalization can revolutionize marketing, but with all these options available, it's hard to figure out what option works best for your business. It's even harder to find a product that has everything you need – customization, robust features, and intuitive UI.
Well, if it sounds like we're describing a personal assistant (which coincidentally is another example of automation), then look no further than Encharge.
Encharge is one of the best SaaS marketing automation tools. With tooltips and email automations, you can create and test unique calls-to-action across different channels, so every message is as individual as possible.
What's great about using Encharge as opposed to other automated solutions is it comes directly from Mautic, meaning there's virtually zero learning curve.
Even better, its creation was based on feedback from users who wanted a platform that could automate both behavior emails and marketing strategies together which brings us right back to our original point; efficiency wins out almost every time when it comes to getting things done.
With tools like Encharge, companies save money while increasing brand awareness by providing valuable resources that keep people coming back again and again.
In short, Encharge is designed to turn non-personalized email conversions into long-lasting relationships that last throughout each customer's journey (from acquisition through onboarding and beyond).
Encharge Pricing
Growth Plan – $49 for up to 2000 subscribers and goes to $999 for 100,000 – 150,000 subscribers.
Premium – $59 for 0 – 2,000 subscribers and goes up to $1,199 for 100,000 – 150,000 subscribers.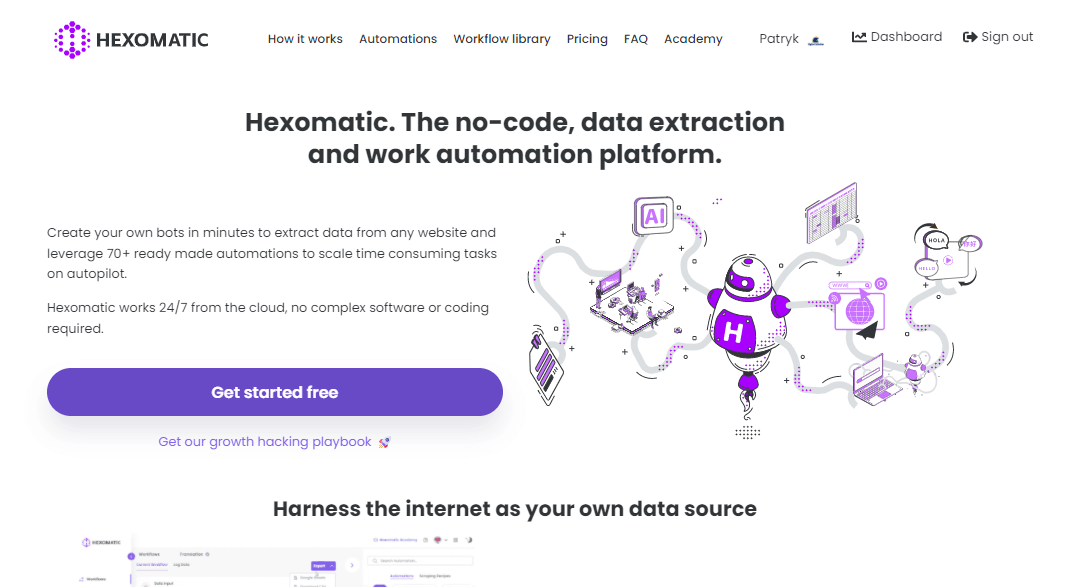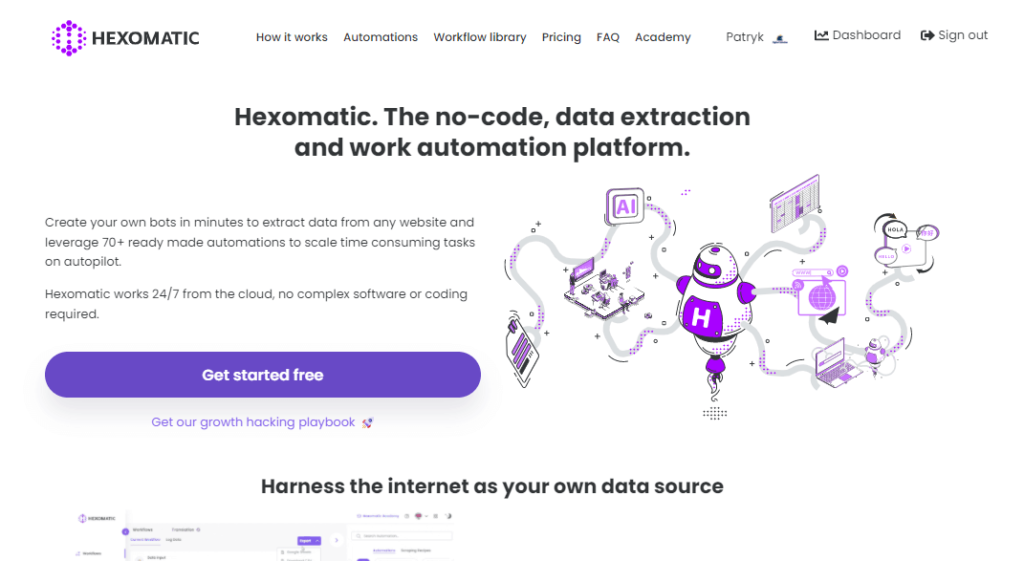 Chances are if you're reading marketing automation software reviews, you have any sort of data extraction or work automation needs. We'd like to introduce another platform to help get your lead conversion rates soaring; one that combines AI with machine learning and neural networks technology.
Hexomatic is a no-code data extraction software that can help with extracting any kind of data from online sources quickly and easily.
And thanks to integrated support for deep learning technology and neural networks learning algorithms, Hexomatic also offers users detailed insights into how they can make their existing processes more efficient while maximizing accuracy.
By providing easy to use but powerful APIs that interface directly with over 300 third-party websites and by automating tedious daily tasks, so we don't have to worry about them anymore, working becomes infinitely easier than ever before – freeing up time to spend where really needed.
Hexomatic comes with dozens of pre-built automations that can handle lots of marketing, documentation, analytical, test management, and analysis duties without having to write even a single line of code.
So, if there was ever a silver bullet when it came to improving productivity while ensuring high levels of efficiency and accuracy, Hexomatic would be it.
After all, it delivers speed not only in terms of implementation (hours instead of days), but also speed during operations due to one-click integration with many platforms including Slack, Webhook, Zapier, Google Sheets, Pabbly Connect, etc., and finally speed in producing results – allowing customers to fully integrate with each other within minutes rather than months.
Read more in this Hexomatic review.
Hexomatic Pricing
Free – $0/PM
Bronze – $20/PM
Silver – $40.83/PM
Gold – $82.5/PM
Enterprise – Contact support for a personalized pricing plan.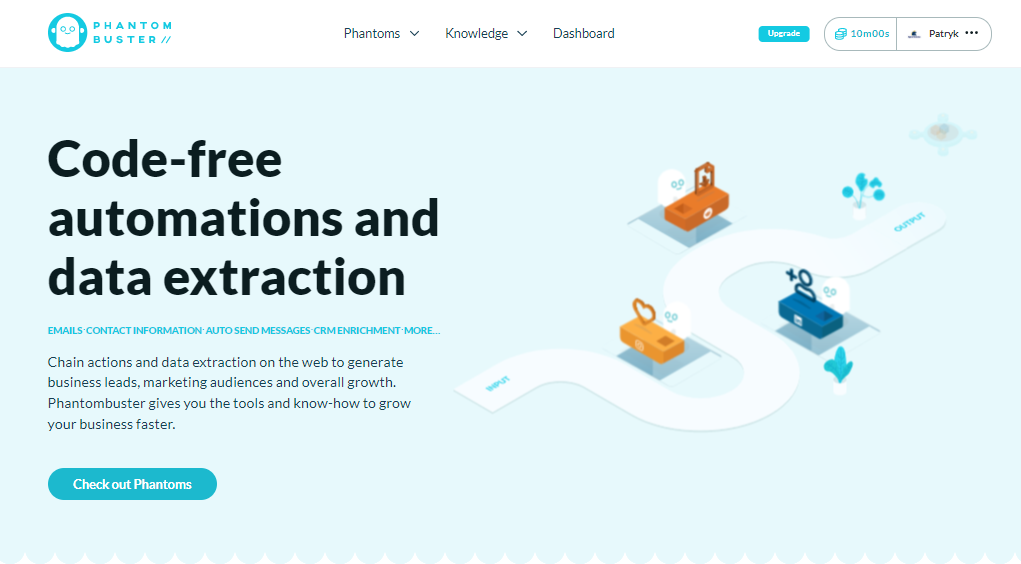 With businesses using social media marketing to reach more people than ever before, it's becoming harder to keep up with a constant stream of new leads. Now imagine having to manually screen each prospect before you can even consider them as qualified leads for your business.
Thanks to marketing automation sofware, such as PhantomBuster, you can automate almost all of your tedious tasks into simple actions that don't require code programming.
Thanks to its inbuilt intelligence features (like visitor identification), you'll be able to generate extremely high conversion rates and convert potential customers into actual ones who are ready to make purchases (or request additional information).
You'll also be able to generate data sheets containing essential prospect details like their contact information along with additional information gleaned from their visits on your website – making it easier for your team members/customer service agents to quickly respond when they're ready.
With dozens of powerful pre-built templates for social media automation, lead generation automation, and data extraction; building a new campaign is a piece of cake. Just select which template fits your needs best, drag-and-drop elements where needed, set parameters based on the task you want to automate, and you're done.
Even better, Phantom Buster lets you adjust every aspect of your campaign so that you can tailor it perfectly to meet specific customer profiles while increasing sales or saving time. And there's absolutely no need for technical skills to do any of these things.
Read more about this tool in this Phantombuster review.
PhantomBuster Pricing
Free – $0/PM
Growth Hacker – $30/PM
Business – $70/PM
Enterprise – $200/PM
Premium – $900/PM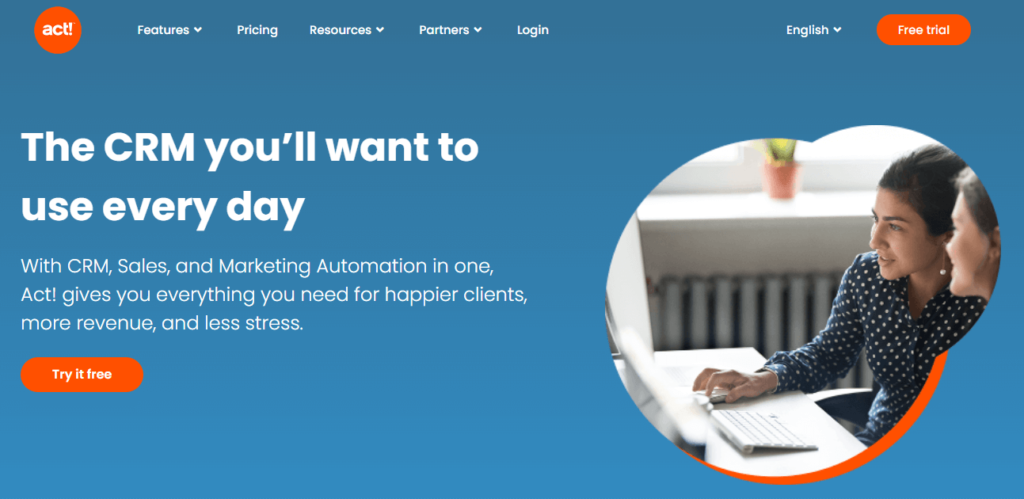 If you are operating a small business or simply want to focus on sales in addition to your other responsibilities, then using multiple tools may leave your head spinning. There is no need for that headache because with software such as Act everything can be handled within one platform.
With new social media functions such as Facebook Messenger and Slack integrations, Act has become much more than just a traditional contact management system but rather allows users to access many of their social media accounts in one centralized location.
Further boosting business productivity features include automated task lists, project tracking capabilities as well as resource scheduling features – all designed to improve coordination and collaboration between employees while reducing company expenses.
And what makes Act even better is sales & marketing and eCommerce connections that automatically pull up email addresses when you add a name into your database without having to open another app.
Further boasting dedicated mobile apps available on both Android and iOS platforms, Act makes staying connected and syncing your data across various devices easy.
Act Pricing
Starter – $12/user/PM
Professional – $25/user/PM
Expert – $50/user/PM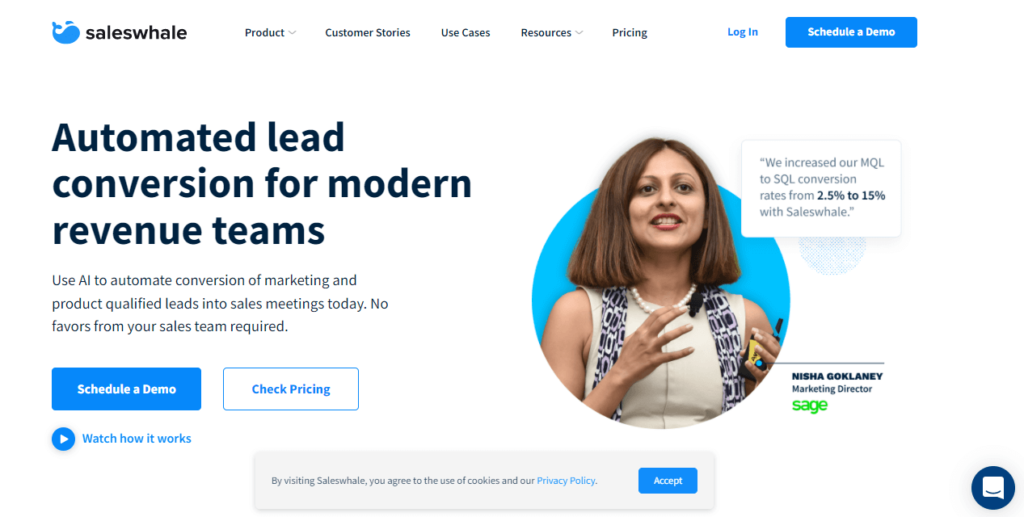 SalesWhale is an intelligent lead conversion platform powered by artificial intelligence (AI). Just simply upload your marketing qualified leads list (or other data sources) and let their robots do all the grunt work for you.
What makes SalesWhale so great is its smart outreach campaign designed to create personal connections with leads without being overbearing; after all, nobody likes feeling like they're being sold something even before getting a chance to ask questions and understand what your company does.
As soon as you hit send on your initial email, SalesWhale sets up personalized follow-ups based on each person's responses and interests – all without having you lift a finger.
Further bringing you access to proven conversation playbooks and AI-powered interprets responses which help you tailor each message in real-time. This saves not only valuable time but also builds meaningful relationships, which ultimately helps close sales deals faster.
SalesWhale filters out spammy content making sure that your messages go directly to your prospect's actual inboxes, where they will remain safe from prying eyes while still allowing them to get lost amongst their normal mail until they are scheduled to arrive at a convenient date and time.
Further boasting enhanced content distribution, interest qualification, and sentiment analysis features, SalesWhale optimizes efforts made on your marketing team, ensuring that every single piece of information about your business ends up going through a human brain before reaching any potential customer anywhere in the world.
Finally, using AI gives SalesWhale users transparency when it comes to how their outreach campaigns are performing; see exactly who responded and who didn't give you complete control over your future engagement strategies with minimal effort on your part.
SalesWhale Pricing
Starter – $495 /mo when billed annually
Plus – $1,495 /mo when billed annually
Professional – $2,495 /mo when billed annually
Appier presents you with a powerful set of features that make each activity quicker, easier, and more efficient than ever before. With highly advanced algorithms based on big data technology, Appier learns from its own user behavior how best to target users based on similar characteristics rather than basic demographics alone.
What makes Appier stands out among other AI marketing automation tools is that it's able to completely understand customers, allowing you to focus efforts on content rather than being bogged down by mundane business development functions like cold calling or email spamming.
Once signed up, Appier automatically syncs with every part of your marketing platform, including CRM systems and/or applications where information is stored about contacts created throughout each step of a lead's journey, meaning no more manual work for yourself or any employee for that matter.
Instead, Appier works 24/7 to generate meaningful prospects and clients while keeping your funnel full as they seamlessly rotate through five stages of a prospect's lifecycle.
Further boasting an AI-powered intelligent conversion booster along with omnichannel marketing automation, Appier is currently utilized by over 2,000 brands all over the world to help keep things running smoothly across their entire organization without breaking a sweat.
Appier Pricing
Contact sales team to get a personalized pricing plan.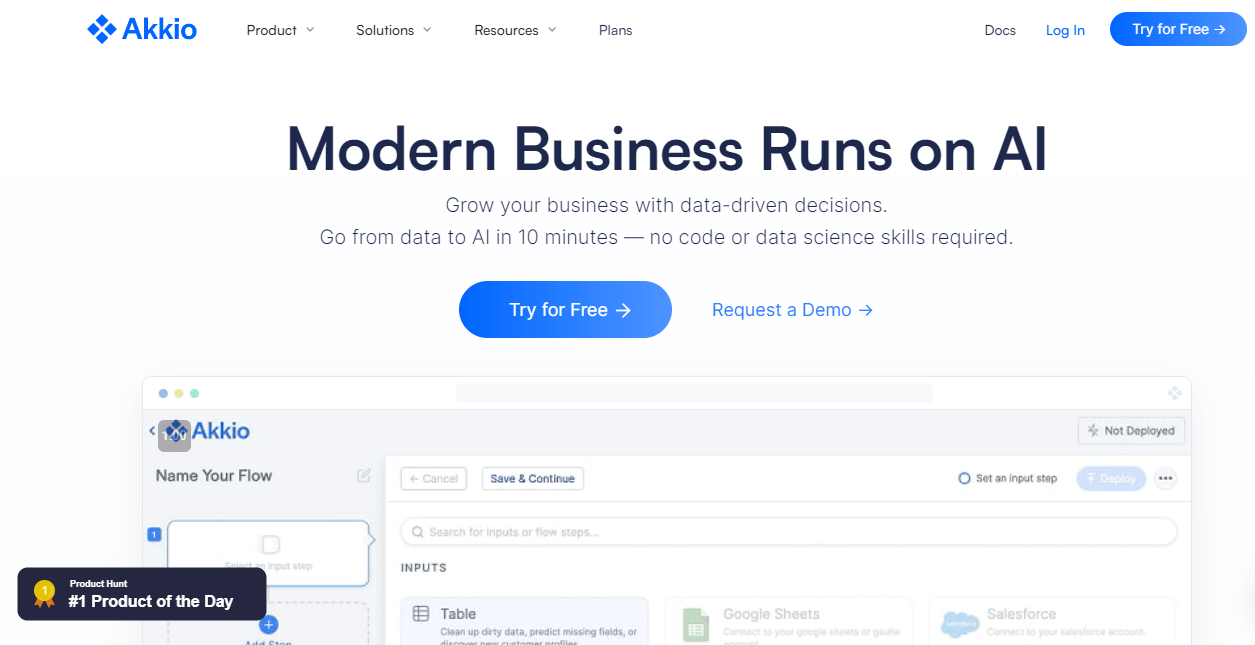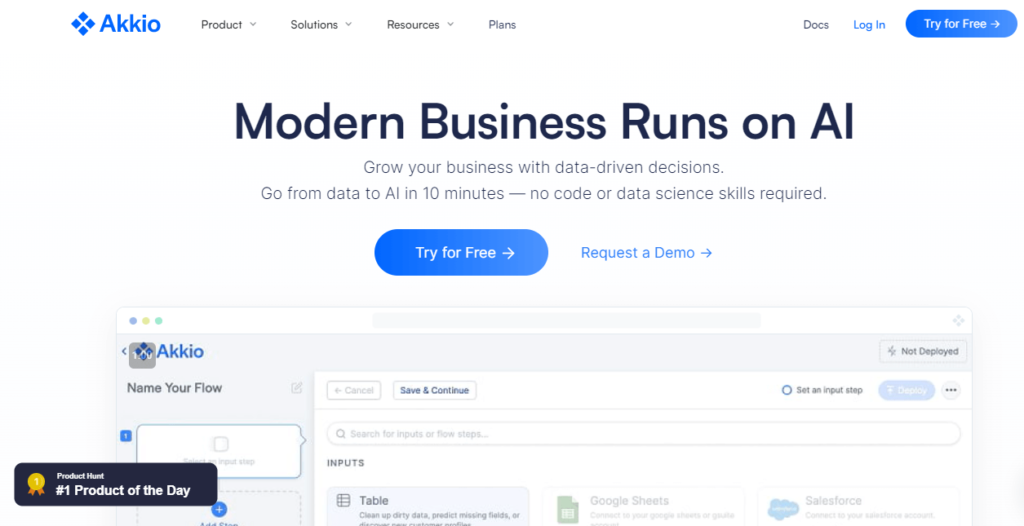 Akkio is not only is it a sales app that boasts impressive features such as lead tracking, social media marketing, and lead scoring, but more importantly – it's able to actually analyze your data in order to pinpoint exactly where sales are being lost and help you strategize going forward.
For example, if you're interested in automating follow-up emails with leads on different stages of their journey through your funnel or gathering better insights into which blogs generate high volumes of valuable traffic from organic search engine rankings, then Akkio is well worth looking into.
As well as featuring website link monitoring analytics and powerful online forms, so people fill out contact forms on websites by themselves automatically while also helping you design beautiful landing pages – all without having to learn any code.
More so than anything else, though, Akkio highlights just how helpful data analysis and AI marketing automation tools can be when they're properly incorporated into business management strategies. For example, using these tools means understanding why potential customers do or don't engage with your brand online and determining ways to influence them accordingly.
Plus, getting new insight on what content will drive social shares and engagement via Facebook Ads is another major plus point, particularly because its relationship manager feature allows you to easily keep track of everything that happens during each stage of the conversion process!
So, whether you want to track hundreds of brands across thousands of keywords in order to gauge performance throughout your campaign planning stage or you're simply looking for a new CRM solution with extensive email integration options to go alongside other existing apps – rest assured, thanks to companies like Akkio bridging gaps between many popular applications in today's marketplace.
Akkio Pricing
Starter – $50/PM when billed annually
Enterprise – Get custom pricing plan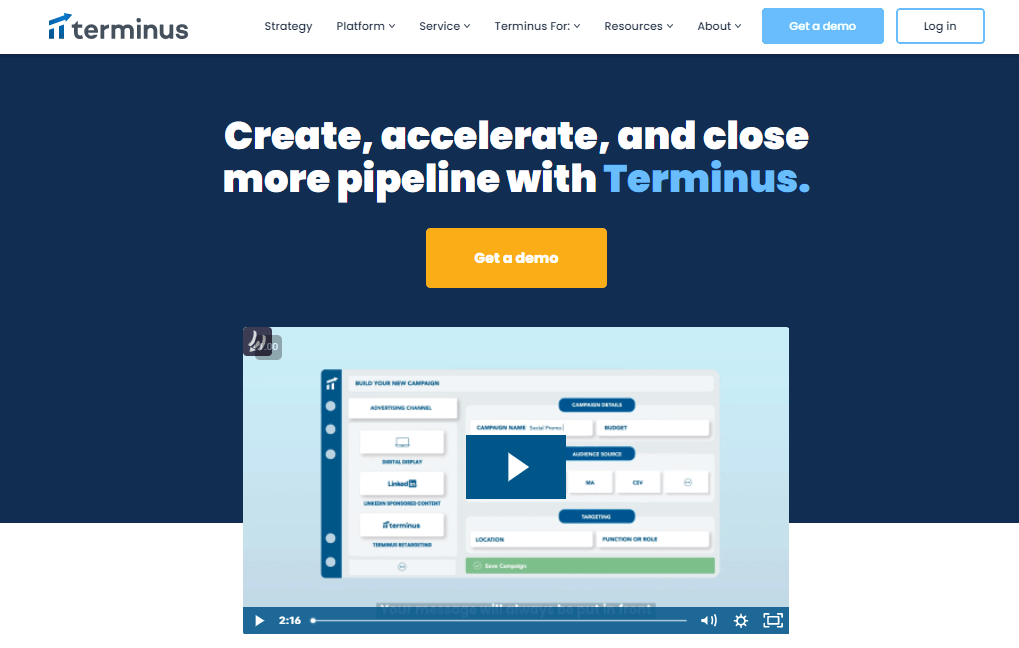 Aside from delivering contacts straight to your database, converting visitors into leads is another major challenge marketers are faced with when it comes to lead generation. And even though there are plenty of programs out there that provide companies with a simple way to capture leads, not all of them have been built using automation in mind – making them relatively primitive compared to what's available on today's market.
Terminus is a B2B AI marketing automation platform designed for businesses looking for a way to make use of artificial intelligence (AI).
Leveraging email marketing alongside AI means you'll no longer have to pay for staff members or implement complicated workflows. Instead, you can rely on powerful algorithms that'll help you find prospects easily. Y
Further boasting a comprehensive data studio that brings you combined power over analytics and contact management software like Salesforce, Mailchimp, and Google Data Studio allow users to monitor every part of their sales funnel efficiently and effectively using one convenient dashboard.
Additionally, by combining such powerful tools as predictive modeling with machine learning technology means you can reach your customers much faster while still getting the upper hand on other competitors in your niche.
Terminus Pricing
You must book a one-on-one consultation to receive personalized pricing plan.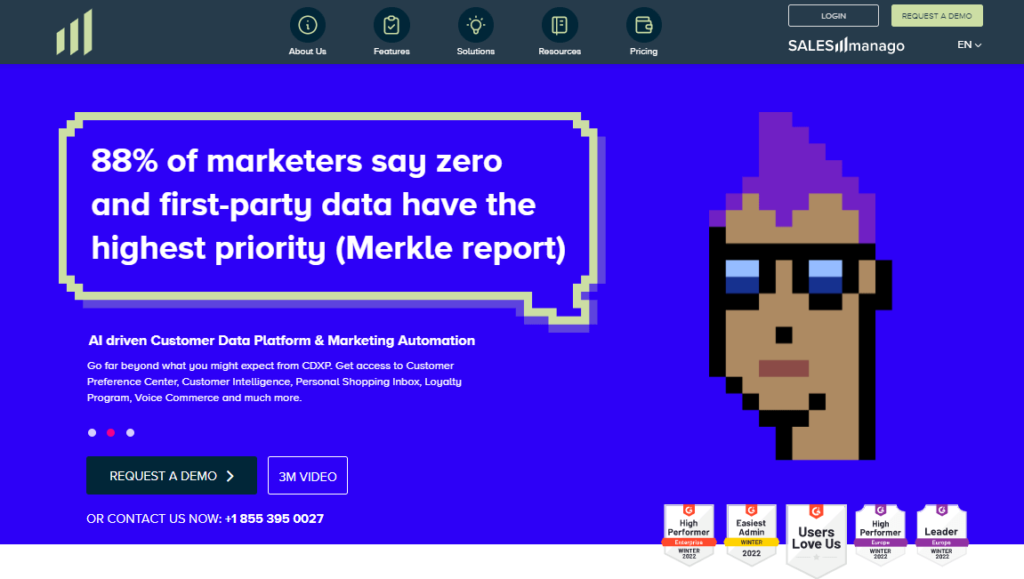 When it comes to getting results from your marketing efforts, knowing where to begin and how to proceed is a challenge for even seasoned experts. But if you're looking for something that will help you get started with executing your sales strategies better, then we have good news for you.
With a reliable customer data platform integrated into your workflow like Salesmanago, there's simply no more need to worry about being left behind in terms of marketing automation capabilities.
By automating complicated processes and providing an all-inclusive database of information on potential customers, suppliers, and partners alike, as well as selling opportunities, these platforms mean that marketers are able to get results faster while simultaneously saving time and money.
And when used alongside CRM tools within Salesmanago or other similar tools such as HubSpot or Salesforce – these applications become truly invaluable. With powerful CRM/database integration features such as asynchronous communication, one-click email response triggering, pre-defined lead assignments, and outbound messaging campaigns allowing you to focus on what really matters: converting leads into paying customers.
Salesmanago Pricing
Essential – Contact sales team to receive pricing
Professional – Contact sales team to receive pricing
Enterprise – Contact sales team to receive pricing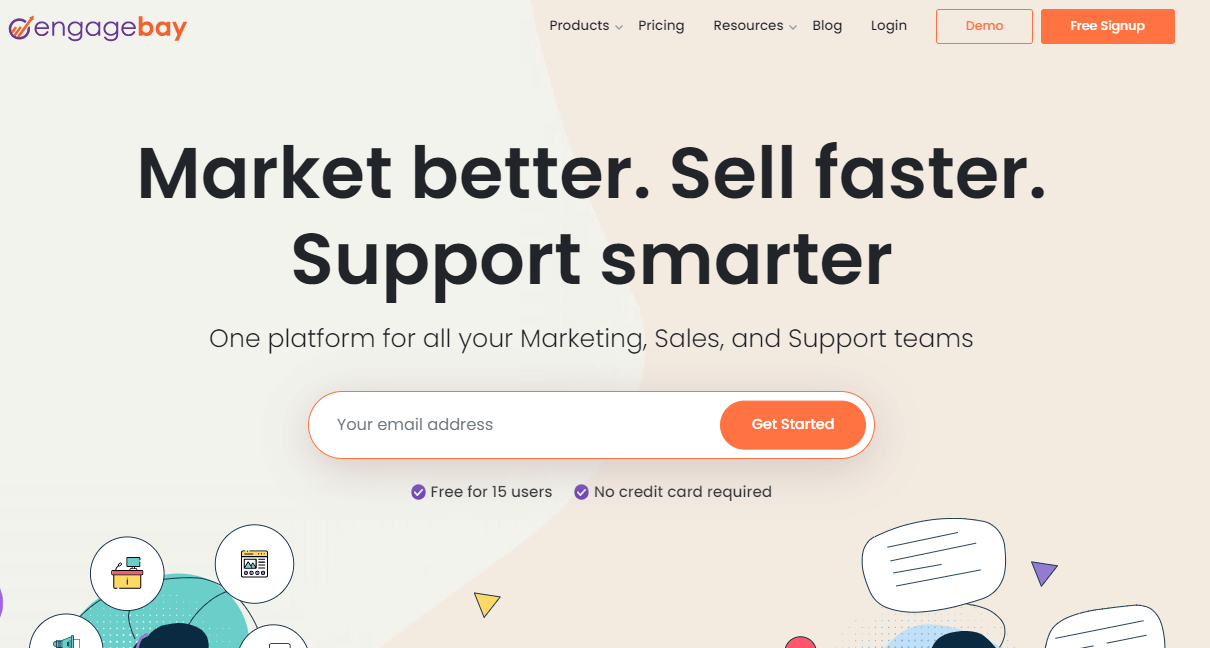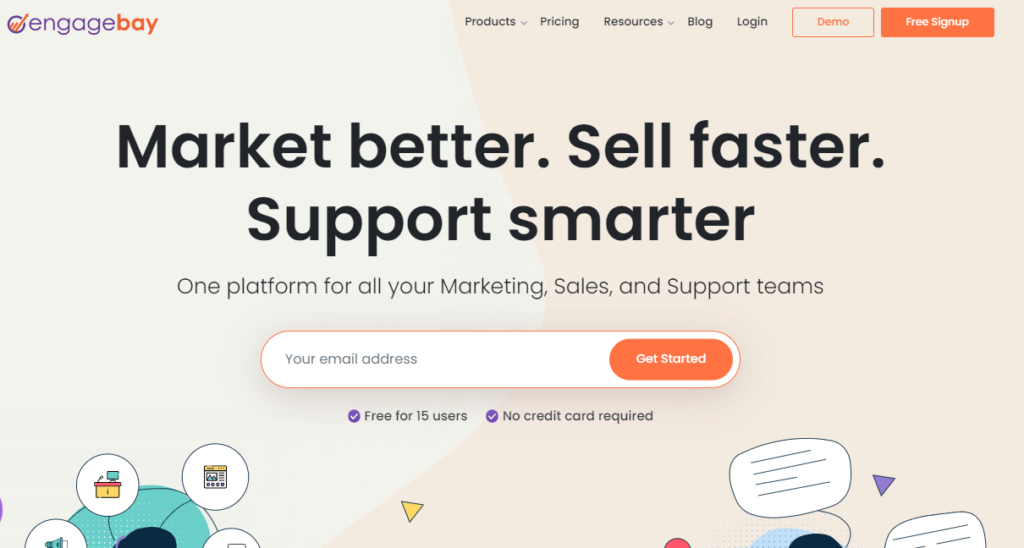 When it comes to keeping track of new leads, managing sales contacts on one platform can be incredibly helpful. And that's exactly what Engagebay has been designed to do – by letting users stay in touch with existing clients or providing them with a way to stay informed about when prospective clients are close to purchasing from you.
Designed specifically as a CRM (customer relationship management) tool for small businesses, having all your contacts and communication in one place makes engaging with prospects easier than ever before – as you don't have to flip back and forth between different apps!
Plus, by adding deep integration features like chatbots that allow you to provide support 24/7 through Facebook Messenger no matter where you are in your workflow helps companies, both large and small scale, keep customers coming back time after time.
The EngageBay's lead scoring algorithm analyzes clicks on company website pages and social media activity alongside website visits and forms submissions – giving your team a comprehensive overview of who should be at the top of your priority list at any given time.
Simply put, if you're looking for software that covers all aspects of marketing, sales, and support seamlessly together within one interface, then Engagebay is going to make life much easier for you and save hours upon hours' worth of valuable time; along the way.
Further bringing you direct access to sales automation, marketing automation, and customer care solutions to take your business to another level, EngageBay is certainly a resource you'll want to check out in more detail.
EnageBay Pricing
Free – $0
Basic – $11.99 per user / month
Growth – $39.99 per user / month
Pro – $79.99 per user / month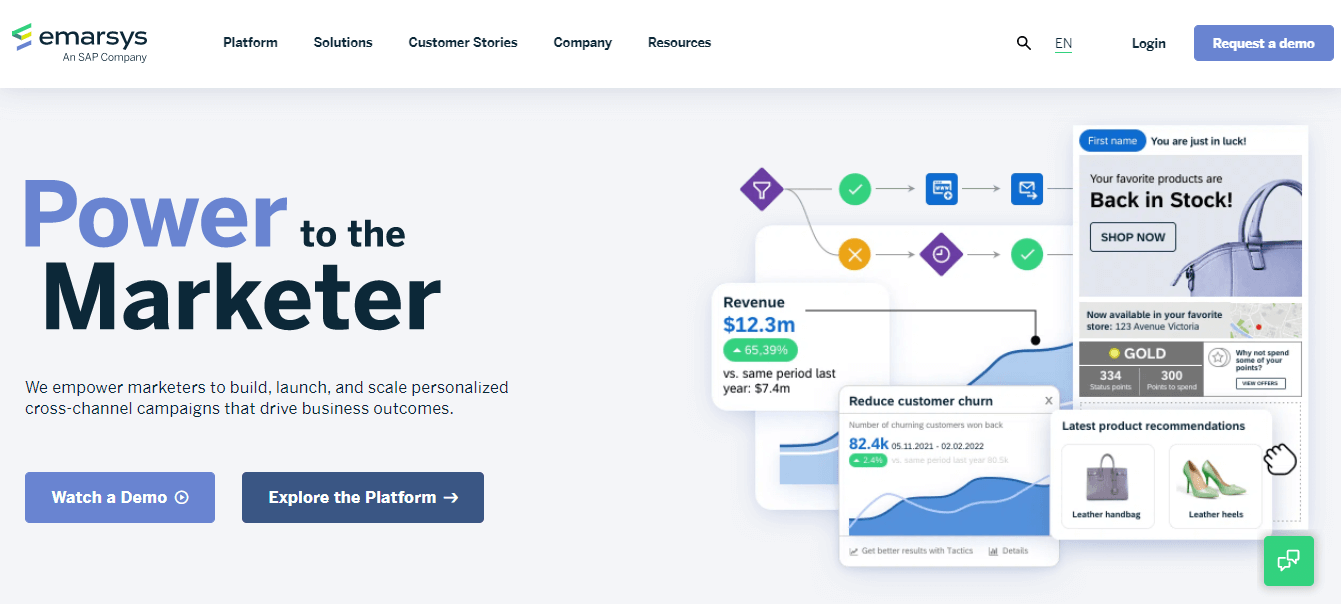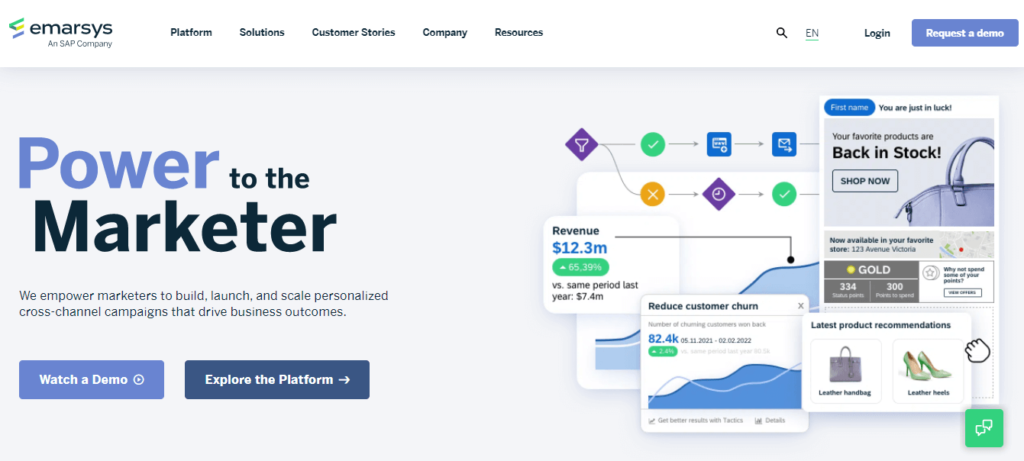 Emarsys enables you to keep track of how many people make it through each stage of your conversion funnel, you can tailor your efforts more effectively.
With intelligent A/B testing software in place, you'll be able to take immediate action whenever needed – increasing conversions with ease. The bottom line is that now more than ever before, it's crucial for businesses large and small alike to develop a comprehensive digital strategy that includes paid advertising alongside other methods such as SEO or content marketing.
Emarsys integrations and personalization engines ensure that everything ties together seamlessly while providing you with more control over what users are seeing at any given time.
In essence, thanks to its customer lifecycle management and intelligence & analytics, Emarsys offers you full transparency over every element of your campaign.
This means better conversion rates which ultimately equates to increased profits.
Emarsys Pricing
You must consult sales team to receive a personalized pricing plan based on your business needs.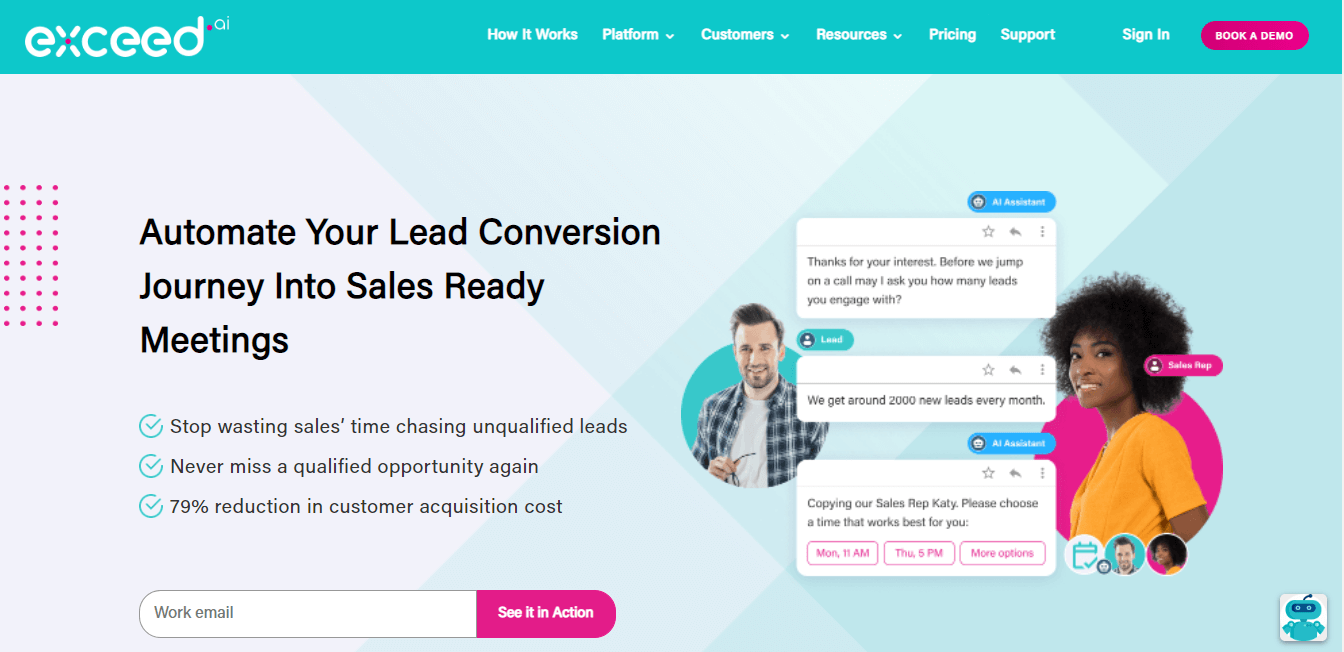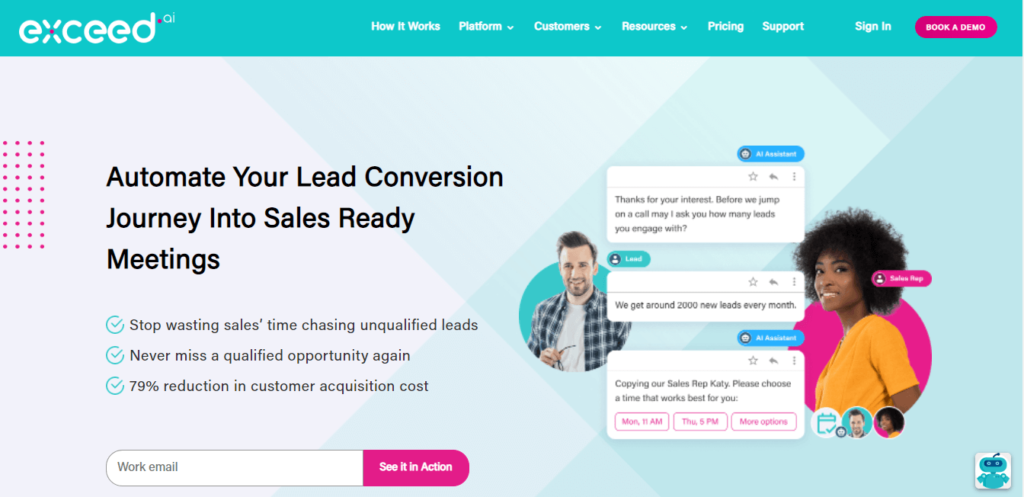 In today's age of automation, we have learned to cut down on our manual tasks and find ways to increase efficiencies. With Exceed's lead conversion platform, you can set up automated schedules based on what stage your contacts are in their journey, so your outreach is always relevant.
As soon as your prospect responds, they schedule a meeting for you directly within their CRM.
What makes Exceed such a powerful tool is that rather than wasting hours researching prospects yourself, they use artificial intelligence (AI) to offer instant insights into each person's needs, challenges, work environment, and personality, thus eliminating any guesswork from buyer behavior analysis.
Once all these details are known about each prospect through big data analytics with machine learning mechanisms integrated with cloud computing capabilities which allows them to scale without incurring costly hardware costs – all there remains is for you to sit back and watch as leads turn themselves over into sales-ready meetings for your sales team.
This tool saves marketers time by allowing them to spend more of their day interacting with prospects as opposed to doing administrative tasks that often derail productivity.
Making strides towards efficiency will not only help sales teams close deals faster but also make your company money by being able to focus on revenue generation instead of mindlessly checking off mundane boxes.
Exceed Pricing
Pricing is reveled after private consultation.
AI Marketing Automation Tools Final Words
In conclusion, AI marketing automation tools are a valuable asset for businesses of all sizes. They can save time and money while improving marketing effectiveness.
As with any tool, it is important to research the options and find the one that best fits the needs of your business. With the right tool, marketing automation can help you achieve your goals and grow your business.