This is the most up-to-date comparison where I'll be comparing the new ClickFunnels 2.0 version with the recently upgraded GoHighLevel platform.
I'll cover what is the main big difference between ClickFunnels vs GoHighLevel and share everything I experienced after testing both of these platforms in my marketing agency.
Let's get into it.
ClickFunnels vs GoHighLevel TL;DR
The main difference between ClickFunnels and GoHighLevel is that ClickFunnels focuses mainly on building and optimizing sales funnels to get the highest conversion rates.
GoHighLevel is a better choice for marketing agencies that need a more comprehensive all-in-one marketing platform with a wider range of tools for managing clients, building email marketing campaigns, and automating marketing tasks. It's a better solution for you if you are interested in reselling white-label software.
GoHighLevel seems to be a more all-rounded digital marketing platform but the recently launched new ClickFunnels 2.0 version was designed to be an all-in-one sales funnel automation software. And after the launch of the new ClickFunnels 2.0 version, the differences between ClickFunnels and GoHighLevel are less obvious.
Compared to the old version, ClickFunnels 2.0 is much more comprehensive, lighter, and provides users with many unique tools like marketing automation, funnel hubs, blog builder, team collaboration, CRM funnels, and real-time analytics, just to name a few.
Although ClickFunnels now offers much more than before, it still doesn't have tools for marketing agencies like a booking calendar, CRM system, or SMS marketing. So if you run a digital marketing agency, GoHighLevel is a better option for you.
On the other hand, if your main goal is to build sales funnels and looking for a more intuitive and easier-to-use platform, then ClickFunnels 2.0 is for you.
GoHighLevel and ClickFunnels offer free trials for our readers so we highly encourage you to try out both platforms to see which one works best for your business.
👉 Start ClickFunnels 2.0 30-day free trial
What is ClickFunnels?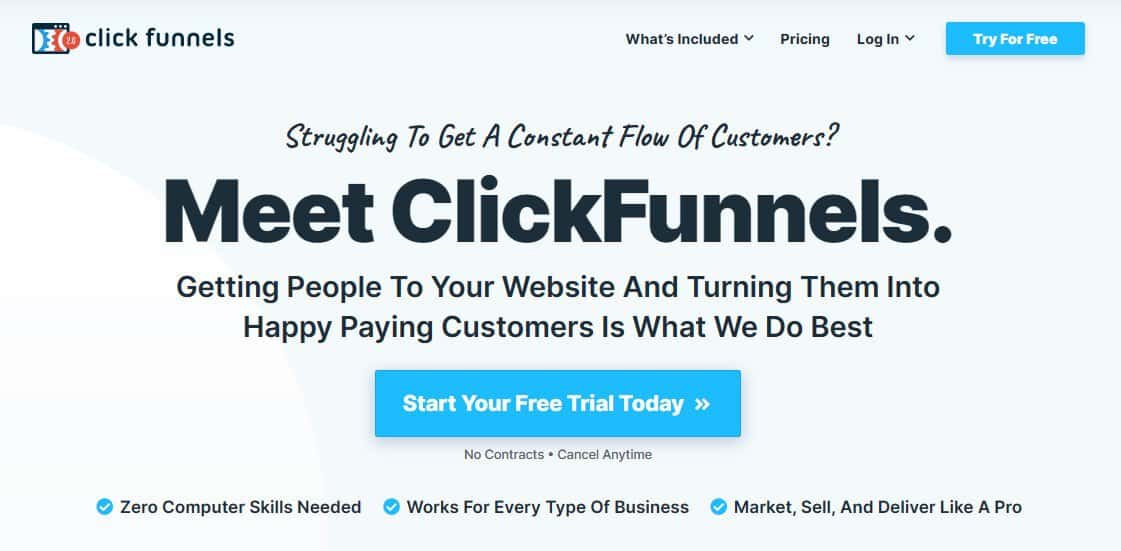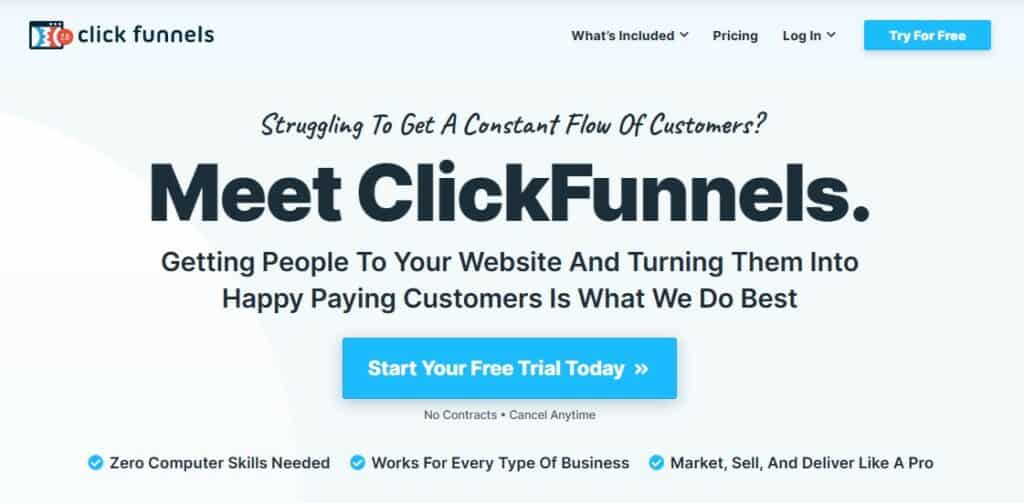 ClickFunnels is the most popular sales funnel software created by Russell Brunson. The platform is focusing on the aspect of building different pages of your funnels in the quickest and easiest way possible.
ClickFunnels offers a whole lot more than just building marketing funnels. It can create pages that include opt-in forms, sales pages, order pages and even membership sites.
What is GoHighLevel?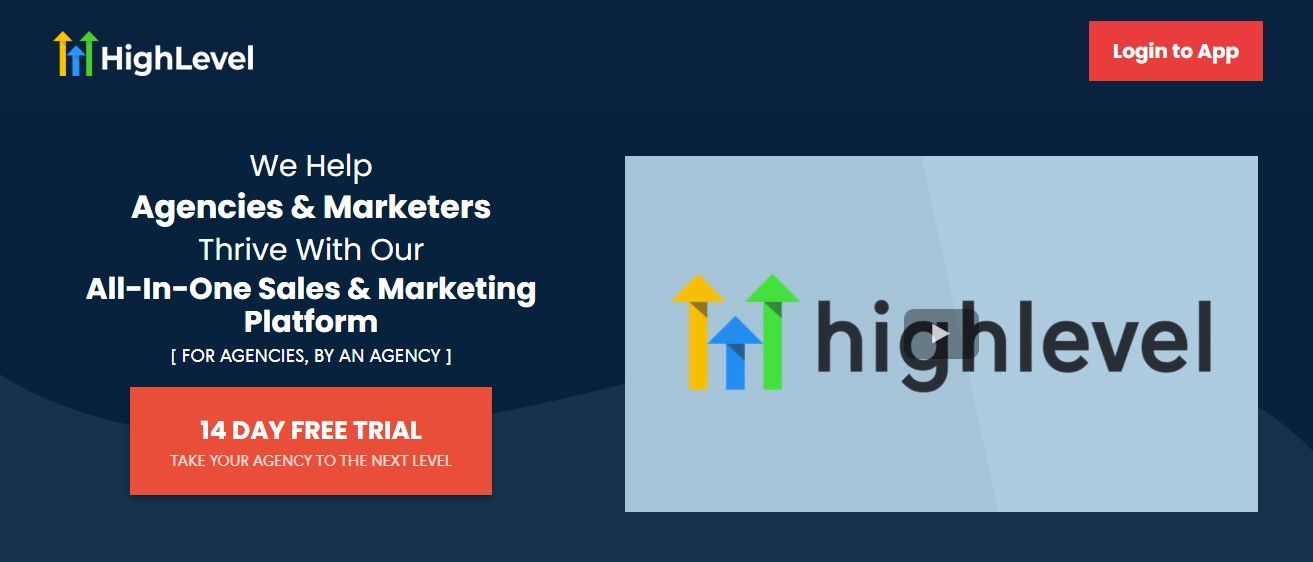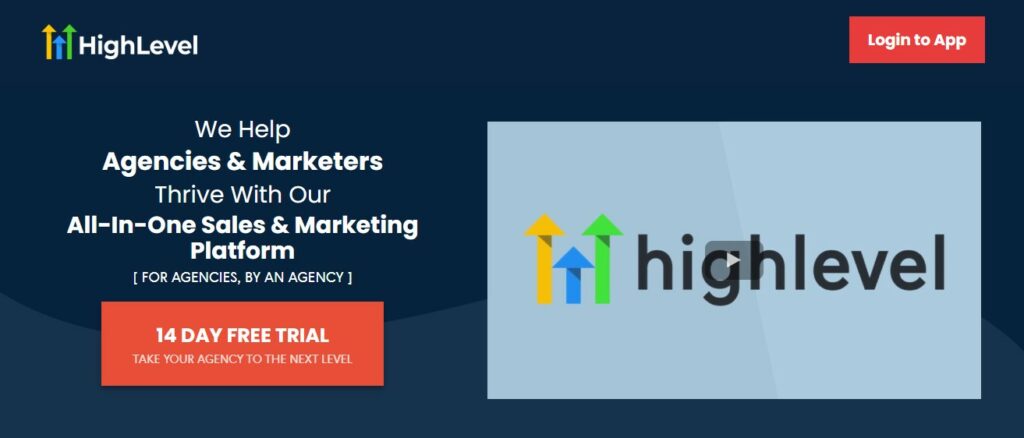 GoHighLevel is designed to be more of an all-in-one marketing solution. GoHighLevel combines the functionality of a large enterprise CRM with intuitive marketing automation.
With HighLevel, you get the best of both worlds. It empowers you to set up and manage complex workflows.
In addition, it has all the standard reporting features that you would expect from a CRM system.
So that means they're trying to do everything to give you an all-in-one solution so that you don't have to be using different pieces of software to do everything you need to do when it comes to marketing automation.
To give you a better perspective of what this software can do, in the following sections, we'll take a look at some of the key features that make it stand out from other GoHighLevel alternatives.
Sales Funnels
Sales funnels are an online business's (aka your company's) bread and butter. These are the processes or the sets of actions you define as the customer goes through from first awareness to purchase and beyond.
The more flexible, streamlined, and effective your sales funnels are, the more likely you are to see a substantial increase in your company's revenue.
And the question is which platform is a better solution for creating sales funnels?
Let's find out.
ClickFunnels Funnel Builder
ClickFunnels has a very easy page editor where you can easily drag and drop images, texts, and different elements into pages that you're creating.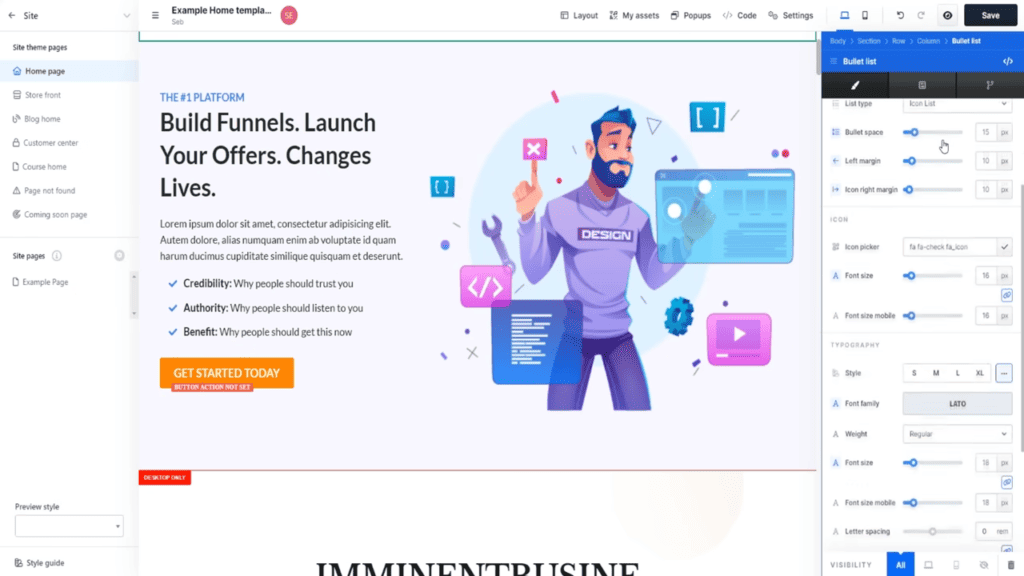 It also comes with templates and both options actually give you a way of creating the different landing pages for your funnel in a pretty easy way to just get started without needing to do any programming or anything like that.
Now, in my experience, I have found ClickFunnels to have two slide advantages over GoHighLevel when it comes to this landing page builder.
And the first advantage is speed. I found that ClickFunnels pages when it comes to actually opening up the pages to edit your websites and edit your funnel landing pages.
And also the speed at which these different landing pages load is significantly faster than GoHighLevel, which is a really big advantage.
The second advantage that ClickFunnels has is the user experience of editing different pages.
GoHighLevel Funnel Builder
GoHighLevel has also a built-in page builder that allows you to create sales funnels and websites.
This page builder is also drag and drop. You can add columns, rows, sections, pop-ups, and pretty much everything that you can do with ClickFunnels but as mentioned earlier it's not as easy to use.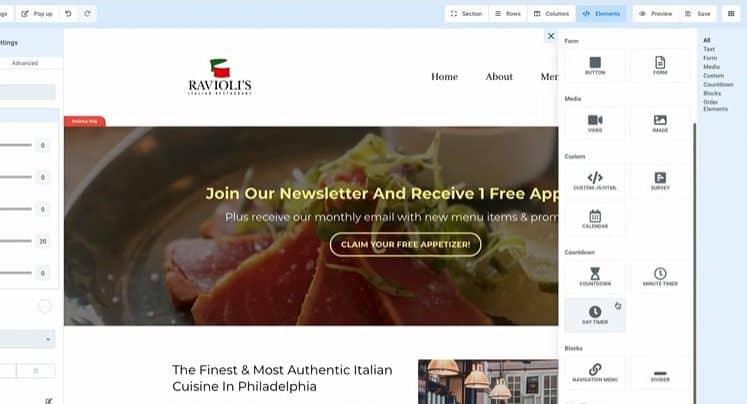 However, where the GoHighLevel page builder is better is that it's integrated with the rest of the tools similar to Kartra as I explain in this Kartra vs GoHighLevel comparison.
Overall, both options are pretty easy to use, but I have found ClickFunnels to be slightly easier.
When you're editing some texts on ClickFunnels, you just got to click on the text and you can start editing it right away.
With GoHighLevel, you have to click on the text and you have to click on the little pencil icon, and then you can start editing the text. It's not a huge deal, and honestly, it's not going to really have a huge impact on how fast you start building different pages.
But it is little things like that just to give you one example that ClickFunnels makes it just a little bit easier to edit the different pages, images and texts when you're using the landing page editor.
Email Marketing Automation
What business owner or marketer doesn't want more leads? With an ideal marketing strategy in place, it's all about attracting the right customers at the right time with the right message.
Email marketing is one of the most effective ways to attract new leads and nurture the ones you have. It's also easy to set up and doesn't require a large budget.
Both platforms have email marketing tools.
ClickFunnels Email Marketing
The new ClickFunnels 2.0 version comes equipped with its own email marketing platform that lets you send out live email Broadcasts so that you can let them know about your newest special promotion, offers, or updates
You can also schedule automated sequences to nurture your audience through each stage of the customer's journey.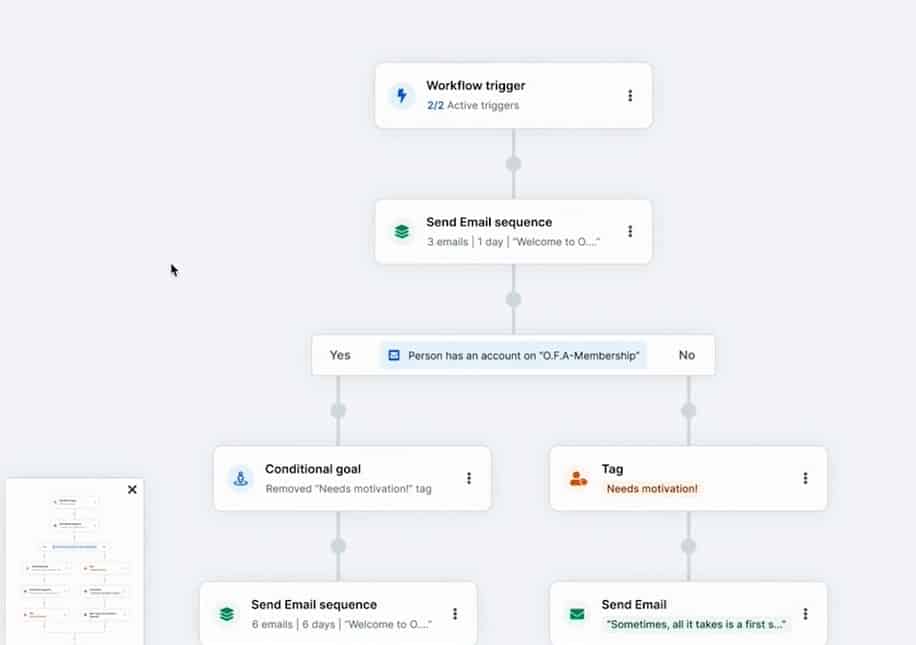 The software lets you even segment your lists to maximize your revenue based on their past behaviors, preferences, contact info, and more.
And just like the ClickFunnels Page Editor, its Email builder is drag and drop. You don't need to be a tech wizard in order to send a message to your audience or even create advanced automated sequences.
ClickFunnels 2.0 has an in-house SMTP so you can cancel your 3rd party email delivery subscription.
You can also integrate with other 3rd parties email marketing tools like ActiveCampaign, GetResponse, or Aweber.
GoHighLevel Email Marketing
GoHighLevel also has email marketing software built into the system itself, and you can get access to this inside of its starter package.
But you might be thinking, okay, that sounds good, but is the email marketing features that GoHighLevel has any good?
Well, we've actually used MailChimp, ActiveCampaign, and ConvertKit and we found that it's on the same level, if not better than some of these email marketing tools.
So, I'm actually incredibly impressed with GoHighLevel email marketing automation capabilities.
They have pretty much everything that you would need to do. You can create advanced email marketing automation sequences; you can obviously send out different broadcasts and things like that.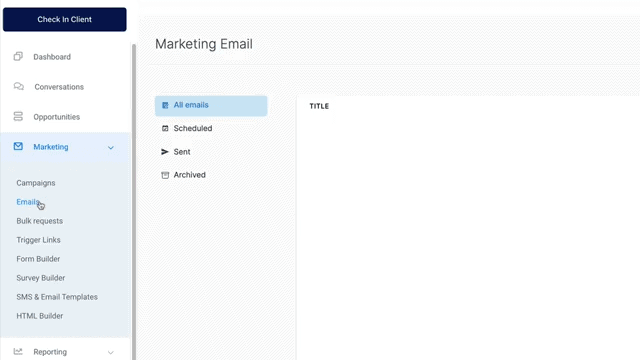 You can add different tags and you can add different rules depending on how people behave when they open the emails. I found in terms of getting the emails to people's inbox again, all to be very good.,
But the most important is that GoHighLevel email marketing is integrated with their CRM system.
And when email marketing comes well integrated with your CRM, it's like having a dedicated, always-on sales and marketing team at your disposal.
Again, it's not a huge deal, but ClickFunnels does have a slight advantage with that. I also go in about ClickFunnels and GoGighLevel marketing automation capabilities in this video:
Membership Site
The next category is membership sites. Chances are if you're looking for a digital marketing platform you're interested in selling your online courses or educating people in your own membership area.
And ClickFunnels and GoHighLevel allow you to create a members area with a little bit of nuance.
ClickFunnels Membership
ClickFunnels membership area is very easy to use but it's really mediocre.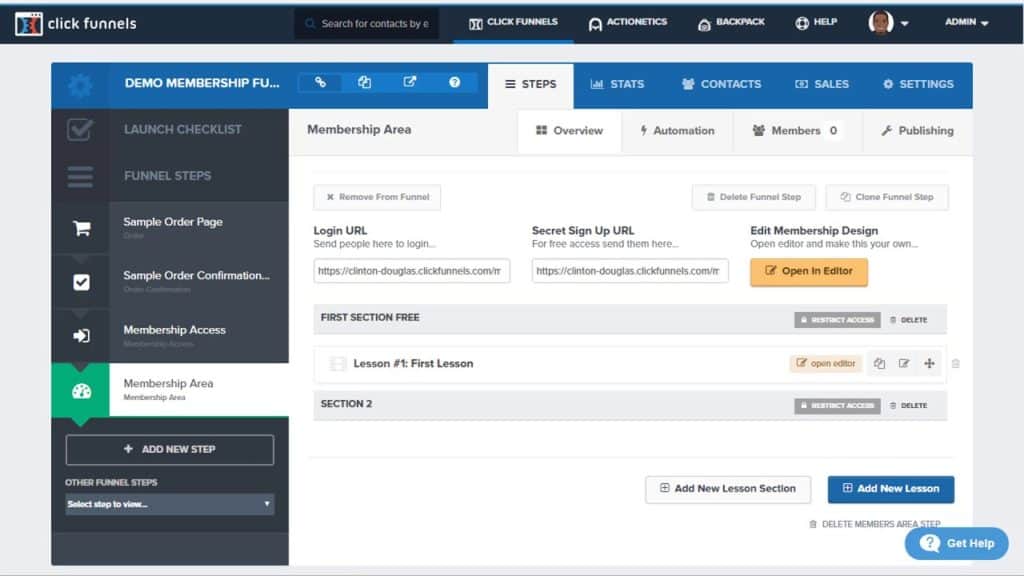 The experience is subpar and what I find is that even ClickFunnels themselves when they sell their online coaching programs put a lot of coding effort and they go in and they write all this crazy custom code for it to look and feel like a cool members area as the baseline features for Clickfunnels don't really allow for its a look or feel very cool.
GoHighLevel Membership
GoHighlevel membership is also very simple, clean, and easy for both yourself and your members to navigate and understand how to get through all of the materials.
Besides membership sites, with GoHighLevel you can also build sprint courses and marathon courses.

But where GoHighLevel is better than ClickFunnels when it comes to membership areas is that GoHighLevel is fully white labeled. This means you can brand the platform and its mobile app with your custom domain, logo, and company colors.
Then you can resell it to your customers for a monthly subscription and start a SaaS business.
Ease of Use & Interface
Now let's talk about which solution is easier to use.
Now, ClickFunnels and GoHighLevel, both have a learning curve that you need to start getting used to.
But because GoHighLevel does have a lot more features and functionalities than ClickFunnels, usually the learning curve on GoHighLevel is a little bit steeper than it is with ClickFunnels.
Most people that start to use ClickFunnels are found they do have to learn how it works, but they can learn how it works a little bit quicker when it comes to building funnels and building landing pages and things like that.
In the past, ClickFunnels required integration of third-party tools like email marketing, booking calendar, and automations, and make them work together.
Now with the ClickFunnels 2.0, there no need to do so because everything is included in the platform.
Whereas with GoHighLevel because it's created for marketing agencies, it can be a little bit overwhelming.
And this is where a lot of people get tripped up when they're starting out using HighLevel because they just don't really know where to get started because there are so many capabilities
But once you've got past the learning curve with GoHighLevel you know the basics and how it all works, it could be much easier over a long period of time to use GoHighLevel especially if you run a digital marketing agency.
Where ClickFunnels is Better Than GoHighLevel?
Now let's take a look at what ClickFunnels does better.
ClickFunnels eCommerce
ClickFunnels 2.0 lets you build a full-fledged eCommerce store.
You can simply choose a store template, add products, and you are ready to begin selling.
You can also add cart funnels to your products. Cart funnels are basically eCommerce sales funnels that are designed to sell specific items in your store. They enable you to optimize the entire purchasing process from start to finish.
Setting up cart funnels for all of your catalog's products helps you maximize sales, revenue, and profit for your eCommerce store.
ClickFunnels Blog
With new ClickFunnels 2.0, you can also write and publish SEO-optimized blog posts to educate your audience about your business.
You can repurpose your blog articles into social media posts, on multiple platforms so that you can create an omnipresence on social media to send more traffic to your website, or a landing page.
You can also connect your blog to your website, online store, products, email marketing, and other services so everything is tied together. This can help you convert your blog traffic into leads, and then into customers.
Furthermore, having your blog on the same domain as your website or store improves your overall SEO. That means that all of the SEO efforts that your blog receives will be transferred to your site.
ClickFunnels Templates
ClickFunnels features a number of high-quality, 100% responsive templates that can help create a good-looking site for your business without much effort.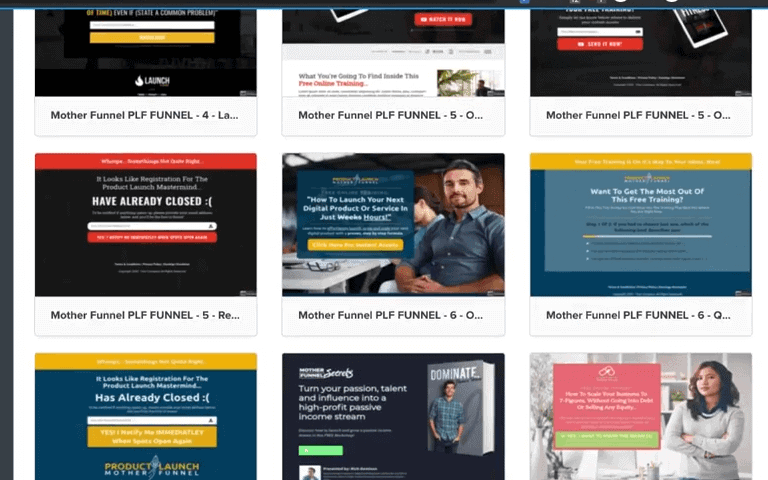 These templates are professionally designed by experts in the industry and they have different functionalities that will let you choose the one that suits your so you can convert your traffic into subscribers.
In order to get an idea of what kind of template will work best for your business needs, just go through their sample pages and choose the one that suits your requirement.
ClickFunnels Analytics
If you want to know how a launch or campaign is doing, the new updated ClickFunnels Analytics feature provides real-time data, allowing you to make the most informed business decision on what you should change in your marketing campaigns.
With ClickFunnels Analytics 2.0, you can also track and compare the performance of your ads and funnels over time.
FunnelFlix
ClickFunnels has a great library of training for entrepreneurs and digital marketers called FunnelFlix.
Inside FunnelFlix you can learn all about funnels and digital marketing and business, and pretty much everything you can think of.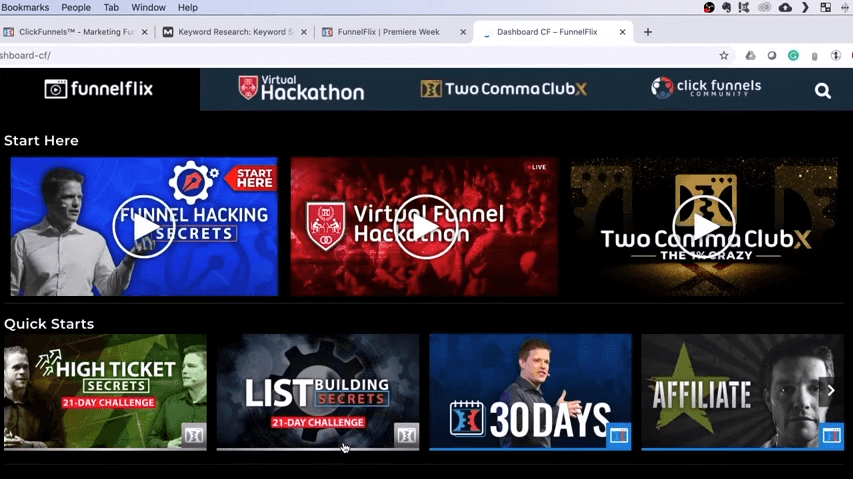 Now is FunnelFlix actually worth it?
The truth is, I don't know, because I actually canceled my ClickFunnels subscription just before they released FunnelFlix so I haven't actually used it.
I've only seen what it provides, but I haven't actually watched any of the videos on FunnelFlix so I can't really tell you if it's good or not.
You're going to have to try that out for yourself and see if you like it.
However, that being said, I do manage some client accounts and they have ClickFunnels so if I wanted to, I could check it out and see what it's like, but the truth is I have no need to actually watch any videos on FunnelFlix.
Where GoHighLevel is Better Than ClickFunnels?
Now you'll see the major differences between ClickFunnels and GoHighlevel.
GoHighLevel CRM
Whether you're a small business looking to get your brand out there or a large corporation wanting to retain your precious customers, you need an integrated CRM system that gives you the ability to seamlessly communicate with your customers and prospects.
But when you're looking for a CRM that can help you achieve this, you're faced with a lot of different options.
Although the new ClickFunnels 2.0 version offers a CRM system, it's not even close to the one of GoHighlevel.
GoHighLevel is one of the best CRM for marketing agencies that helps you connect all of your marketing channels, manage your sales pipeline, gain insight into your customers and bring them on-board faster with integrated marketing functionality.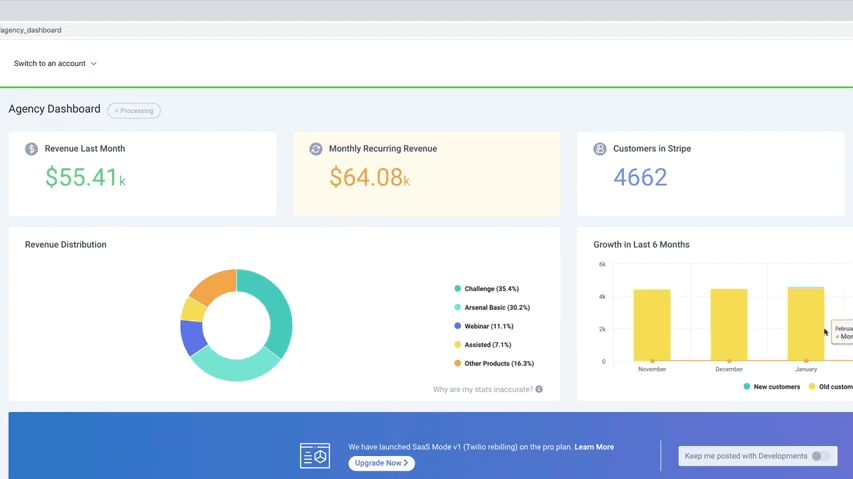 But GoHighLevel CRM isn't just another CRM tool – it's a complete business management suite that helps you better connect the dots between all of your channels.
It has marketing automation tools, sales tracking, call tracking, and funnel builder all baked into one platform.
What's more, it allows you to do this in a simplified manner, without sacrificing the functionality you need.
GoHighLevel Snapshots
Inside your agency dashboard, you'll find a library of pre-built industry-specific snapshots which are already loaded up with things like forms, landing pages, triggers, and nurture campaigns.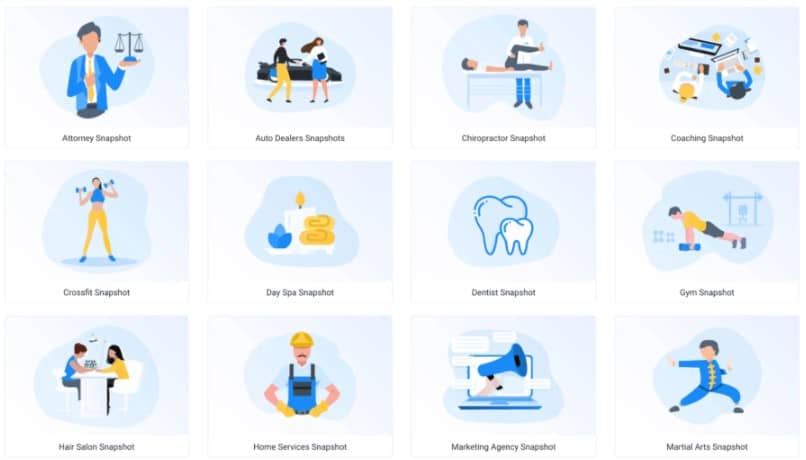 So, all you need to do is follow the accompanying setup guide to configure and activate these items, saving you a ton of setup time by not having to start from scratch.
GoHighLevel Forms
Under the marketing tab, you'll find our form builder.
Here you can build custom forms by dragging and dropping standard form fields like name and email.
But also, any custom fields that you create, you can style the form to your liking with full control via custom CSS.
GoHighLevel Opportunities
Here you can display the leads in a pipeline and leverage automations to nurture the leads into conversions.
In the opportunities tab, we can find the custom pipelines you've built.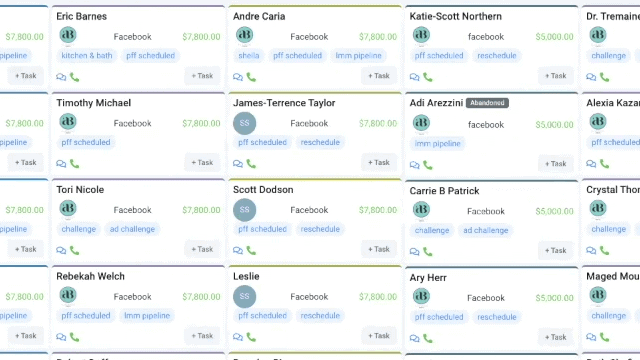 It can have as many columns in whatever order as you'd like.
You can even filter the view and toggle between multiple pipelines, with the header dropdowns.
With triggers, you can build internal actions that automatically move opportunities through the pipeline based on specific events.
GoHighLevel Campaigns
Campaigns are automations that you can build using elements like:
2-way text messages
Emails
Voicemail drops
Facebook Messenger
And even auto phone calls which are really cool because when triggered, you can actually call your client who will hear a recording.
GoHighLevel Conversations
Within the conversation tab, you'll find all the text messages and emails that went out or came in as well as recordings of any phone calls that took place.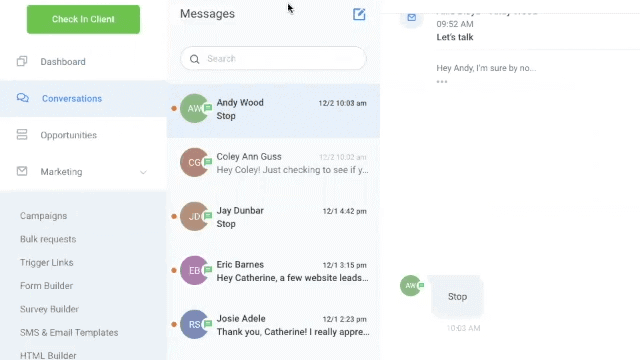 Your clients will be able to reply to the leads via text messages, emails, or Facebook messenger, bringing all lead conversations into one unified feed.
If a conversion for your client means booking an appointment or consultation, you can create calendars with booking widgets and embed them in your funnels so that once the leads are ready to convert, they can book themselves online.
Pricing Plans
Now, when it comes to pricing, both GoHighLevel and ClickFunnels offer you different packages that you can choose from so I'm not going to compare every single one of those different packages that they have head-to-head.
What I'm going to do instead is compare the starter package that each different solution has so that you can actually see from the starter package, which gives you the best option to get started.
So, let's start with ClickFunnels.
ClickFunnels Pricing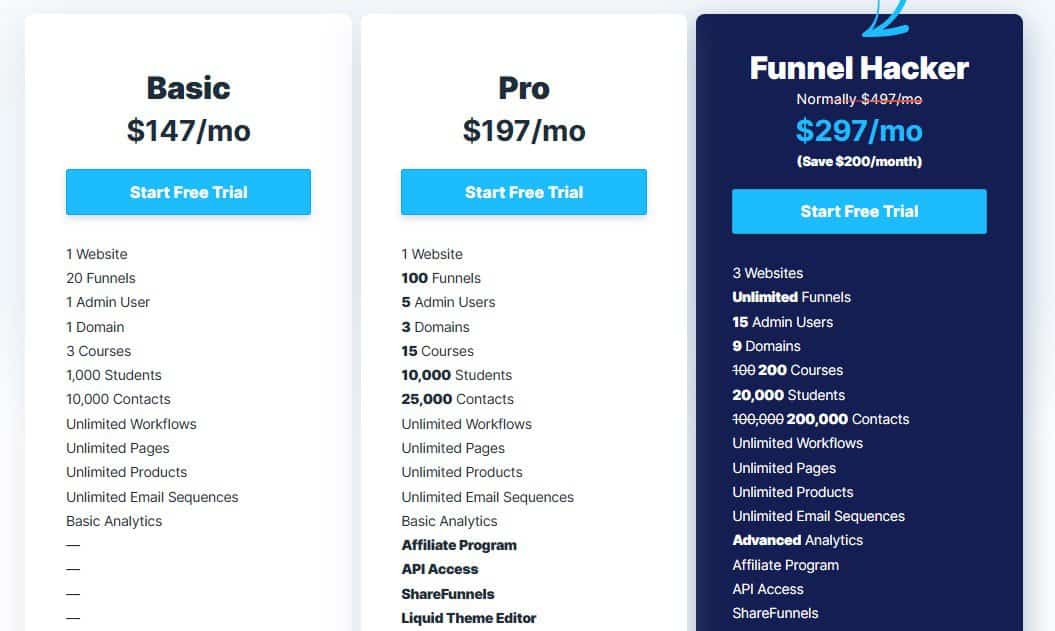 ClickFunnels offers 3 different plans:
Basic plan – $147/month
Pro plan – $197/month
Funnel Hacker plan – $297/month
ClickFunnels also has a 14-day free trial.
GoHighLevel Pricing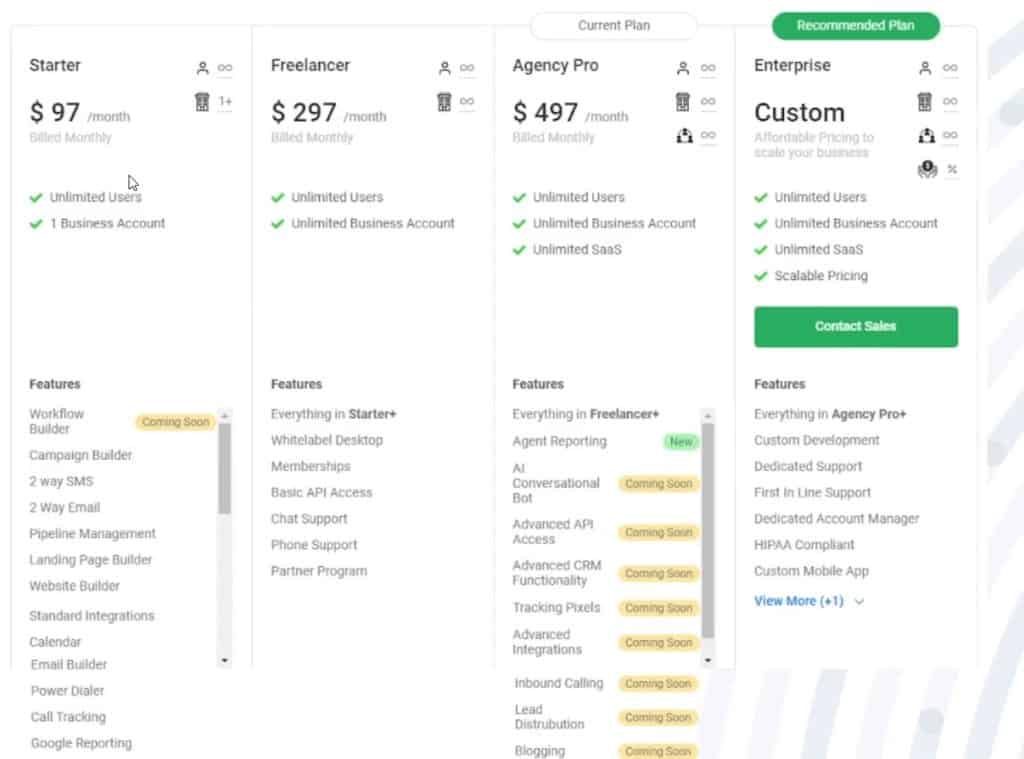 GoHighLevel also provides 3 pricing options:
Starter – $97/month
Freelancer – $297/month
Agency Pro – $497/month
So, when it comes to which option is the most cost-effective between ClickFunnels and GoHighLevel, in most cases, it's going to be GoHighLevel.
It's actually has everything that ClickFunnels does and more, all included within the same starter price of $97 a month.
GoHighLevel also offers a 14-day free trial that unlocks all the features that they have.
ClickFunnels vs GoHighLevel Final Words
So now that you know the big difference between GoHighLevel vs ClickFunnels, the question then becomes for you to decide which option and which solution is better for you.
In short, if you're looking for an easy-to-use platform that can help you streamline your sales process and increase conversions, ClickFunnels might be a good fit. It's especially well-suited for businesses that are selling digital or physical products or services online.
On the other hand, GoHighLevel might be a better choice for businesses that need a more comprehensive digital marketing platform with a wider range of tools for building marketing automation, managing clients, and automating marketing tasks.
Ultimately, the right platform for you will depend on your specific business goals. It may be helpful to try out free trials of both platforms to see which one works best for you before making a decision.