Do you want to know what is the best autoresponder for affiliate marketing so that your account doesn't get banned and you don't lose your email list? After testing multiple email tools for my business, I've decided to put together this in-depth review of the best email software for affiliate marketing.
I'm going to tell you the pros and cons of all these different platforms and most important I'm going to give you my recommendations based on your needs.
In affiliate marketing, your email list is your business. It's not part of your business, it is your business so having a good autoresponder is crucial to your email affiliate marketing success.
That being said, now let's go into the top email autoresponders for affiliate marketing.
Best Email Autoresponder for Affiliate Marketing in 2023
Here are our top choices for the best email marketing software for affiliates to try this year:
1. GetResponse – Best email autoresponder for affiliate marketing overall
2. Kartra – Best for advanced affiliates
3. Builderall – Best affordable email marketing platform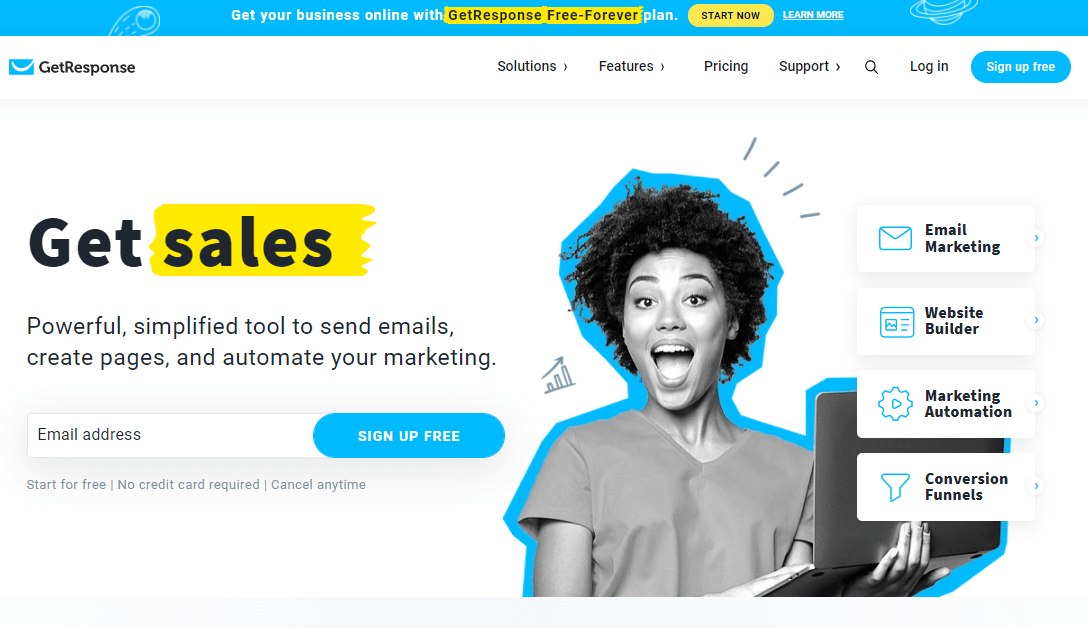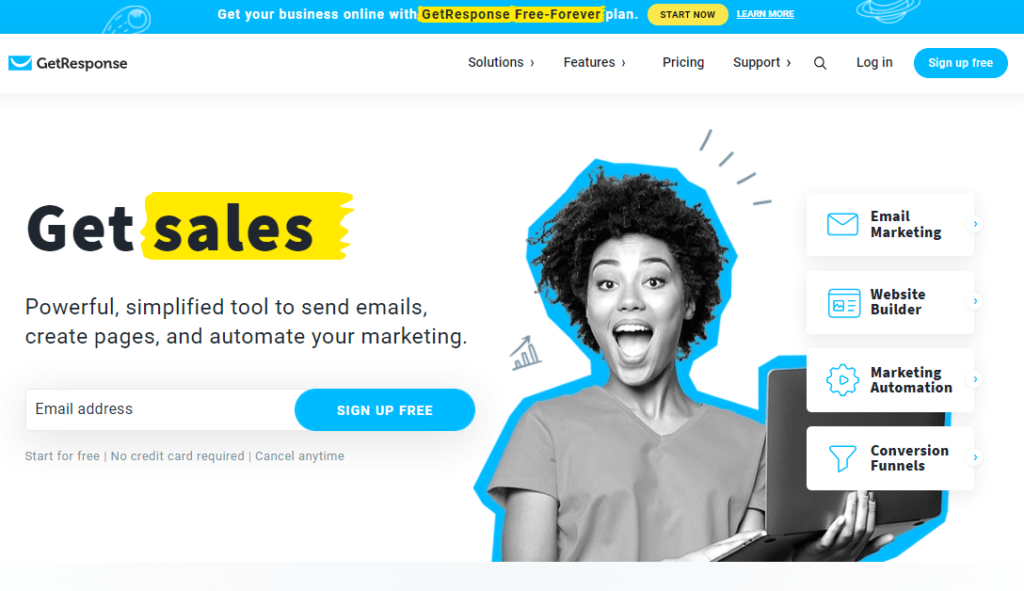 GetResponse is by far hands down the best email autoresponder for affiliate marketing.
GetResponse's advanced segmentation tools allow affiliates to create targeted email campaigns based on a wide range of criteria, including subscriber behavior, location, and interests. This can be a powerful tool for affiliates looking to deliver personalized and relevant content to their subscribers.
It keeps track of the people who have opened your email and who has clicked the link inside your email, and also it can create an automation rule based on the action these subscribers are taking.
They do a great job of cutting out all the fluff. It's very simple to use. A beginner will quickly understand even the most sophisticated email automations that they have.
But what makes GetResponse stand out among other email marketing platforms is the Automated Sales Funnel creator.
Here are the main features of GetResponse Autofunnel:
Social ad creator
Landing pages
Web forms
Exit popups
Email marketing automation
Webinars
And more
See 100+ things that you can do with GetResponse AutoFunnel.
And because GetResponse has been around for a long time and it's a fairly big company they integrate with so many things very easily including WordPress, ClickFunnels, Kajabi, Builderall, and more.
It's also very affiliate marketing-friendly. They don't care what you do with your list as long as you're not doing something illegal or scammy then they will not shut you down.
But as far as affiliate marketing and making money online niche they don't mind at all.
Plus they have a 24/7 chat where they walk you through step by step if you don't understand something.
The one GetResponse disadvantage is if you're going to be using it to build a landing page, the landing page is not as customizable as it is if you're going to be using the other sales funnel builder like Kartra.
GetResponse Pricing
GetResponse offers a 30-day free trial and after a free trial period of 30 days, the pricing plans are as follow:
Basic – $15/month
Plus – $49/month
Professional – $99/month
Max – Custom pricing for advanced requirements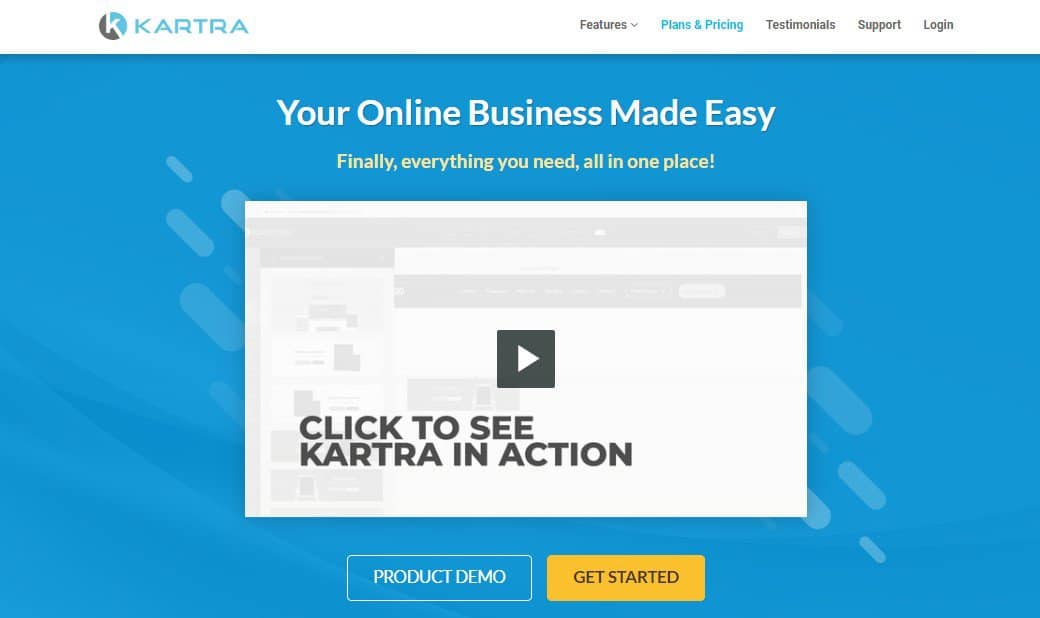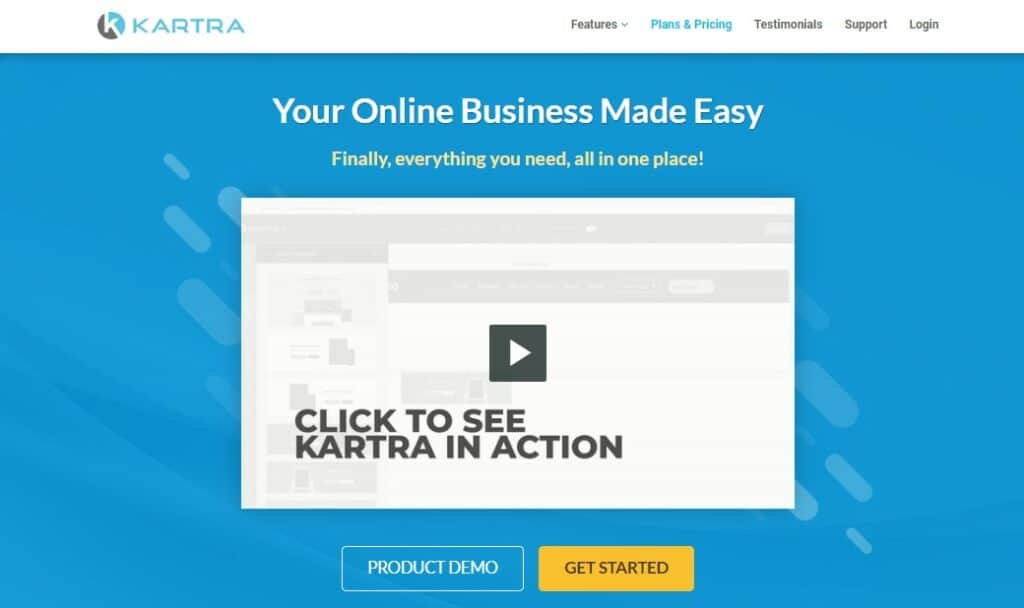 Kartra is an all-in-one digital marketing platform with 12 tools including very advanced email marketing software integrated with the rest of the tools.
Kartra allows you to import and manage multiple email lists, segment them based on specific criteria, and create targeted email campaigns for each segment. So you can promote affiliate products to many different niches.
They also have a variety of customizable email templates to choose from, making it easy to create professional-looking emails that match your brand's style.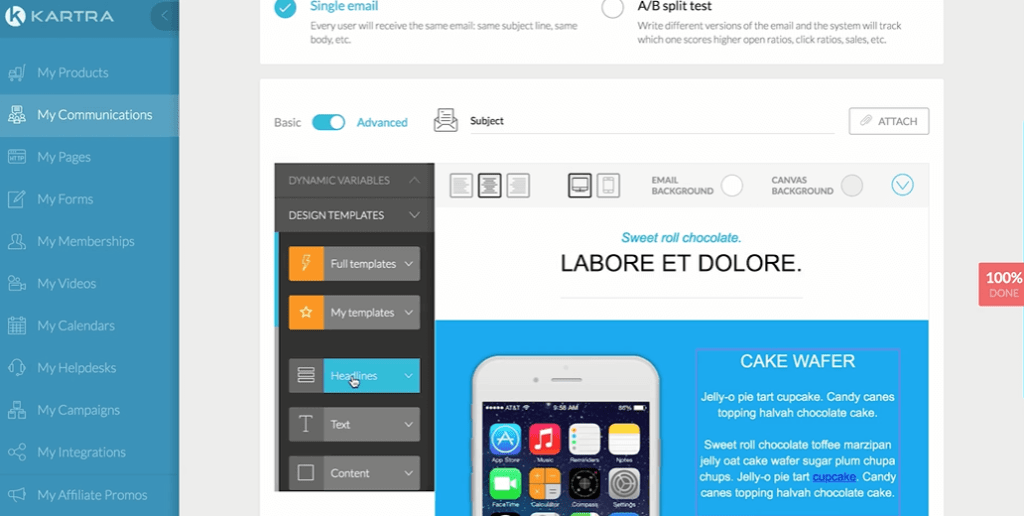 What makes Kartra one of the best autoresponders for affiliate marketing is that Kartra has one of the most advanced automation features comparable with dedicated email marketing platforms on this list.
With Kartra, you can set up advanced automated email sequences that are triggered by specific actions taken by your subscribers. For example, you can send a welcome email to new subscribers, or a series of emails that promote a specific product or service.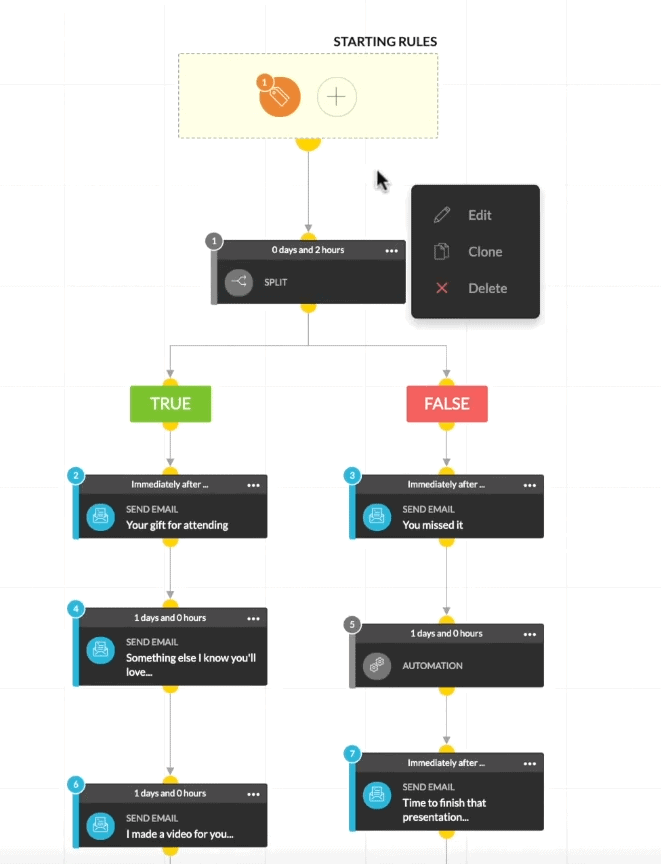 Kartra also provides detailed tracking and analytics for your affiliate campaigns, including the number of clicks, conversions, and revenue generated. This can help you understand the performance of your affiliate campaigns and identify which ones are most successful.
But what I like about Kartra the most is its super high email deliverability. Kartra founders have a very careful manual process for importing leads as new users on the platform. And this is super important in affiliate marketing because your emails can easily end up in spam using other email marketing tools.
And finally, with Kartra's Done for You Campaigns, you can quickly set up professional-looking marketing campaigns without having to start from scratch.
Basically, Kartra's Done for You Campaigns are pre-designed marketing campaigns created by Kartra founders that you can use as a starting point for your own campaigns. These campaigns include email sequences, landing pages, and other marketing materials, and are designed to help you promote specific products or services.
Done for You campaigns are particularly useful for affiliate marketers, as they provide a proven, tested marketing strategy that you can use to promote products or services. They can also be a helpful starting point for small businesses or individuals looking to launch a marketing campaign but who are not sure where to start.
Some of the other Kartra tools include:
Website builder
Video hosting
CRM system
Membership site
Quizzes & Surveys
Forms
And more.
When it comes to pricing, Kartra is not the most affordable software but with Kartra you don't have to use any other third-party tool.
Kartra Pricing
Starter plan – $99/month
Starter plan – $199/month
Gold plan – $299/month
Platinum plan – $499/month
▶ Kartra extended 30-day trial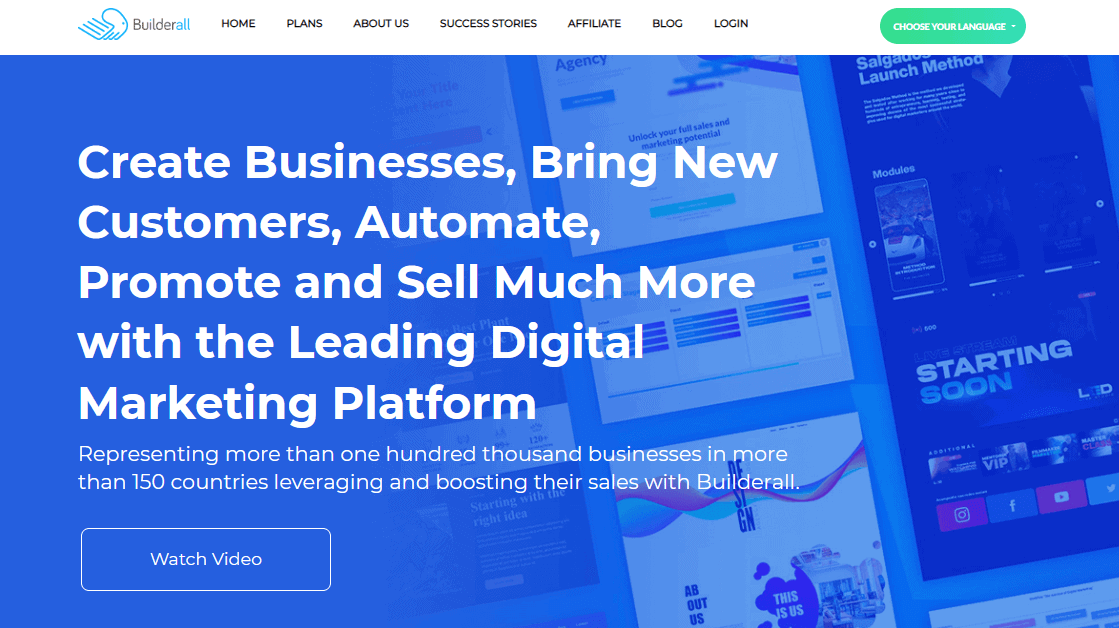 Builderall is one of the most powerful all-in-one digital marketing platforms that includes a variety of tools for building websites, creating marketing campaigns, and managing online businesses.
Builderall MailingBoss is an email marketing and automation tool that is part of the Builderall platform. MailingBoss is designed to help you create and send professional-looking emails, newsletters, and other types of marketing campaigns.
It offers a range of features including customizable templates, email and landing page builders, and advanced automation tools.
Where Builderall stands out is that it's integrated with over 50+ Builderall tools such as:
Drag and drop website
Sales funnel builder
Sales funnel simulator
Script generator
Video hosting

Webinar tool

Membership area
And many other Builderall tools…
In addition, Builderall also offers one of the best funnel builders for affiliate marketing which is integrated with its email marketing software.
The deliverability is also very high compared to dedicated email marketing services.
And as a member of the Builderall Funnel Club, you have access to a range of tools and resources to help you build and optimize your sales and marketing funnels. The Builderall Funnel Club provides access to +400 done for your sales funnels.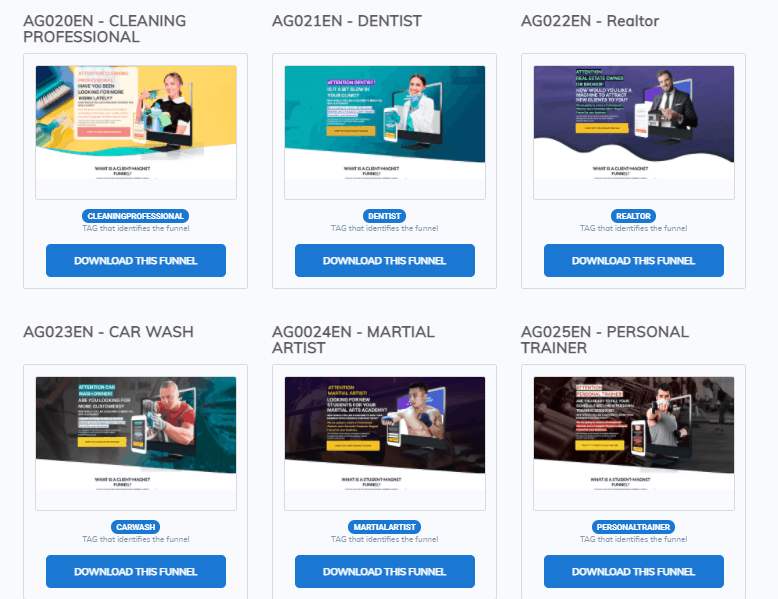 Members of the Builderall Funnel Club have access to a range of training and support resources, including tutorials, webinars, and a support team.
The disadvantage of using Builderall is that you can't get this tool separately. You would need to upgrade to one of the Builderall pricing plans.
However, this platform offers the most value for your money because it's super low taking into consideration all the tools that they have to offer.
Builderall Pricing
Cheetah Plan – $16.90/month
Marketer Plan – 76.90/month
Premium Plan – $87.90/month
Funnel Club Plan – $87.90/month + 199.90 one-time payment
▶ Builderall 14-day free trial
Constant Contact is a marketing automation platform that is a solid option for affiliate marketers.
ConstactContact omnichannel marketing platform lets you promote affiliate products through not only email marketing but also online surveys, and even social media marketing.
Similar to most affiliate responders, Constant Contact's email marketing tool allows you to create professional-looking emails and newsletters. You can segment their email lists, customize emails with templates and images, and track the results of your campaigns.
Another key feature of Constant Contact is its social media marketing tool that lets you plan and schedule posts in advance, track the results of your social media campaigns, and engage with your followers.
Another perk of Constant Contact is its online survey tool that allows you to create and send surveys to gather feedback. You can choose from a variety of survey templates, analyze the results,
This can be particularly useful for affiliates with an already established email list who want to engage more with their audience.
Using ConstactConstact online survey tool you can ask your audience what products they like and what they don't like and then use the insights to perhaps promote different affiliate products.
ConstantContact Pricing
Core – Starting at $9.99/month
Plus – Starting at $45/month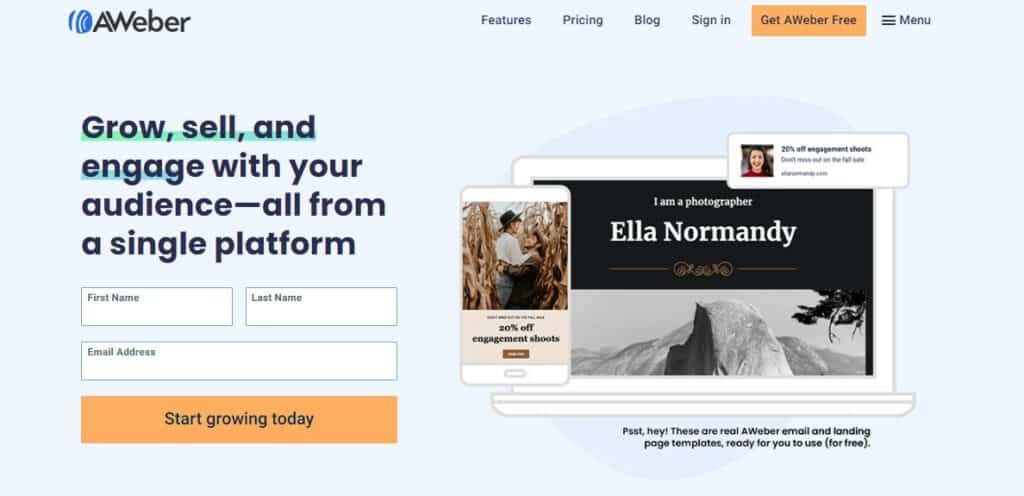 The next email autoresponder that's good for affiliate marketing is AWeber. So, the best thing about AWeber is easy to learn, has simple automation, and the email deliverability is great.
Most of the emails have hit the inbox and they don't land in the junk folder.
However with AWeber, you have to be very careful how you word things, you have to be very careful how you talk about making money online and stuff like that.
They're one of the ones that are not big fans of affiliate marketing so you can try it but I would cross it off my list.
Honestly, if you're going to pay for an autoresponder from the get-go and you're going to set yourself up with your business then you don't want to go ahead and go with a company that's going to keep a watchful eye on you.
When it comes to Aweber cons for affiliates, first of all, is the pricing. Although there are hundreds of templates available that you can use, some of them could be updated, which is not for the little bit of modern design look for your emails or sending them newsletters and all of that.
Some of the other email autoresponders are better in pricing so if you're looking price-wise, AWeber is sort of like in the middle, and some of the other ones are a little bit better in the pricing.
The second thing is automation. Automations that you can use from AWeber are pretty simple, and straightforward. They don't have any complex automations like some of the other email marketing tools.
AWeber Pricing
0-500 subscribers – $19/month
501-2,500 – $29/month
2,501-5,000 – $49/month
5,001-10,000 – $69/month
10,001-25,000 – $149/month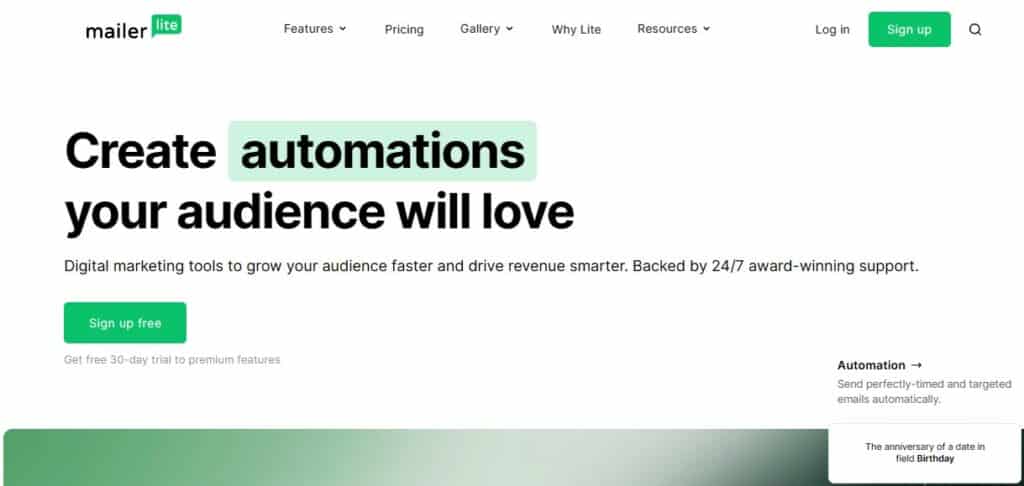 If you're looking for a totally free email marketing tool to get started then I recommend using MailerLite it's super beginner-friendly.
The dashboard is super clean and intuitive and you won't get lost at any point.
It has a lot of different email and form templates to get you started so you can just choose what you like and use it as your starting point.
The templates are easy to modify although don't expect complete flexibility the layouts are pretty rigid and from my experience, it's okay to include affiliate links as long as you are not spamming people with them.
And it even comes with landing pages and they are included in the free plan too.
However, email marketing automation is pretty limited compared to other platforms on this list.
You can do a basic stop send-up welcome email sequence when people sign up and you can have multiple automation flows based on the form they've used.
But just, in general, there are only a few triggers you can choose from. Another thing that it's missing is better analytics.
Currently, it's pretty basic you can see how your forms are performing overall but nothing per month or basic segmentation is just completely missing that's the only cons I found with the tool so far.
MailerLite Pricing
The coolest thing about this tool is that it has email automation included in the free plan which most other tools don't offer in the free plans.
And speaking of the free plan this tool comes with a thousand subscribers and 12,000 emails per month for free.
And even after that, it's one of the most affordable options to scale your newsletter subscribers to 10000 and beyond.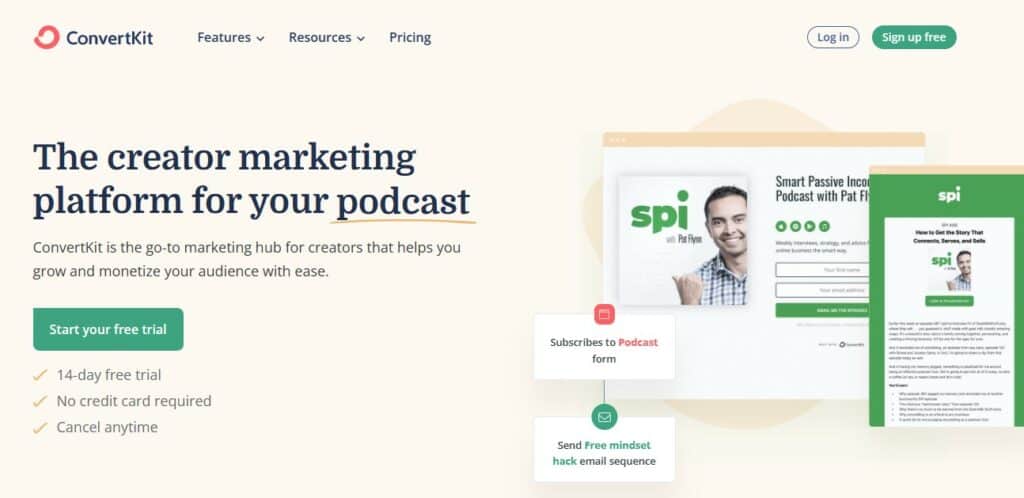 Convertkit is an email marketing platform specifically designed for professional bloggers, creators, and small business owners.
But it can be a good autoresponder for affiliate marketers because. In fact, ConvertKit is used by one of the top affiliates, Pat Flynn.
One of the key features of this email provider is the advanced visual automation tool that lets you organize your subscribers to trigger email sequences, and set up your customer journeys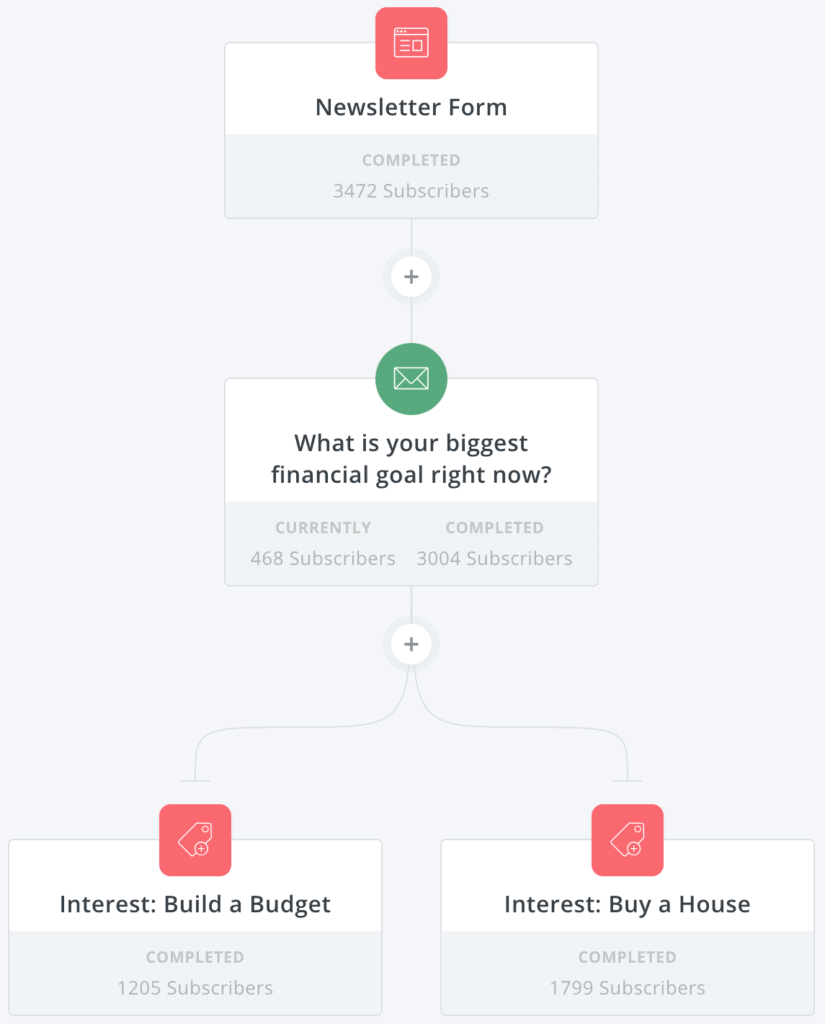 You can auto-resend to the broadcast for the emails that are not open and open the email automations so you could share them with other people.
The other best thing about them is they do have a free plan to start with.
Any subscribers, less than a thousand, can be part of their free plan so that you don't have to worry about paying it until you build a substantial list.
Also, as an affiliate, you can also use their landing page to build an affiliate landing page where you can give out an e-book or a checklist and start building your email list.
So, you don't have to worry about sales funnel builder software for your affiliate marketing.
And last but not least the plus point for ConvertKit is, it also gives you an option for an A/B split test to find out which of your email copy is doing better with the inbox and opening rates.
Some of the things that I don't like about ConvertKit is that you can only send a test email to yourself for broadcast, but if you're sending it for automation, you cannot send a test email to yourself to you see how it will look like.
For some of the templates you have with ConvertKit, you can't customize to what you want to do. There's a lack of customization of templates that are given to you.
So, there's little you can do to avoid that. It's done automatically.
ConvertKit Pricing
Free plan – $0
Creator – $29/month
Creator Pro – $59/month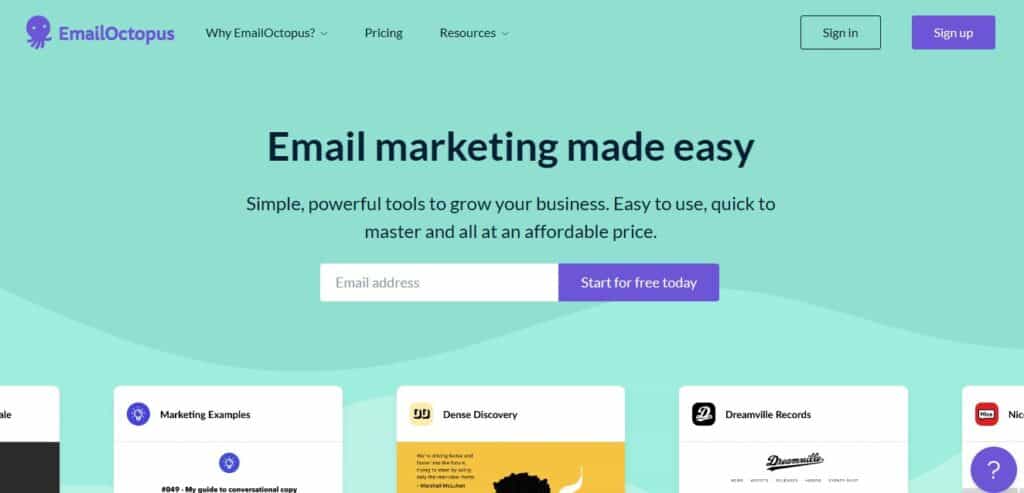 The EmailOctopus thoroughly impressed me with its ease of use. EmailOctopus has a simple drag-and-drop editor, pretty good reporting, and integrations with many business software such as:
Shopify
WordPress
Unbounce
Webflow
And more
It also allows you to create multiple email lists through its email groups feature. Email groups are placed into categories and might be created based on demographics, interests, or even specific goals.
The cons of using this platform are very low deliverability which is super important, especially for affiliate marketers.
The other disadvantage is that on the free plan, you will also have EmailOctopus branding on emails which is very unprofessional.
EmailOctpus Pricing
EmailOctopus Starter – $0
EmailOctopus Pro – starting at $6/month
The starter plan allows you to send up to 10,000 emails/per month and have up to 2,500 subscribers.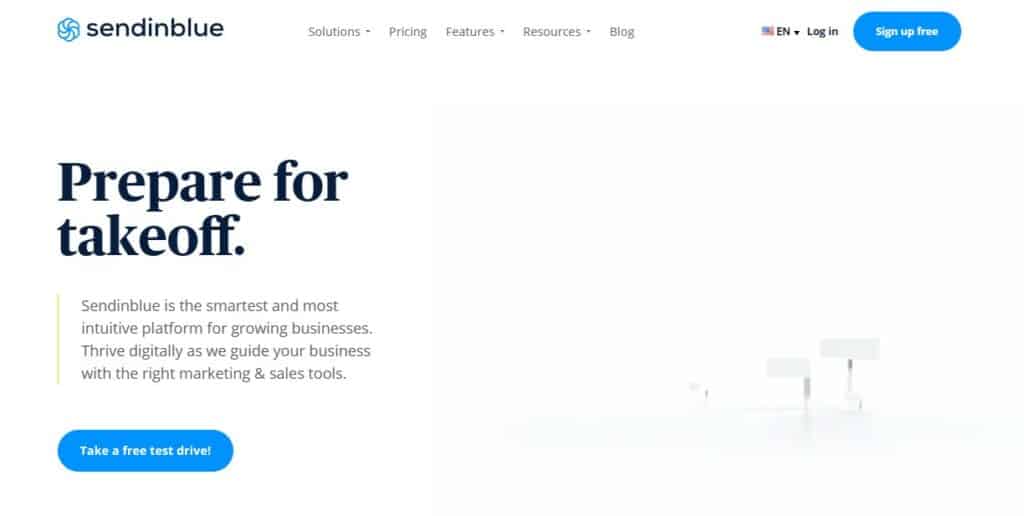 Sendinblue is a marketing automation software that helps build and grow relationships through email campaigns, SMS messages, Facebook Ads, chat, and retargeting ads.
Sendinblue's automation tools allow users to set up complex workflows based on a wide range of triggers and actions. This can be particularly useful for delivering personalized affiliate products and offers to subscribers based on their interests and behaviors.
In addition to email marketing, Sendinblue also offers SMS marketing tools that allow users to send text messages to their subscribers.
Plus, Sendinblue provides detailed reports on the performance of email, SMS, and automation campaigns, allowing users to track the success of their marketing efforts and make informed decisions about their future campaigns.
Sendinblue is unique in that you pay per email sent, you don't pay per list size.
So for example in other autoresponders you have a list size of 10 000 people the price is fixed for 10 000 people.
Not so with Sendinblue because you're paying per email cents.
The only thing they could do with adding is more integration options with other applications and maybe a higher daily sending limit on their free plan.
Sendinblue Pricing
Free – $0
Lite – $25/month
Premium – $65/month
With their free plan, you can have unlimited contacts so you could have a list size of 10 000 people for example but then you can only email 300 people on that list if that makes any sense you can only send out 300 emails.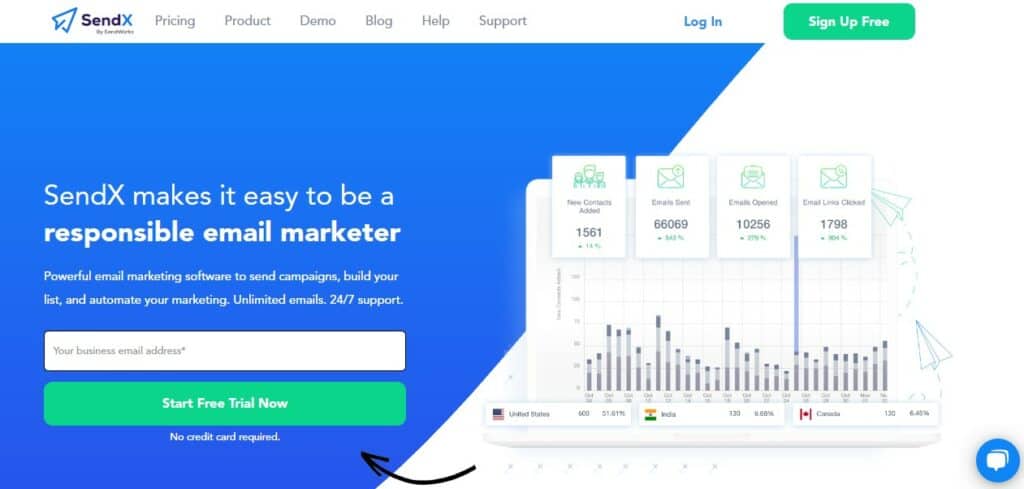 SendX is an easy-to-use SAAS solution built for basic users who need optimal email marketing efficiency. This tool is basically meant to optimize your email campaigns and is totally worthy of the money you pay for it.
And there are quite a bit of email templates to choose from as well as a drag-and-drop email editor.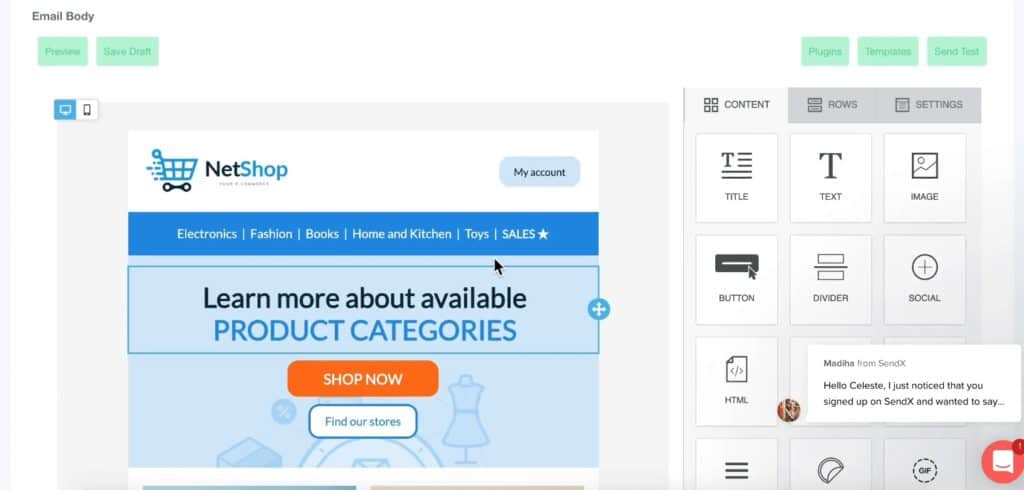 It's nothing too complicated, nothing advanced and it still provides everything that you might need.
for the pros overall it's just very simple the steps are very easy it's not overly complicated but you still have control and the report section for the individual campaigns is great because you get a bit more analytics.
When it comes to the cons of using this tool there are not as many automation features. It's very basic compared to other email tools.
SendX Pricing
And like many email marketing software it is based on subscribers so the more subscribers the more you have to pay.
With SendX you can start for $9.99/month and have up to 1,000 email subscribers.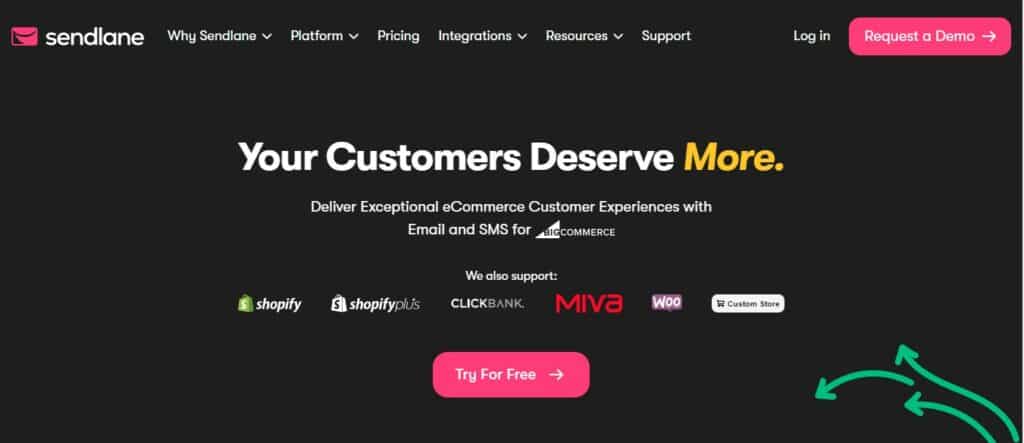 Sendlane is a very affiliate marketing friendly email marketing software. They don't really care at all what you do on their platform which has some pros and cons.
They integrate with platforms like:
ClickFunnels
JVZoo
Boost
CreateForm
Convert Pro
What's more Sendlane integrates with Clickbank which means that they don't mind if you promote Clickbank products using their email provider.
So as you can see they do a lot of integration with a lot of companies and software that you're going to use in your affiliate marketing business and they fit well perfectly with all that.
And what I actually like most about Sendlance is that they have a tool called the Sendlane Beacon.
What it actually is is a line of code that you can put into your website into your Clickfunnels account anywhere you want to put this code it will actually track behavior, tracks what customers do when they get to your page, and by doing so it will actually send out emails at the right time for the right reasons.
Think about this if that's what it does then say a customer leaves a certain page that will trigger Sendlane to send a specific email to that customer.
If someone hasn't been to your website in 14 to 30 days or whatever you specify, you can have Sendlance and their Beacon automatically send out an email to those people.
The main thing with Sendlance that I don't like is that the interface is a little clunky.
Now what I mean is obviously it has these automation trees like a lot of these other autoresponders have but I find it to be very tedious the way they make you set things up.
The con of using Sendlane as an autoresponder for affiliate marketing is after a while if somebody on the email list doesn't open your emails, it's automatically triggered to what's called the inactive people tag.
Sendlane Pricing
Growth – $99/month
Professional Plus – $249/month
Starter Pack – $499/one-time payment
So Sendlance is definitely the most affordable email marketing software but it's one of the high-end ones.
How To Choose The Best Email Autoresponder for Affiliate Marketing
Now, I'm going to tell you what are the things that you should look for in an email autoresponder, and which of the autoresponder you should avoid if you want to do affiliate marketing.
So, to choose an email autoresponder for your affiliate marketing, I'm going to tell you 4 important factors you should look at so that you choose the correct email autoresponder.
✅ Free Trial
The first one is, does it have a sufficient free trial period so that you could test out all the features available for that email autoresponder?
Most of the email autoresponders do have 30 day free trial period so that should be enough for you to test out all the features that are available for email marketing.
✅ Features
The second thing you should look at in the email autoresponder is the features it is having if you want to try it out and see.
For example, email designing, sending a bulk email or sending group email marketing, automations, how good is the automation for the emails you're sending out, tagging it, et cetera.
So, all these features you should look at it and you should try to learn it and see if there are easy to learn for you.
✅ Deliverability
The third important factor in deciding which email autoresponder is good, you should also look at high-end deliverability. Meaning, when you send out the email, do they go into the inbox, or do they end up being in the junk folder of your email list.
Without sending the email to the inbox your email marketing is not as good as most people would not check their junk folder for the email and all of your affiliate's offers there'll be no eyeballs on it so you want to find out how good the deliverability is for the autoresponder that you have chosen for affiliate marketing.
✅ Price
And last but not least, do also look at the affordable subscription plan, the email autoresponder that you are choosing, what are their pricing plan, and whether are they affordable.
When you're first starting as an affiliate marketer, you are a little bit budget concerned so looking at the monthly subscription after your trial period is over, does it make sense for you to choose this email autoresponder?
Email Autoresponders for Affiliate Marketing To Avoid
Now that I've covered all 4 areas that you should look for while deciding on the email autoresponder and also the two email autoresponders that you should avoid while you're doing affiliate marketing.
🚫 ActiveCampaign
I know a lot of people really like ActiveCampaign but I know a couple of people whose accounts were being banned because of affiliate marketing. And there will be a lot of people saying it, they weren't doing it the wrong way, but still, it's better to avoid ActiveCampaign.
🚫 MailChimp
MailChimp is a great email marketing software and it's technically free. MailChimp is for you people who don't want to pay for an email autoresponder which is absolutely insane.
But if you go with MailChimp I guarantee you they're going to take down your account the minute they find out what you're doing.
Because they're notorious for hating people who do affiliate marketing and therefore they're not even close to being an option.
So those are the two ones that I know off top of my head to avoid while you want to do affiliate marketing.
Best Email Marketing Software For Affiliate Marketing Final Words
And if you ask me what is the best autoresponder for affiliate marketing and which one you should start with, you should actually start with GetResponse because it does give you a free trial, and also at the top of that, it has the ability to build landing pages for you where you can start building your email list for your affiliate marketing.
If you need more than just an email marketing tool then you with Builderall. It gives you the most bang for your buck since it's an all-in-one platform that includes all the tools that you need for affiliate marketing.
So this is my review of the affiliate marketing email service providers. I hope it will help you choose the right platform for you.
And if you need more tools for your business, you'll love this list of best free affiliate marketing tools.