Twitter is one of the best free traffic methods for affiliate marketing and in this guide, you'll discover the 8 best tips and strategies to use to take advantage of this powerful social media platform.
In the end, I'm also going to share with you a very interesting case study.
So, let's start with your Twitter bio.
1) Twitter Bio Method
The strategy is to create a unique, eye-catching Twitter name and profile. Something like:
"Free traffic to a website"
"Easy weight loss methods"
"Weight loss secrets"
So when a user gets to see the name they would be tempted to visit your profile. Fill up your bio with an affiliate link.
And create a tempting description; this will make them click your link.
Now go to niche influencer accounts and place likes on comments.
If you like the comments on people will less than 1000 followers you would get lots of profile visits.
Because these people get very little nonfiction and when you like their comment Twitter will notify you about your like and there is a 90% chance to visit your profile.
And with the link in the bio, you will be getting free targeted traffic.
💡 Pro Tip
You could also use multiple links on your profile. For this use a website like linktr.ee
Reference: https://twitter.com/ambitiousmichhh
2) Offering Bonuses Method
With this strategy, you want to offer bonuses to incentivize people to buy your affiliate products.
I've used this method to promote Builderall as an affiliate which is a platform that I personally use for my affiliate business.
Here is a post example.
🐦 Twitter Post Example
"I'm giving away my free course.
[Your Bonus]
To the first people who:
Like this tweet
Comment "interested" below
Buy "Your affiliate product] through me
Details will be send via DM after you comment below"
So the whole method with this is you're offering something as a bonus to incentivize people to buy from you.
I was offering my free affiliate marketing training when people signed up to Builderall.
The goal is you're giving something away for free so that people will buy from your affiliate link.
This works extremely wel
3) Twitter Growth Method
Step 1: Create an account on your favorite niche.
Step 2: Create a unique Twitter Name
Step 3: Follow industry experts, influencers, and other similar handles with a huge following.
Step 4:Make 100 tweets a week – Include ideas, inspirations, and quotes and add value.
Step 5: Start commenting on influencers' and experts' handles. Over a period of time, you will gain followers. Don't try to place links often. Make a habit of placing your product link once/twice a week and add it in the bio. When you comment on tweets try to add value.
Try to come up with points, questions and indulge in conversations. Make a habit of placing 50 comments a day until you reach 5000 followers.
Be clear on this: Sale here is directly proportional to the value you create on your tweets.
It doesn't matter how many followers you have, how your followers see you is what matters. Create value and sales will follow. Make this a long-term goal.
4) Twitter Ads Hack
For this we're not be using any affiliate marketing paid traffic. Instead we're going to be using something different.
The strategy is simple.
Just comment on Twitter ads and your comment and profile will reach thousands of people on Twitter.
And when you have a tempting user name and profile pic, you will get lots of profile visits.
And it goes like this… when you are engaging a lot with Twitter ads; the Twitter algorithm will send you more ads.
💡 Pro Tip
Good practice is to place a meaningful and relevant comment in the ad and don't place any links. When you can comment on 3 ads a day and your comments on ads can get more than 100k impressions a month and even more if the ad maker is spending more on ads.
5) Twitter Deals Hack
Step 1: Follow deals handles on Twitter
Step 2: Be ready with two Twitter accounts.
Step 3: Say someone is posting about a fitness product and you have a fitness eBook when they post about the product, ask a question with one of your Twitter IDs like is there any offer of fitness eBooks.
Step 4: Use your other Twitter id and tweet like. I just saw this offer on my timeline and place your affiliate link.
The biggest advantage here, people following the account are looking for deals, and if something interesting pop-ups they are in the mindset to buy.
So you will get good conversion rates with this method.
6) Twitter – Comment Links
Step 1: Create the best 10 products articles with affiliate links in various blogs and web 2.0 links. Say you are promoting fitness products for joggers, create an article like "10 best products for joggers", and upload it to various blogs and web 2.0 links.
You can find out how to create an affiliate marketing website here.
Step 2: Go to influencer's tweets and comment a question and reply and with another account along with the link. You will get good visibility.
Step 3: Repeat this process, the idea behind uploading articles to various blogs is, if you keep placing the same links Twitter will hide your replies.
So keep participating in Twitter discussions and spend more time. When you do this Twitter realizes your account as a real one and won't hide your replies.
7) Twitter DM Strategy
This one of the less talked about methods. The process is to contact people who are willing to buy and hearing reviews/opinions.
Let's assume you are promoting a product about Weight loss. Go to Twitter search and search for related keywords and DM them. If you can't DM, reply to their tweet.
Twitter allows 1000 DM's per account for 24 hours.
Don't place links in DM. Go to Twitter search and search for keywords and filter out people who are discussing it.
DM them, have a short conversation, and slowly introduce the product as to how it helped you and how it changes your career.
More than 30% of accounts will have DM open, sometimes even more. Knock on the door. You are not going to lose anything. Just DM them and have a conversation and explain with a short description about your product.
Don't be shy to contact big accounts. It doesn't matter how many followers they have, 2000 or 200k or 500k.
When you DM, don't message like this is going to change your life, be sensible and type it as if
you are recommending something to your friend.
Something like "I used this product and found some ( good advantages) and it helped me to get (benefit)"
Try different strategies and analyze which works better. Read quotes from bestsellers/marketers and psychologists to understand the audience frame of mind and how you could influence them.
This would be a great skill if you are trying this.
Say you are trying to sell a product/course on passive income – Search for keywords like:
"Work from home"
"Passive income"
"Side income"
"Part-time jobs"
Take time and research to get more keywords.
8) Twitter Automation
Twitter automation is a technique where you create bot accounts to schedule tweets and gain followers. So you can just add your product link in the bio to get free traffic.
Example of Bot Accounts:
https://twitter.com/ChanakyaBot
https://twitter.com/48_quotes
https://twitter.com/BotBenFranklin
The first account has more than 25k followers with just 203 tweets. Of course, it would have got retweeted from big accounts. You don't need to make this as a benchmark. The goal is to create bot accounts on your niche, work 2
hours a week and schedule 25 to 50 tweets with Hashtags.
If you notice all these accounts have links to affiliate products in their bio, create an account in your niche. Schedule
tweets and watch them grow.
You can also promote your products once or twice a week. If you see, the last account promotes products 3 to 4 times a week. Accounts like these are a gold mine as people won't get offended if you promote 4 to 5 times a week since the account is a bot. Make a rule of one link per 10/15 tweets.
Bonus: Twitter Affiliate Marketing Case Study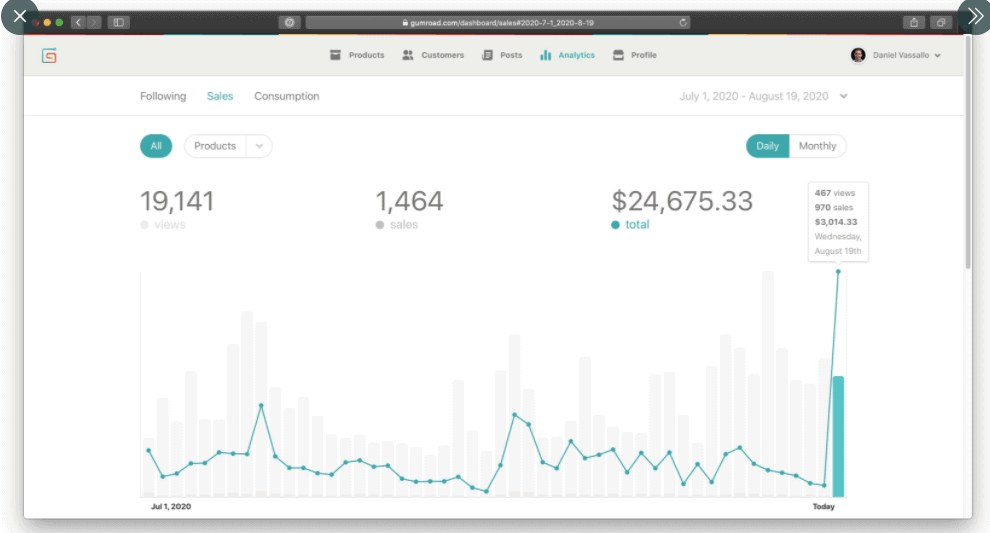 How was it possible to make over 200k on Twitter?
This man made 2 info products:
The Good Parts of AWS – $35
Everyone Can Build a Twitter Audience – $50
And made more than 200k in 7 months.
Every follower of you can afford the price, so he ran an experiment, during his peak sales hour and gave the option pay as you wish a minimum of $1.
The tweet was not viral, it just 45 retweets and within one hour he sold 970 copies and made $3,014.
How to use this strategy to your advantage?
let's find out.
Affiliate to Course Creator Strategy
Step 1: Go through the problems in your industry, search for the solution and come up with a 2000 to 3000 word article.
Step 2: Convert to an ebook and upload to Gumroad.
Step 3: You can price it between $19 or $49
Step 4: Contact your industry experts on Twitter through DM and say I have an ebook and would like to offer you for free in exchange for a tweet. And also say you would like to give a wonderful offer for their followers.
The price is $39 and would like to offer it as pay as you wish with a minimum of $3 (Gumroad.com gives you this option where you can set the minimum price and allow your customers to pay as they wish)
When you send 10 DMs, you will only get 2 responses. Don't be worried keep moving.
Step 5: Go to forums where people speak about the problem and say about your ebook with the offer.
Step 6: Go to the deals website and offer subs on Reddit and post your offer. (learn more about affiliate marketing on Reddit here)
The market is huge so don't underestimate the value. Think Big.
How about coming up with a product every month?
Write about stuff you know, plan to spend 2 to 4 hours a day on writing. If you're not good at writing, AI copywriting tools will help you solve this problem.
In six months you would have 6 products and from the second month, you would know how to market the product in communities.
Also, if you are active in a community and when people are complaining about something, and if you could provide a solution, write it as an ebook and market it.
Conclusion
So now you know the complete blueprint for making money with affiliate marketing on Twitter. Those are my best growth hacking strategies to get you started.
Now it's time to find an affiliate product to start promoting on Twitter. And if need some help with this, here are some ideas:
I would also want to hear from you what is the strategy that you liked the most?
Let me know in the comments below!