I'm going to show all of the functionalities, what it does better than more popular AI copywriting tools, and how to get the most out of this really unique tool.
We'll also take a look at the new updates to the software as well as the upcoming Contentbot Chrome extension which is going to be something amazing.
Let's get started.
💡 Note
In this Contentbot AI review, I'm going to walk you step by step through this tool, and at the end of this tutorial, you'll know exactly how to generate how quality content using this tool. So if you want to work along, here you can start a Contentbot.ai free plan (no credit card required)
What is Contentbot AI?
ContentBot.ai is a GPT-3 AI copywriting software that automatically creates new articles tailored specifically for your website based on the ones currently already published about a similar topic.
Contentbot AI is built over GBT-3, which I mentioned in my other articles as well but with one cool addition: Open AI and TeenySeed are also integrated into this writing software.
And I'm going to explain to you why it uses those two different tools in a moment.
It contains features like automation settings which are perfect for digital marketers, SEO experts as well as content creators who need an extra hand in their work from time to time.
Contentbot AI Overiew
Once you log in to your Contentbot.ai account, you'll see a lot of copywriting tools to choose from.
If you click on templates you'll see you're greeted with this page and on this page are all the AI tools you can use.
Quite a lot and it is growing.
Here are some of the tools you can find inside Contentbot.
See all the things you can do with Contentbot.ai
So it may be a bit overwhelming at the beginning which is why they've added filters so you can filter by copywriting templates, only marketing templates, and others.
Let's stick with blog post content for this Contentbot AI tutorial.
Contentbot AI Tools & features
Now, we're going to go over all of the Contentbot AI short form tools.
Blog Topic Ideas
So to get the most value out of content right off the bat if you're looking at creating blog post content what I would suggest is starting off with the blog topic ideas feature.
And if you select this tool will create blog topic ideas for you based on something that you input in the box.
So, for example, you might input a title and it will give you 6 topics along those lines but slightly different.
Okay so let me just show you straight off the bat how this works.
I'm going to type in "Why content marketing is great for small businesses"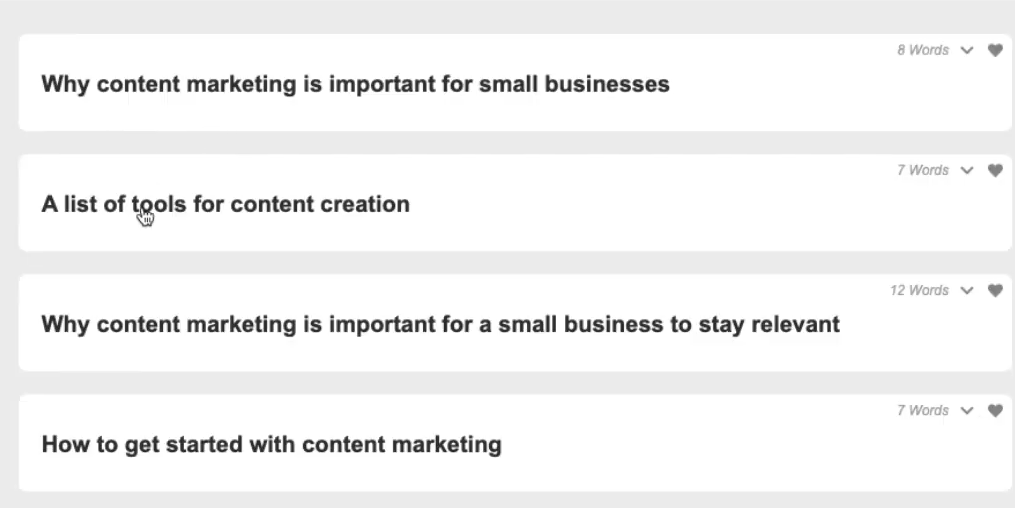 And if I check this box that says "include intro"s what will actually happen is it will give me these 6 blog topic ideas but it'll also give me the intro paragraph for each one of those which is really cool.
It takes a little bit longer but it's high-quality content that comes back as well.
And there is another box called "include trends"
If you click this box what's actually going to happen is it's going to fetch the latest news on the topic that you have inputted in your topic ideas and it's going to give you content topics that are similar to that.
What I mean by that is if you're a person that writes evergreen content, for example, my title "Why content marketing is great for small businesses" is pretty evergreen. It's not trending, it's not the latest news it's evergreen.
Leaving this unchecked would be fine.
If you however are in the industry where you are writing fresh trending content let's say you're a journalist or you're on some sort of magazine site or whatever the case is then you should include the trends so it's going to bring you the latest news.
And then change the title a little bit and come up with a blog topic idea for you based on that.
So let's give you an example let's do the same keyword one more time but this time let's include these trends.
These are pretty cool topics and so again like if you're at the forefront of technology this would be another reason to use the "include trends" option because the data set in the Ai is a 10 snapshot of the whole internet in 2019.
So if the thing that you're speaking about didn't exist in 2019 the AI won't have a clue what you're talking about or what to give you.
So for example the clubhouse app wasn't really mainstream at that point so if you had to ask a Contentbot to give you blog topic ideas on the Clubhouse and how that helps with marketing or anything like that then it's probably going to start talking about golf clubhouses and that's really not what you want.
So that would be a prime example of when you would include trends in your blog topic ideas.
Blog Topic Intro
Next, we'll generate a blog intro paragraph and this is basically the same process. You simply type in:
And the AI script generator will give you about six intro paragraphs and you can take your pick from there.
Here is one of the examples.
That's pretty good.
You can generate more but if you like any of these then you can obviously just take this as it is or just copy to clipboard and paste it in whatever tool that you're using WordPress, Shopify whatever the case is, and then continue with your article.
That's the blog post intro.
Blog Outline
Now if you're looking to come up with a bit more content than that what I would suggest is going straight to the blog outline tool.
This is really great because this can generate a structure for your article.
You can actually see as an example "content marketing for digital marketers" comes up with a structure.
So H1, H2, H3 sections and even take away possibly at the end if there's enough space.
So let's have a look at what it's going to do here for "How to create engaging content for small businesses"
You can be a little bit more descriptive in your article description. I find that if you give it a bit more it comes back with higher quality output in the end.
So this is the first outline with a more detailed description.
This is a pretty good structure I like really like it.
💡 Pro Tip
Sometimes you'll notice the AI has a little bit of a hiccup sometimes it just comes back with really weird stuff. And this is because they do censor a lot of things like federal laws or financial advice or serious medical advice or anything like that that you'll notice it will come back as censored. And then obviously also adult content as well they censor that as well.
You can just keep generating more if you'd like.
Bullet Point Expander
And then another nice short-form tool that helps create paragraphs is the "Bullet point expander".
And what it does it's taking these three bullet points, it's putting them together and it's trying to create a paragraph based on what you've said.
And here are some examples of the generated content.
These are really good paragraphs considering that I gave it was three sorts of loose parts of the article.
So a great way to do this to create content is to use the bullet point expander.
ContentBot Landing Page
This tool will help you create complete landing pages or sales pages.
I just want to show you how it works.
Here is the description of what I included for my landing page.
And based on that it will generate a copy.
Keep in mind that it takes longer because this is doing a lot of stuff in the back end this is probably the biggest short-form tool that they have so it generally does take a bit longer.
So here's the landing page content.
We've got:
And from this, you can generate your landing page.
>> Here you can check out the landing page that Contentbot generated
And it's going to come up with sort of random images. It's searching Unsplash for certain keywords and it's giving you nice little images so you can actually see what's going on.
There are four themes so you can change the theme and it will adjust accordingly.
This obviously is not a cut and paste solution but it gives you some nice inspiration for what your landing page should be about and where the content more or less should actually go
Because obviously, this is really what you're looking for. You're looking for the headlines and the subheadlines and the reinforcing and all of that.
As I said it's like a complete automated landing page creator but this is a good way to start with your landing page.
So what I've shown you so far it's just the tip of the iceberg when in comes to Contentbot short form tools.
There are a lot more tools you can use. I would say even more than Conversion AI.
And all might seemed quite cumbersome to do it one step at a time and that's okay if that's all you're looking for. If you're just looking for blog topic ideas, that's great, if you're just looking for outlines, that's great.
But if you kind of want to bring it all together they have this new long-form AI script generator and it's called the long-form editor that I'm going to show right now.
Contentbot AI Long Form Editor
This is where the real magic really happens and let me show you the power of this tool.
So the long-form editor says; follow the four steps below to get started.
Step 1. Describe the content you want to create
The first step is to describe the content that you want to write and I want to write an article about "Why content marketing is important for small businesses"
Step 2. Title
Now it's asking you to create your title now you can either type your own title or you can ask it to give you ideas and this will take 1 short form credit.
Again if you're on the premium plan it doesn't really matter you've got unlimited so click "give me ideas" and you let it do its thing.
Here we go so these are the blog topic ideas.
Step 3. Paragraph Introduction
Once you choose the title now it's asking you for an introductory paragraph and again, you can write your own or you can click "give me ideas"
I think it's nice to have something that can just generate a start for you and then from that start, you can then run off and then write the content yourself.
Step 4. Blog Outline
And the last step is the blog outline like we did in the short form templates.
This is going to give us a blog post outline.
This is pretty good there gonna be a really long article if you answer those questions but let's go to the next step.
Now it's taking you to the long-form editor.
And here we got our title that we started out with, the blog introductory paragraph that it gave us, and our blog outline.
And what you're going to notice is at the bottom it says "continue writing more on your own to produce more AI content" and that's just to be responsible so we don't just hit compose, compose, compose and we have articles coming out of our ears.
So now we have to write our own content, a couple of sentences before we can generate more content.
And obviously, you can expand the content, rewrite the sentences, and generate content however long you want.
ContentBot Open AI & TinySeed AI
And this is the beautiful thing about Contentbot long-form editor, you can choose between the two AI systems.
Open AI
TinySeed AI
The differences between open AI and TinySeed AI are quite fast so let me explain.
Open AI
If you select open AI you're going to get a maximum of 30 words outputted but the quality is going to be really high but obviously, the quantity is not so much. And it takes a little bit quicker than TinySeed as well.
Now you might be wondering "why does Open AI only generate 30 words maximum?"
Well, I think 30 words is a bit too short for us at this point but they are going to increase that for us in the next few months and I'm really excited for that to happen.
But I do understand their concerns are we've got this massively powerful AI and if we put it in the wrong hands, people are going to mass produce articles possibly fake news, possibly reviews and we're going to completely skew our industry for the worse and it's going to negatively impact our lives especially with content marketers and copywriters
So they need to make sure we're using it responsively.
TinySeed
If you choose TinySeed AI you can generate up to 200 words at a time but the quality is going to be questionable for some industries and some niches.
TinySeed doesn't have a data set the size of Open AI has. In fact, it's 62 times smaller which is still pretty impressive.
And for a vast variety of industries that actually understands the industry and is able to write about that industry you just need to make sure that it flows correctly and everything's okay.
But for some industries, it's really just going to come back with absolute rubbish.
But keep in mind they are training tiny seed on a weekly basis to understand more topics and more industries and more niches.
ContentBot Commands
Now I'd like to show you another powerful tool within the long-form editor and it's called commands.
If you click on it you'll see the available commands you can use.
This will allow you to create a blog outline, listicle, you can summarize texts, and more.
I could also change the tone and I can put whatever tone I'd like and then put the text in square brackets.
Or I can answer a question, this is one of my favorites and I'll show you now why.
So let's copy the answer; "Why do small businesses struggle with content marketing" and let's see what it comes up with.
For me, it's really good content coming out here.
"Too many businesses need to see the content marketing is the best fit for what they do and not just something that they're stuck with because that's what the cool kids are doing"
I like this style.
So there are quick 100 words straight for you, high-quality content and then again you'd have to then write a little bit and so you can get more content back.
That's just how the long-form editor works.
As you can see it works very similar to one of my favorite AI writing assistant ShortlyAI since it also includes all the commands. You can check out my ShortlyAI review.
Obviously, you can sit here and crank out articles four to five times faster than what you normally would without AI.
I don't want people to think that AI is going to take over their jobs there's no way AI is going to take over their jobs.
Now, let's take a look at one of the most unique Contentbot AI features which the WordPress plugin.
Contentbot WordPress Plugin
For those of you that don't know the Contentbot AI has its own WordPress plugin that exists on WordPress itself.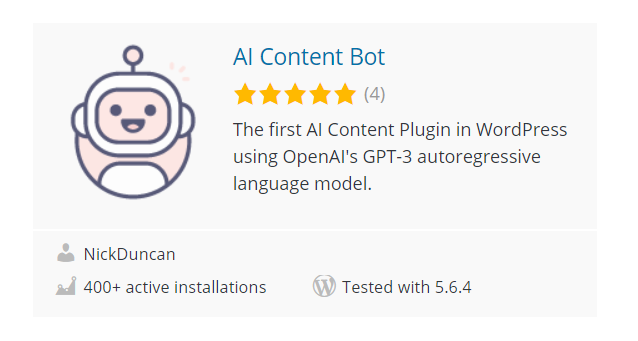 And with this handy plugin, you can pretty much do everything except the long-form stuff in WordPress.
To use this feature, all you need to do is to install the Contentbot.ai's WordPress Plugin and click "Add New Post" as if it were any other page within the dashboard menu; then simply input some basic information such as title, text body (or insert pasted pre-existing article), publish date/time – and you're good to go.
It actually is built into Gutenberg directly but for those people that use Elementor or other page builders, you'll soon be able to use the Contentbot Chrome extension which will be way more powerful than this WordPress plugin.
The chrome extension will have everything built into it and you can use it on any input field on any website.
I'm really looking forward to that.
Contentbot AI Alternatives
Let's take a look at some of the Contentbot AI alternatives:
Jasper AI
Shortly AI
Nichesss
Copysmith
Builderall AI Script Generator
All of them are very good tools and I've tested them all, but the best copy I've actually got is from Jasper AI. The quality is absolutely top-notch.
Contentbot AI Pricing
Contentbot AI features 3 pricing plans:
And with all of the paid plans, you're going to get a 7-day free trial to test it out.
Contentbot AI Credits Explained
Every time you run one of these short-form tools that I've shown you, your short-form credits will be increased by 1 so 1 credit on the short-form credits would give you about 6 pieces of content.
So all of these 6 different outputs were 1 credit but generally, if you're on the premium plan you get unlimited short for credits so you don't really have to worry about that.
Besides the usual rate-limiting and the scripts that check for abuse and all of those things but for 99.9% of people, that's not going to be an issue.
So 1 credit per run and one 1 gives you 6 pieces of content.
When we compare this interface to other AI copywriting tools like Conversion.ai, it's very minimalistic.
The only difference is the text that they have on their website which includes a cool small feature where you can see what provider of AI they are using for specific tools- in blog posts and inline autocomplete TinyseedAI was used while OpenAI was employed for more common tools.
In Contentbot, there are no workspaces. This means that if you have multiple projects and need to separate them, it can be difficult. I hope they will add tags or a folder structure so we can separate the different content.
For example, if you take a Facebook ad, it might go in one workspace but your post on Instagram might go in another.
Contentbot Review Final Words
So this is my Contentbot review. I think this tool is really set itself apart from all the other AI tools that we see out there.
It's great to see an AI writing tool not only depending on GPT-3 but also taking the advantage of TinySeed AI and Open AI because this means that we'll get different content compared to the competitors who are trying to achieve the same using GPT-3.
Contentbot.ai is a great option for those who are looking to develop engaging content without having to hire writers or editors, and they have an intuitive plugin that allows you to add more content to your website in the form of blog posts with ease.
Hopefully, this review was helpful and if you're not a Contentbot.ai user yet, make sure to start your completely free plan and see what makes this tool stands out from the competition.