Many of you know that there are a lot of AI content writing tools out there and the truth is that many of them are mediocre.
LongShot AI is a combo of SEO optimization and keyword research, as well as generating content with the help of AI technology.
And what's great, the founders of LongShot are continuing to optimize the way that you create content which is always good to see that they are willing to grow as a company.
After testing LongShot AI, I'm going to show what makes LongShot stands out among other AI copywriting tools out there.
And we're going to check out some of the new features that they have added recently including the LongShot Chrome Extension.
💡 Note
In this LongShot AI review, I'm going to be walking you through this tool so, at the end of this tutorial, you'll know exactly how to generate high-quality long-form content using this software. If you want to work along with me, you can start your LongShot AI 7 day free trial (no credit card required)
LongShot AI Tools & Features
So here we're in the LongShot AI dashboard and you can see there are several articles I've already created and you have all the menu options on the left.
Inside the dashboard, you have the main feature which is a Blog, and inside you have these different tools like:
Text expander
Rephrase
Headlines
Blog ideas
Blog insights
FAQ
And they're continuing to add to that, which is cool. I'm sure they're going to probably eventually add some other features over time.
But where LongShot AI shines and separates itself from any other AI software is the blog generation tool that is way better compared to tools like ClosersCopy which was a big disappointment as you can read in this ClosersCopy review.
But anyway the main focus of LongShot is long-form blog content, and website content, which is awesome because that's where other AI copywriting software such as Jasper.ai fail.
It's hard to keep Jasper on track. You have to know all the different shortcodes and you have to fool around with them a lot.
And those are the parts where I have struggled a little bit with using Jasper as a long-form, form of content generator.
If it's staying on just one topic and you want it to write 500 words, it does well, but if you try to create +1000 word content, it loses track.
So, I'm just going to show you how you can go about in a matter of 5-10 minutes and actually have a full 1000-word article written for you by artificial intelligence and it will be very well organized with sub-headlines and all that stuff.
LongShot AI Demo & Tutorial
The first phase of creating content with LongShot is the research phase.
It all starts with keyword and topic research and then using that to write automatic content for your marketing purposes.
So, let's get into it.
Step 1. Content Research
And to get started you just need to type in some keywords and it needs to be kind of short.
If you put a long-tail keyword, you will get an error then they will tell you to just shorten it.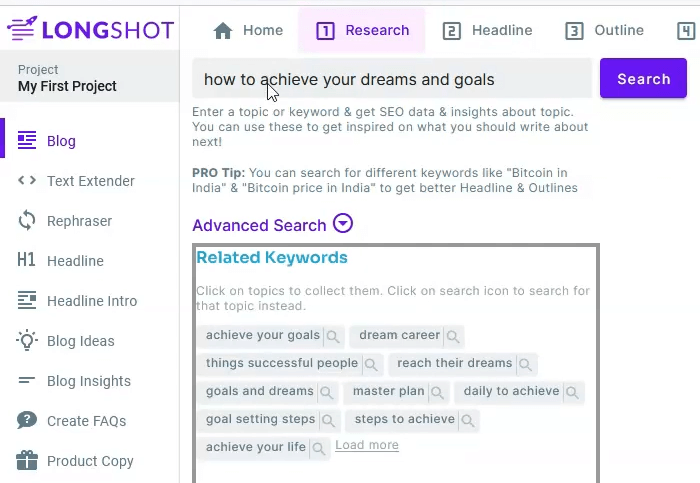 The system is smart enough to take your keyword and then generate a ton of ideas.
They were only allowing up to about 3 or 4 keywords so you weren't able to map out and do better research with your keywords.
It will show you the search volume and trend of these keywords.
So I really like the idea but the search volume is not as accurate as in other AI SEO tools like Frase.io.
Next, you just need to pick some keywords that you want to target.
It's getting all these sub-headlines from all the popular ranked sites as well as the questions that people ask on Google or Quora.
This whole workflow eliminates the necessity to refer to external apps including keyword research tools.
LongShot AI gives me the advantage of doing the initial keyword research and content topic research from within the app.
At this point you've done everything on this page you're just going to move to the next section which is headlines.
Step 2. Creating Headlines
Once you've done your research and chosen your target keywords then we need to select headlines for our article.
And it's going to go out there and do headline generation for us based on the research that you've done.
You can select how many sub-headlines you want for your article outline.
Next, you need to specify what we're going to do is you can actually choose what kind of article you're writing:
Once you select your keywords and subheadings for your article, the next section is the outline.
Step 3. Generating Article Outline
And this is where the magic happens. AI is going to formulate our blog outline for us depending on how many subheadings you wanted.
Now we're going to go ahead and click the "Generate and improve blog" and this is where we get to the blog section.
We've spent a few minutes going over research and picking our subheadlines, and title, and now is the most brilliant thing that Jasper does not do for you.
Step 4. Writing Article Copy
So now, AI is going to generate the rest of the copy and fill in the subheadings.
The content creation process is very similar to CopySmith as I explain in this Copysmith review but LongShot AI does a much better job as you'll see in a moment.
It has also added some content for all of the subheadings.
But, obviously, the article is not done yet.
You can also highlight some of the sentences and click the "expand content" and it's just going to continue to start writing for us.
It will show you the keywords that you want to use.
And what's cool is if you type in some of these keywords, it will turn green.
And that means that the particular keyword is added.
So, it's very similar to Frase.io or Surfer SEO where you can actually start measuring your SEO score against top 10 rankings results.
And the best is that I've only used 17 credits and I have done +1000 words article.
LongShot AI Pricing
LongShot AI has a 7-day free trial and after your trial is up the pricing plans are as follows:
Starter plan – $0/month
Pro plan – $39.90/month
Enterprise plan – $99.90/month
And if you bill annually, you can get this down to as low as $29.90 a month or $89.90 a month for unlimited content.
it's a little bit cheaper than Jasper, but you are getting a lot of features for long-form content.
And then if you don't need that many, you can start off at the lower plan to see how many credits you actually use and you can increase that.
And then once you get to a point where you need the unlimited version, then just upgrade to that.
Keep in mind that if you were going to outsource content, let's say you were going to do 1 long-form (2000 to 3000-word) post per day, we're looking at 30 a month.
So in the long term is better to pay $99.90 a month for unlimited content and you can create it yourself very quickly.
With the free trial, you'll be able to write a few very substantial +1000 word articles for free so you can definitely try it all out, and then if it's something that you want to use in your business you can go ahead and sign up.
LongShot AI Alternatives
Here are some of the LongShot AI alternatives:
Jasper.ai
WriterZen
Anyword
Inkforall
RankIQ
Peppertype.ai
After testing all of these AI copywriting tools, I can tell you the best LongShot AI alternative is Jasper.ai. The quality of the content generated by this tool is still unmatched.
But when it comes to SEO optimization, the best tool would be RankIQ since they have very unique search optimization features that none of the other tools out there have.
LongShot AI Review Final Words: Is It Worth It?
So this is my LongShot AI review. The thing that I like about this tool is that the entire purpose of it is to focus on the long-form content generation for your blog or your website.
And at the end of the day, that's going to be the most important content that you're putting out.
I am a Jasper BossMode member and pay over a hundred dollars a month. I really love that software and there's a great need for it and it also does a really good job at creating long-form content, but it is very pricey.
And I know that not everyone can afford this tool.
And when you look at the other things that LongShot AI does, it is good for creating emails and creating social media posts. It really has a lot of other modules, but LongShot is taking the long-form content AI writing to the next level.
And that's what I like about LongShot.
So if you're a blogger and you know that in order to rank your content, you're going to need 2000 to 3000 words, for every post that you put out, LongShot is going to do a better job at organizing the content.