But how it looks like in practice and how does it compare to some of the best AI copywriting software?
Is it going to make me cancel my Jasper subscriptions?
This is exactly what's what we're going to cover in this Nichesss review.
Honestly, when I first came across this tool I simply didn't buy the deal because the name was weird and their UI was funky and funny.
As a Jarvis user it just didn't make sense for me but after hearing people's reviews about the output that this tool is generating and also the value for money that Nichesss provides I decided to give it a try and it's not bad, to be honest.
The generated content is decent however, this tool is not the best option in any regard if you are in a long-form content generation. For this, you'll be better off with tools like Jasper AI, or even with a cheaper alternative like Rytr which for this application is much better.
But anyway, let's start the Nichesss review.
What is Nichesss?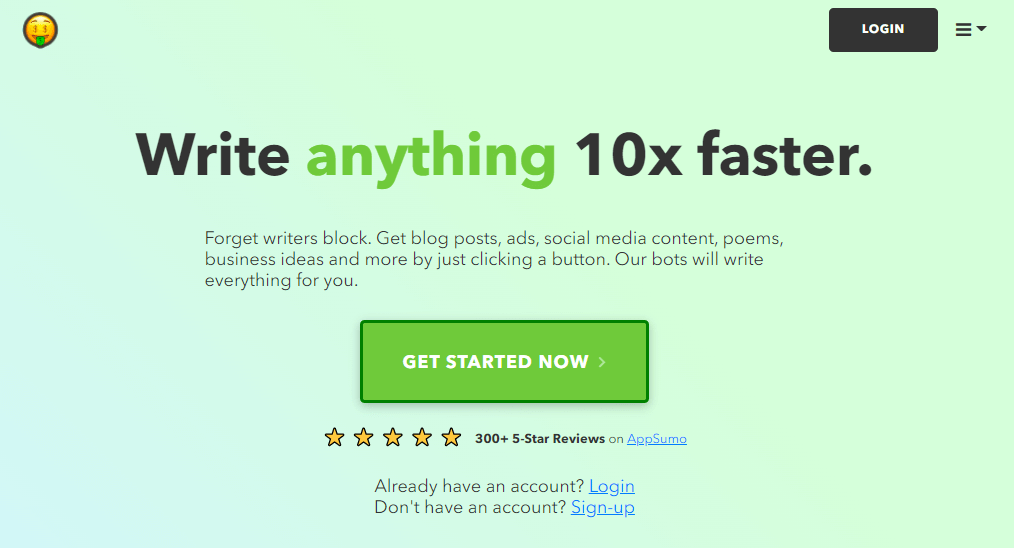 Nichesss is an AI-powered content generation tool that can help you write articles, emails, and marketing copy. Nichesss also enables you to find a profitable online business niche in a matter of seconds turning ideas and content creation with the help of artificial intelligence.
So, if you're struggling with an idea for a blog post, a YouTube video, a Facebook ad, or maybe a social media post description, I think you should consider using the Nichesss.
And let me show you what it's all about.
First of all, I mentioned Ai-powered content. What is that? Well, Nichesss is AI copywriting tool based on an API called GPT-3 which is a processing model that can help you produce human-like text.
So, basically, what it does, is you provide some keywords or phrases into the AI and the system would pull content that's relevant to your input.
So let's just dig into the interface of Nichesss.
Nichesss Overview & Walkthrough
This is basically what you see when you log in.
So, I must admit first when I logged in, it looked a little bit cluttered with all the boxes and colors and stuff like this but that's a good little explanation behind every box you can basically just read it and see what it's all about.
So let me just mention a few of them.
Image Posts Ideas
If you want to post an image on social media and you need a description, Nichesss can create ideas for that.
Blog Tools
If you need to write a blog post, Nichesss would be able to make a blog headline, a blog intro, and all kinds of blog-related stuff.
Ad Copy
Also if you're creating ads on Facebook, Instagram, Twitter, Google, it can help you with ideas for ads
There are even email tools for your newsletter headlines. So, if you're trying to build an email list this would be a great feature for you.
Product Tools
If you're looking for an elevator pitch for your product, you can use this tool and basically just tell a little about the product, and then Nichesss would come up with a little elevator pitch.
Problem Quiz
Then there are a lot of quizzes tools where you can put in keywords and like, in this case, a problem, then you define a problem and Nichesss would generate business ideas based on that problem you put into.
But that's basically just to play around with it.
But for this Nichesss review, I would only show you one of them and that's executing the marketing plan.
Marketing Plan
The marketing plan is a module that's able to combine several of these tools. So, let's say you both want to work with ads and you want to have a blog intro, you just put it in here.
And let me show you how it works.
Nichesss AI Copywriter
The first thing is I'm going to click on the start marketing plan and the first thing I have to fill out this for to get a relevant copy for my product.
So, let's try to generate some content for my Affiliate Marketing Training course.
And the first question is:
1. What's the name of your business?
I'm going to put my blog name.
2. What does your business do?
Well, in this case, we teach people how to promote software as an affiliate that pays recurring monthly commissions.
3. Select the category your business falls under.
Then we have to find a suitable category that the business falls under.
And in this case, I choose courses.
4. Choose things you want to be part of your plan.
Now I have to choose one of several of those elements we saw before, that should be a part of my plan. So, I would like to have a blog post intro.
Also, I would like to have the email subject, and body for our newsletter. I add that one and for the third one, let's just rep Facebook ads.
So now we have blog post intro, email subject and body, and Facebook ads.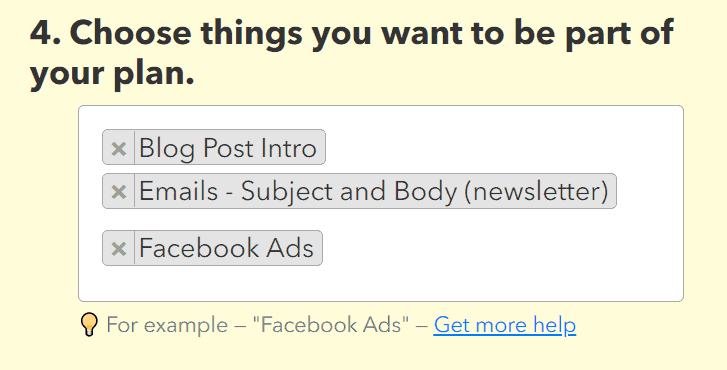 Next, I have to tell Nichesss what I want to talk about.
So, let's say, I want to talk about how we're offering a free online course.
And then I have to come up with a title.
So, let's say the title of the post would be "Top Affiliate Marketing Training".
Then I simply hit the "Generate Marketing Copy."
And let's see what happens.
You can see I have 9 social suggestions.
So, we simply just click on view plan to see what content Nichesss has produced for us.
The more comprehensive the prompts or the initial input that you are giving to the tool, the better it is because this AI content generation works on context.
The more context the more keywords that you provide in the input prompt the better it is.
So, for the blog post intro, this is the content that Nichesss created for us.
Nichesss Blog Post Intro Example
"If you're new to affiliate marketing, or even if you've been at it for years, it can be tricky to find a training course that will add real value to your business. Most courses are designed to simply sell you more products and don't provide you with the training tools you need to succeed. Not so with today's featured course, the Affiliate Marketing Masterclass. Boasting a focus on "strengthening your skills with proven strategies," this step-by-step training guide was designed by industry experts to help you succeed, by providing you with real world examples and case studies of successful affiliate marketing campaigns."
Not bad I would say.
Pretty high-quality content that you can use and edit. You can even translate it to other languages if you want to which is cool.
But basically, this can be used as an idea for a block intro.
So there are a lot of tools and templates for you to play with Nichess but as of now, they don't have long-form content generation.
And according to the founder, it's against GPT-3 guidelines as of now to create complete blog posts out of the open AI technology.
But other AI script generators are doing that by making AI write paragraphs and then again wait for your prompt we will be seeing the same kind of feature in Nichesss in the future.
Then I also asked Nichesss to come up with email subjects and body.
Nichesss Emails Example
"Dear [name], Don't you want your business to stay competitive in 2018? Don't you want to help your clients generate more sales? Don't you want to make more money? Then you'll want to know about this… A FREE course to help you attract more clients. No matter what line of business you're in, you can attract more clients online. In fact, no matter what line of business you're in, you can create a thriving business. It doesn't matter what your experience level is."
So this is what I've got and it's definitely not what I wanted…
The content quality is similar to Peppertype AI.
The last thing we asked Nichesss to create was some suggestions for Facebook ads.
Here is the copy.
Well, for this copy I would get banned permanently from Facebook straight away without warning.
So you have to be careful with that.
So, this is an example of what Nichesss is able to create.
It can save you a lot of time if you are in the idea phase where you're looking for, especially with something like blog posts, intros and ideas for YouTube videos and that it covers all that stuff.
It's a pretty solid tool, it's working fast. This only took 15 seconds to generate this content.
Another thing I like about Nichesss and especially the developer is that it's a tool that's being updated on a frequent basis. They even have a plan about what's going on behind the scenes where you can see what is being planned at the moment.
There are already +5,300 members in the official group where Malcolm, the founder of the Nichesss is very active in the group and you can ask him questions.
So, you can read it and act with the other members and also the developer and come up with your own suggestions and ask questions and stuff like that; that's pretty good.
Nichesss Pricing – AppSumo Lifetime Deal
Compared to other Ai based tools, first of all, I love the fact that at least for now it's a lifetime license. That means, in this case, you're paying $59 and you get unlimited requests, unlimited documents, ads, whatever you want to do.
Compared to other tools, often you will see that there's a credit limitation, maybe there are a few credits within a month or maybe you have to pay for other credits. This is a lifetime subscription, no matter how much you use it.
So, if you want to get started with this tool, click the link below and get in before this product is turned into a monthly subscription. This is a one-time investment and on top of that, if you don't like it, you have 60 days to hit the refund button and you get your money back, no question is asked.
Nichesss Alternatives
Over the last few months I've tested many AI copywriting tools and I have to say that there are better Nichesss alternatives. Here are the platforms that I've tried:
Jasper.ai
Copy.ai
Copysmith
ShortylyAI
ContentBot.ai
Peppersmith.ai
And of course, all of them have some pros and cons. No AI writing tool is perfect.
So now you may be asking how does this compare with tools like Jarvis ai or Shortlyai.
Well, Jasper.ai (formerly Jarvis.ai) and Shortlyai are the leading tools in the market when it comes to GPT-3 long-form content generation.
So if you are in a niche where long-form content generation is important for you then don't buy Nichesss and go with these tools and pay them on a monthly basis if it's worth it for you.
The other tool that is worth mentioning is Wordtune which is a free AI writing tool.
You can find out more about this nifty in my Wordtune review.
Nichesss Review Final Words
So this is my honest Nichesss review. I think you get the idea at this point. Nichesss is a cool tool to take you through business ideas all the way through creating a copy and making the content.
Does it do the research for you, does it do the writing for you, doesn't do everything you still have to do a lot of the work but it's a good start. It gets you in the right direction.
I personally think it's more of an idea generator or a sentence generator than a full-on content marketing suite.
Nichesss is no doubt a unique tool but it's not perfect it does have some limitations. It's using artificial intelligence which still has a long way to go.
But honestly still now I'm pretty skeptical when it comes to their sustainability because they said that in order to make their lifetime deal work they have blocked the number of characters in the initial prompt and also they are planning to introduce pay as you go model, where you can buy additional GPT-3 tokens.
So that's it for me. I hope you get a chance to play around with Nichesss.