We're going to go over some of the features in Lumen5 and I'll talk about the limitations as well as a comparison between Lumen5 and other AI video editing software.
So let's dive.
Lumen5 Tools & Features
To start off with the great, they have a lot of many cool tools and features.
WIth Lumen5 you have access to different types of video makers including:
Photo video maker
Promo video maker
Video ad maker
Business video maker
Marketing video maker
And all the way through to different types of social media and even infographics video makers.
So there's definitely a lot of unique tools on the platform that you can use.
But not only that Lumen5 does also have a cool feature that you can create videos from text to speech so if you have a blog article you can literally convert that into a video as well.
Lumen5 Templates
Lumen5 also offers a huge pre-made template library.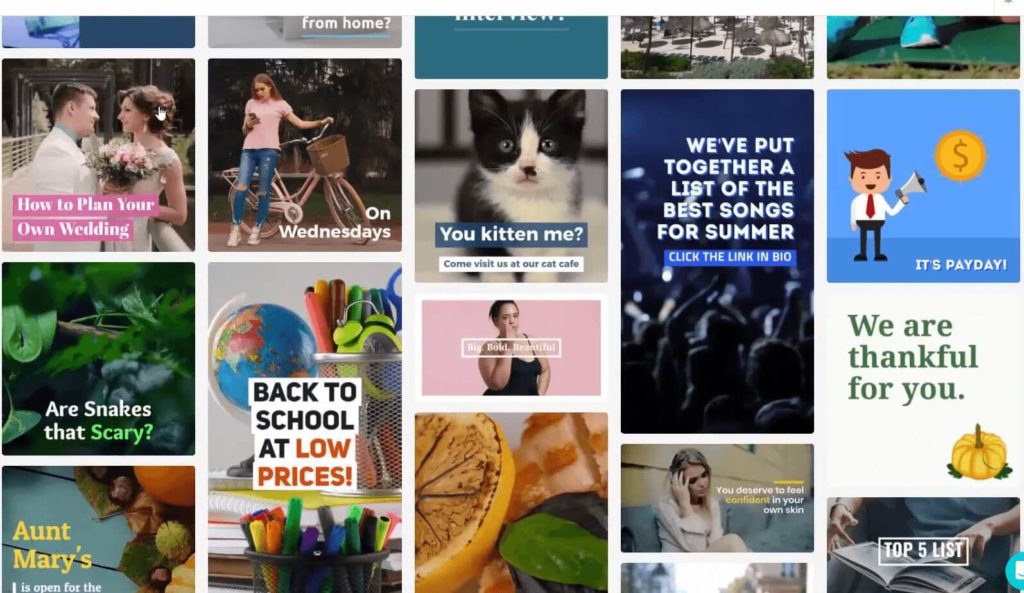 A very large number of video formats for pretty much all social media platforms that you may need to create content for.
And at the moment, 24 themes that you can start off with, and then customize later on to create a unique video.
Their media library is not as huge as with other AI video makers like with InVideo.
You can find pretty much anything you can think of, and they will have videos on that topic and the widest library out of any other tool that I have seen.
Lumen5 Tutorial: How To Create a Video
Now I want to go through the video creation process so you see how it actually works and what happens.
To get started, first, I go to "Create Video" and at that moment I will have three options.
I can use a blog so I can use my article, URL, or use a script that I would copy and paste or just start with the media.
So, I'll upload something to start out with or use one of the templates that I've already shown you.
And then choose a video format.
You can choose from templates for:
Facebook
Instagram
Twitter
Snapchat
Linkedin
Pinterest
And also custom templates.
I usually create videos for Instagram, Facebook, and Twitter but to do that, I just mostly use the Instagram 1×1 ratio option.
Sometimes I do start out with Instagram and Facebook and then create another one for Twitter; a longer version because the maximum length is different on Twitter.
Then you want to choose a brand or a theme.
To preview, if you hover over it, it gives you a quick little preview of what it looks like, what the text looks like, what the titles and the subtitles look like for each one.
Once you choose a theme the AI is building the video; it is picking the scenes.
This can sometimes take a little bit longer.
If it happens in the cloud, that would explain it, if it happens to the computer, that would also explain it.
But I've had videos that were about 20 slides; take up to 30 to 50 seconds sometimes so just be aware of that.
And the videos that it picked are all the same because the text has been exactly the same throughout all of these videos.
If you've used Vidnami you can see that there's a lot of similarities here in terms of how the layout of the structure of the platform actually works.
So you can be represented with slides for the videos, you can preview the videos at any point, you can change different types of features, you can shorten or lengthen the video to your own preferences.
You can also make other types of adjustments should you wish to actually change the likes of the backgrounds and use other templates to kind of give different highlights to the videos at will.
You can even crop the videos and lengthen or shorten the length by using the crop features and different types of elements as well so it does give you a bit of flexibility in terms of how you want to create your videos.
And all in all, each video takes me about anywhere between 3 to 10 minutes to create.
And I know that's a bit of a wide range, but the thing is for most of my videos are about up to 60 seconds.
That's usually about 12 scenes, sometimes a little more because most of the scenes are about 3 – 4 seconds, so sometimes between 10 to 18 scenes.
And if I have to replace about half or 70% of all these videos and the scenes that Lumen5 picked, that can take some time, and then sometimes I also edit the text because sometimes I use the title feature to make the text bigger if the background image is not very important.
Lumen5 Music
Their music is on par with pretty much any other platform.
You can sort it by mood and have a pretty wide selection.
But I would say this is on par with InVideo and any other platform you use has pretty similar numbers and types of stock music.
Lumen5 Style
Next up is the style. This is just basically, editing the template.
So, I have a brand preset set without a watermark. I can add a watermark, select from some of the pre-made styles that they have.
So, as you can see that changed everything within the video, or just change the theme completely.
If I don't like the pop style theme and I want to change to something different, I can do that.
I can change all of the titles, all the subtitles, the background, and the scene transitions. I can also edit the layout of each slide.
And these layouts vary depending on what theme you actually chose.
So, if you have a different theme, some of those layouts will be a little bit different.
For each of the videos within the section, you can trim it.
And then also you can crop it if you are using the vertical or the square templates because sometimes in Lumen5 usually it's just in the center. I don't believe it automatically crops, but if it does, sometimes it's not great.
You could also add a sub-scene.
This is basically just a scene that has the same media as the scene; that is the main scene.
And one thing that it doesn't do, if you add a sub-scene, it increases the length so you would have to pretty much double the length, or maybe even increase it a little bit more to account for the transition.
You could also upload your own videos, but this depends on which plan you purchase.
You can bring images of videos from your phone into Lumen5 similar to tools like Recreate AI or Kapwing.
I was not able to make that work. I was able to use their mobile app to actually download the videos and post the creative videos on my Instagram story.
But I was not able to use their app to actually upload the images and videos from the app into the cloud, and then use it on my computer.
As for the actual video creation and editing process, it's pretty quick. Lumen5 is pretty good at figuring out what keywords are actually within the video.
Sometimes you have to try a couple of different keywords but it does a much better job compared to other lumen5 alternatives.
But usually, it takes about maybe 15 seconds maximum to choose the video for each slide so it should not take you very long even if you have a 20 or 30 slide video.
Lumen5 Text To Speech
Another cool feature that it also has is that it has a text-to-speech video segment where you can paste in content from your blog article.
so if you have text or you have the URL from a page on your article or blog, you can paste it into the segment and it will all regenerate the content onto this segment.
And by doing that it allows you to also convert the video or convert the content into a video so that you can actually create a full-blown video out of this so that you can use it in a way to complement an existing blog article.
And that's great because some people do like to have a video version of an existing piece of content or written content so at least you can give people those elements so they can pick and choose which one they actually want.
Lumen5 Video Formats & Video Length
If you're creating a video for an Instagram story, 15 seconds is the limit of one story. If you have a longer, it will get split up into multiple stories.
60 seconds is just a hard limit for the Instagram video posts unless you have a large following.
And then some of these are recommended. For example, YouTube, 120 seconds. That's not the longest you can do.
In fact, the longest video you can make on Lumen is 5 minutes.
That is it.
You cannot make a video longer than 5 minutes.
So, this is definitely more of a social media tool rather than a voiceover and long YouTube videos tool.
So, I would say it's less for YouTube, more for all of the other social media platforms.
Lumen5 Instant Videos
Their instant video feature, which basically just takes in your blogs, RSS feed, and pulls in the text, and automatically creates the videos is pretty good, but unless you have a very heavy information-based blog; it's probably not something you will use a lot because you'll have to edit the videos a ton anyway.
Lumen5 Brand Presets
Their brand presets are useful. They basically like to just set a watermark, the style of all your videos, so, you don't have to reset this every time.
And depending on what plan you buy; you can add multiple brand presets.
Now, moving on to the pricing.
Lumen5 Pricing
They have 5 plans:
Community – $0/month
Creator – $15/month
Premium – $79/month
Business – $199/month
Enterprise – custom pricing
What's cool is they have a free forever plan, which you can use to try it out.
It doesn't have a lot of things and it has a Lumen5 logo at the end of the video.
And the amount of videos you get actually changes a lot from plan to plan.
With the creator plan, you pretty much get all of the free plan and unlimited videos.
On the premium plan, you get additional access to 15 million stocks videos and photos for free.
And on the enterprise plan, you get access to Shutterstock's full extended collection.
Or you can get billed annually for up to 27% off. This is the only discount that is available for Lumen5 currently.
So, you can either bill monthly or billed annually and get a discount.
The number of videos you can create per month is also very different.
You can edit an unlimited number of videos, but these are the number of videos you actually publish, download or share.
Lumen5 Pros & Cons
Now, let's talk about some of the Lumen5 pros and cons.
Lumen 5 Pros
When it comes to Lumen5 pros they have an extensive library of really good-looking video templates you can use.
Lumen 5 Cons
And as for the bad, sometimes the video creation process can take a little bit of time, depending on how many slides you have and their AI is not always great at picking the right images.
But keep in mind that It's hard to find the right keyword for words like let's say "dream", so, good on it for trying.
And one problem with their AI also is that it does not include all of your texts. It auto-selects the texts that it thinks is important.
So, what you have to do is just completely clear everything, delete all of the videos and add all of them one by one, which can get quite annoying.
It creates about 50% of the slides and videos for it, pretty well, and then the rest I would definitely adjust. For me, I tend to be a little bit more picky so I change a lot of the videos that it actually picks itself.
So, it's about maybe 1/3 I keep as it gives it to me, and then the rest, I change and edit to make the video flow a little bit better.
Lumen5 FAQ
What Is Lumen5?
Lumen5 is an AI-powered video creation software designed for businesses and brands to produce video content for social media, stories, and advertisements.
Who is Lumen5 For?
Since with Lumen5 you cannot make a video longer than 5 minutes, this platform is more geared towards social media and short-type video content in general.
Lumen5 Review Final Words
So that is pretty much for the Lumen5 review.
The content and the creation process is very very simple, the tools are very easy to use although there are a lot of heavy limitations on the platform that's just something that you need to be aware of should you want to actually get involved with it.
But there are other Lumen5 alternatives out there like InVideo should you wish to decide to look into other platforms.
Again you can sign up for the platform for free and see if it's the right AI video creator for you.
If you have any questions, please let me know in the comments below. If you have any concerns, any thoughts, or any, just other questions about Lumen5, I love to answer them.