This is one of the best opportunities for making money on YouTube and doing something that can generate a lot of passive income without having to show your face.
This article is inspired by Tube Mastery by Matt Parr which is one of the best YouTube automation courses out there.
Here is what we're going to cover in this faceless YouTube channel course:
And so much more.
So first let's talk about what a faceless Youtube channel is. I'll give you a definition and then I'll go through some very popular faceless Youtube channels out there.
Let's get started.
What is a Faceless YouTube Channel?
A faceless YouTube channel is a method of YouTube video creation where there is no person in front of the camera as the subject of the video.
So it might be a little bit hard to understand based on that definition, what it is but a lot of you guys seem to want to have YouTube channels but a lot of you don't like being in front of cameras which is pretty normal.
In fact, I don't even like being in front of the camera myself but this faceless YouTube strategy allows you to make great videos and not have to be in it. It's basically just using voiceovers and stock footage.
But basically, that's what this type of video is and when you're doing these faceless Youtube channels it allows for a really automated content creation process.
Faceless YouTube Channel Examples
Here are some examples of some of the successful faceless Youtube channels. You might not even associate these channels with being faceless but if you watch their videos you'll see that there's no one actually talking to the camera.
You don't see anyone's face. It's literally a bunch of stock footage or graphics that is backed by some type of voice-over. So let me actually take you through some of these channels just so you can see what they're like.
The first one that we're going to check out and that is going to be Bright Side.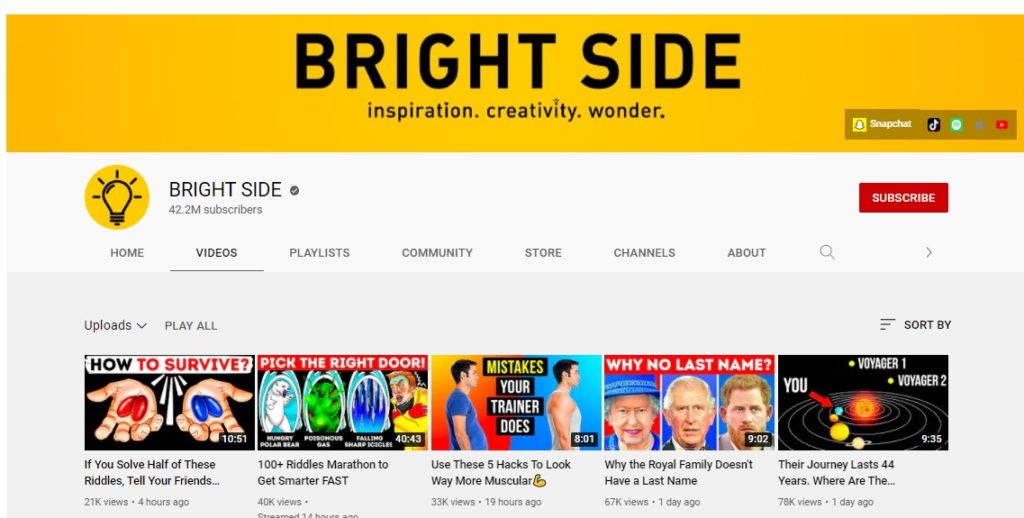 They've got over 42.9 million subscribers.
And when you have that much volume it's really easy to monetize. They post about 3 videos per day which is very impressive.
These are the types of videos that are all over YouTube you probably have seen a ton of them and you haven't really thought this is a faceless YouTube channel.
Choosing a Niche & Type of Content
So the first thing you want to do is select a YouTube niche and figure out what your audience is.
The two questions you're asking yourself are who are you creating the content for and who you want to serve with your content.
Content doesn't all have to be educational or informational.
In fact, the way that you're serving your audience can just be entertainment but if you just want to know what these two things are then you want to determine the problems that your target audience is looking to solve.
So how can you create videos that solve these problems and also are you able to answer the questions your audience frequently asks or cares about when you do that, that's going to increase your click-through rate and that's really going to help the performance of your channel.
Best Faceless YouTube Channel Ideas
Your niche is the category or type of content that you will be making and this type of content is going to hopefully target a specific and definable group of people.
Now I want to share with you examples of faceless YouTube channel ideas that perform well.
To find a trending niche, you can use tools like Google Trends. For example, if you take NFT, you'll find that this topic is more popular.
So this could be potentially a good niche to start a YouTube channel without showing your face in 2022.
Niching Down
To find a profitable and low competition niche for your channel you should niche down.
So this could be things like:
if I were to start off with a faceless channel right now it would probably be these types of specific niches rather than general ones.
How To Create Faceless YouTube Videos
There are many ways to create faceless YouTube videos including:
And more.
One of the easiest ways to make faceless videos is to turn text into video.
With tools like Pictory AI or InVideo, you can convert any text into a really professional-looking video in minutes.
Both of these text-to-video generators offer a free plan for our readers to get you started, so make sure to check them out.
What You Need To Start A YouTube Channel Without Showing Your Face
Now let's talk about some must-haves to create YouTube videos without showing your face.
Banner Image & Channel Icon
The first one is the channel icon and the banner image. These two things need to align with the content that you are making on the channel.
So I really recommend making your channel icon and the banner image super high quality.
And if you guys aren't good at graphic design which probably most of you guys aren't, I'd recommend hiring someone to do it on platforms like Fiverr.

There are tons of pretty affordable options if you're willing to pay someone else but if you do want to do it yourself, I would definitely recommend investing in Canva Pro which also has a free version.
Video Script
Video scripts are the words that are being spoken by the narrator of the video.
The free method of making a script is you're going to research the video yourself and that could take anywhere between 30 minutes to 5 hours.
I think for most videos and writing that script yourself is the free method because you're just trading your own time and you're doing It yourself.
The paid method is paying a freelancer on Fiverr.
Video Footage
Next, we have the video footage so that's what the audience is actually seeing when they watch the video itself.
There's a free method that's basically when you use free stock websites to get your footage. So some of the sites I recommend are Pexels and Pixabay.
There are a ton of free images as well as a ton of free video stock footage so you can just search through there get clips from that and put that in your video.
You can also use YouTube creative commons where you'll find a lot of stuff. You can also screen record yourself doing something on your computer and show that or you can film with your own equipment that you have.
This does require that you have a phone or camera and that could take a lot longer so probably not the best way to really automate the faceless YouTube game.
Then we have the paid method of getting your video footage so you can use something like Canva Video Editor and they have a ton of really premium stock footage on their website.
Voice Over
That's what the audience hears during the video. With the voiceover, there is a free method which is just recording it yourself so you will have to decide if my voice is good for this.
And if this is something I want to do because it definitely takes away from the whole passiveness of this business model.
And then there's the paid method which is just where you hire a voice-over artist from Fiverr. There are a lot of really great voice-over actors on that platform so that is something I would recommend.
Video Music
Depending on your intended viewer's age group, you will want to pick music that matches their interests. If the majority of your viewers are older than 40 you may not want to use dubstep tracks in your background.
Research similar videos and see what they have used for background tracks so you can get an idea of what may work for your audience.
As far as music you can get free music from the Youtube audio library.
Video Editing
Once you have written out your script and picked the background music it is time to start editing so how all the video footage, graphics, and stuff is broken up to visually appeal to the audience.
When it comes to video editing you can do it yourself for free with software like iMovie or InVideo.
Or you can do the paid method which is where you use a platform that costs money like WeVideo.
You can also hire a video editor on Fiverr and that's probably what I'm going to recommend for most of you guys since video editing can take a long time and it is a step that you will want to automate at least some points in the future.
Thumbnail
And then lastly we have the thumbnail. This is the video preview image that is basically your clickbait. It's what people see along with the title of the video and the purpose of this thumbnail is to draw people in.
We really want a thumbnail that makes people want to watch the video.
And for your thumbnails, you can either just create them yourself just using maybe the free version of Canva or you can pay for Canva Pro which unlocks a lot of new features.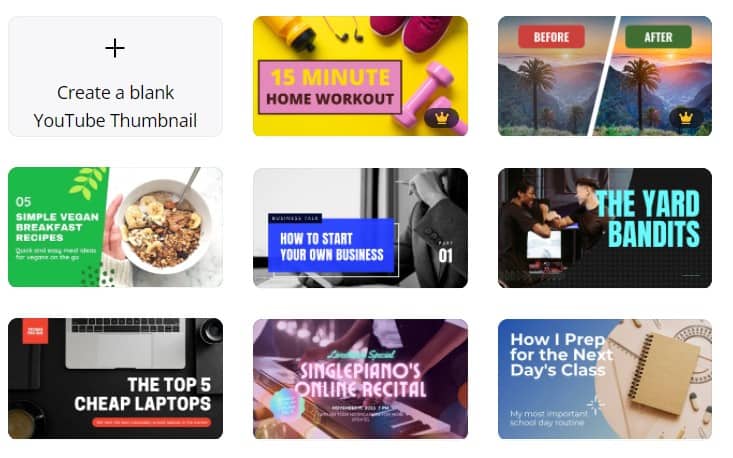 Or again, you can hire people to make your thumbnails for you on Fiverr.
Best Tools To Grow Your Channel
When you're building your faceless YouTube channel there are some tools that you absolutely need.
InVideo
InVideo is a free video maker app that lets you create and edit your own videos, add music or an audio track, and enhance the videos with filters and effects.
They offer over 5,000 professional video templates to choose from.

But the most interesting feature of this tool for faceless YouTube channels is the ability to turn text into video.
>> InVideo offers 7 day free trial for our readers +25% discount for all of their paid plans.
TubeBuddy
So the main one that I use is TubeBuddy. It helped me out so much and they do have a free browser extension that integrates directly into your YouTube and it helps you optimize your channel.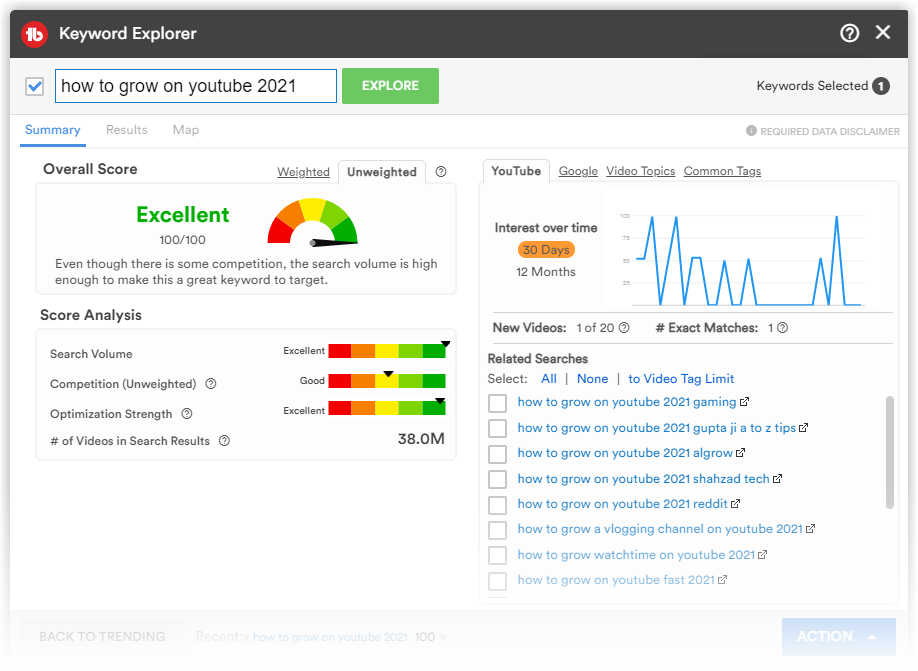 It's going to do keyword research for you, it's going to recommend different tags for your videos.
It has a lot of features that assist with thumbnail testing and video promotions.
It's definitely something I recommend and at least get the free TubeBuddy version because even with the free version there are a ton of things that will help you grow Your channel.
Videly
Videly is a new software that lets you rank your YouTube videos on Youtube and other search engines on the first page.
The way it works, it actually scans Youtube and retrieves the best keywords that will rank your video on top of search engines.
It offers tools like:
Keyword research
Niche analysis
Video details
Video report
And rank tracker.

So, if you're looking for a new and easy way to rank your videos, then I highly recommend checking out this tool.
>> Videly offers our readers a 75% off discount to get you started.
Growing Your Channel Tips & Strategies
So now let's talk about some of the best strategies for your channel's growth.
Post Consistent & Quality Content
First of all, we want to have consistent and quality content. You don't want to put out bad content because that just means that no one's going to actually watch your videos.
And I would recommend for most of you do at least 2 videos per week. If you can do 2 videos per week that are going to be very consistent and it's going to be frequent enough so you can grow faster.
Create Evergreen Content
I also recommend creating videos that answer questions that your audience is asking frequently. So a lot of these videos are going to be evergreen content that shows up when people search for different things on YouTube.
And what a lot of people don't realize is that YouTube is the second-largest search engine right after Google so if you can get some of those evergreen search results.
If you can get ranked for those search terms then your channel is going to have a huge huge advantage.
Apply 33 Video Rule
Now one thing I want to tell you guys is the 33-video rule. And this just states that once you've posted 33 videos you want to double down on the best-performing content.
Go through all the videos look at the ones that have performed the best the most views the most likes and then start doubling down on that.
Post At The Right Time
And also you can post videos when your viewers are on YouTube. This is going to give you a small but maybe noticeable boost in your initial views.
And how you do that is you go to the Youtube Studio then you go to analytics and then you go to "audience"
It's going to show you when most of your subscribers are active on Youtube.
See What Other Channels Do
And of course, look at other faceless youtube channels that are in your specific niche and then start doing things that they're doing. If they have a certain type of thumbnail that works well, start doing that.
If they have certain video topics that are doing extremely well make your own version of that.
Monetizing YouTube Channel
Now let's talk about some of the ways to make money on YouTube.
Google AdSense
YouTube monetization comes in many different forms but the most direct way of getting paid for your YouTube channel is through Google AdSense.


So you need to be a part of the YouTube partnership program in order to receive a portion of the AdSense revenue.
To get monetized you need to get your first 1000 subscribers and also you need to have over 4,000 watch hours. once you reach that point, you could expect to make $10 to $300 a month from AdSense. You can read more in our article on Youtube monetization statistics.
So you can't just go out and buy a thousand subscribers that's not going to work because you do need that 4,000 plus hours of watch time which can be quite hard for beginners to get.
But as I said for most channels it's going to take probably half a year to get monetized and then after that, it's just going to be a pretty steady stream of income.
Now Adsense is the most direct way of getting paid for YouTube videos but there are so many other ways to get paid and this includes things like affiliate marketing.
Affiliate Marketing
This is my favorite monetization strategy because it's the most scalable.
This is a process of partnering up with another company and promoting their products or services to your audience in exchange for a commission.
The most popular choices include Amazon, and eBay, as well as smaller companies such as ShareASale. It is important to note that this form of monetization will only generate income if you have a large following online.
Paid Promotion
The next way to monetize your YouTube channel is what is called paid promotion or YouTube sponsorship. This is an agreement between you and another company that pays to have your video promoted through social media or search results.
You can also use this method to promote products, services, or events in exchange for payment – just make sure the product you are promoting is relevant to your viewers!
Selling Merchandise
YouTube is a great platform for selling merchandise. You can reach a wide audience with your videos and promote your products to a large number of potential customers.
YouTube is also a great way to connect with your customers and build a rapport with them. By offering exclusive deals and discounts to your YouTube subscribers, you can encourage them to buy your products.
Selling Digital Products
The next way is selling digital products like courses or ebooks. YouTube is a great platform to sell and market digital products.
As stated before, your audience trusts you and is looking for information from you rather than someone they do not know.
People who may be interested in your products will already have watched several of your videos, gaining their trust as well as an understanding of what kind of product you offer.
Just as with affiliate marketing, this will work on a larger scale if you have gained enough subscribers.
So these are the most common YouTube monetization strategies.
You just need to be creative. As long as you have eyeballs you can be creative and find a ton of different ways to monetize those eyeballs.
Tips on Increasing Likes & Subscribers
Let's talk about some YouTube growth hacks that will help you increase your likes and subscribers.
First of all, you need to provide consistent value with your content. I feel like I've said this a lot but I just really want to emphasize that because the quality of your content is so important to build an audience that continually watches your videos.
Answer any questions your audience is curious about or asks and provide solutions for problems that your audience faces.
Offer Giveaways To Incentivize Engagements
Another thing you can do is offer giveaways to incentivize engagements. For example, you can give a shout-out in the next video to someone that likes or subscribes or comments on your videos.
So you can put that at the end, or at the beginning and that should lead to a bit more conversions in actually liking, subscribing, or commenting.
Or you can offer something like a gift card that's related to the channel topic. That's going to really increase the number of people that think "Hey I should actually subscribe to this channel"
Ask Your Viewers To Like & Subscribe
And I don't recommend being too pushy with this but you do need to ask your viewers to like and subscribe preferably multiple times throughout the video.
Because if you don't ask a lot of people if they like your video they're still not going to subscribe.
Schedule Your Videos At the Right Time
So now I want to give you guys a sort of a cool bonus video release strategy that has worked on my faceless videos and that is when you schedule your videos to release at a time that is not on the hour or it's not on the half-hour mark.
The reason for this is because a lot of different YouTube channels out there are going to release their videos exactly on the hour or on the half hours so it could be like 7 p.m or 7.30 p.m.
So you're essentially competing with those channels if they post at the exact same time as you.
And a lot of your initial views are going to come from YouTube actually notifying your subscribers that you just posted a video so they're going to really push out your video to viewers more heavily when it's first released.
So thinking about that it makes sense to schedule your videos on the 15-minute mark so 15 or 45 or even something that's just not on an even number so for example 6.45 p.m or 6.48 p.m could be good times to post.
And when you do that it allows your content to get pushed to more viewers immediately after release.
Scaling Your Faceless YouTube Channel
Let's talk about ways to scale your channel.
Reach 10,000 Subscribers
The first thing when it comes to scaling and 10xing your earnings you do want to reach 10,000 or more subscribers on your channel.
Because once you reach that level you have a pretty decently sized channel you'll be able to get more brand deals, more affiliates are going to be willing to work with you, and of course, your AdSense is probably going to be higher since you have more active subscribers.
Create New Channel With The Same Or Similar Content
Once your channel reaches that 10,000 subscriber mark, you can actually create a new channel with the exact same type of content or similar and then incentivize your current subscribers from your original channel to subscribe to that new channel.
Create Community Posts
From there, you can do community posts that share content from that new channel in order to send people from your existing channel that new one.
And we're going to keep doing that until we can get the second channel to 10,000 or more subscribers and then we're gonna keep repeating that.
This way you can build multiple channels in similar niches and piggyback off of your existing successful faceless channels.
How To Outsource Video Creation
And let's talk about Fiverr for a second because there's something that you guys really need to be aware of before hiring anyone on Fiverr.
A lot of these people on Fiverr are going to have offers where they do everything for you in one package.
And based on the experience of people I've talked to when they hire these types of people to just do everything in one single package, usually, the quality is extremely low and you get delivered this video that not a lot of people are going to actually give it a lot of watch time.
And you'll see that a lot of these cheaper all-in-one packages use these robot voiceovers that no one likes to listen to
So you definitely want to be aware of this and another thing with these all-in-one packages is that a lot of the time they're basically doing no research for you and when that happens you get a very low-quality script that doesn't create a good video.
Because remember these videos have to be good otherwise people aren't going to watch them and youtube is not going to keep pushing this content out.
So if you start with a bad quality script then it's going to be very hard to grow your channel so for most of you guys I'm going to say it's better off to find quality candidates to complete each of these components for your faceless videos
So that means going on Fiverr or Upwork or whatever sites, finding people, testing them seeing how they perform, and then just keep doing this until you find the right team.
Why Start a Faceless YouTube Channel in 2023?
So now let's talk about why you should start a faceless channel. I know I've hinted at why you should already but this really is such a great way to get into the youtube game without having to show your face.
So I mean obviously the biggest benefit of starting a faceless channel is that you don't need to get in front of a camera. You don't need to be the image of your channel if you want to remain anonymous and you just don't like that type of attention.
Also, you don't need any expensive equipment, you don't need really nice cameras, you don't need lighting or a setup because it can all be automated and that's going to really save up on a lot of startup costs.
So let's talk about how you can choose your niche right.
Starting YouTube Channel Without Showing Your Face: Checklist
Now let's talk about some of the actionable steps that you can take right now to start building your faceless Youtube channel.
✅ Choose Your Niche – First off is choose what type of channel you want to make.
✅ Create a Channel – And then create your Youtube channel by going to youtube.com and creating an account there.
✅ Decide Your Strategy – Next, you're gonna want to decide on your method of operations. So are you gonna want to do everything yourself and not spend any money, do you want to pay for everything, or do you want to do a hybrid approach.
✅ Plan Your Content – then you're going to begin planning and creating your content. It's where a lot of people make content for a little bit and then burn out but you do want to plan and you do want to create consistent content for your channel.
✅ Analyze What's Working – After 33 uploads you're going to want to go back and analyze what is working and what's not working. So the things that are working you're going to want to replicate that and build off that. And the things that are not working you're going to want to scrap that.
✅ Monetize Your Channel – If you stay consistent, you're going to be able to monetize your channel, scale up and exponentially grow your earnings.
Final Words
So there you have it. That is how you start a Youtube channel without showing your face.
This is a very great way to start making income through Youtube which is only growing.
Over the next decade, Youtube might take over the world since it's certainly going to be one of the biggest networks that people are watching on a consistent basis
So if you are looking for a side hustle and you want your piece of the pie, this could be a great online business to start.